Adapterama I: universal stubs and primers for 384 unique dual-indexed or 147,456 combinatorially-indexed Illumina libraries (iTru & iNext)
Published

Accepted

Received
Academic Editor
Subject Areas

Keywords

Illumina

,

Next Generation Sequencing

,

NovaSeq

,

Sample Preparation

,

Pooling

,

Multiplexing

,

Adapters

,

Primers
Copyright

©

2019

Glenn et al.

Licence

This is an open access article distributed under the terms of the Creative Commons Attribution License, which permits unrestricted use, distribution, reproduction and adaptation in any medium and for any purpose provided that it is properly attributed. For attribution, the original author(s), title, publication source (PeerJ) and either DOI or URL of the article must be cited.
Cite this article

2019

.

Adapterama I: universal stubs and primers for 384 unique dual-indexed or 147,456 combinatorially-indexed Illumina libraries (iTru & iNext)

PeerJ

7

:

e7755

https://doi.org/10.7717/peerj.7755
Abstract
Massively parallel DNA sequencing offers many benefits, but major inhibitory cost factors include: (1) start-up (i.e., purchasing initial reagents and equipment); (2) buy-in (i.e., getting the smallest possible amount of data from a run); and (3) sample preparation. Reducing sample preparation costs is commonly addressed, but start-up and buy-in costs are rarely addressed. We present dual-indexing systems to address all three of these issues. By breaking the library construction process into universal, re-usable, combinatorial components, we reduce all costs, while increasing the number of samples and the variety of library types that can be combined within runs. We accomplish this by extending the Illumina TruSeq dual-indexing approach to 768 (384 + 384) indexed primers that produce 384 unique dual-indexes or 147,456 (384 × 384) unique combinations. We maintain eight nucleotide indexes, with many that are compatible with Illumina index sequences. We synthesized these indexing primers, purifying them with only standard desalting and placing small aliquots in replicate plates. In qPCR validation tests, 206 of 208 primers tested passed (99% success). We then created hundreds of libraries in various scenarios. Our approach reduces start-up and per-sample costs by requiring only one universal adapter that works with indexed PCR primers to uniquely identify samples. Our approach reduces buy-in costs because: (1) relatively few oligonucleotides are needed to produce a large number of indexed libraries; and (2) the large number of possible primers allows researchers to use unique primer sets for different projects, which facilitates pooling of samples during sequencing. Our libraries make use of standard Illumina sequencing primers and index sequence length and are demultiplexed with standard Illumina software, thereby minimizing customization headaches. In subsequent Adapterama papers, we use these same primers with different adapter stubs to construct amplicon and restriction-site associated DNA libraries, but their use can be expanded to any type of library sequenced on Illumina platforms.
Introduction
Massively parallel sequencing, more commonly known as next-generation sequencing (NGS), has transformed the life sciences. The unprecedented amount of sequence data generated by NGS platforms facilitates advances in approaches, techniques, and discoveries (Ansorge, 2009; Tautz, Ellegren & Weigel, 2010; Goodwin, McPherson & McCombie, 2016). Reduced costs (Glenn, 2011; Glenn, 2016) are a major component of NGS success because cost reduction enables many studies that were previously infeasible. Although NGS costs per read have dropped tremendously, the minimum cost to obtain any amount of NGS data (i.e., the minimum buy-in cost) remains high, particularly when researchers want to collect small amounts of DNA sequence data from large numbers of individual samples in a single run. These buy-in costs are largely driven by the money required to purchase adapters containing unique identifying sequences that allow tagging and tracking of samples sequenced in multiplex (see Glossary). For example, the purchase price for a subset of 96, single-index, TruSeq-equivalent adapters described in Faircloth & Glenn (2012) would require an initial investment of at least $3,161 (US; $11,321 with TruGrade® purification), and this investment is exclusive of the additional costs to purchase other necessary library preparation reagents and consumables. A second problem for researchers wishing to collect smaller amounts of sequence data from many samples sequenced in multiplex is the relatively limited number of indexed adapters that are available. Although several publications (e.g., Meyer & Kircher, 2010; Faircloth & Glenn, 2012; Rohland & Reich, 2012) and commercial products (e.g., Illumina Nextera, Illumina, San Diego, CA, USA; Bioo Scientific NEXTflex-HT, Bioo Scientific, Austin, TX, USA) provide schemes for indexing hundreds of individuals sequenced in multiplex, most of these approaches do not facilitate individually tagging many thousands of samples at low cost so that samples can be pooled into a single sequencing run. Given the increasing capacity of high-end Illumina instruments (e.g., Illumina NovaSeq), this is a significant and growing issue. A third constraint that has long been known (Kircher, Sawyer & Meyer, 2012) is that Illumina instruments can mismatch the read(s) and index sequence(s) by hopping or swapping indexes (Sinha et al., 2017; Costello et al., 2018), causing sequence misidentification and other problems. Uniquely tagging each index position significantly reduces these problems (Kircher, Sawyer & Meyer, 2012; Illumina, 2017; Costello et al., 2018). As a result, library preparation methods that reduce costs while simultaneously increasing the number of samples that can be tagged and sequenced together would benefit many types of research.
In this first paper of the Adapterama series, we present the key components of an integrated system for producing 384 uniquely dual-indexed (or 147,456 combinatorially-indexed) Illumina libraries at low cost (Fig. 1, Figs. S1). We build this integrated system on top of previous developments introduced by Illumina (2018a) and others (e.g., Meyer & Kircher, 2010; Fisher et al., 2011), and we show that it is possible to significantly reduce library preparation costs by changing from full-length adapters that incorporate tags in the Illumina TruSeq strategy to shorter universal adapter stubs and indexing primers (hereafter referred to as the iTru strategy; which is similar to the original Illumina indexing strategy Illumina, 2018a). Simply moving from a TruSeq indexing strategy to the iTru indexing strategy, while maintaining a single indexing position, can reduce costs by more than 50% (Table 1). When taking advantage of the dual-indexing offered by our iTru strategy, researchers can reduce costs by at least an order of magnitude relative to TruSeq (Table 1). This method is also extensible to the Illumina Nextera adapter sequences (Syed, Grunenwald & Caruccio, 2009; Adey et al., 2010), hereafter referred to as the iNext approach (Figs. S1–S2; File S1). We focus on describing the iTru system because TruSeq is more commonly used than Nextera and to simplify presentation of the system (details of the iNext system are generally given in the supplemental figures and files). In subsequent Adapterama manuscripts, we extend the system presented here for a variety of applications (e.g., amplicon sequencing and RADseq), but we use our iTru or iNext indexing primers throughout (Fig. S1).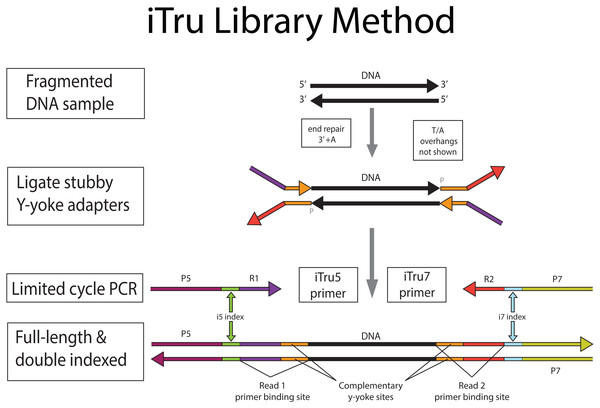 | Uniquely indexed libraries | Librarytype | Index positions | Stub adapter Oligos | Long adapter Oligos | Indexed primers | Adapter cost + Primer cost (US $) |
| --- | --- | --- | --- | --- | --- | --- |
| 96 | TruSeq* | 1 | 0 | 1 + 96 | 0 [2#] | $4,019 + $18 |
| 96 | TruSeq Nano HT | 2 | 0 | 8 + 12 | 0# | $4,560$+ $0 |
| 96 | iTrua | 1 | 2 | 0 | 1 + 96 | $45 + $1,617 |
| 96 | iTrub | 2 | 2 | 0 | 8 + 12 | $45 + $344 |
| 384 | TruSeq* | 1 | 0 | 1 + 384 | 0 [2#] | $16,029 + $18 |
| 384 | iTrua | 1 | 2 | 0 | 1 + 384 | $45 + $6,416 |
| 384 | iTrub | 2 | 2 | 0 | 16 + 24 | $45 + $689 |
| 9216 | TruSeq* | 1 | 0 | 1 + 9216e | 0 [2#] | $392,049 + $18 |
| 9216 | iTrua | 1 | 2 | 0 | 1 + 9216c | $45 + $153,539 |
| 9216 | iTrub | 2 | 2 | 0 | 96 + 96 | $45 + $3,333 |
| 147,456 | iTrub | 2 | 2 | 0 | 384 + 384 | $45 + $13,332 |
Here we outline the ideas underlying genomic library construction for Illumina sequencers, and we provide some historical perspective on Illumina library preparation for researchers new to Illumina sequencing. Following this introduction, we describe our iTru design, which modifies Illumina's original library construction method and extends the approach to include indexes on both primers (i.e., double-indexing; c.f., Kircher, Sawyer & Meyer, 2012). The iTru method (Figs. 1, 2 and 3) produces: (1) libraries that are compatible with all Illumina sequencing instruments and reagents; (2) libraries that can be pooled (i.e., multiplexed) with other Illumina libraries; (3) libraries that can be sequenced using standard Illumina sequencing primers and protocols; and (4) data that can be demultiplexed with standard Illumina software packages and pipelines.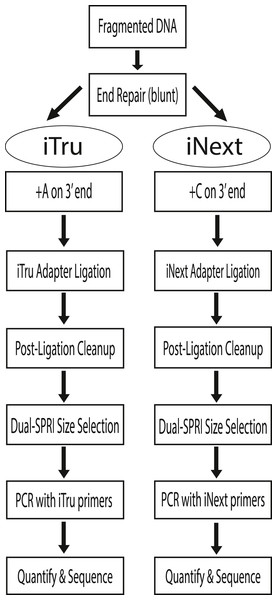 Illumina libraries
DNA molecules that can be sequenced on Illumina instruments require specific primer-binding sites (i.e., adapters; Glossary) on each end. The procedure to incorporate the adapters to the DNA insert is generally referred to as "library preparation". Library preparation of genomic DNA, in its most common form, involves randomly shearing DNA to a desired size range (e.g., 200–600 bp); end-repairing and adenylating the sheared DNA; adding synthetic, double-stranded adapters onto each end of the adenylated DNA molecules using T/A ligation; and using limited-cycle PCR amplification to increase the copy number of valid constructs (Figs. 1, 2 and 3, S3; c.f. Fig. S2; Fig. S4).
Illumina library preparations differed from their early competitors (chiefly 454) because their double-stranded adapters used a Y-yoke design to increase library construction efficiency (Bentley et al., 2008; Greigite, 2009). The Y-yoke structure of the adapters allows each starting DNA molecule to serve as two templates, requiring ≥3 cycles of PCR to produce complete double-stranded library molecules (Fig. S3). The DNA molecules resulting from these preparations (Figs. 1, 2 and 3; Fig. S4) contain: (1) outer primer-binding sites (P5 and P7) used to capture individual DNA molecules on the surface of Illumina flow cells and clonally amplify them; (2) separate primer-binding sites (Read 1 and Read 2), located internal to the P5 and P7 sites, that allow directional sequencing of both DNA strands; and (3) short DNA sequences, known as indexes (Glossary; see below), inserted into the P7 side of the adapter molecule (Illumina, 2018a; Fig. 4, i7 index, sequence obtained from Index Read 1; the i5 index was added subsequently, see below).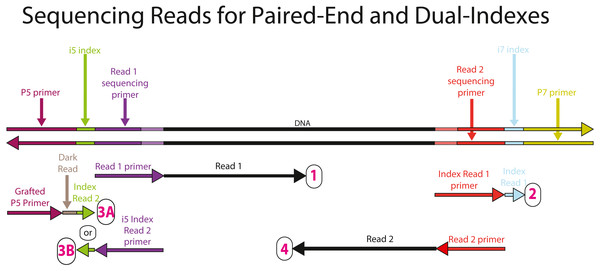 Indexing
Indexing strategies are generally meant to individually identify different DNA samples by incorporating unique DNA sequences into the library constructs (Shoemaker et al., 1996; Binladen et al., 2007; Glenn et al., 2007; Hoffmann et al., 2007; Meyer et al., 2007; Craig et al., 2008). Indexed libraries can then be pooled together (multiplexed) in a single sequencing lane. During sequencing, individual molecules are captured on the surface of the Illumina flow cells, the individual molecules are clonally amplified, and up to four separate sequencing reactions take place sequentially, each creating a separate sequencing read (Fig. 4). After sequencing, computer software matches the observed index sequence for each molecule to a list of samples with expected indexes (i.e., using a sample sheet; File S2) and parses the bulk data back into its component parts (i.e., demultiplexing, e.g., using bcl2fastq Illumina, 2017).
In practice, the history and current status of Illumina indexing strategies is quite complicated (e.g., Illumina, 2018a), with several transitions among different adapter systems that resulted from changing capabilities of sequencing instruments. Illumina originally created 12 different i7 indexes (Figs. 1; 3 and 4) to allow pooling of up to 12 samples, and the company later increased the number of i7 indexes for certain applications to 48. The original Illumina i7 indexes had a length of six nucleotides (nt) and were constructed such that ≥2 substitution errors were needed to turn one index into another—an effort to minimize sample confusion as a result of sequencing error. Sequencing errors on Illumina instruments are primarily substitutions; thus, Illumina's initial indexes were designed to be robust to substitution sequencing errors. Deletions, however, are the primary errors of oligonucleotide synthesis (i.e., synthesis of the adapters and/or primers used to make the indexed libraries). It is, therefore, desirable to have indexes that are robust to insertions and deletions (indels) as well as substitutions, thus conforming to an edit-distance metric and limiting the assignment of sequences to the wrong sample (Faircloth & Glenn, 2012). When index sets have edit-distances ≥3, then error correction can be employed, but this distance criterion is frequently violated (Faircloth & Glenn, 2012).
Building upon earlier in-house and external efforts, Illumina introduced a product (Nextera kits) that used an i5 index and an i7 index (i.e., dual-indexing; see Glossary, Fig. 1, and below) each of which were longer (8 nt) and, at that time, conformed to the edit-distance metric. Nextera adapters use the same sequences for interaction with the flow-cell (i.e., P5 and P7; Fig. 1), but have unique Read 1 and Read 2 sequences relative to TruSeq (Figs. S2; S4). Thus, Illumina does not recommend combining Nextera and TruSeq libraries within a single sequencing lane (Illumina, 2012; but see below). Illumina subsequently incorporated 8 nt, dual indexes into the TruSeq system with their release of TruSeqHT. Although the Illumina TruSeqHT indexes are robust to insertion, deletion, and substitution errors, the updated TruSeqHT i7 indexes do not maintain an edit-distance ≥3, when compared to other TruSeq HT i7 indexes in the same set or when combined with all previous Illumina i7 indexes, and so do not allow proper error correction (Fig. S5; File S3). Regardless, the TruSeqHT indexing system is more robust, accurate, and flexible than previous approaches, and researchers can index template DNA molecules using the i7 indexes alone (single-indexing) or in combination with i5 indexes (dual-indexing).
Dual indexing on the Illumina platform means that indexes can be used combinatorially (Kircher, Sawyer & Meyer, 2012; Faircloth & Glenn, 2012). Major advantages of the dual-indexing strategy include: (1) the need for fewer oligonucleotides to index the same number of samples in multiplex (e.g., 8 + 12 = 20 primers produce 8 ×12 = 96 unique tag combinations); (2) concomitantly reducing the cost of production, inventory, and quality control (QC) (i.e., it is less expensive to produce, maintain stocks of, and do QC on 20 primers than 96); and (3) the universality of the approach—dual-indexing is compatible with both full-length adapters (e.g., TruSeqHT libraries) or universal adapter stubs and primers (e.g., Nextera, iNext, or iTru). As noted above, combinatorial indexing is susceptible to index hopping which results in sequences being assigned to the incorrect samples, whereas using unique sequences at multiple index positions (e.g., unique dual-indexes) significantly reduces these problems (Kircher, Sawyer & Meyer, 2012; Illumina, 2017; Costello et al., 2018).
Illumina-compatible libraries
Illumina's libraries have been the industry's gold standard for sequence quality on Illumina platforms, but their library preparation kits are among the most expensive available. The number of indexes offered by Illumina was limited to ≤48 and the number of dual-index combinations ≤96, until subsequent releases of additional indexes for the Nextera system, which can dual-index up to 384 samples (Illumina, 2018b). Most recently, Illumina has partnered with Integrated DNA Technologies, Inc. (IDT, Coralville, IA, USA) to develop a set of 192 (96 + 96) indexed adapters that also contain unique molecular identifiers (https://support.illumina.com/downloads/idt-illumina-truseq-ud-indexes-sample-sheet-templates.html; UMIs, Glossary) to improve multiplexing, mitigate sample misassignment due to index hopping, and detect PCR duplicates (IDT, 2018; MacConaill et al., 2018). Alternative commercial kits have been produced to increase efficiency, reduce GC bias (Aird et al., 2011; Kozerewa et al., 2009), and/or increase the number of indexes, but costs remain high and the total number of commercially available indexes still generally remains ≤384.
A variety of library preparation methods have also been described by research groups that reduce per-sample costs relative to most commercial kits (e.g., Meyer & Kircher, 2010 [MK-2010]; Fisher et al., 2011 [F-2011]; see Head et al., 2014 for others). The MK-2010 and F-2011 methods are in widespread use, but they do have some shortcomings. For example, the MK-2010 method: (1) specifies HPLC purification of adapter oligonucleotides, which increases start-up costs dramatically and can lead to contamination from previous oligonucleotides that were purified on the same HPLC columns; (2) relies on hairpin suppression of molecules with identical adapter ends (instead of using a Y-yoke adapter) which is efficient with smaller inserts (e.g., <200 bp) but loses efficiency with increasing insert length; and (3) relies on blunt-ended ligation, which allows the formation of chimeric inserts. The F-2011 method introduced the idea of "on-bead" library preparation, which increases efficiency and reduces costs; thus, many commercial kits have subsequently incorporated similar on-bead library preparation approaches. Limitations of the F-2011 method include use of: (1) custom NEB reagents, not in the standard catalog or available in small quantities; (2) large volumes of enzymes; and (3) Illumina adapters and primers, which increase costs and limit the number of samples that can be pooled.
Our approach builds upon many of the previous approaches introduced by Illumina, MK-2010, F-2011, Rohland & Reich (2012), and others to develop library preparation methods for genomic DNA that overcome many of these limitations. We describe adapters, primers, and library construction methods that produce DNA molecules equivalent to and compatible with Illumina's TruSeqHT libraries (and, separately, Nextera libraries, see File S1; Table 2). Our method extends the number of available index combinations from 96 × 96 to 384 × 384, while maintaining a minimum edit-distance of ≥3 between all indexes. We demonstrate the effectiveness of our combinatorial indexing primers by controlled quantitative PCR experiments, and we demonstrate the utility of our system by preparing and sequencing iTru libraries from organisms with varying genome size and DNA quality.
| Library Type | Nextera | iNext | iTru | TruSeq Nano HT |
| --- | --- | --- | --- | --- |
| Input DNA (ng) | Intact (≥50) | Sheared (≥100b) | Sheared (≥100c) | Sheared (≥100) |
| Repair ends | N/A | Yes | Yes | Yes |
| Add DNA overhang | N/A | C | A | A |
| Ligate adapter | Tagmentation | iNext stub | iTru stub | TruSeq |
| Limited cycle PCR primers | Nextera or iNext* | Nextera or iNext | iTru | P5 and P7 |
| Advantages | Least time | Lower cost, high diversity | Lower cost, high diversity | Industry standard |
| Disadvantages | Higher cost, lower diversity, less randomnessb | More prep. time than Nextera | More prep. time than Nextera | Higher cost, more input DNA, more prep. time; not for sequence capture |
Discussion
Our results show that the iTru universal adapter stubs and iTru primers can be used to produce genomic libraries for a variety of purposes. The low variance in CT values among iTru5 and iTru7 primers demonstrates that the different index sequences have minimal effect on the libraries, and our results from real-world tests demonstrate that the iTru system works well with DNA from different extraction methods and of differing quality, quantity, and copy number. The results we present from DNA libraries prepared using the iTru system in our and others' laboratories show that the approach easily scales to hundreds of libraries prepared, pooled, and sequenced in a single lane, ultimately producing information consistent with the variety of Illumina library techniques we have employed to obtain similar data (e.g., Crawford et al., 2012; McCormack et al., 2013; Smith et al., 2014; Kieran et al., 2019).
After testing the iTru system in several labs, we made several changes in our approach. The most significant of these were: (1) use a naming scheme that allows researchers to easily identify sets of iTru7 primers that are compatible or incompatible with TruSeq indexes; and (2) to increase the amount of iTru5 and iTru7 aliquoted into plates after oligo synthesis (from 0.625 nmol to 1.25 nmol), which reduced library amplification failures that resulted from improper hydration of low-quantity primers in specific wells of plates. The naming scheme and concentrations used in all supplemental files and the naming scheme we used in the Methods section reflect these changes to minimize confusion. After making these changes, we and others have successfully produced libraries and sequencing reads from all iTru5 and iTru7 primers, libraries for many of the primers are detailed in the supplemental files, and we have no evidence suggesting that any of the primer sequences will not work correctly. The original sets of iTru7 primers (sets 00–13) synthesized for beta testing have mixed compatibility with Illumina indexes, thus we encourage beta users to exhaust old stocks and adopt the new sets.
It is important to note that the iTru5 and iTru7 primers are grouped into "balanced" sets of 8 or 12 to minimize problems of index base diversity during sequencing. Index balance problems arise because of the way Illumina platforms detect bases during the sequencing run (Illumina, 2016), and the main issues associated with unbalanced base composition are experienced when relatively few samples are sequenced or when a small number of libraries with unbalanced sequence tags take up a large fraction of the sequencing run. We modeled the original four color-scheme used in HiSeq and MiSeq instruments. Using an entire group of eight iTru5 and 12 iTru7 indexed primers within a sequencing pool where each library is present in equal proportion ensures balanced base representation during the index sequence read(s). We also empirically validated this in the two-channel system used in NextSeq, MiniSeq and NovaSeq platforms. Generally, when researchers multiplex more than one group of eight iTru5 or 12 iTru7 indexed primers, base diversity is even more balanced, although it is always a good idea to check the balance of sequencing tags in all sequencing runs (i.e., use File S10). When less than a whole set of primers (i.e., <8 iTru5 primers or <12 iTru7 primers) are used, or if very few libraries will dominate the percentage of reads within a run, it becomes critical to ensure the tags are sufficiently diverse (i.e., use File S10, which includes separate calculations of base diversity for both color schemes). It is also possible to use the stub ligation products from one sample for multiple PCR reactions with different iTru5, iTru7 primers, or even to pool iTru5 and iTru7 primers, thus creating increased numbers of indexes in a pool from a limited number of samples.
All of the iTru oligonucleotides make use of a single phosphorothioate bond between the penultimate and 3′ base. Phosphorothioate linkages protect the 3′ end of oligonucleotides from some forms of nuclease activity (Eckstein, 1985; Skerra, 1992) such as those introduced by some DNA ligases and polymerases (exonuclease activity is a common contaminant of ligases and an intrinsic activity of proofreading polymerases), but phosphorothioate linkages add a modest cost to each primer (∼$3 USD per phosphorothioate linkage). Phosphorothioate linkages are also chiral, so only 50% of synthetic molecules receive protection per linkage, while the other 50% remain susceptible to nuclease activity (Eckstein, 1985). Adding a second phosphorothioate bond can reduce the proportion of unprotected molecules by 50% (thus 75% would be protected and 25% would remain susceptible). Illumina and other vendors often include three or more phosphorothioate linkages at the 3′ end of their oligonucleotides to ensure that a large fraction of the molecules are protected from nuclease activity. We include only a single phosphorothioate linkage in our iTru oligo designs because if we lose the 3′ base, we would rather lose the rest of the molecule instead of rescuing the remaining part of it, which may not function appropriately. This strategy also reduces costs associated with synthesizing the oligonucleotides, although others may prefer to incorporate additional phosphorothioate linkages (e.g., two phosphorotioate linkages would lead to 50% fully protected oligonucleotides and 25% that only lose a single 3′ base).
Conclusions
We describe an approach that uses a single universal adapter stub and relatively few PCR primers to produce many Illumina libraries. The approach allows multiple researchers to have unique primer sets so that libraries from individual researchers can be pooled without worrying about tag overlap. These primers can also be used with a variety of other application-specific adapters described in subsequent Adapterama papers for amplicon and RADseq libraries (Bayona-Vásquez et al., 2019; Glenn et al., 2019; Hoffberg et al., 2016). By modularizing library construction, researchers are free to focus on the development of new application-specific tags. Taking advantage of the many available tags also creates opportunities for low-cost experimental optimization attempts. Although the adapters and primers we describe are specific to Illumina, many of the ideas can easily be extended to Ion Torrent, Pacific Biosystems, Oxford Nanopore, and other sequencing platforms (Glenn et al., 2007).