Morphology of the jaw, suspensorial, and opercle musculature of Beloniformes and related species (Teleostei: Acanthopterygii), with a special reference to the m. adductor mandibulae complex
Museum für Naturkunde, Leibniz-Institut für Evolutions- & Biodiversitätsforschung an der Humboldt-Universität zu Berlin

,

Berlin

,

Germany
Published

Accepted

Received
Academic Editor
Subject Areas

Keywords

Atherinomorpha

, Oryzias , Perca , Belone ,

Jaw elongation

,

Feeding
Copyright

©

2015

Werneburg

Licence

This is an open access article distributed under the terms of the Creative Commons Attribution License, which permits unrestricted use, distribution, reproduction and adaptation in any medium and for any purpose provided that it is properly attributed. For attribution, the original author(s), title, publication source (PeerJ) and either DOI or URL of the article must be cited.
Cite this article

2015

.

Morphology of the jaw, suspensorial, and opercle musculature of Beloniformes and related species (Teleostei: Acanthopterygii), with a special reference to the m. adductor mandibulae complex

.

PeerJ

3

:

e769

https://doi.org/10.7717/peerj.769
Abstract
The taxon Beloniformes represents a heterogeneous group of teleost fishes that show an extraordinary diversity of jaw morphology. I present new anatomical descriptions of the jaw musculature in six selected beloniforms and four closely related species. A reduction of the external jaw adductor (A1) and a changed morphology of the intramandibular musculature were found in many Beloniformes. This might be correlated with the progressively reduced mobility of the upper and lower jaw bones. The needlefishes and sauries, which are characterised by extremely elongated and stiffened jaws, show several derived characters, which in combination enable the capture of fish at high velocity. The ricefishes are characterised by several derived and many plesiomorphic characters that make broad scale comparisons difficult. Soft tissue characters are highly diverse among hemiramphids and flying fishes reflecting the uncertainty about their phylogenetic position and interrelationship. The morphological findings presented herein may help to interpret future phylogenetic analyses using cranial musculature in Beloniformes.
Introduction
The m. adductor mandibulae complex belongs to one of the most intensively studied soft tissues in vertebrates. It primarily moves the skeletal elements associated to the mandibular arch and is the main head and the most powerful feeding musculature. The m. adductor mandibulae complex is highly adapted to different feeding strategies among vertebrate clades and, as such, experienced a large amount of diversification. Its anatomy is informative for different phylogenetic levels and a mutual evolution with jaw and skull anatomy can be observed (e.g., Gosline, 1986; Diogo, 2008; Diogo & Abdala, 2010; Datovo & Vari, 2013).
Among teleost fishes, the jaw anatomy of Beloniformes, the needlefishes and their allies, is very diverse. As such, they received reasonable attention in osteological, phylogenetic as well as ontogenetic analyses Rosen & Parenti, 1981; Boughton, Collette & McCune, 1991; Lovejoy & De Araujo, 2000; Lovejoy, Iranpour & Collette, 2004. The taxon includes small, short-snouted and duckbilled ricefishes (Adrianichthyidae) (Parenti, 1987), which live in flooded Asian rice fields. Halfbeaks (hemiramphids), another group, are characterised by an elongated lower jaw. The flying fishes (Exocoetidae) have short snouts; whereas the sauries (Scomberesocidae) and needlefishes (Belonidae), which are adapted to fast swimming and fish hunting, have elongated upper and lower jaws with extended teeth rows (Nelson, 2006). Although the drastic ontogenetic changes of the jaws have been previously studied in their external shape (Boughton, Collette & McCune, 1991; Lovejoy, Iranpour & Collette, 2004), the anatomy of the fully formed cranial musculature has received little attention.
Beloniformes belong to the Atherinomorpha (Fig. 1), which are placed within the Acanthopterygii. The phylogenetic relationships among acanthopterygian groups, which also include taxa such as Perciformes and Mugilomorpha, are controversial (e.g., Stiassny, 1990; Johnson & Patterson, 1993; Parenti, 1993; Parenti & Grier, 2004; Rosen & Parenti, 1981; Wu & Shen, 2004; Nelson, 2006; Setiamarga et al., 2008; Near et al., 2013). Smegmamorpha, Mugilomorpha, or Paracanthopterygii have all been hypothesised to form the sister taxon to Atherinomorpha.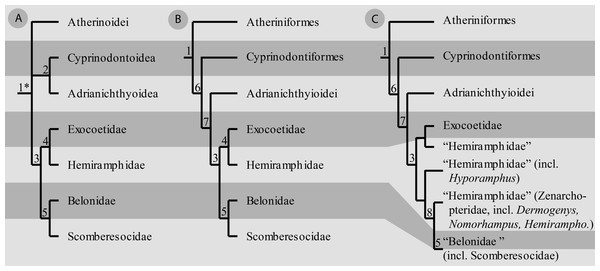 The monophyly of Atherinomorpha is currently accepted (Nelson, 2006; Near et al., 2013). Atheriniformes form the sister group of Cyprinodontea, which comprises Cyprinodontiformes (killifishes and their allies) and Beloniformes (Figs. 1B–1C). Recently, Li (2001) analysed osteological data of the hyobranchial apparatus and re-established the traditional hypotheses of Berg (1958) and Rosen (1964) of a closer relationship of Adrianichthyidae to Cyprinodontiformes (Fig. 1A; see also Temminck & Schlegel, 1846: compared to Yamamoto, 1975). This hypothesis, however, was not based on a cladistic analysis and represents phenetic classifications. These classifications are in strong contrast to several morphological and molecular analyses, which result in a sister group relationship of Adrianichthyidae and Exocoetoidea, comprising the remaining Beloniformes (Fig. 1), and Beloniformes as the sister group of Cyprinodontiformes (Rosen & Parenti, 1981; Collette et al., 1984; White, Lavenberg & McGowen, 1984; Naruse et al., 1993; Dyer & Chernoff, 1996; Naruse, 1996; Hertwig, 2008).
The phylogenetic relationships within Beloniformes are still a matter of debate. Traditional studies (Rosen, 1964; Rosen & Parenti, 1981) found two major clades within Beloniformes (excl. Adrianichthyidae), namely Exocoetoidea (flying fishes and halfbeaks) and Scomberesocoidea (sauries and needlefishes), together forming the Exocoetoidei (Rosen, 1964; Parin & Astakhov, 1982; Collette et al., 1984; Figs. 1A–1B).
Recently, Lovejoy (2000) and Lovejoy, Iranpour & Collette (2004) proposed the paraphyly of hemiramphids and nested Scomberesocidae inside "Belonidae" (Fig. 1C). The paraphyly of hemiramphids was also supported by Tibbetts (1991) and Aschliman, Tibbetts & Collette (2005). The halfbeak Dermogenys (which is included in the present study) was found to be a member of the Zenarchopteridae, which comprise a subset of hemiramphids of the Indo-West-Pacific (Anderson & Collette, 1991; Lovejoy, 2000; Meisner, 2001). Zenarchopteridae represents the sister taxon of the clade formed by needlefishes and sauries (Lovejoy, Iranpour & Collette, 2004; Aschliman, Tibbetts & Collette, 2005). Other representatives of the traditionally recognized hemiramphids grouped with the Exocoetidae, or as the sister group to the clade Zenarchopteridae + "Belonidae" (Fig. 1C).
The complex jaw musculature of Beloniformes has only been studied in very few species so far, and most published descriptions of beloniform species are superficial and insufficiently illustrated, making broad scale phylogenetic comparisons impossible. That makes broad phylogenetic comparisons impossible. The aim of the present study was to illustrate and describe the morphological diversity of cranial musculature of six selected species of Beloniformes in great detail and to compare it to external jaw anatomy. By using manual dissections and histological slide sections I aim to provide a comprehensive anatomical basis for future researchers studying more species in a phylogenetic context.
In the present, purely anatomical study, the great diversity within beloniform subgroups or within non-beloniform groups could not be studied by maintaining the provided extent and detail of illustrations and descriptions. However, I present some considerations about the potential phylogenetic relevance of some characters that have to be tested in future studies. Therefore, four selected near related acanthopterygian species, which may serve as outgroup in future phylogenetic studies, are described. In addition to two atherinomorph species, I included the percomorph Perca fluviatilis, which was recently used to define the ancestral pattern of atherinomorph jaw musculature (Hertwig, 2008), and the mugilomorph Rhinomugil corsula, which is possibly closer related to Atherinomorpha (Stiassny, 1990; Setiamarga et al., 2008; Near et al., 2013). A preliminary character mapping is presented.
Materials and Techniques
Taxonomic sampling
The cranial anatomy of ten acanthopterygian species was studied, including six species of Beloniformes (Figs. 2–20). Specimens from the following collections were used: Phyletisches Museum der Friedrich Schiller Universität Jena, Germany (ISZE), Smithsonian Institution of the National Museum of Natural History Washington, USA (USNM), Naturhistorisches Museum der Burgergemeinde Bern, Switzerland (NMBE).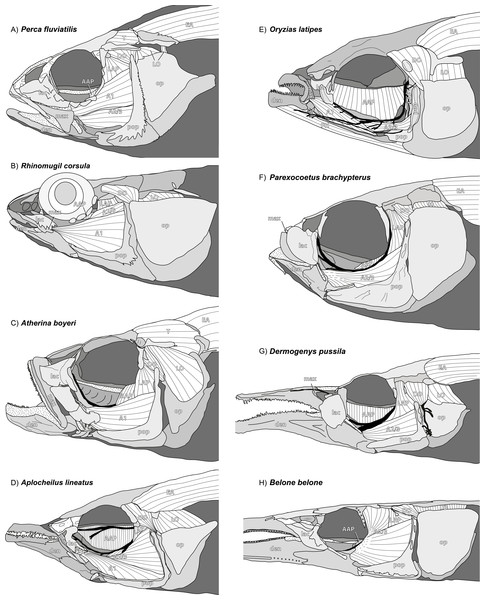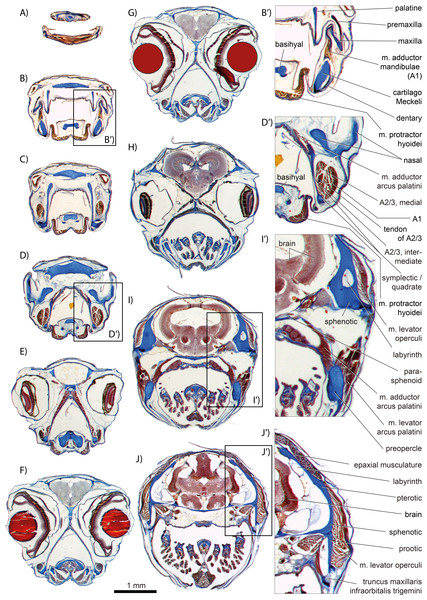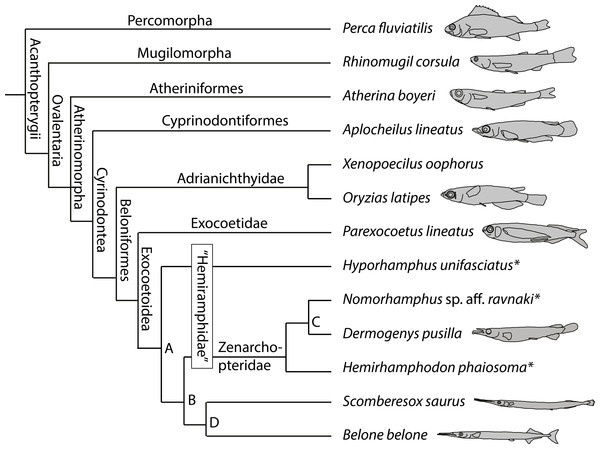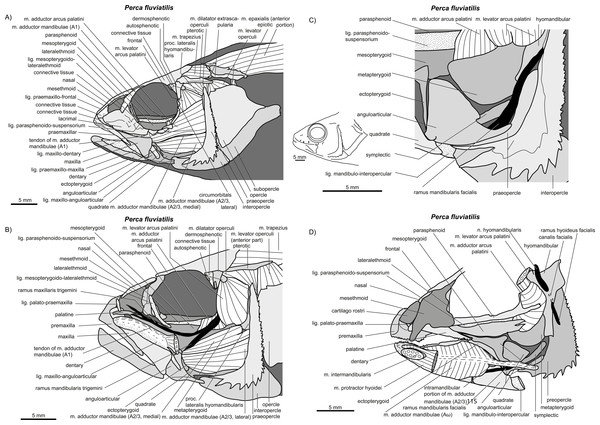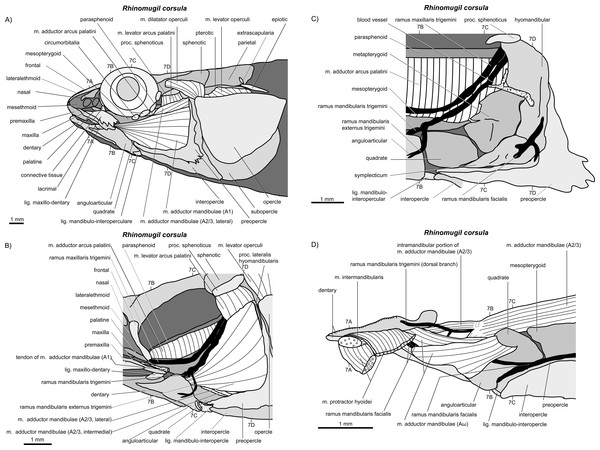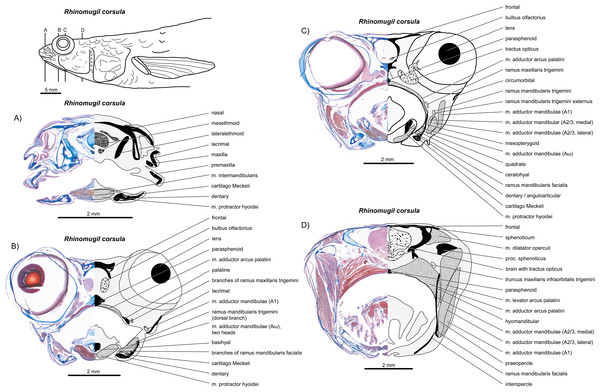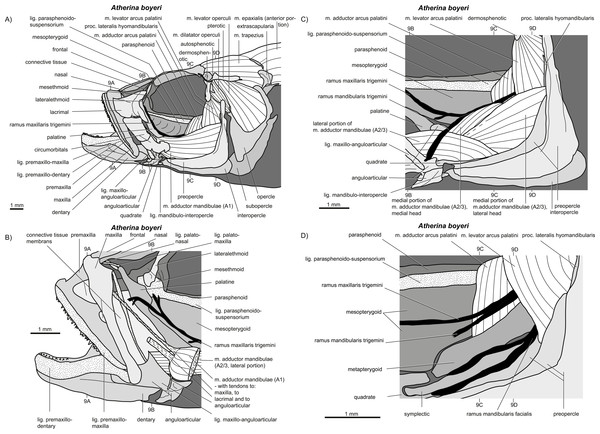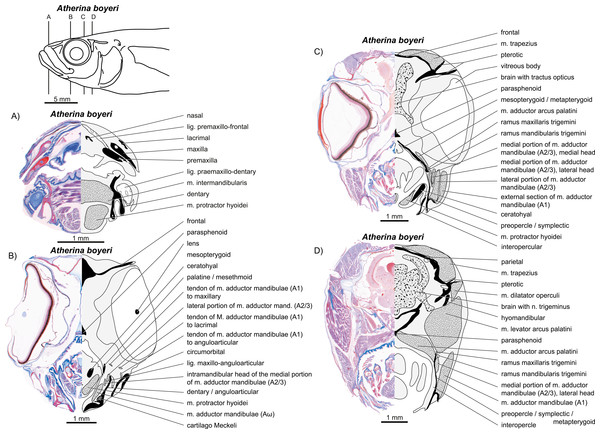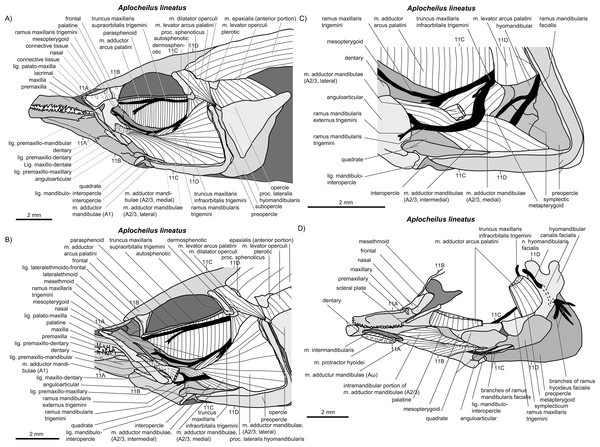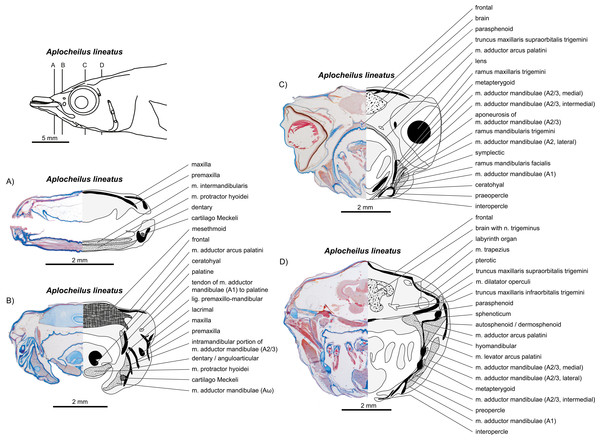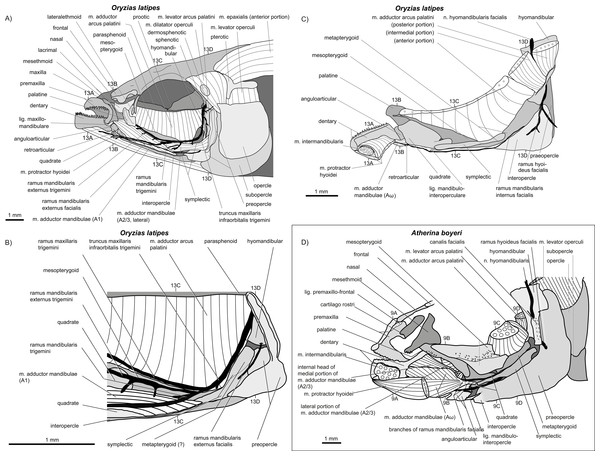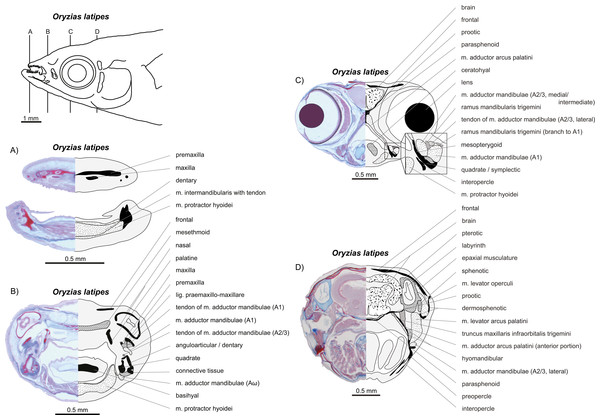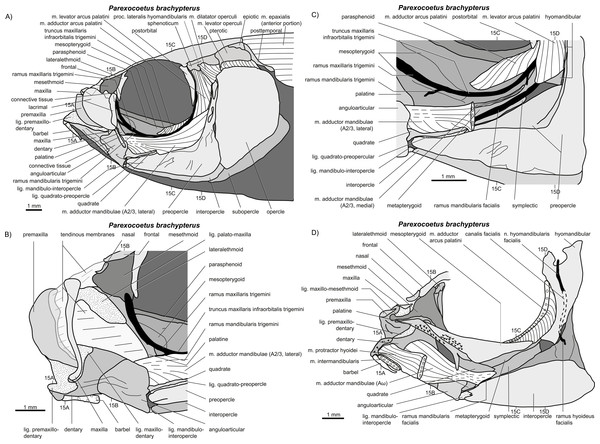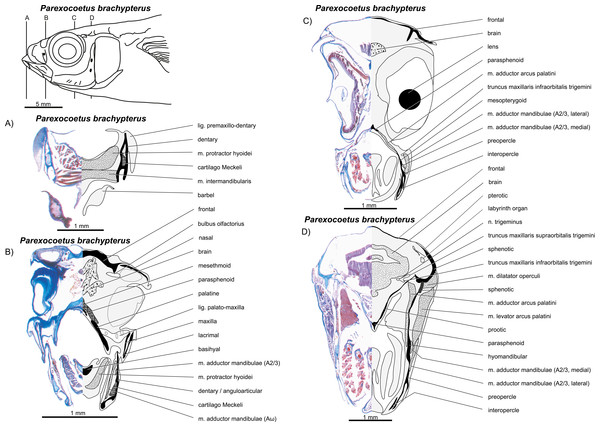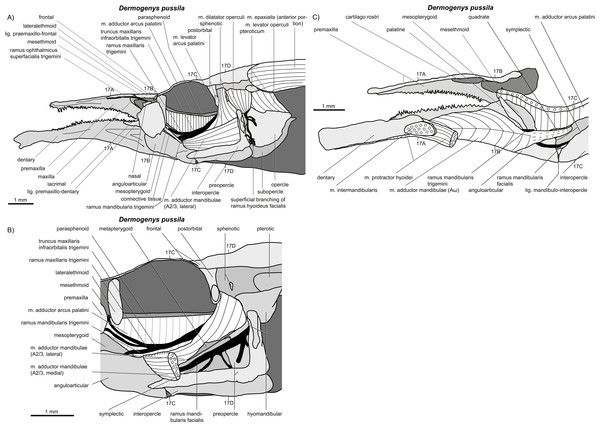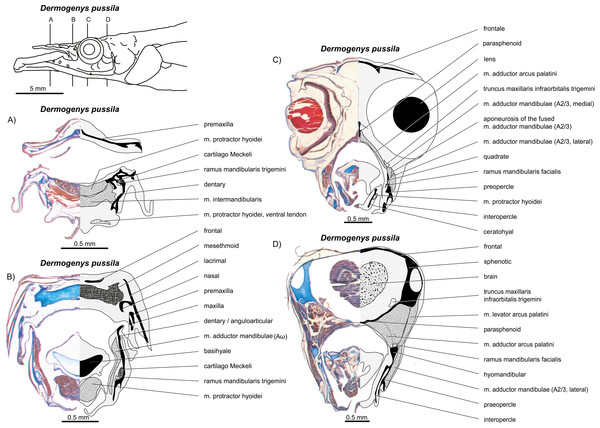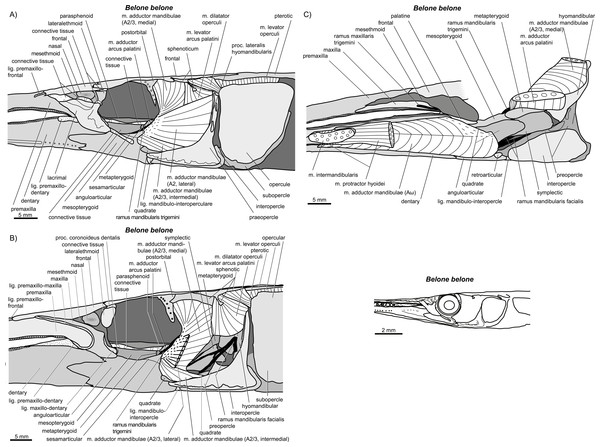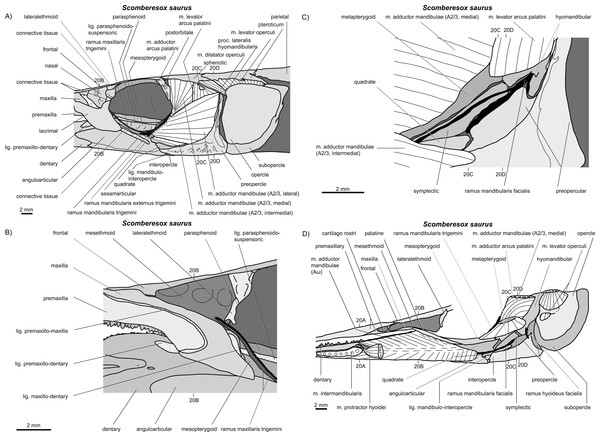 For a phylogenetic analysis, published information on further beloniform, namely hemiramphid species, Hyporhamphus unifasciatus (Ranzani, 1841), Nomorhamphus sp. aff. ravnaki (Brembach, 1991), and Hemirhamphodon phaiosoma (Bleeker, 1852), were included (Table 1, Fig. 4). According to the new findings of Werneburg & Hertwig (2009), the data on O. latipes were modified when compared to Hertwig (2005), Hertwig (2008) and Werneburg (2007).
Character complex
Character
Aplocheilus lineatus
Atherina boyeri
Belone belone
Dermogenys pusilla
Hemirhamphodon phaiosoma*
Hyporhamphus unifasciatus*
Nomorhamphus sp. aff. ravnaki*
Oryzias latipes
Parexocoetus brachypterus
Perca fluviatilis
Rhinomugil corsula
Scomberesox saurus
Xenopoecilus oophorus
External section of m. adductor
mandibulae (A1)
General appearance
0
0
1
1
0
1
0
0
1
0
0
1
0
Orientation
2
3
X
X
X
2
X
2
X
1
0
X
2
Insertion
4
3
X
X
X
1
X
2
X
0
1
X
1
Internal section of m. adductor
mandibulae (A2/3)
Origin
1
X
1
0
0
0
0
1
0
0
1
1
1
Lateral head
0
X
0
1
0
0
0
3
2
2
0
0
3
Medial head
2
X
4
4
X
X
X
3
2
0
1
4
3
Intermedial head
1
X
1
X
X
X
X
2
X
X
0
1
2
Muscle portions
0
1
0
0
0
0
0
0
0
0
0
0
0
Orientation of muscle heads
0
1
0
0
?
?
?
2
2
0
2
0
0
Relative size of muscle heads
2
X
3
0
?
?
?
3
1
0
2
3
3
Insertion
0
0
1
0
0
0
0
0
0
0
0
1
0
Intramandibular portion
2
3
0
0
0
0
0
0
0
4
1
0
0
Intramandibular section of m. adductor
mandibulae (Aω)
Origin
3
3
2
0
0
0
0
1
0
4
2
2
5
Shape
3
1
1
1
2
2
2
2
2
1
0
1
X
Insertion
2
0
1
0
?
?
?
3
0
0
X
1
X
M. intermandibularis
Cross section
2
0
2
2
2
2
2
1
2
1
1
2
1
Shape
1
0
0
0
?
?
?
1
0
0
1
0
1
M. protractor hyoidei
Origin
2
2
3
0
?
?
?
1
0
0
2
3
2
Course
0
2
1
0
?
?
?
0
0
1
0
1
0
Anterior part
0
1
1
1
?
?
?
0
1
1
2
1
0
Insertion
0
1
2
2
2
2
2
2
0
2
2
0
2
Insertion tendon
X
1
0
0
?
?
?
1
X
1
1
X
1
M. adductor arcus palatini
Origin and insertion
0
1
1
0
1
1
1
0
1
1
0
1
0
M. levator arcus palatini
Origin
4
3
1
0
?
?
?
2
0
4
1
1
2
Course
1
1
1
1
?
?
?
0
1
1
0
1
0
Relation to other muscles
0
X
2
1
?
?
?
0
0
0
0
2
0
Insertion
0
2
0
0
?
?
?
1
0
0
2
0
1
M. dilatator operculi
Origin
1
1
2
2
?
?
?
2
0
1
2
0
0
Shape
0
0
1
1
?
?
?
0
1
1
0
1
1
M. levator operculi
Origin
0
0
0
0
?
?
?
0
0
1
0
0
0
Insertion
0
2
1
0
2
2
2
0
0
0
0
1
0
Nerves
Truncus maxillaris infraorbitalis
trigemini
0
0
2
1
?
?
?
1
1
0
0
2
1
Ramus mandibularis facialis
0
0
0
1
?
?
?
1
1
1
1
0
?
Ligaments
Lig. premaxillo-maxilla
1
1
0
1
0
0
0
1
1
1
1
0
1
Primordial ligament
1
0
1
1
1
1
1
1
1
0
1
1
1
Upper jaw/palatine ligament
0
0
2
2
?
?
?
0
0
1
2
2
0
Lig. parasphenoido-suspensorium
1
0
1
1
?
?
?
1
1
0
1
0
1
X

not applicable

?

unknown
Anatomical observations
Standard procedures for histology and manual dissection are those used by Werneburg (2007) and Werneburg & Hertwig (2009).
For dissection, two or more specimens per species were used. In the first step of dissection (summarised in Fig. 2) the lateral view of the skinned head including all muscles in their unaltered place, including the jaw adductor musculature, opercle-, and suspensoric-related musculature, was documented. In the second step, the external section of m. adductor mandibulae (A1) was mostly removed and the course of the internal section of m. adductor mandibulae (A2/3) was depicted. Further steps of dissection did allow inspection of the symplectic in lateral view with the A2/3 completely or partly removed. Finally, the medial view of the jaw apparatus was documented with a focus on the musculature medial of the lower jaw, namely the intramandibular section of m. adductor mandibulae (Aω), the anterior part of m. protractor hyoidei, and m. intermandibularis.
Serial sections were prepared for all species (slice thickness = 12 µm), except for Pe. fluviatilis and B. belone due to the size of these species. The positions of the sections are indicated in the dissection figures (Figs. 6, 8, 10, 12, 14, 16 and 19). For S. saurus, a juvenile specimen was used for histological sectioning (Fig. 20), whereas for manual dissections and character coding (as for all species), adult specimens were used (Fig. 20).
Nomenclature
Osteological nomenclature follows Weitzman (1962) and Weitzman (1974) with modifications as summarised by Hertwig (2008). Basic myological terminology is that of Werneburg (2011). Fish muscle nomenclature mainly corresponds to that of Winterbottom (1974). The homologisation of particular muscular portions follows Werneburg & Hertwig (2009). The nomenclature of the nervous system refers to Holje, Hildebrand & Fried (1986). For osteological and, if available, for myological comparisons, I relied on Osse (1969) for Perciformes; on Thomson (1954) for Mugilomorpha; on Kulkarni (1948), Rosen (1964), Karrer (1967), Hertwig (2005) and Hertwig (2008) for Adrianichthyidae and Cyprinodontiformes; on Clemen, Wanninger & Greven (1997), Greven, Wanninger & Clemen (1997), Meisner (2001), and Shakhovskoi (2002) for hemiramphids; on Khachaturov (1983) and Shakhovskoi (2004) for Exocoetidae; and on Chapman (1943) for Scomberesocidae.
Conclusions
In the present study, the variety of jaw, suspensoric, and opercle muscles was described for several acanthopterygian fishes with a focus on Beloniformes. The diversity of jaw muscles within Beloniformes corresponds to the external differences in their jaw morphology. As such, long beaked forms and species with protractible mouths show remarkable differences in their jaw musculature that may be correlated to stiffening or high mobility of the jaws.
Most important anatomical differences detected in this study exist in the external jaw musculature of Beloniformes. The jaw adductors belong to the most intensely studied muscles in vertebrates due to their prominent size and variation in the head and their importance for feeding mechanisms (Haas, 2001; Diogo, 2008; Diogo & Abdala, 2010; Daza et al., 2011; Konstantinidis & Harris, 2011; Werneburg, 2013a; Werneburg, 2013b; Datovo & Vari, 2013; Datovo & Vari, 2014). Among Acanthopterygii, the external section of m. adductor mandibulae (A1) experienced comprehensive diversifications (Wu & Shen, 2004), and among Beloniformes, it can either be present or absent.
The A1 lowers the upper jaw in most fishes. As an autapomorphy of Beloniformes, Mickoleit (2004) mentioned the reduced mobility of bones related to the upper jaw. Hertwig (2005) hypothesised that the reduced mobility of those bones might be correlated with the reduction of A1 within Beloniformes or the displacement of the A1-insertion apart from the upper jaw. In the present study, such a replacement of A1 was discovered in O. latipes (Fig. 2E; see also Werneburg & Hertwig, 2009). This species can still move its upper jaw during feeding (I Werneburg, pers. obs., 2006), which questions the possibility of a functional correlation of the character pair mentioned by Hertwig (2005) and Hertwig (2008), namely 'A1 no longer attached to upper jaw' and 'non-moveable upper jaw bones'.
Moreover, in the flying fish Pa. brachypterus, which has no A1 (Fig. 2F), a protrusible jaw was discovered herein. Therefore, the upper jaw bones are moveable against each other (Figs. 14 and 15).
The hemiramphid Dermogenys pusilla, which hunts at the surface of the water (Meisner, 2001), is able to easily move its short upper jaw, although the species has no A1 (Fig. 2G). Hence, coupled by ligament attachments, the lifting of the upper jaw appears to be indirectly performed by lowering the lower jaw. A deep coupling of those structures can be hypothesised for most other A1-lacking Beloniformes. In addition, the mobility of the protrusible upper jaw of Pa. brachypterus suggests a strong ligament-bone interaction (Figs. 14 and 15).
Among hemiramphids, whose phylogenetic relationship is debated, A1 can be absent (this study: Dermogenys pussila; Hertwig, 2008: Hyporhamphus unifasciatus) or can be present (Hertwig, 2008: Nomorhamphus sp., Hemiramphodon phaiosoma; Rosen, 1964: Arrhamphus brevis). Also Exocoetidae seem to have members with an A1 (Wu & Shen, 2004: Cypselurus cyanopterus, Parexocoetus mento; but see comments in the Results section) and members without an A1 (this study: Pa. brachypterus). The phylogenetic significance of those conditions can first be adequately estimated when more species are observed and more clarity exists about phylogenetic interrelationship. But this requires further detailed and comprehensive observations.
At least for B. belone (Fig. 2H) and S. saurus (Figs. 19 and 20), one may hypothesise that the loss of the A1 could be related to a strong fixation of the upper jaw to the cranium, realised by lig. premaxillo-frontale. Whether the upper jaw of both species is still moveable in vivo is not known so far, but is not expected.
As seen in hemiramphids, an elongated lower jaw not necessarily involves the reduction of A1. Xenopoecilus oophoris, an adrianichthyid with duckbill-like jaws, also has an A1 (Fig. 3), which is attached to the upper jaw. This indicates that also an elongated upper jaw, which possibly was present in the ground pattern of Beloniformes already (Parenti, 1987), not necessarily implies the loss of A1. Only the derived condition of two species, B. belone and S. saurus, which possess a stiffened upper jaw, may be clearly correlated to the loss of A1. As such, it can be expected that another belonid, Potamorrhamphis eigenmannii (Miranda Ribeiro, 1915), which has a moveable upper jaw in vivo (I Werneburg, pers. obs., 2006), could have an A1, but this hypothesis needs further observation. The present study shows that the loss of A1 must not be interpreted only in correlation to elongated jaws. Other biomechanical requirements must be considered.
The studied selection of non-beloniform species must be handled with care when choosing them as potential outgroup species (as example see Hertwig, 2008). Compared to the insufficient documentation of the cranial musculature of most acathopterygian groups, the species dissected herein appear to show several derived characters. E.g., Rh. corsula has three main components of A2/3. Most mugiliform taxa, however, are reported to have a different arrangement of that muscle (Gosline, 1993: Agonostomus; Van Dobben, 1935: Mugil; Wu & Shen, 2004: Chelon, Crenimugil; Starks, 1916: Mugil; Eaton, 1935: Mugil). As the authors of these studies did not observe histological sections, these findings could represent artefacts caused by the lower resolution of manual dissection.
As representative of the potential sister group to all remaining Beloniformes, the adrianichthyids Oryzias latipes and Xenopoecilus oophorus were studied herein. Hertwig (2005), Hertwig (2008) and Werneburg & Hertwig (2009) already diagnosed several derived characters for O. latipes that could be affirmed herein and together with X. oophorus, it shares several derived characters. Due to the distinctive morphology of Adrianichthyidae, problems could arise when reconstructing the jaw muscle configuration in the ground pattern of Beloniformes. In addition to several derived characters, the taxon seems to display several plesiomorphic characters shared with Cyprinodontiformes. This finding persuaded Rosen (1964) and Li (2001) to postulate a sister group relationship of Adrianichthyidae + Cyprinodontiformes, named as Cyprinodontoidei (Fig. 1A). The present study highlights which characters are most variable among near related species and may assist taxon and character selection in future phylogenetic studies.
The differing external jaw morphology of diverse beloniform fishes is nicely reflected in the anatomy of their jaw musculature. Apparent changes concern the absence or presence of the A1 and arrangements of the intramandibular musculature. Both muscles are coupled to the upper or lower jaw, which are connected by ligaments themselves. The strong attachment of the upper jaw to the neurocranium, as visible in needlefishes and sauries, involves complex rearrangements of the soft tissue of the jaw apparatus.