Mineral derivatives in alleviating oral mucositis during cancer therapy: a systematic review
The Sydney School of Public Health, Edward Ford Building, The University of Sydney

,

NSW

,

Australia
Published

Accepted

Received
Academic Editor
Subject Areas

Keywords

Minerals

,

Electrolytes

,

Chemotherapy

,

Radiotherapy

,

Neoplasm

,

Adverse event

,

Systematic review

,

Meta-analysis

,

Cost-effective

,

Decision analysis
Copyright

©

2015

Lee

Licence

This is an open access article distributed under the terms of the Creative Commons Attribution License, which permits unrestricted use, distribution, reproduction and adaptation in any medium and for any purpose provided that it is properly attributed. For attribution, the original author(s), title, publication source (PeerJ) and either DOI or URL of the article must be cited.
Cite this article

2015

.

Mineral derivatives in alleviating oral mucositis during cancer therapy: a systematic review

.

PeerJ

3

:

e765

https://doi.org/10.7717/peerj.765
Abstract
Objectives. Oral mucositis (mouth ulcers) is a cancer therapy side effect. Costly treatment interventions are often neglected in favor of cost-effective agents. This review assessed the general efficacy of mineral derivatives (a cost-effective agent) in alleviating oral mucositis (OM) during cancer therapy compared to the standard care, or placebo—including a decision tree to aide healthcare workers.
Data Sources. Electronic searches of MEDLINE via OVID, EMBASE, CENTRAL, CANCERLIT via PubMed, and CINAHL via EBSCO (year 2000 to 11 September 2014) were undertaken for randomised controlled trials. A meta-search strategy extracted content from aggregate online databases.
Review Methods. Randomized controlled trials were assessed (participants, intervention, outcome, results, and risk of bias) for inclusion. The author abstracted binary and continuous data synthesised to Hedges' g in a random effects model. The primary outcome measures were severity (incidence of peak oral mucositis, duration of oral mucositis, and time to onset); secondary outcome measures were the incidence of pain, and analgesic use. Serum mineral levels, total parenteral nutrition, and adverse events were discussed. The decision tree was mapped using sensitivity, specificity, pre-test and post-test Bayesian probability.
Results. 1027 citations were identified and 16 studies were included (n = 1120; mean age 49 years). Cancer therapies consisted of chemotherapy, radiotherapy, chemo-radiotherapy, or hematopoietic stem cell transplantation. Outcome mineral derivatives were zinc (n = 549), calcium phosphate (n = 227), povidone-iodine (n = 228), or selenium (n = 116). Severity was measured across variable OM grading systems: In 13 studies, individuals in treatment groups (n = 958) experienced peak OM less than controls (g = −0.47, 95% CI −0.7 to −0.2, p = 0.0006); time to OM onset was significantly delayed in treatment than controls (g = −0.51, 95% CI−0.8 to −0.2, p = 0.0002; five studies); OM mean duration, pain incidences, or analgesics use was not significant. The decision analysis favored selenium.
Conclusion. The general positive effect trend suggests individuals taking mineral derivatives during cancer therapies are less likely to experience peak OM than those without. However, significant bias and heterogeneity indicates the need for developing further methods in account of diverse protocols and include novel recordings (serum mineral levels and cell signals) in estimating a uniform true effect.
Introduction
Oral mucositis is a severe common side effect in over 40% of cancer patients undergoing chemo-radiotherapy (Alessandro Scardina, Pisano & Messina, 2010). In alleviating oral pain, a common practice among physicians is to temporarily halt cancer treatments during chemotherapy or prescribe prophylactic agents during radiotherapy. Targeting oral mucositis, like many cancer therapies, involves a plethora of subjective and objective observations: physical exams, serum and toxicity discrepancies, qualitative feedback, invasive versus non-invasive routes, infection, and oral hygiene (Quinn et al., 2008). Worthington et al. (2013) conducted a large-scale comprehensive review in treating chemo-induced oral mucositis and concluded the best interventions to be cryotherapy (ice chips) and keratinocyte growth factor. This was also recommended by MASCC/ISOO (2014), along with other oral-based or costly treatment options. However, oral-based options could be regarded as analogous to freezing off freckles and stimulating collagen at a beauty spa. It decreases pain and inflammation but may do little in prevention and treatment beyond the superficial dermal.
Assessing pain can be subjective and a complex benchmark for curative purposes (McQuay, Kalso, & Moore , 2010). For the cancer patient, quality of life and cancer therapies are disrupted when severe inflammation causes marked pain (Zylicz, 2013). This inflammation commonly occurs in the mouth and joints from chemo-radiotherapy induced toxicities. In preventing major joint inflammation, magnesium sulfate is optionally administered intravenously once or twice in two hourly drips during chemo-radiotherapy cycles (Kumar, 2012). Magnesium is an essential trace mineral used in emergencies by the World Health Organization in treatments and for maintaining electrolyte balances (Food and Agriculture Organization of the United Nations, World Health Organization , 2004). When magnesium sulfate is not administered intravenously during aggressive chemotherapy, adverse events such as arthritis and oral mucositis are reported higher (Kumar, 2012). It is up to the oncologist to decide whether magnesium sulfate should be administered on the day of treatment cycle (Gaby, 2009). However, earlier time delays from adjusting a patient's port or radiology bookings may often hinder the use of optionally administering magnesium sulfate. On the other hand, alternative electrolytes are marketed through coconut water and energy drinks. Its efficacy in treating oral mucositis also remains unclear (Helm, 2010; Schang, 2013). Hence, in PICO, this review assessed the effects of the intervention—any mineral derivatives in treating oral mucositis, compared to the standard care or placebo, in any cancer types of all ages, undergoing recent (year 2000 onwards; last 15 years) cancer therapy combinations.
Methods
Search strategy
Only randomized controlled trials (RCTs) were included in the review from search databases: MEDLINE via OVID, EMBASE, CENTRAL, CANCERLIT via PubMed, and CINAHL via EBSCO (2000 to 11 September 2014; see ' Appendix A ' for search strategies) based on PRISMA (Preferred Reporting Items for Systematic reviews and Meta-Analyses) and Cochrane guidelines (Higgins, Green & Cochrane Collaboration, 2008). The time frame loosely coincides with recent chemo-radiotherapy combinations from the year 2000 onwards e.g., 5-FU, cisplatin and radiotherapy—neoadjuvant chemoradiation; ECF. Trace minerals regarded essential by the World Health Organization guidelines (Food and Agriculture Organization of the United Nations, World Health Organization , 2004) were combined using Boolean filtered MeSH terms and text words "random," "control," and "cancer." Authors were contacted if full text articles or Supplemental Information were missing. A meta-search strategy was applied to the World Wide Web for articles (conference proceedings, clinical practice guidelines, clinical trials, and pre-prints) not indexed in databases. There was no language restriction on trial eligibility.
Study selection
The articles underwent a preliminary extraction using a template (Appendix B), and pre-set criteria on study inclusion and exclusion (Table 1). Mineral derivatives were administered as oral rinse, tablet, or intravenously. Trials using other interventions administered concurrently (e.g., vitamins) were excluded. All ages, cancer types, staging, and cancer therapy combinations were included. Significantly biased studies were excluded in the analysis based on a bias appraisal of the strengths and weaknesses in selection and protocol.
| Inclusion criteria | Exclusion criteria |
| --- | --- |
| • Randomized controlled trial | • Exact duplicates from different databases |
| • Oral complications | • No outcome data |
| • Mineral derivative as intervention | • No trial |
| | • Review |
| | • Vitamins |
| | • Animal studies |
| | • Non cancer related |
| | • Non randomized |
| | • Supplemental Information |
Quality appraisal
Studies underwent a bias appraisal in accordance with Cochrane Collaboration guidelines using templates in Revman version 5.2 (Review Manager, 2014). Possible risks (selection, performance, detection, attrition, selective reporting, and other bias) were rated high, low, or unclear by the author and collated into a summary and graph. 'Selective reporting' assessed omitted information, and 'other bias' for causal analysis errors.
Outcome measures
The primary outcomes compared severity in independent variables: peak incidence, duration, and onset of oral mucositis (OM) between mineral derivative and control groups (standard care, or placebo) based on severity measures defined by the OM grading systems. The secondary outcomes were the incidence of pain (visual analog scale), and use of analgesics. Serum levels, total parenteral nutrition, and adverse events were discussed.
Statistical analysis
Dichotomous data was abstracted using a 2 × 2 contingency table for three independent conditions (participants with OM or not; pain or not; analgesics use or not), and continuous data abstracted by mean days, standard deviation, and sample sizes. Studies with no data for an outcome (e.g., some studies did not record analgesics use) were excluded. Studies with missing data and only p-values were converted into standardized mean differences using the Practical Meta-analysis Effect Size Calculator(online) (Wilson, 2014), and missing standard deviations imputed with similar data (Appendix C) (Wolter, 2007). All data was then pooled by outcome: peak OM incidence, OM duration, time to OM onset, pain incidence, analgesic use, and arbitrarily assigned a 95% confidence interval (CI) and expressed as Hedges' adjusted g—decided a priori in correcting small sample biases and standardizing diverse protocols. A random effects model was decided a priori in account of all effect sizes via a summary estimate of mean distributions, and in minimizing random sampling errors between small and large studies when combining within and between study variances. All outcomes were expressed using the Comprehensive Metaanalysis version 2.0 (Borenstein et al., 2005). Heterogeneity was assessed using Cochran's Q statistic with I2 statistic above 50% indicating significant heterogeneity. Publication bias was assessed with Funnel Plots and Egger's regression model (two-tailed; p-value less than 0.05 indicating significant bias) (Rothstein, Sutton & Borenstein, 2005).
Decision analysis
High quality trials were mapped to a decision tree using TreeAge Pro 2014 version R2.2 (TreeAge Pro , 2014). The risk of developing peak OM data was imputed by sensitivity, specificity, and pre-test or post-test Bayesian probability (Gelman, 2004). In the first node, equal weight (0.5) was assigned to treatment and controls for each mineral derivative arm. Sensitivity and specificity was calculated using MedCalc (Charlie's Clinical Calculators, 2014) in conjunction with statistical program R (R Core Team, 2014) for subsequent nodes (2 × 2 contingency tables; participants with peak OM or not), and terminal nodes assigned pre-test (control), or post-test (treatment) Bayesian probability which defined 'risk' as the pre- or posttest predictive value in developing peak OM (Petitti, 2000). The pre-test (prevalence) of developing OM was set high "0.8" based on high risk groups developing OM during cancer therapy (Sonis, 2009). The tree was then "rolled back" in estimate of probable risks in developing peak OM or not, and in deciding which treatment was the most effective.
Results
The search strategy identified 1027 publications screened for inclusion. Sixteen randomized controlled trials met the inclusion criteria (Fig. 1). The meta-search produced studies with insufficient data, and consisted of conference summaries, announcements, policy documents, and Supplemental Information. It was difficult to authenticate and required algorithm tools beyond the scope of this review, hence excluded. Nine studies were also excluded: oral complication listed as side effect (one), study not randomized (three), duplicate publication (one), data on serum levels (two), Supplemental Information on an existing trial (one), and vitamin K1 administered concurrently (one) (see Appendix D, Table 2).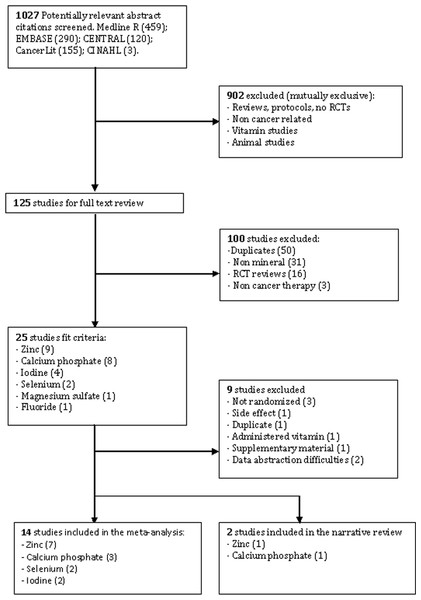 Discussion
The results suggest mineral-derivatives have a positive effect in alleviating the severity of oral mucositis during cancer therapy. Its effect on pain is unclear. This review combines mineral derivatives in observing a general effect trend, and supports earlier reviews demonstrating the positive effects of specific mineral derivatives (chiefly zinc sulfate) in prevention and treatment of oral mucositis (Worthington et al., 2013). Surprisingly, there were no recent trials on the effects of magnesium sulfate on oral mucositis during recent cancer therapies, even though its effect in alleviating toxicities and adverse events are often reported (Kumar, 2012). This review is limited in recommending which definitive mineral derivative alleviates oral mucositis exclusively. Other limitations include high heterogeneity implicated by variable conditionals and prior's i.e., different protocols and diverse cancer therapies. Also a 'placebo effect' may have undermined non-blinded studies at high risk of bias. For instance, participants may have reported positive outcomes when socially primed on study aims (Lutfey, 2013). Other limitations include an unclear causal link between oral mucositis and serum levels for detecting inflammation and infection via cell signals. The prospects of developing oral mucositis anti-viral agents or immunosuppressants are considered novel. Emerging clinical trials appear to target the immune system with IL-7 vaccines (National Cancer Institute, 2000a). At present, quantifying and translating serum levels and cell signal parameters to OM grading systems, and include these figures in the meta-analysis triggers significant bias.
Adverse events were largely unremarkable in reported studies. Adverse event scales were different to toxicity scales but there was insufficient data to explore this further. Data constraints were also seen in the use of TPN in children or adults. It was unclear if TPN was used for rescue therapy or part of the standard care. Evidence of publication bias was not detected, but if baseline characteristics were matched across studies with a complete dataset, publication bias in high risk of bias groups may have been detected. However, there was an equal spread of mineral derivatives effective or null across all studies, hence publication bias in this review seems unlikely.
The findings in this review do not appear robust for making clear recommendations, nor are they translatable for clinical practice. The predominantly small sample sizes conducted in single-centers make it difficult to make these findings generalizable. This review at present and in practice may serve a likely indicator in considering electrolyte treatments of known mineral-derivative efficacy. In this context, future studies may include zinc, calcium, iodine, or selenium as electrolytes gargled or ingested alongside magnesium sulfate during cancer therapies. Trials on electrolyte balance in cancer therapies remain scant (Chernecky, Murphy-Ende & Macklin, 2006). Current trials on magnesium sulfate combinations i.e., with calcium gluconate, target cancer therapy-induced toxicities (National Cancer Institute, 2000b). However, this link between toxicities and adverse events remains unclear and produced a high risk of bias in this review. Therefore, there is added uncertainty on whether combination minerals administered intravenously reduces the incidence of oral mucositis exclusively (Rosner & Dalkin, 2014). Future trials should consider serum levels and computer simulations when designing mineral tolerance thresholds to weigh the benefits and harms (Selvin, 2011). This may include decision trees with probable risks. When meta-analyses map to decision trees, it compares treatment arms and generates probabilities that could further assess the benefits and harms. These are future avenues that could test the efficacy of mineral derivatives in treating oral mucositis using safe, practicable, and cost-effective strategies.