Two salamander species respond differently to timber harvests in a managed New England forest
1
Department of Ecology and Evolutionary Biology, Yale University

,

New Haven

,

CT

,

United States of America
2
Department of Environmental Science, Policy and Management, University of California, Berkeley

,

Berkeley

,

CA

,

United States of America
3
School of Forestry and Environmental Studies, Yale University

,

New Haven

,

CT

,

United States of America
Published

Accepted

Received
Academic Editor
Subject Areas

Keywords

Amphibian

,

Chronosequence

,

Wildlife habitat

,

Coarse woody debris

,

Logging

,

Second growth forest

,

Red-backed salamander

,

Eastern newt
Copyright

©

2019

Mossman et al.

Licence

This is an open access article distributed under the terms of the Creative Commons Attribution License, which permits unrestricted use, distribution, reproduction and adaptation in any medium and for any purpose provided that it is properly attributed. For attribution, the original author(s), title, publication source (PeerJ) and either DOI or URL of the article must be cited.
Cite this article

2019

.

Two salamander species respond differently to timber harvests in a managed New England forest

.

PeerJ

7

:

e7604

https://doi.org/10.7717/peerj.7604
Abstract
Background
Managing forests for timber while protecting wildlife habitat is of increasing concern. Amphibians may be particularly sensitive to forest management practices due to their unique biology; however, it is not clear how different species respond to timber harvest practices—particularly over longer time scales.
Methods
Here we report on the differential responses of two salamander species—the eastern red-backed salamander (Plethodon cinereus Green) and the eastern newt (Notophthalmus viridescens Rafinesque)—to forest harvesting, by examining communities across a 25-year chronosequence of regenerating shelterwood harvests.
Results
Populations of both species were lowest immediately after harvest, but increased at substantially different rates. Red-backed salamander populations were highest in 20–25 year-old shelterwoods—significantly higher than in mature, unharvested, control (100–120 year old) stands. Eastern newt populations, however, were greatest in unharvested control stands and still had not recovered to population levels found in mature stands in the 25 years since harvest. Red-backed salamander abundances were strongly tied to stand age as well as abundance of decayed coarse woody debris, suggesting that timber harvests influence some wildlife species by affecting a suite of interacting habitat variables that change over time. In contrast, newt abundances were not directly related to stand age but were more related to downed wood and vegetation characteristics. Our results highlight markedly variable responses by two common salamander species to forest harvesting—species with markedly different life histories and reproductive patterns—and that time since harvest may be useful in predicting abundance.
Introduction
Managing forests to promote wildlife and maintain ecosystem resilience is increasingly important due to myriad anthropogenic environmental impacts including climate change, habitat fragmentation, and widespread biodiversity loss (Rands et al., 2010). Timber harvesting directly influences non-target species through ground disturbance and changes in stand structure (Horn, Babb & Gunther, 1983; Halpern & Spies, 1995; Lindenmayer, Margules & Botkin, 2000; Sullivan & Sullivan, 2001; Duguid & Ashton, 2013; Duguid et al., 2016). Yet, more work is needed in northeastern United States forests detailing how different species within the same functional groups (e.g., ground-dwelling species) respond to forest management. Most management guidelines focus on responses of more charismatic fauna (e.g., songbirds and game species; Gibbons, 1988; Goodale et al., 2009; Duguid et al., 2016). Prior efforts have emphasized that we need to better understand how poorly-studied groups of wildlife respond to forest management and studies are needed to help managers set goals that incorporate the implications of various silvicultural treatments on wildlife (Lindenmayer, Franklin & Fischer, 2006).
Amphibians are an important component of forests in the northeastern United States—the biomass of salamanders alone may be twice that of resident mammals and therefore play an important role in food webs and nutrient cycling (Burton & Likens, 1975; Walker et al., 2018). Many amphibian species have experienced population declines over the past 50 years, in large part due to anthropogenic activities (Houlahan et al., 2000; Stuart et al., 2004; Grant et al., 2016). Among those activities, forest practices may have a disproportionate impact on amphibians due to their sensitivity to changes in micro-habitat (Welsh & Droege, 2001; Knapp et al., 2003; Morneault et al., 2004; Semlitsch et al., 2009; Otto, Roloff & Thames, 2014; Warren & Ashton, 2014; O'Donnell, Thompson III & Semlitsch, 2015; Greenberg et al., 2016). That sensitivity highlights the importance of examining amphibians as a conservation priority in forest management. While forest harvesting has been shown to decrease some amphibian populations, research has mostly focused on how populations respond to complete canopy removal (primarily clearcuts; DeMaynadier & Hunter Jr, 1995; Stoddard & Hayes, 2005; Karraker & Welsh Jr, 2006). In the northeastern United States, more recent research has addressed responses to other forest harvest treatments (Knapp et al., 2003; Semlitsch et al., 2009; Otto, Kroll & McKenny, 2013; O'Donnell, Thompson III & Semlitsch, 2015; Greenberg et al., 2016), but generally over relatively short time frames post-harvest (often < 5 years). True clearcuts are rare in northeast hardwood forests, with many foresters opting for shelterwood harvests to facilitate regeneration in hardwood forests. Shelterwood harvesting opens up enough of the canopy to foster increased regeneration of shade intolerant species such as oak (Quercus spp. L.) and hickory (Carya spp. Nutt.), while retaining enough overstory to provide shelter, as well as a seed source, for regeneration (Leak, Yamasaki & Holleran, 2014; Duguid et al., 2016; Ashton & Kelty, 2018). The presence of the residual structure can lead to effects on species that differ from clearcutting (Duguid et al., 2016). Residual trees may be especially important for herpetofauna and other fossorial species because they may act as mini-refugia within the disturbed landscape (Rittenhouse et al., 2008; Rosenvald & Lõhmus, 2008; LeGros, Steinberg & Lesbarrères, 2017). Hence, amphibian responses to shelterwood harvest particularly warrant further study, especially over long time scales that enable evaluating amphibian response through stand regeneration.
Regeneration harvests, such as shelterwoods, drastically alter forest structure by removing the majority of canopy trees. This initially converts the stand into shrubby, early successional habitat, but these stands are dynamic and quickly move into stem-exclusion stage (sensu Oliver & Larson, 1996) within the first twenty years (Oliver & Larson, 1996; Duguid et al., 2016; Ashton & Kelty, 2018). Vegetation characteristics of these stands (e.g., basal area, sapling density) as well as amount of CWD directly contribute to the suitability of amphibian habitat (Greenberg, 2001; Matthews et al., 2010). These forest stand attributes are commonly and easily measured and tracked by forest managers and are often correlated with other important environmental variables (e.g., soil moisture, temperature), and so are useful for characterizing environmental differences likely experienced by salamanders (Gálhidy et al., 2006; Latif & Blackburn, 2010). Most studies to date, have examined responses of amphibian populations to harvest shortly after harvest (1–3 years; e.g., Pough et al., 1987; Harpole & Haas, 1999; Bartman et al., 2001; Cantrell et al., 2013), though a few studies have returned after stand regeneration (15 to 25 years; DeGraaf & Yamasaki, 2002; Ford et al., 2002). Some work has also compared salamander assemblages in recent clear cuts to older mature stands unharvested over 50 years (Petranka, Eldridge & Haley, 1993). However, what is lacking is an understanding of the dynamics of these populations following harvest as the forest moves through stand development (Ash, 1997; Moorman, Russell & Greenberg, 2011).
We designed this study to begin addressing this knowledge gap. Here we survey two dominant salamander species, the eastern red-backed salamander (Plethodon cinereus Green) and the eastern newt (Notophthalmus viridescens Rafinesque; terrestrial red eft juvenile stage) across a chronosequence of 14 shelterwood harvests from 3–25 years old, and compare survey results with those from mature (100–120 year old) reference stands. Our approach, based on a chronosequence, offers a unique opportunity to infer salamander responses over a relatively long time frame and provide a contrast to salamander responses in mature, unharvested stands. These mature, second-growth stands comprise mostly mixed hardwood with some conifers that have not been cut in many decades—long past the amount of time that salamanders are typically thought to need to recover from timber harvests (Petranka, Eldridge & Haley, 1993; Ash, 1997).
The purpose of our study was to consider the response of two common salamander species (red-backed salamander and eastern newt) to shelterwood harvests. We compared relative abundances with respect to age and forest development, utilizing only commonly available and easily gathered forest metrics for managed forests. This study sheds light on the temporal dynamics of amphibian populations following forest management in southern New England.
Results
Across the 14 shelterwood stands we encountered 159 RBSs (, SE = 3.15) and 29 ENs (, SE = 0.84). In the five mature reference stands we encountered 42 RBSs (, SE = 3.14) and 38 ENs (, SE = 2.01). The GLM for RBS had an adjusted R2 of 0.76, significant variables included years since harvest, volume of CWD, and overstory basal area. For ENs, the GLM had an adjusted R2 of 0.90 with volume of CWD, and overstory basal area as significant, but year since harvest and number of saplings were marginally significant (Table 1). Years since harvest had a positive relationship with both RBS and EN abundances, but with a different magnitude of effects; RBS abundances in older shelterwoods (>15 years) were 2–4 times higher than the average abundance observed in mature stands whereas EN abundances in shelterwoods were ∼50–80% lower than abundances in mature reference and still increasing (Fig. 3).
β
est
se
z
p
Red-backed Salamanders
(Intercept)
0.000
0.089
0.982
0.091
0.927
Year
0.102
0.146
0.027
5.490
0.000
***
Volume of CWD
0.039
0.006
0.002
2.716
0.007
**
Saplings
−0.011
0.000
0.000
−0.578
0.563
Basal Area
−0.041
−0.128
0.041
−3.141
0.002
**
Eastern Newts
(Intercept)
0.000
−2.699
1.840
−1.467
0.142
Year
0.224
0.086
0.046
1.865
0.062
.
Volume of CWD
0.246
0.010
0.004
2.774
0.006
**
Saplings
−0.274
0.000
0.000
−1.914
0.056
.
Basal Area
0.184
0.153
0.062
2.481
0.013
*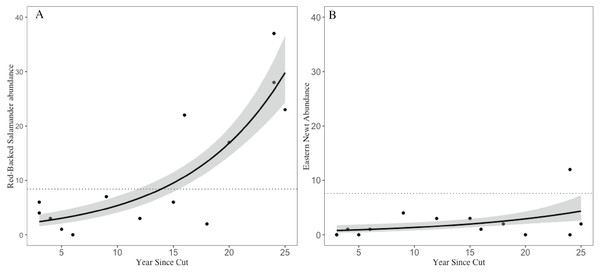 Discussion
Timber harvests impact forest habitats. Our study offers evidence that shelterwood harvests and subsequent regeneration influence two salamander species in different ways. Both RBSs and ENs seemed to have low numbers in recently harvested stands, but the two species differed greatly in both their rate and magnitude of recovery. Specifically, we observed that RBSs not only recovered quickly, but abundances in older shelterwoods (15-25 years since harvest) greatly exceeded those in the mature reference forest stands. EN abundances, however, were still substantially lower than mature forest populations even 25 years after harvest. It is important to note that this study was not designed to provide baseline abundance data, but to compare across age and structure in a managed forest. Although imperfect, we base our definition of recovery here on the population numbers found in the mature stands with the assumption these adequately represent the available habitat as discussed below. The species-specific responses we identified are important. Forest managers may view salamanders as a single group, but RBSs and ENs belong to different families with different life history traits. If we do not understand how land use differentially impacts some of the most common species, it will be challenging to manage for more rare or threatened species in mixed-use landscapes.
Our results suggest some species of amphibians may recover in regenerating forests faster than the literature suggests. Previous studies propose that it takes time for amphibian populations to return to pre-harvest levels in a stand following canopy removal, but a review by Moorman, Russell & Greenberg (2011) found that the details are widely disputed and have ranged from 20 to 100 years. By assessing shelterwood cuts, our study differs from much of the previous work that focused only on clearcuts (Petranka, Eldridge & Haley, 1993; Ash, 1997) and/or wide time intervals (Petranka, Eldridge & Haley, 1993; Herbeck & Larsen, 1999; DeGraaf & Yamasaki, 2002; Ford et al., 2002). We suggest that the relatively rapid recovery we observed for red-backed salamanders is influenced by the nature of irregular shelterwoods in contrast to clearcuts. Since irregular shelterwoods retain legacy trees in the regenerating stand, reserve canopy trees may be able to function as essential refugia for salamanders during harvesting due to their ability to help maintain soil moisture (Rosenvald & Lõhmus, 2008; Leak, Yamasaki & Holleran, 2014). These reserves combined with relatively small patchy harvest units and irregular edges may contribute to increased connectivity for dispersal and subsequent re-establishment in the stand given RBSs have dispersal distances that are generally less than 10 m (Liebgold, Brodie III & Cabe, 2011). Further, irregular shelterwoods generally leave more woody debris on the ground than clearcuts based on market conditions and wood utilization (Ashton & Kelty, 2018). This additional CWD once sufficiently decayed creates more habitat for these dispersing amphibians to utilize.
Some research has found that shelterwoods generally reduce Plethodon salamander abundances in the four years following cutting but have apparently little effect on EN abundance in this time frame (O'Donnell, Thompson III & Semlitsch, 2015; Greenberg et al., 2016), which agrees with our results for RBSs but less so for ENs. The different response patterns between the two species may reflect different life history traits. Newts of the eastern United States are unique among other local amphibians in possessing a tri-phasic life cycle with aquatic larvae, terrestrial juveniles (efts), and aquatic adults (Pough, 1974; Roe & Grayson, 2008). All ENs we identified were in their terrestrial eft stage which is marked by high dispersal ability and a tolerance for low-moisture environments (Pough, 1974; Gibbs, 1998). RBSs, however, have very limited dispersal ability, are tied to narrow ranges of soil moisture and pH, and are fully terrestrial throughout their lives (Heatwole, 1962; Wyman & Hawksley-Lescault, 1987; Gibbs, 1998; Grover, 1998). As a result, most individual RBSs in a stand are likely residents. In spite of low immigration by RBSs, with enough time, the progression of forest succession supports a high growth rate of RBS populations. ENs, on the other hand, are transient in this life phase and so do not necessarily represent resident populations within a stand, but more likely the preferences of the species in this life stage. EN efts can travel up to 100 m in a single night (Roe & Grayson, 2008) and can have home ranges of up to several hundred m2 (Healy, 1975) indicating that efts can readily traverse through shelterwood habitats in their 3-7 year terrestrial phase before becoming adults. Neither of these species of salamanders exhibit the annual migration typical of many other salamander species in this region (e.g., Ambystomatid). Together, our findings emphasize the importance of taking species identity and natural history into account when considering management consequences on short-term and long-term scales.
To our knowledge, little work has investigated the relationship between salamander abundance and stand regeneration over medium-long time periods. Our work begins to fill this gap by capitalizing upon a shelterwood chronosequence spanning 25 years post-cut at almost annual intervals. Past studies have emphasized the importance of CWD in influencing amphibian distributions and population levels (McKenny, Keeton & Donovan, 2006; Strojny & Hunter, 2009), however, a literature review by Otto, Kroll & McKenny (2013) on amphibian responses to downed wood in managed forests suggests that future research incorporate the temporal dynamics of CWD as well as how the characteristics and distribution of CWD in a stand influence amphibian populations. These studies point to a noticeable gap in how amphibian populations and their habitats change over time following forest management. Our findings suggest that time since harvest, an easily measurable proxy variable, can be useful in predicting salamander responses to silvicultural treatments. This work also shows that, although CWD diminishes as stands regenerate, cut stands with higher CWD densities also host more red-backed salamanders when controlling for stand age.
Shelterwood treatments affect a suite of environmental variables which can in turn influence abundance and distribution of forest-dwelling amphibians in different ways. Such variables include changes in canopy cover and incident light, soil moisture, vegetation species composition, volume of CWD, and vertical structure (Leak, Yamasaki & Holleran, 2014). Our results reveal RBS abundance is most intimately connected with stand age, while ENs are more influenced by CWD. Together, this indicates that while stand age is a useful predictor alone for RBS, ENs respond more strongly to other stand attributes which should be taken into consideration along with stand age.
Our results showed RBS abundance was roughly three times higher in 25-year old shelterwood harvests than in control stands. One explanation is that because RBSs rely on CWD for habitat structure (Grover, 1998), the increased CWD immediately following forest harvesting, given time to decay, can create habitat that may be scarce in many mature forest stands today. Because CWD abundance is negatively correlated with stand age (Fig. S1A), a univariate model suggests RBS abundance is negatively correlated with CWD abundance (Fig. S1B). However, our model incorporates both stand age and CWD abundance and suggests that, controlling for stand age, RBS abundances are positively correlated with CWD abundance (Fig. S1C). In this study we use mature, second-growth forests as our control stands. Our stands were between 100–120 years old, an age class associated with low levels of CWD (Jenkins & Parker, 1997), which may partly explain the lower abundance of RBSs found in these stands. However, since true old-growth forests are extremely rare in eastern deciduous forests, we feel that these are representative controls for understanding how regional forest management affects salamanders, although future work should assess true old-growth if possible.
Conclusions
Our results offer novel insight into the temporal dynamics of upland salamander abundance in managed forests. We show that patterns for some species can be gauged from a single variable (time since harvest) and a short sampling window. While longer and more detailed surveys may provide more data, forest managers can more reasonably incorporate this level of monitoring into their post-harvest evaluations. Incorporating amphibian conservation goals into forest management practices will require considering the particular needs of individual species. Forest managers should identify the target species and utilize information on ecology, phenology, and ontogeny when deciding the timing and scale of harvesting operations. Given RBS abundances appear to eventually benefit from regenerated cuts whereas EN abundances appear to remain highest in older mature stands, the results here suggest that creating a patchwork mosaic of stands of different ages could improve the distribution of appropriate habitat for multiple species across a forested landscape. Our results suggest that managers monitoring post-harvest effects would benefit from considering both habitat structure and stand age. Future research should incorporate medium-long term (5–30 years post-harvest) monitoring/comparisons to include a broader and more continuous range of time since harvest, including pre-treatment data. Studies that focus on responses to harvest as a function of species traits—such as seasonal migrations, longevity, aquatic versus terrestrial breeding—and taxonomy are particularly important, as are studies that more closely evaluate species' responses to harvest across seasons and which also account for variation in soil properties across sites and as succession proceeds.