Comparative transcriptomics reveals the difference in early endosperm development between maize with different amylose contents
1
The Key Laboratory of Biology and Genetics Improvement of Maize in Arid Area of Northwest Region, Ministry of Agriculture and Rural Affairs, College of Agronomy, Northwest A&F University

,

Yangling

,

Shaanxi

,

China
2
Maize Engineering Technology Research Centre of Shaanxi Province

,

Yangling

,

Shaanxi

,

China
Published

Accepted

Received
Academic Editor
Subject Areas

Keywords

Gene expression

,

Maize

,

Starch metabolism

,

RNA-sequence

,

Endosperm
Copyright

©

2019

Qu et al.

Licence

This is an open access article distributed under the terms of the Creative Commons Attribution License, which permits unrestricted use, distribution, reproduction and adaptation in any medium and for any purpose provided that it is properly attributed. For attribution, the original author(s), title, publication source (PeerJ) and either DOI or URL of the article must be cited.
Cite this article

2019

.

Comparative transcriptomics reveals the difference in early endosperm development between maize with different amylose contents

.

PeerJ

7

:

e7528

https://doi.org/10.7717/peerj.7528
Abstract
In seeds, the endosperm is a crucial organ that plays vital roles in supporting embryo development and determining seed weight and quality. Starch is the predominant storage carbohydrate of the endosperm and accounts for ∼70% of the mature maize kernel weight. Nonetheless, because starch biosynthesis is a complex process that is orchestrated by multiple enzymes, the gene regulatory networks of starch biosynthesis, particularly amylose and amylopectin biosynthesis, have not been fully elucidated. Here, through high-throughput RNA sequencing, we developed a temporal transcriptome atlas of the endosperms of high-amylose maize and common maize at 5-, 10-, 15- and 20-day after pollination and found that 21,986 genes are involved in the programming of the high-amylose and common maize endosperm. A coexpression analysis identified multiple sequentially expressed gene sets that are closely correlated with cellular and metabolic programmes and provided valuable insight into the dynamic reprogramming of the transcriptome in common and high-amylose maize. In addition, a number of genes and transcription factors were found to be strongly linked to starch synthesis, which might help elucidate the key mechanisms and regulatory networks underlying amylose and amylopectin biosynthesis. This study will aid the understanding of the spatiotemporal patterns and genetic regulation of endosperm development in different types of maize and provide valuable genetic information for the breeding of starch varieties with different contents.
Introduction
Maize (Zea mays) is one of the most important food and feed crop sources worldwide. The mature maize seed consists of the endosperm, embryo, and seed coat, and the endosperm occupies ∼85% of the seed volume and is a critical tissue influencing the maize grain weight (Lopes & Larkins, 1993; Rousseau et al., 2015). The mature endosperm contains large amounts of carbohydrates and proteins that provide nutrients to the developing embryo and seedling, and starch is the main type of carbohydrate in the maize endosperm, accounting for ∼70% of the endosperm volume. Additionally, maize starch is one of the best-quality starches, and 80% of the world's starch is obtained from maize (Zhang et al., 2013).
The development of the maize endosperm starts after double fertilization, and the process can be classified as a nuclear process. A time-series analysis of maize endosperm development has identified four phases: syncytial, cellularization, differentiation and death (Berger, 1999). The development of the maize endosperm is initiated by successive divisions of the triploid zygotic nucleus without cytokinesis, and this process, which occurs 0∼3 days after pollination (DAP), creates a coenocyte that contains 128 to 512 nuclei (Olsen, 2004; Leroux et al., 2014; Larkins, 2017). Starting at approximately 4∼6 DAP, the cellularization phase of endosperm development can include differentiation into four recognizable cell types: basal endosperm transfer layer cells, aleurone cells, embryo-surrounding region cells and central starchy endosperm cells (Olsen, 2004). At approximately 8 DAP, subaleurone cells, conducting zone cells and basal intermediate zone cells emerge and become cytologically identifiable (Larkins, 2017). Subsequently, at approximately 8∼12 DAP, the endosperm undergoes rapid cell divisions, and the cells in the central portion of the endosperm gradually switch from a mitotic cell cycle to endoreduplication and start accumulating substantial amounts of starch and storage proteins (Sabelli & Larkins, 2009; Becraft & Gutierrez-Marcos, 2012). At 20∼25 DAP, the process of cell division enters a late stage, and the outer two cell layers of the endosperm develop into the aleurone and the subaleurone (Olsen, 2004). During this late period of endosperm development, the maize endosperm undergoes maturation and desiccation, and cell death results in dormancy.
Gene expression is key for revealing the mechanisms underlying the development of the maize endosperm. A series of genetic experiments have identified a number of genes that play important roles in the regulation of endosperm development. Examples of these genes include maize GLOBBY1 and H3K27 methyltransferase because mutations in these genes induce abnormal endosperm cellularization; moreover, the GLOBBY1 gene also regulates early cell proliferation and differentiation of the endosperm, whereas H3K27 methyltransferase increases coenocytic proliferation (Costa et al., 2003; Gehring & Satyaki, 2017). Additionally, the mutation or deletion of APETALA2 results in delayed endosperm cellularization and an increased seed size, whereas a mutation in AGAMOUS-LIKE62 results in precocious endosperm cellularization and a reduced seed size (Kang et al., 2008; Orozco-Arroyo et al., 2015).
The accumulation and synthesis of reserve metabolites and endosperm development are inextricably linked. During endosperm development, aleurone cells form a major nutritive layer that stores proteins, lipids, non-starch carbohydrates, and mineral nutrients. In addition, even if all endosperm cells undergo programmed cell death during endosperm maturation, the aleurone cells remain alive (Becraft & Gutierrez-Marcos, 2012). Genetic studies have revealed that mutation of the naked endosperm (nkd) gene not only affects the fate and differentiation of aleurone cells but also alters the accumulation and synthesis of reserve metabolites by regulating widespread gene expression (Gontarek et al., 2016). For example, opaque-2 and prolamin box-binding factor are regulatory genes of naked endosperm1 and naked endosperm2, which play important roles in controlling multiple classes of zeins and show downregulated expression in aleurone cells and nkd-mutant cells (Gontarek et al., 2016). The mutation of opaque-2 results in a starchy endosperm, but high expression of 27-kD γ-zein can convert the starchy endosperm to a vitreous phenotype (Wu & Messing, 2010). Furthermore, opaque-2 and prolamin box-binding factors are involved in the regulation of carbon and nitrogen metabolism, pathogens and stress and alter the lysine content during endosperm development (Li et al., 2015; Morton et al., 2016). These factors also indirectly regulate the transcript and encoded protein levels of SSIIa and SBEI in starch synthesis (Zhang et al., 2016).
In higher plants, the starch biosynthesis pathway is orchestrated by multiple enzymes, which mainly include ADP-glucose pyrophosphorylase (AGPase), granule-bound starch synthase (GBSS), soluble starch synthase (SS), starch branching enzyme (SBE), and starch debranching enzyme (DBE). Starch consists of two types of polysaccharides, namely, amylose and amylopectin, and the ratio of amylose to amylopectin determines the suitability of starch for particular end-uses, such as gelatinisation/gelation characteristics, solubility, the formation of resistant starch, cooking, textural characteristics, and digestibility or nutritional values (Jane et al., 1999; Varavinit et al., 2003; Li et al., 2008; Witt, Gidley & Gilbert, 2010; Zhu et al., 2011). Thus, the amylose content is frequently used to predict the properties of starch, and starch with a high amylose content is optimal for the manufacturing of photodissociative plastics and helps control serious "white pollution" (Jiang et al., 2010; Jiang et al., 2013). Many researchers have reported that a mutation in amylose extender1 (ae1) yields maize kernels with a higher amount of amylose than the levels found in nonmutant kernels (Fisher et al., 1996; Kim et al., 1998). Additionally, GBSSI is a key enzyme for amylose synthesis, and the activity of GBSSI is decreased (∼5–95%) during amylose synthesis in wx1-mutant maize, resulting in a higher level of amylopectin in the maize endosperm and pollen (Sprague, Brimhall & Nixon, 1943; Nelson & Rines, 1962). These two mutants are currently used to create either high- or low-amylose maize and thus yield corn with altered starch properties and utilities.
However, the gene network that links endosperm development with starch synthesis remains unclear. The development of high-throughput technology has resulted in a massive increase in the amount of RNA-Seq data available, and these data are highly reproducible, with few systematic discrepancies among technical replicates (Marioni et al., 2008). Moreover, coexpression analyses based on these large-scale data have been performed for the screening and identification of novel genes that might be involved in metabolic pathways (Saito, Hirai & Yonekura-Sakakibara, 2008; Higashi & Saito, 2013). These techniques and methods provide a novel approach for revealing the relationship between metabolism and development. Here, we utilized next-generation sequencing technology to profile the gene expression and function of the endosperms of maize with different amylose contents at 5, 10, 15 and 20 DAP. The results will provide valuable insight into the underlying mechanisms that determine the starch content of seeds, particularly the relationship between starch metabolism and endosperm development.
Discussion
As the major storage carbohydrate in plants, starch has attracted considerable attention as a significant food ingredient and biomaterial. Different contents of amylose and amylopectin in starch give rise to important differences in the properties and functionality of starches obtained from different plants. Nevertheless, only a few studies have examined the differences between corn materials with different amylose contents at the level of transcription. In this study, we performed in-depth transcriptomic surveys based on the high-throughput RNA sequencing of samples of endosperm tissue from the common maize SD609 and the high-amylose maize HS68 collected at various times. Our results showed that at least 28,378 and 28,144 genes are required for the developmental programming of the respective maize endosperms. In addition, a comparative analysis revealed that the difference in the overall number of expressed genes between SD609 and HS68 was only 326. These results will facilitate the identification of gene regulatory networks and essential metabolic processes that are important for the programming of endosperm development.
Confirmation of the phases of different processes is important for expounding the endosperm developmental stages. Gene expression pattern analysis is an effective tool to depict a powerful atlas for uncovering the key players and the complexity of different processes during stages of endosperm development. An expression pattern analysis of the specific DEGs of SD609 and HS68 in our dataset suggested that most of the temporal patterns were similar and that the only difference was in the expression level (Fig. S6). However, obvious differences in the transition points and expression patterns of the shared DEGs of SD609 and HS68 appeared at 10 and 15 DAP (Fig. 2). This result indicated that some developmental processes might not be synchronous between SD609 and HS68, and the biological functions of some synchronous or asynchronous expression clusters of SD609 and HS68 further supported this hypothesis. Additionally, some synchronous expression pattern clusters between SD609 and HS68 were found to main functioned in cell differentiation, multicellular organismal development, nucleosome metabolic processes and glucan metabolic processes (Fig. S5A, Table S6). These results agree with the morphogenetic characteristics of the endosperm. For instance, the endosperm grows rapidly from 8 to 12 DAP until it fills the entire seed cavity, and the maize endosperm cells gradually and asynchronously switch from a mitotic to an endoreduplication cell cycle. Genes related to carbohydrate biosynthesis and energy reserve metabolic processes are upregulated at 10 DAP. Cell division continues until approximately 20 to 25 DAP in the external cell layer of the endosperm, and this layer then develops into the aleurone and subaleurone layers (Sabelli & Larkins, 2009; Leroux et al., 2014; Li et al., 2014).
The starch metabolism process is a metabolic process mainly based on energy reserves. In addition, starch biosynthesis is a complex and highly regulated process that requires coordinated activities among multiple enzymes, and different isozymes exert different effects (Jeon et al., 2010; Qu et al., 2018). We analysed the core genes of starch synthesis and found that the main differences in the expression patterns of 28 core genes between SD609 and HS68 were observed at 10 and 15 DAP, and the expression transition patterns of some core genes agreed with the reported expression patterns (Fig. 8A) (Li et al., 2014). For example, GBSSI, a crucial enzyme that regulates the synthesis of amylose, showed higher expression levels at 10 (one step up) and 15 DAP (one step down) in HS68 compared with SD609, and this upregulated pattern agreed with that in maize B73 at 10 DAP and was further verified by qRT-PCR (Figs. 3 and 8). In addition, other core genes, such as SBEIIb, AGPLS1 and AGPSS3, also shared a similar temporal pattern (downregulated-downregulated-upregulated), and the expression levels of AGPLS1 and AGPSS3 were higher in HS68 than in SD609. This finding indicated that AGPLS1 and AGPSS3 might be the most efficient partners that interact with each other and polymerize into the native heterotetrameric enzyme structure in the high-amylase maize HS68. Although AGPSS also forms a homotetramer, it also shows defective properties in terms of catalysis and regulation, requires a higher concentration of 3-PGA for its activation and is more easily inhibited by Pi (Kavakli et al., 2001; Salamone et al., 2000). However, the expression level of SBEIIb was higher in SD609 than in HS68 at 5 and 10 DAP. In the starch synthesis process, SBEII contains two isoforms, SBEIIa and SBEIIb, which play important roles in promoting the production of the short amylopectin chain (degree of polymerization of 6-12 chains) and further impact the structure and phenotype of amylopectin, but the differences in the expression of SBEIIb between HS68 and SD609 indicated that SBEIIb might be induced by increasing the branch frequency and lengthening the glucan chains in clusters to improve the ratio of amylopectin (Fig. 8A) (Nishi et al., 2001; Liu et al., 2009).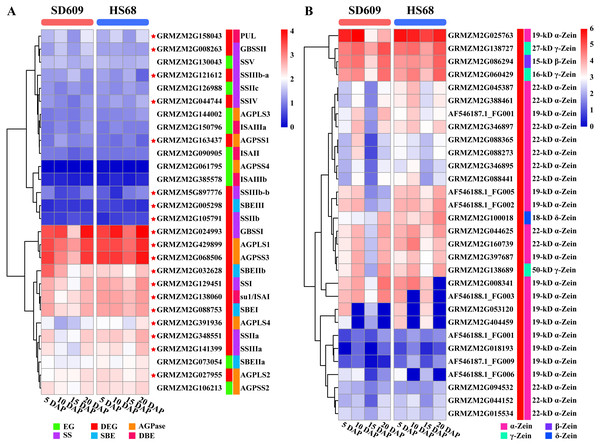 We measured the amylose content in various maize materials and found that the materials could be ordered as followed from a high to a low amylose level: HS68 (50.76%) >SD609 (27.70%) >B73 (25.16%) (Fig. 1A). The combination of this information with the results from the expression analysis of the core genes of starch synthesis revealed that the amylose content of different maize materials might be affected by the expression levels of certain core genes. Additionally, the synthesis patterns of amylose and amylopectin might be regulated by a multienzyme complex (Fig. 5). For example, SSI, SSIIa, SBEI and SBEIIb showed the same expression pattern, which is consistent with the results of earlier studies that showed the following: the SSI and SSII isoforms and either SBEIIa or SBEIIb form a trimeric complex to regulate the starch metabolic pattern (Liu et al., 2012). Furthermore, SBEIIb deficiencies have been shown to affect the binding of SSI and SBEI to starch granules in the amylose extender (ae1.1) mutant, and an experiment involving mutations in the amylose extender (ae1.2) also showed that SSI, SSIIa, SBEI and SBEIIb form another multiple-enzyme complex (Liu et al., 2009; Abe et al., 2014). In particular, obvious differences in the amylose content and granule size have been described between two ae mutations from two near-isogenic maize lines (Liu et al., 2012).
In addition to the above-described factors that affect starch synthesis, we revealed that each differentially expressed core gene involved in starch synthesis, including members of multiple TF families, can be classified into a potential interaction module containing multiple genes (Fig. 7). For example, ZmEREB156 (GRMZM2G421033), a member of the AP2/EREBP TF family that positively modulates the starch biosynthetic gene SSIIIa via the synergistic effect of sucrose and ABA, exhibited two transition points (with the upregulated-downregulated-upregulated pattern) in SD609 and HS68 (Huang et al., 2016). Consistent with the above-described features, one plant_AP-2-like regulatory element and seven ABA response elements were found in the promoter regions of core genes of starch biosynthesis (Fig. 9). In addition, the identified cis-regulatory elements also include various response elements, such as multiple hormone response elements (i.e., SA, JA, auxin, ETH and GA), stress response elements, and cell development response elements (Fig. 9). GRAS20 (GRMZM2G023872) belongs to the GRAS TF family and can reduce fractions of long-branched starch chains, and its overexpression leads to the formation of a chalky region in the ventral endosperm with a decreased starch content. In addition, compared with wild-type plants, GRAS20-transgenic seeds exhibit an altered starch granule morphology, which leads to defective agronomic characteristics (Cai et al., 2017). In our study, GRAS20 showed different expression patterns in the two maize materials with different amylose contents, i.e., upregulated-downregulated-upregulated (SD609) and upregulated-upregulated-upregulated (HS68), which suggested that GRAS20 might be involved in the regulation of amylose synthesis. Moreover, some other members of the TF family have also been identified to play a role in the regulation of starch synthesis, but these were not detected in the core gene modules of starch synthesis. For example, O2, an endosperm-specific bZIP TF that affects the protein levels of SSIIa, SSIII and SBEI, showed a high expression level and exhibited consistent expression patterns between the RNA-Seq and qRT-PCR results obtained in our study but was not present in the core gene modules (Zhang et al., 2016). One possible reason that explains the absence of O2 is that it might affect other gene(s) to regulate starch synthesis, which is in line with the results of a previous study (Zhang et al., 2016); alternatively, O2 might have been replaced by other bZIP TF(s) members because five bZIP TFs were detected in the core gene modules of starch synthesis (Table S11). However, the results of the analysis of cis-regulatory elements in the promoter regions of core genes of starch synthesis indicate that the first possibility is more likely because an O2-binding site was found in the vast majority of core genes of starch synthesis (Fig. 9).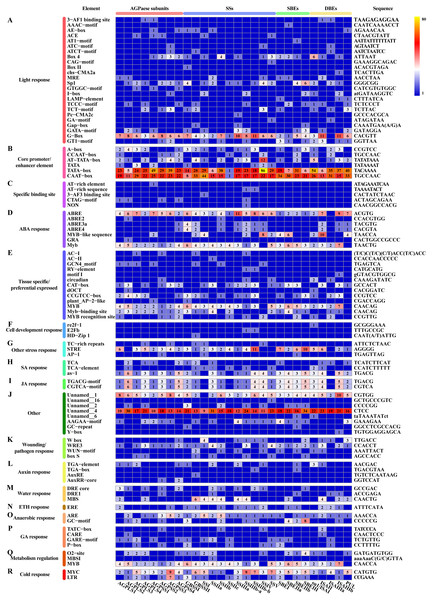 Zeins are abundant storage proteins in most cereals and constitute an important factor that affects seed quality. According to their structural differences, zeins are subdivided into four subclasses: α-zeins (considered the major subclass, with 71–85% of total zeins), γ-zeins (10–20%), β-zeins (1–5%) and δ-zeins (1–5%) (Esen, 1987; Xu & Messing, 2008). In our study, we detected 30 zein genes, including 25 α-zeins, one β-zein, three γ-zeins and one δ-zein, and most of these showed a high expression level in SD609 and HS68 at the early stage of endosperm development (Fig. 8B). A comparison of our results with the gene expression sets obtained for maize B73 revealed obvious differences in the number of expressed zein genes and expression patterns among SD609, HS68 and B73 (Chen et al., 2014). Thus, we speculate that β-, γ-, and δ-zeins and some α-zeins are likely essential zeins during early maize endosperm development. Previous studies support the hypothesis that the smallest zein-containing protein bodies, such as β- and γ-zeins, are observed in subaleurone cells and play a role in α- and δ-zein retention in the rough endoplasmic reticulum, whereas α-zeins and some δ-zeins have been detected in subaleurone and starchy endosperm cells (Coleman et al., 1996; Bagga et al., 1997; Woo et al., 2001). Additionally, an analysis of the interactions between zeins revealed that 50-, 27-, and 16-kD γ-zeins and 15-kD β-zein exhibit strong interactions, and strong interactions have also been detected between α- and δ-zeins and the 16-kD γ-zein and the 15-kD β-zein, respectively (Kim et al., 2002). Moreover, many studies have noted that all zein classes must be present at correct stoichiometric ratios to ensure proper formation of the protein body and the resulting vitreous endosperm, and specific zein mutations during zein synthesis not only alter the protein body shape and size but also influence the endosperm texture and cause opacity (Guo et al., 2013; Holding, 2014; Holding et al., 2007; Kim et al., 2004; Wang et al., 2011; Wang et al., 2012). These results further suggested that the expressional differences in α-, β-, γ- and δ-zein-encoding genes are likely to affect the development of the maize endosperm. Interestingly, previous studies have revealed that O2 encodes and mainly regulates the expression of α- and β-zein genes by recognizing the O2 box in their promoters. Furthermore, O2-heterodimerizing proteins, O2 and the prolamine box-binding factor are master regulators of zein synthesis by acting in an additive and synergistic mode (Schmidt et al., 1990; Schmidt et al., 1992; Zhang, Yang & Wu, 2015). Additionally, it is worth noting that a recent study revealed that O2 and the prolamine box-binding factor also affect the protein levels of SSIIa, SSIII and SBEI (Zhang et al., 2016), which implies that O2 might be a bridge that connects starch synthesis and zein synthesis or could potentially regulate the levels of other TF(s) or mRNA regulatory factor(s) and thereby affect the functions of the core genes involved in starch synthesis and zein genes. Nonetheless, the detailed regulatory mechanism through which zein proteins affect amylose/amylopectin biosynthesis remains to be determined, but this study provides key transcriptional-level clues that will aid further elucidation of the regulatory relationships between amylose biosynthesis and zein-encoding genes.
Conclusions
In summary, this study offers essential information for identifying the gene atlas of common and high-amylose maize and further distinguishing the expression patterns of genes in the endosperm of common and high-amylose maize. In addition, this analysis provides new clues for exploring the regulatory networks of starch synthesis and will help improve our understanding of endosperm development and the mechanism underlying the regulation of starch synthesis. It also provides valuable information resources for the breeding of maize materials with different starch contents.