lncRNA TMEM51-AS1 and RUSC1-AS1 function as ceRNAs for induction of laryngeal squamous cell carcinoma and prediction of prognosis
1
Department of Otolaryngology, the First Hospital of China Medical University

,

Shenyang

,

Liaoning Province

,

China
2
Department of General Surgery, the First Hospital of China Medical University

,

Shenyang

,

Liaoning Province

,

China
Published

Accepted

Received
Academic Editor
Subject Areas

Keywords

Laryngeal squamous cell carcinoma

,

Long non-coding RNAs

,

Micrornas

,

Competing endogenous RNAs

,

Prognosis
Copyright

©

2019

Hui et al.

Licence

This is an open access article distributed under the terms of the Creative Commons Attribution License, which permits unrestricted use, distribution, reproduction and adaptation in any medium and for any purpose provided that it is properly attributed. For attribution, the original author(s), title, publication source (PeerJ) and either DOI or URL of the article must be cited.
Cite this article

2019

.

lncRNA TMEM51-AS1 and RUSC1-AS1 function as ceRNAs for induction of laryngeal squamous cell carcinoma and prediction of prognosis

.

PeerJ

7

:

e7456

https://doi.org/10.7717/peerj.7456
Abstract
Background
Long non-coding RNAs (lncRNAs) can function as competing endogenous RNAs (ceRNAs) to interact with miRNAs to regulate target genes and promote cancer initiation and progression. The expression of lncRNAs and miRNAs can be epigenetically regulated. The goal of this study was to construct an lncRNA-miRNA-mRNA ceRNA network in laryngeal squamous cell carcinoma (LSCC) and reveal their methylation patterns, which was not investigated previously.
Methods
Microarray datasets available from the Gene Expression Omnibus database were used to identify differentially expressed lncRNAs (DELs), miRNAs (DEMs), and genes (DEGs) between LSCC and controls, which were then overlapped with differentially methylated regions (DMRs). The ceRNA network was established by screening the interaction relationships between miRNAs and lncRNAs/mRNAs by corresponding databases. TCGA database was used to identify prognostic biomarkers.
Results
Five DELs (downregulated: TMEM51-AS1, SND1-IT1; upregulated: HCP5, RUSC1-AS1, LINC00324) and no DEMs were overlapped with the DMRs, but only a negative relationship occurred in the expression and methylation level of TMEM51-AS1. Five DELs could interact with 11 DEMs to regulate 242 DEGs, which was used to construct the ceRNA network, including TMEM51-AS1-miR-106b-SNX21/ TRAPPC10, LINC00324/RUSC1-AS1-miR-16-SPRY4/MICAL2/ SLC39A14, RUSC1-AS1-miR-10-SCG5 and RUSC1-AS1-miR-7-ZFP1 ceRNAs axes. Univariate Cox regression analysis showed RUSC1-AS1 and SNX21 were associated with overall survival (OS); LINC00324, miR-7 and ZFP1 correlated with recurrence-free survival (RFS); miR-16, miR-10, SCG5, SPRY4, MICAL2 and SLC39A14 were both OS and RFS-related. Furthermore, TRAPPC10 and SLC39A14 were identified as independent OS prognostic factors by multivariate Cox regression analysis.
Conclusion
DNA methylation-mediated TMEM51-AS1 and non-methylation-mediated RUSC1-AS1 may function as ceRNAs for induction of LSCC. They and their ceRNA axis genes (particularly TMEM51-AS1-miR-106b-TRAPPC10; RUSC1-AS1-miR-16-SLC39A14) may be potentially important prognostic biomarkers for LSCC.
Introduction
Laryngeal squamous cell carcinoma (LSCC) is one of the common malignancies of the upper respiratory tract that has been associated with a deterioration of the environment and an increase in the occupational stress. It was estimated that 13,360 new cases were diagnosed in 2017 in the United States, of which over 3,660 were fatal (Siegel, Miller & Jemal, 2017). In China, an estimated 26,400 new cases of LSCC and 14,500 cancer-related deaths also occurred in 2015 (Chen et al., 2016). Although patients with LSCC can be managed by surgical intervention, radiation therapy and chemotherapy, the overall five-year survival remains poor (approximately 60%) (Rudolph et al., 2011). Therefore, there is an urgent need to deeply understand the molecular mechanisms underlying LSCC carcinogenesis or progression in order to develop more effective therapeutic strategies.
Accumulating evidence has suggested that non-coding RNAs (ncRNAs) play crucial roles in the initiation and development of tumors. ncRNAs are loosely categorized into small ncRNAs and long non-coding RNAs (lncRNAs), both of which have regulatory functions in various biological processes. The well-documented small ncRNAs are microRNAs (miRNAs; ∼22 nucleotides long) that regulate gene expression by binding to complementary sequences in the 3′ untranslated region (UTR), leading to either inhibition of translation or degradation of the transcripts (Jean & Mihaela, 2014). Although the mechanisms remain unclear, growing evidence supports that lncRNAs could function as competing endogenous RNAs (ceRNAs) by competitively binding to miRNAs through their miRNA response elements (MRE) and subsequently regulate target RNA expression (Salmena et al., 2011). This ceRNA mechanism has generated much interest to explain tumor development and progression in many malignancies, such as gastric cancer (Song et al., 2018), thyroid carcinoma (Zhao et al., 2018) and hepatoblastoma (Liu et al., 2017a). Recent studies also have preliminarily revealed several underlying ceRNA regulatory interactions in LSCC. Luciferase reporter assay and Western blotting results suggested that AC026166.2-001 could act as a sponge of miR-24-3p and regulate the expression of p27 and cyclin D1 (Shen et al., 2018). lncRNA H19 was shown to serve as a ceRNA by sponging miR-148a-3p to upregulate the target gene DNA methyltransferase 1 (Wu et al., 2016). NEAT1 was also reported to regulate the expression of cyclin dependent kinase 6 through modulating miR-107 (Wang et al., 2016). Furthermore, a ceRNA network, including 30 genes, 21 miRNAs and 19 lncRNAs was also built based on microarray analysis of 6-paired clinical samples in LSCC (Zhang et al., 2016). However, analysis of the lncRNA-miRNA-mRNA regulatory network of LSCC with larger sample sizes and confirmation of their clinical associations are still lacking.
In addition, DNA methylation has been identified as an important mechanism to regulate gene expression in cancer cells epigenetically, which not only regulates the expression of protein-encoding genes, but also affects miRNAs and lncRNAs. For example, hyper-methylation of the promoter region was observed to lead to a loss of expression of lncRNA maternally expressed gene 3 (MEG3). Downregulated MEG3 was insufficient to sponge miR-9 and block its inhibition effects on the expressions of E-cadherin and FOXO1, consequentially resulting in poor prognosis in patients with esophageal squamous cell carcinoma (Dong et al., 2017). The study of Guo et al. (2018a) also suggested lncRNA CTC-276P9.1 was hyper-methylated in esophageal squamous cell carcinoma. Over-expression of CTC-276P9.1 inhibited cancer cell proliferation and invasion in vitro probably by regulating epithelial-mesenchymal transition. Liao et al. (2015) identified 761 lncRNA genes with DNA hyper-methylation in colorectal cancer using a free MethylCap-seq dataset. Cheung & Lee (2010) found that the loci of three miRNAs (namely miR-199a-2, miR-124a-2 and miR-184) were linked to hyper-methylated differentially methylated regions (DMRs) in human testicular cancer. However, the DNA methylation regulatory mechanisms of miRNAs and lncRNAs have rarely been reported in LSCC.
The goal of this study was to establish an lncRNA-miRNA-mRNA ceRNA network in LSCC using larger samples and to investigate their methylation patterns. Our results may provide new clues for biologists to further understand the pathogenesis of LSCC.
Discussion
Although epigenetics modification has been shown to trigger silencing or overexpression of lncRNAs in cancer (Dong et al., 2017; Guo et al., 2018b; Zhou et al., 2018), the aberrant methylation-mediated expression changes of lncRNAs remain unclear in LSCC. We, for the first time, found that the downregulation of lncRNA TMEM51-AS1 may be mediated by hyper-methylation. Few studies investigated the roles of TMEM51-AS1 in cancer except one study indicated downregulated TMEM51-AS1 was significantly correlated with poor OS in chromophobe renal cell carcinoma (He et al., 2016). In the present study, we predicted that TMEM51-AS1 might function as a ceRNA to regulate SNX21 and TRAPPC10 through sponging miR-106b. Evidence demonstrated that miR-106b was up-regulated in LSCC (Lu et al., 2014; Xing et al., 2014), which was also confirmed in our microarray study. miR-106b was reported to promote the proliferation and invasion of LSCC cells by targeting RUNX3 (Ying et al., 2013), while induce cell cycle G0/G1 arrest by inhibiting tumor suppressor RB (Cai, Wang & Bao, 2011). Although no study revealed the roles of SNX21 in cancer, its family genes, such as SNX1 (Zhan et al., 2018), SNX5 (Jitsukawa et al., 2017) and SNX9 (Bendris et al., 2016) were suggested to be tumor suppressor related. Therefore, SNX21 may be theoretically downregulated in LSCC by miR-106b. Consistent with this hypothesis, our study showed that SNX21 was less expressed in LSCC tissues and patients with high expression of SNX21 had a higher OS rate. There was only one study to suggest the roles of TRAPPC10 until now and showed TRAPPC10 was an oncogenic driver to predict the poor prognosis for breast cancer patients (Pongor et al., 2015), which seemed to be contrast with our results, implying TRAPPC10 may be a new tumor suppressor gene for LSCC. The tumor inhibition effects of TRAPPC10 may be related to its potential to activate GTPase RAB11 (Milev et al., 2018) and the Rab coupling protein, the targeted deletion of which led to accelerated tumor onset (Boulay et al., 2016).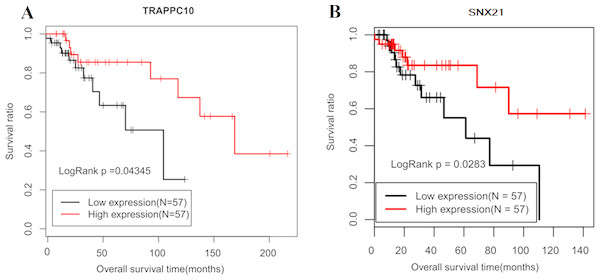 Clinical characteristics
Significant related
lncRNA
miRNA
mRNA
Age( ≥60/<60 y)
–
–
ADAM10, FUS, MICAL2, LRRC8E
Gender(Male/Female)
–
–
DLC1, HPN, PTPN12, SNX21, ST3GAL2, LRRC8E, NXPH4, PTPN1, SCG5,
Alcohol use(Yes/No)
–
–
CNPY3, PYGO2, SLC39A14, TAP2
Pathologic_M(M0/-)
–
–
ADAM10, CNPY3, E2F3, SPRY4, LRRC8E, MAP4K4, PTBP1, RRM2
Pathologic_N(N0/N1/N2/N3/-)
RUSC1-AS1
–
DLC1, FUS, MICAL2, SOD2, PCYOX1, RRM2, SLC39A14, ZFP1
Pathologic_T(T1/T2/T3/T4/-)
–
–
LRRC40, PRPSAP2, SOD2, TSEN15, CELSR2, PTPN1
Pathologic_stage(I/II/III/IV/-)
–
–
MICAL2, PRPSAP2, SPRY4, CELSR2, MAP4K4, PCYOX1, PTPN1
Grade(G1/G2/G3/G4)
–
-
AHCYL2, DLC1 , PCYOX1, PTPN1, RRM2
Tobacco use(Reform/Current/Never)
–
–
HPN, RAB10, SAR1B, SOD2, TAP2
Underlined genes were recurrence free survival related; the other genes were overall survival related. Bolded genes was both recurrence free and overall survival related.
Furthermore, we identified several other ceRNA axes, although they were not methylation-related, including LINC00324/RUSC1-AS1-miR-16-SPRY4/MICAL2/ SLC39A14, RUSC1-AS1-miR-10-SCG5 and RUSC1-AS1-miR-7-ZFP1. All these lncRNAs, miRNAs and mRNAs were significantly associated with OS and/or RFS, indicating these ceRNA axes may also be underlying therapeutic targets.
Although related report was rare, RUSC1-AS1 (Jian et al., 2015) and LINC00324 (Militello et al., 2017) had been indicated to be highly expressed in cancer cells, which were similarly confirmed in LSCC samples. Accumulating evidence also has proved the roles of miR-16, miR-7 and miR-10 in various types of cancer. miR-16 could be downregulated in tissue samples and cell lines of lung cancer (Ke et al., 2013) and osteosarcoma (Jiao, Wang & Wang, 2018). Ectopic expression of miR-16 inhibited cell proliferation, colony formation in vivo and, migration and invasion in vitro by regulating its target genes RAB23 and Smad3 (Jiao, Wang & Wang, 2018; Zhang et al., 2018). miR-10a was down-regulated in laryngeal epithelial premalignant lesions with increasing grade of dysplasia (Hu et al., 2015). Overexpression of miR-10a inhibited cell metastasis by regulating epithelial-to-mesenchymal transition (EMT) (Liu et al., 2017b). miR-7-5p was lower expressed in brain-metastatic lesions of breast cancer (Hiroshi et al., 2013) and the use of miR-7-5p mimics suppressed cell proliferation and induced apoptosis (Shi et al., 2015) via modulating the expression of Kruppel like factor 4. In agreement with these studies, we also found that these three miRNAs were less expressed (especially miR-10 and miR-7) in LSCC and negatively associated with OS and/or RFS. Although the downstream target genes of these miRNAs have been reported as above, their functions in LSCC remain poorly understood. We predicted that SPRY4/MICAL2/SLC39A14, SCG5 and ZFP1 may be the potential targets of miR-16, miR-10 and miR-7, respectively in LSCC, which had not been validated previously. Nevertheless, the studies on the molecular mechanisms of these DEGs may indirectly explain their potential interactions. The expression of SPRY4 was upregulated in testicular germ cell tumors (Tian et al., 2018). MICAL2 was a recently identified proto-oncogene, which increased cell proliferation to accelerate tumor growth, and promoted the expression of EMT-related proteins to increase cell metastasis (Mariotti et al., 2016; Wang et al., 2018). Immunohistochemical analysis showed the expression level of SLC39A14 was significantly higher in hepatocellular carcinoma tissues than that in adjacent tissues and negatively correlated with survival time (Gartmann et al., 2018). Also, the upregulation of SLC39A14 in tumor cells may be attributed to the loss of its interactive gene p53, a tumor suppressor (Zhao et al., 2017). Although there were no studies to discuss the roles of SCG5 in cancer, its family members secretogranin II and III have been seen to be overexpressed in prostate cancer (Courel et al., 2014) and small cell lung carcinoma (Togayachi et al., 2017), suggesting SCG5 may also be oncogenic for LSCC. Zinc finger proteins had also been observed to promote cell growth and metastasis in nasopharyngeal carcinoma (Li et al., 2015). In line with these findings, SPRY4, MICAL2, SLC39A14, SCG5 and ZFP1 were all upregulated in LSCC and associated with poor prognosis.
There were some limitations in this study. First, although all the known microarray or sequencing data from the public database had been included, the sample size was still not large which may influence the results. Therefore, additional clinical trials with larger samples may be essential to confirm their expression and prognosis. Second, we only preliminarily predicted that these ceRNA axes may be associated with LSCC development and prognosis. The regulatory relationships between lncRNAs and miRNAs as well as between miRNAs and mRNAs needed further experimental confirmation in vitro and in vivo (i.e., dual luciferase reporter assay or loss-of-function). Third, whether the expression of TMEM51-AS1 was regulated by methylation should be validated by using the methylation inhibitor 5-azacytidine. Fourth, although we have normalized the data from different platforms, this may still cause some underlying bias.
Conclusion
Our present study identifies several important mechanisms for the development and progression of LSCC: (1) methylation-mediated upregulation of lncRNA TMEM51-AS1 may function as a ceRNA for miR-106b to regulate SNX21 and TRAPPC10; (2) survival-related RUSC1-AS1/LINC00324 may function as a ceRNA to sponge miR-16, miR-10 or miR-7 and then regulate SPRY4/ MICAL2/SLC39A14, SCG5/PRDM5 and ZFP1, respectively. Altogether, these lncRNA, miRNAs or mRNAs may be potential prognostic biomarkers and therapeutic targets of LSCC.