Rapid response to anthropogenic climate change by Thuja occidentalis: implications for past climate reconstructions and future climate predictions
Department of Earth and Environmental Sciences, University of Michigan–Ann Arbor

,

Ann Arbor, MI

,

USA
Published

Accepted

Received
Academic Editor
Subject Areas

Keywords

Atmosphere

,

Biogeochemistry

,

Carbon isotopes

,

Northern white cedar

,

Biosphere

,

Terrestrial

,

Climate

,

Paleoclimate
Copyright

©

2019

Stein et al.

Licence

This is an open access article distributed under the terms of the Creative Commons Attribution License, which permits unrestricted use, distribution, reproduction and adaptation in any medium and for any purpose provided that it is properly attributed. For attribution, the original author(s), title, publication source (PeerJ) and either DOI or URL of the article must be cited.
Cite this article

2019

. Rapid response to anthropogenic climate change by Thuja occidentalis: implications for past climate reconstructions and future climate predictions.

PeerJ

7

:

e7378

https://doi.org/10.7717/peerj.7378
Abstract
Carbon isotope values of leaves (δ13Cleaf) from meta-analyses and growth chamber studies of C3 plants have been used to propose generalized relationships between δ13Cleaf and climate variables such as mean annual precipitation (MAP), atmospheric concentration of carbon dioxide ([CO2]), and other climate variables. These generalized relationships are frequently applied to the fossil record to create paleoclimate reconstructions. Although plant evolution influences biochemistry and response to environmental stress, few studies have assessed species-specific carbon assimilation as it relates to climate outside of a laboratory. We measured δ13Cleaf values and C:N ratios of a wide-ranging evergreen conifer with a long fossil record, Thuja occidentalis (Cupressaceae) collected 1804–2017, in order to maximize potential paleo-applications of our focal species. This high-resolution record represents a natural experiment from pre-Industrial to Industrial times, which spans a range of geologically meaningful [CO2] and δ13Catm values. Δleaf values (carbon isotope discrimination between δ13Catm and δ13Cleaf) remain constant across climate conditions, indicating limited response to environmental stress. Only δ13Cleaf and δ13Catm values showed a strong relationship (linear), thus, δ13Cleaf is an excellent record of carbon isotopic changes in the atmosphere during Industrialization. In contrast with previous free-air concentration enrichment experiments, no relationship was found between C:N ratios and increasing [CO2]. Simultaneously static C:N ratios and Δleaf in light of increasing CO2 highlights plants' inability to match rapid climate change with increased carbon assimilation as previously expected; Δleaf values are not reliable tools to reconstruct MAP and [CO2], and δ13Cleaf values only decrease with [CO2] in line with atmospheric carbon isotope changes.
Introduction
The concentration ([CO2]) and isotopic value (δ13Catm) of atmospheric CO2 are changing at a pace unprecedented in geologic time (Keeling et al., 2005; Zhang et al., 2013). These changes have been accompanied by regional changes in mean annual temperature (MAT), mean annual precipitation (MAP), maximum summer temperature, and other climate variables (Yonetani & Gordon, 2001). The rapid decline in the carbon isotopic composition of CO2 (δ13Catm) due to fossil fuel combustion, deforestation, and other human inputs, is known as the Suess Effect, and is a chemical representation of anthropogenic changes to the atmosphere—and more broadly, the environment. δ13Catm values provide a useful way to see changes in CO2 sources, sinks, and fluxes in the modern environment (Keeling, 1979; Boutton, 1991; Deines, 1992). It can also be applied to geologic problems (Schmitt et al., 2012) due to the naturally differing isotopic compositions of different CO2 sources (e.g., methane, volcanism). δ13Catm values are particularly useful because they are parameters in models that reconstruct past changes to atmospheric [CO2] using paleosol carbonates (Cerling et al., 1991, 1992) or atmospheric [CO2] using plant stomatal parameters (Franks et al., 2014). Direct measurements of δ13Catm values only go back 50 years due to technological limitations, and longer-reaching ice core CO2 bubbles (∼800,000 years) are poorly resolved for recent times and limited by the presence of glacial ice (Keeling & Whorf, 2004; Augustin et al., 2004; Barnola et al., 1987; Trudinger et al., 1999; Petit et al., 1999). The biosphere provides an excellent system that directly interacts with the atmosphere and fills the gap to provide high-resolution recent and long-term records, potentially extending into geologic time (Arens, Jahren & Amundson, 2000).
This direct interaction means that plants potentially provide a robust record of δ13Catm values in their own leaf carbon isotope values (δ13Cleaf) and fractionation values (Δleaf, Eq. (1); Farquhar, Ehleringer & Hubick, 1989; Feng, 1999; Farquhar & Sharkey, 1982), which gives insight into changes in carbon assimilation over time. In Eq. (1), a represents the fractionation of δ13C due to diffusion in air (4.4‰) and b represents the fractionation due to the carboxylation (instigated by the Rubisco enzyme, 27‰; Farquhar, Ehleringer & Hubick, 1989). These fractionation factors are compiled and multiplied by the ratio of Ci (intercellular [CO2]) to Ca (atmospheric [CO2]), a ratio that is often used to represent water use efficiency.
(1)
While a and b are thought to be constant, we know that δ13Catm and Ca are changing rapidly. This could result in a corresponding change in Δleaf values as plants adapt to increased [CO2] or subsequent regional climate changes, for example, systematic changes in local precipitation). Alternatively, Δleaf values of leaves may stay constant but show marked changes in δ13Cleaf values corresponding to changes in δ13Catm values if leaves are incorporating δ13Catm into leaf tissues at a rate unaffected by other climate conditions.
Carbon Isotopes Related to Climate Variables
Previous studies have related Δleaf values to climate variables such as MAP, water availability and soil moisture (Diefendorf et al., 2010; Kohn, 2010; Wernerehl & Givnish, 2015; Mårtensson et al., 2017), MAT (Troughton & Card, 1975; O'Leary, 1993); latitude (Diefendorf et al., 2010; Kohn, 2010), [CO2] (Schubert & Jahren, 2012, 2018), altitude (Korner, Farquhar & Wong, 1991; O'Leary, 1993), seasonality (Ehleringer, Phillips & Comstock, 1992), and δ13Catm values during growth seasons (Peñuelas & Azcón-Bieto, 1992; Arens, Jahren & Amundson, 2000; Pedicino et al., 2002). The studies that incorporate potential influence from a wide range of climate variables have been conducted via meta-analysis with no normalized collection procedure or investigated species, or via growth chamber experiment conducted under idealized conditions. The few studies that have used naturally-obtained specimens (i.e., natural history collections such as herbaria) to look at isotope change over time and changing atmospheric conditions ([CO2] and δ13Catm values) have focused on localized regions with little range in climate (i.e., all dry, mid- to high- altitude, hot regions of eastern Arizona/western New Mexico, or the Mediterranean climate of Catalonia; Peñuelas & Azcón-Bieto, 1992; Pedicino et al., 2002). These collections-based experiments are limited in scope and while they provide information on specific ecosystems, do not address these biosphere-atmosphere interactions across climate regimes or on a regional and global scale. Very little is known about whether individual species respond to any, some, or all of these potential forcings across a range of climatic conditions.
Potential Climate Drivers
Materials and Methods
We measured δ13Cleaf values of T. occidentalis extending from present-day to Pre-Industrial historical records using both newly collected and herbarium material. This included collecting leaf material of T. occidentalis specimens (n = 142 collected between 1804 and 2017 with four unknown dates of collection) from across the Great Lakes region from herbaria (Figs. 1A and 1B; Table S1) and in natural present-day occurrences across a range of climate conditions (see Table S2). Thuja has small, 1–10 mm long scale-leaves adpressed along a small branch. Three cm portions of branches representing a single growth year with multiple scale-leaves were cleaned in an ultrasonic bath of deionized water to remove surface debris, oven dried at 50 °C for 48 h and homogenized; this removes any within-leaf isotopic variation. Aliquots of each T. occidentalis specimen (0.6–0.8 mg) were placed into tin capsules and placed in a Costech elemental analyzer to measure %C and %N (as well as C:N ratio). Second aliquots of each T. occidentalis specimen (0.6–0.8 mg) were placed into tin capsules and placed in a combustion module inlet coupled to a Picarro G2201-i cavity ring-down spectrometer (CRDS) to measure δ13C values of each specimen. Duplicates were run on both machines to insure homogeneity. Results of each CRDS run were internally calibrated using nine acetanilide standards (δ13C = −28.17 ± 0.16‰), two IAEA-600 caffeine standards (δ13C = −27.77 ± 0.04‰) and two IAEA-CH-6 sucrose standards (δ13C = −10.45 ± 0.03‰) in each run, as seen in Cotton, Sheldon & Strömberg (2012) study. Reproducibility of replicate analyses was better than 0.3‰.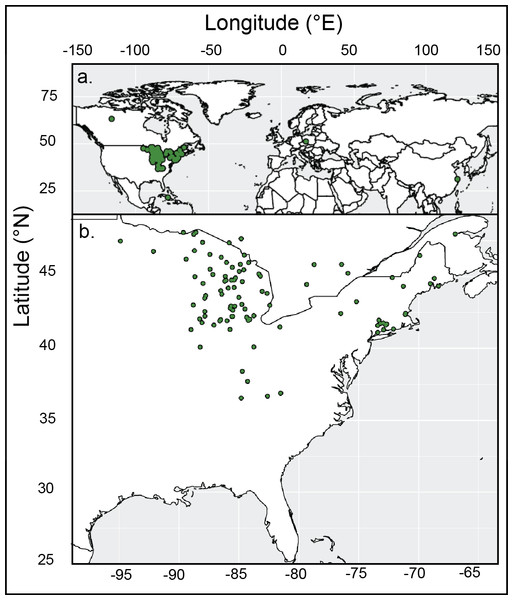 To test whether other climate variables confounded the relationship between δ13Catm and δ13Cleaf, we calculated carbon isotope fractionation values (Δleaf) for each specimen using known yearly δ13Catm values (Eq. (1)). We derived global δ13Catm values from direct (Rubino et al., 2013) and interpolated ice and firn core measurements according to the year of sampling (White, Vaughn & Michel, 2015). This does not account for ecosystem or microbiome-level deviations in δ13Catm, but does account for the greater source isotopic value. Δleaf values made it possible to de-couple the human-driven relationship between increased [CO2] and decreased δ13Cleaf values (the Suess Effect; Keeling, 1979) because they were calculated by isolating leaf isotope ratios from the atmospheric isotopic signal.
For each specimen locality, environmental data expected to affect δ13Cleaf values (MAP, MAT, and maximum summer temperature; Farquhar, Ehleringer & Hubick, 1989) were derived from global databases using exact latitude and longitude coordinates of specimen origin (PRISM Climate Group, 2004; Fick & Hijmans, 2017; Government of Canada, 2018). All contiguous United States data was compiled from Oregon State University's PRISM database, which interpolates data from local weather stations at a resolution of four km (PRISM Climate Group, 2004). δ13Cleaf values were also compared with δ13Catm and [CO2] values at collection times, as retrieved from NOAA databases documenting values found at Mauna Loa Observatory in Hawaii (White, Vaughn & Michel, 2015) and measured on an isotope-ratio mass spectrometer at the institute of arctic and alpine research (INSTAAR) in the University of Colorado, Boulder. δ13Cleaf values for which δ13Catm values were unavailable were not included in Δleaf calculations or comparisons to climate variables (Table S3). While Δleaf values combine δ13C values measured in this experiment on the CRDS with δ13Catm values measured on the IRMS at INSTAAR, we did not have access to individual errors for δ13Catm and could not propagate the error. Therefore, we used our reproducibility error of 0.3‰, which is larger than the expected error for the IRMS (0.1‰), to be conservative.
Five-point moving averages of δ13Cleaf values were calculated to eliminate random noise caused by estimating older specimens' exact collection dates (a result of long collecting expeditions and limited recording resources). We regressed isotope values against climate variables (MAT, MAP, δ13Catm and annual [CO2]) to examine potential drivers of the δ13Cleaf values. We calculated the best-fit line using linear least squares regression to minimize the average distance between modeled y-values and actual y-values (δ13Cleaf and Δleaf) and calculated coefficients of determination. We used R2 to determine predictive relationship between the given x-variable and y-variable. Additionally, we calculated p-values using the F-test to determine the chance of null hypothesis (p-value > 0.05).
The map of sampling location was created using R version 3.5.0 (R Core Team, 2014), and the ggplot2 (Wickham, 2016) and maps (v3.3.0, Becker & Wilks, 2018) packages. The full code is available in the Supplemental Files.
Results
Values of δ13Cleaf ranged from −21.92‰ (collected in 1899) to −28.51‰ (collected in 2017), with a mean of −25.05 ± 1.32‰ (standard deviation; Table S2). Δleaf values ranged from 15.11‰ to 20.97‰ (mean: 17.93 ± 1.11‰ standard deviation). Minimum, maximum, and mean values for climate variables are shown in Table S2. All data can be found in Table S3.
Conclusions
Though δ13Cleaf and Δleaf values have been proposed as a proxy for [CO2] and MAP based on previous research, this natural-world, species-controlled study shows no indication of such relationships. Thus, the use of Δleaf values to reconstruct MAP and [CO2] in the fossil record without taxonomic identification should be reconsidered. The relationship between δ13Cleaf and δ13Catm values is more informative, and may provide a new proxy (δ13Cleaf values of Thuja) for reconstructing paleo- δ13Catm or may indicate a lag in plant adaptation to unprecedentedly rapid climate change. Thuja extends up to 100 million years back to the Late Cretaceous, which makes this relationship potentially useful throughout the Cenozoic and into the Mesozoic era (Berry, 1915).
While this study focuses on one single species, further work is needed to assess other taxa at the species, genus, and family levels to examine whether the relationship between δ13Catm and δ13Cleaf is consistent, and furthermore, generalizable. δ13Cleaf values of individual fossil leaves (in particular of Thuja leaves) cannot be used to reconstruct paleo-MAP as proposed by Kohn (2010), but average δ13Cleaf values of sites, as recorded in bulk soil organic matter, may allow us to predict precipitation ranges. Aboveground δ13Cleaf is thought to translate directly into the isotopic value of soil carbon (δ13Corg; Arens, Jahren & Amundson, 2000). Bulk soil organic matter (δ13Corg) is the combination of δ13C of all decaying material from the ecosystem, with leaves especially abundant due to sheer volume. The average δ13Cleaf value of all trees found in a certain region will be found in the soil; therefore, soil δ13Corg values could be more reflective of particular precipitation at time of deposition than δ13Cleaf values. Further studies could evaluate the reliability of δ13Corg as a tool for MAP prediction and reconstruction.
This study implies constant carbon and nitrogen use and isotope fractionation relative to δ13Catm by T. occidentalis. Due to the unprecedentedly rapid changes δ13Catm and [CO2] throughout Industrialization, this lack of change in carbon assimilation patterns, despite previous studies using modern δ13Cleaf values to reconstruct [CO2], may indicate that modern systems are not appropriate analogues for many periods of the geologic record during which climate evolved more slowly. Modern climate change may be too rapid for plants to adapt, though more research should be done to evaluate whether this response is replicable in other species, genera, and plant functional types. It is possible that the pace of anthropogenic climate change makes modern relationships inappropriate analogues for paleoclimate.