Tandem-repeat protein domains across the tree of life
1
Department of Cell and Developmental Biology, Vanderbilt University

,

Nashville, TN

,

USA
2
Department of Biological Sciences, Vanderbilt University

,

Nashville, TN

,

USA
3
Department of Pathology, Microbiology, and Immunology, Vanderbilt University

,

Nashville, TN

,

USA
Published

Accepted

Received
Academic Editor
Subject Areas

Keywords

Protein domains

,

Archaea

,

Bacteria

,

Ankyrin repeat domains

,

Symbiosis

,

Tetratricopeptide repeat domains

,

Armadillo repeat domain
Copyright

©

2015

Jernigan and Bordenstein

Licence

This is an open access article distributed under the terms of the Creative Commons Attribution License, which permits unrestricted use, distribution, reproduction and adaptation in any medium and for any purpose provided that it is properly attributed. For attribution, the original author(s), title, publication source (PeerJ) and either DOI or URL of the article must be cited.
Cite this article

2015

.

Tandem-repeat protein domains across the tree of life

.

PeerJ

3

:

e732

https://doi.org/10.7717/peerj.732
Abstract
Tandem-repeat protein domains, composed of repeated units of conserved stretches of 20–40 amino acids, are required for a wide array of biological functions. Despite their diverse and fundamental functions, there has been no comprehensive assessment of their taxonomic distribution, incidence, and associations with organismal lifestyle and phylogeny. In this study, we assess for the first time the abundance of armadillo (ARM) and tetratricopeptide (TPR) repeat domains across all three domains in the tree of life and compare the results to our previous analysis on ankyrin (ANK) repeat domains in this journal. All eukaryotes and a majority of the bacterial and archaeal genomes analyzed have a minimum of one TPR and ARM repeat. In eukaryotes, the fraction of ARM-containing proteins is approximately double that of TPR and ANK-containing proteins, whereas bacteria and archaea are enriched in TPR-containing proteins relative to ARM- and ANK-containing proteins. We show in bacteria that phylogenetic history, rather than lifestyle or pathogenicity, is a predictor of TPR repeat domain abundance, while neither phylogenetic history nor lifestyle predicts ARM repeat domain abundance. Surprisingly, pathogenic bacteria were not enriched in TPR-containing proteins, which have been associated within virulence factors in certain species. Taken together, this comparative analysis provides a newly appreciated view of the prevalence and diversity of multiple types of tandem-repeat protein domains across the tree of life. A central finding of this analysis is that tandem repeat domain-containing proteins are prevalent not just in eukaryotes, but also in bacterial and archaeal species.
Introduction
While many functional protein domains exist, tandem-repeat domains are one of the most abundant classes of protein–protein interaction domains (Heringa, 1998; Marcotte et al., 1999). Tandem-repeat domains are comprised of 'tandem' arrays of repeating units of approximately 20–40 amino acids that contain simple structural motifs, such as α-helices or β-sheets (Kobe & Kajava, 2000). These domains can be classified as having either an open structure with a variable number of repeats or a closed structure with a fixed number of repeats. The repeat domains that fall in the former category are typically composed of 3–20 or more repeats, and the resulting structural formation determined by the tandem array of these protein motifs provides a platform for protein–protein interactions (Grove, Cortajarena & Regan, 2008). Some of the most common open-structure repeat domains include the ankyrin (ANK), tetratricopeptide (TPR), and armadillo (ARM) domains.
Tandem-repeat containing proteins are present in all domains of life and function in nearly every cellular process from transcriptional regulation in the nucleus to cell adhesion at the plasma membrane (Andrade et al., 2001). Based on our recent study on the distribution of ANK-containing proteins across the tree of Life, ANK domains are more common in bacteria (51% of strains) and archaea (11% of strains) than previously recognized (Jernigan & Bordenstein, 2014). Here, we set out to determine the distribution of TPR and ARM repeats across the three domains of life to examine three general patterns: (i) the origins and distribution of these repeats across the tree of life, (ii) the correlated presence of these repeats in each proteome, and (iii) the strength of associations between the presence of these protein domains and the taxonomic lifestyle or phylogenetic relationships of the organisms that they inhabit. We establish that these tandem-repeat proteins are not only present, but abundant in all domains of the universal tree of life.
The ANK repeat is a 33 amino acid motif that originally was discovered in Saccharomyces cerevisiae, Schizosaccharomyces pombe, and Drosophila melanogaster and was named after a human protein by the same name (Breeden & Nasmyth, 1987; Mosavi et al., 2004). The structure of a single motif begins with a β-turn that precedes two antiparallel α-helices and ends with a loop that feeds into the next repeat (Fig. 1A). These motifs stack one upon another to form an ANK domain and provide an interface for interacting with other proteins (Gorina & Pavletich, 1996; Sedgwick & Smerdon, 1999). ANK-containing proteins have been identified in all domains of life, and special attention has recently been paid to the role of ANK-containing proteins in host-microbe interactions in bacterial species such as Legionella pneumophila (Al-Khodor et al., 2010; de Felipe et al., 2008), Anaplasma phagocytophilum (JW, Carlson & Kennedy, 2007), and Ehrlichia chaffeenis (Zhu et al., 2009).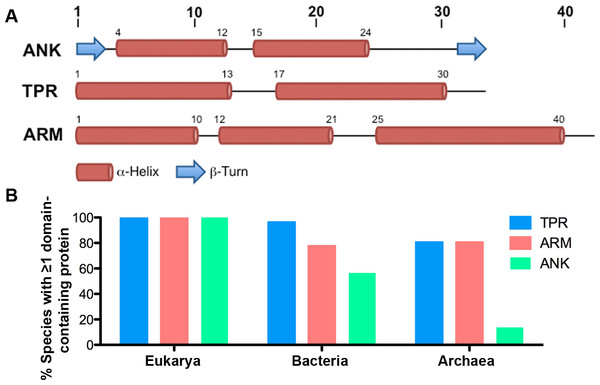 The TPR repeat is 34 amino acids long and is composed of two α-helices producing an α-helix-turn-α-helix motif (Fig. 1A) (Das, Cohen & Barford, 1998). First identified in yeast cell cycle proteins, it was coined the tetratricopeptide repeat for its 34 amino acid sequence (Hirano et al., 1990; Sikorski et al., 1990). A typical TPR domain contains between 3 and 16 TPR repeats and ends with one additional resolving α-helix that is thought to provide stability to the protein domain (D'Andrea & Regan, 2003). TPR-containing proteins occur in all domains of life (Cerveny et al., 2013; Ponting et al., 1999), but no systematic investigation has specified their general distribution and incidence across the universal tree.
ARM repeats, at 42 amino acids, are composed of three α-helices (Fig. 1A) (Tewari et al., 2010). This domain was first identified in the Drosophila melanogaster segment polarity protein, Armadillo (Peifer, Berg & Reynolds, 1994). In our analysis, other repeat domains with similar sequence, structure, and function are classified under the ARM repeat superfamily, including the HEAT repeat (Andrade et al., 2001; SUPERFAMILY). The HEAT repeat, named after the first proteins identified to contain this repeat (i.e., Huntingtin, Elongation factor 3, regulatory subunit A of Protein Phosphatase 2A, and Target of rapamycin) is composed of two α-helices (Andrade & Bork, 1995; Andrade et al., 2001). Although composed of a different number of α-helices, both repeats produce a similar concave surface important for protein interactions. Sequence analysis indicates that both repeats contain seven conserved amino acids (Andrade et al., 2001; Cingolani et al., 1999; Eklof Spink, Fridman & Weis, 2001; Lee et al., 2003).
All three repeat domains are composed of multiple repeated units of relatively simple protein motifs that impart important cellular functions. To the best of our knowledge, this is the first comprehensive analysis of multiple repeat domains across the tree of life that additionally shows how their abundance associates with phylogenetic history and lifestyle.
Materials and Methods
ANK, TPR and ARM-containing protein data acquisition and analysis
All genome information was obtained from the SUPERFAMILY v1.75 database (SUPERFAMILY; Wilson et al., 2009), including the taxonomy, and number of ANK, TPR and ARM-containing proteins. At the time of the analysis, the SUPERFAMILY database contained protein domain information on 2,489 strains, where there can be more than one strain representing a single phylogenetic species. This database is an archive of structural and functional domains in proteins of sequenced genomes (Wilson et al., 2009), which are annotated using hidden Markov models through the SCOP (Structural Classification of Proteins) SUPERFAMILY protein domain classification (Gough et al., 2001; SUPERFAMILY). We note appropriate caution that ANK, TPR, and ARM domains are called based on a computational framework and are not experimentally confirmed. NCBI's Genome Resource was used to obtain total gene and protein numbers for each organism in the analysis (Table S1). To determine the percent of an organism's total protein number (proteome) that is composed of ANK/TPR/ARM-containing proteins, the number of ANK/TPR/ARM-containing proteins was divided by the total number of proteins and multiplied by 100. Only organisms with available total protein information were used in this analysis. For these analyses, an average of the number and/or percent of ANK/TPR/ARM-containing proteins for all strains of the same species were used.
16S rRNA phylogenetic tree and independence analysis
16S rRNA sequences from one randomly selected species in each class of Fig. 3 were aligned by MUSCLE in Geneious Pro 5.6.2. Prior to building the tree, a DNA substitution model for the alignment was selected using jModelTest version 2.1.3 (Darriba et al., 2012; Guindon & Gascuel, 2003). A Bayesian phylogenetic tree was generated by MrBayes using the HKY85 model of DNA sequence evolution (Hasegawa, Kishino & Yano, 1985; Huelsenbeck & Ronquist, 2001; Ronquist & Huelsenbeck, 2003). For testing phylogenetic independence of ANK/ARM/TRP-containing proteins in bacteria, the PDAP program in Mesquite was used to generate independent contrasts for the data in Fig. 5 (Maddison & Maddison, 2006; Midford, Garland & Maddison, 2005). Phylogenetic Independence version 2.0 (Reeve & Abouheif, 2003) performed the Test For Serial Independence (TFSI) based on the Bayesian tree.
Discussion
A central finding from these results is that tandem repeat domain-containing proteins are prevalent not just in eukaryotes, but also in bacterial and archaeal species. A great majority of bacterial and archaeal taxa analyzed (96.42% and 80.73%, respectively) contain at least one TPR-containing protein. In bacterial species, 85.6% of all species analyzed contain at least two repeat domains, and of those species, over half (52%) contain all three repeat domains. Interestingly, Mollicutes are the only bacterial class with a reduced protein composition for all three domain-containing proteins. Of the 32 Mollicutes species, one of these species contains an ARM-containing protein, one contains an ANK- containing protein, and four contain a TPR-containing domain. This observation may, in part, be due to the reduced genome sizes and simplified metabolic pathways of Mollicutes, though many obligate intracellular bacteria with similar traits have these protein domains. Mollicutes are relatively unique among bacteria in that they also lack peptidoglycan, and instead have cholesterol-containing cell membranes (Krieg et al., 2011). Although it is uncertain if the highly reduced abundance of tandem repeat domain-containing proteins in this group is linked to the absence of peptidoglycan, there is evidence for an association in Escherichia coli in which the TPR-containing lipoprotein LpoA stimulates the major peptidoglycan synthase PBP1A (Jean et al., 2014).
We express appropriate caution that since certain strains of bacteria with relevance to human health have received extra attention in sampling, it is possible that the SUPERFAMILY dataset used in the analyses is not representative of the microbial diversity of the natural world, but rather is enriched in bacterial species that affect human health.