Comparative proteomics analysis reveals the difference during antler regeneration stage between red deer and sika deer
Published

Accepted

Received
Academic Editor
Subject Areas

Keywords

Deer antler

,

Proteomics

,

Regeneration

,

Oxidative phosphorylation

,

Ribosome

,

Extracellular matrix interaction

,

PI3K-Akt
Copyright

©

2019

Su et al.

Licence

This is an open access article distributed under the terms of the Creative Commons Attribution License, which permits unrestricted use, distribution, reproduction and adaptation in any medium and for any purpose provided that it is properly attributed. For attribution, the original author(s), title, publication source (PeerJ) and either DOI or URL of the article must be cited.
Cite this article

2019

.

Comparative proteomics analysis reveals the difference during antler regeneration stage between red deer and sika deer

.

PeerJ

7

:

e7299

https://doi.org/10.7717/peerj.7299
Abstract
Deer antler, as the only mammalian regenerative appendage, provides an optimal model to study regenerative medicine. Antler harvested from red deer or sika deer were mainly study objects used to disclose the mechanism underlying antler regeneration over past decades. A previous study used proteomic technology to reveal the signaling pathways of antler stem cell derived from red deer. Moreover, transcriptome of antler tip from sika deer provide us with the essential genes, which regulated antler development and regeneration. However, antler comparison between red deer and sika deer has not been well studied. In our current study, proteomics were employed to analyze the biological difference of antler regeneration between sika deer and red deer. The proteomics profile was completed by searching the UniProt database, and differentially expressed proteins were identified by bioinformatic software. Thirty-six proteins were highly expressed in red deer antler, while 144 proteins were abundant in sika deer. GO and KEGG analysis revealed that differentially expressed proteins participated in the regulation of several pathways including oxidative phosphorylation, ribosome, extracellular matrix interaction, and PI3K-Akt pathway.
Introduction
Deer antlers are the mammalian regenerative organ, which is covered with abundantly vascular skin called velvet. The antler regeneration initiates in every spring (Fennessy, 1984). At early regeneration stage, the main beam of antler grows dramatically on posterior growth center (Li et al., 2014). Subsequently, at the fast regeneration stage, tines of antler will form on the anterior growth center. During the antler regeneration stage, the growth rate of red antler will reach to 100 g per day within 100 to 120 days (Borsy et al., 2009). The weight of the full size of red deer antler generally reached seven to nine kg (Borsy et al., 2009). However, the sika deer antler with three to six kg is less than red deer (Hu et al., 2019). Following into autumn, the antler gradually reaches the full size and then has calcification accompanied with the loss of velvet and vessels (Li et al., 2014). Over the past decades, this special feature attracted researchers to study on the development mechanism underlying antler regeneration. The antler generation through modified endochondral ossification was first reported by Banks & Newbrey (1983). Antler histogenesis and tissue depletion study provided sufficient evidence that pedicle periosteum drive antler to regeneration (Li et al., 2007; Li & Suttie, 1994; Li, Suttie & Clark, 2004). Besides the pedicle periosteum study, researches about the growing tip of antler with the fastest growth rate are also a hotspot (Deb-Choudhury et al., 2015; Gyurjan et al., 2007; Yao et al., 2012).
Molnar et al. (2007) identified two expression clusters for 36 genes that were mainly expressed in consecutive tissue zones of antler tip of red deer. The first gene expression cluster was found to involve with ribosome pathway and the second cluster could be related with tumor biology. Furthermore, the activated runx2 pathway up-regulated the expression of mineralization proteins in cartilaginous tissue of red deer antler (Steger et al., 2010). Steger et al. (2010) demonstrated that antler regeneration model can be also used to study human osteoporosis. To further deeply study deer antler, the systematic study of sika deer antler tips based on transcriptome provided more information about the key regulated genes related to cartilage development (Yao et al., 2012). Li et al. (2012a) first used proteomic technology to disclose the molecular mechanism of antler stem cells from red deer. This study identified the key markers of antler stem cells, which were transcription factors POU5F1, SOX2, NANOG, and MYC. Moreover, distinctive pathways involved in sika deer antler development were found through the comparative proteomics between potentiated and dormant antler stem cells (Dong et al., 2016). Notably, PI3K-AKT, never identified in red deer antler, played an indispensable role in sika deer antler regeneration. We found that red deer or sika deer was selected as experimental animal to study on antler regeneration in last decade. Also, both of them have the potential to be developed as the model of regenerative medicine. However, the difference of antler regeneration between two deer species still remains unknown. Unfortunately, a previous study showed that the histogenetic aspects of these antlers were indistinguishable between red deer and sika deer (Li, 2013; Li et al., 2014). Except for the size of two antler groups, we never know any other differences between the two antler groups before. In some cases, the term "antler" means that the antler was collected from sika deer or red deer. The antler, as Chinese tradition medicine, is collected from sika deer or red deer according to Chinese Pharmacopeia (Pharmacopoeia Commission of the Ministry of Health of the People's Republic of China, 2015). We realized that comparative study of antler regeneration between red deer and sika deer has been a "scotoma" all the time. Hence, it is necessary to make the comparative study of these two antler groups. In our current study, the proteomics technology was applied to reveal the differences of the protein level between them.
The aim of our study was to disclose the differentially expressed proteins between two antler groups. Furthermore, we want to remind other researchers that these two antler systems are different. The researchers should notice that whether these different pathways affect their study, when they choose antler to study on regenerative biomedicine. The proteomics based on mass spectrum can identify thousands of proteins, which were processed by bioinformatic software to achieve the protein properties, consisting of protein abundance, protein subcellular distribution, protein functional classification, and correlative biological processes (Larance & Lamond, 2015). Thus, proteomics will accurately work out essentially changed molecular pathways of antler regeneration between red deer and sika deer. The differentially expressed proteins identified in comparative proteomic may facilitate the discovery of novel molecular pathways related with antler growth.
Materials and Methods
Tissue sampling
We randomly chose three male red deer and three male sika deer as study subjects in Chinese local deer farm, which was located in Shuangyang district, Changchun city, Jilin province (N43°33′56.03″, E125°29′23.15″). All procedures of the sample collection were approved by the Animal Ethics Committee of Changchun University of Chinese Medicine. They are all 5-year-old deer with antler regeneration for 80 days after casting previous antlers. Antler tissues were harvested from anaesthetized deer. Briefly, the distal five cm of the antler tip, regarded as the growth center, was removed and sectioned sagittally by the electric saw to collect five mm to eight mm thick tissue section (Li, Suttie & Clark, 2005). Then, the tissue section was cut into small pieces, flash frozen and ground into powder in liquid nitrogen, combined and stored at −80 °C ready for proteomics study.
Protein extraction and FASP digestion
The antler powder samples were extracted with SDT-lysis buffer (4% (w/v) SDS, 100 mM Tris-HCl pH 7.6, 0.1 M DTT) in a sonic dismembrator for 20 min. And then the suspension was incubated at 4 °C for 60 min and subsequently heated at 95 °C for 5 min. The incubation solution was centrifuged at 16,000 g at 4 °C for 15 min. The clarified supernatant was collected to another tube, and then the pellet extracted again in lysis buffer according to the above method. The combination of supernatants was centrifuged at 30,000 g and 4 °C for 15 min. The concentration of proteins was quantified using the bicinchoninic acid assay (BCA assay). 200 µg of protein from each antler sample was digested with trypsin according to filter-aided sample preparation (FASP) protocol proposed by Wisniewski et al. (2009). Subsequently, two µg of tryptic peptides were purified using C18 spin columns (Pierce™ C18, Sigma), and then dried via lyophilization and rehydrated with 40 µl of 0.1% formic acid. The content of the peptide sample was quantified based on colorimetric protein concentration assays (BioRad).
LC-MS/MS analysis
Purified digested peptide fractions were analyzed by nano LC-MS/MS using EASY-nLC 1200 coupled to Q Exactive™ mass spectrometer (Thermo Fisher Scientific). The peptide samples were separated with a 120 min linear gradient from 0% to 55% buffer B (84% acetonitrile, 0.1% Formic acid) on a reverse phase peptide column (Acclaim™ PepMap™ 100 C18, Thermo Fisher Scientific connected) to the EASY capillary C18 column (75μm inner diameter, 10 cm long, three μm resin; Thermo Fisher Scientific) at a flow rate of 300 nl/min. The data-dependent top10 method was used to acquire MS data by choosing the most abundant precursor ions for HCD fragmentation. The full MS survey scans were acquired at a resolution of 70,000, with automatic gain control target 3e6 and a range of m/z 300–1800. HCD spectra scan with a resolution of 17,500 at m/z 200 and the isolation window was two m/z. The dynamic exclusion was 40 s.
Database search and protein quantification
Mass spectra were processed by the peptide search engine Andromeda in MaxQuant software, which searched the data against uniprot_Cervus_20600_20180413.fasta retrieved from UniProt database. The correlated parameters were defined as follows: digest enzyme of trypsin, max missed cleavage of 2, fixed modifications of carbamidomethyl, variable modifications of methionine oxidation and N-terminal acetylation, the precursor mass window in the main search of six ppm and MS/MS tolerance of 20 ppm. The cutoff value of the false discovery rate was defined as 0.01 to identify peptides and proteins. The protein abundance was normalized and calculated according to the algorithms described in Cox et al (Tyanova, Temu & Cox, 2016). Data from the same antler group were merged into the same group, and the LFQ intensities of the proteins were log 2 transformed to obtain log 2 fold-change between two antler groups. To improve the accuracy of comparison, the data were retained with at least two of three valid values (greater than 0) in at least one group, and missing values were replaced by generating random numbers from a Gaussian distribution that well represents the distribution of low-abundance proteins (Qian et al., 2018). If a certain protein has two valid values in one group and only one in the other group, it will also be eliminated. Two-sample T-test is applied for determining if the means of the LFQ intensity values of two groups of deer antlers are significantly different from each other through the analysis of Perseus software (Tyanova et al., 2016). To define differentially expressed proteins (DEPs), fold change thresholds were set at 2.0 or 0.5 with p-value < 0.05. The mass spectrometry data in proteomics study have been submitted to the ProteomeXchange Consortium via PRIDE partner repository, with the dataset identifier PXD012090 (Vizcaino et al., 2016).
Bioinformatic analysis
To study on the biological function of the differentially expressed proteins, the identified proteins were used to run Gene Ontology (GO) analysis. Firstly, the homology search was performed for all identified sequences against the red deer database using localized NCBI BLAST+ software. And then GO annotation and enrichment analysis was completed using BLAST2GO software (Gotz et al., 2008). The result of GO annotation presented that the properties of the identified proteins in three functional categories, which are cellular component (CC), biological process (BP), and molecular function (MF). In addition, all differentially expressed proteins and significantly changed metabolites were searched against the Kyoto Encyclopedia of Genes and Genomes (KEGG) database and obtained the corresponding KEGG pathways (Moriya et al., 2007). To further disclose the mechanism underlying differentially expressed proteins and clarify the functional cluster of differentially expressed proteins, GO enrichment analysis was performed by Fisher's exact test. Notably, GO terms with p values < 0.05 were regarded as significant enrichment.
Results
Protein identification and differentially expressed proteins (DEPs)
In total, 4,439 unique peptides and 1,060 proteins were identified through MaxQuant software against UniProt database. All identified protein from these two groups are listed in Table S1. An obvious difference in the number of proteins with changed abundance comparing red deer antler and sika deer antler make us to analyze the extent of shared and non-overlapping differences. A total of 578 proteins were identified in both the red deer antler proteome and the sika deer antler proteome, while 114 proteins were exclusively identified in sika deer antler (Fig. 1, Table S2). However, we found that only 19 exclusive proteins for red deer antler were observed (Fig. 1, Table S2). Among these antler proteins existed in both red deer and sika deer, 30 differentially expressed proteins (DEPs) were up-regulated and 17 down-regulated in the sika deer antler (Fig. 1, Table S2). Our current proteomics data indicated that more type of proteins were identified in sika deer antler than that in red deer.
Gene ontology annotation and enrichment analysis of differentially expressed proteins
To further study protein function in deer antler, Gene ontology (GO) annotation was processed to differentially expressed proteins by Blast2GO software. All terms were counted non-exclusively, when one protein possessed more than one term for biological process (BP), molecular function (MF), and cellular component (CC). The result of GO annotation was shown in Fig. 2 and Table S3. The most abundant category in molecular function was binding proteins (38%), especially ion bonding proteins (21%) and organic cyclic compound binding proteins (20%) (Fig. 2). The second highly abundant category in molecular function was catalytic activity proteins (23%), especially hydrolase activity proteins (10%). The cellular component analysis showed that the differentially expressed proteins were mainly located in the intracellular region, organelle and membrane (Fig. 2). 23 and 18% of proteins are in the organelle and membrane, respectively, whereas 9% of differentially expressed proteins are localized in the extracellular region. The major functional terms under biological process category were metabolic processes, cellular processes and biological regulation (18, 27, and 11%, respectively) (Fig. 2). The nitrogen compound metabolic process, which is a child term of metabolic process, possessed 22 differentially expressed proteins from two antler groups (Table S3).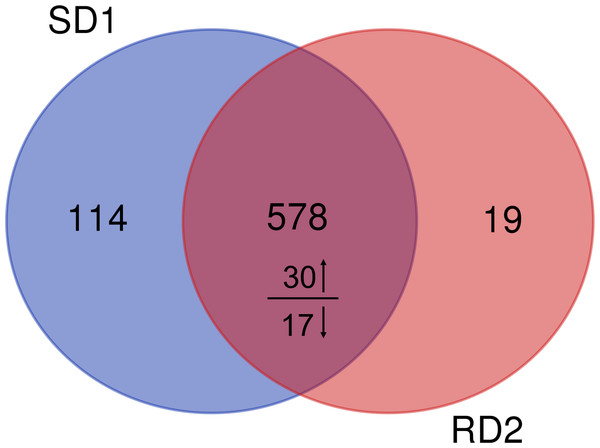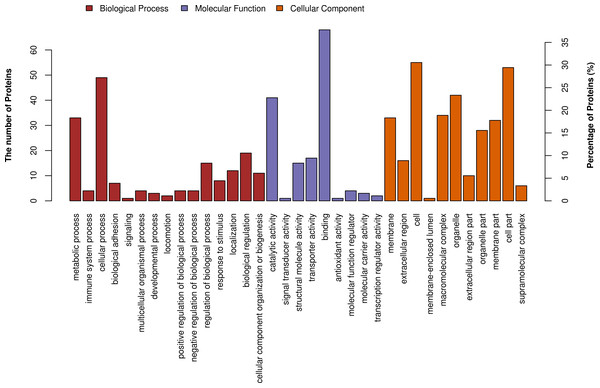 To reveal the biological difference between sika deer and red deer antler, GO enrichment analysis was performed for differentially expressed proteins on three categories (Fig. 3). We found that differentially expressed proteins were mainly located in clathrin-coated pit/vesicles, organelle, specially mitochondrion and cytoskeleton. On the molecular function category, a high abundance of DEPs was enriched into transporter activity and ATPase activity. DEPs were mainly involved in the regulation of gene expression and extracellular structure organization under biological process.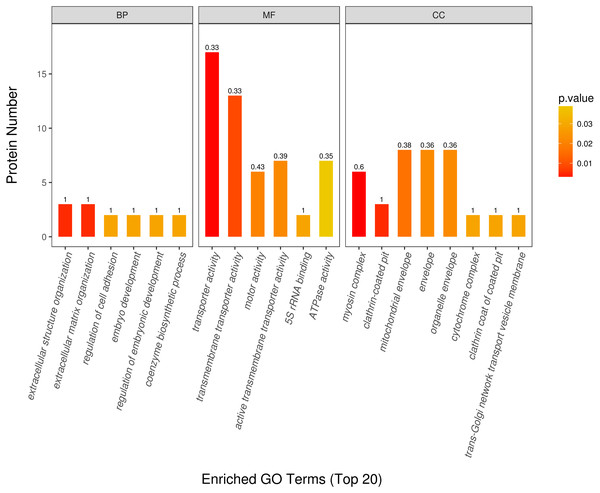 KEGG annotation of differentially expressed proteins
KEGG analysis was used to reveal the functional pathways about differentially expressed proteins. A total of 180 DEPs were processed to obtain 163 KEGG pathways (Table S4). The top 20 pathway terms were shown in Fig. 4. These differentially expressed proteins were mainly classified into PI3K-Akt signaling pathway, thermogenesis, oxidative phosphorylation, ECM-receptor interaction and focal adhesion, ribosome, synaptic vesicle cycle, complement and coagulation cascades, and other categories related with disease.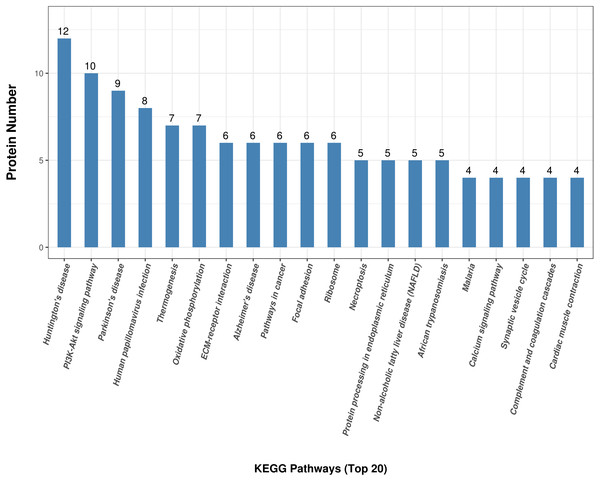 Conclusions
Our comparative proteomics study provided the comprehensive analysis of the differentially expressed antler proteins between sika deer and red deer based on label-free quantitative proteomics. The protein species and their abundance of sika deer antler were higher than in red deer. Differentially expressed proteins during the antler regeneration stage mainly participated in the regulation of several pathways including oxidative phosphorylation, ribosome, extracellular matrix interaction, and PI3K-Akt pathway.