Intragenomic polymorphisms among high-copy loci: a genus-wide study of nuclear ribosomal DNA in Asclepias (Apocynaceae)
1
Department of Botany and Plant Pathology, Oregon State University

,

Corvallis, OR

,

USA
2
Department of Biology, Hobart and William Smith Colleges

,

Geneva, NY

,

USA
3
Department of Botany, Oklahoma State University

,

Stillwater, OK

,

USA
Published

Accepted

Received
Academic Editor
Subject Areas

Keywords

Concerted evolution

,

Genome skimming

,

High-copy

,

Intragenomic polymorphism

,

Partial SNP (pSNP)

,

Nuclear ribosomal DNA (nrDNA)

,

Intra-individual site polymorphism

,

2ISP

,

Asclepias

,

ITS
Copyright

©

2015

Weitemier et al.

Licence

This is an open access article distributed under the terms of the Creative Commons Attribution License, which permits unrestricted use, distribution, reproduction and adaptation in any medium and for any purpose provided that it is properly attributed. For attribution, the original author(s), title, publication source (PeerJ) and either DOI or URL of the article must be cited.
Cite this article

2015

. Intragenomic polymorphisms among high-copy loci: a genus-wide study of nuclear ribosomal DNA in Asclepias (Apocynaceae)

PeerJ

3

:

e718

https://doi.org/10.7717/peerj.718
Abstract
Despite knowledge that concerted evolution of high-copy loci is often imperfect, studies that investigate the extent of intragenomic polymorphisms and comparisons across a large number of species are rarely made. We present a bioinformatic pipeline for characterizing polymorphisms within an individual among copies of a high-copy locus. Results are presented for nuclear ribosomal DNA (nrDNA) across the milkweed genus, Asclepias. The 18S-26S portion of the nrDNA cistron of Asclepias syriaca served as a reference for assembly of the region from 124 samples representing 90 species of Asclepias. Reads were mapped back to each individual's consensus and at each position reads differing from the consensus were tallied using a custom perl script. Low frequency polymorphisms existed in all individuals (mean = 5.8%). Most nrDNA positions (91%) were polymorphic in at least one individual, with polymorphic sites being less frequent in subunit regions and loops. Highly polymorphic sites existed in each individual, with highest abundance in the "noncoding" ITS regions. Phylogenetic signal was present in the distribution of intragenomic polymorphisms across the genus. Intragenomic polymorphisms in nrDNA are common in Asclepias, being found at higher frequency than any other study to date. The high and variable frequency of polymorphisms across species highlights concerns that phylogenetic applications of nrDNA may be error-prone. The new analytical approach provided here is applicable to other taxa and other high-copy regions characterized by low coverage genome sequencing (genome skimming).
Introduction
With the advent of DNA sequencing technology to infer phylogenetic relationships, investigators began searching for genetic loci that were both phylogenetically informative and readily sequenced in most organisms. The use of nuclear ribosomal DNA (nrDNA) soon became a popular choice for phylogenetic inference (Hamby & Zimmer, 1988; Hillis & Dixon, 1991; Baldwin, 1992; Baldwin et al., 1995; Álvarez & Wendel, 2003). Nuclear ribosomal DNA offered several advantages over other loci: the combination of highly conserved and variable regions allowed phylogenetic inference across a broad range of evolutionary time scales; conserved regions allowed the use of "universal" PCR primers applicable to a wide range of taxa; the high copy number of nrDNA repeats allowed reliable amplification from lower quality DNA extractions; and the process of concerted evolution ensured that these copies were similar within individuals (Baldwin et al., 1995). The use of nrDNA, particularly the variable internal transcribed spacer (ITS) regions, became widespread, to the extent that many studies were based exclusively on ITS data (Álvarez & Wendel, 2003).
However, nrDNA loci have been shown to harbor limitations in their phylogenetic utility. Nuclear ribosomal DNA copies are assembled as tandem repeats at one or more loci in the genome, with each locus being known as an array. The number of repeats present within an array is labile, as is the number and location of arrays (Álvarez & Wendel, 2003). The process of nrDNA copy homogenization from homologous recombination or unequal crossing over is thought to occur much more frequently within than among arrays (Schlötterer & Tautz, 1994). Thus, differing nrDNA alleles may become fixed in different arrays within a genome, creating paralogy that, if unrecognized, may confound phylogenetic inference (Álvarez & Wendel, 2003; Song et al., 2012). Moreover, these events can create pseudogenes which, freed from selective pressures, may evolve through processes quite different from the functional loci and provide misleading evidence for between-individual genetic divergences if compared to functional copies (Buckler, Ippolito & Holtsford, 1997). These events may occur at a greater rate than inter-array homogenization via concerted evolution (Karvonen & Savolainen, 1993; Gernandt & Liston, 1999).
Due to the technical difficulty of systematically sequencing individual nrDNA loci because of their high copy number, studies characterizing the abundance and patterns of intragenomic nrDNA polymorphisms have been rare. Recently, studies utilizing whole-genome shotgun sequencing have begun to reveal levels of intragenomic polymorphism in Drosophila (Stage & Eickbush, 2007), nematodes (Bik et al., 2013), and fungi (Ganley & Kobayashi, 2007). However, these studies included a small number of species (12, 6, and 5, respectively) and did not attempt to place patterns of polymorphism in a phylogenetic context. Song et al. (2012) examined the ITS2 region of 178 plant species via pyrosequencing, finding nearly ubiquitous intragenomic variation, with most ITS2 copies within a genome represented by a few major variants. Other studies have used intragenomic nrDNA polymorphisms to identify populations of Arabidopsis (Simon et al., 2012) and infer intraspecific phylogenies of Saccharomyces (West et al., 2014). Studies of intragenomic nrDNA polymorphism patterns across many species within the same genus have not been performed in plants (but see Straub et al., 2012).
This study utilizes high throughput technology to survey many species and individuals in the angiosperm genus Asclepias (Apocynaceae) in order to characterize levels of intragenomic nrDNA polymorphism and place these within a phylogenetic context. The methods presented here are expanded from those we have previously developed as part of the Milkweed Genome Project (Straub et al., 2011; Straub et al., 2012), and generalized for use with a large number of taxa and any high-copy locus, such as those that may be obtained from a genome-skimming or Hyb-Seq study (Straub et al., 2012; Weitemier et al., 2014).
Results
Average coverage of the nrDNA region was ∼97× for all individuals (median = 88 ×; Sequence Read Archive PRJNA261980). Despite high overall coverage of the nrDNA region, not all positions of the cistron were assembled for all individuals; therefore results for polymorphic positions are presented both as counts and as percentages of sequenced bases. The A. syriaca reference had total genome coverage of ∼0.8× (Sequence Read Archive SRP005621).
The length of the reference A. syriaca nrDNA cistron was 5,839 bp. The consensus sequences for the nrDNA cistrons of other samples ranged from 5,815 to 5,865 bp, with over half of samples having lengths between 5,836 and 5,842 bp. Relative to A. syriaca, 87 samples include at least one inserted position in their consensus sequence, and 117 samples have at least one deleted position. However, because in general more positions were inserted than deleted, 71 samples have lengths greater than 5,839, and 41 samples have shorter lengths (Fig. S1).
Intragenomic polymorphism
All individuals were polymorphic at several positions homologous with the A. syriaca reference (Table 1). The number of polymorphic positions ranged from 23 (A. verticillata, 0.41% of sequenced bases) to 882 (A. solanoana, 15.13%), with a mean of 333 (5.77%, Fig. 1). A very high percentage (91%) of positions in the A. syriaca reference were polymorphic in at least one individual (Fig. 2A).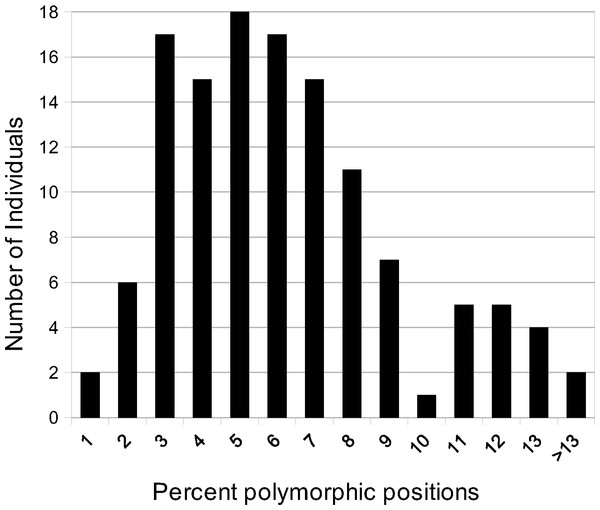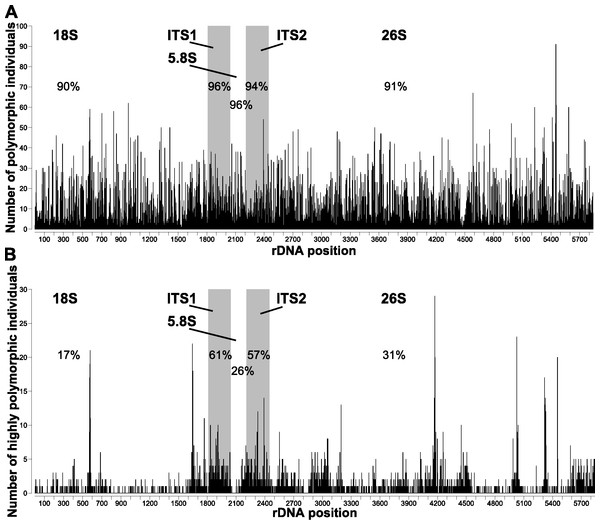 Positions were significantly more likely to be polymorphic if they were in a spacer region (ITS1, ITS2; Fig. 2A) or stem (Fig. 3A). This is true both when considering the number of individuals polymorphic at a position (Table 2), and whether any sample was polymorphic at that position (Table 3A).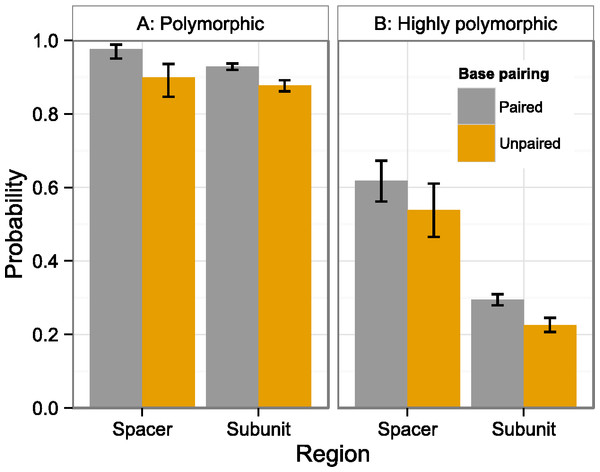 | Source of variation | Sum of squares | df | F value | P |
| --- | --- | --- | --- | --- |
| (Intercept) | 8,310.6 | 1 | | |
| Paired | 109.1 | 1 | 53.5887 | <0.0001 |
| Subunit | 16.4 | 1 | 8.0664 | 0.0045 |
| Paired* Subunit | 0.4 | 1 | 0.1859 | 0.6663 |
| Residuals | 11,878.9 | 5,835 | | |
A: Polymorphic
Source
Odds ratio
95% CI
Coefficient estimate
Std. error
Z-value
P
(Intercept)
3.7136
0.3825
Subunit
0.320
0.150–0.686
−1.1382
0.3881
−2.933
0.0034
Unpaired
0.220
0.090–0.537
−1.5163
0.4561
−3.324
0.0009
Subunit * Unpaired
2.488
0.998–6.206
0.9115
0.4663
1.955
0.0506
B: Highly polymorphic
(Intercept)
0.48551
0.1201
Subunit
0.257
0.201–0.329
−1.35881
0.12564
−10.815
<0.0001
Unpaired
0.719
0.494–1.047
−0.32964
0.19178
−1.719
0.0856
Subunit * Unpaired
0.970
0.651–1.444
−0.03061
0.20315
−0.151
0.8802
CI

confidence interval

Std. Error

standard error
The number of highly polymorphic positions ranged from 2 (A. arenaria, 0.03%) to 111 (A. boliviensis, 1.91%) with a mean of 28 (0.50%). Positions highly polymorphic in more than 10 individuals were found in the 18S, ITS1, ITS2, and 26S regions (Fig. 2B). The most polymorphic position was 4,172 (using the A. syriaca reference), in the 26S region, which was highly polymorphic in 29 individuals. Highly polymorphic positions were dramatically less frequent in the subunit regions (18S = 19%, 5.8S = 26%, 26S = 31%) than in the spacer regions (ITS1 = 61%, ITS2 = 57%; Table 3B, Fig. 2B). Positions in secondary structure stems were moderately more likely to be highly polymorphic in at least one individual than loop positions (Table 3B, Fig. 3B).
Relaxed read mapping
Allowing more mismatches when mapping reads to their consensus nrDNA sequence increased the polymorphic sites counted within individuals by an average of 15.5% (Fig. S2). Two samples had no change in their polymorphism abundance, and two had a decrease (i.e., newly mapped reads at a previously polymorphic position matched the consensus, thereby dropping the polymorphic reads below 2%). The increase in polymorphism abundance under relaxed read mapping may indicate that the standard read mapping parameters are too conservative and that some truly polymorphic sites are excluded. However, because standard read mapping is more likely to exclude reads containing sequencing errors, and because there is a strong linear correlation (R2 = 0.97) between polymorphism abundance under the two mapping schemes, remaining analyses will only consider results from the standard read mapping.
Samples contained a mean of 7.6 and a median of 5 polymorphic indels when mapped reads were allowed to contain insertions or deletions of up to 5 bp relative to the individual consensus sequence. Eight individuals exhibited no polymorphic indels, including a sample of A. tuberosa ssp. rolfsii (Lynch 12526 [OKLA]). However, a sample of A. tuberosa ssp. interior (Fishbein 2816 [OKLA]) contained the most polymorphic indels at 51. Intragenomic indel abundance was positively correlated with SNP abundance (R2 = 0.35, Fig. S3). Due to the generally low level of intragenomic indel polymorphisms (78% of samples contained 10 or fewer), remaining analyses only consider results from intragenomic polymorphic SNPs. Polymorphic indels and SNP counts under relaxed mapping for each sample are provided in File S3.
Phylogenetic signal
The number of polymorphic base pair positions exhibited strong phylogenetic signal across Asclepias under both the permutation test (P < 0.0012) and the likelihood ratio test (estimated lambda = 0.51, P = 0.0067; Table 4; Fig. 4). This signal remained even after the ITS regions were removed from the dataset (permutation test P < 0.0200, lambda = 0.45, LRT P = 0.0112). Highly polymorphic base pair abundance, however, was not significantly influenced by phylogenetic history (Table 4; Fig. 5), even when considering only the subunit regions.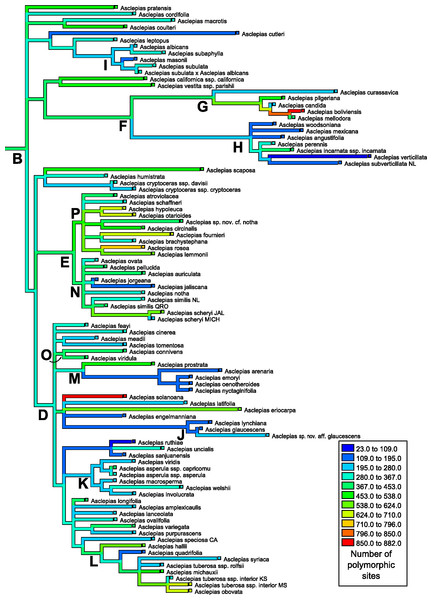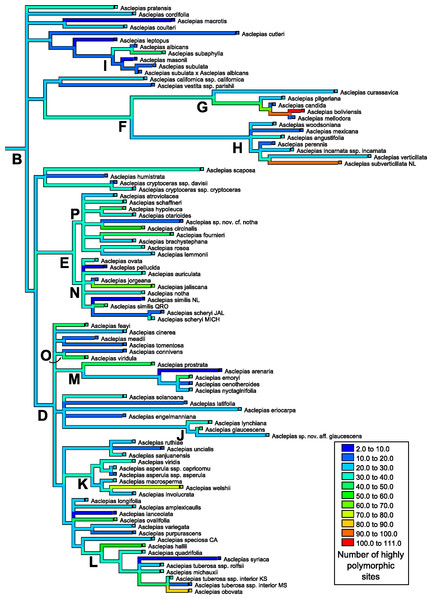 Parsimony permutations
Lambda
logL
P
Polymorphic sites
Subunits + spacers
<0.0012
0.51

0.0067
Subunits only
<0.0200
0.45

0.0112
Highly polymorphic sites
Subunits + spacers
>0.6050
<0.0001

1
Subunits only
>0.5300
<0.0001

1
Parsimony permutations

the proportion of permutations with a shorter tree length than the true data

Lambda

the maximum likelihood estimate of lambda

logL

the log-likelihood ratio of the unconstrained model including the estimated lambda over the constrained model with lambda = 0

P

the probability of obtaining a likelihood ratio this small or smaller by chance alone
Of the 53 resolved clades in the phylogeny, none showed polymorphism values more extreme than expected under a Brownian motion model after correcting for multiple comparisons. The most extreme clade was that formed by A. hypoleuca and A. otarioides, which had an ancestral number of polymorphic positions exceeded by 79 of the 10,000 simulations (when excluding the spacer regions this node was exceeded by 60 simulations). The following most extreme nodes were those ancestral to A. rosea and A. lemmonii with more polymorphic positions than all but 130 (79) simulations, and ancestral to A. boliviensis and A. mellodora with more polymorphic positions than all but 246 (150) simulations. Under a Bonferroni correction a clade would require 9 or fewer simulations more extreme than the observed value (α = 0.05) to reject a hypothesis of no divergence from Brownian motion.
Despite the strong phylogenetic signal of polymorphism abundance across Asclepias, counts among samples within species (for those species with multiple samples) exhibited variability. Some samples of the same species had very similar polymorphism counts (e.g., the two A. jaliscana individuals contained 140 and 165 intragenomic polymorphisms), while others differed dramatically (e.g., A. macrosperma individuals contained 76 and 391).
Identification of mixed ancestry
The number of polymorphic sites for hybrid individuals, 299 for A. albicans × subulata and 161 for A. speciosa × syriaca, are less than the mean number of 333 polymorphic sites; and the number of highly polymorphic sites, 12 and 37, are less than or greater than the mean of 28. Of those positions that are highly po lymorphic, 4 of 37 in A. speciosa × syriaca have a minor allele frequency of 0.3 or higher, while none of the positions in A. albicans × subulata have a minor allele frequency above 0.2.
Discussion
Absolute counts of intragenomic polymorphisms among the copies of nrDNA in Asclepias (mean = 333 positions) were found to be much higher than levels reported for nematodes (<250; Bik et al., 2013), fungi (3–37; Ganley & Kobayashi, 2007), and Drosophila (3–18; Stage & Eickbush, 2007) when including all polymorphic positions. When considering only positions that are highly polymorphic, Asclepias exhibits slightly higher rates (mean = 28.4 positions) than fungi and Drosophila, but much lower rates than nematodes. However, these comparisons may be misleading: First, the number of nrDNA copies varies greatly between these taxa, estimated to range from about 50–180 in the fungal species, 200–250 in Drosophila melanogaster, 56–323 in the nematodes, and about 960 in Asclepias (Ganley & Kobayashi, 2007; Stage & Eickbush, 2007; Straub et al., 2011; Bik et al., 2013). Second, polymorphic base pair counts are confounded by differing criteria for scoring polymorphism (i.e., methods for excluding sequencing errors). The levels listed for the fungal species include both "high-confidence" and "low-confidence" polymorphisms, based primarily on sequence quality (Ganley & Kobayashi, 2007). The levels listed for Drosophila are polymorphisms present in ≥3% of loci (Stage & Eickbush, 2007). Bik et al. (2013) tallied read counts using a method similar to the method presented here, but called positions polymorphic when the count of differing reads exceeded what would be expected for a single copy locus. Third, sequencing depths of the fungal and Drosophila studies were much lower than those used here and with the nematodes (Ganley & Kobayashi, 2007; Stage & Eickbush, 2007; Bik et al., 2013). Nevertheless, given that Asclepias has absolute counts of polymorphic positions at least 33% higher than the other organisms studied, and that the sequencing depth was nearly two orders of magnitude greater in the nematodes than in Asclepias (6.3–10× per nrDNA copy in nematodes, vs. ∼0.1× in Asclepias; Bik et al., 2013), it is likely that Asclepias harbors greater rates of intragenomic polymorphism within the nrDNA cistron than the organisms studied to date.
Polymorphism patterns across the nrDNA cistron
Spacer regions (ITS1, ITS2) had higher frequencies of polymorphic positions than subunit regions (18S, 5.8S, 26S; Fig. 2). However, positions with low polymorphism frequencies are distributed much more evenly across the nrDNA cistron (Fig. 2A) than highly polymorphic positions, which show strong differentiation between the subunit and spacer regions (Fig. 2B). The lower frequency of highly polymorphic positions within the subunit regions suggests that these regions are under selection to remain homogenous within individual genomes. The lower difference in low polymorphism frequency between subunit and spacer regions suggests that this selection pressure is positively correlated with the proportion of nrDNA copies that differ from the majority. These findings contrast with those reported for nematodes (Bik et al., 2013), where the subunit regions had much higher levels of polymorphism abundance than the spacer regions.
Positions in stem regions were more likely to be polymorphic than loop positions (Fig. 3). This was strongly significant for all polymorphic positions (Tables 2 and 3A) and moderately significant for highly polymorphic positions (Table 3B). This would seem to contradict the hypothesis that stem sites in general should be more highly conserved in order to maintain a functional RNA secondary structure. Indeed, this finding agrees with those from Rzhetsky (1995), who not only found that trees estimated from stem regions contained longer branch lengths than those from loop regions, but that those stem sites least likely to affect secondary structure tended to be less conserved. Loop sites, on the other hand, contain a large proportion of the sites critical to ribosomal function (Rzhetsky, 1995), and may be under stronger stabilizing selection than stem sites.
Among the subunit regions, the 26S region harbored the highest frequency of highly polymorphic positions. This agrees with Stage & Eickbush (2007) who showed the Drosophila 28S region to have a higher mutation rate than the other subunit regions. However, in that study the 28S region also had a lower frequency of polymorphic base pairs. Stage & Eickbush (2007) hypothesize that this is due to the action of two retrotransposable elements found in many Drosophila 28S copies, with instances of aborted insertions causing the cell to repair the region using a nearby template and thereby homogenize the copies. They predict that levels of polymorphism will be higher in the 28S region of organisms lacking the retrotransposable elements, as seen here in the homologous angiosperm 26S region.
Within the subunit regions, highly polymorphic positions may be more common within expansion regions of the RNA gene (less conserved regions that tend to incorporate sequence insertions without affecting functionality; Clark et al., 1984). This is strongly implied by the recovery of clusters of highly polymorphic sites near A. syriaca positions 4,440 and 5,020, which are directly within the 26S expansion regions seven and eight, respectively (Kolosha & Fodor, 1990; Fig. 1). This agrees with results found in Drosophila (Stage & Eickbush, 2007). However, this may not be true for all highly polymorphic sites, as the high peak at position 4,172 is not within an expansion region.
Phylogenetic context
Mapping the number of polymorphic positions onto the phylogeny of Asclepias demonstrates strong and significant phylogenetic signal when counting all polymorphisms (Fig. 4), but this signal is not significant when only counting highly polymorphic positions (Fig. 5). While this study demonstrates phylogenetic signal in polymorphism abundance, it remains unknown whether abundance within a lineage is influenced by selection or purely neutral causes. Different demographic histories across clades could create this effect via neutral causes, while selection against organisms that retain too many variant nrDNA copies could be variable across the genus. Polymorphisms present in a high proportion of nrDNA copies may be uniformly selected against, while low polymorphism sites are tolerated at varying levels. This could explain the lack of phylogenetic signal at the highly polymorphic sites, and its presence when including all polymorphic sites.
These results have implications for phylogenetic inference based on nrDNA data. As previously cautioned, it cannot be assumed that all copies of nrDNA are identical within a genome. This is especially true for the spacer regions, but also for the subunit regions (Álvarez & Wendel, 2003). The discovery of phylogenetic signal in intragenomic polymorphism abundance demonstrates that those positions likely to lead to ambiguities are not distributed evenly across the phylogeny (Fig. 4). In addition to topology, variable polymorphism rates among lineages may affect the estimation of branch lengths on a tree. This may become especially problematic when nrDNA is used to date phylogenies. Recently developed methods of phylogenetic inference incorporating information about polymorphic positions may be able to alleviate difficulties in tree building caused by uneven levels of polymorphism abundance (Potts, Hedderson & Grimm, 2014).
Identification of mixed ancestry
Characterization of intragenomic nrDNA polymorphisms may allow for the identification of hybrid offspring between parents with differing nrDNA sequences (Zimmer, Jupe & Walbot, 1988), and may be able to provide an estimate of the number of generations since hybridization. This is especially true for early generation hybrids, as nrDNA homogenization can occur in a small number of generations (Kovarik et al., 2005), and mosaic Saccharomyces genomes have been identified based on intragenomic polymorphism abundance (West et al., 2014). Neither of the polymorphism profiles for the two wild-collected putative hybrid individuals in this study strongly indicate that they are early generation hybrids. This is in contrast to evidence from nuclear gene sequences that show heterozygosity consistent with inheritance of divergent alleles from the putative parents in the A. albicans × A. subulata hybrid (B Haack and M Fishbein, 2013, unpublished data). Detection of mixed ancestry may be hampered in this case by a lack of fixed differences between parental haplotypes. Consensus sequences for the A. albicans and A. subulata individuals in this study show no fixed differences, while one difference is found between the A. syriaca and A. speciosa consensus sequences. Unexpectedly, this position is monomorphic in the hybrid, while the positions with minor allele frequencies >0.3 are in positions not shown to differ between A. syriaca and A. speciosa. This likely indicates ancestry from an unsampled nrDNA haplotype.
Individuals of the same species with dramatically different polymorphism profiles may indicate the presence of cryptic diversity. Differing demographic histories between populations within a species may lead to individuals from those populations possessing different levels of intragenomic polymorphisms. As with the interspecific hybrids discussed above, early generation hybrids between populations within a species could also possess inflated levels of intragenomic polymorphisms.
Conclusions
Nuclear ribosomal DNA copies within individuals of Asclepias are not identical, with intragenomic polymorphisms present at a higher rate than reported for other organisms. Polymorphism frequencies across the genus vary by more than an order of magnitude and demonstrate strong phylogenetic signal. Stem positions of ribosomal subunits are more likely to be polymorphic than loop positions. Distribution of polymorphic sites across the nrDNA cistron are consistent with strong selection on nrDNA subunits, with polymorphic sites being more frequent in the spacer regions, and this difference being amplified for sites that are highly polymorphic. These results reinforce the need for caution when using nrDNA for phylogenetic inference, especially when using the spacer regions or for applications requiring the precise estimates of branch lengths or divergence times.