Simphony: simulating large-scale, rhythmic data
1
Department of Biomedical Informatics, Vanderbilt University Medical Center

,

Nashville

,

TN

,

United States of America
2
Department of Biological Sciences, Vanderbilt University

,

Nashville

,

TN

,

United States of America
Published

Accepted

Received
Academic Editor
Subject Areas

Keywords

Rhythms

,

Circadian

,

Simulation

,

Gene expression

,

Transcriptome
Copyright

©

2019

Singer et al.

Licence

This is an open access article distributed under the terms of the Creative Commons Attribution License, which permits unrestricted use, distribution, reproduction and adaptation in any medium and for any purpose provided that it is properly attributed. For attribution, the original author(s), title, publication source (PeerJ) and either DOI or URL of the article must be cited.
Cite this article

2019

.

Simphony: simulating large-scale, rhythmic data

.

PeerJ

7

:

e6985

https://doi.org/10.7717/peerj.6985
Abstract
Simulated data are invaluable for assessing a computational method's ability to distinguish signal from noise. Although many biological systems show rhythmicity, there is no general-purpose tool to simulate large-scale, rhythmic data. Here we present Simphony, an R package for simulating data from experiments in which the abundances of rhythmic and non-rhythmic features (e.g., genes) are measured at multiple time points in multiple conditions. Simphony has parameters for specifying experimental design and each feature's rhythmic properties (e.g., amplitude and phase). In addition, Simphony can sample measurements from Gaussian and negative binomial distributions, the latter of which approximates read counts from RNA-seq data. We show an example of using Simphony to evaluate the accuracy of rhythm detection. Our results suggest that Simphony will aid experimental design and computational method development. Simphony is thoroughly documented and freely available at https://github.com/hugheylab/simphony.
Introduction
Rhythms are ubiquitous across domains of life and across timescales, from hourly division of bacteria (Cooper & Helmstetter, 1968) to seasonal growth of trees (Kramer, 1936). These biological rhythms are often driven by systems of genes and proteins. Prominent examples are the systems underlying circadian rhythms, which have a period of approximately 24 h and have been observed in species across the biosphere (Young & Kay, 2001) and throughout the body of multicellular organisms (Yoo et al., 2004; Zhang et al., 2014).
To interrogate these rhythmic biological systems, researchers are increasingly using technologies that measure the abundance of thousands of molecules in parallel (e.g., quantifying the transcriptome by RNA-Seq). The critical decisions then become how to design the experiments and how to analyze the data. For example, there are now numerous methods for detecting rhythms in high-dimensional data (Yang & Su, 2010; Hughes, Hogenesch & Kornacker, 2010; Thaben & Westermark, 2014; Wu et al., 2016). A valuable aid to such decisions is simulation. In simulated data, unlike in experimental data, the ground truth is known (e.g., whether a gene is rhythmic). Consequently, to the extent that simulated data possess the essential features of experimental data, simulation can be used to estimate a method's ability to distinguish signal from noise (Deckard et al., 2013). Simulated data are also typically faster and less expensive to generate than experimental data, especially omics data from high-resolution time courses.
Unfortunately, there is a shortage of publicly available tools for simulating rhythmic data. This forces researchers to create their own simulations from scratch (Deckard et al., 2013; Singer & Hughey, 2018) or to forgo simulations altogether. Although several tools exist to simulate particular types of transcriptome data (Dembélé, 2013; Frazee et al., 2015; Zappia, Phipson & Oshlack, 2017), most are not designed to simulate data from time-course experiments. One exception is Polyester (Frazee et al., 2015), which can simulate RNA-seq reads from multiple time points and conditions. However, Polyester models many aspects of the sequencing process, which incurs a computational burden and may not be directly relevant for designing experiments to collect rhythmic data or evaluating methods to analyze such data. Recognizing a gap, Hughes et al. (2017) recently developed CircaInSilico, a web-based application for simulating rhythmic data. Although CircaInSilico has a convenient user interface, it has several limitations—for example, the simulated rhythms can only be sinusoidal. In addition, even though read counts from RNA-seq data are often modeled using a negative binomial distribution (Robinson & Smyth, 2007), CircaInSilico can only simulate Gaussian noise. Thus, there is still a need for a flexible tool to simulate large-scale, rhythmic data.
To address this need, we developed a simulation package called Simphony. Simphony has adjustable parameters for specifying experimental design and modeling rhythms, including the ability to sample from Gaussian and negative binomial distributions. Simphony is implemented in R, thoroughly documented, and freely available at https://github.com/hugheylab/simphony .
Results
To validate the statistical properties of data generated by Simphony, we simulated data covering a range of parameter values for the Gaussian and negative binomial families. To ensure that the properties approached their asymptotic values, time points were spaced 0.1 h apart (period of 24 h), each with 100 samples. For non-rhythmic abundance, we verified that the observed mean and standard deviation corresponded to the expected values (Table S1). For rhythmic abundance, we verified that the observed amplitude and phase corresponded to the expected values (Table S2).
To highlight Simphony's flexibility, we simulated gene expression from a variety of patterns, including ones in which the rhythm amplitude or baseline expression was time-dependent (i.e., non-stationary). For each pattern, we sampled expression values from the Gaussian and negative binomial families (Fig. 1). These patterns are only examples—Simphony can simulate data from any rhythmic waveform or non-stationary trend provided as a function in R. We also simulated an experiment in which each of 200 genes had a different rhythm amplitude and phase (Fig. 2), and an experiment having two conditions, in which genes' rhythms had a different amplitude, phase, or period in each condition (Fig. S2).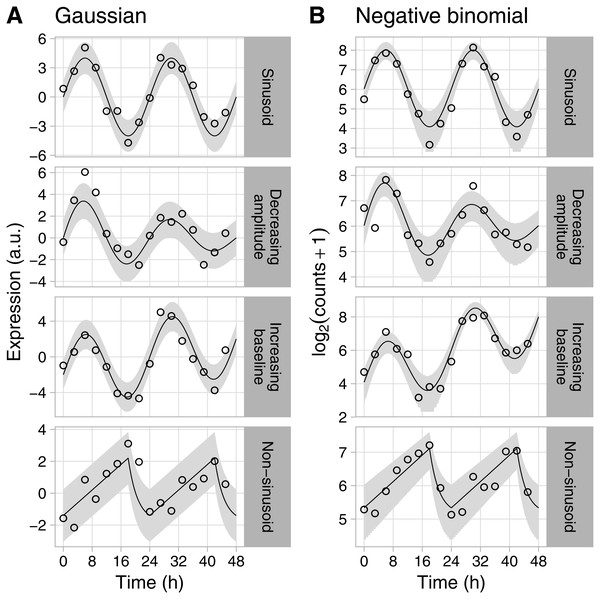 To show an example of Simphony's utility, we created simulations to quantify how the accuracy of rhythm detection depends on experimental and biological parameters. We simulated experiments having various intervals between time points and one sample per time point. Each simulation included 20,000 genes spanning a range of values for baseline expression and rhythm amplitude (including amplitude 0 for non-rhythmic genes) (Fig. S3A). Because Simphony is not designed to detect rhythmicity, we calculated each gene's p-value of rhythmicity in each simulation using JTK_CYCLE, then calculated the area under the ROC curve for distinguishing non-rhythmic genes from each group of rhythmic genes. As expected, rhythm detection improved as rhythm amplitude increased or the interval between time points decreased (Fig. 3A). Rhythm detection also improved as baseline expression increased (and thus as the standard deviation of log-transformed counts of non-rhythmic genes decreased; Fig. 3B and Fig. S3B).

Discussion
Simphony is a versatile framework for simulating rhythmic data. Although Simphony is especially apt for simulating transcriptome data, it is general enough to simulate data of various types (e.g., bioluminescence). A future objective is to use simulated data from Simphony to comprehensively benchmark computational methods for detecting rhythmicity. Simphony's flexibility will be key to mimicking the diversity of rhythms seen in practice. Simphony's ability to simulate non-stationary trends in particular is critical, since the possibility of non-stationarity is one reason the guidelines for genome-scale analysis of biological rhythms recommend collecting data from at least two cycles (Hughes et al., 2017). Ultimately, we anticipate that Simphony will inform the design of experiments for interrogating rhythmic biological systems and the development of methods for analyzing data containing rhythmic signals.
Supplemental Information
Supplemental Figures
Expected and observed statistical properties of non-rhythmic data generated by Simphony
Expected and observed statistical properties of rhythmic data generated by Simphony