Order, please! Uncertainty in the ordinal-level classification of Chlorophyceae
1
Department of Natural Sciences, Assumption College

,

Worcester

,

MA

,

United States of America
2
Department of Ecology and Evolutionary Biology, University of Connecticut

,

Storrs

,

CT

,

United States of America
3
The Lewis B. and Dorothy Cullman Program for Molecular Systematics, New York Botanical Garden

,

Bronx

,

NY

,

United States of America
Published

Accepted

Received
Academic Editor
Subject Areas

Keywords

Chloroplast

,

Phylocode

,

Genome

,

Algae

,

Phylogenomics

,

Phycology
Copyright

©

2019

Fučíková et al.

Licence

This is an open access article distributed under the terms of the Creative Commons Attribution License, which permits unrestricted use, distribution, reproduction and adaptation in any medium and for any purpose provided that it is properly attributed. For attribution, the original author(s), title, publication source (PeerJ) and either DOI or URL of the article must be cited.
Cite this article

2019

.

Order, please! Uncertainty in the ordinal-level classification of Chlorophyceae

.

PeerJ

7

:

e6899

https://doi.org/10.7717/peerj.6899
Abstract
Background
Chlorophyceae is one of three most species-rich green algal classes and also the only class in core Chlorophyta whose monophyly remains uncontested as gene and taxon sampling improves. However, some key relationships within Chlorophyceae are less clear-cut and warrant further investigation. The present study combined genome-scale chloroplast data and rich sampling in an attempt to resolve the ordinal classification in Chlorophyceae. The traditional division into Sphaeropleales and Volvocales (SV), and a clade containing Oedogoniales, Chaetopeltidales, and Chaetophorales (OCC) was of particular interest with the addition of deeply branching members of these groups, as well as the placement of several incertae sedis taxa.
Methods
We sequenced 18 chloroplast genomes across Chlorophyceae to compile a data set of 58 protein-coding genes of a total of 68 chlorophycean taxa. We analyzed the concatenated nucleotide and amino acid datasets in the Bayesian and Maximum Likelihood frameworks, supplemented by analyses to examine potential discordant signal among genes. We also examined gene presence and absence data across Chlorophyceae.
Results
Concatenated analyses yielded at least two well-supported phylogenies: nucleotide data supported the traditional classification with the inclusion of the enigmatic Treubarinia into Sphaeropleales sensu lato. However, amino acid data yielded equally strong support for Sphaeropleaceae as sister to Volvocales, with the rest of the taxa traditionally classified in Sphaeropleales in a separate clade, and Treubarinia as sister to all of the above. Single-gene and other supplementary analyses indicated that the data have low phylogenetic signal at these critical nodes. Major clades were supported by genomic structural features such as gene losses and trans-spliced intron insertions in the plastome.
Discussion
While the sequence and gene order data support the deep split between the SV and OCC lineages, multiple phylogenetic hypotheses are possible for Sphaeropleales s.l. Given this uncertainty as well as the higher-taxonomic disorder seen in other algal groups, dwelling on well-defined, strongly supported Linnaean orders is not currently practical in Chlorophyceae and a less formal clade system may be more useful in the foreseeable future. For example, we identify two strongly and unequivocally supported clades: Treubarinia and Scenedesminia, as well as other smaller groups that could serve a practical purpose as named clades. This system does not preclude future establishment of new orders, or emendment of the current ordinal classification if new data support such conclusions.
Introduction
Chlorophyta are a phylum of green plants comprising a variety of microscopic and macroscopic, uni- and multicellular, freshwater, terrestrial and marine algae that inhabit virtually every place on Earth that light and moisture can reach. The phylogenetic diversity of this phylum includes a number of deeply diverging lineages lumped under the term prasinophytes, and a group of core Chlorophyta, the majority of which falls into three classes (e.g., Fučíková et al., 2014a; Fučíková et al., 2014b). As genome-scale data became available for phylogenetic reconstruction, two of the classes, Trebouxiophyceae and Ulvophyceae, have been disputed in terms of their monophyly and internal classification (e.g., Fučíková et al., 2014a; Fučíková et al., 2014b; Lemieux, Otis & Turmel, 2014). Meanwhile, Chlorophyceae stands as the uncontested champion of monophyly, supported by molecular and ultrastructural data (Mattox & Stewart, 1984; Lemieux et al., 2015; Fučíková, Lewis & Lewis, 2016).
Within Chlorophyceae, two major sister clades are recognized –the SV and the OCC clade, composed of the orders Sphaeropleales and Volvocales (the latter is referred to as Chlamydomonadales in some sources), and Oedogoniales, Chaetophorales and Chaetopeltidales, respectively. These five orders and the phylogenetic divide between SV and OCC are well accepted and supported by molecular phylogenies and ultrastructural features (Lewis et al., 1992; Turmel et al., 2008; Buchheim et al., 2012; Tippery et al., 2012; but compare to e.g., Pröschold et al., 2001, which does not show the SV split but yields no support for the alternative topology). However, the phylogenetic distinctness of Sphaeropleales and Volvocales appears to fade when deeply diverging SV taxa are included in analyses (e.g., Lemieux et al., 2015, some analyses of Tippery et al., 2012; Marin, 2012). Among these incertae sedis taxa is the Treubarinia, which contains the genera Treubaria, Trochiscia, Cylindrocapsa and Elakatothrix, all morphologically divergent from each other and subtended by long branches in most analyses. Further uncertainly positioned taxa are the genera Golenkinia and Jenufa (Němcová et al., 2011). Examples of previously considered topologies are shown in Fig. 1.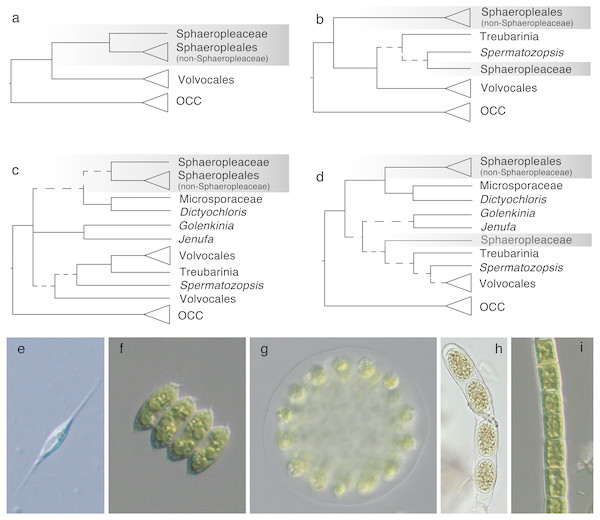 Taxonomically, the most problematic is the placement of the family Sphaeropleaceae, a small group of genera that nomenclaturally defines Sphaeropleales. If Sphaeropleaceae were not to form a monophyletic group with the rest of taxa commonly treated as members of the order, Sphaeropleales would have to be split, likely to render Sphaeropleaceae as the sole family in the order. A new order would then be needed to accommodate the remaining families Bracteacoccaceae, Bracteamorphaceae, Chromochloridaceae, Dictyochloridaceae, Dictyococcaceae, Hydrodictyaceae, Mychonastaceae, Neochloridaceae, Pseudomuriellaceae, Radiococcaceae, Rotundellaceae, Scenedesmaceae, Schizochlamydaceae, Schroederiaceae, Selenastraceae, Tumidellaceae (Fučíková, Lewis & Lewis, 2014a) and Microsporaceae (Tsarenko, 2005), provided they all formed a clade (Fig. 1). Because Microsporaceae have not been firmly phylogenetically linked with Sphaeropleales (with the exception of unpublished 18S analysis by Buchheim, Michalopulos & Buchheim (2001); no longer accessible online but cited e.g., by Leliaert et al., 2012), we here consider this family as another incertae sedis taxon.
It is often claimed that a more complete taxon sampling helps resolve phylogenetic problems by breaking up long branches (Nabhan & Sarkar, 2012 and references within). Ribosomal DNA, and especially the 18S rDNA marker has been the most popular for phylogenetic reconstruction for three decades, and thus offers the most complete taxon sampling currently possible (Leliaert et al., 2012 and references within). The main drawback of 18S is its limited resolving power. For instance, the taxonomically well-sampled study of Němcová et al. (2011) showed monophyletic Volvocales (with the inclusion of the clade Treubarinia) and Sphaeropleales, but lacked statistical support for either of the two orders and many relationships within them. The case of the ribosomal internal transcribed spacer (ITS) is similar, even though some studies augmented the low number of characters in this marker by including secondary structure information into analyses (e.g., Buchheim et al., 2012). The longest nuclear rDNA gene, 28S, has also been shown as useful but likewise yielded low or inconsistent support for the key deep divergences in Chlorophyceae (e.g., Buchheim, Michalopulos & Buchheim, 2001). Nevertheless, rDNA-based topologies are good starting hypotheses for further phylogenetic examination (Fig. 1), and we here attempt to test them with new data.
In the last decade, chloroplast genome data have been used to recover robust phylogenies of green algae, leveraging the availability of 50+ genes evolving at a range of rates. The taxon sampling of chloroplast phylogenomic studies is also gradually improving, not only to include representatives of additional major lineages, but also strengthening the sampling within orders, families, and genera (e.g., Turmel et al., 2008; Lemieux, Otis & Turmel, 2014; Lemieux et al., 2015; Fučíková, Lewis & Lewis, 2016; McManus et al., 2018). Chloroplast genome-scale data thus appear particularly promising, as they balance a multi-gene approach with dense taxon representation, and especially as high-throughput sequencing becomes easier and more affordable, and bioinformatic tools for processing large data sets become more accessible.
Our study adds chloroplast genome-scale data from 18 newly sequenced taxa, covering the previously omitted genera Uronema in Chaetophorales, Chaetopeltis in Chaetopeltidales, and the species Oedogonium angustistomum in Oedogoniales (all OCC). We further present data from seven species in Volvocales, one from Sphaeropleales, and most importantly seven incertae sedis from the SV clade. Our analyses support a number of previously inferred phylogenetic relationships across Chlorophyceae, and fill several important sampling gaps in the SV clade. Based on our results we consider a broadened definition of the order Sphaeropleales to include Treubarinia and other incertae sedis taxa, and a competing phylogenetic hypothesis where Sphaeropleales are reduced to a single family, the Sphaeropleaceae. We discuss the conflicting results from different analyses and their implications for current and future taxonomic work at the ordinal level in Chlorophyceae.
Materials & Methods
In the present study, chloroplast genomes of 18 taxa (Table 1) were obtained using Illumina HiSeq and MiSeq, yielding 100 bp and 250 bp paired-end reads, respectively. In addition to representatives of Volvocales and Sphaeropleales, we specifically targeted deeply diverging lineages in the Chlorophyceae, including Cylindrocapsa geminella, Elakatothrix viridis, Trochiscia hystrix (all are members of the incertae sedis clade Treubarinia), putative but uncertain Sphaeropleales affiliates Microspora sp., Parallela transversalis and Dictyochloris fragrans (identified as uncertainly positioned by Fučíková, Lewis & Lewis, 2014a), and the enigmatic putative volvocalean Spermatozopsis similis. Complete information regarding algal culturing conditions, DNA extraction, sequencing and annotation details can be found in Fučíková, Lewis & Lewis (2016), and the most relevant details are included in our supplementary materials as well. GenBank accession numbers for all 68 taxa used in our phylogenetic analyses are shown in Table S1, along with taxonomic notes and information about gene content for each taxon's chloroplast genome.
| Taxon name | Culture collection and strain number | Order or clade | Genome size (bp) | % coding (intronic orfs excluded) | Number of introns | GC content (%) | GenBank accession number(s) |
| --- | --- | --- | --- | --- | --- | --- | --- |
| Borodinellopsis texensis | UTEX 1593 | Volvocales | 356,516 (8) | 27.5 | 11 | 33.2 | MG778120–MG778127 |
| Chlorococcum tatrense* | UTEX 2227 | Volvocales | 242,172 | 42.3 | 17 | 36.1 | MG778173 |
| Chloromonas rosae | UTEX 1337 | Volvocales | 713,219 (11) | 14.6 | 22 | 33.7 | MG778174–MG778184 |
| Chlorosarcinopsis eremi* | UTEX 1186 | Volvocales | 298,847 | 32.6 | 7 | 35.1 | MG778185 |
| Desmotetra stigmatica | UTEX 962 | Volvocales | 198,003 (5) | 40.1 | 2 | 30.6 | MG778230–MG778234 |
| Palmellopsis texensis | UTEX 1708 | Volvocales | 314,811 (45) | 27.2 | 5 | 42.0 | MG778446–MG778490 |
| Protosiphon botryoides | UTEX B 99 | Volvocales | 138,549 (9) | 55.7 | 7 | 30.1 | MG778491–MG778499 |
| Follicularia botryoides M | UTEX LB 951 | Sphaeropleales | 133,953 (59) | 42.0 | 3 | 33.8 | MG778351–MG778407 |
| Dictyochloris fragrans M | UTEX 127 | incertae sedis | 65,429 (66) | 50.4 | 6 | 30.0 | MG778235–MG778296 |
| Microspora sp. | UTEX LB 472 | incertae sedis | 212,651 (2) | 39.1 | 14 | 28.6 | MG778408–MG778409 |
| Parallela transversalis* | UTEX LB 1252 | incertae sedis | 177,618 | 48.3 | 6 | 31.2 | MG786420 |
| Spermatozopsis similis* | SAG B 1.85 | incertae sedis | 134,869 | 60.2 | 7 | 33.2 | MG778500 |
| Cylindrocapsa geminella | SAG 3.87 | Treubarinia | 107,144 (44) | 47.8 | 5 | 33.2 | MG778186–MG778229 |
| Elakatothrix viridis | SAG 9.94 | Treubarinia | 115,983 (55) | 43.9 | 10 | 27.8 | MG778297–MG778350 |
| Trochiscia hystrix | UTEX LB 606 | Treubarinia | 276,704 (32) | 32.2 | 19 | 32.0 | MG778501–MG778532 |
| Chaetopeltis orbicularis | UTEX LB 422 | Chaetopeltidales | 221,217 (48) | 33.8 | 20 | 27.7 | KT693210–KT693212 MG778128–MG778172 |
| Oedogonium angustistomum | UTEX 1557 | Oedogoniales | 147,210 (37) | 57.7 | 18 | 28.0 | MG778410–MG778445 |
| Uronema sp.* | CCAP 334/1 | Chaetophorales | 198,471 | 49.0 | 25 | 27.2 | MG778533 |
Bayesian analyses
Sequences of 58 protein-coding chloroplast genes were aligned using the translation-aided algorithm in Geneious v.10 (Biomatters) using the bacterial code and the remaining parameters set at default. Sites and regions of uncertain homology in variable genes were masked and trimmed prior to analyses using a custom Python script. We provide the masked alignments in supplementary files; the deploy.py script is available as supplement to Fučíková, Lewis & Lewis (2016). Phylogenetic trees were constructed using MrBayes v.3.2 (Ronquist et al., 2012) using the GTR+I+ Γ model over 6,250,000 generations and two MCMC chains in each of two parallel runs. Sites were partitioned by codon position across the entire data set. The first 20% of each run was discarded as burn-in. The data were analyzed in the amino acid (aa) form as well, implementing the aa GTR model in MrBayes.
Single-gene data sets were analyzed using MrBayes v.3.2 (Ronquist et al., 2012) as described above. A subset of these analyses (the 37 genes comprising the entire set of 68 taxa –i.e., with no missing data) was used to assess the degree to which individual genes support each clade in the phylogeny. One hundred randomly sampled post-burnin trees per gene were used for this assessment (3,700 trees total). The proportion of all 3,700 trees supporting each clade (PMT, or Proportion of Merged Trees), as well as the internode certainty (IC; Salichos & Rokas, 2013; Salichos, Stamatakis & Rokas, 2014), were calculated for the clades in Fig. 2A and plotted in Fig. 3.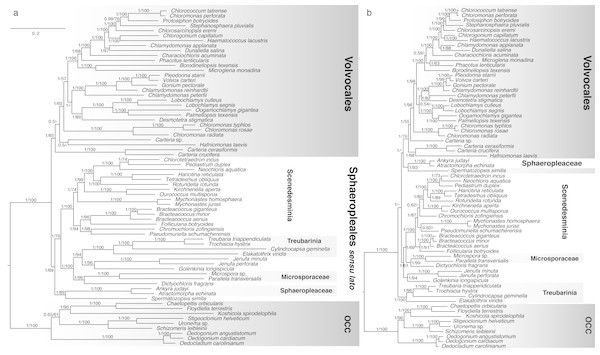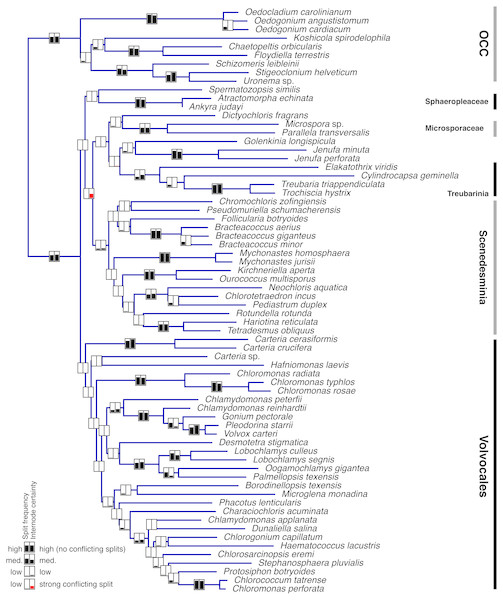 ML analyses
Maximum Likelihood (ML) analyses were carried out on the concatenated nt and aa data sets to complement the Bayesian analysis results. RAxML (Stamatakis, 2014) was chosen as analysis tool because of the size of our data set, but because RAxML does not allow the GTR amino acid model (which we consider the most realistic and therefore chose to implement it in MrBayes), we instead used the LGF model for the amino acid analysis, allowing for a gamma distribution of rates among sites (PROTGAMMALGF). The LGF model was selected using the script ProteinModelSelection.pl available from the RAxML webpage (https://cme.h-its.org/exelixis/web/software/raxml/hands_on.html). Two hundred bootstrap pseudoreplicates were carried out to assess branch support.
Supplementary phylogenetic analyses
Because the initial concatenated analyses yielded conflicting topologies (nt vs. aa, Fig. 2), we used Shimodaira's Approximately Unbiased (AU) test (Shimodaira, 2002) within PAUP* (Swofford, 2002) to see whether the two topologies were significantly different from each other. The test and its results are described in full in the Supplements.
On the concatenated data, a suite of analyses was conducted to probe the effects of analysis type and model selection on the final topology. To allow site-specific evolutionary processes in tree inference, we analyzed the nt data using SVDquartets (Chifman & Kubatko, 2014; Chifman & Kubatko, 2015) with 200 bootstrap pseudoreplicates implemented in PAUP* (Swofford, 2002).
We also carried out a supplementary set of Bayesian analyses with ambiguously recoded Serine, Isoleucine and Arginine codons (as described in Fučíková, Lewis & Lewis, 2016) to probe the possible effects of convergent codon usage. Further, we analyzed the 1st and 2nd positions only, and in a separate analysis the 3rd positions, to determine whether there was conflict between these data partitions. The data sets with analysis specifications and the resulting consensus trees are in the Supplements. The full concatenated data set was also analyzed using PhyloBayes v.4.1 and implementing the CAT-GTR model, allowing (in addition to gamma-distributed rates) site-specific substitution processes and thereby attempting to further mitigate branch attraction and other systematic bias issues in the data (Lartillot & Philippe, 2004; Lartillot, Lepage & Blanquart, 2009). The commonly used 18S nuclear ribosomal gene was analyzed to provide a chloroplast-independent estimate of the phylogeny. Because of the unique alignment issues associated with this gene, we selected the program BAli-Phy v.3, which estimates the optimal alignment as well as the phylogeny (Suchard & Redelings, 2006). The GTR+I+ Γ model was implemented and 12,000 iterations were run after pre-burnin. Parameter stability was checked using Tracer v1.7 (Rambaut et al., 2018) and 20% of the run were discarded as burnin. Lastly, an analysis combining the 18S and plastid nucleotide data was conducted, and is described in full in the supplementary methods.
We used TREESPACE (Jombart et al., 2017) to visualize the variability of posterior trees among genes in 2-to 3-dimensional Euclidean space. In this approach, the pairwise distances between posterior trees were computed (as Robinson-Foulds unweighted metric, Robinson & Foulds, 1981) from the package phangorn, and decomposed into a low-dimensional Euclidean space using metric multidimensional scaling (MDS). Before applying MDS, TREESPACE transformed the unweighted Robinson-Foulds tree distances into Euclidean distances using Cailliez's transformation (Cailliez, 1983). The analysis was performed on posterior trees from 37 genes comprising an entire set of Chlorophycean taxa (68 spp.) sampled in the study, corresponding to the data used for Fig. 3. TREESPACE was performed on the collections of 3,700 posterior trees (representing 100 randomly sampled trees/gene) obtained from MrBayes MCMC analysis.
Results
An overview of gene content in the context of other chlorophycean chloroplast genomes is presented in Table S1. For most of the 18 newly sequenced taxa, the full cp genome was not possible to assemble from the data, but full sequences of all or nearly all protein-coding genes were recovered nevertheless, as were most of the rRNA and some of the tRNA genes.
The concatenated nucleotide (nt) data set comprised 34,422 nucleotide and gap characters and 68 taxa after trimming. The amino acid (aa) data set had 11,474 characters. Given the multitude of analyses conducted here, the main results are summarized in Table 2, which shows the changing support for main groups of taxa across the different analyses.
| Analysis software | Data | Sphaeropleales s.l. | Scenedesminia | Volvocales + Sphaeropleaceae + Spermatozopsis | Sphaeropleaceae + Spermatozopsis | incertae sedis clade | Jenufa + Golenkinia |
| --- | --- | --- | --- | --- | --- | --- | --- |
| MrBayes | cp nt | 100 | 100 | | 100 | 100 | 100 |
| | cp aa | | 100 | 100 | 100 | | 100 |
| | cp nt 1st and 2nd positions | | 100 | 70 | 100 | 100 | 100 |
| | cp nt 3rd positions | 50 | | | | 100 | |
| | cp nt ambig | 100 | 100 | | 100 | 100 | |
| | cp nt + 18S | | 100 | 97 | 100 | 100 | 100 |
| RAxML | cp nt | 69 | 100 | | 89 | 100 | 96 |
| | cp aa | 54 | 100 | | 93 | | 94 |
| PhyloBayes | cp nt | | 100 | 100 | | 100 | 100 |
| | cp aa | | 100 | 73 | 99 | | 100 |
| SVDquartets | cp nt | | 100 | | | 97 | 72 |
| BaliPhy | 18S nt | | 84 | | | | 57 |
The four-genus clade Treubarinia was recovered as strongly monophyletic in all concatenated chloroplast analyses. In most of our analyses, the genera Golenkinia and Jenufa also consistently grouped together, albeit with varying support. In the Bayesian framework, both analysis types (nt and aa) yielded a tree with a monophyletic OCC clade and the majority of Volvocales supported as monophyletic (Fig. 2). Spermatozopsis (traditionally considered a member of Volvocales) received high support as sister to the family Sphaeropleaceae, represented by Atractomorpha and Ankyra, and the coccoid Dictyochloris strongly grouped with Microsporaceae, represented by Parallela and Microspora. The nt tree shows monophyletic Volvocales, in which Carteria strains and Hafniomonas are the deepest diverging lineages. The OCC clade and the three orders within it were recovered consistently with previous studies, with the addition of Uronema as sister to Stigeoclonium, Chaetopeltis as sister to the previously available Floydiella, and Oedogonium angustistomum as sister to O. cardiacum as expected. Sphaeropleales formed a strongly supported clade with incertae sedis taxa, featuring Sphaeropleaceae + Spermatozopsis as the deepest diverging group, and Treubarinia plus the remaining incertae sedis forming the sister group to the rest of "traditional" Sphaeropleales (Scenedesmaceae, Selenastraceae, Bracteacoccaceae, etc.), which we hereafter call Scenedesminia. The result of the ambiguated analysis (Fig. S1) was largely consistent with the nt tree.
Minor differences between the nt and aa phylogeny (Fig. 2) include the relative position of Phacotus, Microglena and Borodinellopsis, the positions of Desmotetra and Carteria sp. –all within Volvocales. Further, within Sphaeropleales the relative positions of Chlorotetraedron, Neochloris, and Pediastrum differ between the two analyses, as well as the placement of the coccoid genera Chromochloris, Pseudomuriella and Mychonastes. Major topological differences between the two trees involve the monophyly of Sphaeropleales, in particular, the position of the type family Sphaeropleaceae relative to the rest of taxa commonly placed in the order (Scenedesminia). The aa analysis shows Sphaeropleaceae grouping with Volvocales with absolute Bayesian support. Contrastingly, the nt tree has Sphaeropleaceae at the base of the clade containing the rest of Sphaeropleales and incertae sedis taxa including Treubarinia. We will refer to this clade as "Sphaeropleales sensu lato" or "Sphaeropleales s. l." from now on (Fig. 2). Another major difference is the position of Treubarinia in the aa tree, where the clade is placed as sister to all non-OCC chlorophyceans.
The concatenated ML analysis yielded a consistent topology and comparable amounts of nodal support to the Bayesian tree in case of the nt data. The aa data set analyses, however, yielded different results in the ML framework when compared to the Bayesian results. The ML aa analysis (analyzed under a different model, dictated by the available options in RAxML; full results in supplements), was more consistent with the nt analyses, in that it showed monophyletic Sphaeropleales s. l., albeit with weak bootstrap support of 54. Within Sphaeropleales s. l. the best ML aa tree (supplementary files) had a different topology from any other concatenated analysis conducted in our study. The Scenedesminia were recovered as monophyletic, but with Microsporaceae plus Dictyochloris as sister clade, and Sphaeropleaceae + Spermatozopsis as the next closest clade (this relationship was however not supported by the bootstrap analysis), Jenufa + Golenkinia as next still, and Treubarinia as the deepest diverging lineage in Sphaeropleales s. l.
Individual gene analyses of nucleotide data provided consistently strong support for many clades (Fig. 3, Supplementary Information) but showed a striking lack of support for the deepest clades, with the exception of the OCC clade. Internode certainty (IC) values were generally positive and correlated with the proportion of merged trees (PMT) support values, with the exception of the Sphaeropleales clade (including incertae sedis taxa but excluding Spermatozopsis and Sphaeropleaceae), which had substantial negative internode certainty (−0.535) and low PMT (0.007). The conflicting clade causing this negative IC places Spermatozopsis with the two Mychonastes taxa (PMT 0.062).
Fig. 3 clearly shows that most of the consistent phylogenetic signal in the nucleotide data is concentrated in relatively shallow parts of the tree. It is important to point out that the analysis depicted in Fig. 3 does not preclude the possibility that individual genes strongly conflict with one another with respect to the deep nodes. If the concatenated tree represents the least objectionable tree topology (i.e., a topology that does not include any group strongly contested by at least one gene; see discussion of Figure 5 and Table 5 in Lewis et al., 2016), then one would expect contentious clades to have low support. It seems safe to conclude that we can be confident in concatenated tree clades that also have strong PMT and IC because these are supported by individual genes as well as the concatenated data set. Examination of single gene trees using Treespace (Supplementary Information) contributes further evidence—in some cases, such as in the case of Sphaeropleales s. l. (a low-confidence node in Fig. 3), the concatenated trees occupy a part of the two-dimensional treespace distant from the single-gene analyses (visual example shown in Fig. S6. A similar treespace disparity (concatenated vs. single-gene) is found for Volvocales + Sphaeropleaceae + Spermatozopsis—a grouping that receives support in amino acid analyses and in both PhyloBayes analyses (Fig. 2, Table 2, Supplementary materials), and interestingly also for Scenedesminia, which, however, does not exhibit among-gene conflict (Fig. 3).
The SVDquartets tree (Fig. S2) shows a monophyletic OCC clade, but with Koshicola as sister to Chaetophorales and Chaetopeltidales, rather than diverging at the base of Chaetopeltidales. The tree also shows monophyletic Volvocales (incl. Hafniomonas and all Carteria strains) albeit with low bootstrap support of only 41. Sphaeropleales receive similarly low support of 49 and include Spermatozopsis not as sister to Sphaeropleaceae (as was the case in MrBayes analyses) but instead as sister to Scenedesminia (BS support 58). A strongly supported clade of incertae sedis is placed as sister to SV and includes Treubarinia, Golenkinia, Jenufa, as well as Microspora, Parallela and Dictyochloris.
The BAli-Phy analysis (Fig. S3) yielded a topology quite different from the others, though in terms of Sphaeropleales monophyly more consistent with the cp aa analyses. In Fig. S3, Volvocales are weakly monophyletic with the inclusion of Spermatozopsis (BPP 0.63). The Volvocales clade without Spermatozopsis, which is well supported in most other analyses, only received BPP of 0.36. Treubarinia, again strongly monophyletic, were found sister to Volvocales + Spermatozopsis, and Sphaeropleaceae were sister to Volvocales and Treubarinia (though only supported by BPP of 0.18). The grouping of Volvocales, Treubarinia, Sphaeropleaceae, Jenufa and Golenkinia received a BPP of 0.87. Scenedesminia (supported by 0.84) grouped with Microsporaceae + Dictyochloris and their relationship was supported by 0.88 BPP.
Although we could not analyze the order of the genes in the cp genome because most of the newly presented data are not fully assembled genomes, we were able to note the presence/absence of genes (with some missing data, Table S1). A number of cp genome features enforce the deep split of OCC and SV clades, as well as define some of the major orders within these two clades (Fig. 4). All OCC species examined lack a petA gene in their cp genomes, and possess a trans-spliced petD gene and a trans-spliced psaC. Notably, a similar group II intron also appears in the psaC of three taxa outside of the OCC clade, Dictyochloris, Elakatothrix, and Borodinellopsis, but is likely cis-spliced (this is uncertain because the data are incomplete). All members of the SV clade lack a psaM gene and all but one species (Carteria cerasiformis) have a trans-spliced psaA gene. Further, all members of Volvocales (with the exception of the incertae sedis Spermatozopsis) lack an infA gene (in common with members of Chaetophorales in the OCC lineage).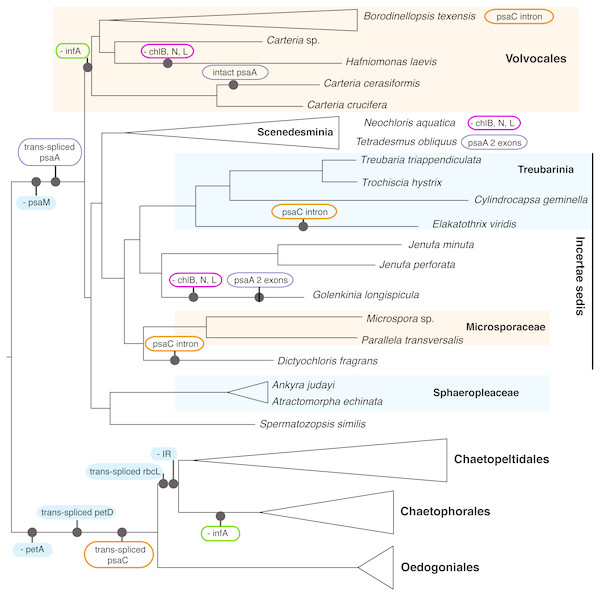 Conclusions
Whole plastome analyses of a total of 68 taxa across the green algal class Chlorophyceae yielded well-supported topologies, which however differed depending on the type of analysis. In particular, the Bayesian analysis of the amino acid data yielded a non-monophyletic order Sphaeropleales, rendering most of its families in potential taxonomic limbo. Two mutually exclusive taxonomic conclusions could be drawn based on our data, each comprising an ordinal-level revision. The first is broadening Sphaeropleales to include incertae sedis chlorophyceans, as most nucleotide analyses suggest. The other is narrowing Sphaeropleales to only include Sphaeropleaceae, and erecting at least one, but likely multiple new orders in Chlorophyceae to accommodate the remaining lineages. For practical purposes, we propose the Sphaeropleales outside of Sphaeropleaceae to be treated as a clade called Scenedesminia. Aside from the well-supported clade Treubarinia, the incertae sedis taxa do not always form robust groupings and are best taxonomically handled as individual genera without higher affiliation.