Assessment on latitudinal tree species richness using environmental factors in the southeastern United States
1
Department of Earth Sciences, University of Memphis

,

Memphis

,

TN

,

United States of America
2
Department of Geography, Chonnam National University

,

Gwangju

,

South Korea
Published

Accepted

Received
Academic Editor
Subject Areas

Keywords

Tree species richness

,

LASSO

,

Generalized linear model

,

Biodiversity

,

Peninsular effect

,

Florida
Copyright

©

2019

Kwon et al.

Licence

This is an open access article distributed under the terms of the Creative Commons Attribution License, which permits unrestricted use, distribution, reproduction and adaptation in any medium and for any purpose provided that it is properly attributed. For attribution, the original author(s), title, publication source (PeerJ) and either DOI or URL of the article must be cited.
Cite this article

2019

.

Assessment on latitudinal tree species richness using environmental factors in the southeastern United States

.

PeerJ

7

:

e6781

https://doi.org/10.7717/peerj.6781
Abstract
The southeastern region of the United States exhibits an unusual trend of decreasing tree species richness (TSR) from higher to lower latitudes over the Florida peninsula. This trend contradicts the widely marked latitudinal diversity gradient where species richness is highest in tropical zones and decreases towards extratropical regions. This study aims to assess the environmental factors that prompt this atypical inverse latitudinal gradient seen in TSR using the USDA Forest Service's Forest Inventory and Analysis (FIA) database. Fifteen variables under four categories of forested area, groundwater, soil properties, and climate groups were examined to model TSR in the region. Generalized linear models (GLMs) with Poisson distributions first assessed individual variables to test explanatory power then the LASSO regularization method was utilized to extract two subsets of the most influential variables to predict TSR. Forest area and four climate variables (mean annual temperature, precipitation seasonality, mean temperature of coldest quarter, and mean precipitation of driest quarter) were the top five variables during the initial GLM assessment implying their potential individual influence in regulating TSR. Two subsets of LASSO models contained seven and three predictor variables, respectively. Frist subset includes seven predictors, presented in highest to low standardized coefficient, mean temperature of coldest quarter, forested area, precipitation seasonality, mean precipitation of driest quarter, water table depth, spodosol, and available water storage. The other subset further excluded four lowest influential variables from the first set, leaving the top three variables from the first subset. The first subset of the LASSO model predicted TSR with 63.4% explained deviance while the second subset reproduced 60.2% of deviance explained. With only three variables used, the second model outperformed the first model evaluated by the AIC value. We conclude that forest patch area, mean temperature of coldest quarter, and precipitation seasonality are the highly influential variables of TSR among environmental factors in the southeastern region of U.S., but evolutionary or historic cause should be further incorporated to fully understand tree species diversity pattern in this region.
Introduction
Species richness, the number of different species within a defined area, depends on a variety of influences such as environmental factors, inter- and intraspecific interactions, evolutionary influences, and scale of observation (Dobzhansky, 1950; Hawkins et al., 2003; Pontarp & Wiens, 2017; Rohde, 1992). The US southeastern coastal plain was recently recognized as the 36th biodiversity hotspot by the Critical Ecosystem Partnership Fund (CEPF 2016). Although this region has more than 1,500 endemic vascular plants, its richest diversity is mostly herbaceous in the understory community of fire-dependent pine savannas and there's a big knowledge gap in understanding the spatial patterns of arboreal stratum diversity (Noss et al., 2015). A latitudinal diversity gradient is a primary diversity pattern recognized in a wide spectrum of taxa in which the highest levels of species diversity are seen in the tropics while declining toward polar regions (Pianka, 1966; Rohde, 1992). Although this pattern is generally well understood at continent to global scale, the inverse trend is also present at the regional scale, but little is known about the evolutionary and environmental mechanisms that may cause this inverse trend.
Tree species richness (TSR) in the southeastern region of US forests exhibit an inverse latitudinal pattern (i.e., the TSR decreases from a mainland base towards the southern tip of the peninsula). Regarding evolutionary cause, Simpson (1964) postulated that the island-like geometry of peninsulas that are surrounded by ocean limit species immigration and increase extinction rates, causing a decrease in diversity from the base to the tip of the peninsula, also known as the peninsula effect. Although tree species has received little attention due to the lack of spatially explicit historic TSR records, a variety of mobile species with tracked movement attributed this pattern to peninsula effect; birds in Baja, California, and in Yucatan, Mexico (Wilson & MacArthur, 1967), and six groups of vertebrae on the Baja peninsula (Taylor & Regal, 1978). A study by Kwon, Larsen & Lee (2018) used surrounding waterbody area as an indirect measure for the peninsula effect, however, the influence of that variable was insignificant compared to other environmental variables. More direct investigation of peninsula effect of TSR was conducted by examining the latitudinal abundance patterns of 113 tree species assuming the steep abundance decline along the Florida peninsula is a ramification of past immigration–extinction dynamics (Kwon & Feng, 2019). However, most species (87% of 113 species) did not show an evidence for peninsula effect. Thus, although not conclusive, we assume that the peninsula effect (i.e., geometry caused immigration-extinction imbalance) has little impact on tree species in this study. An alternative explanation to the inverse latitudinal diversity pattern focuses on the varying environmental conditions of peninsulas (Jenkins & Rinne, 2008; Milne & Forman, 1986). In a study on woody plant diversity in Maine, Milne & Forman (1986) emphasized the importance of environmental heterogeneity in explaining inverse latitudinal diversity pattern. However, their study lumped data from multiple adjacent and small peninsulas in the region and focused on alpha diversity (i.e., plot-level measures of diversity) rather than landscape-level gamma diversity adopted in this study. In a study on breeding bird diversity on the Baja peninsula, Wiggins (1999) determined that local habitat heterogeneity had a greater influence on bird diversity than immigration rates on Baja Peninsula. Means & Simberloff (1987) also examined richness of amphibians and reptiles in Florida and found that the highest levels of richness were seen along the mid region of the peninsula attributed by habitat preference on environmental factors rather than evolutionary cause. Other hypotheses predict history may influence current richness trends as species may still be colonizing the peninsula or the current richness patterns may reflect historic sea-levels (Seib, 1980).
The TSR studies seeking a causal mechanism of environmental factors are a challenging task because tree species exhibit a delayed reaction to the environment in their demographic processes requiring long term monitoring with an expensive sampling campaign covering a large geographic extent.
The purpose of this study is to comprehensively evaluate climate variables, forest size, ground water, and soil properties that have all demonstrated potential in determining TSR in other regions. The ground water and soil properties were especially included due to the large spread of swamps and woody wetlands in the region. These environmental conditions potentially vary across the peninsula landform and may limit the tree species that can tolerate those conditions, resulting in a decrease in TSR across the peninsula. We provide a brief review of the selected group of environmental factors in the following sub-section to support our variable selection.
Literature reviews on selected environmental factors
Results
Explanatory assessment of TSR and predictor variables
The observed TSR values, response variable, via a bootstrapping method exhibited a mean TSR value of 20.1 (median TSR of 21) in the study area. The TSR values were highest (53.2) in the northern areas of Georgia and South Carolina and throughout Alabama and lowest (2.1) at the tip of the Florida peninsula and at the boundary between Georgia and Florida (Fig. 1).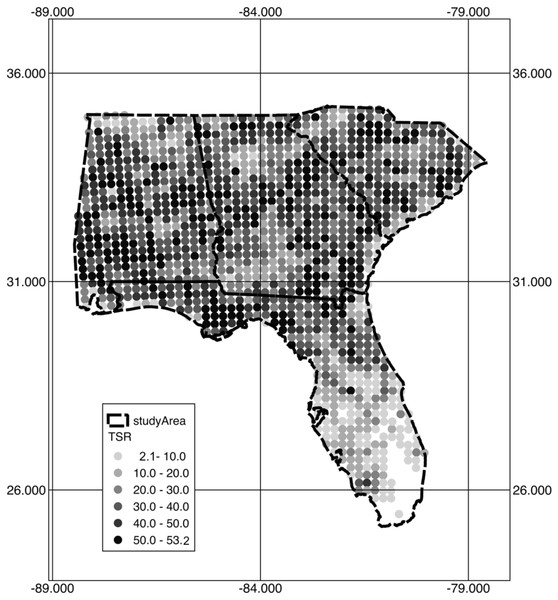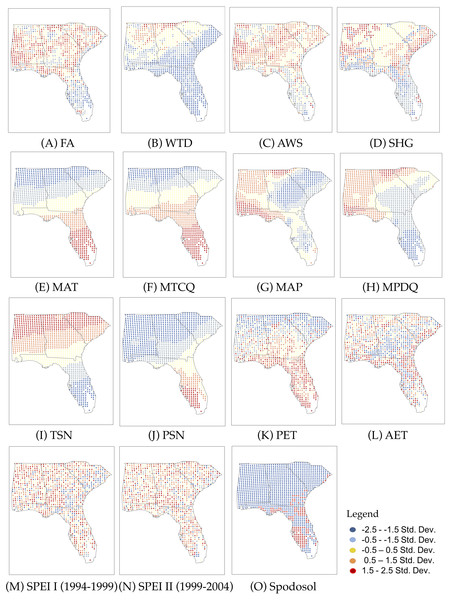 Figure 2 depicts 15 predictor variables (14 variables classified by their standard deviations and a categorical variable of Spodosol). The description of geographic patterns of predictor variables are provided in the order presented in Fig. 2. The lower latitudes of the Florida peninsula have noticeably sparser FA than the rest of the study area. Regions of high FA are seen in coastal areas, like the Florida panhandle, and farther inland. The WTD showed a shallow water table for the majority of Florida and the coastal plain regions of Georgia and South Carolina. The southern and coastal regions showed WTD between 0.1 m and 10.2 m below the surface. Deeper water tables reaching up to 50 m deep were observed at the northern state lines of Alabama, Georgia, and South Carolina. The average AWS ranged from 0 cm to 35 cm across the study area. The northern areas of Alabama and Georgia showed areas of low AWS, which may be due to soil type. Florida had a low water storage along the coastal regions with a mix of high-water storage in interior Florida. The study area contained all seven groups of SHG. Converted to integer values from 1 to 4, Florida is comprised of low SHG values reflecting mostly groups A, which correspond to areas of shallow water table depth. Coastal regions of South Carolina exhibited high SHG values, representing group D. The MAT and MTCQ ranged from 10 °C to 24 °C and 8 °C to 19 °C, respectively. The southern tip of Florida exhibited the highest MAT, while the lowest values were observed over northern Georgia where it is mountainous. The MTCQ exhibited a similar geographic pattern to MAT but the latitudinal pattern was weaker than MAT. The MAP showed an overall high value in the Florida panhandle and Alabama, while low values were observed in central Florida, Georgia and South Carolina. While MPDQ showed a similar pattern to MAP, low values were observed throughout Florida with the lowest values found on the southern tip of Florida. TSN increased as latitude increased similar to MAT, while PSN showed an inverse pattern where the highest values were found on the southern tip of Florida, especially the west side which may be due to its proximity to the warm waters of the Gulf of Mexico. PET showed, in general, a decreasing pattern with latitude following the MAT gradient, while AET exhibited a more scattered pattern with pockets of high values near coastal area and interior Florida. Both SPEI I (1994–1999) and SPEI II (1999–2004) showed local scale mixed patterns compared to the regional scale patterns detected with the other climate variables. Spodosol was found mostly in coastal Florida and concentrated over the southwestern portion of Florida.
Model prediction
Individual predictor variables assessed by the initial GLM showed five predictor variables that explained >25% of the deviance in TSR (presented in descending order): FA, MAT, PSN, MTCQ, and MPDQ (Table 1) with MAT, PSN, and MTCQ being negatively related to TSR. The absolute value of the standardized coefficient followed the same order as did the deviance explained. The LASSO regularization method produced two sets of variables chosen by λ min (0.00143) and λ 1se (0.00315) via 10-fold cross-validation. Out of a total of 15 variables, the first variable set (LASSO λ min), selected by the λ min, included six variables - presented in descending order of absolute standardized penalized coefficient - MTCQ, FA, PSN, MPDQ, WTD, Spodosol and AWS, while the other variable set (LASSO λ 1se), selected by the λ 1se, contained three variables—FA, MTCQ and PSN in descending order of absolute standardized penalized coefficient (Table 3). VIF values for all variables in the two models were less than five, indicating negligible multicollinearity among predictor variables selected in both models.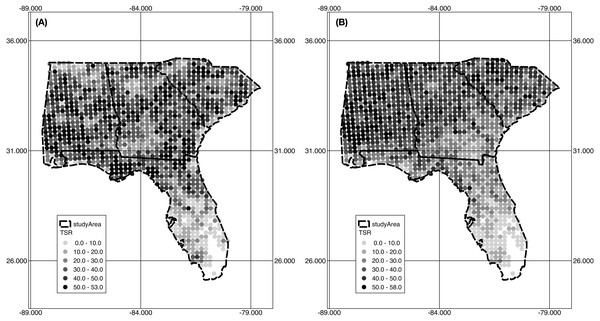 LASSO λ min model
LASSO λ 1se model
Selected variables
Standardized penalized coefficient
VIF
Selected variables
Standardized penalized coefficient
VIF
MTCQ
−0.0030743
3.45
FA
0.0044581
1.46
FA
0.0025398
1.22
MTCQ
−0.0036412
1.25
PSN
−0.0002472
1.26
PSN
−0.0002364
1.67
MPDQ
0.0012111
2.27
–
–
–
WTD
0.0001551
4.62
–
–
–
Spodosol
−0.0001271
3.67
–
–
–
AWS
0.0001199
2.86
–
–
–
AIC
7,378
7,195
Null deviance
3,559
3,559
Residual deviance (% explained)
2,256 (63.4%)
2,043 (60.2%)
The LASSO λ min model exhibited a slightly higher % deviance explained (63.4%) than the LASSO λ 1se model (60.2%), however, the AIC value, which considered the number of variables selected was lower for the LASSO λ 1se model. Thus, the LASSO λ 1se model outperformed LASSO λ min. The amount of % deviance explained by the two variable subsets differed only slightly, suggesting four variables (MPDQ, WTD, Spodosol and AWS) not included in LASSO λ 1se model added only marginal explanatory power.
Figure 3 shows the predicted TSR values modeled by LASSO λ min and LASSO λ 1se. The two sets of predicted TSR appear to have a very similar geographic pattern: both models produced a smooth change in TSR that predicted TSR decreases closer to coastal areas and with lower latitude on the peninsula. The predicted TSR maps, however, failed to capture the scattered regions of mid to high levels of observed TSR seen along the Florida panhandle but overall produced a smooth inverse latitudinal diversity pattern that mirrors the observed TSR gradient. The two models predicted TSR comparable to observed TSR with slightly higher TSR for LASSO λ 1se (Table 4).
| | LASSO λ min | LASSO λ 1se | Observed TSR |
| --- | --- | --- | --- |
| Min | 1.1 | 1.5 | 2.1 |
| Mean | 22.2 | 23.3 | 20.1 |
| Median | 20.5 | 21.4 | 22 |
| Maximum | 52.9 | 57.8 | 53.2 |
Conclusions
The inverse latitudinal diversity gradient of TSR seen from northern Georgia and Alabama to the southern tip of the Florida peninsula is strongly influenced by a combination of forested area, minimum temperature of the coldest quarter, and precipitation seasonality. Marginal influences by groundwater (water table depth) and soil properties (available water storage) were also detected. Among those environmental variables shown influential to TSR, forested area is the only variable that can be quickly altered due to anthropogenic pressures. The other climatic, groundwater and soil property variables are also affected by anthropogenic pressures, but changes are typically very gradual. Although, it is not possible to suggest how much forested area is required to impact TSR without considering variables interactions, it is noteworthy that 46% of deviance was explained in the GLM by using only the forested area variable. Thus, by identifying forest patch area as a highly influential variable of TSR in the study area, forest and land managers should try to preserve and increase forest patch sizes to help combat the anticipated effects of climate change on TSR.
Supplemental Information
Environmental Variables