HERVs, immunity, and autoimmunity: understanding the connection
Department of Life Sciences, Imperial College London

,

London

,

United Kingdom
Published

Accepted

Received
Academic Editor
Subject Areas

Keywords

HERV

,

Endogenous retrovirus

,

Autoimmune disease

,

Multiple sclerosis

,

Systemic lupus erythematosus

,

Immune system

,

Paleovirology

,

Endogenous viral element
Copyright

©

2019

Greenig

Licence

This is an open access article distributed under the terms of the Creative Commons Attribution License, which permits unrestricted use, distribution, reproduction and adaptation in any medium and for any purpose provided that it is properly attributed. For attribution, the original author(s), title, publication source (PeerJ) and either DOI or URL of the article must be cited.
Cite this article

2019

.

HERVs, immunity, and autoimmunity: understanding the connection

.

PeerJ

7

:

e6711

https://doi.org/10.7717/peerj.6711
Abstract
Since their discovery in the 1960s, further investigation into endogenous retroviruses (ERVs) has challenged the conventional view of viral sequences as exclusively parasitic elements. Once presumed to be a group of passive genetic relics, it is becoming increasingly clear that this view of ERVs, while generally accurate, is incorrect in many specific cases. Research has identified ERV genes that appear to be co-opted by their mammalian hosts, but the biological function of ERV elements in humans remains a controversial subject. One area that has attracted some attention in this domain is the role of co-opted ERV elements in mammalian immune systems. The relationship between ERVs and human autoimmune diseases has also been investigated, but has historically been treated as a separate topic. This review will summarize the current evidence concerning the phenotypic significance of ERVs, both in the healthy immune system and in manifestations of autoimmunity. Furthermore, it will evaluate the relationship between these fields of study, and propose previously-unexplored molecular mechanisms through which human endogenous retroviruses might contribute to certain autoimmune pathologies. Investigation into these novel mechanisms could further our understanding of the molecular basis of autoimmune disease, and may one day provide new targets for treatment.
Introduction
It has long been known that up to 8% of the human genome is derived from a large number of viral elements (International Human Genome Sequencing Consortium, 2001; Patel, Emerman & Malik, 2011). These endogenous viral elements (EVEs) are present in modern humans as the result of ancient viral integration events into the germline cells of our ancestors. The process of viral germline integration is known as endogenization, and has likely occurred many times throughout mammalian evolution, with certain EVEs estimated to have integrated over 100 million years ago (Lee et al., 2013). Investigation into these ancient viral elements has given rise to a new field of study known as paleovirology, an area that focuses particularly on the evolutionary history and present-day biological significance of EVEs.
Predictably, the majority of EVEs appear to be derived from retroviruses (Katzourakis & Gifford, 2010), the only animal viruses that undergo genomic integration as part of their normal life cycle. Exogenous retroviruses are transmitted as (+) strand RNA, packaged in a protein capsid and lipid envelope. Upon entering the cell, they undergo a unique step in their life cycle that involves reverse transcription of their single-stranded RNA to form double-stranded DNA (dsDNA). The virus is then transported to the nucleus, where it mediates integration of the newly-formed viral dsDNA into the host's genome. This mechanism is displayed in Fig. 1. Retroviral endogenization mechanisms are well-characterized, and currently, ERVs constitute the most thoroughly investigated subset of EVEs.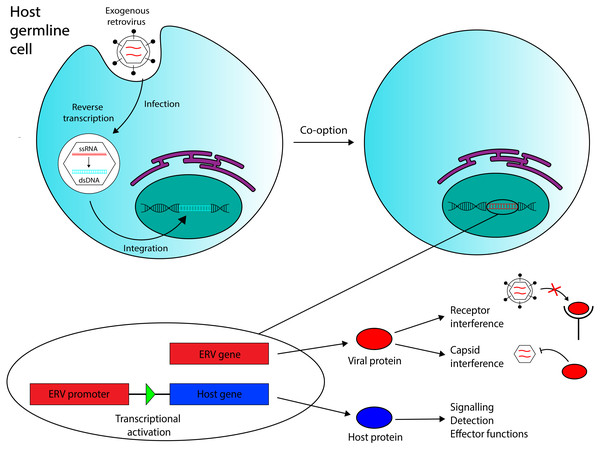 Exogenous viruses are transmitted horizontally, moving between individuals whose cells provide the machinery required for the virus to replicate itself and release infectious particles, so that other susceptible individuals can be infected. Retroviruses can be transmitted in this way, but their permanent integration into the host cell's genome also allows for another mode of transmission to occur. If a retrovirus integrates into the genome of a germline cell that contributes to the formation of a nascent individual, the integrated provirus will be transferred from parent to offspring—a process known as vertical transmission. If retroviral integration occurs before the first cell division of a zygote, all of the progeny's somatic cells, and at least half of their gametes, will contain the integrated retrovirus. The retroviral DNA is then present in and can be transferred through the organisms's germline; the virus has become endogenized. Immediately after endogenization, most new ERVs probably remain replication-competent, so viral re-integration events following endogenization are still possible; these would increase provirus copy number in the host and could increase the ERV's frequency in the gamete population, if the virus was transmitted between gametes. Indeed, some work has identified human ERV (HERV) families with particularly high copy numbers (200+ copies) (Belshaw et al., 2005). Yet, although we have identified actively-expressed ERVs in many other vertebrates (Aswad & Katzourakis, 2012), nearly all human ERVs discovered thus far have accumulated mutations rendering them replication-incompetent, and their protein products defective (Weiss, 2016). Most HERVs are not even actively transcribed (Oja et al., 2007). However, these generalizations do not apply to the entire group.
Some of the earliest evidence that certain HERVs might be expressed in modern humans came from the discoveries of Syncytins 1 and 2, two proteins that are expressed in developing human embryos. These proteins are full-length products derived from integrated retroviral envelope genes (env); they mediate fusion between placental cells, a process that is disrupted in their absence (Mi et al., 2000). As some of the earliest discovered examples of co-opted retroviral elements, syncytins have prompted further research into host domestication of endogenous retroviral genes. Later bioinformatics-based investigations revealed that a small but noteworthy proportion of ERVs in the human genome contain ORFs encoding for intact viral polyproteins (Villesen et al., 2004). The traditional view of ERVs assumes them to be defunct copies of ancient exogenous retroviruses, whose sequences have persisted in the human germline precisely because of accumulated mutations that prevent the virus from replicating, converting the ERV into a neutral locus. Neutral loci are expected to undergo mutational decay over large periods of time, so the presence of intact HERV ORFs in the human genome could be an indicator of relatively recent endogenization events. However, an alternative explanation suggests that these sequences have been selectively maintained throughout evolutionary history, after being co-opted for some beneficial function. These hypotheses are not mutually exclusive, and both would imply that certain HERV elements might still be actively expressed in modern day humans. One microarray-based assay observed HERV transcription in every sample of 19 different human tissue types (Seifarth et al., 2004), indicating that HERV expression might be relatively ubiquitous throughout the human body.
Taken together, these results suggest that the view of HERVs as inactive, neutral sequences does not apply to all endogenous retroviral elements in the human genome. It is well documented that ERVs are not only expressed, but produce phenotypic consequences in other vertebrates (Aswad & Katzourakis, 2012). Investigation into the function of co-opted ERVs in the immune systems of various vertebrate species has revealed complex, intimate relationships between endogenous retroviruses and their hosts (Aswad & Katzourakis, 2012; Frank & Feschotte, 2017). Despite the ubiquity of such relationships, the phenotypic effects of HERV elements on the immune systems of their human hosts largely remain a mystery. Accordingly, much controversy has emerged regarding the link between HERVs and human autoimmune diseases. Increased HERV activity has been identified as a key feature in various forms of autoimmunity, and while mechanistic theories have been formulated to explain their contribution to disease pathogenesis (Balada, Ordi-Ros & Vilardell-Tarrés, 2009), there is still no consensus regarding the connection between HERVs and autoimmunity. Furthermore, the relationship between HERV function in the healthy immune system and dysfunction in autoimmune disease remains mostly unexplored. In the present paper, I review some of the existing evidence on interactions between endogenous retroviruses and mammalian immune systems, both in the context of normal immunity and autoimmunity. In addition, I utilize a unique cross-disciplinary framework for evaluating the relationship between HERV elements and human autoimmune diseases, incorporating principles from retrovirology, immunology, and our knowledge of ERV/host interplay in vertebrate immune systems. Using this cross-disciplinary approach, I formulate and present multiple novel hypotheses concerning HERV-mediated mechanisms of autoimmunity.
Survey methodology
This review discusses a subject that exists at the interface between evolutionary biology, virology, and immunology. Therefore, sources from a wide range of journals were used, including those dedicated to specific research in either virology or immunology, as well as work published in journals with broader research themes, e.g., Nature. The vast majority of citations derive from primary research, and quantitative evidence is cited whenever available.
Conclusions
The relationship between HERVs and autoimmune diseases has long been a controversial topic, and a comprehensive model for their involvement in autoimmunity has not been synthesized. Autoimmune diseases are particularly complex pathologies, usually not defined by specific alleles or pathogens, but instead by the symptoms they produce and the complex interactions observed in the immune systems of diseased patients. Therefore, it might be inaccurate to view them as single diseases, but rather as sets of systemic effects whose contributing factors correlate frequently. This uncertainty makes it difficult to make meaningful statements about AD etiology; a diversity of factors could be capable of independently producing the same condition. The purpose of this review is to summarize some of our knowledge with regards to HERV involvement in immunity and autoimmunity, and to present some novel theories concerning the mechanistic involvement of HERVs in autoimmune pathologies.
Co-opted ERV elements have been identified in animals and humans, but our current understanding of human genomics cannot provide an accurate estimation of their biological significance. ERV-encoded restriction factors have been identified in mice and other animals, but human ERVs remain far less well-characterized. It has been observed that HERV activity correlates with the incidence of multiple autoimmune diseases in humans, but specific mechanistic hypotheses are required to determine their exact relationship. In this review, I argue that HERV elements are not only capable of serving beneficial functions in their hosts; they may also have to potential to trigger pathological immune responses by producing immunostimulatory viral antigens or acting as uncontrolled regulatory sequences. The domains of paleovirology and immunology will continue to overlap as more is discovered about present-day HERV activity in the immune system. Investigation of endogenous viral elements is not only relevant to evolutionary biology; it may also shed light on the nature of such autoimmune pathologies as lupus and multiple sclerosis.