Using opportunistic sightings to infer differential spatio-temporal use of western Mediterranean waters by the fin whale
Published

Accepted

Received
Academic Editor
Subject Areas

Keywords

Balaenoptera physalus,

Cetaceans

,

Spatio-temporal modeling

,

Gulf of Lion

,

Balaenopteridae

,

Habitat use
Copyright

©

2019

Torreblanca et al.

Licence

This is an open access article distributed under the terms of the Creative Commons Attribution License, which permits unrestricted use, distribution, reproduction and adaptation in any medium and for any purpose provided that it is properly attributed. For attribution, the original author(s), title, publication source (PeerJ) and either DOI or URL of the article must be cited.
Cite this article

2019

.

Using opportunistic sightings to infer differential spatio-temporal use of western Mediterranean waters by the fin whale

.

PeerJ

7

:

e6673

https://doi.org/10.7717/peerj.6673
Abstract
The fin whale (Balaenoptera physalus) is a cosmopolitan species with a resident population in the Mediterranean Sea. Due to its habitat, open seas often far from ports and airfields, and its long-distance migratory behaviour, studying and monitoring its distribution is costly. Currently, many opportunistic sightings (OS) reports are available, which provide a source of potentially useful, low-cost information about the spatio-temporal distribution of this species. Since 1993, the Spanish Institute of Oceanography has compiled a dataset comprising 874 records of OS of nine species of cetaceans in the western Mediterranean Sea and adjacent waters. The aim of this study was to use this dataset to investigate the differential use of these waters by the fin whale when compared with other cetaceans. We compared the presence of fin whales with the presence of any other cetacean species in the dataset. Binary logistic regression was then used to model these occurrences according to several spatio-temporal variables expected to reflect their habitat use. Several significant models reveal that fin whales are more prone than other cetaceans to use the waters over the slope of the Gulf of Lion in summer. This finding confirms that the Gulf of Lion is an area of importance for this species and suggests that the slope of the continental shelf could be particularly important. Our study shows how OS can be a source of useful information when appropriately analyzed.
Introduction
The Mediterranean Sea is home to 11 regular cetacean species (Notarbartolo Di Sciara et al., 2016): seven species from the family Delphinidae, and one species each from the Balaenopteridae, Physeteridae, Phocoenidae and Ziphiidae. The Balaenopteridae species is the fin whale (Balaenoptera physalus, Linnaeus, 1758). The general pattern of fin whale migration is to move annually from high latitudes in summer to lower latitudes in winter, where they find appropriate foraging and breeding grounds, respectively (Corkeron & Connor, 1999). These migratory movements suggest that the fin whale could have spatio-temporal patterns in habitat use different from those of other cetaceans in the Mediterranean, although this has still to be explored in the latitudinally limited Mediterranean Sea.
The fin whale is globally classified as "endangered" by the International Union for Conservation of Nature (IUCN) Red List of Threatened Species, although the North Atlantic population is increasing (Reilly et al., 2013). There are fin whales in the Mediterranean Sea that are genetically different from those inhabiting the North Atlantic Ocean (Bérubé et al., 1998; Palsbøll et al., 2004). Fewer than 5,000 fin whales are assumed to occur in the whole Mediterranean basin, where the species is known to be declining and is classified as Vulnerable by the IUCN Red List of Threatened Species (Panigada & Notarbartolo Di Sciara, 2012). Fin whales are of conservation concern due to cumulative natural and anthropogenic threats in this semi-enclosed basin (Thomas, Reeves & Brownell, 2015). These threats include disease outbreaks (Mazzariol et al., 2016), ship strikes (Panigada et al., 2006), plastic ingestion (Fossi et al., 2016) and underwater noise (Castellote, Clark & Lammers, 2012).
Bentaleb et al. (2011) suggested that most of the fin whales remain in the western Mediterranean Sea the whole year. Although there are no Mediterranean-wide estimates of fin whale abundances, such estimates are available for certain areas and seasons that received line-transect survey coverage. Recent aerial surveys conducted in the north-western Mediterranean, off the coasts of France and Italy, provided an estimate of 2,500 fin whales in summer and 1,000 fin whales in winter, which suggests a seasonal trend in the area (Laran et al., 2017). The lower abundance in the northwest Mediterranean winter may be due to fin whale movements from the north-western Mediterranean to the Lampedusa Island (Canese et al., 2006; Aïssi et al., 2008) and the Alboran Sea (Cotté et al., 2011). These movements affect also individuals coming from the North-Atlantic, which tend to go to the north-western Mediterranean Sea (Giménez et al., 2013). Gauffier et al. (2018) suggested that this migration through the Strait of Gibraltar is bidirectional with a seasonal pattern toward the Atlantic Ocean mainly between May and October and toward the Mediterranean Sea mainly between November and April. Nevertheless, Geijer, Notarbartolo Di Sciara & Panigada (2016) suggested that the highly dynamic migratory behavior of resident Mediterranean fin whales is not yet completely understood. Consequently, greater knowledge of ecological and biogeographical factors affecting fin whales is needed to identify their specific habitat use in the Mediterranean (Castellote, Clark & Lammers, 2011).
In general, research in the marine environment needs the use of a floating or airborne vehicle, usually leading to higher costs than terrestrial research. Monitoring fin whale distribution is particularly expensive because this species typically makes long migrations on the high seas, distant from main ports and airfields, and shipboard or aerial surveys must cover vast areas. Several studies of the distribution of cetacean species have reduced costs by using platforms of opportunity such as ferries, which record the associated search effort (Kiszka et al., 2007; Moura, Sillero & Rodrigues, 2012; Aïssi et al., 2015; Cominelli et al., 2016). In order to further reduce research costs, several authors have proposed the use of opportunistic sightings (OS) using different information sources not limited to fixed routes (Siebert et al., 2006) but with no control of sampling effort (but see Himes Boor & Small, 2012). This type of data provides relevant information at relatively low cost (MacLeod, Brereton & Martin, 2008; Moura, Sillero & Rodrigues, 2012; Aïssi et al., 2015).
The fin whale is easily identified due to its large size, characteristic blow, and fusiform shape (Cominelli et al., 2016) and is the only mysticete species that seems to be resident in the Mediterranean Sea (IUCN, 2012). This makes OS presence data for this species in the Mediterranean highly reliable. However, the detection and observation biases inherent to this kind of non-dedicated survey makes absence data less reliable. The detection of cetaceans is affected by an availability bias, when observers fail to detect animals because they are not available, that is, submerged, and a perception bias, when observers fail to detect potentially visible animals, that is, present at the surface (Marsh & Sinclair, 1989). More importantly, opportunistic observations are not planned in advance, and a lack of presence may be due to a lack of observation, resulting in an unknown bias. Consequently, OS data likely represent a biased fraction of the true distribution of the species (McDonald, Mesnick & Hildebrand, 2006; Praca et al., 2009; McClellan et al., 2014). This precludes the use of these data to model the overall distribution of the species. However, OS data allow comparing the differential distribution of fin whales with respect to that of other species from the same dataset, as the biases and the reliability of both kind of data are essentially the same.
The Spanish Institute of Oceanography (Spanish acronym; IEO) has collected OS data in recent decades, with more than 1,000 observations of marine megafauna, mostly cetaceans.
The aim of this study was to use the OS data collected by the IEO to identify the differential spatio-temporal use of the western Mediterranean Sea and adjacent waters by fin whales compared to other cetaceans, and to consider the implications for conservation management of this species.
Results
Figure 1 shows the spatial distribution of the 70 sightings of fin whales and the 804 sightings of other cetaceans. There were few OS of fin whales in the Atlantic coast, Strait of Gibraltar and Alboran Sea, whereas they were more frequent in the Gulf of Lion area. Fin whale observations occurred in all seasons, indicating that they are present in the western Mediterranean Sea all year long. Forty-four OS (nearly 63%) were in the North West Mediterranean Sea, Slope, and Canyon System IMMA (IUCN-MMPATF, 2017) (Fig. 1).
We obtained three significant univariate models, two of them spatial, including La and Lo, respectively, and one temporal model including season (Table 1). Non-significant models are also listed in Table 1. The model with La as an explanatory variable was the best univariate model according to the AIC (Table 1, Model 2), indicating that the probability that a sighting corresponded to fin whale was higher in the northern areas. A significant positive relationship was also found between longitude Lo (Table 1, Model 3) and fin whale OS, with the probability of sighting a fin whale being higher in the eastern areas. The temporal model (Table 1, Model 4) showed that the sighting of a fin whale was relatively more probable compared with the probability of sighting other cetacean species in summer and less probable in autumn. This indicates that the fin whale makes differential use of these waters in summer, when most OS of fin whale occurred, and quits these waters in autumn more than other cetacean species do.
Model
Variables
Logit
Omnibus test
AIC1
AUC2
Hosmer & Lemeshow test
Significant models
1
La + CS
χ2 = 131.339; d.f. = 2; P < 0.001
362.340
0.845
χ2 = 6.107; d.f. = 8; P = 0.635
2
La
−31.975 + 0.750 × La
χ2 = 126.607; d.f. = 1; P < 0.001
365.073
0.841
χ2 = 4.213; d.f. = 8; P = 0.837
3
Lo
−2.952 + 0.347 × Lo
χ2 = 59.360; d.f. = 1; P < 0.001
432.320
0.782
χ2 = 19.012; d.f. = 8; P = 0.015
4
Season
χ2 = 11.998; d.f. = 3; P = 0.007
479.682
0.607
χ2 = 0.000; d.f. = 2; P = 1.000
Non-significant models
5
Moon phase
χ2 = 6.315; d.f. = 3; P = 0.097
483.365
0.575
χ2 = 0.000; d.f. = 2; P = 1.000
6
CS
χ2 = 1.610; d.f. = 1; P = 0.205
488.070
0.529
Non applicable (d.f. = 0)
7
CiD
−2.163 − 0.003 × CiD
χ2 = 1.353; d.f. = 1; P = 0.245
488.326
0.552
χ2 = 14.097; d.f. = 8; P = 0.079
8
MSR
−2.332 + 0.002 × MSR
χ2 = 0.990; d.f. = 1; P = 0.320
488.689
0.456
χ2 = 20.764; d.f. = 8; P = 0.008
9
DC
−2.615 + 0.004 × DC
χ2 = 0.790; d.f. = 1; P = 0.374
488.890
0.520
χ2 = 9.281; d.f. = 8; P = 0.319
Significant models describing the differential spatio-temporal use of the study area by the fin whale in relation to other cetacean species, ranked according to AIC values, and non-significant models. The logit functions derived from logistic regression of a binary variable (sighting of fin whale against sighting of other cetacean) on the spatio-temporal variables. The Omnibus test gives the statistical significance of the models, AIC evaluates their parsimony, AUC assesses their discrimination power, and Hosmer & Lemeshow test evaluates their calibration.
La, Latitude; Sp, Spring; Su, Summer, Au, Autumn; Wi, Winter; Lo, Longitude; CS, Continental shelf; CiD, Distance to coastal cities with more than 100,000 inhabitants; MSR, Distance to main shipping route; DC, Distance to coast; χ2, Chi-squared distribution; d.f., degrees of freedom; P, probability value.
1
Akaike Information Criterion.
2
Area under the receiver operating characteristic (ROC) curve.
We also obtained one significant multivariate model including La and CS, which indicates that fin whales are differentially found in northern latitudes and on the CS (Table 1, Model 1). The best model, according to AIC values, was this multivariate model (Table 1). Latitude was more significant than CS according to Wald test values (Wald = 104.366, P < 0.001 for La, Wald = 5.13, P = 0.024 for CS). This means that the probability that an OS corresponds to fin whales is higher in the north and, secondarily, the probability is higher on the CS. However, the effects of La and CS on OS of fin whales were interrelated with those of season, as the northernmost OS of fin whales occurred in summer and the OS of fin whale on the CS occurred mainly in spring (Table 2; Figs. 2 and 3). To assess possible interactions between these variables and season, we built separate models of La and CS for each season. La was only significant during the summer season, when mean latitude for fin whale OS was 3° higher than that of OS of other species, and to a lesser extent during springtime (Fig. 3). CS was only significant during spring (Table 2; Fig. 3). This is the reason why season was not included in the multivariate model, since the effects of La and CS incorporate those of season.
Season
OS
On continental shelf
Fin whales
Other cetaceans
Fin whales
Other cetaceans
Spring
19
298
10
46
Summer
46
378
3
26
Autumn
2
90
0
25
Winter
3
38
1
17
Total
70
804
14
114
Frequency of opportunistic sightings (OS) of fin whales and other cetaceans by season and their corresponding frequency on the continental shelf.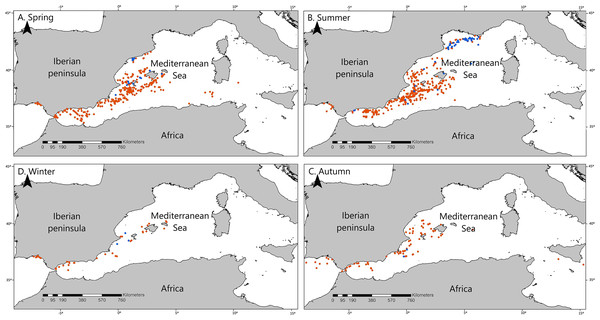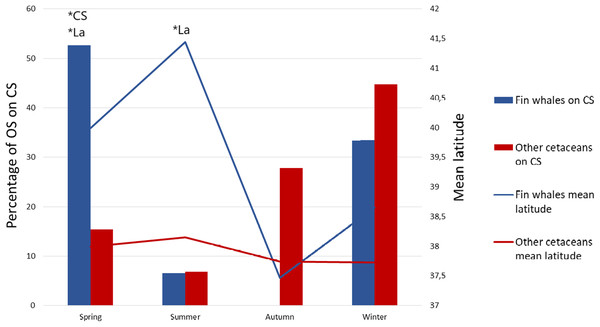 Discussion
In general, our results should be interpreted as referring to a group of spatial and temporal variables that could explain the differential distribution of fin whales from a macroecological perspective (Niamir et al., 2016). The models do not predict the probability of a fin whale sighting; rather, they explain the differential use of habitat by fin whales in relation to the other species of cetaceans that were sighted.
Conclusions
We conclude that the fin whale has a differential spatio-temporal distribution when compared with other cetaceans in the western Mediterranean Sea. In summer, fin whales are differentially concentrated in the slope off the CS in the Gulf of Lion, which reinforces the evidence about the importance of this area for the fin whale. A novelty of our approach lies in the utilization of OS to draw conclusions on the species differential habitat use. OS contributed to understand the differential spatio-temporal distribution of the fin whale in the western Mediterranean and helped corroborate factors previously identified in other studies. In a similar way, the OS could provide useful information about the differential spatial use of other endangered marine species for which more systematic data are scarce.
Supplemental Information
Opportunistic sightings of cetaceans used to create the models.
Cetacean species.
Location of Important Marine Mammal Areas according to the IUCN, and of the opportunistic sightings.