Tumor mutational profile of triple negative breast cancer patients in Thailand revealed distinctive genetic alteration in chromatin remodeling gene
Published

Accepted

Received
Academic Editor
Subject Areas

Keywords

Breast

,

Cancer

,

Thai

,

Asian

,

Genome

,

Histone
Copyright

©

2019

Niyomnaitham et al.

Licence

This is an open access article distributed under the terms of the Creative Commons Attribution License, which permits unrestricted use, distribution, reproduction and adaptation in any medium and for any purpose provided that it is properly attributed. For attribution, the original author(s), title, publication source (PeerJ) and either DOI or URL of the article must be cited.
Cite this article

2019

.

Tumor mutational profile of triple negative breast cancer patients in Thailand revealed distinctive genetic alteration in chromatin remodeling gene

.

PeerJ

7

:

e6501

https://doi.org/10.7717/peerj.6501
Abstract
Background
Triple negative breast cancer (TNBC) is a breast cancer subtype characterized by absence of both hormonal receptors and human epithelial growth factor receptor 2 (HER2). TNBC accounts for 15–20% of breast cancer. TNBC is associated with more aggressive disease and worse clinical outcome. Though the underlying mechanism of TNBC is currently unclear, the heterogeneity of clinical characteristics in various population may relate to the difference in tumor mutational profile. There were studies on TNBC gene mutations in various ethnic groups but the tumor genome data on Thai TNBC patients is currently unknown. This study aims to investigate mutational profile of Thai TNBC.
Methods
The patients were Thai individuals who were diagnosed with primary breast carcinoma between 2014 and 2017. All surgically removed primary tumor tissues were carefully examined by pathologists and archived as formalin-fixed paraffin-embedded tumor. TNBC was defined by absence of hormonal receptors and HER2 by immunohistochemistry. Genomic DNA was extracted, enriched and sequenced of all exomes on the Illumina HiSeq. Genomic data were then processed through bioinformatics platform to identify genomic alterations and tumor mutational burden.
Results
A total of 116 TNBC patients were recruited. Genomic analysis of TNBC samples identified 81,460 variants, of which 5,906 variants were in cancer-associated genes. The result showed that Thai TNBC has higher tumor mutation burden than previously reported data. The most frequently mutated cancer-associated gene was TP53 similar to other TNBC cohorts. Meanwhile KMT2C was found to be more commonly mutated in Thai TNBC than previous studies. Mutational profile of Thai TNBC patients also revealed difference in many frequently mutated genes when compared to other Western TNBC cohorts.
Conclusion
This result supported that TNBC breast cancer patients from various ethnic background showed diverse genome alteration pattern. Although TP53 is the most commonly mutated gene across all cohorts, Thai TNBC showed different gene mutation frequencies, especially in KMT2C. In particular, the cancer gene mutations are more prevalent in Thai TNBC patients. This result provides important insight on diverse underlying genetic and epigenetic mechanisms of TNBC that could translate to a new treatment strategy for patients with this disease.
Introduction
Triple negative breast cancer (TNBC) accounts for approximately 15–20% of breast cancer (Blows et al., 2010). Breast cancer patients with TNBC are not eligible for effective selective hormonal modulator or anti-HER2 treatments because of the absence of both hormonal and growth factor receptor overexpression. Chemotherapy was therefore the only available treatment of patients with TNBC. Women with TNBC displayed a clinical aggressiveness and high risk of metastasis. TNBC has also been shown to be associated with the poorer prognosis and reduced 5-year survival than other breast cancer subtypes (Malorni et al., 2012). Several studies showed the substantial racial variations of clinical behavior and prevalence of TNBC, likely owing to a heterogeneous nature of the disease. African descents are more often to present with TNBC, higher histologic grade and more aggressive breast tumors than whites (Chen & Li, 2015). Both Hispanic and African women tend to be diagnosed in more advanced stage (Banegas & Li, 2012). Studies in Asian populations demonstrated that 11% of breast cancer patients in Singapore had TNBC while this subtype accounted for 19% of Korean breast cancer patients (Rhee et al., 2008; Thike et al., 2009). The heterogeneity of TNBC on the clinical presentation as well as histologic differences may relate to variation in genetic background. The genomic profiles of TNBC in African Americans patients have been studied (Ademuyiwa et al., 2017; Huo et al., 2017). This study addressed the lack of data on the genomic profiles of TNBC in Thai and Asian population and investigated racial differences in the genetic landscape of breast cancer that could potentially identify targets suitable for specific population.
Results
Comparison of gene alterations between Thai TNBC and other TNBC cohorts
A total of 1,088,237 variants were detected from the whole exome sequencing data of 116 patients. Variant filtering with MuTect2 and VarScan2 identified 81,460 somatic variants that passed data analysis algorithms. When all 969 known or potential cancer-associated genes were examined, only 5,906 somatic variants were identified. We found an average of 222 variants per sample (range 104–388 variants) with an average of 20 altered cancer genes (range 5–35 genes). The 10 most commonly mutated genes were TP53, KMT2C, SYNE1, PIK3CA, BRCA1, NF1, BRCA2, PTEN, RB1 and ARID1B (Fig. 1; Tables 1 and 2). Compared to the cancer gene mutation frequencies from TCGA, METABRIC and French cohorts, Thai TNBC had significantly higher mutation frequencies in KMT2C, SYNE1, PIK3CA, NF1, PTEN, BRCA1 and BRCA2. On the contrary, significant differences were observed only in SYNE1 and BRCA1 among TCGA, METABRIC and French cohorts.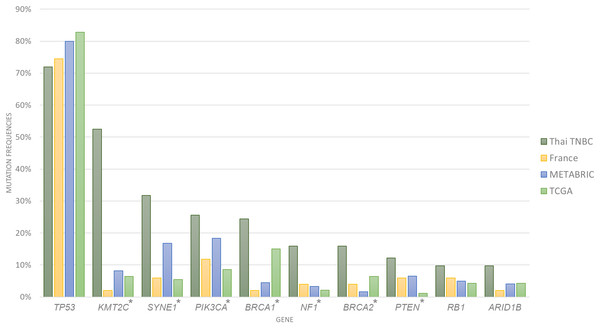 | Gene | Thai TNBC (n = 116) (%) | TCGA (n = 93) (%) | METABRIC (n = 245) (%) | French (n = 51) (%) | Pearson chi square (p value) |
| --- | --- | --- | --- | --- | --- |
| TP53 | 75.86 | 82.80 | 80.00 | 74.51 | 0.519 |
| KMT2C | 57.76 | 6.45 | 8.16 | 1.96 | <0.001 |
| SYNE1 | 31.71 | 5.38 | 16.73 | 5.88 | <0.001 |
| PIK3CA | 23.28 | 8.60 | 18.37 | 11.76 | 0.027 |
| BRCA1 | 21.55 | 15.05 | 4.49 | 1.96 | <0.001 |
| BRCA2 | 18.10 | 6.45 | 1.63 | 3.92 | <0.001 |
| NF1 | 14.66 | 2.15 | 3.27 | 3.92 | <0.001 |
| PTEN | 11.21 | 1.08 | 6.53 | 5.88 | 0.033 |
| RB1 | 10.34 | 4.30 | 4.90 | 5.88 | 0.19 |
| ARID1B | 6.90 | 4.30 | 4.08 | 1.96 | 0.495 |
n indicated number of patients in each cohort.
| Gene | TCGA (n = 93) (%) | METABRIC (n = 245) (%) | French (n = 51) (%) | Pearson chi square (p value) |
| --- | --- | --- | --- | --- |
| TP53 | 82.80 | 80.00 | 74.51 | 0.494 |
| KMT2C | 6.45 | 8.16 | 1.96 | 0.278 |
| SYNE1 | 5.38 | 16.73 | 5.88 | 0.006 |
| PIK3CA | 8.60 | 18.37 | 11.76 | 0.063 |
| BRCA1 | 15.05 | 4.49 | 1.96 | 0.001 |
| BRCA2 | 6.45 | 1.63 | 3.92 | 0.068 |
| NF1 | 2.15 | 3.27 | 3.92 | 0.812 |
| PTEN | 1.08 | 6.53 | 5.88 | 0.123 |
| RB1 | 4.30 | 4.90 | 5.88 | 0.915 |
| ARID1B | 4.30 | 4.08 | 1.96 | 0.749 |
n indicated number of patients in each cohort.
Driver gene analysis
We performed analysis of the filtered cancer genes to identify potential genes of interest. We first examined for genes mutated in multiple samples and found that 14 genes were mutated in at least 10% of the samples. SYNE1 was excluded from analysis due to unclear role in cancer. TP53 was the most frequently mutated gene with variants found in 88 samples. KMT2C, which encodes for the lysine methyltransferase mixed-lineage leukemia (MLL3), was the next most frequently mutated gene with mutations in 67 samples. The third most frequently mutated gene was PIK3CA, which was shared by 27 samples. Together, 111 of the 116 samples had an alteration in at least TP53, KMT2C or PIK3CA (Fig. 2). The most commonly recurring mutation was the PIK3CA H1074R mutation, which was found in the majority of the PIK3CA mutant samples (16 out of 27 samples; 59%). Within these genes, we also found a number of recurrent variants including the previously reported mutations in KMT2C S338L (21 samples; 31%), TP53 R175H (10 samples; 11%), R248Q (five samples; 6%), Y220C (four samples; 5%) and R273H (four samples; 5%) and PIK3CA K733R (six samples; 22%) and E545K (four samples; 15%) (Fig. 3).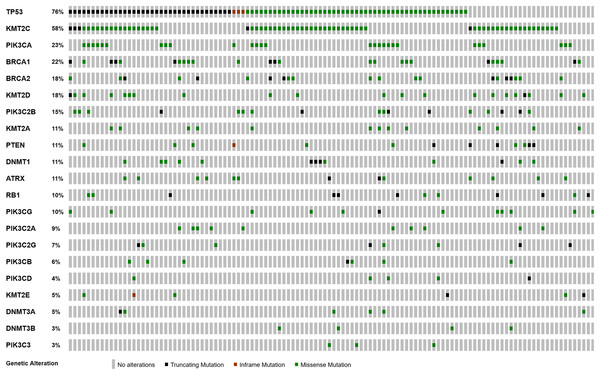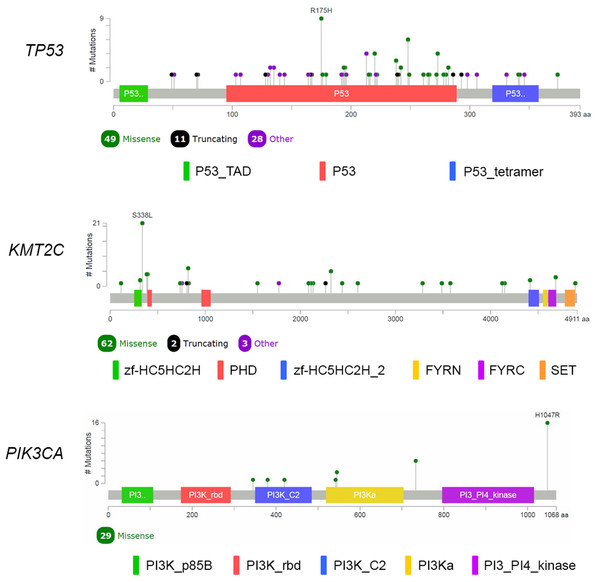 TP53 mutation status and co-occurring mutations
As previously shown, TP53 was the most commonly mutated gene in the cohort with 88 of the 116 samples (76%) containing a mutation. To identify roles of TP53 and its association with the other two most commonly mutated genes; KMT2C and PIK3CA, we subdivided the cohort as TP53 wild-type and TP53 mutant groups. In the TP53 wild-type samples (n = 28), the PI3K pathway appeared to be a predominant driver with 19 samples (68%) containing a mutation in either the PIK3CA gene or PI3K pathway members, including PIK3C2B, PIK3CG and PTEN. In the TP53 mutant group, 67 samples (76%) had one or more mutations in genes encoding chromatin remodeling proteins, including ATRX, DNMT3A and KMT2C, which have been reported to be involved in cancer. This mutation co-occurrence may suggest a complex interplay in TNBC. However, there was no association between TP53, PIK3CA or KMT2C mutation status and cancer staging.
Tumor mutation burden
One of the biological hallmarks in cancer is genome instability. Genome alterations, which either involve in carcinogenesis or occur as a result of widespread genome instability, can create neoantigens and trigger immune response. We used the variant data to calculate the tumor mutation burden for each sample and employed the same filtering scheme accounted for all variants including both nonsynonymous and synonymous calls. Tumor mutation burden was defined as the number of somatic base substitutions, and indels per megabase of coding genome sequence examined. Synonymous mutations are counted in order to reduce sampling noise. Though majority of synonymous mutations are not likely to cause tumor immunogenicity, they may reflect mutational processes that will also result in nonsynonymous mutations and neoantigens elsewhere in the genome (Diederichs et al., 2016; Supek et al., 2014). We found that Thai TNBC has an average tumor mutation 7.3 variants per megabase (95% CI [6.9–7.6]), which consists of nonsynonymous mutation 3.9 variants per megabase (95% CI [3.7–4.1]) and synonymous mutation 3.4 variants per megabase (95% CI [3.3–3.6]). This data showed significantly higher tumor mutation burden than median value (3.6 variants per megabase) found in invasive ductal breast carcinoma cohort (Chalmers et al., 2017).
Discussion
Triple negative breast cancer is a heterogeneous disease with marked variation in clinical characteristics and response to treatment (Blows et al., 2010). Genome data from previous studies confirmed spectrum of mutational profiles in TNBC are diverse between each patients and cohorts (Cancer Genome Atlas Network, 2012; Pereira et al., 2016; Shah et al., 2012; Stephens et al., 2012). Though there are several explanations for diverse genome landscape in TNBC, patient's ethnicity could play a significant role in this discrepancy. For the first time, this study provided the mutation profile of TNBC from Thai breast cancer patients. The data from our cohort showed that, besides TP53 which is the most frequently mutated gene in TNBC, Thai TNBC patients have much higher mutation frequencies in many cancer genes than Western patients. This increase could be due to its exceptionally different pattern of somatic genome alterations in Thai TNBC or its representation of higher tumor mutation burden that occurs extensively throughout cancer genome or both.
TP53 remains the most commonly mutated gene in Thai TNBC similar to other reported studies (Lefebvre et al., 2016; Cancer Genome Atlas Network, 2012; Pereira et al., 2016). This gene is widely considered guardian of the genome due to its crucial function in maintaining genome integrity, regulating cell cycle and initiating apoptosis. Numerous types of mutations in TP53 are found in various cancers and mutations occur throughout the entire TP53 as expected in loss-of-function (LOF) mutations in tumor suppressor gene. We also identify several recurring mutations in TP53 including R175H, Y220C, R248Q and R273H, which together account for 26% of TP53 mutant group. These four mutations are hotspot mutations that believed to be oncogenic missense variants (Soussi & Wiman, 2015). Previous study in breast cancer showed that oncogenic TP53 variants in DNA binding domain (amino acid position 102-292) are associated with reduced survival compared to wild-type TP53 with an exception of Y220C, which is associated with better survival in breast cancer (Olivier et al., 2006). However, such association could not be identified likely due to very few mortality during our 3-year follow-up period.
PIK3CA mutations are usually enriched in hormonal receptor-positive tumor at 29–45%, with lower frequency in TNBC (Cancer Genome Atlas Network, 2012). PIK3CA is the most commonly mutated oncogene in Thai TNBC cohort similar to other breast cancer studies. Nevertheless, the mutation frequency of PIK3CA in Thai TNBC is much higher than previously published data (Cancer Genome Atlas Network, 2012; Pereira et al., 2016; Shah et al., 2012). H1074R is the major PIK3CA hotspot mutation followed by K733R and E545K. These variants are known oncogenic gain-of-function mutations found in multiple types of cancers. Together with other PI3K pathway members, TNBC harboring mutations in PIK3CA and its related genes could be potential targets for PI3K inhibitors.
BRCA1 and BRCA2 encode proteins that become parts of a complex that repairs double-strand DNA breaks. They are critical for maintaining genome integrity. Breast cancers occurred in most germline BRCA1 mutation carriers are TNBC. By contrast, there is no characteristic breast cancer subtype in BRCA2 carriers (Atchley et al., 2008). Most TNBC patients do not harbor germline BRCA1 or BRCA2 mutations. However, pathological high-grade breast cancers and TNBC often showed somatic mutations or abnormal expression of BRCA1 or BRCA2 (von Wahlde et al., 2017). Thai TNBC displayed high prevalence of somatic alterations in both genes. By comparison with three Western cohorts, the difference was less obvious because the mutation frequencies did vary from one cohort to another. Nevertheless, defects in genome repair machinery related to BRCA1 and BRCA2 mutations could make treatment with platinum-based chemotherapy or PARP inhibitors more effective in those patients (Papadimitriou, Mountzios & Papadimitriou, 2018; Vollebergh et al., 2014).
The KMT2C is noticeable because it is the second most commonly mutated gene (58%) in our Thai TNBC cohort. KMT2C is a gene in myeloid/lymphoid or MLL family and encodes MLL3 lysine-specific histone methyltransferase enzyme. H3 'Lys-4' methylation in histone by the enzyme represents a specific tag for epigenetic transcriptional activation (Rao & Dou, 2015). LOF mutations in KMT2C are found in myeloid leukemia, melanoma, glioblastoma multiforme, hepatocellular carcinoma, esophageal cancer, colorectal cancer and pancreatic cancer (Fujimoto et al., 2012; García-Sanz et al. 2017; Liu et al., 2015; Lu et al., 2016; Song et al., 2014). Though the biological role of MLL3 histone methyltransferase in carcinogenesis remains unknown, LOF mutations and downregulation of this gene in cancers suggest that KMT2C may act as tumor suppressor gene (Xia et al., 2015). KMT2C mutations are also reported in TNBC (Liu et al., 2015). However, Thai TNBC demonstrates substantially higher prevalence of KMT2C mutations than TNBC data from Caucasian population (Cancer Genome Atlas Network, 2012; Pereira et al., 2016). A study from African American TNBC also displayed higher KMT2C mutations than Caucasian patients (Ademuyiwa et al., 2017). A recently published data identified KMT2C mutations in 21% of breast cancer patients from Singapore and Korea (Yap et al., 2018). Interestingly, KMT2C has one identified hotspot variant; S338L (31%) which has been previously reported in colorectal cancer (Lu et al., 2016). This observation suggests that epigenetic change may contribute to the development of TNBC and play significant role in Thai TNBC patients. This data could lead to a new insight on epigenetic role of breast carcinogenesis. Further investigation is warranted to provide better understanding on mechanisms of KMT2C and a novel treatment strategy.
As previously mentioned, Thai TNBC has generally higher mutation burden than breast cancer in Western patients. The reason for this finding remains not fully explained. Previous study showed that a subset of TNBC harbors somatic mutations in genome repair system (Shah et al., 2012; Stephens et al., 2012). Higher tumor mutational load was observed in hormonal receptor negative than hormonal receptor-positive breast cancer (Barrett et al., 2018; Haricharan et al., 2014). Early phase of anti-PD-1 clinical trials also showed higher response rate in TNBC than hormonal receptor-positive breast cancer (Nanda et al., 2016; Rugo et al., 2018). Our finding suggests that immunotherapy could provide benefit to some Thai TNBC patients.
In this study, the data from Thai TNBC would contribute much-needed information from Asian patients to breast cancer genome landscape and provide another evidence on role of KMT2C in breast carcinogenesis. However, our study has three major limitations. First, only patients from Siriraj and King Chulalongkorn Memorial Hospitals were recruited. Both Bangkok-based university hospitals were the largest hospitals in Thailand and served as major referral centers of Thailand's healthcare system. Though breast cancer patients treated at our hospitals came from all over the country, many patients from other regions of Thailand who could be treated locally did not participate in the study. The data may not represent the whole picture of Thai TNBC patients. Second, the follow-up period up to 3 years was not long enough to observe clinically meaningful association between genomic alterations and clinical outcomes. Further study would be required. Third, genome sequencing was done on only tumor gDNA extracted from FFPE samples. It has been recognized that the quality of gDNA from FFPE is lower than fresh samples and potentially causes variant call discrepancy. Our study chose to focus on list of cancer-associated genes and apply variant call only when genomic regions have sufficient sequencing depth. This approach has shown to minimize erroneous variant calls, improve precision and acceptable correlation with matched normal-tumor pair sequencing (Chalmers et al., 2017; Oh et al., 2015; Teer et al., 2017). Nevertheless, comparison of our TMB data with previously published studies could be limited by differences in study designs and data analysis methods.
Conclusion
In conclusion, this study is the first cohort of Thai TNBC patients that demonstrated a distinctive genome alterations including higher mutational burden, higher mutation frequencies on several cancer-associated genes and mutations in KMT2C. These results support the genomic heterogeneity between Caucasian and Thai TNBC and could present the new therapeutic approach on histone modification and immunotherapy in TNBC patients. Further investigation is warranted to provide better understanding on role of KMT2C in breast carcinogenesis.
Supplemental Information
Mutational data on most commonly mutated genes found in each sample of Thai TNBC cohort.
Each tab represented mutational data on most commonly mutated genes found in each sample of Thai TNBC cohort, designated by gene name.