Diverse microbial communities hosted by the model carnivorous pitcher plant Sarracenia purpurea: analysis of both bacterial and eukaryotic composition across distinct host plant populations
1
Department of Biological Sciences, University of Wisconsin-Milwaukee

,

Milwaukee

,

WI

,

United States of America
2
School of Freshwater Sciences, University of Wisconsin-Milwaukee

,

Milwaukee

,

WI

,

United States of America
Published

Accepted

Received
Academic Editor
Subject Areas

Keywords

Carnivorous plant

,

Microbiome

,

Wetland plant

,

Bacteria

,

Nutrient transformation

,

Microbial diversity

,

Eukaryotes

,

Ciliate

,

Fungi

,

Acari
Copyright

©

2019

Grothjan and Young

Licence

This is an open access article distributed under the terms of the Creative Commons Attribution License, which permits unrestricted use, distribution, reproduction and adaptation in any medium and for any purpose provided that it is properly attributed. For attribution, the original author(s), title, publication source (PeerJ) and either DOI or URL of the article must be cited.
Cite this article

2019

. Diverse microbial communities hosted by the model carnivorous pitcher plant Sarracenia purpurea: analysis of both bacterial and eukaryotic composition across distinct host plant populations.

PeerJ

7

:

e6392

https://doi.org/10.7717/peerj.6392
Abstract
Background
The pitcher plant Sarracenia purpurea supplements nutrient acquisition through carnivory, capturing insect prey which are digested by a food web community of eukaryotes and bacteria. While the food web invertebrates are well studied, and some recent studies have characterized bacteria, detailed genetic analysis of eukaryotic diversity is lacking. This study aimed to compare eukaryotic and bacterial composition and diversity of pitcher communities within and between populations of host plants in nearby but distinct wetland habitats, and to characterize microbial functions across populations and in comparison with another freshwater community.
Methods
Pitcher fluid was sampled from the two wetlands, Cedarburg and Sapa Bogs, community DNA was extracted, and 16S and 18S rRNA amplicons were sequenced and data processed for community-level comparisons.
Results and Conclusions
Bacterial diversity in the small pitcher volume rivaled that of larger aquatic communities. Between pitcher plant populations, several bacterial families (Kiloniellaceae, Acetobacteraceae, Xanthobacteraceae, Sanguibacteraceae, Oligoflexaceae, Nitrosomonadaceae, Chromatiaceae, Saprospiraceae) were significantly higher in one population. However, although predicted pitcher bacterial functions were distinct from other freshwater communities, especially for some amino acid metabolism, functions were similar across all the pitchers in the two populations. This suggests some functional redundancy among bacterial taxa, and that functions converge to achieve similar food web processes. The sequencing identified a previously under-appreciated high diversity of ciliates, Acari mites, fungi and flagellates in pitcher communities; the most abundant sequences from eukaryotic taxa were Oligohymenophorea ciliates, millipedes and Ichthyosporea flagellates. Two thirds of taxa were identified as food web inhabitants and less than one third as prey organisms. Although eukaryotic composition was not significantly different between populations, there were different species of core taxonomic groups present in different pitchers—these differences may be driven by wetland habitats providing different populations to colonize new pitchers. Eukaryotic composition was more variable than bacterial composition, and there was a poor relationship between bacterial and eukaryotic composition within individual pitchers, suggesting that colonization by eukaryotes may be more stochastic than for bacteria, and bacterial recruitment to pitchers may involve factors other than prey capture and colonization by eukaryotic food web inhabitants.
Introduction
Carnivorous plants grow in nutrient deficient wetland environments and use carnivory to supplement their mineral nutrition, and include Venus fly traps, sundews, and pitcher plants (Ellison & Adamec, 2018). The northern or purple pitcher plant, Sarracenia purpurea subsp. purpurea L. produces modified leaves formed into pitchers that function as passive pitfall traps which fill with rainwater and capture insect prey. Breakdown of insect prey in S. purpurea is achieved by an inquiline (living in the pitcher habitat) food web of invertebrates and microbes which colonize after pitcher opening (Peterson et al., 2008). The microbes produce digestive enzymes to release nutrients from organic prey particles to support the food web and provide nutrients for host plant uptake (Young, Sielicki & Grothjan, 2018). Core invertebrate trophic levels of the food web are well characterized (Gotelli & Ellison, 2006; Mouquet et al., 2008) and recent studies provide some insights into the bacteria present (Gray et al., 2012) but we have limited understanding of the functions of microbial communities or diversity of eukaryotic microbes represented within the S. purpurea pitcher plant food web.
When pitchers first open, they are sterile and need to be colonized by bacteria and eukaryotes (Peterson et al., 2008), then the pitcher community changes over time with succession, and may be regulated by resource availability (Miller & TerHorst, 2012; Gray et al., 2012; Armitage, 2017). The invertebrate taxa of the food web have several known functions; Sarcophagid fly larvae shred insect prey and stir the fluid, midges live at the base of the pitcher, breaking apart detritus, and rotifers and ciliates are mid-trophic level grazers (Bledzki & Ellison, 1998; Paisie, Miller & Mason, 2014). The mosquito larvae, Wyeomyia smithii is a top predator grazer in pitcher plant food webs (Kneitel & Miller, 2002; Baiser et al., 2013). Autotrophic algae may be present in pitchers (Gebühr et al., 2006). The composition of pitcher inhabitants is known to vary between individual pitchers and across plant populations (Peterson et al., 2008; Gray, 2012), but little is known about the relationship between eukaryotic and bacterial composition of the communities, between pitchers and across pitcher plant populations. While genetic sequencing has provided detailed information about bacterial communities in Sarracenia communities (Koopman & Carstens, 2011; Gray et al., 2012) and limited genetic analysis has targeted eukaryotes in other carnivorous plant species (TerHorst, 2011; Bittleston et al., 2016; Satler, Zellmer & Carstens, 2016), detailed genetic analysis of the eukaryotic communities using rRNA targets has not previously been applied to S. purpurea pitcher plant communities.
Microbial composition may vary with presence of other food web members and with geographical distance (Koopman & Carstens, 2011; Paisie, Miller & Mason, 2014; Bittleston et al., 2018), and can be related to host habitat (Krieger & Kourtev, 2012; Satler, Zellmer & Carstens, 2016), but how much microbial functions vary with host plant habitat or population is less clear. Pitcher plants show acclimation to wetland habitats, for example, as changes in morphology related to carnivory in response to nutrient availability (Gotelli & Ellison, 2002). Two nearby wetlands in Wisconsin offer different nutrient availability, pH and surrounding vegetation conditions which can induce morphological changes in S. purpurea. In Sapa Bog, lower pH, higher nitrogen and phosphorus in the soil water resulted in narrower pitchers than Cedarburg Bog pitcher plants (Bott, Meyer & Young, 2008). These two distinct habitats and populations are ideal to compare food web composition, microbial diversity and function in different S. purpurea populations in response to distinct habitat conditions.
Early isolation and culturing of pitcher plant bacteria identified a range of microbial functions (Lindquist, 1975), and other studies applied genetic analysis techniques to cultured isolates (Whitman et al., 2005; Siragusa, Swenson & Casamatta, 2007) or identified particular functional groups of pitcher plant bacteria (Young, Sielicki & Grothjan, 2018). Recent studies have linked enzyme activity to bacterial functions in nutrient cycling within S. purpurea pitchers (Luciano & Newell, 2017; Bittleston et al., 2018; Young, Sielicki & Grothjan, 2018). However, despite studies of bacterial diversity, characterization of bacterial enzyme functions, the critical importance of bacteria in prey digestion and thus carbon and nutrient supply to the food web, bacteria have only recently been considered as more than a 'black box' in food web models (Lau et al., 2018). It is unknown if the microbial functions of the pitcher plant detrital food web are similar to or distinct from other aquatic ecosystems. To understand what functions are specific to these food webs and to expand the inclusion of bacterial functions in this model food web system, more detailed information about pitcher plant bacterial community metabolic functions is needed.
To address these gaps in our understanding of eukaryotic diversity and bacterial functions in pitcher plant communities and the variability between pitcher microbial populations, this study applied mass gene sequencing and metagenomic functional predictions to compare microbial communities within two distinct populations of S. purpurea. This study aimed to address the following specific research questions:
(1) How does the bacterial and eukaryotic taxa composition within Sarracenia purpurea pitchers differ between pitchers within the same population and between two populations in nearby but distinct wetland habitats?
(2) How does the bacterial and eukaryotic diversity vary between S. purpurea pitchers in the two plant populations?
(3) How do the predicted functions of the bacterial community compare between the plant populations and with another freshwater community?
Results
Bacterial and eukaryotic taxa in pitcher fluid
The bacterial and eukaryotic community composition of individual pitchers varied, with some pitchers very similar in composition, others distinct (Fig. 1). Based on sequence identity, the bacterial families were typically represented more evenly within each pitcher than Eukaryotic families, as most pitcher samples were dominated by relatively few Eukaryotic families, though the dominant Eukaryotic families varied across pitchers (Fig. 1). Pitchers sampled in Cedarburg were more similar in bacterial composition than Sapa pitchers, and CB1p1 and CB1p2 are nearly identical in both bacterial and eukaryotic composition (Fig. 1). Some Sapa pitcher communities showed dominance of a single taxon, for example Sp3p4 was dominated by the bacterial family Coxiellaceae, and eukaryotic sequences were dominated by the ciliate taxon Scuticociliatia of which 84.6% was contributed from a single OTU. In other samples, single dominant taxa were comprised of several OTUs; in CB1p1 96.8% of the sequences identified as Pseudomonadaceae were contributed from 5 OTUs. Taxonomic composition pooled for each wetland (Fig. S1), showed distinctions between the two populations, with more even representation of bacterial families in Cedarburg than in Sapa pitchers in which >50% of sequences were attributed to 4 families (Fig. S1). In contrast, the pooled composition of Eukaryotic families for Cedarburg was dominated by 4 families, while Sapa communities showed more even representation of Eukaryotic families.
Comparison of composition of the most abundant bacterial and eukaryotic taxa between wetlands (Fig. 2), showed many common bacterial and eukaryotic families but with few families present in every sample (i.e., at least one sample showed 0 abundance). The heatmaps also illustrate that Cedarburg samples showed a greater number of common bacterial and eukaryotic OTUs between samples than Sapa samples (Fig. 2, Fig. S2). Bacterial composition of pitchers was dominated by groups Saccharibacteria (formerly candidate division TM7), α- β- and γ-Proteobacteria, Bacteroidetes, Flavobacteria, and Firmicutes (Fig. 2). There were 10 bacterial families which were more abundant in one wetland population (ANOVA, p < 0.05, Fig. 2). Of the 15 most common bacterial families, only Neisseriaceae was significantly more abundant in Sapa samples (p < 0.02) while 9 other less common bacterial families differed significantly between the two populations—Kiloniellaceae was also higher in Sapa samples (p < 0.035) and Acetobacteraceae, Rhizobiales AT, Xanthobacteraceae, Sanguibacteraceae, Oligoflexaceae, Nitrosomonadaceae, Chromatiaceae, Saprospiraceae were all higher in Cedarburg samples (p < 0.05). Across all pitchers, the highest abundance bacterial OTUs identified to genus included Rickettsiella, Azospirillum, Pedobacter, Pseudomonas, Aquitalea, Sphingomonas, Duganella, and Alkanidiges (Table S1).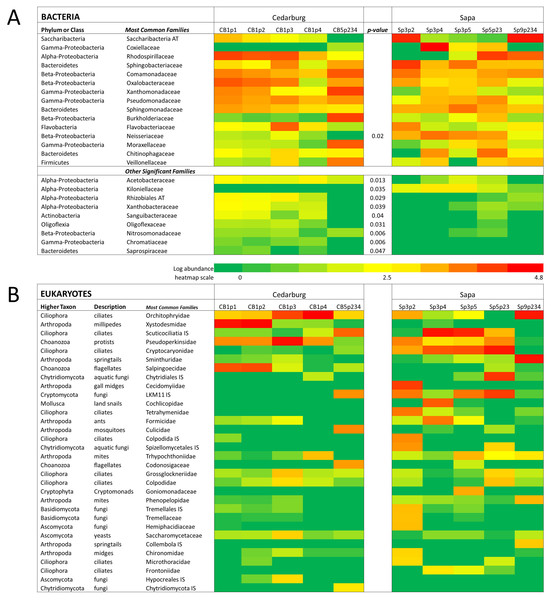 Eukaryotic taxa present in the pitchers included different families of ciliates, millipedes, springtails, midges, insects, fungi, flagellates, and other protists (Fig. 2, Table S2). Despite some compositional differences in Eukaryotes between wetlands (Fig. S1), none of the Eukaryotic families were found to be significantly more abundant in either wetland population (ANOVA, p > 0.05, Fig. 2). However, clearly some taxa were dominant in some samples, but absent from others, and there were many more Eukaryotic families only represented in one or two samples (e.g., Chytrid families, Gall midges—Cecidomyiidae, land snails—Cochlicopidae, the Cryptomonad—Goniomonadaceae, and Collembola—springtails). Detailed data on genus- and species-level identifications of eukaryotes present in each sample are included in the supplementary materials (Table S2). Of the 25 most abundant taxa identified, eight were ciliate taxa, 8 were Arthropods (three Acari mites, three insects), five were fungi, and three were Opisthokont flagellates (Table S2). The two most common taxa identified were similar to an Orchitophyridae ciliate environmental taxa (found in all 10 samples), and a Scuticociliata uncultured taxon (found in nine of 10 samples). The millipede species Cherokia georgiana was the most abundant genus, present in five of 10 samples, an opisthokont flagellate Ichthyophonida_LKM51 was identified in all 10 samples. Many taxa were only present in samples from one wetland but when major groups were considered (Fig. 3), there were more arthropod and flagellate sequences in Cedarburg samples but more ciliates in Sapa, although across the 5 samples in each wetland, there were no statistical differences between abundance in Cedarburg vs Sapa (1-way ANOVA). Two different mosquito taxa of the family Culicidae were identified in the two wetland populations (Table S2). The freshwater bdelloid rotifer genus Adineta was represented in the similar Cedarburg CB1p1 and CB1p2 samples (Fig. 1), but not in any other samples. Gastropod sequences were only found in 2 Sapa pitchers from the same plant, and tardigrade DNA was found in one Sapa sample (Table S2). Algae and plant sequences were present in very low abundance in Sapa and were absent from Cedarburg pitchers. When Eukaryotic families were scored as probable food web members vs prey, vs other, based on literature on habitat and organism functions (Fig. 3), 67% of sequences were identified as food web, 28% of sequences were probable prey and 5% were ambiguous, potentially present incidentally (e.g., fungal spores or plant parts possibly fallen into pitchers, taxa with unknown habitat or ecological role, or taxa of too broad a classification to make grouping the organisms possible).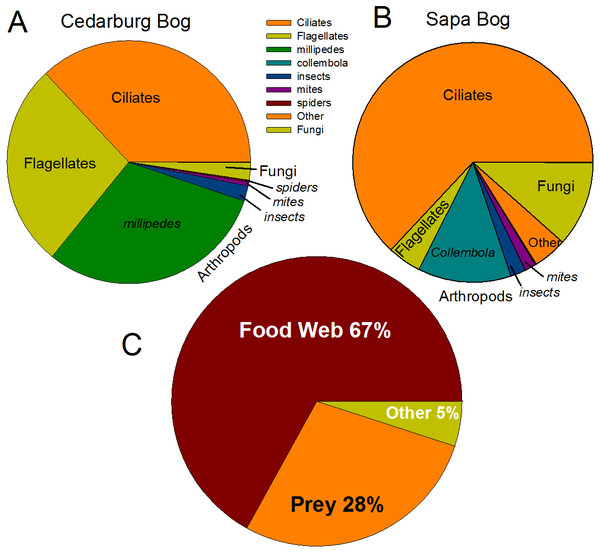 Diversity analysis
Rarefaction curves for these samples are shown in Fig. S2, with no consistent coverage for samples between 16S and 18S sequencing. Good's coverage estimate was high (>0.95) across most samples, except CB1p4 (Table 1). In bacterial diversity, Cedarburg samples showed significantly higher number of OTUs, Chao1 richness, and ACE diversity, but also more singletons, than Sapa samples (1-way ANOVA, p < 0.025; Table 1). Except for Sp5p23, all Cedarburg samples had more bacterial OTUs than Sapa samples. The least diverse samples in terms of bacteria were from Sapa (Sp3p2, Sp3p4, Sp9p234) but for eukaryotic composition, Cedarburg had the least diverse (CB1p1, CB1p2, CB1p3 and CB1p4) as well as the most diverse sample (CB5p234). There were no significant differences in number of OTUs or diversity metrics between the two populations of eukaryotes (Table 1).
A. 16S Bacteria
Observed OTUs
Chao1
singletons
Inv Simpson
Shannon
ACE
Goods Coverage
Cedarburg
CB1p1
2664
8098.5
1688
16.041
6.155
7679.8
0.9768
CB1p2
2923
10470.6
1993
17.389
6.446
9644.4
0.9589
CB1p3
4186
14820.2
2975
19.513
6.591
15283.1
0.9534
CB1p4
4326
22188.0
3434
43.579
8.149
23019.0
0.8585
CB5p234
2731
8500.3
1759
14.524
5.512
8081.4
0.9782
3366
12815.5
2369
22.209
6.571
12741.5
0.9452
Sapa
Sp3p2
1516
5153.3
1024
4.668
3.737
5153.6
0.9854
Sp3p4
1592
5089.0
1078
2.005
2.721
5348.8
0.9871
Sp3p5
1661
5083.7
1095
20.362
6.094
5333.2
0.9647
Sp5p23
2824
7185.5
1692
24.648
6.807
7260.7
0.9714
Sp9p234
1744
5164.5
1104
3.209
3.770
5043.8
0.9843
1867
5535.2
1199
10.978
4.626
5628.0
0.9786
p < 0.025
p < 0.02
p < 0.015
p < 0.05
B.18S Eukaryotes
Observed OTUs
Chao1
singletons
Inv Simpson
Shannon
ACE
Goods Coverage
Cedarburg
CB1p1
697
2282.5
475
2.341
2.280
2292.7
0.9951
CB1p2
978
3358.9
694
2.272
2.263
3558.4
0.9945
CB1p3
1494
6493.5
1114
3.007
2.782
6521.6
0.9904
CB1p4
573
1815.3
393
1.339
1.142
2040.3
0.9964
CB5p234
2010
15594.1
1657
11.559
5.298
14498.1
0.9500
1150
5908.9
867
4.104
2.753
5782.2
0.9853
Sapa
Sp3p2
1277
2854.5
711
8.945
4.556
2917.2
0.9924
Sp3p4
1023
3354.2
673
3.654
3.167
3234.3
0.9939
Sp3p5
1304
3408.4
779
4.762
4.102
3479.6
0.9904
Sp5p23
1248
3317.3
734
9.183
4.399
3231.0
0.9943
Sp9p234
861
3714.3
628
3.892
2.612
3700.6
0.9954
1143
3329.7
705
6.087
3.767
3312.5
0.9933
Community comparisons and functional predictions
PCoAs were based on bacterial composition using unifrac weighted jackknife settings, and metagenome predictions from 16S rRNA-based taxonomic composition through PICRUSt (Fig. 4A). There was close overlap in bacterial composition between Cedarburg and Sapa samples with no distinct differences (ANOSIM p > 0.05), but the wastewater community used as an outgroup was distinct. Sp3p2, Sp3p4, and Sp9p234 were more distant from the tight clustering of other pitcher samples.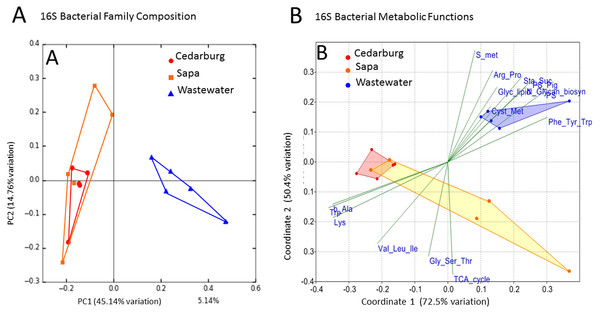 Visualizing differences in predicted bacterial functions using a non-metric multidimensional scaling plot (NMDS) showed overlap of the populations but also some differences (Fig. 4B), but showed distinct functional profiles to the wastewater outgroup used (ANOSIM p < 0.01). Functional vectors driving separation included greater sulfur metabolism, photosynthesis and pigments, and starch and sucrose metabolism in wastewater samples, which included algae and cyanobacteria, whereas the pitcher communities were clustered with more prominent metabolism of several amino acids.
The PCoA based on eukaryotic taxa also showed overlap between the two populations (Fig. 5). Sapa samples were more different from each other than were Cedarburg samples, but both were distinct from the EUKBASE freshwater compilation. Across all samples, eukaryotic composition of Cedarburg versus Sapa samples was not significantly different (ANOSIM, p < 0.25). When the most common family-level taxa were used as vectors to separate the two wetland populations in a NMDS plot (Fig. 5B), population differences were driven by ciliate groups Colpodidae, Grossglockneriidae and Chytrids which were more common in Sapa pitchers, and millipedes (Xystodesmidae), ciliates (Orchotophyridae) and mosquitos (Culicidae) which were more common in Cedarburg (Fig. 2, Table S2). Presence or dominance of additional ciliate, fungal or ant taxa also separated Sapa samples.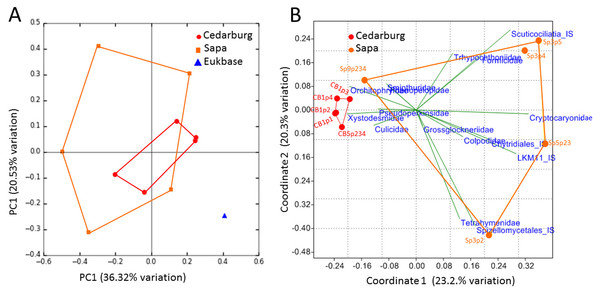 The relatedness trees show clustering of samples based on bacterial or Eukaryotic composition (Fig. 6) support the PCoA clustering and taxon composition similarities (Figs. 1 and 4A) with CB1p1 and CB1p2 showing the closest similarity (Fig. 6). However, there were no consistent clustering patterns for both bacterial and eukaryotic composition, suggesting one did not follow the other. Sp3p2 and Sp9p234 were more similar in the 16S tree and share dominance of Saccharibacteria and Comamonadaceae and absence of Coxiellaceae and Acetobacteraceae (Figs. 1 and 2), but these samples were not closely related in terms of Eukaryotic composition. Cedarburg and Sapa samples did not show distinct clustering in either tree (Fig. 6).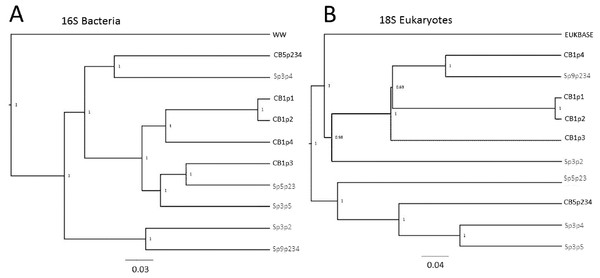 In comparing combined versus individual pitchers, some samples from the same plant were clearly very similar, e.g., CB1p1 and CB1p2, but others were not strikingly similar from the same plant (CB1p3 bacteria distinct from CB1p1 and CB1p2 (Fig. 6), and CB1p3 was more similar in bacterial composition to Sapa Sp5p23 and Sp3p5 (Fig. 6)). In contrast, in terms of eukaryotic composition, CB1p3 was more similar to CB1p1 and CB1p2 while CB1p4 was more similar to Sp9p234 (Fig. 6). Combined pitcher samples did not show higher bacterial diversity than single pitcher samples—within Cedarburg samples the highest Inv Simpson, ACE and Shannon indices were for single pitcher CB1p4, and the lowest in combined pitcher CB5p234. Within Sapa bacteria, combined sample Sp9p234 had some of the lowest diversity values (Table 1).
Discussion
This study presents the first detailed characterization of composition and diversity of both bacterial and eukaryotic organisms in S. purpurea pitchers within and between populations, as well as analysis of bacterial functions within pitcher communities compared with another freshwater environment.
Synthesis and Conclusions
This study provides the first detailed genetic analysis of eukaryotic organisms in the model food web of S. purpurea pitchers using mass sequencing, reporting diversity of known key taxonomic groups especially showing a remarkable and previously under-appreciated diversity of ciliates, fungi and mites in these communities. The study also compares eukaryotic and prokaryotic composition of the same pitcher samples, indicating the more stochastic nature of eukaryotic recruitment and suggesting that bacterial recruitment is not entirely linked to eukaryotic prey capture. The comparison also indicates that despite some key bacterial taxa presence differences between pitchers, prey digestion functions in pitchers are relatively preserved or converge to achieve similar food web function. Hydrolytic enzyme activity regulation in pitcher plants was similar to that in other aquatic ecosystems (Young, Sielicki & Grothjan, 2018), and the microbial diversity represented in these 20–30 mL pitcher communities rivals that of larger aquatic ecosystems. Key emerging questions from this study include how recruitment of bacteria versus eukaryotes into pitchers is mediated.