A scalable discrete-time survival model for neural networks
1
Department of Radiation Oncology, Stanford University

,

Stanford

,

CA

,

United States of America
2
Department of Statistics, Stanford University

,

Stanford

,

CA

,

United States of America
Published

Accepted

Received
Academic Editor
Subject Areas

Keywords

Survival analysis

,

Neural networks

,

Machine learning
Copyright

©

2019

Gensheimer and Narasimhan

Licence

This is an open access article distributed under the terms of the Creative Commons Attribution License, which permits unrestricted use, distribution, reproduction and adaptation in any medium and for any purpose provided that it is properly attributed. For attribution, the original author(s), title, publication source (PeerJ) and either DOI or URL of the article must be cited.
Cite this article

2019

.

A scalable discrete-time survival model for neural networks

.

PeerJ

7

:

e6257

https://doi.org/10.7717/peerj.6257
Abstract
There is currently great interest in applying neural networks to prediction tasks in medicine. It is important for predictive models to be able to use survival data, where each patient has a known follow-up time and event/censoring indicator. This avoids information loss when training the model and enables generation of predicted survival curves. In this paper, we describe a discrete-time survival model that is designed to be used with neural networks, which we refer to as Nnet-survival. The model is trained with the maximum likelihood method using mini-batch stochastic gradient descent (SGD). The use of SGD enables rapid convergence and application to large datasets that do not fit in memory. The model is flexible, so that the baseline hazard rate and the effect of the input data on hazard probability can vary with follow-up time. It has been implemented in the Keras deep learning framework, and source code for the model and several examples is available online. We demonstrate the performance of the model on both simulated and real data and compare it to existing models Cox-nnet and Deepsurv.
Introduction
With the popularization of deep learning and the increasing size of medical datasets, there has been increasing interest in the use of machine learning to improve medical care. Several recent papers have described use of neural network or other machine learning techniques to predict future clinical outcomes (Rajkomar et al., 2018; Kwong et al., 2017; Miotto et al., 2016; Avati et al., 2017). The outcome measure is generally evaluated at one follow-up time point, and there is often little discussion of how to deal with censored data (e.g., patients lost to follow-up before the follow-up time point). This is not ideal, as information about censored patients is lost and the model would need to be re-trained to make predictions at different time points. Because of these issues, modern predictive models generally use Cox proportional hazards regression or a parametric survival model instead of simpler methods such as logistic regression that discard time-to-event information (Cooney, Dudina & Graham, 2009).
Several authors have described solutions for modeling time-to-event data with neural networks. These are generally adaptations of linear models such as the Cox proportional hazards model (Cox, 1972). Approaches include a discrete-time survival model with a heuristic loss function (Brown, Branford & Moran, 1997), a parametric model with predicted survival time having a Weibull distribution (Martinsson, 2016), and adaptations of the Cox proportional hazards model (Faraggi & Simon, 1995; Ching, Zhu & Garmire, 2018; Katzman et al., 2018). Most of the models assume proportional hazards (the effect of each predictor variable is the same at all values of follow-up time). This is not a very realistic assumption for most clinical situations. In the past, when models were typically trained using dozens or hundreds of patients, it was often not possible to demonstrate violation of proportional hazards. However, in the modern era of datasets of thousands or millions of patients, it will usually be possible to demonstrate violation of the proportional hazards assumption, either by plotting residuals or with a statistical test.
In this paper, we describe Nnet-survival, a discrete-time survival model that is theoretically justified, naturally deals with non-proportional hazards, and is trained rapidly by mini-batch gradient descent. It may be useful in several situations, especially when non-proportional hazards are known to be present, for very large datasets that do not fit in memory, or when predictor data is a good fit for a neural network approach (such as image or text data). We have published source code for the use of the model with the Keras deep learning library, which is available at http://github.com/MGensheimer/nnet-survival.
Results
Simulated data
Simple model with one predictor variable
We tested a simple survival model with one binary predictor variable and no hidden layers. The calibration curves for the two groups of patients are shown in Fig. 3. It can be seen that calibration is excellent: the actual and predicted survival curves are superimposed.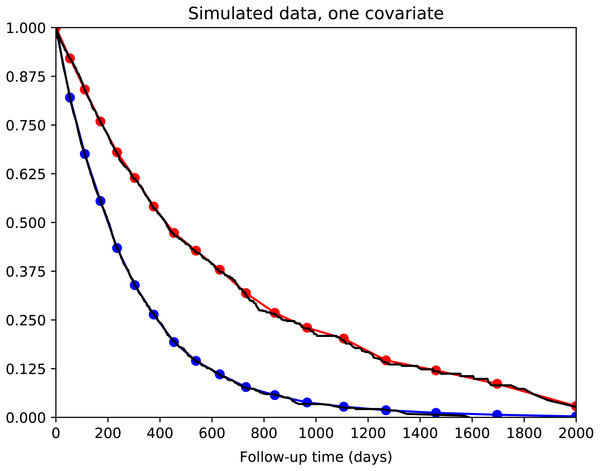 Model convergence was found to be reliable. The model was optimized repeatedly with different random starting weights and converged to very similar final loss/likelihood values.
Optimal width of time intervals
The discrimination performance of the survival model was robust to various choices of time interval width and configuration (constant width, or increasing width with increasing follow-up time). For each of the four time interval options, discrimination performance was identical with C-index of 0.66.
Convolutional neural network for MNIST dataset
We used the MNIST dataset of handwritten digits to simulate a scenario where each patient has an X-ray image of a tumor, and survival time distribution depends on the appearance of the tumor. Digits 0 through 4 were used, with lower digits having longer median survival. The model's task was to accurately predict survival time for each patient. There were 30,596 images in the training set used to train the model's weights, and 5,139 in the test set used to evaluate model performance.
The Nnet-survival model produced good performance. C-index for the test set was 0.713, compared to 0.770 for a "perfect" model that used the true digit as the predictor variable. Calibration was excellent, as seen in Fig. 4.
Support study (real data)
Four survival models (Nnet-survival, Cox-nnet, Deepsurv, and a standard Cox proportional hazards model) were tested using the SUPPORT study dataset of 9,105 hospitalized patients.
We found that several predictor variables violated the proportional hazards assumption of the standard Cox model, with an example given in Fig. 5. This provides an opportunity for our Nnet-survival model to have improved calibration compared to the other three models.
All models were trained/fit using the 70% of patients in the training set (n = 6,373). Then, performance was measured using the remaining 30% of patients in the test set (n = 2,732). Discrimination performance was very similar for all models, with test set C-index around 0.73 (Table 1). Table 1 also shows calibration performance as measured by the Brier score (lower is better). Nnet-survival had the best calibration performance at all three follow-up time points, though the differences were fairly small. Calibration was also assessed visually using calibration plots (Fig. 6). Our Nnet-survival model appeared to have the best calibration at the 6 month and 1 year time points, with Cox-nnet and the standard Cox model tending to under-predict survival probability for the best-prognosis patients.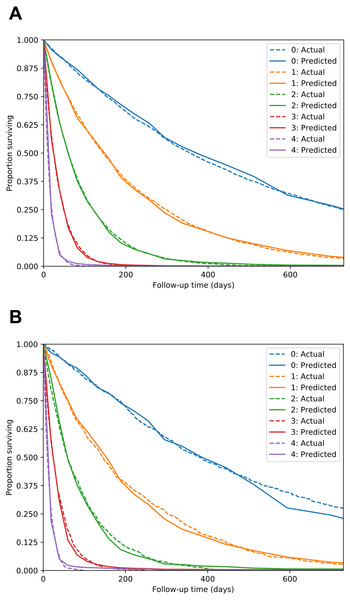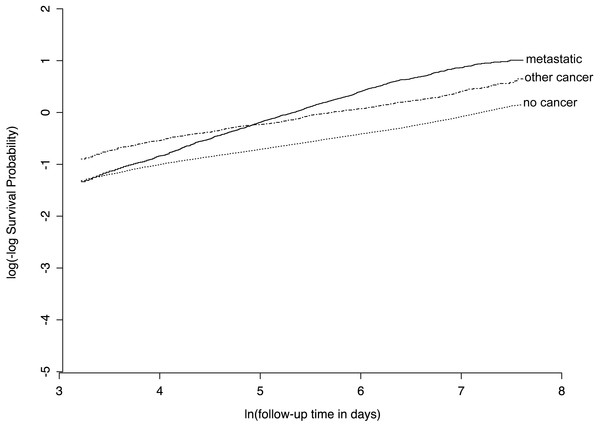 | Model | C-index | Brier score: 6 months | Brier score: 1 year | Brier score: 3 years |
| --- | --- | --- | --- | --- |
| Nnet-survival | 0.732 | 0.181 | 0.184 | 0.177 |
| Cox-nnet | 0.735 | 0.183 | 0.185 | 0.177 |
| Deepsurv | 0.730 | 0.184 | 0.187 | 0.179 |
| Cox PH | 0.734 | 0.183 | 0.186 | 0.178 |

We compared running time of the three neural network models for various training set sizes, with results shown in Fig. 7. Simulated datasets of size 1,000 to 1,000,000 were created by sampling from the SUPPORT study dataset with replacement. Each model was run for 1,000 epochs. For sample sizes of 100,000 and higher, the Cox-nnet model ran out of memory on a computer with 32 GB memory; therefore, for this model running times could only be calculated for sample sizes of 1,000 to 31,622.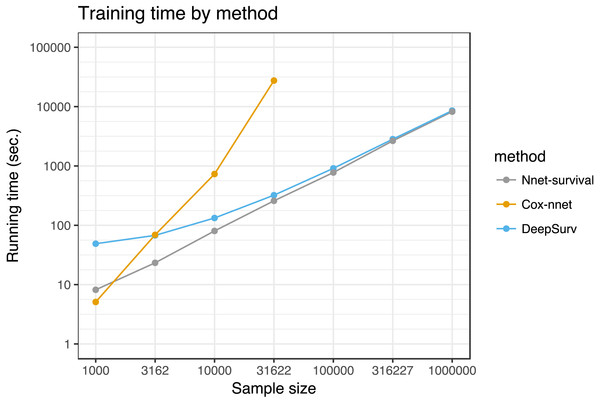 Discussion
We presented Nnet-survival, a discrete-time survival model for neural networks. It is theoretically justified since the likelihood function is used as the loss function, and naturally incorporates non-proportional hazards. Because it is a parametric model, it can be trained with mini-batch gradient descent as the likelihood/loss depends only on the patients in the current mini-batch. This enables fast training, use on datasets that do not fit in memory, and can avoid the network getting stuck in a local minimum of the loss function (Bottou, 1991). This is in contrast to models based on the Cox proportional hazards model such as Cox-nnet (Ching, Zhu & Garmire, 2018) and Deepsurv (Katzman et al., 2018), which require the entire training set to be used for each model update (batch gradient descent). The Nnet-survival model can be applied to a variety of neural network architectures, including multilayer perceptrons and convolutional neural networks.
In our experiments, the model performed well on both simulated and real datasets. It was challenging to find a publicly available dataset that would potentially highlight the advantages of the model. Ideally, such a dataset would have large sample size, predictor data such as images or text that are well-suited to neural networks, and time-to-event outcome data. Since no such dataset was available to our knowledge, we used the SUPPORT study dataset of 9,105 hospitalized patients, which has moderate sample size and time-to-event outcome data, but has low-dimensional predictor data that may not result in a benefit from a neural network approach. For this dataset, our model's discrimination and calibration performance was similar to several other neural network survival models and a traditional Cox proportional hazards model. In running time tests, its running time was similar to Deepsurv (Katzman et al., 2018) and better than Cox-nnet (Ching, Zhu & Garmire, 2018) for sample sizes >1,000. Interestingly, Cox-nnet ran out of memory for larger dataset sizes, because it stores an n by n matrix where n is the sample size (variable name R_matrix_train in the Cox-nnet code).
While our model has several advantages and we think it will be useful for a broad range of applications, it does has some drawbacks. The discretization of follow-up time results in a less smooth predicted survival curve compared to a non-discrete parametric survival model such as a Weibull accelerated failure time model. As long as a sufficient number of time intervals is used, this is not a large practical concern—for instance, with 19 intervals the curves in Fig. 6 appear very smooth. Unlike a parametric survival model, the model does not provide survival predictions past the end of the last time interval, so it is recommended to extend the last interval past the last follow-up time of interest.
The advantages of parametric survival models and our discrete-time survival model could be combined in the future using a flexible parametric model, such as the cubic spline-based model of Royston and Parmar, implemented in the flexsurv R package (Royston & Parmar, 2002; Jackson, 2016). Complex non-proportional hazards models can be created in this way, and likely could be implemented in deep learning packages.
Conclusions
Our discrete-time survival model allows for non-proportional hazards, can be used with stochastic gradient descent, allows rapid training time, and was found to produce good discrimination and calibration performance with both simulated and real data. For these reasons, it may be useful to medical researchers.