Conservation implications of primate trade in China over 18 years based on web news reports of confiscations
1
College of Animal Sciences and Technology, Sichuan Agricultural University

,

Chengdu, Sichuan

,

China
2
Nocturnal Primate Research Group, Oxford Brookes University

,

Oxford

,

UK
3
College of Life Sciences, Sichuan Agricultural University

,

Yaan, Sichuan

,

China
Published

Accepted

Received
Academic Editor
Subject Areas

Keywords

Rescuing

,

Welfare

,

Recognition

,

Mass media

,

Spatial variation
Copyright

©

2018

Ni et al.

Licence

This is an open access article distributed under the terms of the Creative Commons Attribution License, which permits unrestricted use, distribution, reproduction and adaptation in any medium and for any purpose provided that it is properly attributed. For attribution, the original author(s), title, publication source (PeerJ) and either DOI or URL of the article must be cited.
Cite this article

2018

.

Conservation implications of primate trade in China over 18 years based on web news reports of confiscations

.

PeerJ

6

:

e6069

https://doi.org/10.7717/peerj.6069
Abstract
Primate species have been increasingly threatened by legal and illegal trade in China, mainly for biomedical research or as pets and traditional medicine, yet most reports on trade from China regard international trade. To assess a proxy for amount of national primate trades, we quantified the number of reports of native primate species featuring in unique web news reports from 2000 to 2017, including accuracy of their identification, location where they were confiscated or rescued, and their condition upon rescue. To measure temporal trends across these categories, the time span was divided into three sections: 2000–2005, 2006–2011 and 2012–2017. A total of 735 individuals of 14 species were reported in 372 news reports, mostly rhesus macaques (n = 165, 22.5%, Macaca mulatta) and two species of slow lorises (n = 487, 66.3%, Nycticebus spp.). During the same period, live individuals of rhesus macaques were recorded 206 times (70,949 individuals) in the Convention on International Trade in Endangered Species of Wild Fauna and Flora Trade Database, whereas slow lorises were only recorded four times (nine individuals), indicating that the species originated illegally from China or were illegally imported into China. Due to their rescued locations in residential areas (n = 211, 56.7%), most primates appeared to be housed privately as pets. A higher proportion of 'market' rescues during 2006–2011 (χ2 = 8.485, df = 2, p = 0.014), could be partly attributed to an intensive management on wildlife markets since the outbreak of severe acute respiratory syndrome (SARS) in 2003. More than half (68.3%, 502 individuals) of the primate individuals were unhealthy, injured or dead when rescued. Thus, identification and welfare training and capacity-building should be provided to husbandry and veterinary professionals, as well as education to the public through awareness initiatives. The increase in presence of some species, especially slow lorises, with a declining population in restricted areas, also suggests the urgent need for public awareness about the illegal nature of keeping these taxa as pets.
Introduction
Hundreds of wild animal species are traded both legally and illegally to satisfy the market for exotic pets (Bush, Baker & Macdonald, 2014). Many of these species are native to tropical areas where catching them in the wild is economically more viable than captive breeding (Rosen & Smith, 2010). Although international trade is becoming widely documented (Da Silva et al., 2016; Reuter & Schaefer, 2016; Nijman et al., 2017), many exotic species are captured for the national pet trade, remaining in their countries of origin. The incidence of this trade is much more poorly documented as official recording mechanisms, such as CITES (Convention on International Trade in Endangered Species of Wild Fauna and Flora) Trade Database (UNEP World Conservation. Monitoring Centre, Cambridge, UK), are lacking, and often enforcement is limited. Illegal trade undermines the efforts of developing nations to manage their natural resources (Rosen & Smith, 2010). Unsustainable harvest of wild animals for the pet trade has already led to population decline and collapse of many species (Da Silva et al., 2016; Svensson et al., 2016). In addition, individuals in the illegal market are often handled and transported under appalling conditions, creating an animal welfare concern (Reuter & Schaefer, 2016; Fuller et al., 2017).
Wildlife trade is a growing concern for primates, a group of long-lived and slow-reproducing species. They are traded for consumption; biomedical research; for zoos, wildlife collections and the entertainment industry (Kavanagh, 1983; Nijman, 2005); as pets; for the sale of body parts (bodies, skins, hair and skulls) used in traditional medicine; as talismans and trophies; and for magical purposes (Alves, Souto & Barboza, 2010; Nijman et al., 2011). The CITES Trade Database from 2005 to 2014 reported a global primate trade of some 450,000 live individuals plus an additional 11,000 body parts. More than 430,000 individuals (93%) in this trade are Asian species (Estrada et al., 2017), and thus Southeast Asia is considered as a primate trade hotspot (Nijman, 2010; Rosen & Smith, 2010).
China is the second-most primate diverse country in Asia and nine species are considered endemic (Roos et al., 2014). In recent years, people's demand for wild animal products has grown substantially with the development of a consumer economy, and thus, China has become one of the world's largest consumers of wildlife products (Zhang, Hua & Sun, 2008). Primate trade of 537,480 live individuals was reported in China from 1975 to 2017 based on the CITES Trade Database. Eleven native primate species, including four macaques (Macaca spp.), two colobus (Trachypithecus spp.), two slow lorises (Nycticebus spp.) and three gibbons (Hylobates spp., Hoolock spp. and Nomascus spp.), were reported as having been illegally trafficked in China (Li et al., 2010; Hu et al., 2011; Gao, Ma & Wang, 2012; Yin, Yu & Peng, 2016).
China became CITES contracting party in 1981, requiring all internationally traded CITES-listed species to be accompanied by valid permits or certificates. The Law of Wild Animals Protection of the People's Republic of China, 1 March 1989 forbids the hunting, killing, trade, import or export of wild animals classified as rare or endangered unless under special circumstances (Li & Wang, 1999). Primates, except for newly described species, are included in the Red List of China's Vertebrates Designated for Legal Protection (Table 1).
Species
Chinese name
Key items for searching
Conservation statusb
No. of rescuing events (individuals)
IUCN
CITES
NPWAs
2000–2005
2006–2011
2012–2017
Nycticebus bengalensis
蜂猴
'懒猴' or '蜂猴'
VU
I
I
19(30)
68(139)
91(160)
N. pygmaeus
倭蜂猴
'懒猴' or '蜂猴'
VU
I
I
11(46)
29(51)
40(61)
Macaca mulatta
猕猴
'猕猴'
LC
II
II
1(1)
6(20)
50(144)
M. cyclopis
台湾猕猴
'猕猴'
LC
II
I
0
0
5(7)
M. leucogenys
白颊猕猴
'猕猴'
VU
–
–
0
0
0
M. leonina
北豚尾猴
'豚尾猴' or '平顶猴'
VU
II
I
0
0
2(6)
M. munzala
达旺猴
'达旺猴'
EN
II
–
0
0
0
M. assamensis
熊猴
'熊猴'
NT
II
I
0
1(1)
7(7)
M. thibetana
藏酋猴
'藏酋猴' or '藏猕猴'
NT
II
II
0
1(1)
13(15)
M. arctoides
短尾猴
'短尾猴' or '红面猴'
VU
II
I
0
2(2)
10(11)
Rhinopithecus roxellana
川金丝猴
'金丝猴' or '仰鼻猴'
EN
II
I
1(1)
2(2)
4(6)
R. bieti
滇金丝猴
'金丝猴' or '仰鼻猴'
EN
II
I
1(1)
0
1(1)
R. brelichi
黔金丝猴
'金丝猴' or '仰鼻猴'
EN
II
I
0
0
0
R. strykeri
缅甸金丝猴
'金丝猴' or '仰鼻猴'
CR
I
–
0
0
0
Semnopithecus schistaceus
长尾叶猴
'长尾叶猴'
LC
I
I
0
0
1(2)
Trachypithecus shortridgei
萧氏叶猴
'叶猴'
EN
I
I
0
0
0
T. pileatus
带帽叶猴
'叶猴'
VU
I
I
0
0
0
T. phayreia
菲氏叶猴
'叶猴'
EN
II
I
0
0
0
T. crepusculusa
印支灰叶猴
'叶猴'
EN
II
I
0
0
0
T. poliocephalus
白头叶猴
'叶猴'
CR
II
I
0
0
0
T. francoisi
黑叶猴
'叶猴'
EN
II
I
1(1)
2(2)
1(14)
Hoolock tianxing
高黎贡白眉长臂猿
'长臂猿'
CR
–
–
0
0
1(1)
Hylobates lar
白掌长臂猿
'长臂猿'
EW
I
I
0
0
1(2)
Nomascus leucogenys
北白颊长臂猿
'长臂猿'
EW
I
I
0
0
0
N. nasutus
东黑冠长臂猿
'长臂猿'
CR
I
I
0
0
0
N. concolor
西黑冠长臂猿
'长臂猿'
CR
I
I
0
0
0
N. hainanus
海南长臂猿
'长臂猿'
CR
I
I
0
0
0
a
The two species shared the same data since they were separated recently.
b
Conservation status. IUCN red list category: CR, critically endangered; EN, endangered; VU, vulnerable; NT, near threatened; LC, least concern; EW, extinct in the wild; CITES Appendix I and II; NPWAs, National Protected Wild Animals Category I and II.
Mass media is one of the principal arenas within which issues come to the attention of decision makers, interest groups and the public (Barua, 2010). Media attention promotes conservation of primates, along with the Internet gaining importance in global wildlife trade and changing perceptions towards threatened species (Nekaris & Campbell, 2012; Roberge, 2014). Public knowledge concerning wildlife conservation can be quantified by analyzing comments and associated data posted online. Here, we aimed to measure the number of species of traded primates in news reports found by or surrendered to authorities in China, and examine trends over time and differences among regions. Furthermore, we examined public statements in the reports to evaluate how well the public could identify species in comparison with official identification in these same reports; if members of the public knew whether or not species were threatened; and also evaluated health and welfare status of the rescued or confiscated animals. These data are critical to recognize the magnitude and diversity of illegally traded primates in China, and generate suggestions for management strategies and law enforcement.
Methods
To reveal temporal variations in trade of native primate species in China, we used purposive sampling (Newing et al., 2011) to collect rescue or confiscation related news online. We considered rescuing or confiscating to be descriptions of primates surrendered to or confiscated by the authorities, hereafter referred to as rescue events. We conducted the searches in February 2018 and limited the period from 1st January 2000 to 31st December 2017, in three popular Chinese Web 2.0 search engines: Baidu, 360 and Bing. Baidu, especially, is by far the largest search engine in China, fulfilling a similar function to Google. Based on the Chinese name of each species, we entered manually the simplified Chinese key terms into each search engine (Table 1). We used '新闻'(news) category to select news articles and filtered the articles related to rescue events using keywords '救护' (rescue) or '查获' (seize) or '没收' (confiscate). Given the effects of search engine algorithms and previous search history on the results, we expected the potential bias could be reduced by cross validation of the three search engines. We combined all the news reports and excluded repetitive news based on date, site and media source.
Each report included various identification of the species included in the rescue event. These identifications were made by the public (public recognition), or an official who carried out the rescuing event, which was considered the official identification (Fig. 1). We categorized the public recognition as unrecognized; primate (but not to species); or species level identification (Table 2). Based on information provided in the news reports, especially photographs, we assessed the taxonomic status to compare with the official identification. Frequency in different categories of public recognition and accuracy of official identification were used as proxies for public knowledge. We followed the primate taxonomy as listed in The Handbook of the Mammals of the World, Volume 3 (Primates), and original accounts for two taxa not included in that resource (M. leucogenys—Li, Zhao & Fan, 2015; Hoolock tianxing—Fan et al., 2017).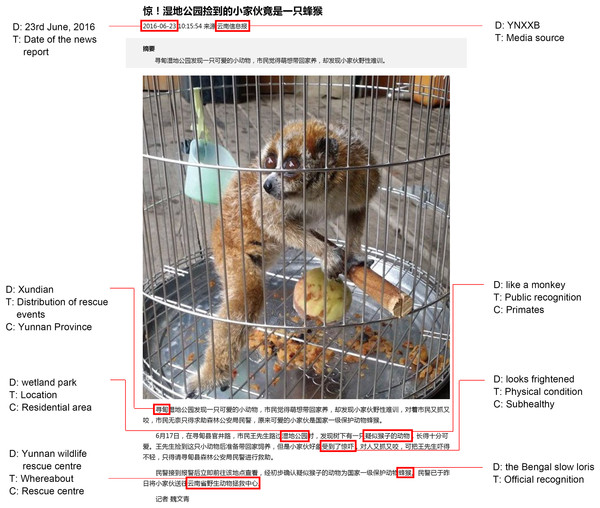 Type
Category
Descriptions in the reports
Physical conditions
Healthy
'Lively', 'healthy', 'normal physical', 'have a good mental condition', 'No injuries and normal eating'
Unhealthy
'Hair loss', 'dermatopathya', 'unmoved, shivering, or full of fear', 'weak', 'undernourished'
Injured
Visible wounds on the body
Dead
Died during rescuing; corpse
Public recognition
Species
Mention its Chinese name
Primate
'Like a monkey'
Unrecognized
'Animal' 'can't recognize'
Whereabouts
Zoo
Be sent to a zoo or park
Wildlife rescue centre
Be sent to a wildlife rescue centre
Wild
Release to a nature reserve, forest area or suitable habitat area
Unreported
No related statements
Location
Field
On the tree or ground near the forest
Residential area
In the building or on the road of residential area
Transporting
In the process of transportation, such as vehicles
Market
Bird and flower market, agricultural markets, or pet shops
We collected information in each news report on date of rescue or confiscation, number of individuals, location of rescue (e.g. field, market, residential area or transporting vehicles), physical condition of rescued individuals (e.g. healthy, unhealthy, injured or dead), and whereabouts of the individuals after being rescued (e.g. zoo, wildlife rescue centre, released into wild, or unreported) (Table 2; Fig. 1). China's primates are naturally distributed in 21 of 34 provincial-level administrative units (PLAUs), with four provinces in west and southwest China (Yunnan = 15 species, Guangxi = eight species, Tibet = eight species, Guizhou = six species), containing the highest diversity (Fig. 2A). We also recorded provinces where news was/had been reported to determine distribution of rescuing (Fig. 1).

For an overview of international trade, we examined data from the CITES Trade Database, which provided all records of import, export and re-export of CITES-listed species. The data were downloaded in May 2018 and 'year range' were limited from 2000 to 2016 with 2016 being the last year for which data were available. We searched live (LIV) animals in Order Primates traded with all sources and purposes, and focused on 27 indigenous primate species in China (Table 1). The data implicating China as importer and exporter were combined to obtain number of individuals traded per year for each species.
We divided the time span from 2000 to 2017 into three sections: 2000–2005, 2006–2011 and 2012–2017, and used the Kruskal–Wallis non-parametric test to examine variations over periods in rescuing frequency. To measure temporal trends of public knowledge about primate conservation, Kruskal–Wallis test was also used to compare the proportion of each description category in three time sections towards those species which were reported in more than 6 years. We calculated the Shannon–Wiener Index () and Pielou Index (E = H / ln S) for each year to evaluate diversity and evenness of primates reported, where S = total number of species recorded in a given year, pi = the proportion of individuals belonging to ith species. Spearman's Rank Correlation Coefficient was used to analyse annual variations of diversity and evenness. All the tests were two-tailed and a threshold for significance was p < 0.05.
Results
Temporal variations of primate rescuing frequency in China
We filtered 372 valid news reports based on the topics of rescuing and confiscation, including 735 individuals of 14 primate species (Table 1; Fig. 3). The Bengal slow loris (Nycticebus bengalensis) was the most reported species with 329 (44.8%) individuals, followed by the rhesus macaque (M. mulatta, 165 individuals, 22.5%) and the pygmy slow loris (N. pygmaeus, 158, 21.5%), while 13 of 27 primate species distributed in China were never reported (Fig. 3). We recorded rescue events of Bengal and pygmy slow lorises every year during the 2000–2017 period. Rhesus macaque rescue events were reported in 10 years (2005, 2007, 2010–2017) and the Tibetan macaque (M. thibetana) in recent 7 years (2011–2017). The rescue news related to other species, however, was individually reported in no more than 6 years. The diversity index increased significantly over time (Spearman's rank Correlation Coefficient, ρ = 0.862, p < 0.001, N = 18), as well as evenness (ρ = 0.488, p = 0.040, N = 18). Primate rescue frequency tended to increase during the last 6 years from 2012 to 2017 (Fig. 4A) while number of news reports specifically on slow lorises fluctuated between years (Fig. 4B).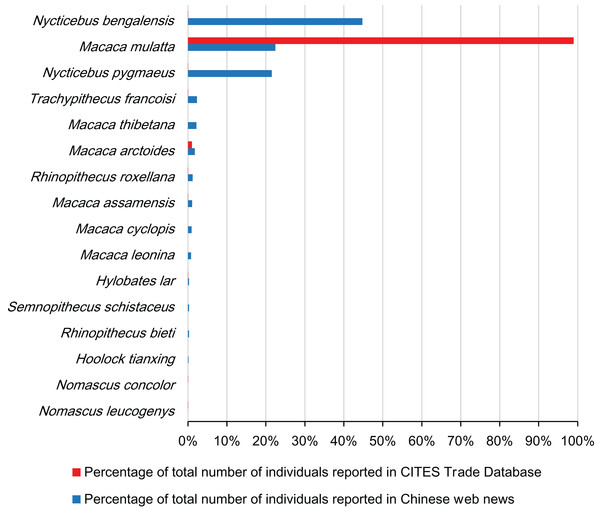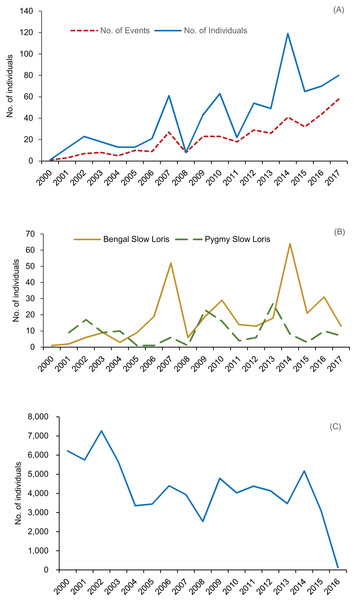 Comparatively, an average of 4,219 ± 1,618 live individuals of native primate species per year, including ten species in total, were recorded in CITES Trade Database from 2000 to 2016 (Fig. 4C). The rhesus macaque contributed most of these internationally traded individuals (70,949, 98.6%, 206 records), followed by the stump-tailed macaque (M. arctoides, 726, 1.0%, three records). Nine individuals (four records) of slow lorises and none of Tibetan macaques and were reported in CITES Trade Database over the studied period.
Location and provincial distribution of rescuing news reports
Among 372 rescue events recorded, 211 (56.7%) reports were located in residential areas, followed by 70 (18.8%) in wild areas, 54 (14.5%) during transporting and 37 (9.9%) in the market. The proportion of market rescues was significantly higher in 2006–2011 than the other time sections but fewer individuals were rescued from markets in 2000–2005 based on the reports (χ2 = 8.485, df = 2, p = 0.014), especially for Bengal slow lorises (χ2 = 11.832, df = 2, p = 0.003) and rhesus macaques (χ2 = 9.544, df = 2, p = 0.008).
Primate rescuing news covered more than 190 counties in 29 PLAUs throughout China (Fig. 2B), with a considerable proportion of rescuing events (130, 36.9%) taking place in Yunnan province, followed by Guangdong (33, 9.4%) and Guangxi (26, 7.4%). The rescuing news related to slow lorises occurred in 26 PLAUs (Fig. 2C), while rhesus macaques rescues was reported in 21 PLAUs, and other species were not individually reported in more than seven PLAUs. It is noteworthy that data from Taiwan (4), Hong Kong (1) and Macau (0) were limited due to unpopular use of simplified Chinese.
Physical conditions and whereabouts of individuals rescued
We found that more than half (68.3%, 502 individuals) of the primate individuals were unhealthy, injured or dead when rescued. Of 105 individuals whose injuries were specified, most (40, 38.1%) were suffering from leg wounds. The proportion of healthy individuals rescued was significantly lower in 2006–2011 than the other two time periods (χ2 = 6.140, df = 2, p = 0.046).
The percentage of healthy individuals varied significantly over time in Bengal slow lorises (χ2 = 6.579, df = 2, p = 0.037) and Tibetan macaques (χ2 = 9.563, df = 2, p = 0.008), as well as the percentage of injured individuals in pygmy slow lorises (χ2 = 8.503, df = 2, p = 0.014), rhesus macaques (χ2 = 8.812, df = 2, p = 0.012) and Tibetan macaques (χ2 = 9.563, df = 2, p = 0.008). The whereabouts of the individuals after being rescued were often unreported (116, 31.2%), followed by 'wildlife rescue centre' (91, 24.5%), field (86, 23.1%) and zoo (79, 21.2%).
Species recognition
The individuals in nearly half of rescuing events (158, 42.5%) were recognized as primates by the public, and the individuals in 112 events (30.1%) were recognized as a specific species (Table 3). The public could not recognized the animals or referred to primates in 102 events (27.4%). The public recognitions of the Bengal slow loris was consistent with the pygmy slow loris over the three time periods. The proportion of rescuing events in which the individuals could be recognized to a species level by the public varied over time for the rhesus macaque (χ2 = 6.733, df = 2, p = 0.035) and the recognition percentage of individuals identified as 'primates' varied significantly for the Tibetan macaque (χ2 = 9.389, df = 2, p = 0.009).
Species
Public recognition
Official recognition
Species
Primates
Unrecognized
Correct
Incorrect
Nycticebus bengalensis
68
42
68
85
0
Nycticebus pygmaeus
30
20
30
26
26
Macaca leonina
2
1
1
Macaca mulatta
9
46
2
41
3
Macaca assamensis
1
7
6
0
Macaca cyclopis
5
4
0
Macaca thibetana
12
2
6
2
Macaca arctoides
12
9
0
Rhinopithecus roxellana
1
6
4
0
Rhinopithecus bieti
1
1
1
0
Semnopithecus schistaceus
1
0
0
Trachypithecus francoisi
4
3
0
Hylobates lar
1
1
0
Hoolock tianxing
1
1
0
The official recognition was reported to species level in all of the news reports, but species in 14.5% (32/220) of news including photos were incorrectly identified (Table 3). The pygmy slow loris, which was usually recognized as the Bengal slow loris, contributed most (26/32, 81.3%) to these wrong identifications. All the other incorrect identifications (6) were related to species of Genus Macaca (Table 3), especially for rhesus macaques (3) and Tibetan macaques (2).
Conclusion
We have presented a novel data on primate trade within China based on web news reports regarding rescuing or confiscating. The results indicate that some native primate species, particularly Bengal and pygmy slow lorises, are threatened by domestic illegal trade, which appears to be 'unrecognized' in official channels, and lack of public knowledge impedes efforts to conserve these species effectively. In spite of potential bias in search results caused by search engine algorithms and manual filtering, and lack of the firsthand data from authorities, zoos or wildlife rescue centres, we expect that this study could facilitate the initial steps to raise public awareness on primate trade in China, especially for slow lorises.
Supplemental Information
Reports on gross exports of primates implicating China from 1975 to 2016 in CITES Trade Database.
Reports on gross imports of primates implicating China from 1975 to 2016 in CITES trade database.
Statistics of web news reports regarding rescuing or confiscating of native primate species in China.