Combining ultraconserved elements and mtDNA data to uncover lineage diversity in a Mexican highland frog (Sarcohyla; Hylidae)
1
Moore Laboratory of Zoology, Occidental College

,

Los Angeles

,

CA

,

United States of America
3
Ann Arbor

,

MI

,

United States of America
Published

Accepted

Received
Academic Editor
Subject Areas

Keywords

Genomics

,

Population genetics

,

Phylogeography

,

Phylogenetics

,

Systematics

,

Species limits

,

Hylinae

,

Biodiversity

,

Mexico
Copyright

©

2018

Zarza et al.

Licence

This is an open access article distributed under the terms of the Creative Commons Attribution License, which permits unrestricted use, distribution, reproduction and adaptation in any medium and for any purpose provided that it is properly attributed. For attribution, the original author(s), title, publication source (PeerJ) and either DOI or URL of the article must be cited.
Cite this article

2018

. Combining ultraconserved elements and mtDNA data to uncover lineage diversity in a Mexican highland frog (Sarcohyla; Hylidae)

PeerJ

6

:

e6045

https://doi.org/10.7717/peerj.6045
Abstract
Molecular studies have uncovered significant diversity in the Mexican Highlands, leading to the description of many new endemic species. DNA approaches to this kind of species discovery have included both mitochondrial DNA (mtDNA) sequencing and multilocus genomic methods. While these marker types have often been pitted against one another, there are benefits to deploying them together, as linked mtDNA data can provide the bridge between uncovering lineages through rigorous multilocus genomic analysis and identifying lineages through comparison to existing mtDNA databases. Here, we apply one class of multilocus genomic marker, ultraconserved elements (UCEs), and linked mtDNA data to a species complex of frogs (Sarcohyla bistincta, Hylidae) found in the Mexican Highlands. We generated data from 1,891 UCEs, which contained 1,742 informative SNPs for S. bistincta and closely related species and captured mitochondrial genomes for most samples. Genetic analyses based on both whole loci and SNPs agree there are six to seven distinct lineages within what is currently described as S. bistincta. Phylogenies from UCEs and mtDNA mostly agreed in their topologies, and the few differences suggested a more complex evolutionary history of the mtDNA marker. Our study demonstrates that the Mexican Highlands still hold substantial undescribed diversity, making their conservation a particularly urgent goal. The Trans-Mexican Volcanic Range stands out as a significant geographic feature in Sarcohyla and may have acted as a dispersal corridor for S. bistincta to spread to the north. Combining multilocus genomic data with linked mtDNA data is a useful approach for identifying potential new species and associating them with already described taxa, which will be especially important in groups with undescribed subadult phenotypes and cryptic species.
Introduction
The Mexican Highlands are a global biodiversity hotspot (Myers et al., 2000). Recent molecular studies have uncovered significant diversity in the Mexican Highlands, leading to the description of new endemic species or the elevation of former subspecies to species rank (McCormack et al., 2008; Bryson Jr et al., 2010; Bryson et al., 2011; Bryson Jr, García-Vázquez & Riddle, 2012a; Bryson, García-Vázquez & Riddle, 2012b; Rovito et al., 2015; Campbell et al., 2018). At the same time, habitat loss threatens many of these species before they have even been described (Ponce-Reyes et al., 2012). Amphibians are particularly sensitive to habitat alterations, and many are threatened by habitat loss and invasive diseases (Stuart et al., 2008). Because most amphibians have reduced dispersal, they also show strong patterns of microendemism (Parra-Olea, Flores-Villela & Mendoza-Almeralla, 2014), meaning that important pockets of diversity and new species are still being uncovered in the Mexican Highlands (Meik et al., 2006; Campbell, Blancas-Hernández & Smith, 2009; Bryson Jr et al., 2018; Caviedes-Solis & Leaché, 2018).
The genus Sarcohyla, which is considered distinct from Plectrohyla by some authors to reflect those species west of the Isthmus of Tehuantepec (Duellman, Marion & Hedges, 2016), contains 24 species of stream-dwelling frogs, many of them critically endangered. Many species have never been seen after their original discovery (Stuart et al., 2008), and some are thought to be in serious decline or extinct (Lips et al., 2004). The actual number of species in the genus, their relationships, and geographic ranges are not well known (Duellman, 2001; Faivovich et al., 2009; Duellman, Marion & Hedges, 2016).
The species S. bistincta is the most broadly distributed member of the genus (Figs. 1A, 1B). It occurs in several mountain ranges in central Mexico separated by lowland barriers and might therefore consist of multiple distinct lineages or even species. Studies of many broadly distributed highland species across this region have revealed cryptic lineages (McCormack et al., 2008; Bryson et al., 2011; Leaché et al., 2013; Navarro-Sigüenza, García-Hernández & Peterson, 2013; Mastretta-Yanes et al., 2015; Bryson Jr et al., 2017), some later described at the species level. Amphibians, it seems, are especially prone to under-splitting in the Mexican Highlands (Rovito et al., 2012; Rovito et al., 2013; Bryson Jr et al., 2018).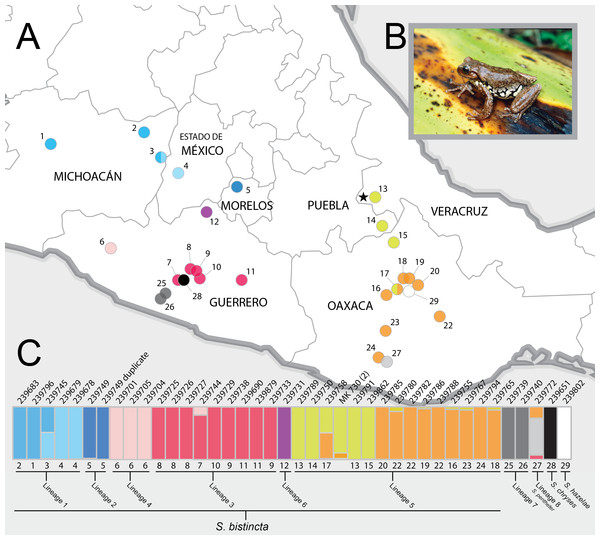 We assess lineage diversity in S. bistincta using multilocus genomic markers collected via next-generation sequencing (NGS) and mitochondrial DNA (mtDNA). Often, mtDNA and multilocus nuclear markers have been pitted against one another in biodiversity discovery (Moritz & Cicero, 2004; Zink & Barrowclough, 2008; Edwards & Bensch, 2009). Mitochondrial DNA offers many benefits, including economy, efficiency, and wide comparative potential across species and studies (Avise, 1998; Zink & Barrowclough, 2008). Consequently, there is now a vast trove of mtDNA sequences on GenBank. A drawback of using only mtDNA is that a single marker will often fail to accurately depict the speciation process (Moritz & Cicero, 2004; Edwards & Bensch, 2009). In response, multilocus methods have multiplied (Edwards, 2009; Fujita et al., 2012). While multiple loci help model a more realistic speciation process, multilocus studies suffer from the lack of a standardized marker set, which limits the ability to link uncovered lineages with species already identified and described in prior studies and in public databases (Coissac et al., 2016). This is especially important in groups with multiple subadult phenotypes (e.g., insects and frogs) and where adult phenotypes are conserved across species. While many studies have used both types of markers, it is increasingly uncommon in the genomic era to explore the benefits of linked mtDNA and NGS data at the level of the individual for lineage discovery and identification.
Our main goal was to use broad sampling within S. bistincta to uncover as many distinct genetic lineages as possible and determine their relationships to one another, which could inform later efforts to delimit them as species. We did not attempt to delimit species in the genetic sense because species delimitation and description is best done with integrative taxonomy using multiple sources of data in addition to DNA (Fujita et al., 2012; Leache et al., in press). For our markers, we used ultraconserved elements (UCEs). UCEs have been useful for deep-level systematics (Faircloth et al., 2012), but their utility at shallower scales around the species level is still coming into focus (Smith et al., 2014; McCormack, Tsai & Faircloth, 2016; Zarza et al., 2016). An added benefit of the UCE enrichment process (and all sequence capture methods) is that whole mtDNA genomes are often captured as off-target "bycatch" (Do Amaral et al., 2015), meaning individuals can end up with linked nuclear and mtDNA data (e.g., Zarza et al., 2016). Thus, our final goal was to determine if linked mtDNA data allowed for any further conclusions than those afforded by the UCEs alone.
Results
NGS summary statistics
Detailed summary statistics for each of the 40 individuals are described in Table S1. ABySS produced longer contigs than Trinity, and a higher number of UCE loci, so we used ABYSS contigs in all downstream analyses. Reads per sample ranged from 17,052 to 3,423,330 with an average of 1,185,165 reads. The number of identified UCEs ranged from 381 to 2,444 with an average of 1,976 UCEs. The mean length of individual UCE loci per individual ranged from 222 to 717 bp with an average of 522 bp. On average, 18% of the assembled contigs corresponded to unique UCE loci.
For SNP calling, across all samples, 9% of the trimmed reads mapped to our designated reference individual. SNP read depth ranged from 2.4 to 35.0 with an average depth of 21.2. The recalibration and quality control steps resulted in an initial matrix of 16,578 SNPs. After removing non-biallelic loci, selecting one SNP for every UCE, and allowing 25% missing data, there were 1,742 SNPs left in the STRUCTURE data set, while the 100% complete data matrix for SNAPP contained 399 SNPs.
Structure analysis
As expected, the first run of STRUCTURE at K = 4 split the two outgroup species into distinct clusters and split the remaining individuals into two clusters. Further analysis of each cluster at K = 2 revealed 10 genetic clusters, identified with different colors and gray values in Fig. 1C (not including the white and black outgroups). There was a clear geographic component to population structure meaning that nearby individuals were assigned to similar clusters and most individuals did not share assignment among clusters, with the exception of two individuals (one in the Trans-Mexican Volcanic Belt and one in the Oaxacan Highlands) that showed evidence for connectivity among clusters.
UCE phylogeny from concatenated data
The ML tree of the 40 samples was based on 1,891 UCE loci and 1,038,600 bp and recovered the presence of three main and well supported clades on relatively long branches, which corresponded to collections of genetic clusters from the Structure analysis: (1) a clade distributed across the Trans-Mexican Volcanic Belt (shaded blue in figures); (2) a clade inhabiting two disjunct areas along the coastal slopes of the Sierra Madre del Sur in Guerrero and Oaxaca (shaded gray); and (3) a clade broadly distributed in the Sierra Madre del Sur (shaded red and pink), the Oaxaca Highlands (shaded yellow and orange), and one individual in the southern portion of the Transvolcanic Belt (shaded purple). Further splitting within these clades was largely concordant with the Structure groups. The groups that showed evidence for genetic linkage in Structure with an admixed individual (e.g., yellow and orange) were likewise not monophyletic in the UCE tree.
One individual from Morelos (site 5) that nested within S. bistincta was labeled as a different species, S. mykter, a species that occurs in Guerrero. We suspect that this sample was mislabeled and is actually a duplicate of the S. bistincta sample already included in the study at site 5 because their field numbers are similar (last two digits transposed) and the two samples grouped together in all analyses. We have left this sample in all analyses, but have labeled it as a duplicate of S. bistincta UMMZ 239749. Another tissue voucher, MK 730 (2), could not be linked definitively to a physical voucher, and thus its geographic location is unknown. Its tip label has been left as the field number.
mtDNA tree
Our final concatenated mtDNA matrix was 11,269 base pairs including gaps, as coverage of the mtDNA genome varied from sample to sample in accordance with the non-targeted nature of the DNA collection (Table 1). Relationships in the ML tree (Fig. 2B) among the 29 (of the original 40) individuals with high quality scores were similar to the concatenated UCE tree with two key differences, both occurring within the large clade distributed across Guerrero and Oaxaca: (1) in the mtDNA tree, individuals from eastern and western Guerrero (shaded pink and red in figures) formed a clade, whereas they were more distantly related in the UCE tree; (2) in the mtDNA tree, individual UMMZ 239731 (shaded purple) was nested within the Guerrero (red/pink) clade instead of being sister to a much more inclusive clade, as in the UCE tree.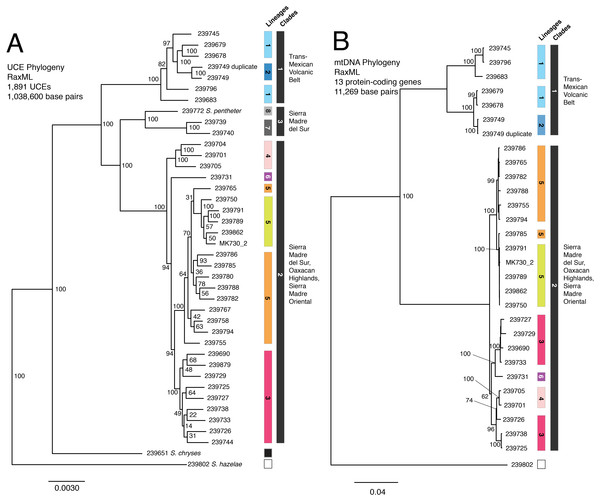 SNAPP species tree
The SNAPP tree and its cloudogram of posterior species trees (Fig. 3) revealed eight well-supported lineages largely consistent with the genetic clusters in the Structure analysis (though not as finely split) and with relationships in the UCE and mtDNA gene trees. Where UCE and mtDNA data disagreed, the SNAPP species tree supported elements of both. For instance, the species tree agreed with the mtDNA gene tree, and not the UCE gene tree, that the eastern and western Guerrero individuals (red and pink groups) form a clade. In contrast, the species tree agreed with the UCE tree, and not the mtDNA tree, in the placement of individual UMMZ 239731 (purple group) not nested within other lineages.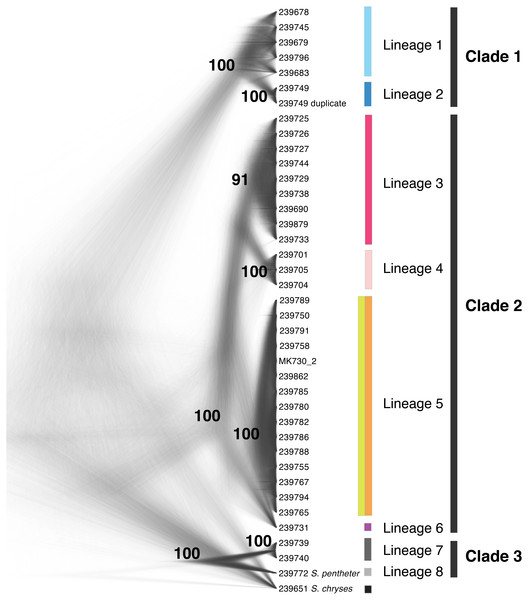 mtDNA phylogeny combining new data with Genbank sequences
Using 16S sequences, we determined that one lineage (UMMZ 239772) from Fig. 3 matched an S. pentheter sequence on Genbank. This individual had one of the lowest read counts of any sample and very few mtDNA reads. However, five Illumina reads mapped to 16S covering 421 bp of the 681 bp reference sequence (Genbank S. pentheter accession number DQ055825). Over this stretch, UMMZ 239772 was identical to the S. pentheter reference. As a point of comparison, UMMZ 239679 (a member of the blue S. bistincta Lineage 1 in the Transvolcanic Belt) had 70 differences across the 681 bp (10.3% divergence). This DNA identification of UMMZ 239772 as S. pentheter was later confirmed by re-examining the subadult specimen.
After confirming UMMZ 239679 as S. pentheter, we generated a Bayesian tree of cytochrome b combining the samples from this study with Genbank sequences (Fig. 4). This tree revealed not only that S. pentheter was nested within S. bistincta, but so was another species not included in our sampling, S. calthula. The tree also helped clarify relationships outside of S. bistincta by supporting S. chryses + S. mykter to be sister to the S. bistincta + S. pentheter + S. calthula clade.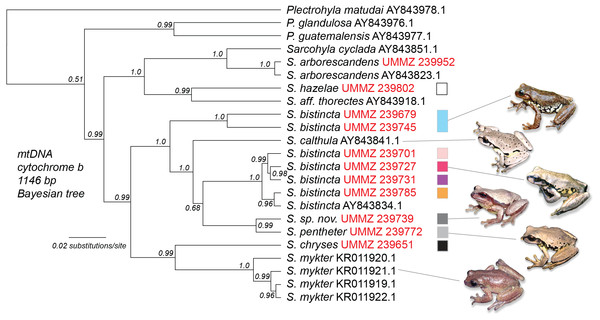 Conclusions
This study shows there is still substantial diversity remaining to be described in the Mexican Highlands. Genetic studies to uncover this diversity might use different approaches and marker types, but these efforts need not be in opposition. As our study shows, NGS and mtDNA data work well together, and Sarcohyla lineages uncovered via multilocus methods could be checked against mtDNA databases to match the uncovered lineages with potential existing species. We expect this framework will be especially useful for species with undescribed lineage diversity and species with undescribed larval stages. We found that S. bistincta is not only paraphyletic, but also contains lineages that might meet criteria for species status. As the destruction of native habitats continues apace, it is important that we identify distinctive lineages and geographic centers of diversity before they are lost.
Supplemental Information
Supplemental Table and Figures
Table S1. Information and summary statistics on all 45 samples used to determine the ingroup for this study.
Fig. S1. Sampled and unsampled parts of S. bistincta range in relation to known distributions (or localities, where distributional information is lacking) of other Sarcohyla species.
Fig. S2. UCE tree of 45 samples of Sarcohyla and outgroup Exerodonta xera used to determine the ingroup.