Structural plasticity in root-fungal symbioses: diverse interactions lead to improved plant fitness
1
School of Agriculture and Environment, The University of Western Australia

,

Crawley

,

Western Australia

,

Australia
2
Centre for Agri-Environmental Research & Soil Research Centre, School of Agriculture Policy and Development, University of Reading

,

Berkshire

,

United Kingdom
Published

Accepted

Received
Academic Editor
Subject Areas

Keywords

Mycorrhiza

,

Endophyte

,

Symbiosis

,

Root colonization

,

Interface structures
Copyright

©

2018

Kariman et al.

Licence

This is an open access article distributed under the terms of the Creative Commons Attribution License, which permits unrestricted use, distribution, reproduction and adaptation in any medium and for any purpose provided that it is properly attributed. For attribution, the original author(s), title, publication source (PeerJ) and either DOI or URL of the article must be cited.
Cite this article

2018

.

Structural plasticity in root-fungal symbioses: diverse interactions lead to improved plant fitness

.

PeerJ

6

:

e6030

https://doi.org/10.7717/peerj.6030
Abstract
Root-fungal symbioses such as mycorrhizas and endophytes are key components of terrestrial ecosystems. Diverse in trophy habits (obligate, facultative or hemi-biotrophs) and symbiotic relations (from mutualism to parasitism), these associations also show great variability in their root colonization and nutritional strategies. Specialized interface structures such as arbuscules and Hartig nets are formed by certain associations while others are restricted to non-specialized intercellular or intracellular hyphae in roots. In either case, there are documented examples of active nutrient exchange, reinforcing the fact that specialized structures used to define specific mycorrhizal associations are not essential for reciprocal exchange of nutrients and plant growth promotion. In feremycorrhiza (with Austroboletus occidentalis and eucalypts), the fungal partner markedly enhances plant growth and nutrient acquisition without colonizing roots, emphasizing that a conventional focus on structural form of associations may have resulted in important functional components of rhizospheres being overlooked. In support of this viewpoint, mycobiome studies using the state-of-the-art DNA sequencing technologies have unearthed much more complexity in root-fungal relationships than those discovered using the traditional morphology-based approaches. In this review, we explore the existing literature and most recent findings surrounding structure, functioning, and ecology of root-fungal symbiosis, which highlight the fact that plant fitness can be altered by taxonomically/ecologically diverse fungal symbionts regardless of root colonization and interface specialization. Furthermore, transition from saprotrophy to biotrophy seems to be a common event that occurs in diverse fungal lineages (consisting of root endophytes, soil saprotrophs, wood decayers etc.), and which may be accompanied by development of specialized interface structures and/or mycorrhiza-like effects on plant growth and nutrition.
Introduction
Early terrestrial plants moved from aquatic environments to emerged land about 400 million years ago, when the incipient soil was severely deficient in nutrients and organic matter. Early colonizers were bryophytes such as mosses, liverworts and hornworts, and were composed of a few cells with no true roots, leaves or stems (Kenrick & Crane, 1997). Fossil records indicate that lineages of early land plants established symbiosis with arbuscular mycorrhizal (AM) fungi during the Ordovician period (460 mya) (Redecker, Kodner & Graham, 2000), suggesting that AM fungi aided early colonization of nutrient/water-deficient land by plants via enhancing their nutrient and water uptake. As the ancient soil had an extremely limited reserve of organic matter, the central function of AM fungi presumably was to forage soil for inorganic nutrients, reflected in the functional capacity of extant AM associations.
Mycorrhizal and other (non-pathogenic) root-inhabiting fungi (such as endophytes) continue to play a vital role in soil nutrient cycling, remineralization of organic matter, shaping plant and microbial communities and ultimately safeguarding the stability and functionality of the entire land ecosystem (Jumpponen & Trappe, 1998; Van der Heijden, Bardgett & Straalen, 2008; Weiss et al., 2011; Zuccaro, Lahrmann & Langen, 2014).
Fungal partners can be obligate biotrophs i.e., entirely dependent on living root cells as in AM symbiosis, in which cell architecture and physiology is intensively reorganized to arrange the biotrophic interface (Genre et al., 2005). Some fungal symbionts are facultative biotrophs or partly dependent on their living host such as some ECM fungi or dark septate endophytes (DSE) (Jumpponen & Trappe, 1998; Koide et al., 2008). Sebacinalean endophytes (SE) have both biotrophic and necrotrophic (preceded by pre-programmed death of cortical cells) habits during their interaction with plant roots (Weiss et al., 2011; Lahrmann & Zuccaro, 2012). In return for the assorted benefits conferred to the host plant, the root-associated fungi may depend on their host as the carbon (C) source. Simple sugars (hexoses) were presumed to be the sole C type received by fungal partners in mycorrhizal associations (Smith & Read, 2008), perhaps due to a primary research focus on carbohydrates as a possible food source rather than other organic molecules such as fatty acids (FAs) that were not technically feasible to detect at the time. However, Keymer et al. (2017) fed plants with [U-13C6] glucose and monitored the 13C patterns of fungal FAs in Lotus japonicus wild-types and mutants defective in AM-specific paralogs of lipid biosynthesis genes (KASI and GPAT6), and demonstrated that plants transfer 16:0 FAs to AM fungi. Accordingly, sugars are now known not to be the only C form provided by host plants in mycorrhizal symbiosis.
Fungal trophic habits are associated with presence/absence of genes involved in degradation of plant cell wall components. Phylogenetic analyses have provided evidence for genomic modifications in certain root fungal symbionts in order to switch from saprotrophic/pathogenic lifestyles towards symbiotic lifestyles (Kohler et al., 2015; Hacquard et al., 2016; Weiss et al., 2016). Convergent loss of saprotrophic traits such as genes encoding plant cell wall degrading enzymes has been documented in ECM fungi (Kohler et al., 2015; Fesel & Zuccaro, 2016), which is a genomic signature for ECM evolutionary transition via saprotrophy to biotrophy, but not in root endophytes such as Colletotrichum tofieldiae and Serendipita indica (Lahrmann et al., 2015; Hacquard et al., 2016).
Interface structures have been considered to be the defining features of root-fungal interactions, however the underlying mechanisms of nutrient exchange vary across different associations. Interface structures can be specialized (arbuscules, Hartig nets and fungal pegs), non-specialized (hyphae and hyphal coils), or totally absent. In this review, we examine a range of symbiotic relationships between soil-inhabiting fungi and plant roots, focusing primarily on root colonization and interface structures, to address the question of whether the focus on interface structures has limited our understanding of the wider diversity of these symbioses. To date, the types of root-fungal symbioses have been defined by the species involved and the structures developed; namely AM, ECM, ectendomycorrhiza (EEM), arbutoid mycorrhiza (ABM), monotropoid mycorrhiza (MTM), orchid mycorrhiza (OM), ERM (Smith & Read, 2008), sheathed ericoid mycorrhiza (SERM) (Vohnik et al., 2012), SE (Weiss et al., 2011; Zuccaro, Lahrmann & Langen, 2014), DSE (Jumpponen & Trappe, 1998; Koide et al., 2008), fine root endophytes (FRE) (Crush, 1973; Gianinazzi-Pearson et al., 1981; Orchard et al., 2017), fire-associated mutualism (FAM) (Baynes et al., 2011), and a non-colonizing symbiosis (hereafter named "feremycorrhiza", FM) described recently (Kariman et al., 2014a). Figure 1 illustrates the root colonization features in currently described plant-fungal associations, and Tables 1 and 2 summarize their main characteristics and benefits for host plants, respectively.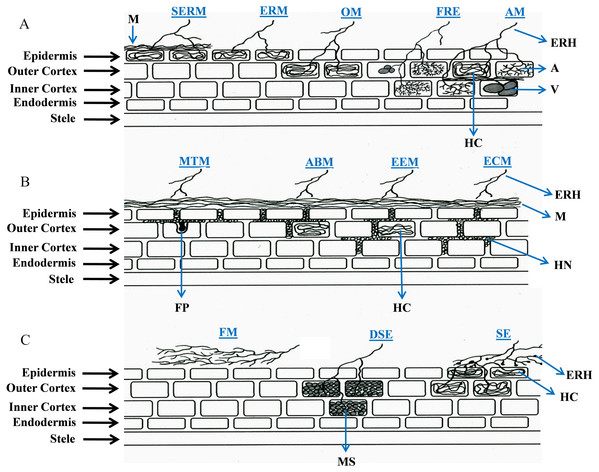 | Interface structures in predominantly beneficial root-fungal associations categorized by symbiosis type and partner taxa. Symbiosis | Plant Taxa | Fungal Taxa | Interface Structures | Intracellular Hyphae | Fungal Sheath |
| --- | --- | --- | --- | --- | --- |
| Arbuscular Mycorrhiza (AM) Bryophytes, Pteridophytes, Angiosperms, Gymnosperms | Mucoromycota: Glomeromycotina | Arbuscules | + | + | − |
| Fine Root Endophytes (FRE) | Angiospermsb | Mucoromycota: Mucoromycotina | Arbuscules | + | − |
| Ectomycorrhiza (ECM) | Angiosperms, Gymnosperms | Basidiomycota, Ascomycota, Mucoromycota | Hartig net | − | + |
| Ectendomycorrhiza (EEM) | Angiosperms, Gymnosperms | Basidiomycota, Ascomycota, Mucoromycota | Hartig net & Hyphal coils | + | ± |
| Arbutoid Mycorrhiza (ABM) | Ericales: Ericaceae, Pyrolaceae | Basidiomycota | Hartig net & Hyphal coils | + | ± |
| Monotropoid Mycorrhiza (MTM) | Ericales: Ericaceae | Basidiomycota | Hartig net & Fungal peg | − | + |
| Orchid mycorrhiza (OM) | Asparagales: Orchidaceae | Basidiomycota Ascomycota | Hyphal coils (Pelotons) | + | − |
| Ericoid Mycorrhiza (ERM) | Ericales: Ericaceae | Ascomycota Basidiomycota: Sebacinales | Hyphal coils | + | − |
| Sheathed Ericoid Mycorrhiza (SERM) | Ericales: Ericaceae | Basidiomycota | Hyphal coils | + | + |
| Sebacinalean Endophytes (SE) | Bryophytes, Pteridophytes, Angiosperms, Gymnosperms | Basidiomycota | Hyphal coils | + | − |
| Dark Septate Endophytes (DSE) | Angiosperms, Gymnosperms, | Ascomycota | Hyphae & Microsclerotia | + | − |
| Fire-Associated Mutualism (FAM)a | Angiosperms:bPoaceae | Ascomycota | Unknown | Unknown | − |
| Feremycorrhiza (FM) | Angiosperms:bMyrtaceae | Basidiomycota | Absent | No root colonization | − |
| Symbiosis | Benefits for host | Reference |
| --- | --- | --- |
| ABM: Arbutoid Mycorrhiza | aPresumably, similar benefits as the ECM symbiosis | Münzenberger, Kottke & Oberwinkler (1992) |
| AM: Arbuscular Mycorrhiza | Improved mineral nutrition (P and Zn, in particular); tolerance against biotic (pathogens) and abiotic stresses such as drought, salinity, and heavy metals; improved soil health and structure | Smith & Read (2008), Sikes (2010), Hildebrandt, Regvar & Bothe (2007) |
| DSE: Dark Septate Endophytes | Breaking down various organic substances and releasing nutrients; protection against plant pathogens, herbivores, and abiotic stresses such as heat, presumably due to the fungal capability of synthesizing antibacterial and antifungal compounds, toxic secondary metabolites, or high melanin contents of hyphae | Jumpponen & Trappe (1998), Newsham (1999), Newsham (2011) |
| ECM: Ectomycorrhiza | Improved plant vigour and access to nutrients that are tightly fixed in complex organic matter or soil particles (N and P in particular); alleviating stresses caused by soil-borne pathogens and abiotic stresses such as drought and salinity; ameliorating the CO2 fertilization effect; accelerating weathering of rocks and releasing essential nutrients; decomposition of soil organic matter, tolerance to P toxicity | Landeweert et al. (2001), Smith & Read (2008), Terrer et al. (2016), Kariman et al. (2014b) |
| EEM: Ectendomycorrhiza | Hydrolyzing complex polysaccharides and supplying C to young host seedlings prior to the beginning of their autotrophism; possibly involved in revegetation of disturbed sites and establishment of conifer seedlings post-fire | Trevor et al. (2001); Navarro-Ródenas et al. (2012) |
| ERM: Ericoid Mycorrhiza | Assisting plants to survive in nutrient impoverished habitats through mineralization and acquisition of nutrients from soil organic sources | Read, Leake & Perez-Moreno (2004) |
| FAM: Fire-Associated Mutualism | Thermotolerance and fire adaptation by enhancing both probability of fire (via increased plant biomass) and plant survival (larger underground seed bank) | Baynes et al. (2011) |
| FM: Feremycorrhiza | Improved plant growth and nutrition mainly via increasing nutrient solubilization and mobilization; tolerance to P toxicity | Kariman et al. (2014a), Kariman et al. (2014b) |
| FRE: Fine Root Endophytes | Possibly involved in tolerance against extreme environmental conditions such as high altitude, soil acidity, cold temperatures, and waterlogging. Functional traits are not well known | Postma, Olsson & Falkengren-Grerup (2007), Orchard et al. (2016) |
| MTM: Monotropoid Mycorrhiza | Supplying C (sourced from neighbouring trees) to mycoheterotrophic host plants | Tedersoo et al. (2007), Hynson et al. (2013) |
| OM: Orchid mycorrhiza | Feeding host plants during their mycoheterotrophic phase, mainly through breaking down simple/complex organic matter | Cameron, Leake & Read (2006) |
| SE: Sebacinalean Endophytes | Improved growth and resistance against biotic and abiotic stresses such as salinity | Varma et al. (2001), Weiss et al. (2011), Weiss et al. (2016) |
| SERM: Sheathed Ericoid Mycorrhiza | aPresumably, similar benefits as the ERM symbiosis | Vohnik et al. (2012) |
a
There is limited experimental evidence about the potential benefits for host plants.
The location of the plant-fungal interaction on the mutualism–parasitism spectrum ultimately depends on the nutritional balance achieved by the partnership rather than the type of interface structure that is formed (Smith & Smith, 1996). Regardless of the symbiosis type and morphological traits, the net outcome of root-fungal interactions for host plants (positive, neutral, or negative responses) is determined by environmental conditions (e.g., nutrient availability in soil), plant/fungus genetics, and temporal relationships during mycorrhizal development (Johnson, Graham & Smith, 1997; Klironomos, 2003).
Three waves of mycorrhizal evolution have been proposed by Brundrett & Tedersoo (2018) including (i) the origin of AM associations in early terrestrial plants over 450 Mya, (ii) evolution of ECM (except Pinaceae), nonmycorrhizal (NM) roots, ERM, and OM associations along the period of major root diversification in the Late Cretaceous, and iii) development of specialized nutrition strategies and multifunctional (e.g., AM and ECM) roots in a few plant families. The third wave is an ongoing trend that is related to substantial climate change since the Palaeocene. Recent studies have revealed that the actual niches of different root symbionts could extend beyond those our respective domains of research predict (Selosse, Schneider-Maunoury & Martos, 2018). Evolutionary tendency towards shifting ecological niches (evolutionary trajectories) seems to be a common event in fungi that occurs convergently in numerous independent taxa. In fungal root symbionts, the key evolutionary trajectories include (i) additional food source plus protection against soil adversities and (ii) regressive evolution, such as that of enzymes involved in saprotrophic nutrition (Selosse, Schneider-Maunoury & Martos, 2018). Transitions between nutritional strategies in root-fungal relationships, especially gains or losses of ECM and NM strategies, are more common than previously thought (Brundrett & Tedersoo, 2018). In this review, we have briefly mentioned the ecological niches of certain root symbionts, which seem to have been overlooked.
The majority of plants may be simultaneously associated with a multitude of symbiotic fungal clades in their natural ecosystems. Mycobiome studies using the state-of-the-art "omics" technologies have unearthed a range of root endophytic and root-colonizing saprotrophic relationships involving diverse fungal lineages in both mycorrhizal and NM plants (Shakya et al., 2013; Toju et al., 2013; Oliveira et al., 2014; Toju, Sato & Tanabe, 2014; Coleman-Derr et al., 2016; Glynou et al., 2016; Almario et al., 2017). For example, two independent studies using 454-pyrosequencing have revealed diverse mycorrhizal and endophytic taxa associated with roots of 36 co-occurring plant species in an oak-dominated forest in northern Japan (Toju, Sato & Tanabe, 2014), and three endangered orchid species in the Atlantic Forest, in Brazil (Oliveira et al., 2014). These studies support the proposition that beneficial root-fungal interactions could extend far beyond the well-established associations mentioned above (Fig. 1). It is increasingly apparent that study of plant performance in the absence of the co-evolved rhizosphere biota will give a limited and even skewed understanding of plant functioning in their natural environments (Smith et al., 2011) e.g., for applications such as increasing sustainability of food production in low input agroecosystems, and habitat restoration for recovery of endangered species (Philippot et al., 2013). Efforts such as those to ameliorate degraded lands may be further hampered by insufficient understanding of the complex variety of plant-fungal interactions that may also need to be restored (Bever et al., 2010).
Overemphasizing the visibility of symbioses (i.e., root colonization and interface specialization) could have hindered our understanding of the actual functional contribution of root-associated fungi towards health and performance of terrestrial ecosystems. This review examines the morphological (interfacial matrix) and functional (primary focus on plant fitness) aspects of diverse symbioses with the aim of engendering discussion about a broader view of plant-fungal root symbioses that emphasizes both form and function. Furthermore, our modest knowledge of fungal taxonomy and ecology also contributes to our limited understanding of the functioning of root fungal symbionts, hence we will explore the taxonomically/ecologically diverse interactions observed recently by aid of high-throughput "omics" technologies.
Conclusions
Our review of the current literature suggests that the potential exchange of nutrients/metabolites and beneficial interactions in plant-fungal relationships can occur via specialized interface structures or simple non-specialized hyphae inside or outside roots. This fundamental fact has been either missed or neglected (due to invisibility of certain symbioses or sole focus on specialized structures), but it is essential for a proper understanding of the actual contribution of fungal root symbionts to nutrient cycling and plant fitness in terrestrial ecosystems. Nevertheless, we do emphasize that while interface morphological characteristics are not a direct indicator or prerequisite for enhancing plant phenotype, certain highly efficient structures (such as those in AM and ECM associations) are key elements for mycorrhizal functionality at both plant and ecosystem levels. Overall, interface structures can be morphologically diverse, specialized (arbuscules, Hartig nets and fungal pegs: AM, ECM, EEM, ABM, MTM and FRE), non-specialized (hyphae and hyphal coils: ERM, SERM, OM, DSE and SE), or totally absent (FM) in root-fungal relationships, suggesting plasticity in interface structures as well as functional traits of root-associated fungi i.e., employing different strategies such as direct nutrient transfer and/or rhizosphere modification to benefit their host plants. To shed more light on the nature of a given root-fungal relationship including some currently known associations, it is crucial to explore mutualism (i.e., a reciprocal exchange of nutrients/metabolites) as the definitive feature in mycorrhizal symbiosis.
Specialized structures such as arbuscules could be a more efficient means of nutrient transfer due to their specific features such as increased intimate surface area at the symbiotic interface. To date, most studies have focused on AM, ECM, OM and SE, and further research is required to unearth the cellular mechanisms behind exchange of nutrients in the other root-fungal interactions. Sequencing the genome of representative fungi will identify the potential trophic habits of the fungal partner, and, in a given association, the symbiotic characteristics can be explored via transcriptomic analyses whilst proteomic studies focusing on nutrient/hexose transporters at the interfacial matrix will explore further the symbiotic benefits. Comparative genomics of the fungal symbionts and their hosts would provide key insights into their life-style and evolution.
State-of-the-art molecular approaches have unearthed much more complexity and diversity in root-fungal relationships than previously thought, and suggest that mycorrhizal capacity (or saprotrophy to biotrophy transition) has possibly evolved in highly diverse fungal lineages across the kingdom Mycota. This includes the recent discoveries of diverse root endophytes and root-colonizing saprotrophic fungi, some with peg-like (Mycena galopus), Hartig net-like (Phellinus igniarius), or arbuscule-like (FRE belonging to Mucoromycotina) structures, which could possibly be of a mutualistic nature. Moreover, dual niches for mycorrhizal and root endophytic fungi seems to be a common strategy, and could be a key capacity, aiding them to cope with environmental constraints and ecological restrictions.