Cochlear impulse responses resolved into sets of gammatones: the case for beating of closely spaced local resonances
1
John Curtin School of Medical Research, Australian National University

,

Canberra, ACT

,

Australia
2
Department of Otorhinolaryngology/Head and Neck Surgery, University of Groningen

,

Groningen

,

Netherlands
Published

Accepted

Received
Academic Editor
Subject Areas

Keywords

Impulse response

,

Coupled oscillators

,

Gammatones

,

Beating

,

Instantaneous frequency

,

Basilar membrane

,

Tectorial membrane
Copyright

©

2018

Bell and Wit

Licence

This is an open access article distributed under the terms of the Creative Commons Attribution License, which permits unrestricted use, distribution, reproduction and adaptation in any medium and for any purpose provided that it is properly attributed. For attribution, the original author(s), title, publication source (PeerJ) and either DOI or URL of the article must be cited.
Cite this article

2018

.

Cochlear impulse responses resolved into sets of gammatones: the case for beating of closely spaced local resonances

.

PeerJ

6

:

e6016

https://doi.org/10.7717/peerj.6016
Abstract
Gammatones have had a long history in auditory studies, and recent theoretical work suggests they may play an important role in cochlear mechanics as well. Following this lead, the present paper takes five examples of basilar membrane impulse responses and uses a curve-fitting algorithm to decompose them into a number of discrete gammatones. The limits of this 'sum of gammatones' (SOG) method to accurately represent the impulse response waveforms were tested and it was found that at least two and up to six gammatones could be isolated from each example. Their frequencies were stable and largely independent of stimulus parameters. The gammatones typically formed a regular series in which the frequency ratio between successive members was about 1.1. Adding together the first few gammatones in a set produced beating-like waveforms which mimicked waxing and waning, and the instantaneous frequencies of the waveforms were also well reproduced, providing an explanation for frequency glides. Consideration was also given to the impulse response of a pair of elastically coupled masses—the basis of two-degree-of-freedom models comprised of coupled basilar and tectorial membranes—and the resulting waveform was similar to a pair of beating gammatones, perhaps explaining why the SOG method seems to work well in describing cochlear impulse responses. A major limitation of the SOG method is that it cannot distinguish a waveform resulting from an actual physical resonance from one derived from overfitting, but taken together the method points to the presence of a series of closely spaced local resonances in the cochlea.
Introduction
Gammatones have had a long history in auditory studies (Lopez-Najera, Lopez-Poveda & Meddis, 2007; Lopez-Poveda & Meddis, 2001; Lyon, 2017; Lyon, Katsiamis & Drakakis, 2010; Patterson et al., 1992) and in electronic engineering (Ngamkham et al., 2010; Tucker, 1946), but their direct application to cochlear mechanics has been more limited. The survey of cochlear models by Lyon (2017) is useful in showing a strong link between gammatones and cochlear models. As Lyon notes, gammatones, or something very close to them, are evident in nearly all systems used in modelling cochlear filter shapes (p. 161, referring to Papoulis (1962), pp. 234–236). Of particular interest, the whole gammatone family is characterised by the property of having multiple coincident poles (Lyon, 2017, Ch. 9). Lyon proceeds to show that when there are coincident poles (and coincident natural frequencies) the system will have an impulse response which resembles a gammatone.
Here, we explore this property. Essentially, if cochlear impulse responses derive from a system of coincident poles—as in a two-degree-of-freedom (2-DOF) model—then they should be made up of a number of gammatones. In reverse, it might be possible to fit a series of constant-frequency gammatones to the impulse responses, and this is what is attempted here using a numerical fitting algorithm we call the 'sum of gammatones' (SOG) method.
Elliott, Ni & Sun (2017) fitted data from the Ogahalai lab—velocity and phase of the mouse cochlea in response to sinusoidal stimuli of 10, 30, 50, and 70 dB SPL (Lee et al., 2015)—with a 'coupled-box' model of the mammalian cochlea which contained 2-DOF micromechanical elements. The micromechanical elements were coupled by fluid according to that in Elliott, Lineton & Ni (2011), and the general form of the basilar membrane (BM) admittance of the coupled-box model had four poles and three zeros. The impulse response of the fitted coupled-box model was calculated by inverse Fourier transform, and it is of interest to note that, despite the complexity of what was happening inside the box, the calculated impulse response broadly resembled a gammatone—oscillations of constant frequency which rose and then slowly decayed. An examination of how closely this impulse response could be approximated by the sum of a small number of gammatones of closely matched frequencies is one of the case studies in our work (Case 6 below).
Because gammatones have a single frequency, they are easy to analyse and implement. They approximate a cascade of resonant filters (Tucker, 1946) (see also Supplementary Material S1 and p. 177 of Lyon (2017)) and, depending on parameters, satisfy a variety of frequency response shapes (Ch. 9 of Lyon (2017)). Figure 1 shows examples of gammatones of order 1 to 5, and it is noteworthy that, despite certain differences, the envelopes of the higher order ones resemble cochlear impulse responses. Tucker's result is of interest in showing that if a resonant filter (or harmonic oscillator) is driven by an impulse, the result will be a gammatone. More generally, Tucker demonstrated that in a cascade of such filters, if the input to one stage is a gammatone of order n, its output will be a gammatone of order n + 1. This result forms part of Supplementary Material S2.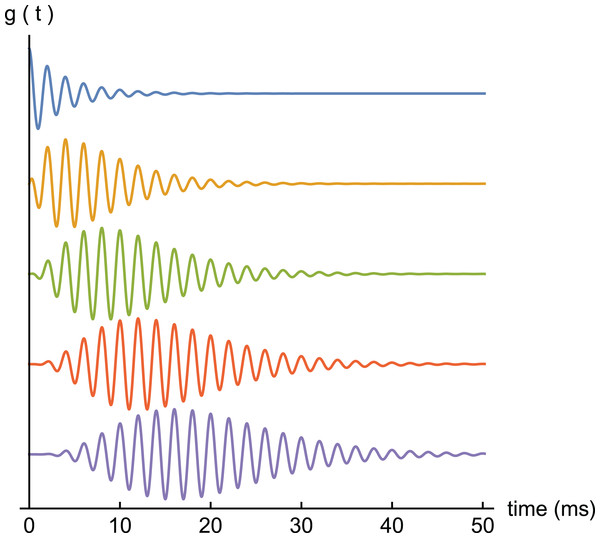 The gammatone function of order n is given by: (1) where t is time, b is decay rate, ω is angular frequency, n is 1, 2, 3,…, and φ is phase. Gammatones are therefore sine waves of fixed frequency with envelope tn−1 exp(−bt). For b = 1, the definite integral from zero to infinity of this envelope is the gamma function, Γ(n), hence the name. Numerically, Γ(n) is just (n–1)!.
The above theoretical perspectives encouraged us to gather cochlear impulse responses and test how well they could be fitted using the SOG method.
Impulse responses
Any linear time-invariant mechanical or electrical system can be uniquely described by its impulse response, the waveform produced following a brief impulse—in auditory terms a click.
Experiments have shown that impulse responses of the BM show the following characteristics (elaborated from Shera (2001b)). (1) They display many cycles, meaning that the BM has a narrow-band frequency response and high Q. (2) There is gradual onset and decay. (3) The waveform typically shows a rising instantaneous frequency (IF) during onset, usually an upwards sweep or frequency glide which begins below the characteristic frequency (CF) and converges towards it. (4) As sound levels increase, zero crossings of the waveform remain fixed in time. (5) The spectrum of the impulse response quite often shows multiple peaks, typically at a ratio near 1.1. (6) If the response is sufficiently long, a series of lobes is often apparent in which the envelope goes through cyclic waxing and waning. (7) Where a second lobe exists, it typically contains about 10 cycles, irrespective of the CF, and the waveform within it is often 180° out of phase with that in adjacent lobes.
Early investigators made use of nerve fibre recordings (De Boer & Kruidenier, 1990; Møller & Nilsson, 1979) because they are easier to acquire than direct observations of the BM. Nerve fibre recordings provide an indirect view of the cochlea and its filtering properties, and much can be learnt by treating the recordings as rectified and time-delayed versions of the BM motion. An electrode recording can be reverse correlated with the sound input, and the resulting reverse correlation (revcor) function can provide an estimate of the impulse response of the matching local filter. The drawback is that the intervening neural transduction process must be inferred, and this can be problematic. Direct observations, as used in the cases we analyse here, are more revealing, providing detailed information on the dynamics of the cochlear filters.
In general, we find that most cochlear impulse responses can be well fitted by gammatones, of order 3 or 4, both in the time and frequency domains. The analysis also reveals that the gammatones are usually regularly spaced at a frequency ratio of about 1.05–1.10. A possible interpretation, presented in more detail later, is that the pairs of closely spaced poles might have a connection with pairs of oscillating elements—perhaps (as assumed in a typical 2-DOF model) the BM and the tectorial membrane (TM). If these elements are elastically coupled, they mutually exchange energy and produce a beating-like waveform when excited. In fact, we show here that the impulse response of a coupled oscillator system gives rise to a waveform that can be well approximated by the sum of two second-order gammatones, suggesting that the waxing and waning evident in cochlear impulse responses may involve the beating behaviour of two component masses—possibly the BM and the TM.
It needs to be kept in mind, of course, that the cochlea is not just a system of lumped micromechanical elements but a distributed system (Lyon, 2017, Ch. 12), so it is difficult to see how an extended series of such elements, coupled together, could preserve discrete features in the impulse response. Nevertheless, lumped parameter models might provide a suitable starting point (see Ni et al. (2014) for a review), and it could be significant that the impulse response of an oscillator located within a chain of similar oscillators—as in the classic vibrating reed frequency meter—can exhibit waxing and waning (Bell & Wit, 2015; Fig. 14A). The SOG method suggests that multiple gammatone-like waveforms do seem to be present in the cochlea, at least at the observation sites where impulse responses were recorded. Speculatively, later discussion links the gammatones to quantised frequency steps that have already been identified in the cochlea.
Finally, our analysis focuses on the instantaneous frequencies (IFs) of the impulse responses, which were examined by Hilbert transform. This work reveals a characteristic pattern of upwards surges (or glides) in the impulse responses. Significantly, it is shown that when two constant-frequency gammatones beat together, they also produce upwards (or downwards) surges in IF, suggesting it is possible that the glides observed in the cochlea may have appreciable contributions from the beating of underlying gammatones, or in terms of the basic 2-DOF model, physical interaction between the BM and TM.
This work is exploratory in nature, and many questions remain open. The mechanics of the actual cochlea is more complicated than that of two coupled masses, but nevertheless, by taking the simplest case as a starting point and seeing how far it can be taken, it appears as if some quantised frequency features are preserved in recorded impulse responses.
Methods
Numerical data of experimental cochlear impulse responses published in the literature were kindly provided by the authors. The waveforms were decomposed into gammatones using the FindFit procedure in Mathematica 11 (Wolfram Research, Champaign, IL, USA) and using Abscissa 3.4.2 (http://rbruehl.macbay.de). Explicitly, the software was instructed to fit the sum of two or more gammatones of the form given in Eq. (1) to the data.
A key property of a gammatone is that it has constant frequency over time—that is, its IF is invariant. For a review of gammatones and their applicability in auditory studies, see Lyon, Katsiamis & Drakakis (2010) and Lyon (2017).
In total, some dozens of impulse responses from eight or more authors were analysed, covering a wide range of animals and techniques. In some instances, impulse responses from theoretical cochlear models were also available, and these provided useful confirmation. This paper presents five informative examples, each as a separate case.
Each fit to a gammatone (Eq. (1)) carries five free parameters, and for two gammatones of identical order, there are nine. To minimise the number of free parameters, the order, n, was fixed at n = 3 or 4, which appeared to best match the profile of most cochlear impulse responses. To quickly find starting values for a fit to the more complex waveforms, the approach was to first use Abscissa to fit the tail of the impulse response (called the coda by Li & Grosh (2016)), where the dynamics is simpler, involving only the long-lasting responses. Then, having satisfactorily identified these terms, they were subtracted from the total waveform and a search made for additional gammatones in the residual (the earlier parts of the waveform). The criterion for a good fit, determining the total number of gammatones necessary, was that no substantial difference could be observed between the response and the fit, and in practice this meant that the RMS amplitude of the residual was less than 5% of the original signal. Examples of the difference between the response and the fit, in both the time and frequency domains, are shown in the Results; a step-by-step Mathematica notebook showing how the fits are made is provided as a Supplementary File.
Usually only a small number of gammatones (two to four) were sufficient to produce a good fit, but sometimes up to six were needed. The constancy of the extracted gammatone frequencies, despite different stimulus intensities and other conditions, was taken as an indication that the retrieved gammatones were an innate property of the data and not generated by the fitting (with a range of free parameters it would be unlikely for the frequency to stay constant if the retrieved gammatone were an artefact). However, since any arbitrary waveform can be decomposed into gammatone wavelets (Adiga, Magimai-Doss & Seelamantula, 2013)—just like the Fourier transform decomposes any waveform into sine waves—what other evidence is there that the components extracted by numerical decomposition are 'real'? This is an important issue addressed in the 'Discussion', where it is suggested that at least the first few recovered gammatones may reflect some actual cochlear oscillations, although more work will be needed to gauge how far the fitting process can be pushed.
The IF is another important characteristic of cochlear impulse responses, and this quantity was also investigated, both for the original waveform and for waveforms reconstructed from identified gammatones. The IF was computed by Hilbert transform, and sometimes also by calculating the time between zero-crossings.
Results
In general, all impulse responses examined could be well fitted by a small number of gammatones. For simple single-burst waveforms derived from low sound pressure levels (<60 dB SPL), two or three gammatones were sufficient, but several more were required for higher intensity conditions. Most of the impulse responses showed waxing and waning, and in these cases the multiple lobes could always be explained in terms of the beating of the component gammatones. The implications of this basic finding are detailed in the 'Discussion', where the case is made that the results support a beating model of some kind.
Discussion
The inner workings of the biological spectrum analyser within the ear are still a matter of debate, but impulse responses provide important clues. Indeed, a key test of any cochlear model is how well its impulse response mimics that of the actual cochlea, and here we have found that, using an SOG approach, cochlear impulse response can be well replicated by the sum of a set of two to six closely spaced gammatones. But what is the significance of this finding?
The connection between impulse responses and gammatones is suggested by filter theory (Lyon, 2017) and closely spaced poles appear in 2-DOF models of the cochlear partition's cross-section (Elliott, Ni & Sun, 2017). Yet the cochlea is a distributed system, not a collection of lumped elements (Lyon, 2017, Ch. 12), so finding signs of discrete elements—gammatones—calls for further investigation. Perhaps some form of lumped-parameter model, suitably elaborated, may be appropriate (Ni et al. (2014)). Any continuous (distributed) system can be transformed into a discrete model using numerical methods, and these approaches may be useful. Recent research has found that the cochlea has a spiral 'staircase' structure in which there are fixed steps separated by a frequency ratio of about 1.06 (Shera, 2015b). The gammatones found here are separated by a similar ratio, so it is possible that, speculatively, each of the staircase's quantised steps contributes in some way to the impulse response. Other work has also pointed to quantised cochlear behaviour; for example, Wit & Van Dijk (2012) found that coupled cochlear oscillators tended to cluster together to form frequency plateaus, with the steps having a comparable ratio.
A core question is why some impulse responses require only two or three gammatones whereas others need as many as six. Coupling of the BM and TM accounts for two gammatones, but more than this is hard to explain. In all the examined cases the prevailing frequency ratio was about 1.1, a finding that implicates the staircase structure of the cochlea, but which also suggests that the underlying mechanics is not local but extended. In such a situation, one might turn to traveling wave dynamics (Shera, 2015b; Zweig, 1991, 2015), electrical coupling (Nankali et al., 2018; Zweig, 2016), or consider that the resonances are directly excited by fast-acting sound pressure (Bell, 2012, 2014; Bell & Wit, 2015). In Bell & Fletcher (2004) the suggestion is made that resonances could occur as standing waves between rows of outer hair cells. Although traveling waves provide dispersion, and in turn readily explain glides, the difficulty is that all the gammatones used here begin at time zero, implying that all the resonances have nearly instantaneous physical connections—inconsistent with the progressive delays of a traveling wave. Further consideration of these difficulties is addressed in the last section below.
Conclusion
This investigation of BM impulse responses demonstrates that, to a good approximation, they can be decomposed into at least two and up to six fixed-frequency gammatones each equally spaced in frequency by a ratio of about 1.1. If the impulses are prolonged, interaction of the two gammatones becomes evident as waxing and waning, which can be interpreted as a manifestation of beating. In turn, the destructive interference inherent to beating appears to give rise to a distinctive pattern of frequency glides, contributing to systematic upward and downward sweeps in frequency, most commonly seen as an initial upward glide.
For many years, the explanation for frequency glides in impulse responses has been that there is some dispersive process at work in the cochlea (Meaud & Lemons, 2015). Through dispersive traveling waves, it is thought that wavefronts come together to make the IF rise—as if rotating the tuning knob on a parametric oscillator. The results of the current work offer a different way of describing the phenomenon in terms of a set of local oscillators closely spaced in frequency. At its simplest, each lumped set of oscillators might be considered to act like a single oscillator, perhaps in a similar way to which clusters in a chain of coupled oscillators can behave like a single oscillator (Wit & Bell, 2017). Whether the local oscillators actually exist and gammatones are at work—the system is stationary—or whether there is dispersive wave behaviour involving a gammachirp or other nonstationary waveform, is a matter left for further research. If the SOG method is valid and genuinely picks out local cochlear resonances, then perhaps it might also be usefully applied to click-evoked otoacoustic emissions as well (Wit, Van Dijk & Avan, 1994).
In summary, the SOG approach has the potential to open new doors in understanding the cochlea and its subtle dynamics, but there are a number of major gaps which first need to be filled.
Supplemental Information
Example of a Mathematica notebook illustrating how gammatones were fitted to an impulse response.
The example is the chinchilla impulse response recorded by Shera & Cooper (2013), the basis of Fig. 6.
Properties of beating.
Beating describes the fluctuations in amplitude which occur when two tones of closely spaced frequency combine. This text summarises distinctive properties which arise from beating, notably glides in instantaneous frequency.
Impulse response of two coupled harmonic oscillators.
This section derives the impulse response of two elastically coupled oscillators. The impulse response is shown to exhibit a waveform which waxes and wanes. It is shown that the waveform can be closely fitted with two component gammatones. That is, waxing and waning can be interpreted as the beating of two underlying gammatones.