A Tournaisian (earliest Carboniferous) conglomerate-preserved non-marine faunal assemblage and its environmental and sedimentological context
1
Department of Zoology, University of Cambridge

,

Cambridge

,

UK
2
School of Geography, Geology and Environment, University of Leicester

,

Leicester

,

UK
3
Department of Earth Sciences, Royal Holloway University of London

,

Egham

,

UK
Published

Accepted

Received
Academic Editor
Subject Areas

Keywords

Tetrapods

,

Rhizodonts

,

Dipnoans

,

Chondrichthyans

,

Charcoal

,

Micropaleontology

,

Sedimentology

,

Paleobotany

,

Paleoenvironments
Copyright

©

2019

Clack et al.

Licence

This is an open access article distributed under the terms of the Creative Commons Attribution License, which permits unrestricted use, distribution, reproduction and adaptation in any medium and for any purpose provided that it is properly attributed. For attribution, the original author(s), title, publication source (PeerJ) and either DOI or URL of the article must be cited.
Cite this article

2019

.

A Tournaisian (earliest Carboniferous) conglomerate-preserved non-marine faunal assemblage and its environmental and sedimentological context

.

PeerJ

6

:

e5972

https://doi.org/10.7717/peerj.5972
Abstract
A conglomerate bed from the Tournaisian Ballagan Formation of Scotland preserves a rich array of vertebrate and other nonmarine fossils providing an insight into the wider ecosystem and paleoenvironment that existed during this pivotal stage of Earth history. It challenges hypotheses of a long-lasting post-extinction trough following the end-Devonian extinction event. The fauna recovered includes a wide size range of tetrapods, rhizodonts, and dipnoans, from tiny juveniles or small-bodied taxa up to large adults, and more than one taxon of each group is likely. Some fauna, such as actinopterygians and chondrichthyans, are rare as macrofauna but are better represented in the microfossil assemblage. The fauna provides evidence of the largest Carboniferous lungfish ever found. The specimens are preserved in a localized, poorly-sorted conglomerate which was deposited in the deepest part of a river channel, the youngest of a group of channels. In addition to the fossils (micro- and macro-), the conglomerate includes locally-derived clasts of paleosols and other distinctive elements of the surrounding floodplains. Charcoal fragments represent small woody axes and possible larger trunk tissue from arborescent pteridosperms. Preservation of the fossils indicates some aerial exposure prior to transport, with abrasion from rolling. The findings presented here contrast with other published trends in vertebrate size that are used to interpret a reduction in maximum sizes during the Tournaisian. The richness of the fauna runs counter to the assumption of a depauperate nonmarine fauna following the end-Devonian Hangenberg event, and charcoal content highlights the occurrence of fire, with the requisite levels of atmospheric oxygen during that stage.
Introduction
The 12–15 million years following the end-Devonian mass extinction, also known as the Hangenberg Event, was thought to show a depauperate postextinction trough for nonmarine vertebrates, especially tetrapods (Sallan & Coates, 2010). The hiatus in the tetrapod fossil record became known as "Romer's Gap," and covered the entire Tournaisian stage and much of the Viséan stage. Recently, studies of the Tournaisian stage Ballagan Formation in southern Scotland and northern England have cast doubt on that assessment (Smithson et al., 2012; Smithson, Richards & Clack, 2015; Clack et al., 2016; Clack, Porro & Bennett, 2018). Here, we present further evidence of the potential richness of the Tournaisian stage for our understanding of the evolution of life on land.
The coastal locality of Burnmouth, Scotland, about five miles (eight km) north of Berwick on Tweed, has long been known to geologists as part of the Berwick monocline (McAdam, Clarkson & Stone, 1992; Roper, 1997). The section at Burnmouth (Fig. 1) consists of strata that dip almost vertically along about a 500 m exposure through the mainly Tournaisian strata of the Ballagan Formation, formerly part of the Cementstone series in older terminology. Cementstones are also now known as dolostones.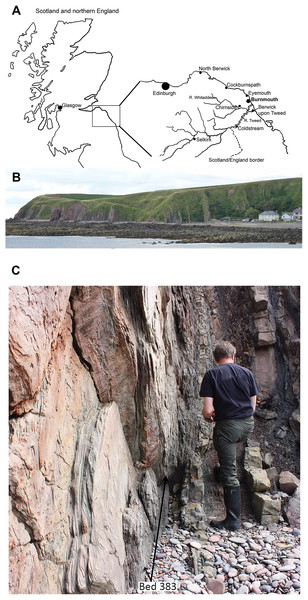 The Devonian–Carboniferous boundary has been identified at the top of the Kinnesswood Formation near the base of the exposed succession (Millward et al., 2018a, 2018b; Marshall et al., in press) and the transition to the Viséan Fell Sandstones at its top. Its fossils have been little studied until recently. The geology was described for the British Geological Survey by Greig (1988, p. 49) who noted that plant fragments were common but fish fragments had only been found in two beds. McAdam, Clarkson & Stone (1992) also mentioned nonmarine invertebrates, fish spines, and plant remains in the Carboniferous section of Burnmouth. In a field guide to the locality, in part based on Grieg's Memoir, Scrutton & Turner (1995) included a generalized geological map on which they numbered the large sandstone bodies 1–14 (1 being the youngest) that lie within the succession. They also noted that "fish fragments" had been found in the succession, but gave few details (Scrutton & Turner, 1995, p. 39 and 40).
In 1993, TRS began a more focused effort to examine Tournaisian rocks of Scotland for fossils. This formed part of an exploration of the Early Carboniferous in the Scottish Borders that had begun in 1988 at Coldstream (Smithson et al., 2012). Eventually, he discovered not only fish remains, but those of tetrapods. Subsequently, from 2006, more regular collecting was undertaken with the late Stan Wood, and in 2012, a NERC-funded consortium project focusing on the Tournaisian Ballagan Formation of Scotland, known as the TW:eed Project (Tetrapod World: early evolution and diversification), began an intensive exploration of Burnmouth and other Tournaisian localities. Several papers relating to the Burnmouth sediments and associated Tournaisian and other Early Carboniferous sites have already resulted from this project (Bennett et al., 2016; Clack et al., 2016; Coates & Teitjen 2018; Kearsey et al., 2016; Smithson, Richards & Clack, 2015; Smithson et al., 2017; Chen et al., 2018; Clack, Porro & Bennett, 2018; Clark, Miller & Ross, 2018; Millward et al., 2018a, 2018b; Richards et al., 2018; Ross et al., 2018; Smithson & Clack, 2018; Marshall et al., in press).
At least 11 beds with vertebrate bones including seven containing tetrapods (Clack et al., 2016) have been discovered in the Burnmouth succession so far. One particularly rich bed and its context is described by B.K.A. Otoo and members of the consortium team (Otoo, 2015; Otoo et al., 2018).
This account describes the faunal association of a single bed from macro- and micro-fossils, its floral association from plant remains, and sedimentological context from detailed studies of a conglomerate lens observed within the section at Burnmouth. Until recently, this was one of the best exposed and most accessible of the conglomerates present within the section at Burnmouth. It lies about 383 m above the Devonian–Carboniferous boundary (Clack et al., 2016; Clack, Porro & Bennett, 2018), as exposed at Burnmouth, henceforward referred to as Bed 383. Assuming, with caution, that the Tournaisian succession exposed at Burnmouth accumulated in proportion to the 12 million years of the stage, this would give an approximate date of 350 Ma for Bed 383, about nine Myr after the end of the Devonian. Other beds at Burnmouth mentioned here will be referred to by their heights above the D/C boundary as defined there. Unfortunately, exposure of and access to the Bed 383 was obliterated by a large rock fall between late March and early April 2018.
The fauna of Bed 383 includes numerous isolated bones, including both very large and very small examples, of tetrapods, lungfishes, rhizodonts, gyracanth spines and girdle elements, actinopterygians, a few teeth of the stem chondrichthyan Ageleodus, and chondrichthyan spines and scales. Many of the vertebrate specimens are fragmentary and indeterminate, while others can be identified to major clades or in a few cases more precisely. One tetrapod specimen is the partial lower jaw of a Crassigyrinus-like tetrapod (Clack, Porro & Bennett, 2018). The bed also contains charcoalified plant stems, charcoal fragments, and wood fragments. However, the more fragile ostracod and bivalve fossils that are a common element of sedimentary rocks are absent.
The conglomerate described is from a succession that has produced one of the richest assemblages of vertebrates from Burnmouth and in particular of tetrapods (Clack et al., 2016). It epitomizes the richness of Tournaisian vertebrate fauna and highlights the occurrence of fire, and the requisite levels of atmospheric oxygen during that stage. Among the aims of this paper is to draw attention to this richness, and its importance as a window into the terrestrial communities that existed in the earliest Carboniferous nonmarine environments. The existence of these specimens is important for inclusion in future paleobiology databases, to give a more accurate picture of life in the Early Carboniferous (= Mississippian).
Materials and Methods
Collecting specimens presented difficulties as the beds at Burnmouth are almost vertically orientated and Bed 383 occurs between the overlying massive sandstone and an underlying dolostone, close to the cliff face (Fig. 1C). Losing important fragments into the gap between these two more competent beds generated by erosion of the relatively soft conglomerate was a problem. The entire collection was retrieved from a volume of no more than about a cubic meter, but because of the geological situation and with collections made on several separate occasions, no more accurate an estimate is possible. Many are no more than small fragments, but about half of them are identifiable to a major clade. Some specimens were collected individually from the bed, others were collected as bulk matrix which was disassembled in the laboratory. Most of the latter specimens were prepared manually from the heterogenous matrix with a mounted needle, dental mallet or air-pen. Thus, the list of specimens does not represent an exhaustive inventory of those elements present, nor should the collection of macrofossils be used in quantitative faunal analyses.
Sedimentological observations were made using a combination of detailed logging and tracing of surfaces and packages in the field at low tide, linked to an interpretation of outcrop photographs, satellite images, and "drone" footage. The "drone" footage was used to aid identification of key erosion surfaces and analyze the internal structures exposed at low tide across the wave cut platform. This detailed imagery was important for comparison with the aerial imagery (1 pixel = 10 × 10 cm) supplied by the North East Coastal Observatory that allows the architectural relationships of the exposed sandstone bodies to be interpreted without any distortion. Drone footage was taken with a DJI Phantom 2 Vision+ carrying a camera with a sensor size of 1.2/in, 14 megapixels, a resolution of 4,384 × 3,288, HD recording of 1080p30/1080i60, and a recording FoV of 110°/85°.
All specimens are housed in the University Museum of Zoology, Cambridge (prefixed UMZC). Most specimens have numbers with the formulae 2017.2.x and 2018.1.x. About half of those also with the earlier formula are from a lower bed (Bed 340.5) described by Otoo et al. (2018). Some specimens were registered from 2011 onward. There are about 600 registered specimens from this bed so far, but this is still in progress. Samples were collected by TRS from 1993 to 2007, and the rest collected by TW:eed team members from 2007 to 2017. Photographs of most macrofossil specimens were taken by JAC using a Panasonic Lumix DMC-LZ5 and processed using Adobe Photoshop CS suites 2017.1.1 release. Others were photographed by JAC or TRS with a Dino-lite Pro AM4000 digital microscope.
Some specimen-bearing samples were micro-CT scanned in the UMZC X-Tek scanner and segmented using Materialise's Interactive Medical Image Control System (MIMICS R) Research v18 (biomedical.materialise.com/mimics; Materialise NV, Leuven, Belgium). Scan data: Tetrapod parasphenoid, Fig. 3E, 2017.2.187, Resolution/Voxel size 59.8178 μm, Filter one mm copper, kV 190, μA 160, Slices 1984; Tetrapod neural arch Fig. 4C, 2017.2.189g, Resolution/Voxel size 23.9724 μm, Filter one mm copper, kV 190, μA 160, Slices 1983; Tetrapod ulna Fig. 5C, 2017.2.51, Resolution/Voxel size 49.9248 μm, Filter None, kV 190, μA 175, Slices 1671.
For the micropaleontology, a sample weighing 55.74 g from the base of the bed was processed overnight in a 5% solution of H2O2. The residue was then wet sieved at 1,000, 425, 250, 125, 65 μm fractions and oven dried at 40 °C. All fossil specimens present were picked from the 1,000, 425, 250, and 125 μm fractions and total counts are recorded in SI4.
For the paleobotanical analysis, sediment samples around 10 g in weight were dissolved first in dilute HCl followed by concentrated HF in line with standard techniques (Scott, 2010; Glasspool & Scott, 2013). Charcoal fragments were picked under a binocular microscope and selected fragments were mounted on aluminum stubs and studied using a Hitachi S2400 SEM (Scott, 2010).
Geological Context
The succession at Burnmouth covers most of the Tournaisian stage, somewhat condensed, but extending from slightly below the Devonian–Carboniferous boundary, located at the top of the red sandstone Kinnesswood Formation, through to the base of the Viséan Fell Sandstone. The bed is dated as within the CM (claviger–macra) palynozone, although the palynozonation of the Tournaisian stage in Scotland is being reviewed as a result of work undertaken as part of the TW:eed project (Marshall et al., in press).
The specimens are associated with a sandstone body ca. 383 m above the base of the Ballagan Formation at Burnmouth (Kearsey et al., 2016; Clack, Porro & Bennett, 2018). Analysis reveals six distinct sedimentary packages (Fig. 2A) that are exposed across the wave-cut platform at low tide and are broadly equivalent to sandstone 4 of Scrutton & Turner (1995). Packages 1–3 are ca. two m in thickness, and comprise fine- to medium-grained sandstones with slightly finer-grained tops. The bodies have basal erosion surfaces and shallow channelized forms. Package 1 is characterized by low-angle cross-stratification dipping north that passes into small-scale ripple cross-laminated structures as the body thins northward. Dolostone beds (including A on Fig. 2A and other overlying dolostones that are not illustrated separately due to imagery resolution) above packages 1–3 are truncated by the erosion surface at the base of package 4. This erosion surface has ca. four m of relief. Package 4 is sandstone-dominated with generally low-angle stratification, whereas package 5 is a gray, poorly-exposed siltstone that overlies an erosion surface that clearly truncates adjacent and underlying beds.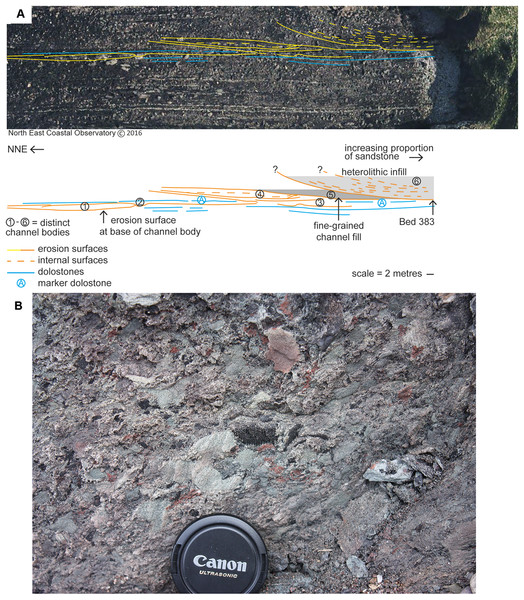 A red-brown, fine- to medium-grained sandstone, package 6, overlies the youngest erosion surface and is the thickest sandstone (minimum 6.5 m, Fig. 2A). The basal erosion surface cuts down to, but not through, dolostone beds (including A). Chondrites burrows occur in the dolostone beds underlying the sandstone succession at 383 m (Bennett et al., 2016). Package 6 (including Bed 383) is characterized by large-scale (broadly southerly) dipping stratification (depicted on Fig. 2). Cross-stratification (0.5 m scale) is observed between these surfaces particularly near the base. A 0.2 m-thick conglomerate occurs at the base of package 6 above this erosion surface and is now present only at the cliff though formerly it extended along the erosion surface onto the wave-cut platform exposures. This very localized conglomerate is poorly sorted, generally matrix supported, and variably cemented with dolomite (Fig. 2B). Centimeter-sized subrounded to angular clasts (typically up to 30 mm in length and elongate) comprise red and gray siltstone, organic material, and bioclasts, including the partial lower jaw (UMZC 2011.9.1, Clack, Porro & Bennett, 2018) and a range of microfossils. Clasts sit within a coarse-grained sandstone to granule-grade sandstone matrix, but clasts of the underlying dolostone are not identified in it. The specimens described in this paper derive from this conglomerate.
Plant material within the sediment comprises generally small fragments, both charred and uncharred, and is scattered within the matrix rather than occurring in layers. The charcoal samples comprise predominantly fragments one to three mm in length but larger pieces around five mm in length also occur. Better-preserved charcoal from a slightly lower bed (Bed 362) was used for comparison.
Discussion
Macrofossil assemblage
The partial Crassigyrinus-like lower jaw, discovered in 2010 (UMZC 2011.9.1), from Bed 383, is about 20 Myr older than C. scoticus, and although attribution to the same genus is not unreasonable, it is unlikely to represent the same species (Clack, Porro & Bennett, 2018). Also found in 2010 were a partial parasphenoid and a basal process, not identified as Crassigyrinus-like at the time. These braincase elements indicate an animal at least 50% larger than C. scoticus.
Earlier-collected material includes central elements: one complete centrum, one half of a centrum, and one fragment. Phalanges or metapodials of a large tetrapod are also preserved, though their attribution to Crassigyrinus is less secure. Subsequent discoveries include ribs and body scales. Found in close proximity, probably in less than one square cubic meter of the 15–20 cm thick matrix, it is possible that many of these elements belonged to the same individual. The fact that few other elements have been found more recently suggests that most of the animal's remains had been eroded away before collecting began.
Smaller elements among the macrofossils include a jugal (Clack et al., 2016, fig. 6), ribs with uncinate processes and an ulna. These much smaller and moderate sized bones show the presence either of small-bodied individuals or juveniles. Also included are delicate ribs, limb bones, and small phalanges. Their shapes are quite different from those in C. scoticus and furthermore, probably do not belong to a juvenile of the same taxon as the lower jaw.
As with the tetrapods at this bed, lungfish elements indicate a wide range of sizes of individuals, from tiny juveniles or small-bodied taxa up to large adults. At least two very large individuals are represented by opercula within this relatively small accumulation. To our knowledge, these represent the largest lungfishes found in the Carboniferous. A rough guide to the length of the fish can be obtained by a ratio of 15:1 from the diameter of the operculum (T.R. Smithson, 2017, personal observation). By this measure, the large opercula belonged to fish up to three meters in length. Those from the later Carboniferous found so far are no more than about half the size as judged by this ratio. This finding, as with some of the tetrapod, rhizodont, and gyracanth elements, is in contrast to the trends in vertebrate size documented by Sallan & Gallimberti (2015), who suggested a reduction in maximum sizes during the Tournaisian, followed by very slow recovery of larger forms later in the Carboniferous.
By contrast, no large tooth plates have been found, but several very small ones are present, including probable representatives of two species of Ballagadus (Smithson, Richards & Clack, 2015). Skull bones with varying surface ornamentation or none suggest that more than one taxon is present in the assemblage. Large elements with ornamented external surfaces and deeply interdigitated sutural surfaces contrast with small often oval or hexagonal elements with smooth or pitted surfaces and no obvious sutural overlap areas. Whether these differences could be accounted for by ontogeny is not clear.
Rhizodonts are represented mainly by bones from large or medium-sized individuals, although small scales, a small cleithrum and a small postparietal have been recovered. Although many specimens resemble bones of Strepsodus it is possible that two taxa of rhizodont were represented in Bed 383. The very large cleithrum suggests a fish of a size comparable with those of the large lungfish, again in contrast to Sallan & Gallimberti (2015).
There is some question of the taxonomic status of the rhizodonts from Burnmouth. Otoo (2015) and Otoo et al. (2018) suggest that two taxa might be present in a somewhat older assemblage from Burnmouth, possibly Strepsodus and Archichthys. This requires further investigation, but the anocleithra and the postparietals (Figs. 1A, 1B, 1E, 14A and 14B) do suggest the presence of two taxa in Bed 383. An isolated humerus from a lower bed (Bed 340.5 see also Otoo et al., 2018) under study by JAC and coauthors is quite different from those figured for Strepsodus.
Gyracanth spines are among the most common elements in this bed, though they are difficult to collect and prepare and are often broken. Some elements are exceptionally large, in keeping with the large elements of tetrapods, lungfishes, and rhizodonts. Similar spines, though not as long as 2017.2.182 were found in the base of the overlying sandstone (probably those noted in McAdam, Clarkson & Stone (1992), although they had been subject to erosion on the surface of the exposed wall. They were lost in the rock fall.
Rare chondrichthyan remains suggest their presence in the region at the time, and are better represented in the microfossil assemblage (see below).
One of the issues encountered in this investigation is the difficulty of identifying isolated elements. This is particularly the case with possible rhizodont elements that are known from very few other taxa. Where possible we therefore illustrate here both internal and external surfaces of individual bones. Internal surfaces of skull bones are often not accessible except by micro-CT scanning, so that it is important to illustrate both where circumstances allow. Our rhizodont skull bones also show unusual surface features of the ornament such as the vermiform grooves illustrated above. Similar grooving is known on some lungfish skulls, such as Ctenodus interruptus (Watson & Gill, 1923; Sharp & Clack, 2013) but it is not combined with an otherwise pustular surface. The ornament type in the postparietals illustrated here was confirmed as rhizodont by J. Jeffery (2018) from his personal observations, but has never been illustrated in the literature.
Unknown morphologies have also been uncovered. One of our specimens is a particular puzzle and does not fit easily into known categories, and a second, a rhizodont pterygoid, could challenge information from the published literature. These discoveries point out how little of the earliest Carboniferous is known in terms of vertebrate fossils, and isolated elements emphasize the level of our ignorance.
Microfossil assemblage
Given their limited representation in the macrofossil assemblage, an unexpected actinopterygian abundance is revealed in the micropaleontological sample. In total, actinopterygian microfossils comprise 55.3 specimens per gram, while rhizodont microfossils only 11.5 per gram (SI1). Actinopterygian microfossils are more common than rhizodont microfossils in the 250 and 125 μm size fractions (Fig. 21). This would imply that actinopterygians are more abundant than rhizodonts, surprising given their difference in size—rhizodonts are approximately 10 times larger than actinopterygians, and so could be expected to produce a lot more microfossil fragments. The greater fragility and breakage of actinopterygian scales compared to rhizodont scales counters this interpretation, along with the taphonomic concentration or winnowing of a certain size of material during transport. However, the teeth of actinopterygians and rhizodonts recovered in this study are of a similar size and there are approximately ten times the number of actinopterygian teeth (excluding pharyngeal teeth) than rhizodont teeth. This indicates that the relative abundance of actinopterygians was probably higher than that of rhizodonts.
Interpretation and environment of Bed 383
The six packages are interpreted as channelized river deposits, the channel forms being clear from the aerial views. Packages 1–3 are laterally adjacent channels and each one is successively younger, potentially representing shallow river channels laterally migrating through time (Fig. 2A). The dolostones overlying these three packages indicate a time during which a standing body of water developed, probably a lake (Bennett et al., 2016). Package 4 represents the return of a river system to this area, with the associated erosional relief suggesting a more significant system. Sediment deposited in this channel was partially eroded, but package 5 may represent a phase of channel abandonment and the deposition of fine-grained sediments. The youngest, package 6, has the greatest erosional relief. Only one side of the channel is exposed, therefore, the large-scale stratification could represent bar progradation or lateral migration of the channel itself.
The localized conglomerate probably represents deposition in the deepest part of this channel (package 6) through bedload processes. The sedimentology of the conglomerate lag (with clasts of red and gray siltstone) indicate that floodplain sediments were incorporated, including clasts of sandy siltstones (Bennett et al., 2016) and paleosols (Kearsey et al., 2016). Erosion by these river systems of the surrounding vegetated floodplains is clear from the erosional relief observed at this location. Several of the specimens show evidence of abrasion from rolling, and most are chaotically distributed in the matrix. The iron oxide staining of many rhizodont scales indicates that some rhizodont carcases may have been subject to subaerial exposure. Staining may have occurred during the desiccation of a floodplain lake and oxidation of fossil material, prior to the incorporation of these sediments into the river system.
The presence of ichnofauna, rare scolecodonts, orthocones, and evaporites (gypsum and anhydrite) within the Ballagan Formation provide evidence that the floodplain was subject to occasional marine water input (Bennett et al., 2016; Millward et al., 2018a, 2018b). The Chondrites in dolostones below Bed 383 has been interpreted as short-lived colonization of coastal lake sediments by opportunistic organisms that were transported from shallow marine environments during storm events (Bennett et al., 2016). These Chondrites-bioturbated dolostones suggest the development of a significant floodplain lake, prior to the fluvial systems (packages 4–6) being reestablished. This is consistent with the complex coastal to alluvial paleoenvironment that characterizes the Ballagan Formation. Dolostone and evaporite clasts have not been incorporated into the conglomerate. Xenacanths are often associated with freshwater deposits, and Carboniferous elasmobranchs, ctenacanths, and Ageleodus are also interpreted as having a euryhaline salinity tolerance and occur in a range of marine to continental environments (Carpenter et al., 2014). Elasmobranchs are more commonly associated with freshwater sedimentary deposits than contemporaneous holocephalan chondrichthyans (Friedman & Sallan, 2012).
The presence of plant and charcoal debris confirm that vegetated floodplains were eroded and were subject to fire. However, other evidence for subaerial floodplain ecosystems, for example, myriapods (Ross et al., 2018), are absent. The bedload transport process is likely to have broken and winnowed away arthropod cuticle and the fragile calcite shells of ostracods and bivalves, which are more common within floodplain facies (Bennett et al., 2016). The scarcity of tetrapod and dipnoan microfossil material may again reflect taphonomic processes related to the transport, concentration and deposition of fossil material. The presence of charcoal may indicate forest fires that increased the potential for erosion of the floodplain.
Burnmouth is a locality well known for the occurrence of anatomically preserved plants that were described in several papers by Albert Long (see Scott, Galtier & Clayton, 1984). The majority of the plants described were from dolostone facies of presumed late Tournaisian age obtained from loose pebbles. Scott, Galtier & Clayton (1984) reported in situ plants from nearby localities such as the shore section at Partanhall, Burnmouth (NT959614) and Scott & Rex (1987) illustrated a permineralized Stauropteris berwickensis in a silty-wackstone horizon that also contained "Lepidodendron" calamopsoides axes together with fish bones and ostracods. The flora described from loose blocks included a range of lycopsids, pteridosperms, and ferns. A similar flora was described in dolostone facies from the River Whiteadder, for example, at Edrom (Scott, Galtier & Clayton, 1984; Scott & Rex, 1987). In addition to permineralized plants, some preserved as charcoal were also recovered (Scott & Rex, 1987). Compression floras, together with permineralized plants and charcoal were also reported from Foulden, about four miles (6.4 km) from Burnmouth and also of Tournaisian age (Scott & Meyer-Berthaud, 1985; Scott & Rex, 1987; Scott & Galtier, 1996; Scott & Glasspool, 2006).
Fire has been an important influence on the Earth system throughout history (Scott, 2000, 2018). For there to be fires, there needs to be not only fuel to burn, and an ignition source (generally lightning) but also an atmospheric oxygen level of over 17% (Scott, 2010; Scott et al., 2014). The occurrence of charcoal in the sediments of this conglomerate allows two immediate conclusions. The first is that the oxygen level in the atmosphere was at least above 17% corroborating the hypothesis that the Tournaisian stage was not one subject to lower oxygen levels, and may even have been above the modern level of 21% (Glasspool et al., 2015; Rimmer et al., 2015). Secondly, there is evidence of wildfire that affected the floodplains. However, the occurrence of charcoal in the sediments offers a further possibility. If there are rainstorms following a wildfire then the area of the fire can experience postfire erosion (Moody & Martin, 2001; Cannon, 2001). This happens when the roots of the plants have been killed and the sudden influx of water leads to increased erosion and movement of both the sediment and plant material (as well as animal material on the soil surface). This slurry may move very quickly (Scott, 2010) and form almost instantaneous alluvial fans away from the place of the wildfire (Moody & Martin, 2001; Scott et al., 2014). Such sediment may be either be transported into a river or lake system directly (as following the frequent Yellowstone fires) (Meyer & Pierce, 2003; Pierce, Meyer & Jull, 2004) or else the sediments are quickly eroded by fluvial processes such as occurred in the Buffalo Creek fires of 1996 (Moody & Martin, 2001, 2009). Postfire erosion/depositional systems have only recently been recognized in the fossil record. Extensive sediment pulses with charcoal have been described from the Early Carboniferous (Mississippian) of Ireland where there has been a sudden influx of sediment into a marine near-shore environment with consequences for the fauna living there (Nichols & Jones, 1992; Falcon-Lang, 1998). The occurrence of vertebrates that have been caught up in such postfire flood events have also been described in the Triassic (Havlik et al., 2013) and Cretaceous by several authors (Brown, Collinson & Scott, 2013; Muir, Bordy & Prevec, 2015).
The vertebrate remains alongside the charcoal, and the greater depth of erosion observed associated with package 6 suggest that postfire erosion/deposition may have played a role in its formation. Charcoal often floats and takes time to settle in a water column, depending on size, type of organ, and temperature of formation and hence can travel considerable distances by water transport (Nichols et al., 2000; Scott, 2010). Charcoal is often deposited by currents of a certain velocity where fragments are also well sorted (Nichols et al., 2000). The occurrence of charcoal and uncharred plants with siltstone and sand-sized grains alongside larger pebbles (paleosols and sandy siltstone) could suggest a more chaotic flow and rapid deposition for at least this part of the bed. However, the stratification in the channel fill above the conglomerate indicates large-scale bed-forms and sustained period of sandstone deposition. The widespread occurrence of charcoal suggests that fire appears to have been a regular occurrence through the Mississippian of Berwickshire and across the south of Scotland and to have had an impact on both the vegetation and the landscape (Scott, 1988; Brown, Scott & Jones, 1994; Scott & Glasspool, 2006).
Conclusions
This study has described and interpreted the fauna of an Early Carboniferous river system and aspects of its surroundings and environment. It has provided further evidence to demonstrate that the Tournaisian stage of the Early Carboniferous was by no means a depauperate time in the evolution of vertebrate life on land. Neither was it a time of low oxygen concentration. Instead, the richness of a single small channel-fill conglomerate demonstrates the diversity of vertebrate taxa and their potential abundance in previously understudied Tournaisian nonmarine fossil localities. It also shows that large-bodied taxa, in some cases larger than those from later in the Carboniferous, lived in the Tournaisian, about nine Myr after the end of the Devonian. Thus large forms appear to have recovered more quickly following the Hangenberg extinction event than previous estimates of up to 36 Myr (Sallan & Gallimberti, 2015) had suggested. The existence of the so-called "Romer's Gap" thus largely resulted from lack of exploration of such localities, and efforts should be made to target equivalent localities in other parts of the world.
Supplemental Information
Microfossil data.
A list of micro fossil specimens used in the faunal analysis.