The effectiveness of Payments for Ecosystem Services at delivering improvements in water quality: lessons for experiments at the landscape scale
Published

Accepted

Received
Academic Editor
Subject Areas

Conservation Biology, Coupled Natural and Human Systems, Natural Resource Management, Environmental Impacts

Keywords

Conservation effectiveness

,

Payments for watershed services

,

Water quality

,

Payments for Environmental Services

,

Bolivia

,

Randomised Control Trial

,

Evidence based conservation

,

Experimental evaluation

,

Impact evaluation

, Escherichia coli
Copyright

©

2018

Pynegar et al.

Licence

This is an open access article distributed under the terms of the Creative Commons Attribution License, which permits unrestricted use, distribution, reproduction and adaptation in any medium and for any purpose provided that it is properly attributed. For attribution, the original author(s), title, publication source (PeerJ) and either DOI or URL of the article must be cited.
Cite this article

2018

.

The effectiveness of Payments for Ecosystem Services at delivering improvements in water quality: lessons for experiments at the landscape scale

.

PeerJ

6

:

e5753

https://doi.org/10.7717/peerj.5753
Abstract
Background
Randomised Control Trials (RCTs) are used in impact evaluation in a range of fields. However, despite calls for their greater use in environmental management, their use to evaluate landscape scale interventions remains rare. Payments for Ecosystem Services (PES) incentivise land users to manage land to provide environmental benefits. We present the first RCT evaluation of a PES program aiming to improve water quality. Watershared is a program which incentivises landowners to avoid deforestation and exclude cattle from riparian forests. Using this unusual landscape-scale experiment we explore the efficacy of Watershared at improving water quality, and draw lessons for future RCT evaluations of landscape-scale environmental management interventions.
Methods
One hundred and twenty-nine communities in the Bolivian Andes were randomly allocated to treatment (offered Watershared agreements) or control (not offered agreements) following baseline data collection (including Escherichia coli contamination in most communities) in 2010. We collected end-line data in 2015. Using our end-line data, we explored the extent to which variables associated with the intervention (e.g. cattle exclusion, absence of faeces) predict water quality locally. We then investigated the efficacy of the intervention at improving water quality at the landscape scale using the RCT. This analysis was done in two ways; for the subset of communities for which we have both baseline and end-line data from identical locations we used difference-in-differences (matching on baseline water quality), for all sites we compared control and treatment at end-line controlling for selected predictors of water quality.
Results
The presence of cattle faeces in water adversely affected water quality suggesting excluding cattle has a positive impact on water quality locally. However, both the matched difference-in-differences analysis and the comparison between treatment and control communities at end-line suggested Watershared was not effective at reducing E. coli contamination at the landscape scale. Uptake of Watershared agreements was very low and the most important land from a water quality perspective (land around water intakes) was seldom enrolled.
Discussion
Although excluding cattle may have a positive local impact on water quality, higher uptake and better targeting would be required to achieve a significant impact on the quality of water consumed in the communities. Although RCTs potentially have an important role to play in building the evidence base for approaches such as PES, they are far from straightforward to implement. In this case, the randomised trial was not central to concluding that Watershared had not produced a landscape scale impact. We suggest that this RCT provides valuable lessons for future use of randomised experiments to evaluate landscape-scale environmental management interventions.
Introduction
Whether an intervention is effective at delivering the outcomes expected is a key question for evidence-based policy making (e.g., White, 2013). This question is highly pertinent in the field of conservation and environmental management as awareness grows of the amount of money that has been spent on interventions with limited understanding of their effectiveness (Ferraro & Pattanayak, 2006; Bowler et al., 2012; Waeber et al., 2016; Salzman et al., 2018). As a result, conservation effectiveness is being widely discussed in the academic literature (Baylis et al., 2016; Börner et al., 2016; Sutherland & Wordley, 2017), the policy literature (Puri et al., 2016; Duchelle, Wunder & Martius, 2018), conservation journalism (Dasgupta, Gaworecki & Burivalova, 2018) and the mainstream media (Mooney, 2016). Randomised Control Trials (RCTs), in which experimental units are randomly allocated to treatment or control groups, allow the creation of robust counterfactuals from which to infer what would have happened in the absence of the intervention (e.g. Rubin, 1974). RCTs are widely used in many areas of public policy including medicine, education, and development economics (Glennerster & Takavarasha, 2013; Council of Economic Advisers, 2014). Although small-scale RCTs have been a mainstay of applied ecological experiments for decades, there are very few examples of RCTs of large-scale environmental management interventions, and there have been calls for their increased use (Greenstone & Gayer, 2009; Samii et al., 2014; Baylis et al., 2016; Börner et al., 2016; Börner et al., 2017).
Payments for Ecosystem Services (or Payments for Environmental Services—the terms are largely interchangeable (Wunder, 2015)) translate external, non-market values of the environment into financial incentives for local actors to provide environmental services. The focus of many PES programs in Latin America (Martin-Ortega, Ojea & Roux, 2013; Grima et al., 2016), and to a lesser extent in Asia and Africa, e.g., (Calvet-Mir et al., 2015) is the increase or maintenance of supply of good quality water. At least 1.8 billion people still rely on drinking water sources contaminated with faecal matter (Bain et al., 2014a). Where sources lack adequate physical or chemical treatment the quality of drinking water is influenced by land use and ecosystem management around and upstream of those water sources. Hence provision of clean water can be considered as an ecosystem service or as a precursor to multiple ecosystem services benefiting society (Keeler et al., 2012). Despite the increasing number of PES programs in operation, there are very few robust evaluations of the extent to which they deliver the outcomes they seek to supply (Pattanayak, Wunder & Ferraro, 2010; Miteva, Pattanayak & Ferraro, 2012; Naeem et al., 2015; Baylis et al., 2016; Börner et al., 2017; Ferraro, 2017; Salzman et al., 2018). We know of only a single published Randomised Control Trial of a PES (evaluating the impact of a program in Uganda on deforestation; Jayachandran et al., 2017) and none evaluating the impact of PES on water quality.
Gastrointestinal illnesses caused by consumption of contaminated water are a major cause of mortality and morbidity in the developing world (Prüss-Ustün et al., 2014). Escherichia coli is a bacterium that lives only in the guts of warm-blooded animals (Leclerc et al., 2001). While some strains of E. coli are pathogenic, the majority are not but are useful indicators of faecal contamination and the presence of other pathogens (Ashbolt, Grabow & Snozzi, 2001). Sources of faecal contamination may include faulty sewerage systems and leaking septic tanks (Richards et al., 2016), open defecation (Spears, Ghosh & Cumming, 2013), or the presence of wildlife (Ahmed et al., 2012). However, a major source of contamination is the presence of domestic livestock, particularly free-roaming cattle (Crane et al., 1983). Therefore, cattle exclusion has been practiced as a means of reducing faecal contamination of watercourses. In the UK, for example, the Good Agricultural and Environmental Conditions standard 1 requires farmers in receipt of certain subsidies to maintain buffer strips and refrain from spreading manure within areas close to water bodies (GOV.UK, 2016). There is evidence of such actions being effective at significantly reducing E. coli concentration and other faecal contamination of water supplies (Sunohara et al., 2012). However, many uncertainties remain about the extent to which these interventions, incentivised via a PES program, can deliver consistent benefits in water quality at the landscape scale.
The Bolivian non-governmental organization Fundación Natura Bolivia (Natura) began using in-kind incentives to encourage conservation in the Andean region of Bolivia in 2003. Their program, now known as Watershared, aims to slow forest loss and protect the quality of water available to communities through providing modest development support in exchange for avoiding deforestation and excluding livestock from riparian forest (Bottazzi et al., 2018). Although Natura does not characterise Watershared as PES (Asquith, 2016), the program meets the most widely used PES definition (Wunder, 2015): "voluntary transactions between service users and service providers that are conditional on agreed rules of natural resource management for generating offsite services". As of 2016, 210,000 hectares of forest owned by 4,500 households were under Watershared conservation agreements (Asquith, 2016).
Given the growing interest in evaluating the effectiveness of different conservation approaches, Natura established a Randomised Control Trial (RCT) to evaluate Watershared. One hundred and twenty-nine communities were randomly allocated to control (not offered Watershared agreements) or treatment groups (offered agreements). We use this unique setup to investigate the effectiveness of the intervention at delivering improvements in microbial water quality. We address three interconnected questions: (1) Do the features of Watershared agreements (e.g., cattle exclusion, absence of faeces) have a measurable impact on water quality at a site, accounting for other predictors? (2) Did the implementation of Watershared in treatment communities result in an improvement in water quality relative to control communities? (3) What lessons does the Watershared RCT evaluation offer for the wider use of experiments to evaluate the impact of conservation interventions at the landscape scale?
Results
Cattle faeces in water is one of the significant predictors of E. coli concentration at the local scale
E. coli concentration in 2015 (water systems N = 124) is significantly predicted by a number of variables (Fig. 4). The details of model selection can be seen in Table S4A (for purely biophysical model selection) and Table S4B for model selection including parameters relating directly to the intervention. Intakes are significantly more contaminated than taps, sites associated with stream intakes are significantly more contaminated than sites associated with spring intakes, and turbidity and disturbance of the sediment by the research team during sampling are both also associated with higher recorded contamination. In terms of variables directly connected to the intervention, the presence of cattle faeces in or close to the water is a significant predictor of contamination. Although faeces presence in the wider forest shows a positive trend, it is not significant at 95% CI. Details of the model can be found in Table S4C.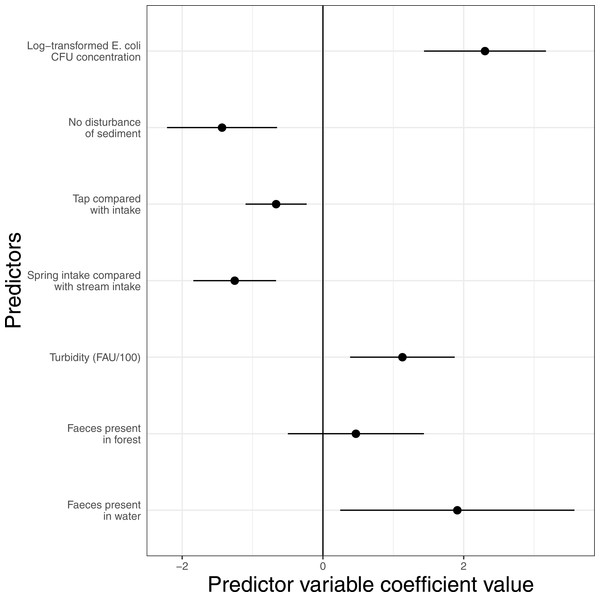 The intervention had no significant effect on E. coli concentration at the landscape scale
We analyze the RCT in two ways. In the first (difference-in-differences; Fig. 5) we used weights derived from genetic matching the communities based on the E. coli count in 2010 and only the sub-sample of communities where we are certain water sampling locations are the same in 2010 and 2015 (sites N = 83, communities N = 47). The weighting strongly downweighted two communities (w = 0.19), moderately upweighted nine (w = 1.19), strongly upweighted one (w = 1.5) and did not change the relative weighting of the remaining communities. We include E. coli count in 2010 as a predictor to control for sites with naturally higher contamination (e.g., streams rather than springs). Results from a negative binomial GLM show no significant effect of a site being in a control or treatment community on E. coli concentration in 2015. This is because there is no significant interaction between RCT status and E. coli concentration in 2010, meaning that the rate of change in E. coli concentration between 2010 and 2015 is not significantly different in sites associated with treatment or control communities.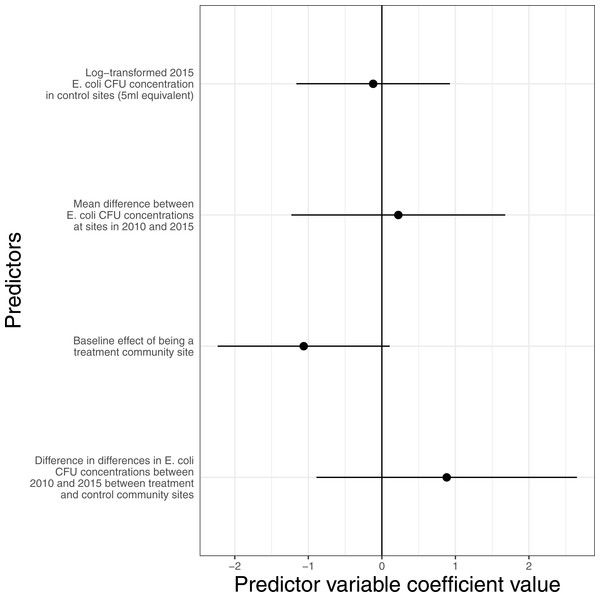 In the second analysis we analyse E. coli at end-line only (levels in 2015) again using a negative binomial GLM (sites N = 228, communities N = 116). As we do not have baseline E. coli counts for all these sites we include important predictors of water quality from Fig. 4. The results show that while taps had significantly lower contamination than intakes and springs lower contamination than streams there was no significant effect of treatment (Fig. 6). Taken together both analyses together show that, using the robust RCT design and both the baseline and end-line datasets, we did not find a significant effect of the intervention on E. coli concentration at the landscape scale.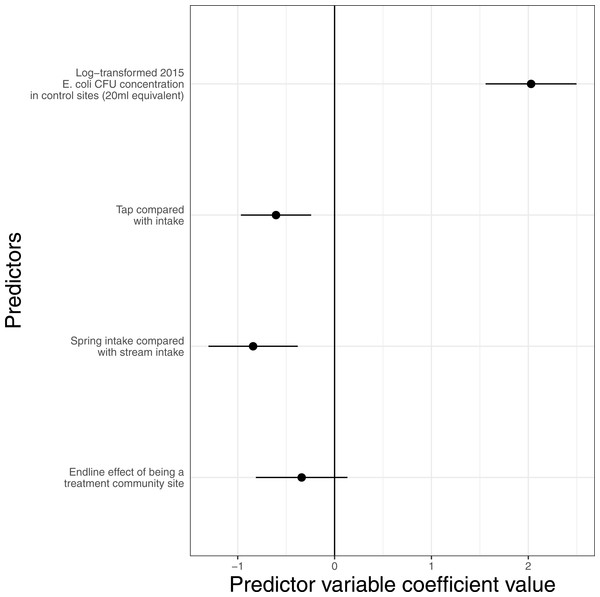 Uptake was low, highly variable and treatment and control communities do not differ with respect to protection of intakes from cattle
In treatment communities (where every household was offered the opportunity to enrol land) a low proportion of land eligible to be enrolled in Watershared agreements was actually enrolled, and this proportion was highly variable between communities (Fig. 7: range from 0–18% with a median uptake of 2.5%). There is no significant difference (N = 129; p = 0.97; chi-squared test) between the number of intakes protected from cattle in control and treatment community sites. Water intakes in both control and treatment communities tend to be protected from cattle (61% and 62% of intakes respectively) despite only a quarter of intakes being in compliant level 1 areas (Table 2).
| | Treatment community intake | Control community intake |
| --- | --- | --- |
| N | 68 | 61 |
| Compliant level 1 Watershared conservation agreement (%) | 16 (24%) | 0 (0%) |
| Sites with no cattle access (%) | 40 (59%) | 37 (61%) |
Conclusions
There is global interest in PES because it is seen as an efficient way to provide environmental outcomes. The effectiveness of PES in achieving its intended outcomes is fundamentally an empirical question but the quality of the evidence base concerning the delivery of benefits from PES is mixed. There is therefore substantial interest in robust evaluation of the effectiveness of PES programs at delivering outcomes. We conclude that this particular program would require much greater uptake (probably requiring higher payments) and more intensive targeting (which would increase substantially the transaction costs and design complexity of the intervention) to have a significant impact on water quality. However, although this paper presents the results of a Randomised Control Trial (one of the very few implemented to evaluate the impacts of a conservation intervention at scale), these same conclusions could have been drawn without the RCT. The low uptake of the program and the lack of a difference in water intakes protected from cattle between control and treatment communities make the result of the RCT (no effect of the program detected at the landscape scale) inevitable. Randomised Control Trials have the potential to contribute to building the evidence base for understanding the impact of environmental management approaches such as Payments for Ecosystem Services. However, as evidenced by the Watershared experience, they are not straightforward to implement in practice. We hope that by publishing the experience of the Watershared RCT we will encourage future landscape-scale conservation impact evaluations to improve on the use of this evaluation approach in conservation.