Sexual dimorphism in the Arachnid orders
1
School of Science and the Environment, Manchester Metropolitan University

,

Manchester

,

UK
2
School of Earth and Environmental Sciences, University of Manchester

,

Manchester

,

UK
3
Earth Sciences Department, Natural History Museum

,

London

,

UK
Published

Accepted

Received
Academic Editor
Subject Areas

Keywords

Arachnid

,

Sexual dimorphism

,

Sexual selection

,

Rensch's rule
Copyright

©

2018

McLean et al.

Licence

This is an open access article distributed under the terms of the Creative Commons Attribution License, which permits unrestricted use, distribution, reproduction and adaptation in any medium and for any purpose provided that it is properly attributed. For attribution, the original author(s), title, publication source (PeerJ) and either DOI or URL of the article must be cited.
Cite this article

2018

.

Sexual dimorphism in the Arachnid orders

.

PeerJ

6

:

e5751

https://doi.org/10.7717/peerj.5751
Abstract
Sexual differences in size and shape are common across the animal kingdom. The study of sexual dimorphism (SD) can provide insight into the sexual- and natural-selection pressures experienced by males and females in different species. Arachnids are diverse, comprising over 100,000 species, and exhibit some of the more extreme forms of SD in the animal kingdom, with the males and females of some species differing dramatically in body shape and/or size. Despite this, research on arachnid SD has primarily focused on specific clades as opposed to observing traits across arachnid orders, the smallest of which have received comparatively little attention. This review provides an overview of the research to date on the trends and potential evolutionary drivers for SD and sexual size dimorphism (SSD) in individual arachnid orders, and across arachnids as a whole. The most common trends across Arachnida are female-biased SSD in total body size, male-biased SSD in relative leg length and SD in pedipalp length and shape. However, the evolution of sexually dimorphic traits within the group is difficult to elucidate due to uncertainty in arachnid phylogenetic relationships. Based on the dataset we have gathered here, we highlight gaps in our current understanding and suggest areas for future research.
Introduction
Sexual dimorphism (SD), the difference in morphological, physiological and behavioural traits between males and females, is ubiquitous in nature. Common hypotheses to explain sex-specific divergence in body size and shape relate to sexual selection, intraspecific niche divergence and female fecundity pressures (Shine, 1989; Andersson, 1994). The first major step to understand the evolution of SD, however, is to document and describe the occurrence of sexually dimorphic traits in a wide range of species. Amongst vertebrates, for instance, the occurrence of SD is well documented. In mammals, it has been quantified in 1,370 species, representing around 30% of known mammalian species (Lindenfors, Gittleman & Jones, 2007). Datasets of similar size have been used to quantify SD in reptiles (1,341 species, Cox, Butler & John-Alder, 2007) and birds (Owens & Hartley, 1998). In contrast, the SD literature pertaining to invertebrates is more fragmented (Abouheif & Fairbairn, 1997), particularly within arachnids. Whilst a limited number of studies include large innterspecific datasets, their taxanomic breadth, relative to size of the group, pales in comparison to those in the vertebrate literature. Although such studies can highlight trends within specific groups, they provide only limited insight into trends across arachnids as a whole, primarily due to its diversity: the group comprises over 100,000 species (Cracraft & Donoghue, 2004).
Research into arachnid SD to date has largely focused on the spiders (Arachnida: Araneae). This is driven by interest in their conspicuous sexual size dimorphism (SSD), a subset of SD, which pertains solely to size differences in segments or body size between sexes. Interest in SSD in spiders stems from orb weaving spiders, which have the largest proportional weight difference between females and males of all studied land animals (Foellmer & Moya-Larano, 2007). Hence, research has probed the causes of this size disparity, and in particular the degree to which spiders follow Rensch's Rule, which states that if SSD is male-biased within a group, SSD will increase with the increased body size of a species; the converse is also true if SSD is female-biased in a group (Rensch, 1950). A focus on this question and group has left other arachnid orders relatively understudied, in terms of both SSD or SD in general.
The lack of study is unfortunate, as arachnids constitute an interesting group for learning more about SD, due to their wide range of morphologies, habitats and life histories. Indeed, SD is present in numerous forms throughout the arachnids, including the occurrence of exaggerated weapons (Santos, Ferreira & Buzatto, 2013), asymmetry (Proctor, 2003), extreme size dimorphism and other forms of polymorphism (e.g. Opiliones, Schizomida and Acari). The wide range of potential causes and expressions of dimorphism allow the influence of sexual selection and niche partitioning within the group to be assessed in great depth.
Recent advances make a review of SD in arachnids timely and important. Rigorous statistical testing has become commonplace in the last decade, with recent papers not only commenting on sexual differences, but also quantifying their significance (Foellmer & Moya-Larano, 2007; Zatz et al., 2011; Santos, Ferreira & Buzatto, 2013). Furthermore, high-resolution imaging has facilitated the study of smaller organisms, and the adoption of geometric morphometric techniques has allowed for sexual shape dimorphism to be quantified across a number of groups (e.g. humans, Franklin et al., 2007; reptiles, Kaliontzopoulou, Carretero & Llorente, 2007; spiders Fernández-Montraveta & Marugán-Lobón, 2017). Advances in phylogenetic methods have also made it possible to reconstruct the plesiomorphic state of sexually dimorphic traits, and the order of character acquisition in their evolution, thus providing novel data to help understand the drivers of SD (Hormiga, Scharff & Coddington, 2000; Baker & Wilkinson, 2001; Emlen, Hunt & Simmons, 2005).
In light of these new approaches, here we present the first review of SD across Arachnida. In particular, we have focused on collating data on the smaller arachnid orders, for which there is no pre-existing synthesis of SD. We begin by considering common methodological issues encountered throughout the arachnid SD literature. We move on to chart both SSD and shape dimorphism across eleven living orders, and touch on potential drivers in the evolution of sexually dimorphic arachnid traits. We conclude with a discussion of shared patterns in SD across Arachnida, and make suggestions for the direction of future research. As this review is of general interest to all researchers interested in the development of SD and morphology, all arachnid-specific terms are defined or described as fully as possible.
Discussion
Trends in SD across Arachnida
When SD is considered across Arachnida as a whole, general trends become apparent (Table 1). The lack of current consensus regarding phylogenetic relationships between arachnid orders precludes us from deriving the ancestral condition of dimorphism, with only Arachnopulmonata (containing Scorpiones, Araneae, Amblypygi, Schizomida and Uropygi; Fig. 17) and its internal relationships being consistently recovered (Giribet, 2018). However, a current consensus phylogeny is included to allow readers to gain an insight into the distribution of SD across the group (Fig. 17).
Acari
Amblypygi
Aranaea
Palpigradi
Pseudoscorpiones
Opiliones
Ricinulei
Schizomida
Scorpiones
Solifugae
Uropygi
Overall body

(♀)

♀

♀

(♂)

♀

(♂)

♀

♂

♀

(♂)

♀

♂

Legs

♂*

♂

♂

♂

♂

♂

Chelicerae

♂

♀

♂

♂

♂

(♀)

Pedipalps

♂

♂

♀

♂

♂

♂

♂

♂
♂/red = male biased, ♀/green = female-biased, symbols in brackets indicate rare reversals, * indicates antenniform legs.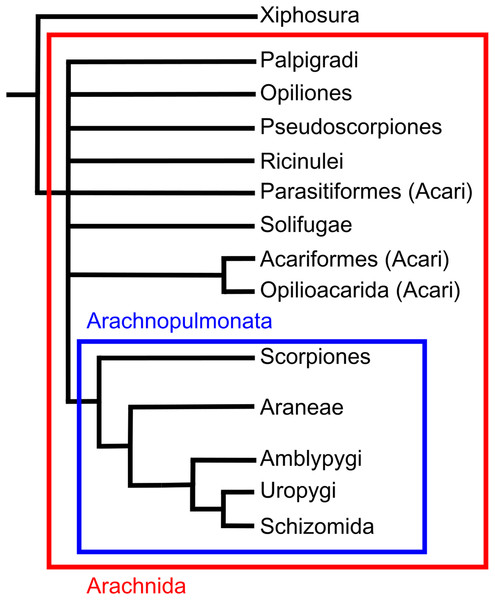 Firstly, though generally not as pronounced as in Araneae, female-biased SSD in overall body size is present across much of Arachnida: female-biased SSD has also been reported in mites, amblypygids, harvestmen, pseudoscorpions, scorpions and solifuges. Whilst some species are known to subvert the general trend, we note that there is no evidence of male-biased SSD being dominant across an order.
Secondly, SSD in leg length relative to body size typically favours males, occurring in scorpions, solifuges, spiders, ricinuleids and harvestmen. This trait is seemingly driven by behavioural factors, although the precise mechanism differs between groups (see below). Additionally, the majority of arachnid orders exhibit dimorphism in either size or shape of the pedipalps. When present, SSD in the pedipalps typically favours males, which often possess additional spurs or other accessories to the appendage. In the most extreme examples, spiders have modified their pedipalps to transfer spermatophores directly. However, in the majority of cases, the pedipalp does not play a direct role in sperm transfer and is instead involved in female mate choice or intraspecific male contest.
Sexual size dimorphism in chelicerae is also observed in a number of arachnid orders (Acari, Araneae, Opiliones and Solifugae), though the direction of dimorphism can differ. When dimorphism is male-biased, the chelicerae tend to be under the influence of sexual selection. For example, Opiliones chelicerae are used in male–male contest (Willemart et al., 2006), spider chelicerae are thought to be used for intersexual agonistic displays (Faber, 1983) and nuptial gift giving (Costa-Schmidt & Araújo, 2008). Female-biased dimorphism, on the other hand, appears to be related to increased feeding due to the high energetic costs of produding eggs. Female biased intersexual difference in the number of prey captured has been empirically demonstrated in spiders that exhibit female-biased cheliceral SSD (Walker & Rypstra, 2002). Differences in cheliceral wear patterns suggest this is also the case in solifuge (Fitcher, 1940).
Several orders also show male-bias in the number of sensory structures (Amblypygi, Solifugae and Scorpiones). In solifuges and scorpions, the co-occurrence of larger sensory structures and longer leg length (Melville, 2000; Peretti & Willemart, 2007; Punzo, 1998b) may be tied to the selective pressures of mate searching (Punzo, 1998a; Melville, 2000). In Opiliones, male and females have different sensory anatomy (Wijnhoven, 2013) though there is no clear indication as to whether one sex has increased sensory capabilities relative to the other.
Selective pressures for SD in Arachnida
Conclusion
In conclusion, we believe that a key endeavour for future work should be to trace the evolution of SD across Arachnida more broadly, extending work that has thus far predominantly been restricted to Araneae. For example, the frequency with which pedipalp SSD occurs across arachnids (seven out of 11 orders) may point towards an early origin within the group. Alternatively, given that arachnid pedipalps appear to be involved in numerous different courting, mating and other related tasks, and show many different types of SD, it is equally possible pedipalp dimorphism may have evolved independently several times. Such analyses will prove extremely informative with regards to the origin of SD in the group, but necessarily must overcome issues regarding phylogenetic uncertainty. In arachnids as a whole, there is little congruence between recent morphological and molecular phylogenies (Sharma et al., 2014; Garwood et al., 2017; Giribet, 2018); this issue is often replicated within individual arachnid orders. Furthermore, there is a general paucity of information on the phylogenetic relationships within smaller arachnid orders. For example, just one molecular phylogenetic study of Palpigradi has been published to date (Giribet et al., 2014). In Amblypygi, limited morphological phylogenies have been published (Weygoldt, 1996, Garwood et al., 2017) and no molecular phylogenetic study of the order as a whole has ever been conducted. Therefore, ideally future analyses of SSD should be accompanied by improved phylogenies, or else account for current uncertainty in phylogeny.
Furthermore, we note that basic data pertaining to the biology and life history of many arachnid orders are still lacking, particularly in the smaller groups. For example, information on courtship displays in Schizomida are limited to anecdotal evidence, and there is no published data on mating in Palpigradi. An improved understanding of ontogenetic scaling in the size and shape of arachnids is also a priority. In particular, the ability to better identify discrete ontogenetic stages and the onset of sexual maturity will prove useful, as dimorphism frequently becomes more pronounced beyond this point.
Future research efforts should also exploit recent advances in the fields of morphometrics, statistics, experimental physiology and biomechanics. Some progress has been made in this direction concerning Araneae SD: for example, recent studies have employed geometric morphometric to quantify shape dimorphism amongst D. merlini (Fernández-Montraveta & Marugán-Lobón, 2017). In contrast, potential shape dimorphism amongst the smaller arachnid orders is typically quantified using ratios of linear metrics (Weygoldt, 2000; Vasconcelos, Giupponi & Ferreira, 2014; Santos, Ferreira & Buzatto, 2013), and may therefore fail to capture finer-scale shape change between sexes. Furthermore, statistical hypothesis testing remains limited amongst the smaller orders. Whilst limited sample sizes are both frequent and undoubtedly a problem, other studies comprising a larger number of samples continue to eschew statistical testing, and further work is needed to statistically corroborate previously published qualitative observations. Finally, field and lab-based experimental studies are uncommon outside of spiders (Moya-Laraño, Halaj & Wise, 2002; Grossi & Canals, 2015). This work is, however, imperative, as an improved understanding of form-function relationships will provide further insights into the life history of both sexes, and the potential evolutionary drivers behind SD within arachnids.
Supplemental Information
Table of all reports of sexual dimorphism in papers cited.
Patterns of SD across Arachnida.
See "Standard Figure Abbreviations" for labelling guide.