Preliminary analysis of New Zealand scampi (Metanephrops challengeri) diet using metabarcoding
1
Institute of Marine Science, University of Auckland

,

Auckland

,

New Zealand
2
School of Biological Sciences, University of Auckland

,

Auckland

,

New Zealand
Published

Accepted

Received
Academic Editor
Subject Areas

Aquaculture, Fisheries and Fish Science, Bioinformatics, Genetics, Marine Biology, Molecular Biology

Keywords

Metanephrops challengeri

,

New Zealand scampi

,

Metabarcoding

,

PCR inhibition

,

Database analysis

,

Next generation sequencing

,

DNA polymerase

,

COI

,

18S rRNA

,

Diet
Copyright

©

2018

van der Reis et al.

Licence

This is an open access article distributed under the terms of the Creative Commons Attribution License, which permits unrestricted use, distribution, reproduction and adaptation in any medium and for any purpose provided that it is properly attributed. For attribution, the original author(s), title, publication source (PeerJ) and either DOI or URL of the article must be cited.
Cite this article

2018

. Preliminary analysis of New Zealand scampi (Metanephrops challengeri) diet using metabarcoding.

PeerJ

6

:

e5641

https://doi.org/10.7717/peerj.5641
Abstract
Deep sea lobsters are highly valued for seafood and provide the basis of important commercial fisheries in many parts of the world. Despite their economic significance, relatively little is known about their natural diets. Microscopic analyses of foregut content in some species have suffered from low taxonomic resolution, with many of the dietary items difficult to reliably identify as their tissue is easily digested. DNA metabarcoding has the potential to provide greater taxonomic resolution of the diet of the New Zealand scampi (Metanephrops challengeri) through the identification of gut contents, but a number of methodological concerns need to be overcome first to ensure optimum DNA metabarcoding results. In this study, a range of methodological parameters were tested to determine the optimum protocols for DNA metabarcoding, and provide a first view of M. challengeri diet. Several PCR protocols were tested, using two universal primer pairs targeting the 18S rRNA and COI genes, on DNA extracted from both frozen and ethanol preserved samples for both foregut and hindgut digesta. The selection of appropriate DNA polymerases, buffers and methods for reducing PCR inhibitors (including the use of BSA) were found to be critical. Amplification from frozen or ethanol preserved gut contents appeared similarly dependable. The COI gene was found to be more effective than 18S rRNA gene for identifying large eukaryotic taxa from the digesta; however, it was less successfully amplified. The 18S rRNA gene was more easily amplified, but identified mostly smaller marine organisms such as plankton and parasites. This preliminary analysis of the diet of M. challengeri identified a range of species (13,541 reads identified as diet), which included the ghost shark (Hydrolagus novaezealandiae), silver warehou (Seriolella punctata), tall sea pen (Funiculina quadrangularis) and the salp (Ihlea racovitzai), suggesting that they have a varied diet, with a high reliance on scavenging a diverse range of pelagic and benthic species from the seafloor.
Introduction
Commercial fisheries for deep sea lobster species, those typically captured below 50 m depth, are occurring in many parts of the world, currently producing total annual landings of around 50,000 t (Jeffs, 2010; FAO, 2016). Many of the targeted species are of high value, with wholesale export prices of over $40 kg−1 common for some species, such as the New Zealand (NZ) scampi Metanephrops challengeri (Balss, 1914; Seafood New Zealand, 2017). Despite the economic importance of deep sea lobsters, the knowledge of their feeding ecology and diet is limited. Improved information on diet in deep sea lobsters has potential uses in identifying effective baits for trap fishing, development of suitable feeds for aquaculture, as well as understanding differences in growth rates in natural populations to help improve the management of the fisheries.
Species in two genera of deep-sea lobster, Metanephrops and Nephrops, are widely targeted by commercial fisheries, share similar ecology and are genetically closely related (Tshudy, Chan & Sorhannus, 2007). The Norway lobster, Nephrops norvegicus, has a varied diet, which is necessary to achieve optimal growth (Cristo & Cartes, 1998; Mente, 2010). Similar varied diets have been suggested for some Metanephrops species (excluding M. challengeri), and include fish, crustaceans, polychaetes and amphipods, although these have only been identified at a crude taxonomic level using microscopic analysis of foregut contents (Choi et al., 2008; Sahlmann, Chan & Chan, 2011; Wahle et al., 2012; Bell, Tuck & Dobby, 2013). A significant problem with microscopic analysis of gut contents is poor taxonomic resolution, due to difficulties in identification of partly-digested specimens, which typically require an expert for reliable taxonomic identification (Dunn et al., 2010; Pompanon et al., 2012; Zhan et al., 2013; Berry et al., 2015; Young et al., 2015; Crisol-Martínez et al., 2016; Harms-Tuohy, Schizas & Appeldoorn, 2016; Sousa et al., 2016). Also, soft-bodied animals are frequently suspected of being under-represented in such analyses as they are highly digestible (Bell, Tuck & Dobby, 2013).
A more promising tool for diet analysis, DNA metabarcoding, combines universal DNA primers with high-throughput (next-generation) sequencing to identify a variety of species from a mixture of gut content DNA (Kress et al., 2015). A single universal primer pair has the ability to amplify a diverse range of species by targeting a single gene region that has been conserved among phylogenetically distinct taxa (e.g., the cytochrome oxidase I [COI] region in the mitochondrial DNA or the 18S ribosomal RNA [rRNA] region in the nuclear DNA; Aylagas et al., 2016). This molecular method has been successfully applied in diet studies of a variety of lobster larvae and marine fish species (O'Rorke et al., 2012; O'Rorke et al., 2014; Berry et al., 2015; Harms-Tuohy, Schizas & Appeldoorn, 2016). One of the major advantages of this method of gut analysis is that a high degree of taxonomic resolution can be achieved, with the identification of individual species frequently possible. Also, the digested or liquid gut content, which would normally be of no value for visual identification of morphology, can provide additional dietary information that would otherwise have been missed. The potential difficulties of this approach include the sequencing and labour costs, the sensitivity of detection, and the taxonomic coverage of the reference sequence databases at the time of study. These difficulties will likely fade as research progresses in this field (Cowart et al., 2015; Srivathsan et al., 2016).
With sequencing cost and sensitivity being the major restrictions, it is in the best interest of researchers to first address methodological issues before a full analysis is conducted, in order to ensure the best possible results are obtained. One of the potential difficulties in metabarcoding is polymerase chain reaction (PCR) inhibition, which has often been found when using template genomic DNA extracted from biological material with a high proportion of organic (i.e., bile salts) or inorganic (i.e., calcium ions) compounds, or from body fluids or some difficult organs (Rossen et al., 1992; Kreader, 1996; Rådström et al., 2004; Farell & Alexandre, 2012; Schrader et al., 2012). Another matter to address is determining which DNA polymerases are more susceptible to the effects of specific PCR inhibitors present that impede DNA amplification (Rådström et al., 2004). A third potential problem is the taxonomic coverage and resolution possible from the different reference sequences in the databases available, with some databases targeting different genes or different organisms. Other sampling factors may also be important in determining the success of metabarcoding for diet analysis. These include the preservation method (e.g., frozen or in ethanol) and the location of the gut contents to be analysed (from the foregut or hindgut), with the potential for these two locations to provide different results due either to the state of DNA degradation or the differences in timing of intake and digestive processing of dietary items.
The natural diet of M. challengeri is largely unknown, despite forming the basis of an important commercial fishery in New Zealand, and currently being of some interest for aquaculture development. The goal of this study is to provide a preliminary examination of the natural diet of this species using metabarcoding methods, by firstly addressing the optimisation of selected methodological factors, including issues of tissue choice and preservation, target gene, PCR inhibition, PCR reagents and reference database coverage.
Results
Factors affecting PCR amplification success
Several important factors were identified that affected PCR amplification success prior to metabarcoding. These factors included PCR inhibition (and its reduction with BSA), optimal template DNA dilution, PCR reagents (particularly the DNA polymerase and buffer), and the success of amplification of different target genes (18S and COI). The success of the PCRs was determined by the presence and intensity of an appropriately-sized fragment on an agarose gel.
The sample DNA concentrations had a wide range (selected individuals ranged from 1.4–290.3 ng µl−1) and, overall, had relatively poor purity ratios (as measured by A260:A280 ratios; Table S5 ). PCR inhibition was minimised (visible increase in DNA amplification on agarose gel) when an optimal volume of 2 µl of 1% BSA was used in each 25 µl PCR, with some beneficial effect when using 1 µl or 5 µl of 1% BSA. PCR inhibition was found to occur inconsistently at a range of DNA concentrations, even with the addition of BSA. The inhibitory effect of the DNA extracted from gut material was demonstrated when amplifying both genes with DNA extracted from tail muscle tissue. PCR amplification from muscle DNA alone was usually strong, whereas PCR amplification was often dramatically reduced when DNA extracted from the gut (digesta DNA) was added. Amplification from digesta DNA was often very inconsistent between PCR replicates. Different dilutions of template DNA (1:10, 1:50 and 1:100) were also tested in an attempt to reduce PCR inhibition and provide optimal DNA amplification at the concentration best suited to the conditions of the individual sample, with the 1:10 dilution proving to result in the strongest DNA amplification overall.
Two different sets of PCR reagents (which differed primarily in their DNA polymerase and buffer) were compared. The Bioline reaction was generally more reliable in DNA amplification, as not only was the intensity of the products generally greater, but the digesta DNA was more likely to produce PCR products for both the COI gene and 18S gene.
When comparing PCR amplification of the two target genes from digesta DNA, in general the COI gene did not amplify as well as the 18S. For several individuals, no PCR products were seen for the COI gene, while for the same DNA, the 18S gene amplified well. In addition, DNA from hindgut contents amplified more readily than DNA extracted from the foregut contents.
Factors affecting metabarcode sequencing results
PCR reagents (DNA polymerase and buffer)
A comparison between the Platinum Taq and the Bioline PCR reagents was made for individual 70.9, for which both sets of reagents were used (Table 2). Metabarcode sequences from both foregut and hindgut digesta were pooled for each set of reagents (thus comparing samples 1 and 2 with 3 and 4). The total number of taxa identified and the total number of exclusive taxa identified (i.e., those found only in one category) was greater for both the COI and 18S genes when using the Bioline reaction (11 different taxa in total and six exclusive taxa), compared to the Platinum Taq reaction (six different taxa identified and one exclusive taxon; Table 3). The total diet hit count (number of sequence reads matching a potential dietary reference sequence in that database—i.e., excluding host matches) was also greater for the Bioline reaction.
| | Taxa identified in the Bioline reaction (diet hit count) | Taxa identified in the Platinum Taq reaction (diet hit count) |
| --- | --- | --- |
| Midori/NCBI (COI) | 9 (648) | 5 (62) |
| NCBI/PR2/SILVA (18S) | 2 (10) | 1 (6) |
| Total taxa | 11 (658) | 6 (68) |
| Total exclusive taxa | 6 (190) | 1 (13) |
Five of the taxa identified by Platinum Taq were a subset of those found in Bioline, which had a low summed hit count of 55 compared to Bioline's 468 hit count for the same taxa. Moreover, Bioline identified a higher number of exclusive taxa which averaged a hit count of ∼32 hits per taxa whereas Platinum Taq only identified one exclusive taxon with a hit count of 13.
Foregut versus hindgut digesta
The taxa identified from the hindgut and foregut digesta of two individuals were compared (i.e., samples 1 and 5 versus 2 and 6). The hindgut digesta contained a higher number of both total taxa and exclusive taxa compared to the foregut digesta, when the sequences were matched to the COI gene databases (Table 4). Conversely, the foregut digesta contained a higher number of total taxa and exclusive taxa with the 18S gene databases (Table 4).
| Database | Total taxa identified (diet hit count) in the foregut digesta | Total taxa identified (diet hit count) in the hindgut digesta | Exclusive taxa identified in the foregut digesta | Exclusive taxa identified in the hindgut digesta |
| --- | --- | --- | --- | --- |
| Midori/NCBI (COI) | 3 (448) | 12 (274) | 2 | 11 |
| NCBI/PR2/ SILVA (18S) | 14 (736) | 2 (14) | 13 | 1 |
Sample preservation method
The effects of potential differential DNA degradation due to the method of preservation were more difficult to assess directly, as the same individuals could not be compared across the two conditions, and the comparison was somewhat confounded by being collected in different locations. Instead, broad comparisons were made between the pooled results from the three individuals preserved for each of the ethanol and frozen methods. Firstly, the potential differential effects on preservation of diet DNA was assessed by calculating the diet hit count as a percentage of the overall hit count (for samples 1, 2, 5, 6 and 7 versus 8 and 9; Table 5). No difference was seen between the ethanol and frozen individuals for the 18S results, as both had a diet hit count percentage of 1% (Fro3 was the only frozen individual to have any diet hit counts; Table S6).
| Preservation | Genus/species hit count | Diet hit count | Diet hit count (%) |
| --- | --- | --- | --- |
| Ethanol | 165,566 | 2,028 | 1 |
| Frozen | 94,218 | 902 | 1 |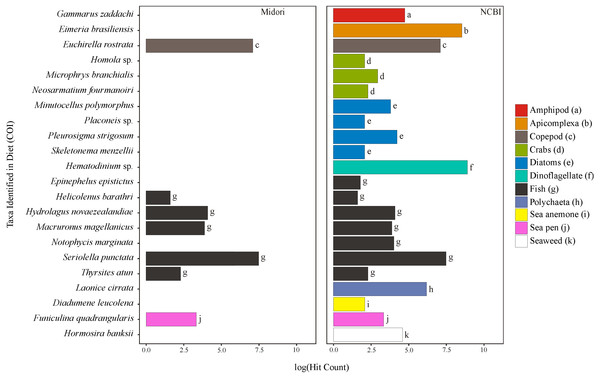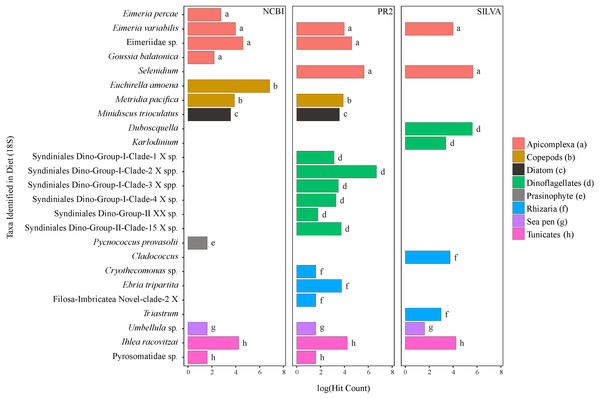 Database comparison and preliminary assessment of M. challengeri diet
All individuals and their digesta amplified using Bioline were used to provide a preliminary assessment of the diet of M. challengeri. A total of 13,541 sequences were used to analyse the diet: 22 taxa were identified from 10,611 COI sequences, and 25 taxa from 2,930 18S sequences. Among the 22 taxa identified from the COI databases were seven fish taxa (Epinephelus epistictus, Helicolenus barathri, Hydrolagus novaezealandiae, Macruronus magellanicus, Notophycis marginata, Seriolella punctata and Thyrsites atun), crab taxa (Neosarmatium fourmanoiri, Microphrys branchialis and Homola sp.), a marine worm (Laonice cirrata) and an anemone (Diadumene leucolena) (Fig. 1; Tables S7 and S8). The 18S databases identified 25 taxa, which included a sea pen (Umbellula sp.), salps (Pyrosoma sp. and Ihlea racovitzai) and many parasites (i.e., apicomplexan Eimeria variabilis and dinoflagellate Duboscquella) (Fig. 2; Tables S9 and S10). There were no common taxa identified between the reference databases when comparing 18S OTUs to COI OTUs.
Discussion
Methodological issues in PCR amplification success
PCR inhibition
PCR inhibition is a substantial factor in this study. The spectrophotometer ratios of purity provided initial indicators of the presence of inhibitors in the extracted DNA (Watts, 2014). An optimal volume of 2 µl 1% BSA successfully reduced PCR inhibition by increasing the amplification efficiency. An additional step effective in reducing PCR inhibition, was 1:10 dilution of the template genomic DNA, thus diluting the PCR inhibitors it presumably contained.
The presence of organic compounds in the foregut (i.e., bile salts in the gastric juices) is thought to be one of the main contributors to PCR inhibition which cannot always be alleviated by BSA (Lorenz, 2012; Schrader et al., 2012; Harms-Tuohy, Schizas & Appeldoorn, 2016). Bile salts often found in vertebrate gastric juices, are similar to an organic compound in crustaceans such as crabs, lobsters and crayfish, and suggests why BSA is not an alleviator in all DNA amplifications tested in this study (Borgström, 1974). Different diets would also affect the secretion of the gastric juices, which may play a role in determining which PCR inhibitors are present and in what concentration in different parts of the gut (Rotllant et al., 2014). This demonstrates the problematic, high levels of PCR inhibition present in many genomic DNA extracts, and its influence on successfully amplifying gut content DNA. Increased quantitative monitoring of the PCR success, such as by utilising quantitative PCR, may be required in future.
One solution to PCR inhibition may be to pool replicate PCR products together. Another is the addition of the T4 gene 32 protein (gp32), which can be effective against inhibitors for which BSA is not, such as sodium dodecyl sulfate (SDS), sodium chloride and bile salts (Schrader et al., 2012).
PCR reagents (DNA polymerase and buffer)
Different DNA polymerases and buffers are available and are two of the key reagents for DNA amplification, each being susceptible to various components in the biological environment in which they amplify, thus affecting their performance (Rådström et al., 2004; Wolffs et al., 2004). A substantial difference could be seen visually in the DNA amplification when using the Bioline reaction compared to the Platinum Taq reaction. The Platinum Taq reaction appeared to be more susceptible to the effects of PCR inhibitors, and the DNA amplification was not as effective as in the Bioline reaction.
Amplification of the loci
The 18S gene region (∼425 bp), in general, amplified more successfully compared to the COI gene region (∼313 bp) targeted here. It is not common for shorter gene fragments to be more difficult to amplify, but it is relatively common to see some difficulties in amplification of the COI gene in some species, likely due to the greater sequence variation in the primer annealing sites (Chen, Jiang & Qiao, 2012; Lv et al., 2014). However, when both genes amplified, their PCR product intensity appeared consistent between sample conditions, i.e., if the PCR product was more intense for the foregut digesta for the 18S gene the same would be seen for the COI gene in the same individual.
Methodological issues in metabarcoding success
Preliminary assessment of M. challengeri diet
This study undertook the first assessment of M. challengeri diet using DNA metabarcoding methods. Although this study investigated only a small number of individuals in this preliminary analysis, it has already provided a fascinating snapshot of their diet, confirming some previous expectations, and providing a broader understanding of their feeding ecology.
The components of the diet were identified at a much finer taxonomic level than any other previous studies undertaken microscopically on any Metanephrops species. The diets previously determined microscopically are at a poor taxonomic resolution, and included crustaceans, fish, annelids and bivalves (Choi et al., 2008; Sahlmann, Chan & Chan, 2011; Wahle et al., 2012). Metanephrops challengeri are thought to be benthic foragers and scavengers, relying heavily on chemosensory detection of potential food items (Major & Jeffs, 2017). They are likely to be scavengers of fish remains whether it is from trawl debris, sunken carcasses or faeces, as well as foraging for smaller dietary items such as sea pens. Using metabarcoding methods on digesta also allowed identification of parasites that are either from the diet source or from M. challengeri individuals sampled. Below, we examine some of the most interesting and prominent taxa identified in the diet of M. challengeri, and suggest likely species identifications for those taxa not classified to species or those whose counterparts are more likely to be the closest match.
Metanephrops challengeri have been reported to reside at a depth ranging from 140–640 m (Holthuis, 1991). Diet taxa were closely matched to several common fish species that reside within this depth range on the Chatham Rise, including H. novaezealandiae (ghost shark), N. marginata (dwarf codling), S. punctata (silver warehou) and T. atun (snoek) (Francis, 1998; Ministry for Primary Industries, 2006b; Ministry for Primary Industries, 2006a; Luna, 2008; Ministry for Primary Industries, 2008; Priede, 2017). The OTU identified as M. magellanicus is likely instead to be Macruronus novaezelandiae (New Zealand hoki), as M. magellanicus is located off the southern coast of Chile and Argentina and M. novazealandiae is located in the Chatham Rise at depths from 209–904 m (D'Amato, 2006; Connell, Dunn & Forman, 2010; Kobayashi, Mizuguchi & Matsuoka, 2014). The OTU identified as H. barathri (sea perch) is likely to be Helicolenus percoides, a sea perch (Scorpaenidae) found at depths between 250–700 m in the Chatham Rise (Anderson et al., 1998; Horn, Forman & Dunn, 2012). Epinephelus epistictus (grouper) is another OTU that probably belongs instead to its sibling species found in New Zealand waters at the appropriate depth, Epinephelus octofasciatus.
The only sea pen to be identified in the COI databases, Funiculina quadrangularis, is a common tall deep-sea sea pen that grows on muddy substrates and has been found between 20–2,000 m in New Zealand waters (Hughes, 1998). Umbellula sp. is a sea pen taxa identified by the 18S databases and has a world-wide distribution in depths 200–6,260 m (Williams, 1995; Williams, Tracey & Mackay, 2014).
There are several OTUs identified as belonging to the Brachyuran crabs. Many families of this infraorder occur in New Zealand waters in the area of the Chatham Rise (Wilkens & Ahyong, 2015), but it is not possible at this stage to identify the OTUs to their likely species from this region. OTUs identified to species in this infraorder include M. branchialis (Majidae, spider crabs—12 species found on the Chatham Rise, according to the Ocean Biogeographic Information System ( http://www.iobis.org; OBIS, 2017), and N. fourmanoiri (Grapsidae), although none are known to be found in New Zealand. It is likely that these OTUs belong to genetically similar species that exist at the depth in which M. challengeri are found on the Chatham Rise. The Homola sp. may be Homola orientalis, as this crab is known to be distributed in New Zealand waters, living at depths of 500 m (Eldredge, 1980).
The marine polychaete OTU was identified as L. cirrata, but this species has not been found in New Zealand waters, and it is likely to be DNA signal from a closely related benthic worm species. Numerous plankton were identified, such as the deep-water salp, I. racovitzai (tunicate), which can grow to over 20 mm in diameter and are an appropriate size for M. challengeri to handle with their feeding appendages (Pakhomov et al., 2011). This species is known to more commonly occur in the high Antarctic cold-water zone, but has been found to occur in waters south of Australia (Casareto & Nemoto, 1986; Pakhomov et al., 2011; Ono & Moteki, 2013). Ebria tripartita (Rhizaria) has been reported world-wide, has oval cells 21–35 µm in length and 13–25 µm in width, and is likely to be consumed unintentionally due to their size (Tong et al., 1998). It is known to be a grazer of phytoplankton (nanoplanktonic diatoms and dinoflagellates) and has been reported in the Hauraki Gulf, New Zealand (Gordon et al., 2012).
It is noticeable that no molluscs were detected, which may be due to more rapid degradation of their soft tissues (Bell, Tuck & Dobby, 2013). It will be interesting to examine the ratios of OTU hit counts across a larger number of individuals from several locations.
At present it is impossible to entirely differentiate between OTUs that were directly consumed by M. challengeri, and those that were consumed by their prey, i.e., secondary predation. However, it is expected that, due to rapid decomposition, secondary predation is likely to account for only a very small proportion of the taxa detected in M. challengeri digesta. It also cannot be dismissed that M. challengeri may be cannibalistic, but for the purpose of this study sequences identified as lobsters were removed from the diet data and considered as host contamination.
The parasites that have been identified are likely to be residing either within the gut of M. challengeri or within the individuals that were consumed. Parasites known to infect fish were identified, such as Eimeria percae which is known to parasitize the European perch, Perca fluviatilis (Molnár et al., 2012). Syndiniales Dino-Group I and II are known to parasitize a variety of marine organisms, including crustaceans (Guillou et al., 2010). Previous studies of gut contents of lobster larvae using DNA methods have also identified a range of microscopic parasites suggesting they may be a common component of the gut (O'Rorke et al., 2012; O'Rorke et al., 2015).
There was a small proportion of OTU sequences that were not matched to known sequences in the databases and demonstrate the limitations of the reference databases. This is largely due to the small amount of material from New Zealand deep-sea marine life that has been sequenced and uploaded to the various databases. A possible short term solution for the analysis of the diet would be to collect samples of bycatch species from the trawls, identify them, extract their DNA and sequence the genes of interest. This would create a database against which the diet sequences could be compared, potentially revealing more specific matches or even assigning identities to unassigned sequences. Further insight into the diet of M. challengeri will come with a greater number of individuals analysed. Data on the availability of prey will be needed in order to determine diet preference, as relative concentration in the diet may simply be related to what is more prevalent in their foraging area.
Conclusion
Many methodological issues have been addressed in this study, which has provided solutions for alleviating them, such as template DNA dilution and BSA addition for minimising PCR inhibition. The study has also identified considerable variation in PCR inhibition among individual samples, which indicates that it will be necessary to optimise PCR amplification for each sample. The study has also determined the optimum PCR reagents (particularly the DNA polymerase and buffer) and the benefit of using a selection of different databases for assigning OTUs to taxa for different genes.
The preliminary insight from this study into the varied diet of M. challengeri provides a foundation for both the production of a nutritional feed for aquaculture and an attractive bait for fishery pots. However, further examination of the diet is clearly needed. Given the variability among individuals, the minimum sample number that is analysed per collection site should be of around 10 individuals that have a moderate amount of digesta for DNA extraction. This will help in quantifying if M. challengeri have a diet preference and if it is related to sex, size and/or location. A future study should also proceed in collecting by-catch when M. challengeri are trawled, which will assist in determining prey availability, and provide a more complete sequence reference DNA database for comparison. It is clear that there is considerably more insight provided from identification using metabarcoding than from traditional microscopic identification. A further benefit is the store of diet DNA sequences that can be retained for future analysis (against updated reference databases), whereas microscopy results cannot be further analysed. Overall, this study shows there is great promise in analysing M. challengeri diet using metabarcoding methods.