Geopolitical species revisited: genomic and morphological data indicate that the roundtail chub Gila robusta species complex (Teleostei, Cyprinidae) is a single species
1
Hawaii Institute of Marine Biology, University of Hawaii at Manoa

,

Kaneohe, HI

,

USA
2
Department of Biology, Northern Arizona University

,

Flagstaff, AZ

,

USA
Published

Accepted

Received
Academic Editor
Subject Areas

Keywords

Lower Colorado River Basin

,

Conservation genetics

,

Endangered species

,

Freshwater fishes

,

Genomics

,

Morphometrics

,

Polytypic species

,

Taxonomy

,

Systematics
Copyright

©

2018

Copus et al.

Licence

This is an open access article distributed under the terms of the Creative Commons Attribution License, which permits unrestricted use, distribution, reproduction and adaptation in any medium and for any purpose provided that it is properly attributed. For attribution, the original author(s), title, publication source (PeerJ) and either DOI or URL of the article must be cited.
Cite this article

2018

. Geopolitical species revisited: genomic and morphological data indicate that the roundtail chub Gila robusta species complex (Teleostei, Cyprinidae) is a single species.

PeerJ

6

:

e5605

https://doi.org/10.7717/peerj.5605
Abstract
The Gila robusta species complex in the Lower Colorado River Basin has a complicated taxonomic history. Recent authors have separated this group into three nominal taxa, G. robusta, G. intermedia, and G. nigra, however aside from location, no reliable method of distinguishing individuals of these species currently exists. To assess relationships within this group, we examined morphology of type specimens and fresh material, and used RADseq methods to assess phylogenetic relationship among these nominal species. Maximum likelihood and Bayesian inference tree building methods reveal high concordance between tree topologies based on the mitochondrial and nuclear datasets. Coalescent SNAPP analysis resolved a similar tree topology. Neither morphological nor molecular data reveal diagnostic differences between these species as currently defined. As such, G. intermedia and G. nigra should be considered synonyms of the senior G. robusta. We hypothesize that climate driven wet and dry cycles have led to periodic isolation of population subunits and subsequent local divergence followed by reestablished connectivity and mixing. Management plans should therefore focus on retaining genetic variability and viability of geographic populations to preserve adaptability to changing climate conditions.
Introduction
The fish genus Gila Baird & Girard 1853a contains 20 currently recognized species in the Western United States and Mexico. Of these, G. cypha Miller 1946, G. elegans Baird & Girard 1853a, G. intermedia (Girard 1856), G. jordani Tanner 1950, G. nigra Cope & Yarrow 1875, G. robusta Baird & Girard 1853a, and G. seminuda Cope in Cope & Yarrow 1875 inhabit the Colorado River Basin and make up the Gila robusta species complex (Gerber, Tibbets & Dowling, 2001). The Lower Colorado River Basin, separated from the Upper Colorado River Basin by Glen Canyon Dam, is occupied by G. robusta, G. intermedia, and G. nigra. These Gila populations, as with many freshwater fishes within the Lower Colorado River Drainage are in decline from anthropogenic threats such as habitat destruction and modification accompanying human population growth and interactions with non-native fishes (Minckley & Marsh, 2009). These declines led to the listing of G. intermedia as endangered under the US Endangered Species Act (US Fish and Wildlife Service (USFWS), 2005) and a proposal for G. robusta and G. nigra to be listed as threatened (US Fish and Wildlife Service (USFWS), 2015).
Over the past 150 years, the G. robusta complex within the Lower Colorado River Basin has received considerable attention in an attempt to resolve relationships among the populations that inhabit these drainages. Hypotheses such as ecophenotypic plasticity, introgression, and cryptic speciation have all been invoked to account for geographic variation in genetic structure, as well as morphological and ecological traits within and among species of Gila (Miller, 1946; Dowling & DeMarais, 1993; Gerber, Tibbets & Dowling, 2001; Marsh, Clarkson & Dowling, 2017). Numerous molecular studies have attempted to resolve the relationships of the Gila robusta complex. Although interpretations of the data vary, there is no clear evidence to date that the three nominal species of Gila in the drainages of the Lower Colorado River basin represent reproductively isolated and distinct evolutionary units (DeMarais, 1992; DeMarais et al., 1992; Dowling & DeMarais, 1993; Schönhuth et al., 2012, 2014; Dowling et al., 2015; Marsh, Clarkson & Dowling, 2017), nor has a reliable method (morphological or molecular) of assigning individual fish to species been identified (Moran et al., 2017; Carter et al., 2018). The current practice of species identification for managers and researchers working with the G. robusta complex requires identifications based on collection locality as determined by Rinne (1969) and later revised by Minckley & DeMarais (2000) based on mean morphological differences of populations rather than diagnosable morphological or molecular characters of individuals, because no such characters have been identified. The Gila populations within these localities were assigned to distinct species (G. robusta and G. intermedia) and subspecies (G. robusta grahamii (=nigra); Rinne, 1969, 1976) based on mean morphological differences among populations. Rinne interpreted these mean differences to represent distinct taxonomic units (species and subspecies) but dismissed the variance in morphology that exists within each population. Minckley & DeMarais (2000) revised the geographic ranges and taxonomic status of this group and developed a taxonomic key for the identification of what they recognized as three distinct species. Unfortunately, the implementation of this key has been problematic for managers and researchers attempting to assign species names to individual fish, in part due to the reliance on population means as diagnostic characters, and in part due to confusion arising from variation among individuals within and among locations.
A recent review of the specific status of Gila intermedia and Gila nigra as distinct from Gila robusta was undertaken by the American Society of Ichthyologists and Herptologists—American Fisheries Society (ASIH-AFS) Committee on the names of fishes. Upon reviewing all available literature and data, including much of the data presented here, and hosting a symposium on the topic, the committee concluded that there was no evidence that G. intermedia and G. nigra were distinct from G. robusta (Page et al., 2017). Since this decision from the ASIH-AFS, the USFWS has withdrawn their proposal to list G. robusta and G. nigra as threatened under the Endangered Species Act until a species status assessment of the newly defined G. robusta taxon can be undertaken.
Here, we review the systematic and taxonomic history of this group to provide a foundation for evaluating the nomenclature within the G. robusta complex. We provide a comprehensive morphological comparison of the type series of each species, as well as fresh material from streams throughout the Lower Colorado River Basin, to test for diagnostic characters. Finally, we use molecular phylogenomics to ascertain the evolutionary relationships among populations and putative species.
Systematic and taxonomic review
There has been considerable confusion regarding the systematics and taxonomy of the Gila robusta complex within the Lower Colorado River Basin, largely due to a complex array of phenotypes (DeMarais et al., 1992). Many species within the genus Gila Baird & Girard 1853a have been described multiple times and the G. robusta complex of the Lower Colorado River Basin is no exception. We identified fifteen specific names and seven generic names applied to these fishes.
Materials and Methods
Type material for each of the currently recognized species of the G. robusta complex as well as the type of the G. robusta synonym G. grahamii were obtained from the Smithsonian National Museum of Natural History (G. robusta (USNM 246, N = 2), G. nigra (USNM 16972, N = 3; 16987 N = 2), G. intermedia (USNM 232, N = 4), and G. grahamii (USNM 253, N = 1)).
Due to the problems associated with the taxonomic key (Moran et al., 2017; Carter et al., 2018) the current practice of species identification for managers and researchers working with the G. robusta complex within the Lower Colorado River Basin is based on drainage location, as assigned by Rinne (1969) and later revised by Minckley & DeMarais (2000). We follow this convention because no alternative method of assignment is currently available. Morphological and molecular analysis of fresh specimens of each nominal species (G. robusta N = 6, G. intermedia N = 6, and G. nigra N = 5) as well as G. elegans (N = 1) and G. cypha (N = 1) as out-groups were analyzed from streams throughout their range, with the exception of O'Donnell Canyon material collected from the captive population held at the International Wildlife Museum, and Eagle Creek and Verde River samples collected from the Bubbling Ponds Fish Hatchery. One individual per location across the range of each species was analyzed to capture as much within species variation as possible (Fig. 1) Tissue of G. elegans and G. cypha were obtained from the Arizona Game and Fish Department Bubbling Ponds Fish Hatchery. Tissue samples were stored in both salt-saturated DMSO solution (20% dimethyl sulfoxide, 0.25 M EDTA, pH 8.0, saturated with NaCl; Seutin, White & Boag, 1991; Gaither et al., 2011) and RNA Later (Thermo Fisher Scientific, Waltham, MA, USA) for reduced representation genomic sequencing using the ezRAD protocol (Toonen et al., 2013; Knapp et al., 2016). Specimens were frozen prior to morphological analyses.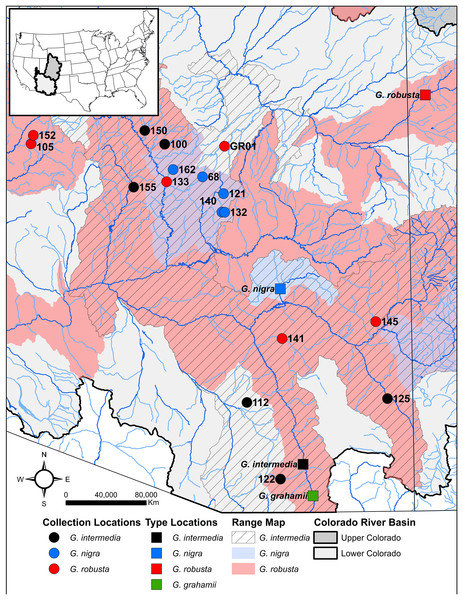 Morphological analysis
Fresh specimens were thawed and radiographed to aid in morphological analysis. Species names were assigned to fresh specimens based on sampling location as designated by Rinne (1969) and Minckley & DeMarais (2000) (see above). Meristic and morphometric analysis follow methods outlined in Hubbs & Lagler (1958). All statistical comparisons of morphology were implemented in R (R Core Team, 2016). Linear regression was performed on each of the morphometric characters to test for allometric growth and confirm that each of these characters scale linearly with size. Variables were then standardized by length for comparison. F-tests (to determine equal or unequal variance) and t-tests were performed on all standardized variables to test whether shrinkage due to preservation causes significant differences between type material and fresh material for any variable. We find that allometric growth and shrinkage from preservation are not significant between fresh and preserved specimens and consequently comparisons between size and preservation method were possible (Table S1). Morphometric measurements are presented as a percentage of standard length, head length, or body depth.
Reduced representation genomic data production
Genomic DNA was extracted from tissue using the Omega E.Z.N.A Tissue DNA Kit (Omega Biotek, Norcross, GA, USA) following the manufacturer's protocol except that HPLC grade H2O was substituted for the elution buffer. DNA aliquots were visualized following electrophoresis on a 1% agarose gel to assess quantity and quality. For extractions that did not yield >1 μg high molecular weight DNA (>10 kb), multiple extractions from the same individual were completed and extractions were pooled and concentrated using an Eppendorf Vacufuge plus (Eppendorf, Hauppauge, NY, USA). Extractions were quantified with AccuBlue (Biotium, Inc., Hayward, CA, USA) high sensitivity dsDNA quantification kit and measured on a SpectraMax M2 microplate reader (Molecular Devices, Sunnyvale, CA, USA). All extractions were subsequently stored at −20 °C until used for library preparation as outlined below.
Size-selected reduced representation genomic libraries were generated following the ezRAD protocol (Toonen et al., 2013; Knapp et al., 2016). In brief, tissue samples were cleaned with Agencourt AMPure XP beads (Beckman Coulter, Indianapolis, IN, USA) following manufacturers' protocols. High molecular weight DNA was digested using the restriction enzyme DpnII to cleave at all GATC cut sites using a final master mix volume of 25 μl (five μl Buffer, 19 μl HPLC grade H2O, one μl one unit DpnII) to 25 μl dsDNA (one μg). Samples were incubated for 3 h at 37 °C followed by 20 min at 65 °C to denature the enzyme. Following digestion, samples underwent a second bead cleaning with AMPure XP beads. Library preparation for Illumina sequencing was completed with the KAPA HyperPrep kit (Kapa Biosystems, Wilmington, MA, USA) following manufacturers' protocols. All libraries were size selected to retain 300–500 base pair (bp) fragments and passed through quality control steps (bioanalyzer and qPCR) prior to high-throughput sequencing. Illumina paired-end fragments were sequenced at the Hawaii Institute of Marine Biology Genetics Core Facility using Illumina v3 2 × 300 reads on the MiSeq genomic analyzer (Illumina, San Diego, CA, USA).
Results
Taxonomic treatment
Gila robusta Baird & Girard 1853a. Zuni River, New Mexico. Syntypes: USNM 246 (USNM 47983; 3, plus 1 pharyngeal arch as #2798)

Tigoma intermedia Girard 1856; (Evermann & Rutter, 1895; Jordan & Evermann, 1896; Gilbert & Scofield, 1898; Fowler, 1924; Snyder, 1915; Gilbert, 1998 (as subspecies: Miller, 1945, 1946; Uyeno & Miller, 1965; Barber & Minckley, 1966; La Rivers, 1994)) treated as a full species within Gila by Rinne 1969 and most subsequent authors.
Conclusions
The results of this study question the validity of the taxonomic names, but do not indicate that protections for this species should cease. Instead our results indicate the need for protection at a population level, to maintain genetic diversity and morphological variation, rather than three nominal species for which no diagnostic morphological or genetic characters exist. The Endangered Species Act defines a species to include "any subspecies of fish or wildlife or plants, and any distinct population segment of any species of vertebrate fish and wildlife which interbreeds when mature" (Section 3(15), ESA 1973, 1978). Neither our data, nor that of previous studies, indicate a single well-mixed population across the Lower Colorado River Basin. In fact, based on previous work, genetic structure may exist among many of the populations analyzed, but this population structure is not aligned with the three currently recognized taxonomic units; the shallow divergences between samples is indicative of population differences, but no species level genetic divergence has been observed. Our study was designed to examine a phylogenetic question and sampling was not sufficient for addressing population level questions. Thus, while these data indicate such population genetic studies are warranted, we caution against inferring population level conclusions until such robust surveys are completed. We recommend that this species be managed as distinct population segments until the additional studies outlined herein are completed.