The role of biotic factors during plant establishment in novel communities assessed with an agent-based simulation model
Department of Ecosystem Modelling, Georg-August-Universität Göttingen

,

Göttingen

,

Germany
Published

Accepted

Received
Academic Editor
Subject Areas

Keywords

Invasive plant

,

Biotic interactions

,

Non-native species

,

Local establishment

,

Range shift

,

Herbivory

,

Competition

,

Agent-based model

,

Individual-based model

,

Trait-based model
Copyright

©

2018

Radny and Meyer

Licence

This is an open access article distributed under the terms of the Creative Commons Attribution License, which permits unrestricted use, distribution, reproduction and adaptation in any medium and for any purpose provided that it is properly attributed. For attribution, the original author(s), title, publication source (PeerJ) and either DOI or URL of the article must be cited.
Cite this article

2018

.

The role of biotic factors during plant establishment in novel communities assessed with an agent-based simulation model

.

PeerJ

6

:

e5342

https://doi.org/10.7717/peerj.5342
Abstract
Background
Establishment success of non-native species is not only influenced by environmental conditions, but also by interactions with local competitors and enemies. The magnitude of these biotic interactions is mediated by species traits that reflect competitive strength or defence mechanisms. Our aim was to investigate the importance of species traits for successful establishment of non-native species in a native community exhibiting biotic resistance in the form of competition and herbivory.
Methods
We developed a trait-based, individual-based simulation model tracking the survival of non-native plants in a native community. In the model, non-native plants are characterized by high or low values of competition and defence traits. Model scenarios included variation of initial number of non-natives, intensity of competitive interaction, density of herbivores and density as well as mixture of the native community.
Results
Traits related to competition had a much greater impact on survival of non-native species than traits related to defence. Survival rates of strong competitors never fell below 50% while survival of weak competitors averaged at about 10%. Weak competitors were also much more susceptible to competitive pressures such as community density, composition and competition intensity. Strong competitors responded negatively to changes in competition intensity, but hardly to composition or density of the native community. High initial numbers of non-native individuals decreased survival rate of strong competitors, but increased the survival rate of weak competitors. Survival under herbivore attack was only slightly higher for plants with high defensive ability than for those with low defensive ability. Surprisingly, though, herbivory increased survival of species classified as weak competitors.
Discussion
High survival rates of strong non-native competitors relate to a higher probability of successful establishment than for weak competitors. However, the reduced survival of strong competitors at high initial numbers indicates a self-thinning effect, probably mediated by a strongly competitive milieu. For weak competitors, our model emphasizes positive effects of high propagule pressure known from field studies. General effects of herbivory or defence abilities on survival were not supported by our model. However, the positive effect of herbivory on survival of weak competitors indicated side effects of herbivory, such as weakening resident competitors. This might play an important role for establishment of non-natives in a new community.
Introduction
In response to current climate change, range borders and distribution patterns of many species have shifted along with changes in environmental conditions (Chen et al., 2011; Maggini et al., 2011; Parmesan & Yohe, 2003; Walther et al., 2002). The abiotic and biotic environment in novel habitats plays an important role for capturing and eventually predicting range shift dynamics of species (Berg et al., 2010). On a large scale range shifts are correlated with bioclimatic and environmental factors and whether a plant species is able to reach a novel habitat. Thus, range expansion of a species is a continuous process, acting on a large-scale landscape. However, realization of range expansion is determined by a series of successful local establishment events of individuals (Bakkenes et al., 2002), that build up viable populations in the novel habitat (Fig. 1). Local establishment success strongly depends on biotic interactions with the resident community. Such interactions include for example competition with resident plants or herbivore attack (Levine, Adler & Yelenik, 2004). In fact, diverging trends in speed, extent and directions of species range shifts may be not only an expression of their ability to reach a novel habitat, but also to persist in novel communities (Lenoir et al., 2010; Maggini et al., 2011). These local negative processes can add up and might eventually prevent further range shifts. Thus, although a species range is typically described on large, often continental scales, it is limited by small-scale processes at the borders of the range. This is in line with the claim to consider dispersal and local establishment success of species and individuals in order to gain insights on range dynamics (Guisan & Thuiller, 2005; Pearson & Dawson, 2003; Wisz et al., 2013). In a novel habitat, the non-native species will face novel interactions with the resident community. The magnitude of the effect of these interactions is partially determined by the ability of the novel species to respond to the biotic pressures (Kempel et al., 2013; Roux et al., 2012; Wisz et al., 2013). This ability is mediated by plant traits. Despite the general acknowledgement of the importance of traits and biotic pressures for establishment success, the interaction of these factors is not well studied in the context of range expansion.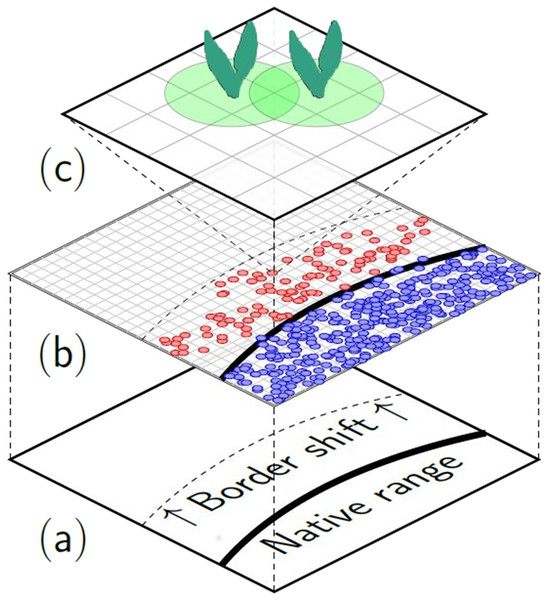 We constructed an individual-based simulation model to scrutinize how these factors together affect success or failure of plant establishment in a novel community. Field surveys are generally incapable of capturing failed invasion attempts (Zenni & Nunez, 2013), but modelling allows for comprehensive systematic modifications and full control of the setup. Data from a preceding greenhouse experiment (Radny et al., in press) were used as a basis for model construction and parametrization (see 'Parametrization').
Early establishment of populations in novel habitats in a local context is an essential first step in range shift dynamics of a species. Therefore, in this model we focus on such biotic interactions that operate on local scales and with immediate contact between the interacting entities. These biotic interactions are enemy attack and competition for resources between neighbouring plants.
Biotic pressures such as competition and enemy attack may hamper establishment success of a novel species in a community by decreasing individual fitness. The causes are obvious: when mutually contested resources are captured by competing species, the inferior competitor can use less of the contested resource for its own growth and reproduction. Eventually, it may die when resource uptake falls below a metabolic threshold (Lin et al., 2012; Schmitz, 2000). Enemy attack can strongly weaken a plant through damage of plant tissue or organs and even result in lethal consumption. Loss of tissue may pose an additive negative effect on plants under competition (Heard & Sax, 2013; Kim, Underwood & Inouye, 2013; Kuijper, Nijhoff & Bakker, 2004). In fact, invasion biology studies have often pointed out that very effectively expanding, i.e., invasive, non-native species suffer less from enemy attack than native or non-invasive non-native species (Cappuccino & Carpenter, 2005; Engelkes et al., 2008; Matter et al., 2012; but see Heard & Sax, 2013). This effect, referred to as enemy release, is one line of argument to explain invasiveness of non-native plant species in intercontinental invasions (Joshi & Vrieling, 2005; Keane & Crawley, 2002) since lately enemy release is also studied in intracontinental range shifts, motivated by long-distance dispersal of plant species (Engelkes et al., 2008; Harvey et al., 2010; Nehrbass et al., 2007).
Traits of species mediate interactions and are often used to describe community composition in classical community ecology (McGill et al., 2006). Intercontinental invasion biology relies on certain traits that are shared by successful invaders to inform risk assessments. However, the trait set of the "perfect invader" remains to be found (Speek et al., 2011). Further, it is largely unclear how strongly trait sets vary under different interaction regimes. For our model, we use the framework of biotic resistance composed of resource competition and herbivore attack (Levine, Adler & Yelenik, 2004). We describe novel species by a set of traits to respond to these components of biotic resistance. Our central model aim is to assess how non-native species with different trait profiles can establish in a novel community despite negative biotic interactions.
The traits used in the model reflect the ability of a plant to (a) compete with neighbours and (b) defend against enemies. Based on size-symmetric competition models (Connolly & Wayne, 1996; Damgaard & Weiner, 2008), we use seed mass as a measure of plant size and as the trait representing competitive ability (Metz, Nisbet & Geritz, 1992). Other traits have also been associated with competitive strength (Goldberg, 1996), but plant size is a straightforward measure (Domingos, 1999), which is well supported (Aikio, 2004; Weiner & Damgaard, 2006). Mechanical barriers and toxins belong to the traits a plant can use to prevent herbivore attack, and often plants build up a complex defence syndrome of multiple traits (Agrawal & Fishbein, 2006). For our purpose, the form of defence mechanism is not of interest. Thus, we implemented the defence mechanism as the stochastic ability of enemy repulsion.
In summary, the aim of the model presented here is to systematically investigate how local establishment success of non-native species is influenced by biotic resistance of the native community, by competition and defence traits of non-natives, and by the interaction of biotic resistance and traits. We present a comprehensive analysis of the consequences of a broad range of parameters representing biotic resistance and species traits for non-native species survival and thus local establishment.
Results
All main and interaction terms in the generalized linear model contributed significantly to survival of non-native species (p < 0.01) except for mixture of native species (Table 4). The importance of competitive strength was very dominant and was a much stronger source of variation than defensive ability for survival of non-natives (main effects Comp and Def in Table 4, Fig. 4). Overall, weak competitors had a much lower survival rate than strong competitors. Although the populations of weak non-native competitors had an increased chance of persistence with an increasing initial population size they were not able to catch up with survival rates of strong competitors (interaction Comp:initNN in Table 4, Fig. 5). This was the case even though the survival of strong competitors was significantly negatively influenced by the population size of non-natives (interaction Comp:initNN in Table 4, Fig. 5).
| | Estimate | Std. Error | t-value | p-value | |
| --- | --- | --- | --- | --- | --- |
| Intercept | −2.43 | 0.020 | −118.68 | <0.001 | *** |
| High competitive ability (Comp) | 10.38 | 0.033 | 312.34 | <0.001 | *** |
| High defensive ability (Def) | −0.22 | 0.017 | −13.05 | <0.001 | *** |
| Initial number of non-natives (InitNN) | 0.006 | 0.000 | 75.87 | <0.001 | *** |
| Herbivore density (DensHerb) | 0.48 | 0.010 | 46.68 | <0.001 | *** |
| Competition intensity Θ (Theta) | −2.61 | 0.032 | −81.89 | <0.001 | *** |
| Low community density (DensComm) | 0.53 | 0.017 | 31.77 | <0.001 | *** |
| Uneven community mixture (Mix) | −0.005 | 0.016 | −0.34 | 0.73 | |
| Comp:InitNN | −0.014 | 0.000 | −141.82 | <0.001 | *** |
| Comp:DensHerb | −0.28 | 0.008 | −32.81 | <0.001 | *** |
| Comp:Theta | −2.67 | 0.021 | −127.50 | <0.001 | *** |
| Comp:DensComm | −1.20 | 0.014 | −82.55 | <0.001 | *** |
| Comp:Mix | −0.67 | 0.014 | −47.95 | <0.001 | *** |
| Def:InitNN | 0.0005 | 0.000 | 7.59 | <0.001 | *** |
| Def:DensHerb | 0.023 | 0.006 | 3.89 | <0.001 | *** |
| Def:Theta | 0.14 | 0.011 | 12.80 | <0.001 | *** |
| Def:DensComm | 0.064 | 0.010 | 6.63 | <0.001 | *** |
| InitNN:DensHerb | −0.0004 | 0.000 | −11.44 | <0.001 | *** |
| InitNN:Theta | −0.001 | 0.000 | −10.09 | <0.001 | *** |
| InitNN:DensComm | 0.0008 | 0.000 | 12.07 | <0.001 | *** |
| InitNN:Mix | 0.0005 | 0.000 | 7.29 | <0.001 | *** |
| DensHerb:Theta | −0.121 | 0.009 | −12.88 | <0.001 | *** |
| DensHerb:DensComm | −0.158 | 0.006 | −26.61 | <0.001 | *** |
| DensHerb:Mix | −0.016 | 0.006 | −2.71 | <0.01 | ** |
| Theta:DensComm | 0.544 | 0.016 | 33.49 | <0.001 | *** |
| Theta:Mix | 0.629 | 0.016 | 40.43 | <0.001 | *** |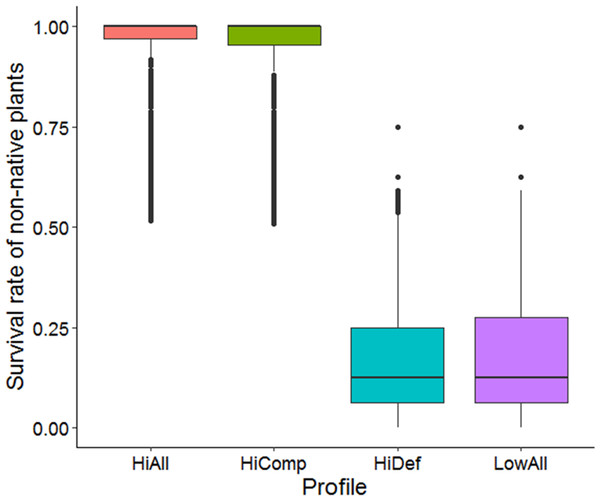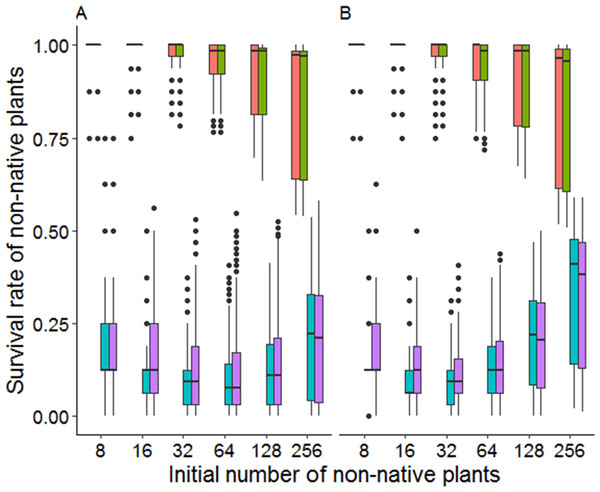 Intensity of competition Θ had a marked negative effect on survival rates of non-native plants, especially on weak competitors (main effect Theta and interaction Comp:Theta in Table 4, Fig. 6). For weak competitors, average survival dropped by 80% when comparing equal share (Θ = 0) and perfect size-symmetry (Θ = 1). The decrease in survival rate was more severe in the even community mixture, as well as under high community density (interactions Comp:Mix and Comp:DensComm in Table 4, Fig. 6). Strong competitors were neither visibly affected by community mixture nor by increased population densities (Fig. 6).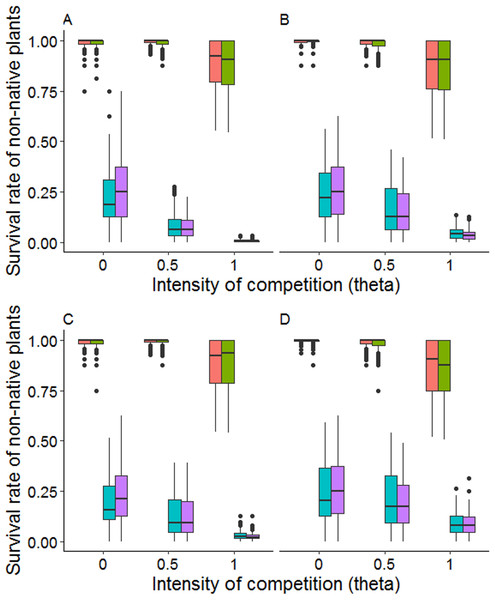 In our model runs, we found that herbivores were only able to kill a plant in very early stages when they were very small. Herbivore damage increased survival of weaker competitors by a factor of up to 1.5 (main effect DensHerb in Table 4, Fig. 7). Weak competitors were also usually smaller than strong competitors. For strong competitors, this effect was the other way round, i.e., presence of herbivores was on average lowering the mean survival rate (interaction Comp:DensHerb in Table 4, Fig. 7). However, for strong competitors the decrease in survival rate was almost intractable, lowering survival by only 4% under complete size symmetry. Strongly defended species with 70% probability of repulsion only had a minor advantage in survival over weakly defended species with 40% probability of repulsion (main effect Def in Table 4).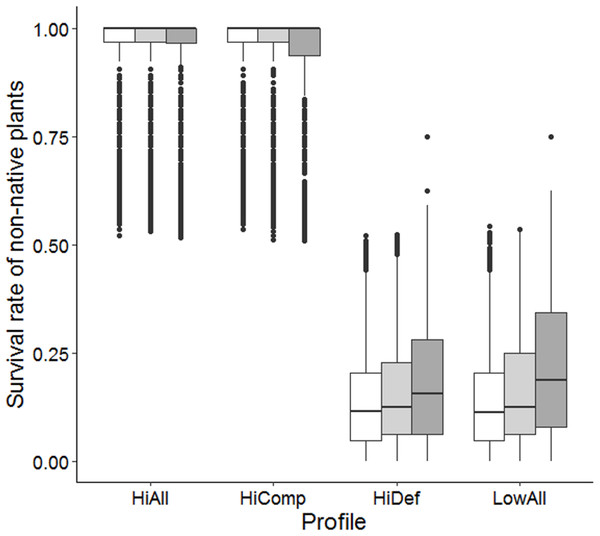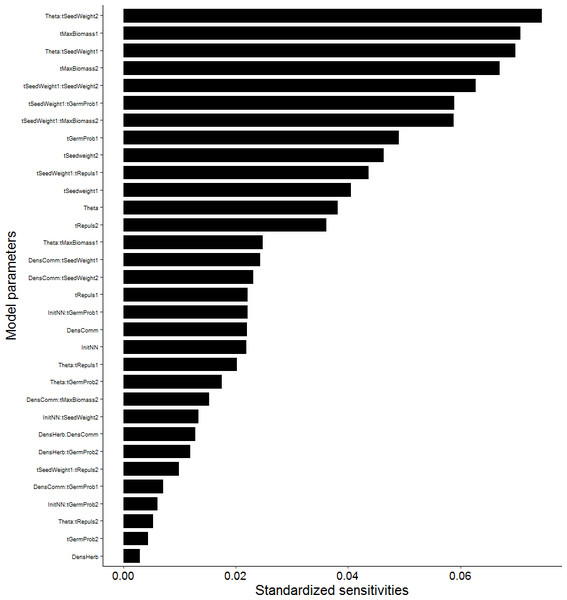 The sensitivity analysis showed that the model output survival of species 2 was most sensitive to the interaction between competition index Θ and seed weight, then to maximum biomass, the interaction between the seed weights of the two competing species, the interaction between seed weight and germination probability of the same species, and the interaction of seed weight of species 1 with maximum biomass of species 2 (Fig. 8). Germination probability and seed weight were the next most important inputs for determining survival of species 2, together with the interaction between seed weight and repulsion of herbivores, competition index Θ, and repulsion of herbivores. Overall, species traits and their interactions dominated the sensitivity ranking, whereas scenario parameters such as herbivore density, initial population size of non-natives and native species density were less important. Only the competition index Θ had a large, mostly indirect influence on survival of species 2 via interactions with species traits. In contrast to biomass- and competition-related parameters, herbivory-related parameters such as herbivore density and repulsion of herbivores played relatively minor roles for survival of species 2.
Discussion
With our model, we investigated the establishment success of different types of generic non-native plant species in a resident native community. We targeted three aspects that might influence establishment success: trait profile of the non-native species, biotic pressures of the resident community, and the interactions between traits and pressures. The sensitivity analysis showed that model outputs were much more sensitive to species traits and interactions between species traits and biotic pressures than to biotic pressures alone. Thus, care should be taken in the choice of experimental and model species and the traits they represent.
Competitive pressures and competitive traits exerted a much stronger influence on establishment success than pressures and traits related to herbivory. This was supported by scenario analysis and sensitivity analysis. Strong competitive traits were negatively correlated with initial density of non-natives in their effect on survival rates while a low initial number of non-natives with strong competitive ability resulted in high survival. We expect this might be due to a potential release effect from competition. These scenarios may for instance reflect distant satellite populations or the very edge of the expansion front, because there is evidence that population density on the range borders can be lower than in the core range (Brown, 1984; Maggini et al., 2011). High survival in these conditions may translate to an effective range shift, and this is more likely if long distance dispersal is included. However, a higher initial number led to a decrease of survival rate for strong competitors. An explanation may be that the high density of individuals with strong competitive traits led to a milieu of competitive stress, provoking intra-specific self-thinning effects (Morris, 2003). In our model setting, there was no evidence of complete extinction of non-native species due to competitive stress. Thus, the high intra-specific competition decreased individual survival, but did not decrease establishment success of the populations. It would thus probably not strongly impede range expansion of non-native species. Rather, this may contribute to stabilizing the range expansion.
Populations of weak competitive plants showed much lower survival at lower densities than strong competitors, implying a much lower chance of long-term establishment. Survival of weak competitors required very high initial numbers to exceed survival at low initial numbers of individuals in the population. This might be due to the sheer mass of non-native individuals that competed with the native community. In the most extreme setting 256 non-native individuals faced 300 native competitors. Thus, even if native species were the stronger competitors, a high number of weak non-native competitors might be able to overcome the biotic resistance, a trend that has already been observed in studies of intercontinental invasions (Lockwood, Cassey & Blackburn, 2005; Simberloff, 2009). This effect was clearly observable although there was only a small difference between seed weight of weak non-native species and native competitors. We expect the effect to be even more pronounced if the difference in seed weight was larger.
The advantage of strong competitors compared to weak competitors persisted in community settings with more intense community-borne competitive stress, i.e., at higher community density and species mixtures with a higher proportion of strong competitors. Higher community density results obviously in a higher number of competitors for each individual plant and thus in most cases a lower amount of resources that can be captured by any plant. For the community mixture, an even number of individuals of all species led to a community with a much larger proportion of strong competitors, i.e., P. lanceolata, the largest native species in our setting, than in the seed bank-based mixture. However, since strong non-native competitors were characterized by twice the seed weight of P. lanceolata they were probably not massively impacted by numbers of competitors or community mixture. We observed this effect in the preceding empirical experiment as well, where strong non-native competitors were massively dominating the native community (Radny et al., in press).
These results indicate that a range shift should be more effective for such plants that are strong competitors relative to species of the receiving community, provided that their seeds can reach a novel habitat. For intercontinental invasions competitive strength is one of the major explanations of invasive success (Vilà & Weiner, 2004). In the context of climate-change induced range expansion, this might become just as important or even more important, because changes in the microclimatic regime of habitats beyond current range borders may weaken the currently strong resident competitors and thus increase invasibility of communities (Alexander et al., 2016; Bauer, 2012; Stanton-Geddes, Tiffin & Shaw, 2012).
However, the very low survival rates of weak competitors in our model may overestimate the negative impact of community competition on weak competitors in reality. For instance, in our preceding experiment (Radny et al., in press), drop-out rate of weak competitors was almost zero while in the model weak competitors responded very drastically to increased competitive pressure from the community in form of increased density, mixture and intensity of competitive asymmetry (Θ). Probably, in our model, we underestimated the abilities of weak competitors to avoid or tolerate competitive pressure from other species. This might be partly due to the implementation of competition with the Zone-of-influence approach. For theoretical models of competition between plant individuals, the Zone-of-Influence approach has been used many times at different degrees of complexity (e.g., Berger et al., 2008; Lin et al., 2012; Weiner & Damgaard, 2006). Despite several simplifications, it is a straightforward and comparatively easy method to investigate competition (Berger et al., 2008). However, most of these models address monocultures of species and thus implement the same type of interaction, i.e., degree of asymmetry Θ, for all individuals. Interspecific interactions may be different though from intraspecific interactions due to many different mechanisms. This may not only imply differences in interspecific and intraspecific Θ, but also different Θ-values depending on the identity of the focal species (Connolly & Wayne, 1996). Such mechanisms include for example allelopathy (Bais et al., 2003) or adaption to the competitive disadvantage, e.g., development of shade tolerance in trees ( Dislich, Johst & Huth, 2010). Additionally, following the parsimony principle we have not yet considered facilitative interactions in this model, although there are potentially strong impacts of facilitative interactions in plant communities (e.g. Lin et al., 2012). Of course, parameterizing different competition types for all possible interaction partners in our five-species system would require a lot of data, which were not available in our case, and has also been attempted in only very few comparable cases thus far.
Thus, we strongly advocate for the extension of multispecies models to incorporate different forms of neighbourhood interactions not only as negative (competition) or positive (facilitation) interactions, but also accounting for different intensities of inter- and intraspecific interactions. This approach will require enhanced efforts in the collection of adequate data for parametrization, but we expect a much better understanding of multispecies systems from such approaches (Svenning et al, 2014).
The effect of herbivory was comparatively small in our model. Accordingly, defensive strength did not play an important role for survival. This may be due to the indirect influence of biomass on survival via its effect on plant growth (Fig. S1) combined with the fact that model herbivores only consumed absolute amounts of biomass. This means that large plants suffered relatively less from herbivory than small plants. In extra simulations, where herbivores consumed relative amounts of plant biomass, defence traits were much more important for survival than in the standard simulations (Supplemental Information 1). Herbivory has been reported to influence range expansion and invasions, i.e., in spatial pattern and speed (Fagan et al., 2005; Herrero et al., 2016), yet it is unlikely that herbivory may entirely block establishment of novel species (Jeschke et al., 2012; Levine, Adler & Yelenik, 2004). However, although herbivory as a single factor may not pose a hard barrier to establishment, studies found herbivory to be an important interacting effect under competition through altering the competitive impact of individuals (Huang et al., 2012; Kim, Underwood & Inouye, 2013; Kuijper, Nijhoff & Bakker, 2004). Our model results support such an interaction between herbivory and competition, where weak competitors showed increased survival under herbivory, especially with higher densities of herbivores. We suspect that weak competitors benefited from being small relative to their neighbours—either due to initial small size or due to cumulated negative effects on biomass gain from competition. As sharing of the contested resource can depend on the relative biomass of the competitors, loss of biomass due to herbivory can reduce the resource capture of strong competitors, so that more resources are left to neighbouring weak competitors than in scenarios without herbivory. In our model, the minimum amount of resource uptake for maintenance of metabolism and thus survival is directly related to current biomass of the individual (Brown et al., 2004). Thus, even a relatively small increase in resource capture can increase survival of smaller plants.
Of course, our model did not capture the full complexity of possible herbivore impacts on plant distribution and range expansion. Body size of herbivores and timing of herbivory have been shown to differentially affect plant biodiversity (Kim, Underwood & Inouye, 2013; Olff & Ritchie, 1998), as well as presence or absence of specialist herbivores (Joshi & Vrieling, 2005; Lakeman-Fraser & Ewers, 2013). Our extra simulations on relative herbivory (Supplemental Information 1) indicate that it may be worthwhile to explore a greater range and resolution of herbivory implementations once the respective data become available for parameterization. Future model extensions could reflect these factors as well as plant internal mechanisms such as compensatory growth (Lu & Ding, 2012) and increase of defence mechanisms (Strauss & Agrawal, 1999). However, even with our simple model design, we found a significant effect of herbivory—although not the expected global decrease of survival, but an indirect effect through harming the competitors. This indicates that herbivory effects may sometimes be overseen when they are not turning out as expected and that this might also be a reason for contradicting results of similar studies (Jeschke et al., 2012; Levine, Adler & Yelenik, 2004). For further developments of local competition models in a community context, we advocate to develop approaches that include tolerance strategies. In the frequently used ZOI approach this could be realized by an asymmetry index that is sensitive to the identity of interaction partners.
Conclusions
We conclude that traits related to competitive strength of species can change the effectiveness of biotic resistance from resident competitors and should be taken into account when attempting to predict establishment success of range expanding species. Where the impact of herbivores is of minor importance, strong defence traits do not result in an apparent advantage as compared to weak defence. However, herbivory might have a stabilizing effect on competition and thus should not be neglected when analysing range expansion dynamics. This model may serve as a basis for future large-scale models, where dispersal should be considered as a third important trait to describe range expansion.