Best in the company of nearby males: female success in the threatened cycad, Zamia portoricensis
Department of Biology, University of Puerto Rico

,

San Juan

,

Puerto Rico
Published

Accepted

Received
Academic Editor
Subject Areas

Keywords

Allee effects

,

Density dependence

,

Plant population biology

,

Spatial distribution

,

Puerto rico

,

Dioecy

,

Seed set

,

Sex ratios

,

Zamiaceae
Copyright

©

2018

Lazcano-Lara and Ackerman

Licence

This is an open access article distributed under the terms of the Creative Commons Attribution License, which permits unrestricted use, distribution, reproduction and adaptation in any medium and for any purpose provided that it is properly attributed. For attribution, the original author(s), title, publication source (PeerJ) and either DOI or URL of the article must be cited.
Cite this article

2018

. Best in the company of nearby males: female success in the threatened cycad, Zamia portoricensis.

PeerJ

6

:

e5252

https://doi.org/10.7717/peerj.5252
Abstract
Variation in plant reproductive success is affected by ecological conditions including the proximity of potential mates. We address the hypothesis that spatial distribution of sexes affects female reproductive success (RS) in the dioecious cycad, Zamia portoricensis. Are the frequencies of males, operational sex ratios, and distances to the nearest mate associated with RS in females? We studied the spatial distribution of sexes in two populations in Puerto Rico and compared RS of target females with the number of males and operational sex ratios. Population structure suggests regular successful recruitment. Adults, males, and females were randomly distributed with respect to one another. Reproductive success of females was highly variable, but was higher in neighborhoods with more males than females and generally decreased with increasing distance to the nearest male, becoming statistically significant beyond 190 cm. This possible mate-finding Allee effect indicates that pollinator movement among plants may be limited for this mutually dependent plant-pollinator interaction. Yet being close to male plants is a matter of chance, perhaps a factor generating the high intra-population genetic diversity in Z. portoricensis.
Introduction
Sexual systems (e.g., dioecy or monoecy), mating systems (e.g., selfing or outcrossing), and pollination systems (e.g., generalist or specialist vector, reward or deception mediated pollination) influence the dispersal of alleles and play a major role in the evolution of plants (Barrett, 2003; Barrett, 2013; Devaux, Lepers & Porcher, 2014). Mating systems strongly influence the patterns of genetic structure of populations. In fact, outcrossing and selfing leave a distinctive imprint on the genetic constitution of species, which is particularly notable in their levels of genetic diversity (Hamilton, 2009). Obligate outcrossing species (e.g., dioecious species) are particularly affected by access to mates, which is influenced by the pollination system and the spatial distribution of individuals (Barrett & Thomson, 1982; Heilbuth, Ilves & Otto, 2001; Ghazoul, 2005) resulting in limitations to the reproductive success that may have constrained the spread of dioecy among plants (Barrett, 2013).
Reproductive success in obligately outcrossing plant species are often negatively correlated with distance to the nearest mate and positively correlated with population size (Barrett & Thomson, 1982; Percy & Cronk, 1997; Metcalfe & Kunin, 2006; Gascoigne et al., 2009). These are mate-finding Allee effects, which can be most prevalent in dioecious species where both population size and sex ratios can affect reproductive success (Cabral & Schurr, 2010; Xia et al., 2013). Female advantage in the presence of more males is not only observed empirically, but also by modeling studies (Gascoigne et al., 2009). Cycads, an ancient gymnosperm lineage and perhaps the first seed plants to be insect pollinated, may be particularly susceptible to Allee effects given that they are dioecious, and many species occur as scattered, low density, populations (Donaldson, 2003). Here we address the hypothesis that spatial distribution of sexes within populations affects female reproductive success even in relatively dense natural populations of Zamia portoricensis Urb. in Puerto Rico.
We sought to determine whether variation in spatial relationships was an indicator of success in sexual reproduction. Specifically, we asked (1) whether sexes of Z. portoricensis are randomly distributed within populations; 2) is the abundance of coning males associated with reproductive success (RS), and (3) how does RS relate to distance to the nearest potential mate?
Results
Population structure
Abundance of Z. portoricensis was variable across our study sites. We inventoried 5,689 plants (Table 1, Data S1–S4) and found densities of reproductive adults, to be 0.9/m2 in ET1, and 0.2/m2 in all other plots. Despite the difference, Z. portoricensis was the prominent understory element in all plots (Figs. 1A, 1B).
| Plot | Plants | Densitya | M | F | M/Fb | SSJ | LJ | NonRA | %RA |
| --- | --- | --- | --- | --- | --- | --- | --- | --- | --- |
| ET1 | 3,099 | 6.2 | 250 | 187 | 1.34* | 2,100 | 220 | 342 | 44 |
| ET2 | 612 | 1.2 | 59 | 46 | 1.28 | 410 | 22 | 75 | 52 |
| SF1 | 1,065 | 2.1 | 73 | 34 | 2.14** | 804 | 43 | 111 | 41 |
| SF2 | 913 | 1.8 | 83 | 24 | 3.46*** | 258 | 194 | 354 | 16 |
ET

  El Tamarindo population plots

SF

Susúa State Forest plots

M

males

F

females

SSJ

Seedlings and small juveniles

LJ

large juveniles

RA

reproductive adults
a
Plants per m2 includes all life history stages.
b
Sex ratio and significant Chi-square Goodness of Fit test results for sex ratio deviation from 1:1.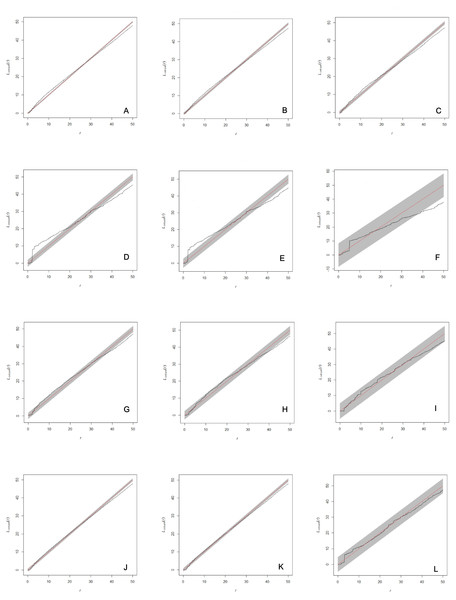 The percentage of adult plants, inferred from size class data, ranged from 20% (plot SF1) to 50% (plot SF2). The number of reproductively active adults (i.e., plants that actually produced cones within the adult size class) ranged from 16% (plot SF2) to 52% (plot ET2) of the plants inventoried (Table 1).
Operational sex ratios were male biased and significantly so in three of the four plots (Table 1). Since the sexual identity could not be determined in non-reproductive adults, the actual sex ratio of these populations is not known.
Spatial patterns and interactions between individuals
The analysis of each set of spatial point pattern revealed that, except for the plot ET2, individuals are randomly distributed (Figs. 2A–2C, 2G–2L; Fig. S1). At ET2, the spatial pattern of two sets, all individuals mapped and all the adults, varied through the distance range (r). Those sets showed significant deviations from complete spatial randomness at small distances (0–1.7 m) where individuals appear clustered and at larger distances, from 3.8 m to 5 m (r max), where their distribution is regular (Figs. 2D, 2E); at intermediate distances (1.8–3.8 m) they appear randomly distributed. The set composed by females and males appears randomly distributed at almost all the range of r values, except for the 3.8 to 5 m interval where they showed a significant deviation toward regular distribution (Fig. 2F).
Reproductive effort
Onset of coning was related to plant size and sex. Male plants were reproductively active at sizes below 20 leaflets in the longest leaf and this was similar in all plots. Female plants matured at different sizes (e.g., 24–37 leaflets in the longest leaf) and produced cones at sizes between 21 to 30 leaflets in ET plots, and at sizes above 30 leaflets in SF plots (Fig. 3, Table S1). The average size of male and female plants was statistically different for each plot (Table 2). No significant difference was detected between plots of the same site, but the difference between sites was significant (Table 2). Across all sites, larger females generally produced cones with more ovules, but the relationship was highly variable (linear regression: N = 33, , F1,31 = 4.89, P = 0.03).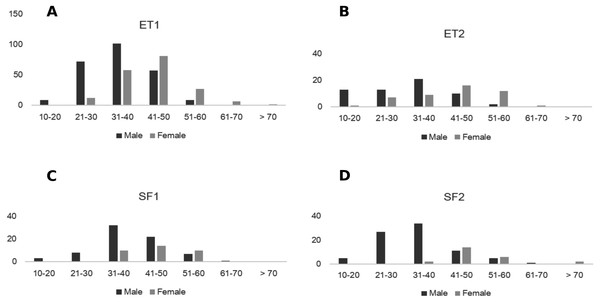 | | SS | DF | MS | F | P |
| --- | --- | --- | --- | --- | --- |
| Site | 1,602.0 | 1 | 1,602.0 | 18.488 | <0.001 |
| Plot (Site) | 477.6 | 2 | 238.8 | 2.756 | 0.064193 |
| Sex (Site*Plot) | 15,313.9 | 4 | 3,828.5 | 44.182 | ≪0.001 |
| Error | 64,815.8 | 748 | 86.7 | | |
Reproductive success
Overall average seed set per cone was 44.7 ± 33.7% and average seeds per cone were 19.0 ± 14.4. Despite differences in plant densities among plots, we failed to detect significant differences among them for either measure of RS (ANOVA on square root transformed data: seed set: F3,59 = 1.51, P = 0.22; seeds: F3,59 = 1.76, P = 0.16; Data S5). Seed set failure occurred in 16% of female cones and half the plants had less than 50% seed set.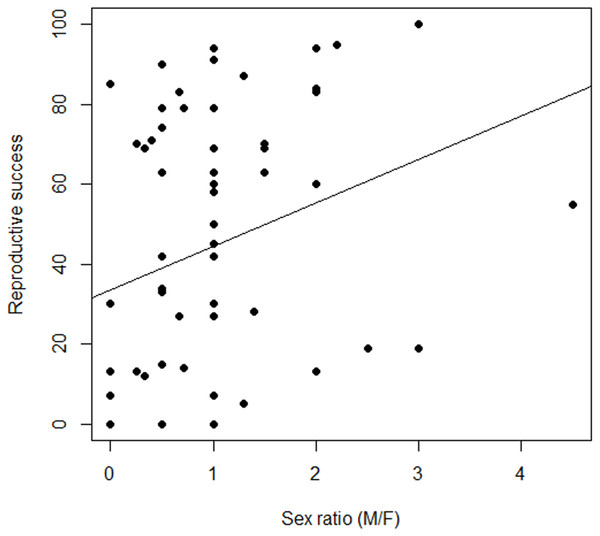 We found no evidence of spatial autocorrelation between position of females and RS in any of the four areas we had sampled (Mantel r =  − 0.007 to −0.12, P = 0.48 to 0.88; Data S5)
Female reproductive success was highly variable (Fig. 4; Data S5), but our measures of RS, seed set and number of seeds, were correlated and behaved similarly as response variables. Consequently, we only report seed set as our measure of female RS. There was a non-significant relationship between RS of a target female plant and the number of males within the circular plots (, F1,58 = 0.49, P = 0.48). However, we found a significant positive relationship between female RS and sex ratios of the circular plots (, F1,58 = 4.96, P = 0.03). While the slope of line was significantly different from zero, the model explained very little of the variation.
Regression analyses also showed that there was a significant negative relationship between female RS and the distance to the nearest male (adjusted r2 = 0.18, F1,83 = 19.78, P < 0.001). Variation was again substantial but less so at greater distances where seed set was frequently nil. Progressively eliminating the target females with the most distant neighbors changed the relationship from a significant negative one to a slope indistinguishable from zero at a threshold distance of 190 cm (Fig. 5). Only the nine most distant data points were eliminated to reach non-significance, leaving a still substantial sample size of 75.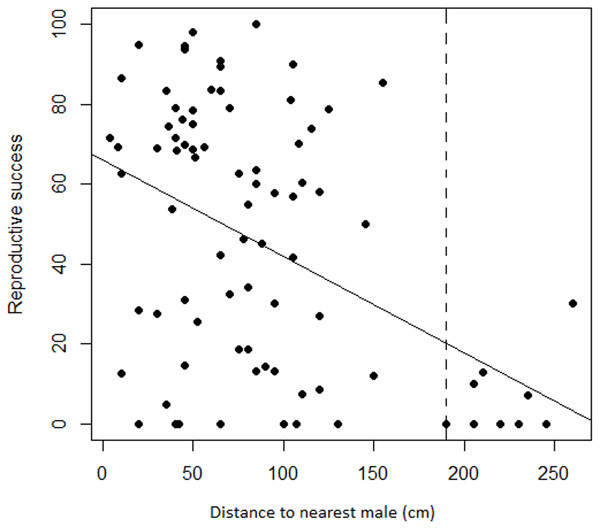 Patterns of female success
Seed set (proportion of ovules forming seeds) is significantly and negatively associated with female cone size according to our linear regression analysis (b =  − 0.86, , F1,58 = 6.76, P = 0.01). Thus, larger cones have lower percent seed set, but the model is weak, explaining only 9% of the variation.
Seed set may not reflect fitness advantage to larger cones, but absolute seed production may. We assumed that if a plant has the resources to produce larger cones, then they would have proportionately greater resources to produce more seed. And larger cones may be better competitors for pollinator services. We certainly expected more seeds from larger cones. Instead, we found that virtually none of the variation in seed production was associated with cone size (b =  − 0.03, , F1,58 = 0.04, P = 0.83).
If intraspecific competition for resources was a significant factor, then high plant densities should have had negative effects on reproductive effort. In our circular plots, we found no such correlation with female cone size (Spearman's rank correlation: Rho = 0.11, P = 0.39).
Conclusions
Z. portoricensis is well established at the eastern portion of the southern serpentine outcrop of Puerto Rico. Its abundance in those places is among the highest reported for a cycad, and its population structure suggests regular successful recruitment.
Reproductive success of Z. portoricensis at the individual level is affected by the spatial distribution of the plants. Although reproductive success is highly variable, as a trend, it decreases with an increase in the distance to the nearest male, a relationship that becomes statistically significant at distances beyond 190 cm. Reproductive success also tends to be higher for female plants in neighborhoods with more coning males than females. As the individuals are randomly located in relation to each other, being close to male plants and/or located within male dominated sites is a matter of chance. The effect of this stochastic process on reproductive success is perhaps one of the factors that produce the high levels of intra-population genetic diversity found by Meerow et al. (2012) in this species.
The remarkable long-term persistence of the cycads indicates the effectiveness of their sequential nursery-deception pollination system. The variability of its effectiveness at the individual level in Z. portoricensis could be interpreted as the result of the stochasticity associated with random spatial distribution of individuals of both sexes, infrequent pollinator visits to females and the lack of synchronization between pollen release and female receptivity. But cycads are long-lived plants so net reproductive success is perhaps best assessed via long-term studies (i.e., 20 years or more) to capture fluctuations in fitness.