Crystal structure of human Acinus RNA recognition motif domain
Published

Accepted

Received
Academic Editor
Subject Areas

Keywords

Acinus

,

Apoptosis

,

Crystal structure

,

RRM domain

,

Splicing factor
Copyright

©

2018

Fernandes et al.

Licence

This is an open access article distributed under the terms of the Creative Commons Attribution License, which permits unrestricted use, distribution, reproduction and adaptation in any medium and for any purpose provided that it is properly attributed. For attribution, the original author(s), title, publication source (PeerJ) and either DOI or URL of the article must be cited.
Cite this article

2018

.

Crystal structure of human Acinus RNA recognition motif domain

.

PeerJ

6

:

e5163

https://doi.org/10.7717/peerj.5163
Abstract
Acinus is an abundant nuclear protein involved in apoptosis and splicing. It has been implicated in inducing apoptotic chromatin condensation and DNA fragmentation during programmed cell death. Acinus undergoes activation by proteolytic cleavage that produces a truncated p17 form that comprises only the RNA recognition motif (RRM) domain. We have determined the crystal structure of the human Acinus RRM domain (AcRRM) at 1.65 Å resolution. It shows a classical four-stranded antiparallel β-sheet fold with two flanking α-helices and an additional, non-classical α-helix at the C-terminus, which harbors the caspase-3 target sequence that is cleaved during Acinus activation. In the structure, the C-terminal α-helix partially occludes the potential ligand binding surface of the β-sheet and hypothetically shields it from non-sequence specific interactions with RNA. Based on the comparison with other RRM-RNA complex structures, it is likely that the C-terminal α-helix changes its conformation with respect to the RRM core in order to enable RNA binding by Acinus.
Introduction
The RNA recognition motif (RRM) is a small (approximately 90 residues) protein domain known for its characteristic βαββαβ fold and frequent engagement in RNA binding. RRM-containing proteins are typically engaged in splicing, editing, export, degradation and regulation of translation (Maris, Dominguez & Allain, 2005). A single RRM typically recognizes a short continuous stretch of single-stranded RNA, usually less than eight ribonucleotides long (Afroz et al., 2015). Binding involves two conserved motifs termed RNP1 and RNP2, located in the two central β-strands, with [RK]-G-[FY]-[GA]-[FY]-[ILV]-X-[FY] and [ILV]-[FY]-[ILV]-X-N-L consensus sequences, respectively (X stands for any amino acid) (Maris, Dominguez & Allain, 2005; Clery, Blatter & Allain, 2008). Prominent features of these motifs include conserved aromatic residues that are often involved in interactions with ribonucleotides of the RNA target sequence. In addition to the RRM core architecture, other structural elements may or may not be present: β-hairpins (Volpon et al., 2005), extra β-strands (Oberstrass et al., 2005; Blatter et al., 2015) or α-helices (Jacks et al., 2003). These additional elements, together with variable loops, can contribute to the recognition of an RNA target.
Acinus (apoptotic chromatin condensation inducer in the nucleus) is a protein involved in apoptosis and alternative splicing regulation. Human Acinus has three isoforms, Acinus-L, Acinus-S and Acinus-S′, which are most probably generated by alternative splicing and/or usage of alternative promoters (Sahara et al., 1999). The isoforms differ in size and N-termini (Fig. 1). The longest isoform L has a putative DNA binding domain, SAP, and two shorter isoforms, S and S′, have unique sequences at their N-termini (Sahara et al., 1999). All of them contain an RRM domain at the C-terminus and a conserved arginine/serine-repeat (RS repeat) region that are frequently present in splicing factors.
It was originally discovered that Acinus is activated by caspase-3, which recognizes its consensus DELD target sequence and cleaves it after D1093 (residue numbering of the Acinus-L isoform is assumed throughout the text). The truncated version of Acinus (called p17, residues 987–1093) covers the RRM domain and induces chromatin condensation at the terminal stages of apoptosis (Sahara et al., 1999; Hu et al., 2005). The cleavage of Acinus by caspase-3 can be inhibited by phosphorylation of S1180 and S1331 (Hu et al., 2005) or by the antiapoptotic AAC-11 (antiapoptosis clone 11) protein which directly binds to Acinus in the region comprising residues 840–918 (Rigou et al., 2009).
In other studies, knock downs of Acinus did not prevent apoptotic chromatin condensation but instead impaired DNA fragmentation, suggesting involvement in DNA cleavage during programmed cell death (Joselin, Schulze-Osthoff & Schwerk, 2006; Rigou et al., 2009). Later, Acinus was also found in ribonucleoprotein complexes: the spliceosome (Rappsilber et al., 2002; Zhou et al., 2002), the apoptosis- and splicing-associated protein (ASAP) complex (Schwerk et al., 2003; Murachelli et al., 2012) and the splicing-dependent multiprotein exon junction complex (EJC) (Tange et al., 2005). Consequently, its function in splicing became apparent. Acinus was shown to regulate splicing of a subset of apoptotic genes in human cells (Michelle et al., 2012) and to facilitate constitutive splicing of pre-mRNAs containing a weak, alternative 5′ splice site, favoring the mRNA isoform generated from this site (Rodor et al., 2016). Other results coupled Acinus to transcription and splicing of retinoic acid receptor (RAR)-dependent genes (Vucetic et al., 2008; Wang, Soprano & Soprano, 2015). Moreover, the RRM domain was found necessary for the enhancement of Acinus activity on the retinoic acid (RA) dependent splicing of a mini-gene from its weak 5′ splice site (Wang, Soprano & Soprano, 2015).
The RNA binding mode of Acinus remains unknown. Recently, however, Acinus-S was found to bind to a subset of suboptimal introns of pre-mRNAs, as well as to spliced mRNAs (Rodor et al., 2016). The analysis of iCLIP data (individual-nucleotide resolution UV crosslinking and immunoprecipitation) for Acinus-S demonstrated an enrichment of two sequence motifs: a U-rich sequence (in introns), and a "GAAGAA"-like motif (in exons). Additionally, it was shown that Acinus regulates the splicing of DFFA/ICAD that is an inhibitor of caspase-activated DNase and a major regulator of DNA fragmentation (Rodor et al., 2016).
Here, we report for the first time a crystal structure of the human Acinus RRM domain (AcRRM) at 1.65 Å resolution together with the analysis of its putative RNA binding mode. The structure of an AcRRM monomer shows a classic four-stranded β-sheet fold with two flanking α-helices and an additional non-classical α-helix at the C-terminus. In the absence of the target RNA, the C-terminal α-helix partially occludes the potential ligand binding site (RNP1 and RNP2).
Materials and Methods
Cloning, expression and purification of Acinus RRM
The protein fragment encoding the AcRRM domain was selected based on the secondary structure prediction of Acinus protein performed with the GeneSilico Metaserver (Kurowski & Bujnicki, 2003). The human Acinus cDNA (ID 9021673) was purchased from IMAGE Consortium Source BioScience. The DNA sequence encoding AcRRM (residues 1008–1100, Uniprot sequence ID Q9UKV3) was PCR amplified and subcloned into pGEX-4T1 (GE Healthcare Life Sciences, Little Chalfont, UK). E. coli BL21(DE3) strain (New England BioLabs, Ipswich, MA, USA) was used to overexpress the glutathione S-transferase (GST) tagged AcRRM. Expression was carried out in LB medium, induced with 1 mM isopropyl-D-1-thiogalactopyranoside solution (IPTG) at OD600 of 0.6 and conducted at 37 °C with shaking at 200 rpm for 4 h. The cells were harvested by centrifugation at 4,000 × g, at 4 °C for 20 min. The pellet was resuspended in 1× PBS buffer, pH 7.9, supplemented with 1 mM phenylmethylsulfonyl fluoride (PMSF) (Sigma-Aldrich, St. Louis, Missouri, USA). The cells were subsequently lysed by the French press at 18,000 psi and the cell debris was removed by centrifugation at 20,000 × g for 30 min. The GST-AcRRM fusion protein was purified by GST affinity with Glutathione-Agarose beads (Sigma-Aldrich, St. Louis, Missouri, USA) according to the manufacturer protocol (Fig. S1A). The affinity-purified recombinant protein contained the thrombin recognition site and was subsequently cleaved with thrombin from bovine plasma (Sigma-Aldrich, St. Louis, Missouri, USA) to remove the GST tag (100 μg lyophilized thrombin was used to cleave 1 mg of GST-AcRRM fusion). The cleavage was performed for 2–4 h at room temperature in buffer containing 50 mM Tris–HCl pH 9, and 50 mM NaCl. After cleavage, AcRRM maintained two additional amino acid residues (GS) at its N-terminus. AcRRM was separated from GST tag by heparin affinity using a HiTrap Heparin HP column (GE Healthcare Life Sciences, Uppsala, Sweden) (Fig. S1B), pre-equilibrated in buffer containing 50 mM Hepes-NaOH pH 8 and 1 mM DTT. The bound protein was eluted with gradient of 0 to 1 M NaCl in the 50 mM Hepes-NaOH pH 8 and 1 mM DTT buffer.
Finally, AcRRM was purified by size exclusion chromatography on a Superdex 75 pg column (GE Healthcare Life Sciences, Little Chalfont, UK) pre-equilibrated in 50 mM Hepes-NaOH pH 8, 100 mM NaCl, 1 mM DTT buffer (Fig. S1C). The purified AcRRM protein was concentrated to 8 mg/ml using a 3,000 molecular-weight cut-off Amicon Ultra-4 Centrifugal Filter Units (Merck Millipore, Burlington, MA, USA).
Crystallization
Human AcRRM was crystallized at 18 °C using 0.2 + 0.2 μl sitting drop vapor diffusion method. The Phoenix nano-dispensing robot (Art Robbins instruments, Sunnyvale, CA, USA) was used to set the crystallization drops with the Morpheus Screen (Molecular Dimensions), Index and Crystal Screen (Hampton Research, Aliso Viejo, CA, USA) in 96 well crystallization plates (Hampton Research, Aliso Viejo, CA, USA). The first needle-like crystals appeared within two days. The crystals collected from Index Screen 81 (G9) crystallization reagent (0.2 M Ammonium acetate, 100 mM Tris–HCl pH 8.5, 25% w/v Polyethylene glycol 3,350) were cryo-protected for 10 s in reservoir solution supplemented with 25% w/v Polyethylene glycol 400, flash-frozen, stored in liquid nitrogen and used for X-ray data collection.
X-ray data collection and structure determination
Native X-ray diffraction data sets extending to 1.65 Å resolution were collected using the CCD detector at beamline 14.2 at the Helmholtz-Zentrum Berlin (BESSY II, Germany) (Gerlach, Mueller & Weiss, 2016). A data set consisting of 120 frames was collected with an oscillation width of 1° per frame and a crystal-to-detector distance of 150 mm. The data were indexed and scaled using the XDS software package (Kabsch, 2010).
Primary molecular replacement searches were performed with the MrBUMP/Phaser pipeline (McCoy et al., 2007; Keegan & Winn, 2008) using RRM domain of Rna15 (PDB code 2X1F (Pancevac et al., 2010)) as a search model. It produced a marginal solution with two monomers in the asymmetric unit, a Z score of 11.5 and a final log-likelihood gain (LLG) of 104. The model was then automatically rebuilt with ARP/wARP (Langer et al., 2008) excluding some resolution shells that were marked as ice rings. Re-inspection of diffraction images and the Wilson plot revealed two problematic resolution shells (2.29–2.22 and 1.94–1.90 Å). They were then excluded from a second iteration of indexing and scaling. Statistics for the diffraction data collection and (re)processing are presented in Table 1. Iterations of manual rebuilding, using the Coot program (Emsley & Cowtan, 2004), and restrained refinement using CCP4 REFMAC5 (Murshudov et al., 2011) that included TLS optimization with one group per monomer, produced the AcRRM model characterized by crystallographic R factor of 18.5% and Rfree of 22.4%. The data processing and refinement statistics are summarized in Table 1. Final model coordinates and the corresponding structure factors were deposited at Protein Data Bank with the 6G6S accession code.
Discussion
Acinus has an RRM most similar to that of the RRM1 of Sxl from Drosophila melanogaster (PDB code: 4QQB). They share 29% sequence identity. Sxl is involved in splicing and translation regulation during sex development in the fly (Samuels, Deshpande & Schedl, 1998) and binds to polypyrimidine tracts through both of its RRM domains connected by a flexible linker. The linker does not participate in RNA binding, however, upon binding it becomes ordered as a short, distorted α-helix (Crowder et al., 1999; Handa et al., 1999). Structurally, AcRRM was found to be most similar to RRMs of several other factors implicated in RNA processing: Rna15, U1A, Tra2-β and HuD.
There are several known cases of RRM oligomerization in vivo. For instance, the RRM3 of HuR and the RRM of RBPMS homodimerize through a helical region and bind to RNAs through their β-sheets, located opposite to the dimerization site (Scheiba et al., 2014; Teplova et al., 2016). Despite the fact that AcRRM crystalized as a homodimer, in which two AcRRM monomers are bound via C1083 of their β4, we believe that any potential oligomerization of Acinus protein is unlikely to be performed by RRM domain in the reducing environment of the nucleus.
In order to better understand the role of Acinus in splicing and apoptosis, more information is needed about its RNA binding mode. If AcRRM bound RNA in the way observed in related structures, the C-terminal α-helix would have to move away in order to make space for the RNA molecule. Such adjustment seems possible, and it is observed in some homologs with known structures. A good example is U1A RRM crystallized in complex with RNA (PDB code 4C4W (Huang & Lilley, 2014)). In this structure, the RRM domains that do not bind RNA have their C-terminal α-helix perfectly overlapping with the C-terminal α-helix of AcRRM (Fig. 6A). In the same crystal, in the RRM domains that bind RNA, the helix moves away to make space for the ligand (Fig. 6B). The C-terminal α-helix of U1A has been reported to cover the β-sheet surface and occlude the RNA binding (Law et al., 2013). Similar observations have been made for the N-terminal RNA-binding domain of human polyadenylation factor CstF-64 (Perez Canadillas & Varani, 2003). However, the C-terminal α-helix of CstF-64 does not relocate but unfolds upon RNA binding and extends into the hinge domain. Consecutively, this conformational change may facilitate the assembly of the polyadenylation complex (Perez Canadillas & Varani, 2003). The C-terminal α-helices are present also in the C-terminal RRM of La protein (Jacks et al., 2003) and the RRM of GW182 protein (Eulalio et al., 2009).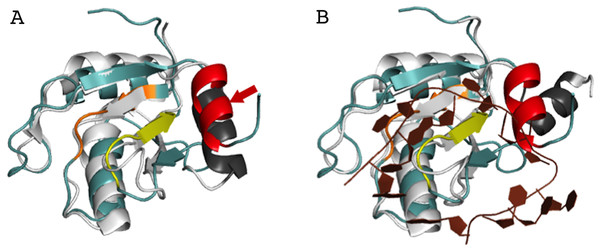 Interestingly, the 10-amino acid-long C-terminal α-helix of AcRRM has a caspase-3 target sequence and can be truncated by this protease down to six amino acids. It has been shown that Acinus is cleaved from both the N- and C-termini in order to produce the p17 form of the protein, which plays a role in apoptosis and chromatin condensation (Sahara et al., 1999). Due to the fact that the C-terminal α-helix contains the DELD caspase-3 target site and two acidic side chains, it has a highly electronegative potential (Fig. 3C). Therefore, it could shield the hydrophobic, electropositive surfaces in the absence of RNA (which could otherwise involve in non-sequence specific binding of the ligand). The function of the C-terminal α-helix of AcRRM and the way in which the protease cleavage influences its conformation needs to be assessed by further biochemical and structural studies. For instance, it would be interesting to determine whether the C-terminal α-helix is (i) relocated upon RNA binding, destabilized and cleaved by caspase-3 (ii) destabilized and cleaved by caspase-3 ahead of RNA binding via RNPs or, alternatively, (iii) C-terminal α-helix occludes the RNA binding site on the β-sheet but RNA is bound through the loops?
Conclusions
We crystallized and determined the structure of the RRM domain of the human Acinus protein spanning residues 1008–1100, at a resolution of 1.65 Å. The classical βαββαβ core of AcRRM is supplemented by an additional C-terminal α-helix packed against the β-sheet at the side opposite to the other two helices. The aromatic residues of the RNPs in AcRRM are exposed to the cavity potentially creating an RNA-binding area which is occluded by the C-terminal α-helix in the absence of the ligand. The additional α-helix can be found in some other RRM domains (e.g., of U1A or La protein) but it is generally considered to be an auxiliary structural element that may block the RNA-binding site and has to change conformation to enable ligand binding. Interestingly, this α-helix bears a caspase-3 target site and undergoes cleavage during apoptotic signaling. Further studies should address how caspase-3 cleavage changes the conformation of the AcRRM C-terminus and how it influences ligand binding.