No population bias to left-hemisphere language in 4-year-olds with language impairment
1
Department of Experimental Psychology, University of Oxford

,

UK
2
Telethon Institute of Child Health Research, University of Western Australia

,

Perth, WA

,

Australia
3
Radboud University

,

ED Nijmegen

,

Netherlands
Published

Accepted

Received
Academic Editor
Subject Areas

Keywords

Language impairment

,

Cerebral lateralization

,

Transcranial functional Doppler ultrasound

,

Child

,

Asymmetry
Copyright

©

2014

Bishop et al.

Licence

This is an open access article distributed under the terms of the Creative Commons Attribution License, which permits unrestricted use, distribution, reproduction and adaptation in any medium and for any purpose provided that it is properly attributed. For attribution, the original author(s), title, publication source (PeerJ) and either DOI or URL of the article must be cited.
Cite this article

2014

.

No population bias to left-hemisphere language in 4-year-olds with language impairment

.

PeerJ

2

:

e507

https://doi.org/10.7717/peerj.507
Abstract
Background. An apparent paradox in the field of neuropsychology is that people with atypical cerebral lateralization do not appear to suffer any cognitive disadvantage, yet atypical cerebral lateralization is more common in children and adults with developmental language disorders. This study was designed to explore possible reasons for this puzzling pattern of results.
Methods. We used functional transcranial Doppler ultrasound (fTCD) to assess cerebral blood flow during language production in 57 four-year-olds, including 15 children who had been late-talkers when first seen at 20 months of age. We categorized cerebral lateralization as left, right or bilateral, and compared proportions with each type of laterality with those seen in a previously tested sample of children aged 6–16 years. We also compared language scores at 4 years for those with typical and atypical lateralization, and then looked at the association the opposite way: comparing those with typical or impaired language in terms of their cerebral lateralization.
Results. The distribution of types of cerebral lateralization was similar for 4-year-olds to that seen in older children. Overall, cerebral lateralization was not predictive of language level. However, for children who had language difficulties at 20 months and/or 4 years (N = 21), there was no population bias to left-hemisphere language activation, whereas children without language problems at either age showed a pronounced bias to left-sided language lateralization. Nevertheless, many children with right hemisphere language had no indications of language difficulties, confirming that atypical cerebral asymmetry is not a direct cause of problems.
Conclusions. We suggest that atypical lateralization at the individual level is not associated with language impairment. However, lack of lateralization at the population level is a marker of risk for language impairment, which could be due to genetic or non-genetic causes.
Background
It is well established that language processing in the brain is asymmetric, with the left cerebral hemisphere playing the major role in most people. However, a minority of people do not follow the usual pattern, and either have right-hemisphere language, or no bias toward either hemisphere. This functional asymmetry is not readily predictable from structural asymmetry of the two hemispheres (Dorsaint-Pierre et al., 2006; Keller et al., 2011; Propper et al., 2010), and its significance for language development remains poorly understood (Bishop, 2013). It is often assumed that a lateralized brain evolved because it conferred some advantage on the individual, perhaps by enabling division of labour between the hemispheres (Vallortigara, 2006), yet in humans, lateralization is not universal.
Over seventy years ago, Orton (1937) proposed that a failure to develop the usual left-hemisphere language bias could be detrimental for language development; although there have been numerous studies on this topic since that time, most relied on handedness as an indicator of cerebral lateralization, and results have been contradictory and confusing (Bishop, 1990; Bishop, 2005). Handedness, however, is an indirect and imprecise indicator of cerebral lateralization for language, regardless of whether it is measured by preference or performance measures (Groen et al., 2013).
We are now in a position to use more direct assessment of language laterality, but to date there has been little evidence of disadvantages associated with atypical lateralization in non-clinical samples (Berl et al., 2014; Knecht et al., 2001). Nevertheless, reduced bias to left-hemisphere language has been reported in several functional imaging studies of developmental language delay or disorder (Badcock et al., 2011; Bernal & Altman, 2003; Chiron et al., 1999; Dawson et al., 1989; de Guibert et al., 2011; Ors et al., 2005; Tzourio et al., 1994; Whitehouse & Bishop, 2008) and in young children with weak reading skills (Bach et al., 2010). However, a concern is that this result could be artefactual if degree of observed lateralization depends on task performance. For instance, lateralization could be affected by the amount of effort required when doing a language task (Berl, Vaidya & Gaillard, 2006; Kadis et al., 2011); alternatively, the amount of engagement of left hemisphere systems might depend on the amount of language generated (Badcock, Nye & Bishop, 2012). If so, we might expect to see a reduction in left-hemisphere lateralization in those with less well-developed language skills, just because they are poor at doing the task used for language activation.
The question of whether cerebral lateralization is related to language impairment is complicated by developmental issues. Lenneberg (1967) proposed that early in life both hemispheres participate in language functions, with cerebral lateralization developing gradually as language is acquired. He argued that this could explain why children make better recovery than adults from aphasia caused by focal left-brain injury; the idea is that the right hemisphere continues to play a role in language processing up to puberty, and so is more readily able to take over language functions after brain damage. According to this view, lack of language lateralization could be viewed as a form of neurodevelopmental immaturity. This notion has, however, been challenged by subsequent studies showing that left-sided language processing is usually evident from early childhood, leading Witelson (1987) to conclude that it is not cerebral lateralization that increases with age but "the amount of cognition available to be asymmetrically mediated by the hemispheres" (p. 679). More recent studies using functional imaging have generally supported the notion that the left hemisphere usually mediates language production from early childhood, but there is still debate as to whether the extent of right hemisphere involvement declines with age. Most studies have used relatively small cross-sectional samples which lack power to detect more subtle changes in extent of lateralization. In a large cross-sectional study using fMRI, a small but significant increase in left-sided lateralization for verb generation was observed in Broca's area from age 5 years to adulthood (r = .311) (Holland et al., 2007). An fMRI study using a covert verb generation task with over 300 children aged 5–18 years found that task-related activation could be subdivided into seven independent components, only one of which was strongly lateralized (Karunanayaka et al., 2010). This lateralized component, which involved medial temporal gyrus, frontal gyrus, inferior frontal gyrus and angular gyrus, showed age-related increases in activation (r = .42). However, this result seems task-dependent; when a similar analysis was done using a word-picture matching task, a strongly lateralized component again emerged, with similar topography, but this did not show any correlation with age (Schmithorst, Holland & Plante, 2007). Other, smaller studies have noted developmental changes in lateralization of neuromagnetic (Kadis et al., 2011; Ressel et al., 2008) or BOLD responses (Berl et al., 2014) over childhood, although none to date has demonstrated this longitudinally, and there are also failures to find age trends (Gaillard et al., 2000; Wood et al., 2004). Ideally, longitudinal data are needed to study developmental trends. Szaflarski et al. (2006b) studied 30 children seen annually over a five-year period using fMRI with a verb generation task. There was an increase in activation of left inferior frontal gyrus between 5 and 12 years of age, which the authors interpreted as indicating increased lateralization with age (Szaflarski et al., 2006b). However, other left-sided regions showed decreased activation with age. Ideally, one would want to see an analysis of change in a laterality index with development (Nieuwenhuis, Forstmann & Wagenmakers, 2011). A further report from this sample measured fMRI using a narrative comprehension task over a 10-year period, but this was not informative about age-trends in lateralization because activation (in superior temporal lobes) was consistently bilateral (Szaflarski et al., 2012).
One reason why there are few large-scale studies of development of cerebral lateralization is because for many years the only way to assess cerebral lateralization in nonclinical samples was by functional brain imaging, which is not commonly undertaken with those under 7 or 8 years of age. An alternative procedure, functional transcranial Doppler ultrasound (fTCD), offers a cost-effective alternative that gives similar results to fMRI, when the same activation task is used (Deppe et al., 2000). Lohmann and colleagues (2005) pioneered the use of fTCD with children, and demonstrated it was possible to obtain a reliable index of language laterality in some children as young as two years of age. Their method required children to sit still and quiet with their eyes closed for a 30 s interval between stimuli, a protocol that can be taxing for young and distractible children. We developed a less demanding task which involves the child silently watching a language-free video clip during a baseline period, and then describing what had happened (Bishop, Watt & Papadatou-Pastou, 2009). This procedure is repeated for a maximum of 30 trials, and changes in cerebral circulation while the child is speaking are monitored via Doppler ultrasound probes positioned to record blood flow in the left and right middle cerebral arteries.
Here we report data from a group of 57 children who were recruited for a study of language development when they were 20 months of age (Bishop et al., 2012), with late-talkers being oversampled. When they were 4 years old, these children were reassessed and classified according to whether or not they had language impairments. FTCD was also used at this age to assess cerebral lateralization, and the proportion of children with left-biased language processing was compared with children at later ages.
The current study focuses on three questions.
Does cerebral lateralization become more established as language develops, i.e., is left-sided cerebral lateralization as reliable and frequent in 4-year-olds as it is in older children? To address this question we compared the 36 4-year-olds with no evidence of language difficulties with 51 children aged 6–16 years who were studied by Groen et al. (2012).

If we subdivide 4-year-olds according to whether or not they have left-sided language lateralization, do these subgroups differ in language ability? We noted above that prior studies have failed to show such an association in adults. If normal language is seen in 4-year-olds with atypical cerebral lateralization, this suggests it is not a direct cause of children's language impairments.

Is cerebral asymmetry reduced in children with language impairment at 4 years of age? Although this is similar to question 2, previous research suggests a different answer may be obtained when the association is studied from this direction. If we replicate this association in children as young as 4 years, we need then to consider which causal models might account for it.
Materials and Methods
Participants
4-year-old children
Figure 1 shows the composition of the sample, which is described in detail by Bishop et al. (2012). Mothers were recruited from a maternity ward, excluding any whose babies had health problems. Children were first identified at 18–19 months of age on the basis of parental responses to a British adaptation of the MacArthur–Bates Communicative Development Inventory (CDI) (Hamilton, Plunkett & Schafer, 2000). Over a 15 month period, we recruited all available children (N = 26) who met criteria as late talkers, defined as having an expressive CDI more than one SD below the mean (10 words or less), and 70 average talkers, scoring between the 20th and 75th centile (range 13–196 words). Twenty-four of the late talkers and 58 of the average talkers were available for follow-up at 4 years of age. Parental consent for fTCD was given for 19 of the late-talkers and 47 of the average talkers, and useable data from this procedure (see below) was obtained for 15 late-talkers and 42 average talkers (a success rate of 86%).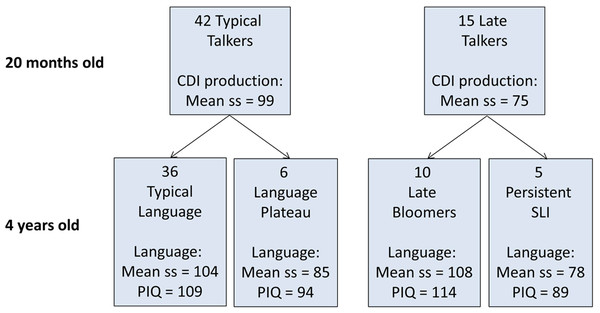 At follow-up at 4 years of age, children were categorized as having typical or impaired language on the basis of performance on a battery of tests that yielded nine language measures: Verbal Comprehension and Naming from the British Ability Scales (BAS) (Elliott, Smith & McCulloch, 1997), Sentence Repetition and Nonword Repetition from the Grammar and Phonology Screening Test (GAPS) (Gardner et al., 2006), Information and Sentence Length indices from the Bus Story test (Renfrew, 1991), third person singular and past tense measures from the Test of Early Grammatical Impairment (TEGI) (Rice & Wexler, 2001), and General Communication Composite from the Children's Communication Checklist-2 (Bishop, 2003). A principal component was extracted from the first six of these language measures to provide the summary score of language ability shown in Fig. 1, which was the factor score of the first component scaled to mean of 100 and SD of 15. For categorizing children's outcomes, language impairment was identified when the child scored more than 1 SD below the normative mean on two or more of the language measures. In addition, the Block Design and Matrices subtests of the Wechsler Preschool and Primary Scales of Intelligence, 3rd UK edition (WPPSI-III) (Wechsler, 2002) were used to give a prorated estimate of performance (nonverbal) IQ (PIQ).
School-aged children
Full details of this sample are provided by Groen et al. (2012). Participants were 34 boys and 28 girls spanning three age bands 6–8 years, 10–11 years, and 13–16 years of age recruited from schools around Oxfordshire, UK. Useable data from fTCD were obtained from 51 children (82%). These children completed a battery of verbal and nonverbal ability tests that confirmed they were functioning within the normal range.
In both samples children were excluded if they were affected by any known neurological disorder, had a diagnosis of autism or dyslexia, or did not have English as their primary home language.
Ethical aspects
This project was approved by Oxfordshire Research Ethics Committee A, file number A03.025. Parents gave signed consent for participation by their child.
Procedure
All participants completed two testing sessions, with behavioural testing of language and nonverbal ability in the first session, and fTCD in the second session. For 4-year-olds the ultrasound session took place in a quiet room at the University. Older children were tested in a quiet room at home or school or in a testing van.
Handedness assessment
In both samples two types of handedness assessment were used, as described by Groen et al. (2013). The first was based on the Edinburgh Handedness Inventory (EHI) (Oldfield, 1971). Children were asked to indicate the hand used for nine activities: writing, drawing, throwing, using a toothbrush, using a knife (without a fork), using a spoon, holding a broom (upper hand), opening a box (hand used to hold the lid) and dealing cards. Responses (L or R) were converted to a handedness quotient 100∗(R − L)/(R + L), with positive numbers indicating right-handedness, and negative numbers left-handedness. The second was the Quantification of Hand Preference (QHP) task, which provides a behavioural measure of persistence of hand preference across the midline (Bishop et al., 1996). In this task, stacks of three cards with brightly coloured pictures are placed in seven spatial locations (approximately 30 degrees apart) along a semi-circle, on a table, within the child's reach. The child was located in the center of the semi-circle and asked to pick up a specific card and place it in a box located directly in front of them, without time constraints. The 4-year-olds were standing, whereas older children were seated in front of the table. The card order was random, but the sequence of positions was the same for all participants. The child was not informed of the experimenter's interest in hand preference, and treated the task as one of finding the named picture. The dependent variable was a laterality quotient (LQ), calculated by subtracting 0.50 from the proportion of right-hand reaches. This score ranged from +0.50 for participants reaching exclusively with the right hand through 0 for children who did not show a preference to −0.50 for those reaching exclusively with the left.
Functional transcranial Doppler ultrasound (fTCD)
Blood flow velocity through the right and left middle cerebral arteries was measured with a Doppler ultrasonography device (DWL Multidop T2; DWL Elektronische Systeme, Singen, Germany). Children were fitted with a flexible head-set, which held in place two 2-MHz transducer probes, one over each temporal skull window. The experimental paradigm was controlled by Presentation Software (Neurobehavioral Systems) on a Dell laptop computer, which sent markers to the Multidop system to denote the start of each epoch.
The animation description paradigm is described in detail by Bishop, Badcock & Holt (2010). Children watched clips from a specially designed cartoon which included sounds but no speech. Each trial started with the 12 s cartoon which the participant was asked to watch silently. This was used as a baseline period: we previously established that there is no evidence of lateralized activation while participants passively watch these animations. Next, a response cue indicated the start of a 10 s period during which the screen showed a question mark, and the child described the part of the story shown in the preceding clip. This was followed by an 8 s silent rest period during which the screen showed a picture of a child with a finger to his lips. A maximum of 30 clips was used; we aimed to complete at least 20 trials with each child, but did more if the child was happy to continue and there was no time pressure. The child's verbal responses were audio-recorded. Because 4-year-olds did not always talk during the 'talk' period, we transcribed the session for these children and noted for exclusion any trials where the child either talked during the baseline period, or was silent during the activation period. In addition, for these children we computed the number of utterances and mean length of utterance in words during the 'talk' phases of valid trials.
Analysis of data from fTCD
All data gathered with this paradigm were analyzed using the same Matlab program: this meant that the data from the older children were reanalyzed to ensure comparable procedures were followed. The principal difference from prior analysis was the introduction of an initial screening step to ensure that trials with any signal drop-out or spiking were either excluded, or (if the dropout/spiking affected only one data point) corrected by substituting the mean amplitude for that channel. Dropout was defined for each epoch as signal amplitude that fell to zero or more than 3 SD below the mean level for that channel, and spiking as signal amplitude more than 4 SD above the mean level for the channel. This process was followed after downsampling the signal to 25 Hz, and identifying epochs in relation to signal markers, but prior to other processing. The remaining processing steps followed methods previously described (Badcock et al., 2012; Deppe, Ringelstein & Knecht, 2004). These consist of normalization of both channels to a mean of 100, application of a heart cycle integration algorithm to smooth the phasic activity associated with the heartbeat, exclusion of epochs with extreme values, standardizing both channels in relation to the baseline period, and averaging across all accepted epochs. Note that, unlike in fMRI, a control task is not used when assessing laterality with fTCD. Rather, a period of inactivity is used to produce a stable baseline with similar levels of blood flow on left and right, and subsequently, in the data processing, signals from both sides are baseline-corrected to this period, so at the point when the language stimulus is presented, the two sides are equalized. The two values used in computation of a laterality index are the signals from left and right probes during an activation phase, baseline-corrected relative to the baseline period.
On the basis of previous research (Groen et al., 2012), we required a minimum of 12 accepted trials in the fTCD procedure as the basis of a laterality index. The laterality index (LI) is calculated as the mean blood flow velocity difference in a 2 s window centred on the peak difference value during a period of interest. The period of interest was 4–14 s after the onset of the cue to speak, as used previously with this paradigm (Bishop, Watt & Papadatou-Pastou, 2009). A positive LI indicates greater left than right hemisphere activation, and a negative index indicates predominantly right hemisphere lateralization. The LI is computed separately for each epoch, making it possible to compute the standard error of the mean LI, and hence to determine whether an individual's LI is significantly different from zero, allowing for a categorical classification of language lateralization as left, right or bilateral. Bilateral language was identified if the 95% confidence interval for the LI spanned zero. In addition, the average LI was computed separately for odd and even trials, using the peak latency from the overall mean LI. This allows one to calculate an index of reliability of the LI in the sample as a whole, based on the intraclass correlation for the LI from odd and even trials.
Conclusions
This study has confirmed that there is an unusual pattern of association between functional cerebral lateralization and language skills: children with atypical cerebral lateralization do not differ significantly from other children in language abilities, but children with developmental language impairments lack the usual bias to left-sided language representation at the population level. These results fit with a model that maintains there is no cognitive disadvantage caused by atypical lateralization per se, but rather that there is an etiological factor that simultaneously increases the risk of language impairment and reduces the usual population bias to left hemisphere language.
Supplemental Information
N words produced (CDI) at 18 mo vs laterality index at 4 yr