Significance and potential of marine microbial natural bioactive compounds against biofilms/biofouling: necessity for green chemistry
Published

Accepted

Received
Academic Editor
Subject Areas

Keywords

Biofouling

,

Biofilm

,

Bioactive compounds

,

Green chemistry

,

Marine microbes
Copyright

©

2018

Adnan et al.

Licence

This is an open access article distributed under the terms of the Creative Commons Attribution License, which permits unrestricted use, distribution, reproduction and adaptation in any medium and for any purpose provided that it is properly attributed. For attribution, the original author(s), title, publication source (PeerJ) and either DOI or URL of the article must be cited.
Cite this article

2018

.

Significance and potential of marine microbial natural bioactive compounds against biofilms/biofouling: necessity for green chemistry

.

PeerJ

6

:

e5049

https://doi.org/10.7717/peerj.5049
Abstract
Natural products from the unique environments of sea water and oceans represent a largely unfamiliar source for isolation of new microbes, which are potent producers of secondary bioactive metabolites. These unique life-forms from the marine ecosphere have served as an important source of drugs since ancient times and still offer a valuable resource for novel findings by providing remedial treatments. Therefore, it can be expected that many naturally bioactive marine microbial compounds with novel structures and bioactivities against those from terrestrial environments may be found among marine metabolites. Biofilms in aquatic environment possess serious problems to naval forces and oceanic industries around the globe. Current anti-biofilm or anti-biofouling technology is based on the use of toxic substances that can be harmful to their surrounding natural locales. Comprehensive research has been done to examine the bioactive potential of marine microbes. Results are remarkably varied and dynamic, but there is an urgent need for bioactive compounds with environmentally friendly or "green" chemical activities. Marine microbes have the potential as upcoming and promising source of non-toxic compounds with sustainable anti-biofouling/anti-biofilm properties as they can produce substances that can inhibit not only the chemical components required for biofilm production but also the attachment, microorganism growth, and/or cell–cell communication.
Introduction
Little is known about the ecology of marine microorganisms, which is probably the reason that attention was not given by chemists and ecologists to these organisms for many years. As they flourish in diverse types of ecological pressures, climates, food supplies, and darkness, these marine organisms develop certain adaptation mechanisms. This can include the struggle for space, avoidance of predators, ability to effectively reproduce, and many other unknown defense mechanisms. Evolution/production of unique and natural bioactive metabolites is one such outcome resulting from these adaptations, which can be beneficial for human beings in many ways. They can possibly be responsible for the interaction with chemical components of biofilms (Joint, Muhling & Querellou, 2010).
Naturally bioactive chemical compounds produced by bacteria and diatoms can cause disruption in biofilm formation (Ganapiriya, Maharajan & Kumarasamy, 2012); therefore, they can be useful in development of environmentally friendly compounds for protection against marine bio-fouling (Holmström & Kjelleberg, 1999). It is just a matter of finding the correct naturally bioactive compound for a specific application. Coating and application of active ingredients from marine organisms (invertebrates, microorganisms, algae) that prevent the growth and settlement of fouling organisms has been proposed since the 1980s (Maki et al., 1988) but none of the potent, non-toxic, naturally bioactive compounds from diverse marine life-forms are found to be active against biofouling. When compared with the natural anti-biofoulants from macro-organisms (sponges, mollusks, tunicates, bryozoans, polychetes, and many other marine invertebrates), very limited information is available from marine microorganisms (Fusetani, 2004).
Our aim through this literature review was to search for potential biologically active compounds, whose chemical information can be useful in facilitating the development of new anti-biofouling or anti-biofilm agents from natural marine sources (Li et al., 2018). These agents should possess some extent of bioactivity, either against biofilms or any other biofilm producing microorganism and must rely on two actions: (1) synergistic action and (2) continuous production of enough potent molecules/defensive compounds by microbes so that they may also be induced upon attacks on the host. Thus far, after comparing the available information on bioactive metabolites from macro-organisms, only a small number of microorganisms have been investigated for bioactive metabolites (Debbab et al., 2010). This review covers future research with new biologically active natural marine microbial compounds and highlights their mechanism of action with focus on chemical potential. Meticulous research in the field of bioactive compounds from marine microbes may open the gates for many prospect implications in oceanic industries as well as in the field of biomedical sciences.
The ocean is called the "mother of origin of life," and an enormous proportion of all life on Earth exists within the oceans (Mora et al., 2011). In densely populated marine environments, space is often a limiting factor. When free space is not available, one organism grows on top of another one. This process is defined as epibiosis (Wahl et al., 2012). Adaptation to epibiosis arises via three methods: (1) tolerance; (2) avoidance; and (3) defense (Wahl et al., 2012). Overgrowth is controlled by employing either one or a combination of ecological, physical, and chemical defense mechanisms (Wahl, Jensen & Fenical, 1994), which includes the major factor, production of bioactive metabolites (Wahl & Banaigs, 1991). Studies unraveling the epibiotic chemical defense of marine microorganisms can provide insight into the development of novel ecofriendly antifouling compounds and strategies (Jensen & Fenical, 1996).
Biofouling occurrence in the marine environment is a sequential process, commencing with micro-fouling and concluding with macro-fouling. The adverse effects of biofouling and economic penalties to the marine industries are well known (Bekiari et al., 2015; Dang & Lovell, 2016). In addition, fouling is also known to cause destruction of metallic surfaces by accelerating the corrosion rate (Edyvean, Thomas & Brook, 1988). Numerous efforts are being made to control biofouling with applications of physical, chemical, biological compounds, but it is achieved to the greatest extent only with the use of anti-fouling paint coatings (Cao et al., 2011; Iorhemen, Hamza & Tay, 2016; Lade, Paul & Kweon, 2014).
Use of toxic anti-foulants and its related environmental concerns have caused an increase in development of non-toxic alternatives (Callow & Callow, 2011; Nurioglu, Esteves & de With, 2015). In this perspective, studies concerning marine micro-organisms' epibiotic chemical defense in the control of biofouling show great promise. Efforts in these areas have proven that the wide range of marine organisms such as algae, sponges, gorgonians, bryozoans, and ascidians are a potential source of anti-fouling metabolites (Ganapiriya, Maharajan & Kumarasamy, 2012; Zhang et al., 2014). However, not much detail is known to date regarding anti-biofouling/anti-biofilm natural compounds from marine microorganisms. Figure 1 demonstrates statistics about the number of publications in PubMed from 1989 until 2017 regarding this subject. These data explain the urgent need to explore the enigma of favorable marine microbes' activities against biofouling. Since the beginning of this type of research, studies concerning marine microbial metabolites, have shown significance that is only related to therapeutic and pharmaceutical agents for various commercial and medical applications (Table 1); however, none have been identified to date, which can be viewed as the existence of potent anti-biofouling/anti-biofilm marine microbial derivatives without any synthetic modifications.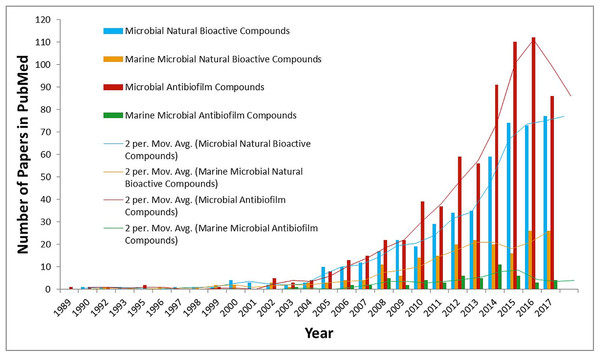 Medical significance of marine microbial metabolites
Antibacterial
Antiviral
Antiparasitic
Antifungal
Anticoagulant
Antimutagenic
Antihyperglycaemic
Antitumoral
Antiinflammatory
Anticarcinogenic
Antioxidant
Taste astringent
Photoprotection
Immunomodulator
Emulsifier
Gelling agent
Cosmetics industry
Textile industry
Stimulant
Enormous numbers of studies have been done to discover natural product-derived anti-foulants as a substitute for toxic anti-fouling paints (Ciriminna, Bright & Pagliaro, 2015; Omae, 2003; Qian, Xu & Fusetani, 2009; Wang et al., 2017). Epibiotic chemical defense of marine organisms have been evaluated, but some restrictions hindered those investigations. For instance, these studies were carried out in the laboratory against one or two groups of epibionts (Davis, 1991; Laudien & Wahl, 2004), and such unrealistic assay conditions do not exist in nature (Henrikson & Pawlik, 1998). This restricts the scope of studies concerning epibiotic chemical defense in marine organisms, which present a wide range of epibionts in nature. In this respect, evaluation of metabolites obtained from marine microorganisms against broad spectrum of epibionts provides better insight into epibiotic chemical defense (Penesyan, Kjelleberg & Egan, 2010).
In the real world, identification of bioactive metabolites origins is complicated as some marine invertebrates are home for a wide range of bacteria. For example, in some sponge species, bacteria contribute up to 60% of the total biomass (Mohamed et al., 2008) and in some studies they have been reported to produce bioactive metabolites similar to their host (Graça et al., 2015; Elyakov et al., 1991). Such cases are a subject of scientific debate. Several other studies have reported the isolation of bioactive metabolites from microorganisms associated with their invertebrate hosts (Kelecom, 2002; Bernan, Greenstein & Maiese, 1997; Hay, 2009). As an example, the marine sponge was the known source for the isolation of surfactant-like depsipeptides (Prasad et al., 2011; Anjum et al., 2016). Later, it was found that the bacterium Bacillus pumilus produces these compounds which were previously associated with just the sponge (Kalinovskaya et al., 1995).
In view of this, it is important to understand the role of associated bacteria in the production of bioactive metabolites and the importance of their association with the invertebrate host, which is still not clear at this time. However, studies to explore the relationship between anti-microbial activity and anti-fouling activities are lacking. In this context, studies to elucidate the effectiveness/isolation of various types of extracts against/from microorganisms will give a better understanding of these microorganisms' activities.
Survey Methodology
All peer reviewed scientific papers were used for this review article. Extensive literature searches have been performed using various literature search engines, including Science Direct and PubMed with several terms: (1) microbial natural bioactive compounds; (2) marine microbial natural bioactive compounds; (3) microbial anti-biofilm compounds; and (4) marine microbial anti-biofilm compounds. All relevant studies meeting search criteria were included in this review.
Conclusions
Ever since the beginning of development of a civilized society, biologically active compounds, which are obtained from diverse range of microbes, have been extensively investigated. Bacterial biofilms are the dominant reason for biofouling in most commercial systems with no permanent solution toward removal of biofilms. Microbial secondary bioactive metabolites possess quite a few pharmaceutical applications. Use of ecofriendly biocides as an alternative to synthetic chemicals has recently emerged because the sole purpose of green chemistry is to either discover or to produce the best and novel chemical products that are safe for use with increased productivity. Unquestionably, our understanding of the field of microbial metabolites has significantly improved over the past several years, but there are still many steps to achieve a better understanding about the potential of marine microbial metabolites. We are in a promising era of science, which proves to be the right time; we can uncover the potential of marine microbes in the field of biofouling prevention and not in biofouling causation. In order to explore the natural anti-fouling/anti-biofilm compounds (green chemistry) and potential of marine microbes, this review will definitely draw attention to the search for bioactive metabolites that can resolve many difficulties and obstacles not only for oceanic industries, but many other industrial systems.