Cortical bone adaptation and mineral mobilization in the subterranean mammal Bathyergus suillus (Rodentia: Bathyergidae): effects of age and sex
Department of Biological Sciences, University of Cape Town

,

Cape Town, Western Cape

,

South Africa
Published

Accepted

Received
Academic Editor
Subject Areas

Keywords

Intracortical porosity

,

Skeletal homeostasis

,

Histomorphometry

,

Sexual dimorphism

,

Cortical bone

,

Resorption cavities

,

Fossorial adaptations

,

Bone microstructure

,

Bone compactness
Copyright

©

2018

Montoya-Sanhueza and Chinsamy

Licence

This is an open access article distributed under the terms of the Creative Commons Attribution License, which permits unrestricted use, distribution, reproduction and adaptation in any medium and for any purpose provided that it is properly attributed. For attribution, the original author(s), title, publication source (PeerJ) and either DOI or URL of the article must be cited.
Cite this article

2018

. Cortical bone adaptation and mineral mobilization in the subterranean mammal Bathyergus suillus (Rodentia: Bathyergidae): effects of age and sex.

PeerJ

6

:

e4944

https://doi.org/10.7717/peerj.4944
Abstract
The patterns of bone modeling and mineral mobilization (skeletal homeostasis) among mammals other than humans and laboratory rodents are still poorly known. In this study we assessed the pattern of bone formation and bone resorption in the femur of a wild population of Cape dune molerats, Bathyergus suillus (n = 41) (Bathyergidae), a solitary subterranean mammal with a marked extended longevity among rodents, and which also lives in a naturally deficient state of vitamin D. In order to determine ontogenetic and sex effects on histomorphometric parameters of transversal undecalcified bone sections, two-way ANOVA, linear mixed-effects model and regression statistical analyses were performed. During ontogeny, B. suillus increased their cross sectional area, cortical area and cortical thickness, and most importantly, they showed scarce endosteal bone resorption which resulted in a retained medullary cavity size during ontogeny. This resulted in a positively imbalanced bone modeling, where bone formation considerably surpasses bone loss by almost 100-fold in adulthood. This differs markedly from other terrestrial mammals with relatively thin cortical walls. Regarding bone loss and remodeling, three main processes involving intracortical resorption were observed: modeling-related bone loss in early postnatal growth; secondary osteon formation occurring in both sexes; and subendosteal secondary reconstruction observed only in females. The latter is accompanied by females having six-fold more relative bone loss than males, which is evidenced by the development of enlarged resorption cavities (RCs) distributed circumferentially around the medullary cavity. Males have smaller, more circular and randomly distributed RCs. In general, our data indicate no age-related decline in mineral content in B. suillus, and provides strong support for a pattern of sexual dimorphism in skeletal homeostasis, similar to that occurring in humans and other mammals, with females losing more bone throughout aging as compared to males due to reproductive factors. Interestingly as well, despite the high mechanical loads experienced during burrow construction, bone remodeling in B. suillus is kept at very low levels throughout their lifespan, and dense Haversian tissue never forms. This study represents the first comprehensive assessment of skeletal homeostasis in a subterranean mammal, and it enables a better understanding of the complex processes governing the acquisition and maintenance of bone properties in this species with extraordinary fossorial adaptations.
Introduction
An important goal in bone research is to understand the interrelationship between mineral homeostasis and bone modeling dynamics (i.e., uncoupled bone formation and resorption). The interaction between these processes and specific adaptations (e.g., reproductive and/or biomechanical) are also relevant to understand how bone structure is maintained with aging (Yingling & Taylor, 2008; Lanyon, Sugiyama & Price, 2009; Macica et al., 2016). However, the patterns of mineral mobilization (skeletal homeostasis) and bone modeling in mammals have largely focused on humans, non-human primates and rodents (Duque & Watanabe, 2011; Allen & Burr, 2014). Similarly, the quantification of mineral dynamics in mammals has been mostly carried out on domestic and captive specimens under laboratory conditions and generally using biological markers of bone turnover (Starič, Nemec & Zadnik, 2012; Allen & Burr, 2014; Garnero, 2014). Thus, little is known from other mammals, especially those from feral populations. The methodologies used in these analyses are focused to assess systemic mineral homeostasis but rarely specify which bones are more prone to undergo catabolic activity (Allen & Burr, 2014), thus making it difficult to identify which skeletal elements may be compromised when faced with particular life history conditions (e.g., reproductive events and/or constant mechanical loads). The rapid expansion of the medullary cavity typically observed during early ontogeny of surface-dwelling (terrestrial) mammals also restricts the analysis of skeletal homeostatic dynamics, since most of the early deposited bone tissues are resorbed (Castanet, 2006).
African molerats (AMs) (Bathyergidae and Heterocephalidae) are a large and speciose group of subterranean rodents that may help to understand some of these processes. They construct extensive burrows that are used for foraging and reproduction, whereby they are capable of enduring hypercapnic and hypoxic conditions, and hence rarely exposed to sunlight (Bennett & Faulkes, 2000; Jarvis, 2003). As a result of this extraordinary lifestyle, AMs show remarkable adaptations such as their extended longevity, which represents the highest "maximum species lifespan" among rodents (Dammann & Burda, 2007) and a mineral metabolism which seems to be unique among mammals (Buffenstein, 2000). Calcium is obtained via passive non-saturable intestinal absorption and apparently independent of vitamin D, as demonstrated by their low levels of 1,25-dihydroxyvitamin D3 (calcitriol) (Pitcher et al., 1992; Buffenstein et al., 1994; Buffenstein & Pitcher, 1996). This pleiotropic molecule, which is synthesized in the skin of many (terrestrial) mammals via ultraviolet radiation, plays varied roles in bone metabolism (Buffenstein, 2000; Feldman et al., 2010; DiMeglio & Imel, 2014). Calcitriol improves the efficiency of intestinal calcium absorption, contributes to the maintenance of bone mineral, increases calcium mobilization from bone (resorption) and also maintains adequate calcium and phosphate concentrations to promote normal bone mineralization (Feldman et al., 2010; DiMeglio & Imel, 2014; Anderson, 2017). Deficiencies of this metabolite cause rickets in children and osteomalacia in adults, resulting in reduced matrix mineralization of bones and increasing their susceptibility to low energy fractures (Eriksen & Glerup, 2002; Anderson, Turner & Morris, 2012; DiMeglio & Imel, 2014).
Calcium renal reabsorption in AMs is also highly efficient (Pitcher & Buffenstein, 1994, 1995; Buffenstein, 2000) and results in a positive systemic mineral flux where calcium intake is greater than its loss (Skinner, Moodley & Buffenstein, 1991; Pitcher et al., 1992; Buffenstein, 2000). As a result, AMs have a tight regulation of serum Ca2+ concentration (Buffenstein, 2000), with excess of calcium hypothesized to be stored in their teeth and bones (Skinner, Moodley & Buffenstein, 1991; Buffenstein et al., 1995; Buffenstein & Pitcher, 1996). Mineral content obtained from ash weight and atomic absorption spectrophotometry from bone and teeth of Fukomys (Cryptomys) damarensis has increased when calcium is supplemented (Pitcher, Sergeev & Buffenstein, 1994). However, when vitamin D or controlled exposure to sunlight is administrated to this species, no changes are observed in bone mineral density or calcium balance (Pitcher, Pettifor & Buffenstein, 1994). These studies indicate that mineral homeostasis in AMs is maintained by regulating bone mineral deposition and that they may have low requirements for 1,25(OH)2D or have evolved vitamin D independent bone metabolism (Pitcher, Pettifor & Buffenstein, 1994; Pitcher, Sergeev & Buffenstein, 1994; Buffenstein, 2000; Pinto et al., 2010; Edrey et al., 2011).
Until now, there has hardly been any histological and histomorphometric studies on the skeleton of AMs. Nonetheless, qualitative descriptions have found that the cortical walls of long bones of some AMs, and other fossorial species, are much thicker than those of terrestrial mammals of similar size, which is proposed to be an adaptation to withstand biomechanical stresses during burrow construction (Chinsamy & Hurum, 2006; Pinto et al., 2010; Montoya-Sanhueza, 2014; Montoya-Sanhueza & Chinsamy, 2017). These earlier anatomical studies support the mineral reservoir hypothesis in AMs and also demonstrate that they do not exhibit any pathologies usually associated with low calcitriol concentrations in terrestrial mammals, but rather that they have highly efficient mineral homeostasis with positively balanced bone gain (Buffenstein, 2008; Pinto et al., 2010; Montoya-Sanhueza & Chinsamy, 2017). In this sense, Pinto et al. (2010) have suggested that the eusocial naked molerat (NM) Heterocephalus glaber has sustained bone quality throughout most of its ontogeny.
It appears that the lack of extensive endosteal bone resorption is one of the main causes generating thick cortical walls in AMs (Montoya-Sanhueza & Chinsamy, 2016, 2017), although no quantification of these catabolic processes have yet been assessed. Thus, the magnitude and extent of bone resorption in AMs during ontogeny are also unknown. Adult individuals of Cape dune molerats (CDMs) Bathyergus suillus, have showed scarce endosteal resorption and some degree of intracortical resorption, with sex differences in the later (i.e., accentuated in females) (Montoya-Sanhueza, 2014; Montoya-Sanhueza & Chinsamy, 2017). Similarly, Pinto et al. (2010) briefly described that non-reproductive NMs (subordinates) lacked endosteal or intracortical resorption, whilst advanced stages of lactating females showed resorption cavities.
In general, these data suggest some similarities as well as some differences in the homeostatic dynamics of the skeletal system of AMs when compared to other terrestrial mammals. In terrestrial mammals, mineral mobilization becomes more pronounced with ageing (osteopenia), especially at endosteal surfaces, which generates bone cross sectional profiles with relatively large medullary cavities and thin cortical walls (Carrier, 1983; Heinrich, Ruff & Adamczewski, 1999; Lammers & German, 2002; Castanet, 2006; Young, Fernández & Fleagle, 2010; Silva & Jepsen, 2013; Bala, Zebaze & Seeman, 2015; Pazzaglia et al., 2015).
In several ways, the present study fills the gaps identified above by assessing femoral cortical growth and skeletal homeostasis of a wild population of B. suillus, a sexually dimorphic, solitary seasonal breeder and the largest extant subterranean mammal (>2 kg) endemic to the Western Cape of South Africa (Jarvis & Bennett, 1991; Hart et al., 2006, 2007; Bray et al., 2012). The goals of this study are to: (i) determine the pattern of cortical bone growth of the femur (diaphysis); (ii) determine how bone resorption occurs; and (iii) assess ontogenetic and sex tendencies with regard to these processes. We also compare the degree of cortical thickness of B. suillus with that of other terrestrial mammals obtained from previous studies. We hypothesize that contrary to observations regarding mineral homeostasis in other mammals, which show an imbalanced (negative) bone modeling throughout ontogeny (Sontag, 1986a; Parfitt, 2010; Montoya-Sanhueza & Chinsamy, 2017), mineral loss in B. suillus does not increase considerably with age and they have limited endosteal resorption. Furthermore, since the female skeleton incurs high mineral imbalance during pregnancy and lactation periods (Miller et al., 1986; Tojo et al., 1998), we expect reproductive females of B. suillus to show higher levels of intracortical resorption as compared to males, as a result of a generalized mammalian reproductive adaptation. This study further represents the first attempt to determine the skeletal homeostasis and catabolic activity of a mammal with extended lifespan and naturally deprived of vitamin D, thus providing a better understanding of the relationship between bone modeling and physiology in this group of mammals.
Results
Femoral length and body size
A total of 41 specimens comprising eight relative age classes (2–9) were analyzed. Femoral length is highly correlated with body mass (BM) (R2 = 0.87) and body length (BL) (R2 = 0.88), whereas BM also correlates well with BL (R2 = 0.82). Significant ontogenetic differences and a male-biased pattern of sexual dimorphism were evidenced by two-way ANOVA analyses (Table 2). Based on cranial morphometric analysis, Hart et al. (2007) reported similar results for individuals between age classes 6 and 9, although they did not assess differences in femoral length. It is expected that unlike social molerats (Bennett & Faulkes, 2000), where there is obvious social ranks, there would not be additional effects on body mass and body length in B. suillus (Hart et al., 2007).
Diaphyseal changes with age and sex
The femoral midshaft is generally composed of cortical bone with an open medullary cavity (Fig. 1A), although 29% of the females, especially juveniles and subadults showed short thick trabeculae (Table 1), while only one male presented these features (subadult, #1339). A more detailed description of the microstructural changes occurring in the femoral midshaft of B. suillus is provided in Montoya-Sanhueza & Chinsamy (2017).
The two-way ANOVA showed that most of the diaphyseal traits (Cs.Wi, C.Ar, Ct.Ar and RCA) differ with age and sex, although Es.Pm only differs with sex (Table 3). These data show significant increases in periosteal bone formation with aging in both sexes (Figs. 3A and 3B). In general, males augmented their cortical area (Ct.Ar) by 69% from juvenile to subadults, and by 42% from subadult to adult stages, while females augmented their Ct.Ar by 129% and 49%, respectively (Table 3; Figs. 3B and 3E). To reach adult size, male juveniles increased their Ct.Ar by 142% and female juveniles by 242%. Thus, it is apparent that most of the growth expansion occurs during the transition from juvenile to subadults. At juvenile stages, females show lesser Ct.Ar as compared to males, but they show a quick increase in cortical expansion afterwards. The latter is illustrated in the regression analysis, where females showed a steeper slope in RCA (see also BC and R/t below) as compared to males, although the rest of the traits did not show any significant difference between sexes (Table 4). An interesting trend was found in the size of the medullary cavity (Me.Ar), which does not change significantly during ontogeny, although this parameter varies among individuals (Table 3; Fig. 3C). Despite the fact that there are not significant differences between the sexes for this trait, females tend to have slightly larger medullary cavities, as well as higher values of Es.Pm (p = 0.04) when compared to males of the same age (Table 3). These two last parameters may indicate a higher degree of endosteal resorption in females as compared to males, although there is not a considerably strong signal for Me.Ar to be statistically significant. The analysis of diaphyseal traits in B. suillus indicate a generalized unbalanced (positive) modeling activity, with high periosteal bone formation and scarce resorption at perimedullary regions of the cortex (Fig. 3E).
Juveniles
Subadults
Adults
Sex
Age
Sex* Age
Scheffé test
Male (n = 2)
Female (n = 4)
Male (n = 8)
Female (n = 8)
Male (n = 7)
Female (n = 12)
df
F
p
df
F
p
df
F
p
Age
Cs.Wi (mm)
3.97 ± 0.23
3.54 ± 0.18
5.06 ± 0.49
4.79 ± 0.51
6.06 ± 0.29
5.68 ± 0.58
1
4.200
0.048
2
44.899
<0.001
2
0.079
0.924
J < S < A
C.Ar (mm2)
9.45 ± 1.37
6.95 ± 0.60
13.83 ± 1.98
12.37 ± 1.91
18.81 ± 1.73
16.64 ± 2.57
1
7.330
0.010
2
50.968
<0.001
2
0.186
0.831
J < S < A
Ct.Ar (mm2)
6.71 ± 0.54
3.97 ± 0.36
11.41 ± 2.25
9.08 ± 2.52
16.24 ± 1.14
13.58 ± 2.23
1
11.931
0.001
2
52.809
<0.001
2
0.037
0.964
J < S < A
Me.Ar (mm2)
2.72 ± 0.82
2.86 ± 0.68
2.34 ± 0.72
3.23 ± 1.10
2.54 ± 0.65
2.89 ± 0.73
1
2.407
0.130
2
0.046
0.955
2
0.670
0.518
J = S = A
Es.Pm (mm)
6.00 ± 0.80
6.44 ± 0.87
5.71 ± 0.97
6.93 ± 1.07
6.20 ± 0.63
6.66 ± 0.86
1
4.654
0.038
2
0.142
0.868
2
0.862
0.431
J = S = A
RCA
0.71 ± 0.05
0.58 ± 0.08
0.82 ± 0.07
0.72 ± 0.11
0.87 ± 0.02
0.82 ± 0.04
1
14.167
0.001
2
17.587
<0.001
2
1.071
0.354
J < S < A
BC
0.71 ± 0.06
0.57 ± 0.08
0.82 ± 0.07
0.72 ± 0.12
0.86 ± 0.02
0.81 ± 0.04
1
14.153
0.001
2
17.100
<0.001
2
1.029
0.368
J < S < A
CDI
0.47 ± 0.04
0.35 ± 0.06
0.59 ± 0.08
0.49 ± 0.11
0.64 ± 0.03
0.57 ± 0.05
1
12.504
0.001
2
15.569
<0.001
2
0.485
0.620
J < (S = A)
R/t
2.15 ± 0.21
2.90 ± 0.51
1.72 ± 0.23
2.15 ± 0.52
1.58 ± 0.07
1.75 ± 0.15
1
15.917
<0.001
2
16.141
<0.001
2
1.971
0.154
J > (S = A)
S
0.02 ± 0.01
0.03 ± 0.01
0.02 ± 0.01
0.02 ± 0.01
0.02 ± 0.01
0.03 ± 0.01
1
7.343
0.010
2
2.392
0.106
2
1.734
0.191
J = (S ≠ A)
P
0.53 ± 0.04
0.65 ± 0.06
0.41 ± 0.08
0.51 ± 0.11
0.36 ± 0.03
0.43 ± 0.05
1
12.504
0.001
2
15.586
<0.001
2
0.484
0.621
J > (S = A)
n.Rc
2.5 ± 2.12
4 ± 4.36*
12.2 ± 7.16†
3.33 ± 1.75‡
4.17 ± 3.19‡
3.7 ± 3.97ᵻ
1
2.388
0.134
2
3.258
0.055
2
4.054
0.029
J = S = A
Tt.Rc.Ar (mm2)
0.01 ± 0.02
0.16 ± 0.21*
0.13 ± 0.08†
0.07 ± 0.05‡
0.04 ± 0.05‡
0.21 ± 0.17ᵻ
1
3.009
0.095
2
0.179
0.837
2
2.831
0.077
J = S = A
Ct.Po (%)
0.19 ± 0.23
4.55 ± 6.14*
1.24 ± 0.83†
0.72 ± 0.60‡
0.24 ± 0.32‡
1.47 ± 1.21ᵻ
1
5.278
0.030
2
1.115
0.343
2
2.715
0.085
J = S = A
Abbreviations: C.Ar, core or sectional area; Cs.Wi, cross sectional maximum width; Ct.Ar, cortical area; Ct.Po, intracortical porosity; Es.Pm, endosteal perimeter; Me.Ar, medullary cavity area; n.Rc, number of resorption cavities per cross section/specimen; RCA, the relative cortical area; Tt.Rc.Ar, total resorbed bone area per individual.
Significant p-values in bold.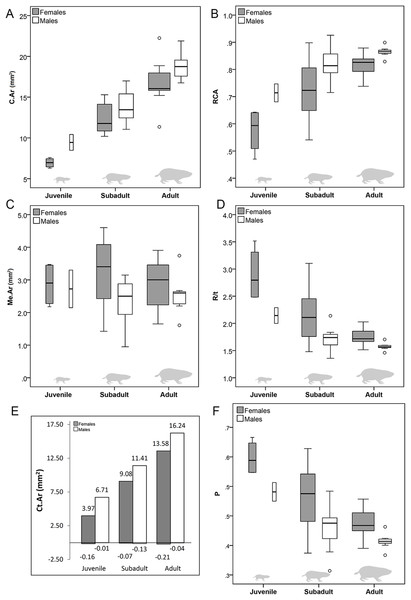 Regression analysis (Independent models for each sex)
Males
Females
Slope comparison
R2
Y-Intercept
Slope
CI.min
CI.max
R2
Y-Intercept
Slope
CI.min
CI.max
t-test
p
Cs.Wi vs. FL
0.79
0.5135
0.1053
0.0796
0.1298
0.82
−0.4639
0.1328
0.1044
0.1574
1.4120
0.1660
C.Ar vs. FL
0.89
−8.2947
0.5158
0.4218
0.6108
0.84
−11.1470
0.5984
0.4685
0.7041
1.0720
0.2910
Ct.Ar vs. FL
0.92
−11.1170
0.5224
0.4522
0.6008
0.85
−14.4350
0.6024
0.4894
0.6971
1.1120
0.2730
Me.Ar vs. FL
0.00
2.6300
−0.0036
−0.0523
0.0416
0.01
3.3719
−0.0091
−0.0549
0.0380
−0.1400
0.8890
Es.Pm vs. FL
0.01
5.3291
0.0134
−0.0375
0.0615
0.00
6.6220
0.0022
−0.0486
0.0519
−0.2530
0.8010
RCA vs. FL
0.57
0.4859
0.0074
0.0043
0.0107
0.64
0.1444
0.0145
0.0102
0.0189
2.3360
0.0250
BC vs. FL
0.56
0.4801
0.0075
0.0043
0.0109
0.64
0.1390
0.0145
0.0106
0.0191
2.2990
0.0270
CDI vs. FL
0.49
0.2247
0.0081
0.0047
0.0123
0.61
−0.0479
0.0134
0.0098
0.0173
1.6690
0.1040
R/t vs. FL
0.53
2.9221
−0.0263
−0.0408
−0.0140
0.65
4.9300
−0.0689
−0.0948
−0.0468
−3.0900
0.0040
S vs. FL
0.00
0.0221
−0.0000507
−0.0005
0.0004
0.02
0.0184
0.0002
−0.0005
0.0009
0.6360
0.5290
P vs. FL
0.49
0.7750
−0.0081
0.0123
−0.0044
0.61
1.0479
−0.0135
−0.0174
−0.0096
−1.6710
0.1030
n.Rc vs. FL
0.08
18.3200
−0.2500
−0.5095
0.4425
0.01
1.4332
0.0526
−0.2954
0.3692
1.1440
0.2620
Tt.Rc.Ar vs. FL
0.07
0.1983
−0.0028
−0.0078
0.0057
0.04
−0.0604
0.0052
−0.0066
0.0174
1.1200
0.2720
Ct.Po vs. FL
0.13
0.0232
−0.0003
−0.0008
0.0004
0.12
0.0736
−0.0013
−0.0034
0.0011
−1.0950
0.2830
Confidence intervals (CI) are showed for male and female regression slopes. Significant differences in slope values between sexes are indicated in bold. See Table 3 for Abbreviations.
The parameters of bone compactness showed that BC, CDI, R/t and P also differ significantly with age and sex, while the parameter S differs only with sex (Table 3; Figs. 3D and 3F). Nevertheless, CDI, R/t and P of juveniles are different from subadults and adults, and these later are not statistically differentiated after post hoc testing (Table 3). Contrarily, post hoc testing showed that the S parameter of juveniles do not differ from subadults and adults, although these two later are different between each other (Table 3). The parameter BC showed similar values as compared to RCA, as both of them reflect proportion of bone within the cross section (Table 3). Information about the interrelationship between periosteal expansion and medullary cavity size was obtained from the parameters CDI and R/t, which showed a relative "decrease" in the medullary cavity size with respect to the whole cross section during ontogeny (Table 3; Fig. 3D). Considering that the medullary cavity maintains its size during ontogeny (Table 3; Fig. 3B), it is inferred that most of the cortical thickening is reached by periosteal expansion, rather than by endosteal apposition (i.e., medullary cavity occlusion). The P parameter also indicated sex differences, with females having higher P-values than males, which indicate higher relative distances between the center of the cross section and the transitional zone between bone surfaces (Table 3; Fig. 3F). This indicates larger medullary cavity sizes in females. Females also have significantly higher parameter S (p = 0.02) (Table 3) as compared to males. This parameter indicates the degree of structural bone organization in the transitional zone, whereby females show higher degrees of endosteal and subendosteal resorption as well. Regression analysis showed significant differences in BC and R/t, with females showing significantly high slope values (p = 0.004) (Table 4), indicative of quicker cortical expansion as compared to males.
Intracortical porosity
A total of three analyses were performed to assess different aspects of intracortical porosity: (i) the first to measure the degree of cortical porosity in the whole cross section; (ii) the second to quantify the incidence of RCs in different bone matrices; and (iii) the third to determine histomorphometric differences of individual RCs between sexes.
A total of 32 individuals (78%) showed RCs, with females showing a slightly higher incidence of them (♀ = 79.2%; ♂ = 76.5%) (Table 1). No statistically significant differences in the number of RCs (n.Rc) and total resorbed bone area (Tt.Rc.Ar) per individual were found when analyzed by age or sex, although intracortical porosity (Ct.Po) differs with sex (Table 3; Fig. 4). Females have higher Ct.Po values (p = 0.03) and hence resorb more bone, relative to their cortical bone area, than males (Fig. 4C). Nevertheless, it is important to highlight that the levels of bone loss in both sexes are overall quite low when compared to the levels of bone gained during ontogeny (Fig. 3E). Despite the non-significant differences in n.Rc and Tt.Rc.Ar, males show a tendency to have higher n.Rc than females, especially non-juveniles (Fig. 4A). On the other hand, females tend to show greater Tt.Rc.Ar as compared to males, except in subadult stages (Fig. 4B). When all age classes are analyzed by linear regression, CDMs do not show any specific ontogenetic pattern in these traits (Table 4), although the two-way ANOVA showed a significant interaction for the two factors and n.Rc (Table 3).

Resorption cavities were present within the entire cortex regardless of sex (Figs. 5A and 5B), but occur mostly in endosteal and subendosteal regions (∼86.9% in females; ∼82.4% in males) (Fig. 5C; Table 5). The rest of the RCs were distributed toward the outer surface of the cortex, where fibrolamellar, parallel-fibered and periosteal lamellar bone tissues constitute the predominant matrices (Fig. 5; Table 5). It is interesting to note that most of the RCs are developed in a woven bone matrix (∼73.87%), especially in females (Fig. 5C). This specificity for resorbing woven bone was also observed when longitudinal cross sections were observed along a vascular canal with resorptive activity, i.e., the canal crossed several layers of bone tissue, but it develops a RC only in the region of woven bone (Fig. 6).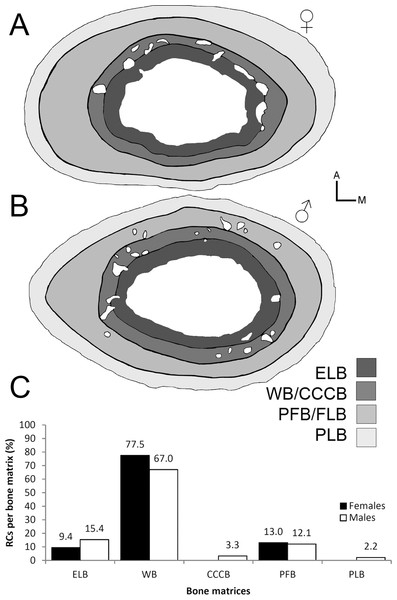 Bone matrix
Juveniles
Subadults
Adults
Total RCs
Males
Females
Males
Females
Males
Females
ELB
0
2
8
3
6
0.5
19.5
WB
5
6
42
15
14
32.5
114.5
CCCB
0
0
1
0
2
0
3
PFB
0
0
8
2
3
3
16
PLB
0
0
2
0
0
0
2
Total RCs
5
8
61
20
25
36
155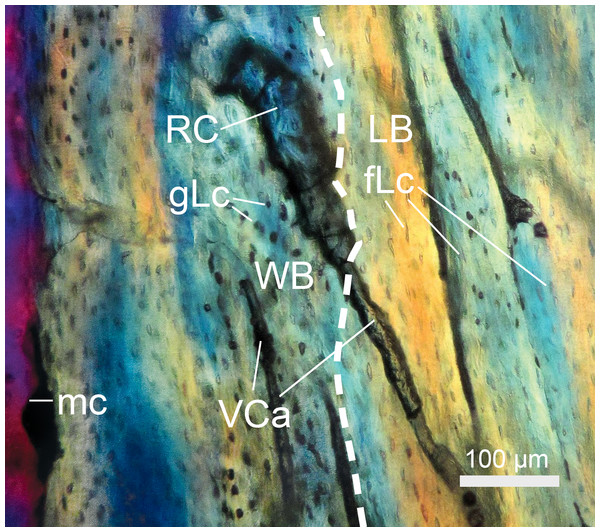 For the assessment of histomorphometric differences between sexes, only reproductive (adults) and potentially reproductive (subadult) individuals were analyzed. The morphology of 146 RCs was assessed, and showed that females have statistically significant higher values in all traits (Rc.Ar, Rc.Wi, Rc.Pm and Rc.Rn) (Table 6; Figs. 7B–7E). The maximum RC size recorded in males was ∼48,684 μm2, which is similar to the mean Rc.Ar of females (∼43,947, μm2) (Table 6). The maximum pore size of females was around 90% larger than the maximum pore size of males (Table 6). Females also showed RCs of irregular shape (Fig. 7, also Fig. 5A), as indicated by Rc.Wi and Rc.Rn values (Table 6; Figs. 7C and 7E), whilst males had smaller and circumferential RCs (Figs. 7C and 7E). Consequently, females, apart from having higher amount of intracortical porosity (Table 3; Fig. 4), they also have larger and non-circular RCs when compared to males. The enlargement of RCs in females showed a particular pattern of expansion around the medullary cavity (Fig. 8; also see Figs. 2 and 5A), which is documented in detail in the next section.
Measurements
Male (n of RCs = 86)
Female (n of RCs = 60)
Repeated measures
Mean ± SD
Min
Max
CV
Mean ± SD
Min
Max
CV
F
p
Rc.Ar (μm2)
10264.26 ± 9574.28
815.12
48684.93
93.3
43947.51 ± 71577.05
1585.97
480571.70
162.9
8.45
0.011
Rc.Wi (μm)
143.19 ± 87.19
35.21
452.88
60.9
324.09 ± 262.44
63.45
1558.26
81.0
17.97
0.001
Rc.Pm (μm)
383.00 ± 222.48
88.47
1367.64
58.1
852.63 ± 733.63
157.74
4704.92
86.0
16.31
0.001
Rc.Rn
1.32 ± 0.37
1
3.06
28.0
1.74 ± 0.68
1.03
4.26
39.3
17.47
0.001
Data also show minimum (min) and maximum (max) values observed and coefficient of variation (CV).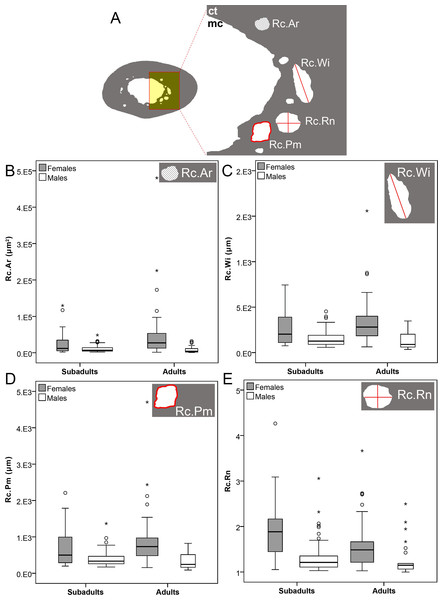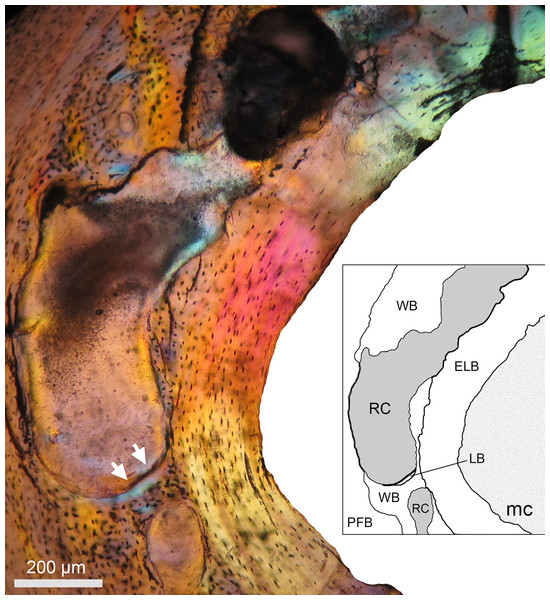 Endosteal bone histology and bone remodeling
Here we provide a detailed description of the secondary reconstruction observed in the femur of CDMs. The inner regions of the cortex are composed mostly of endosteal lamellar, woven bone and compact coarse cancellous bone tissues (Figs. 5A and 5B). In general, the layer of endosteal lamellar bone increases its thickness during ontogeny, while woven bone seems to reduce its predominance. The latter bone tissue is often closer to other bone matrices such as compact coarse cancellous bone, or as being part of fibrolamellar bone toward the outer regions of the lateral side of the cortex (Fig. 5).
Regions with secondary reconstruction (i.e., RCs showing infilling of lamellar bone) were observed in both sexes, although there are conspicuous differences between sexes. In general, the infilling of RCs can be complete, resulting in secondary osteons, or with partial infilling. The latter usually happens in enlarged RCs, which are not completely infilled with lamellar bone (Fig. 2). This last process seems to be more frequent among females only, and males did not show large RCs or extensive bone remodeling apart from secondary osteon formation. The maximum RC size of males was only about 10% of the maximum RC size of females (Table 6). For this reason, endosteal and subendosteal regions in males are mostly intact (Fig. 9). A high number of the females (54%) showed regions under active remodeling, which is evidenced by subsequent centripetal deposition of lamellar bone and the presence of reversal lines around RCs with irregular shape (Table 1; Figs. 2 and 10). Irrespective of the shape of these remodeled RCs, the centripetal infilling of lamellar bone is usually oriented relatively parallel to the margin of the medullary cavity (Fig. 11). Additionally, several reversal lines in the endosteal lamellar bone (Chinsamy-Turan, 2005) were observed. The latter indicates repeated events of bone resorption and deposition at perimedullary regions, although it is hard to say if they represent events of bone modeling (e.g., cortical drift) and/or bone remodeling. Both histomorphometric data (e.g., Es.Pm and Me.Ar; Table 3) and histological observations evidence a more pronounced endosteal remodeling in females.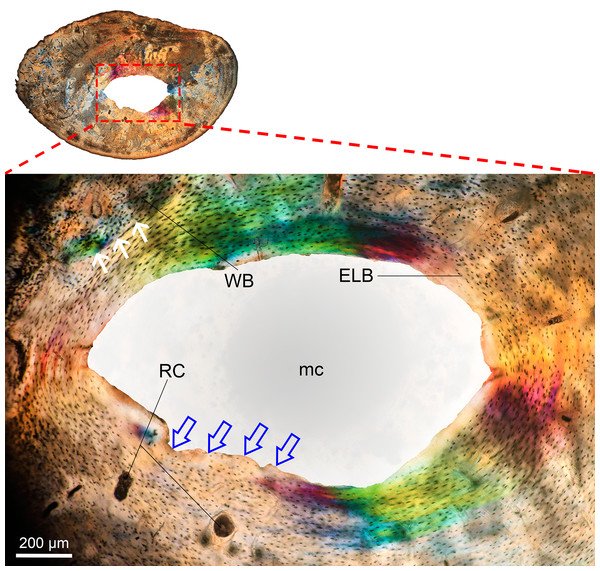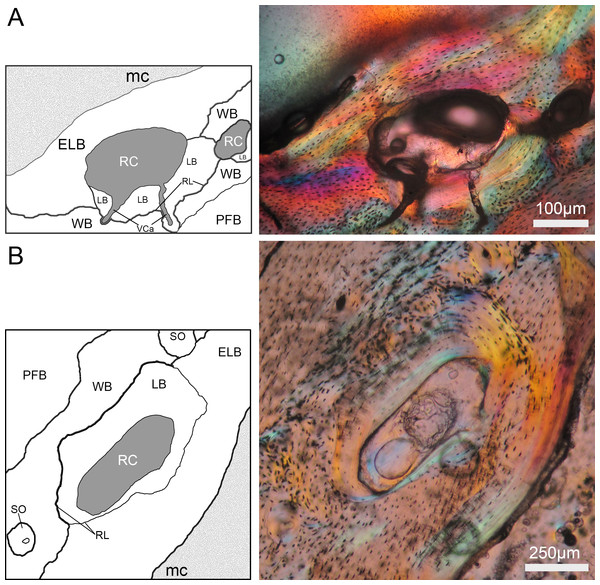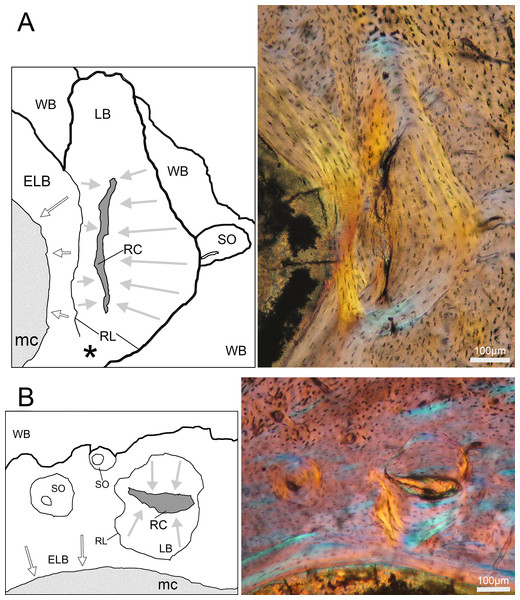 Discussion
In the present study, we used bone histology, bone microanatomy and bone histomorphometry to determine the pattern of femoral cortical bone growth and resorption of a feral population of CDMs B. suillus. Our observations confirm our hypotheses, that mineral content increases in B. suillus during postnatal aging and that they have limited intracortical and endosteal resorption, although a pattern of mineral mobilization is observed between sexes. These aspects are discussed in relation to previous reports on mammals (i.e., interspecific variation), as well as in terms of sexual differences in skeletal homeostasis (i.e., intraspecific variation).
Conclusion
This study shows that despite having subterranean lifestyles, with limited exposure to sunlight (and hence low concentrations of vitamin D), CDMs have highly mineralized cortical walls with no evidence of bone diseases generally associated with vitamin D deficiency. It is expected that the pattern of positively imbalanced bone modeling showed by B. suillus is also present in other long bones (e.g., ulna, radius and tibia-fibula), as a generalized phenomenon of systemic bone thickening in this species and likely other AMs.
This study also showed that CDMs undergoes intracortical resorption and scarce remodeling, although secondary reconstruction is accentuated in females (most likely in response to reproduction). Thus, it is apparent that such intracortical resorption is unrelated to vitamin D deficiency, and that the levels of bone resorption are not detrimental to the animal. Furthermore, it appears that the resorption observed in B. suillus is not attributable to only one specific physiological process and that bone modeling (growth) and reproduction seems to be involved. The data presented here further indicates that although there are no negative age-related effects on mineral content, sexual dimorphism in skeletal homeostasis does play a role.
Since in general mammalian epiphyses, metaphyses and vertebrae have higher rates of bone turnover as compared to sites composed of compact bone only (Dion, Fortin & Ste-Marie, 2011), they are usually selected for histomorphometric analyses (Duque & Watanabe, 2011). However, although the diaphyseal midshaft represents the region of the femur with low rates of bone turnover, this study showed that they were responsive to the physiological effects of bone mineral metabolism. Previous studies have reported that bones with low bone turnover (e.g., diaphyseal femora and tibia) showed histomorphometric changes when compared to regions/bones with high bone remodeling, which could be related to the fact that these regions generally keep a good track record of earlier stages of bone dynamics, so any changes occurring due to catabolic processes will be detectable (Vajda et al., 1999; Dion, Fortin & Ste-Marie, 2011). Further research should be focused on examinations of more proximal/distal trabecular regions of B. suillus. We also suggest that future work considers 3D analysis of bone dynamics in CDMs and other extant mammals to enable a volumetric assessment of the size and extent of the development of RCs.
Supplemental Information
Histomorphometric and microanatomical measurements of cortical bone used in this study (see text).