A Pan-Amazonian species delimitation: high species diversity within the genus Amazophrynella (Anura: Bufonidae)
Published

Accepted

Received
Academic Editor
Subject Areas

Keywords

Integrative taxonomy

,

Cryptic diversity

,

Species delimitation

,

Amphibians

,

Amazon
Copyright

©

2018

Rojas et al.

Licence

This is an open access article distributed under the terms of the Creative Commons Attribution License, which permits unrestricted use, distribution, reproduction and adaptation in any medium and for any purpose provided that it is properly attributed. For attribution, the original author(s), title, publication source (PeerJ) and either DOI or URL of the article must be cited.
Cite this article

2018

. A Pan-Amazonian species delimitation: high species diversity within the genus Amazophrynella (Anura: Bufonidae)

PeerJ

6

:

e4941

https://doi.org/10.7717/peerj.4941
Abstract
Amphibians are probably the most vulnerable group to climate change and climate-change associate diseases. This ongoing biodiversity crisis makes it thus imperative to improve the taxonomy of anurans in biodiverse but understudied areas such as Amazonia. In this study, we applied robust integrative taxonomic methods combining genetic (mitochondrial 16S, 12S and COI genes), morphological and environmental data to delimit species of the genus Amazophrynella (Anura: Bufonidae) sampled from throughout their pan-Amazonian distribution. Our study confirms the hypothesis that the species diversity of the genus is grossly underestimated. Our analyses suggest the existence of eighteen linages of which seven are nominal species, three Deep Conspecific Lineages, one Unconfirmed Candidate Species, three Uncategorized Lineages, and four Confirmed Candidate Species and described herein. We also propose a phylogenetic hypothesis for the genus and discuss its implications for historical biogeography of this Amazonian group.
Introduction
Amphibians are undergoing a drastic global decline (Beebee & Griffiths, 2005). This decline is primarily attributable to habitat destruction, diseases (chytrid fungus) and global climate change (Collins, 2010). In Amazonia the primary threat is habitat destruction, although the chytrid fungus has reached the Amazon basin (Valencia-Aguilar et al., 2015; Becker et al., 2016), and is starting to have an impact on Amazonian and Andean anurans (Lötters et al., 2005; Lötters et al., 2009; Catenazzi & Von May, 2014). Most Amazonian amphibians are thought to have broad, often basin wide distributions, although their geographic distributions are generally poorly known. More detailed analyses generally reveal the existence of multiple deeply divergent lineages, suggesting cryptic diversity. Fouquet et al. (2007a) and Fouquet et al. (2007b) estimated that amphibian diversity of Amazonia is underestimated by 115%, while Funk, Caminer & Ron (2012) suggest this underestimate is closer to 150–350%. But even without taking into account the high levels of crypsis or pseudocrypsis (morphological differences apparent but overlooked) in widespread Amazonian anurans, Amazonia has the highest diversity of amphibians on this planet (Jenkins, Pimm & Joppa, 2013).
Delimiting species and their geographic distributions is therefore crucial for the understanding of impacts on the biodiversity of Amazonian anurans, and for the assessment of their conservation status (Angulo & Reichle, 2008). Previous studies suggest a prevalent conservatism in the morphological evolution of anurans (e.g., Elmer, Dávila & Lougheed, 2007; Robertson & Zamudio, 2009; Vences et al., 2010; Kaefer et al., 2012; Rowley et al., 2015), thus, species delimitation based solely on morphological characters may fail to differentiate among species. Conversely, delimiting species solely based on molecular characters or genetic distances harbors potential pitfalls that have been well documented (e.g., Carstens et al., 2013; Sukumaran & Knowles, 2017). Environmental data also have the potential to provide important information to taxonomy since species have distinct ecological requirements that determine their occurrence in time and space (Soberón & Peterson, 2005). Therefore, species delimitation relying on a pluralistic approach seeking to unite several lines of evidence (Dayrat, 2005; Padial et al., 2010) generally provides robust and consensual taxonomic hypotheses (e.g., Padial & De La Riva, 2009) especially in morphologically conserved groups, i.e., taxonomic groups harboring cryptic or pseudocryptic taxa (Cornils & Held, 2014).
The frog genus Amazophrynella Fouquet et al., 2012a is distributed throughout Amazonia, and currently comprises seven small-sized (12.0–25.0 mm) species (Fouquet et al., 2012b). All species inhabit the forest leaf litter (Rojas et al., 2015), breed in seasonal pools and have diurnal and crepuscular habits (Fouquet et al., 2012b; Rojas et al., 2014; Rojas et al., 2016).
Until 2012, only two species were recognized: Amazophrynella minuta from western Amazon and Amazophrynella bokermanni from eastern Amazon (Fouquet et al., 2012b). Since 2012 five additional species have been described from western Amazon (Amazophrynella vote, Amazophrynella manaos, Amazophrynella amazonicola, Amazophrynella matses and Amazophrynella javierbustamantei). The taxonomy of the genus remains, however, far from being resolved (Rojas et al., 2016). Although molecular phylogenetic analyses in Fouquet et al. (2012b), Rojas et al. (2015) and Rojas et al. (2016) provided evidence for the existence of multiple lineages, the scarcity of material suitable for morphological and bioacoustic analyses prevented the description of these lineages as new species.
In this study, we revisit the genus Amazophrynella, include specimens from new localities, and reconstruct intra- and inter-specific phylogenetic relationships. We delimit candidate species based on molecular data and subsequently seek support for these lineages combining qualitative and quantitative morphological data and environmental evidence. As a result of these analyses, we formally describe four new species of Amazophrynella from Brazil, Ecuador, French Guiana and Peru, and identify additional seven candidate species. Additionally, we provide new insights into the overall phylogenetic relationships for the genus, and discuss biogeographic history of this Amazonian group.
Discussion
To date, no study that analyzed a broadly distributed Amazonian taxon confirmed the existence of just one broadly distributed species (e.g., Funk, Caminer & Ron, 2012; Jungfer et al., 2013; Fouquet et al., 2014; Caminer & Ron, 2014; Gehara et al., 2014; Ferrão et al., 2016). In recent years it has become evident that widespread species in fact represent species complexes characterized by many deeply divergent lineages, e.g., Adenomera andreae, Dendropsophus minutus, Rhinella margaritifera, Scinax ruber, Pristimantis ockendeni, Pristimantis fenestratus, Engystomops petersi, Boana fasciata, Physalaemus petersii, Leptodactylus marmoratus and Osteocephalus taurinus (Fouquet et al., 2007a; Fouquet et al., 2007b; Padial & De La Riva, 2009; Angulo & Icochea, 2010; Funk, Caminer & Ron, 2012; Jungfer et al., 2013; Caminer & Ron, 2014; Fouquet et al., 2014; Gehara et al., 2014; Lourenço et al., 2015). These discoveries imply that public data deposited in, for example GenBank, Gbif or IUCN, are often flawed and that the numerous metaanalyses (Godinho & Da Silva, 2018) based on such data may be imprecise or even inaccurate. As a consequence of not recognizing true taxonomic diversity of anurans, macroecological studies will fail to recognize actual patterns of geographic structuring, and ultimately will not contribute to our understanding of the evolutionary and ecological processes that lead to and are maintaining this diversity.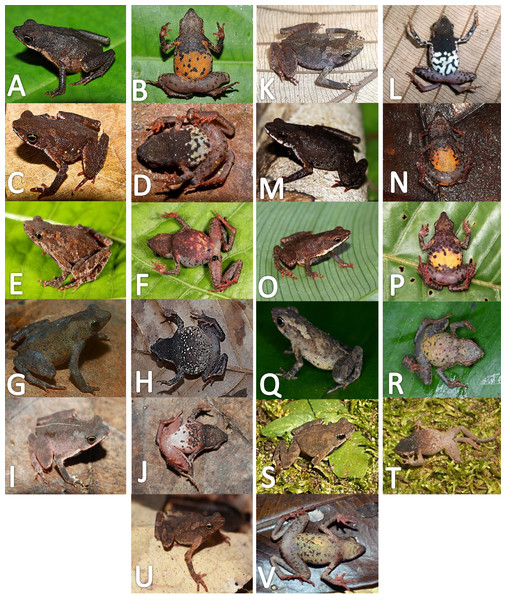 Our results suggest that the genus harbors more than twice as many species as current estimates. In the last several years the systematics and taxonomy of the genus Amazophrynella has begun to be elucidated (Ávila et al., 2012; Rojas et al., 2014; Rojas et al., 2015; Rojas et al., 2016). Resulting from these studies, five new species (A. vote, A. manaos, A. amazonicola, A. matses and A. javierbustamantei–previously mistaken for A. minuta) were described. With the description of the four new species in this study, the total number of nominal species reaches 11 (Fig. 25), representing an important increase in species diversity of the genus. The number of undescribed species as a percentage of total is concordant with estimates from previous studies aiming to elucidate the species diversity of Amazonian frogs (e.g., Elmer, Dávila & Lougheed, 2007; Fouquet et al., 2007a; Fouquet et al., 2007b; Padial et al., 2012; Ron et al., 2012; Caminer & Ron, 2014; Gehara et al., 2014; Ferrão et al., 2016). Therefore, our study adds to this growing body of studies, and confirms the hypothesis that the species diversity within Amazophrynella is much higher than currently accepted. The four CCS described in our study present clear differences in diagnostic morphological characters, divergence at ecological requirements and large genetic distance when compared with their sister taxa. But it should also be clear that our taxonomic decisions were conservative, and that numerous putative lineages within Amazophrynella still await formal description. This conservative approach aims to promote taxonomic stability, but as a consequence continues, albeit to a lesser degree, to underestimate the true species diversity of Amazonian anurofauna.
A limiting factor of our study was the use of a single molecular marker (16S, 12S and COI mtDNA loci). The potential limitations for species delimitation using mtDNA have been discussed in literature (e.g., Rannala & Zang, 2003; Yang & Rannala, 2010; Dupuis, Roe & Sperling, 2012; Fujita et al., 2012). The use of additional nuclear markers is generally recommended as the use of these unliked markers has the potential to improve the accuracy of phylogenetic reconstructions and species delimitation. In spite of having used only mtDNA loci, our study also provides an extensive new morphological dataset, bioacoustic data and accurate collecting locality information which allowed us to associate environmental data with each specimen. All these additional data support and reinforce the inference based on the mitochondrial genes.
Our phylogenetic analysis also reveals a striking biogeographic pattern with a basal eastern and western divergence followed by a northern and southern split within both eastern/western clades (Fig. 2). Our basal east–west pattern dated to the Miocene and match similar patterns and divergence times detected in other groups of frogs (Symula, Schulte & Summers, 2003; Noonan & Wray, 2006; Funk et al., 2007; Garda & Cannatella, 2007; Fouquet et al., 2014). Paleoenvironmental reconstructions of Amazonian history suggest that there was a large lacustrine region in western Amazon which began to form at the beginning of the Miocene (∼24 Ma) (Hoorn et al., 2010). This lake and marshland system, known as Lake Pebas, existed in southwestern Amazonia, and was drained first to the north and then to the east (Hoorn et al., 2010). Paleoenviromental data suggest marine incursions into western Amazon during the Miocene, and Noonan & Wray (2006), for example, suggest the importance of these incursions for the diversification of Amazonian anurofauna. In general, however, marine incursions remain largely untested as a diversifying force (Noonan & Wray, 2006; Garda & Cannatella, 2007; Antonelli et al., 2010). In addition, it is reported that in early Miocene, the Purus arch was still active, and was a prominent landscape feature in central Amazon (Wesselingh & Salo, 2006; Figueiredo et al., 2009; Caputo & Soares, 2016) thus this geological formation also could explain the east–west pattern as well. While other hypotheses, such as Pleistocene refugia have also been proposed to explain this east–west pattern of diversity (Pellegrino et al., 2011), the Miocene marine incursions have the best temporal concordance with the basal east–west divergence pattern observed in Amazophrynella and other Amazonian anuran groups.
The northern and southern split within both the eastern and western clades occurred in early Miocene (∼20.1 Ma) in the eastern Amazonia clades, while the diversification of the western Amazonian clade commenced in the Middle Miocene (∼16.5 Ma). The beginning of the diversification of these clades appears to be asynchronous and therefore is unlikely attributable to a single event. The more recent date of diversification of the western clade is likely to have followed the last marine incursion, i.e., a colonization of newly available habitat in western Amazon from eastern Amazon. Independent of the absolute timing these divergence events, the four subclades are restricted to north and south of the Amazon River, a common pattern in many vertebrates species groups analyzed at the Amazonia-wide scale (e.g., Kaefer et al., 2012; Ribas et al., 2012; Fouquet et al., 2015; Oliveira, Carvalho & Hrbek, 2016). In the case of Amazophrynella species, ecological characteristics such as small body side, being a terra firme species and being restricted to reproducing in puddles (Rojas et al., 2016), clearly evidences these species' inability to disperse across rivers. This in turn implies that major Amazonian rivers should limit the distributions of lineages of Amazophrynella, a pattern observed in our phylogeny. However, the role of rivers in driving diversification of Neotropical frogs remains controversial (see Vences & Wake, 2007 vs. Lougheed et al., 1999). But it is clear that geological and climatic changes in the Miocene and Pliocene played an important role in the diversification of Amazonian vertebrates (Bush, 1994; Glor, Vitt & Larson, 2001; Da Silva & Patton, 1998; Symula, Schulte & Summers, 2003; Santos et al., 2009; Kaefer et al., 2012; Fouquet et al., 2014; Gehara et al., 2014). However, only future process-based studies and biogeographic hypotheses testing will allowed us to reveal the mechanisms (e.g., dispersion, vicariance, founder event) by which Amazophrynella diversified.