BLAST-based validation of metagenomic sequence assignments
1
National Biodefense Analysis and Countermeasures Center

,

Fort Detrick, MD

,

USA
2
National Human Genome Research Institute

,

Bethesda, MD

,

USA
Published

Accepted

Received
Academic Editor
Subject Areas

Keywords

BLAST

,

Metagenomics

,

Sequence classification

,

Taxonomic assignment

,

Bioforensics

,

Validation
Copyright

©

2018

Bazinet et al.

Licence

This is an open access article distributed under the terms of the Creative Commons Attribution License, which permits unrestricted use, distribution, reproduction and adaptation in any medium and for any purpose provided that it is properly attributed. For attribution, the original author(s), title, publication source (PeerJ) and either DOI or URL of the article must be cited.
Cite this article

2018

.

BLAST-based validation of metagenomic sequence assignments

.

PeerJ

6

:

e4892

https://doi.org/10.7717/peerj.4892
Abstract
When performing bioforensic casework, it is important to be able to reliably detect the presence of a particular organism in a metagenomic sample, even if the organism is only present in a trace amount. For this task, it is common to use a sequence classification program that determines the taxonomic affiliation of individual sequence reads by comparing them to reference database sequences. As metagenomic data sets often consist of millions or billions of reads that need to be compared to reference databases containing millions of sequences, such sequence classification programs typically use search heuristics and databases with reduced sequence diversity to speed up the analysis, which can lead to incorrect assignments. Thus, in a bioforensic setting where correct assignments are paramount, assignments of interest made by "first-pass" classifiers should be confirmed using the most precise methods and comprehensive databases available. In this study we present a BLAST-based method for validating the assignments made by less precise sequence classification programs, with optimal parameters for filtering of BLAST results determined via simulation of sequence reads from genomes of interest, and we apply the method to the detection of four pathogenic organisms. The software implementing the method is open source and freely available.
Introduction
In metagenomic analysis, comparing the genomic sequence content of a sample to a reference database is fundamental to understanding which organisms present in the sample were sequenced. There exist many bioinformatics software programs that perform this classification task (Bazinet & Cummings, 2012; Breitwieser, Lu & Salzberg, 2017; McIntyre et al., 2017; Sczyrba et al., 2017); some programs only estimate overall taxonomic composition and abundance in the sample (Koslicki & Falush, 2016; Schaeffer et al., 2015), while other programs assign a taxonomic label to each metagenomic sequence (Huson et al., 2007; Ames et al., 2013; Wood & Salzberg, 2014; Hong et al., 2014; Ounit et al., 2015; Gregor et al., 2016; Kim et al., 2016). In a bioforensic setting, one is often concerned with reliably detecting the presence of a particular organism in a metagenomic sample, which may only be present in a trace amount. For this task, one typically uses the latter class of programs just mentioned, which determine the taxonomic affiliation of each sequence using a reference database (Mashima et al., 2017; Kulikova et al., 2004; Benson et al., 2014) and a taxonomy (Balvočiūtė & Huson, 2017). A canonical metagenomic sequence classification workflow is shown in Fig. 1.

When classifying sequences, there is a general trade-off between sensitivity (the proportion of the total number of sequences assigned correctly) and precision (the proportion of assigned sequences assigned correctly), as well as between classification performance (combined sensitivity and precision) and computational resource requirements. Modern metagenomic sequence classification programs often use relatively fast heuristics and databases with limited sequence diversity to increase analysis speed, as metagenomic data sets often consist of millions or billions of sequences that need to be compared to millions of database sequences. Thus, while they are useful in performing a "first-pass" analysis, in a bioforensic setting it is important to validate the assignments of interest made by such programs using the most precise methods available (Gonzalez et al., 2016). One could choose to validate only the assignments made to the taxonomic clade of interest (e.g., Bacillus anthracis), but depending on the computing capacity one has access to, one might choose to validate all assignments subsumed by a higher ranking taxon (e.g., the B. cereus group or the Bacillus genus), which would enable the detection of possible false negative assignments as well as false positive assignments made by the first-pass classifier.
In this study, we present a method that uses BLAST (Camacho et al., 2009), the NCBI non-redundant nucleotide database (NCBI Resource Coordinators, 2016) (nt), and the NCBI taxonomy (NCBI Resource Coordinators, 2016) to validate the assignments made by less precise sequence classification programs. BLAST is widely considered the "gold standard" for sequence comparison, although it is generally known to be orders of magnitude slower than the most commonly used first-pass classifiers (see Bazinet & Cummings, 2012 for a comparison of BLAST runtimes to those of other sequence classification programs). For simplicity, we refer to the taxonomic clade of interest in our analyses as the "target taxon," and we assume all metagenomic sequences are paired-end reads generated by the Illumina HiSeq 2500 sequencer (no assembled sequences). The BLAST-based validation procedure involves comparing each read against the nt database using BLASTN, and then filtering and interpreting the BLAST results based on data collected from simulated read experiments aimed at optimizing detection of the target taxon; this workflow is shown in Fig. 2. Before presenting additional details about the BLAST-based validation procedure, however, we first describe some related work from the literature.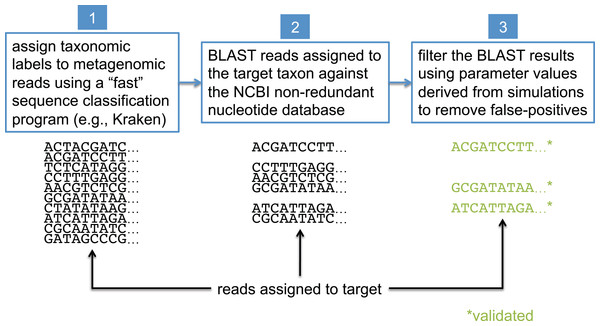 Related work
Platypus Conquistador
An existing software tool, "Platypus Conquistador" (Gonzalez et al., 2016), also uses BLAST to validate the classification of particular sequences of interest. Platypus requires the user to split their reference sequences into two databases: a database containing only sequences of possible interest, and a database composed of potential "background" sequences. BLAST queries are performed against both databases, and hits may be filtered by various combinations of percent identity or alignment length values, which need to be provided by the user. After filtering, query sequences with hits to the "interest" database are checked to see if they also have hits to the "background" database; if so, the bit scores of the respective best hits are compared and are roughly categorized as "equal," "interest > background," etc. While this could be a helpful diagnostic tool, there is no guidance provided to the user as to what parameter values to use or what difference in bit scores between interest and background should be regarded as significant. Furthermore, this tool no longer appears to be actively developed.
Genomic purity assessment
Whereas in this study we are concerned with the precision with which individual reads are classified so as to be confident in the detection of a target taxon in a metagenomic sample, a recently published study (Olson et al., 2017) addresses a different, but related problem, namely detecting contaminant organisms in ostensibly axenic (non-metagenomic) samples. Specifically, Olson et al. (2017) develop methods to determine the proportion of a contaminant required to be present in an otherwise pure material such that the contaminant can be detected with standard metagenomic sequence classification tools. As in our study, they simulate reads with ART (Huang et al., 2011) software (in their case from both "material" and potential contaminant genomes) to set up conditions under which sequence classification performance can be assessed. PathoScope (Hong et al., 2014) is used instead of BLAST for read classification. In general, they find that their method is able to identify contaminants present in a proportion of at least 10−3 for most contaminant-material combinations tested.
Outlier detection in BLAST hits
Shah, Altschul & Pop (2017) have developed a method that detects outliers among BLAST hits in order to separate the hits most closely related to the query from hits that are phylogenetically more distant using a modified form of Bayesian Integral Log odds scores (Altschul et al., 2010) and a multiple alignment scoring function. In this way, they separate sequences with confident taxonomic assignments from sequences that should be analyzed further. The method was developed for and tested on 16S rRNA data, and thus is currently not applicable to whole genome sequencing data sets. As a general-purpose filter, however, it can be used with any organism containing 16S rRNA data, whereas our methods are optimized for detection of specific taxa. It is also interesting to note that in the Shah et al. study, BLAST is used as a first-pass classifier and subsequent analysis is performed with Taxonomic Identification and Phylogenetic Profiling (TIPP) (Nguyen et al., 2014), whereas in the paradigm we present here, a much faster classifier than BLAST would be used for a first-pass (e.g., Kraken (Wood & Salzberg, 2014)), and then our BLAST-based method would be used for validation.
Conclusion
We have shown how BLAST, a very widely used tool for sequence similarity searches, can be used to perform taxonomic assignment with maximal precision by using BLAST result filters fine-tuned via read simulation experiments in conjunction with an LCA algorithm. We demonstrated the parameter optimization process for four different pathogenic organisms, and showed that optimal parameter values and resulting values of sensitivity and precision varied significantly depending on the selected taxon, taxonomic rank, read length, and representation of the sequenced taxon in the reference database. Furthermore, the addition or removal of a single sequence from the reference database could change the recommended optimal parameter values, so the optimization process should be re-run every time the database is updated.
Once optimal BLAST filter parameter values for a particular taxon have been determined, they can be subsequently used to perform validation of sequence assignments to that taxon. Given the massive size of many metagenomic data sets, however, we envision most users employing a "two-step" approach that involves first producing candidate target taxon sequence assignments using a relatively fast classification program—one that is not necessarily optimized for precision—and then confirming the veracity of those sequence assignments using the BLAST-based validation procedure.
One would be hard-pressed to define a "typical" metagenomic experiment, and the probability that a particular genome that is physically present in a metagenomic sample at some abundance is ultimately represented in the sequencing library and sequenced to a particular degree of coverage is a function of many factors that are outside the scope of this study. The methods we present here are concerned with read-by-read taxonomic assignment (each read interrogated independently of all other reads), and the selection of optimal BLAST result filters for this assignment process—in our case, we define "optimal" to mean correct assignment of the greatest possible number of reads without any incorrect assignments. In a real-world detection scenario, an additional question will often be asked: how many reads should be assigned to a particular target taxon before one deems it "present" in the sample? In principle, if one assumes that the reads in question originate from a genome that is present in the reference database, and that there was no error associated with the read simulation process or choice of optimal filter parameter values, then the answer is simply "one read." In practice, however, if only one read out of millions or billions is assigned to a particular taxon, it is only natural that one may hesitate to claim that a potential pathogen or other biological agent is present in a sample on the basis of such scanty evidence. Unfortunately, meaningful additional guidance on this point would require a comprehensive accounting of all possible sources of error associated with the analysis of a metagenomic sample.
Potential users of the software will find scripts for parsing BLAST results, performing parameter sweeps, and assigning final taxon labels to sequences at https://github.com/bioforensics/blast-validate.
Supplemental Information
Supplementary Information containing Figures S1-S4.