On the taxonomic status and distribution of African species of Otomops (Chiroptera: Molossidae)
Published

Accepted

Received
Academic Editor
Subject Areas

Keywords

Sympatry

,

Speciation

,

Range extension

,

Taxonomy

,

East Africa

,

Ectoparasites

,

Echolocation
Copyright

©

2018

Patterson et al.

Licence

This is an open access article distributed under the terms of the Creative Commons Attribution License, which permits unrestricted use, distribution, reproduction and adaptation in any medium and for any purpose provided that it is properly attributed. For attribution, the original author(s), title, publication source (PeerJ) and either DOI or URL of the article must be cited.
Cite this article

2018

. On the taxonomic status and distribution of African species of Otomops (Chiroptera: Molossidae)

PeerJ

6

:

e4864

https://doi.org/10.7717/peerj.4864
Abstract
Background
Free-tailed bats of the genus Otomops are poorly known, and most species are documented from a handful of widely scattered localities. Recently, two allopatric species of Otomops were recognized in continental Africa: Otomops martiensseni (Matschie, 1897) in southern, central and western Africa, and the new species O. harrisoni Ralph et al., 2015 in the northeast and in Yemen.
Methods
We collected additional samples of Otomops in Kenya and Rwanda where the ranges of these taxa approach one another to clarify their geographic ranges and taxonomic status. Mitochondrial and nuclear intron sequences served to identify and delimit species; we also documented their echolocation call variation and ectoparasite complements.
Results
Otomops martiensseni, the southern African species, was documented in northern Kenya in Marsabit National Park. O. harrisoni, the northeastern African–Arabian species, was documented in southern Kenya and in a cave in Musanze District, Rwanda. Moreover, individuals of both species were found together at the Musanze cave, establishing them in precise spatial and temporal sympatry. Analyses of mitochondrial and nuclear loci identify no evidence of admixture between these forms, although available samples limit the power of this analysis. Echolocation call differences are also apparent among the three localities we analyzed. Three orders of insects and two families of mites are newly reported as ectoparasites of O. harrisoni.
Discussion
Our results corroborate species rank for O. harrisoni and establish a zone of potential geographic overlap with O. martiensseni spanning at least 800 km of latitude. The new records establish the species in sympatry in northern Rwanda and add an additional species to the bat faunas of both Kenya and Rwanda. Future studies are needed to understand Otomops roosting requirements and movements, thereby explaining the paucity of known colonies and yielding better estimates of their conservation status. The discovery of mixed roosting associations in Rwanda invites further investigation.
Introduction
Big-eared free-tailed bats of the genus Otomops Thomas, 1913 have a paleotropical distribution, ranging from southern Africa and Madagascar to the Arabian Peninsula, India, Indonesia, and New Guinea. Most species of Otomops are poorly known and are documented at a small number of widely scattered localities. Five of the eight species recognized by the IUCN are listed as Data Deficient, and only the Malagasy species O. madagascariensis Dorst, 1953 is listed as being of Least Concern (http://www.iucnredlist.org/).
For most of the past century, all Otomops from Africa and Madagascar were recognized as O. martiensseni (Matschie, 1897), with a type locality at Magrotto Plantation, SE Usambara Mountains, Tanzania. Hayman & Hill (1971) further distinguished southern African populations as O. m. icarus Chubb, 1917 and those from Madagascar as O. m. madagascariensis. However, Peterson, Eger & Mitchell (1995) accorded specific rank to O. madagascariensis. More recent revisionary works (Lamb et al., 2008; Ralph et al., 2015) have synonymized O. m. icarus with O. martiensseni and have additionally shown that populations from northeastern Africa and the Arabian Peninsula are distinct and deserve recognition as a distinct species, O. harrisoni Ralph et al., 2015.
Building on earlier studies (Lamb et al., 2006, 2008), Ralph et al. (2015) recovered O. martiensseni (including icarus) and O. harrisoni each as reciprocally monophyletic clades in analyses of mitochondrial DNA sequences (cytochrome-b (cyt-b) and control region). However, divergence between the two taxa in these highly variable loci was found to be modest, averaging 2.1%. Analyses of nuclear intron sequences and microsatellite variation (Ralph et al., 2015) also supported the separation of northern and southern African Otomops into two distinct clusters, again with very modest divergence and limited interpopulational variation. Morphometric analyses of cranial and dental variation showed the continental African Otomops clustered into distinct but overlapping groups. Quantitative morphometrics and reciprocal monophyly of mitochondrial lineages were used to diagnose O. harrisoni as a new, distinct species (Ralph et al., 2015). Ecological niche modeling, bacular variation, and qualitative characters were also presented to characterize their newly named species and differentiate it from O. martiensseni.
The name O. martiensseni is based on a late-19th century holotype (MNHB 97523), which could be used in morphological analyses but not genetic ones. Ralph et al. (2015) used quantitative morphology to ally the holotype with southern African Otomops. Both genetic and morphometric analyses of another northern Tanzanian specimen assigned it—and by extension the name O. martiensseni—to the southern African form. As mapped by Ralph et al. (2015), the two species have non-overlapping distributions: O. harrisoni in northeastern Africa (Kenya, Ethiopia, Eritrea, and Djibouti) and Yemen, and O. martiensseni in Ivory Coast, Central African Republic, Democratic Republic of Congo, Uganda, Tanzania, and points south. Nowhere were the two taxa found to be sympatric.
We recently completed a multi-year survey of bat populations across Kenya, encountering Otomops in three principal locations. These included Mount Suswa Conservancy, Caves #14C and #18A in Kajiado County; Chyulu Hills National Park, Guano cave 3 in Makueni County; and Marsabit National Park and Reserve, 1.3 km SE campground and headquarters in Marsabit County. The Suswa and Chyulu populations were sampled from their lava-tube day roosts; the Marsabit record was taken at 7:15 pm in the top shelves of a triple-high net system (https://batmanagement.com/) some 6 m above ground over a road through second-growth forest (Figs. 1 and 2). In addition, PWW and JN captured nine Otomops (species undetermined) from a single volcanic tunnel, Musanze Tourist Cave in Musanze District, northern Rwanda, releasing and recording vocalizations from six and preserving three as vouchers. These additional samples from localities near the presumed contact zone of O. martiensseni and O. harrisoni enable further assessments of their taxonomic status and respective geographic distributions.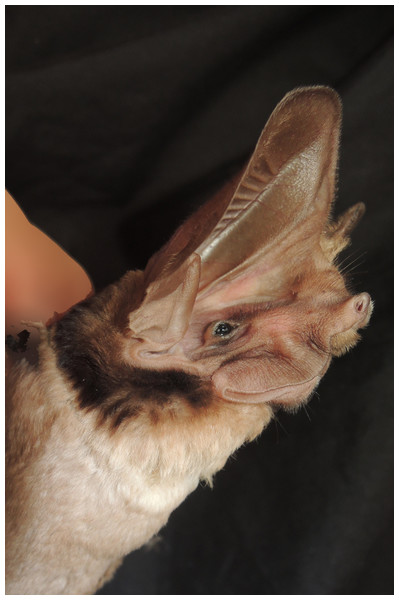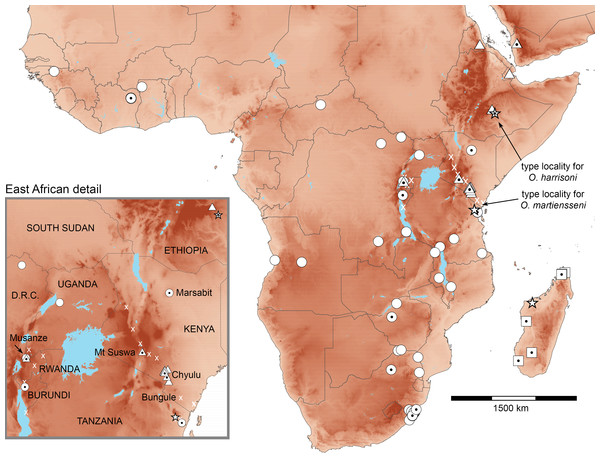 Results
Individual alignments consisted of 1,140 nucleotides for cyt-b (n = 54, including 30 GenBank sequences), and 489 and 425 nucleotides for ACOX2 (n = 22) and ACPT (n = 22), respectively. jModeltest2 analyses identified the HKY + G substitution model as best supported for the 41 individual cyt-b alignment, HKY for the 22 individual cyt-b and ACPT alignments, and K80 for the 22 individual ACOX2 alignment. Concatenation of one mitochondrial locus and two introns resulted in an alignment of 2,035 nucleotides, with no missing data, from 22 individuals. The concatenated alignment of all three loci consisted of 72 variable sites and 30 parsimony informative sites.
The average interspecific genetic distance (uncorrected cyt-b p-distance) between O. harrisoni (n = 20) and O. martiensseni (n = 3) individuals newly sequenced for this study was 2.5%. Intraspecific genetic distances were low (0.10% within O. harrisoni and 0.30% within O. martiensseni).
Otomops martiensseni and O. harrisoni are each recovered as reciprocally monophyletic lineages by both Bayesian Inference and ML phylogenetic methods. Individual gene trees and the concatenated dataset also support these species as sisters in the concatenated phylogenetic analyses: PP = 1.0, bootstrap proportion (BP) = 100. This relationship is moderately supported in the cyt-b gene tree (PP = 0.80, BP = 72). Phylogenetic analyses of cyt-b that include four Otomops species strongly support the O. harrisoni + O. martiensseni clade as sister to O. madagascariensis (PP = 1.0, BP = 100).
Individuals within the O. harrisoni and O. martiensseni clades do not cluster by geography in any of the phylogenetic analyses and so do not exhibit appreciable geographic population structure. Remarkably, two individuals from Musanze Cave in Rwanda were recovered as members of the O. harrisoni clade, whereas the third individual sampled from that cave grouped with O. martiensseni. In addition, the individual from Marsabit, Kenya grouped within the O. martiensseni lineage (Figs. 3 and 4). Both mitochondrial and nuclear loci varied in parallel, supporting these species assignments.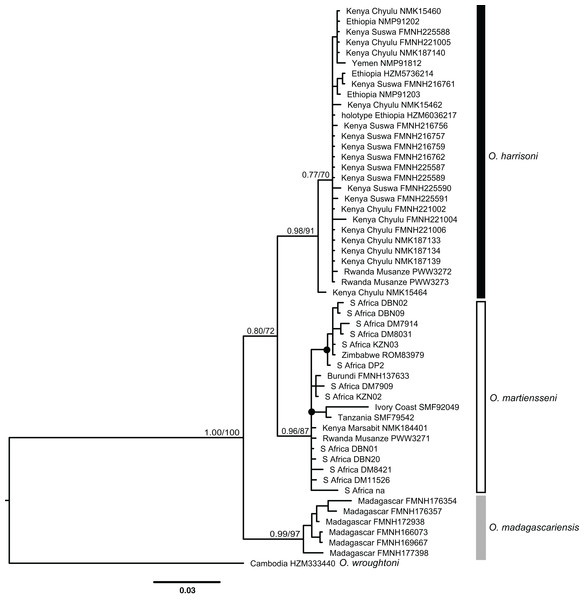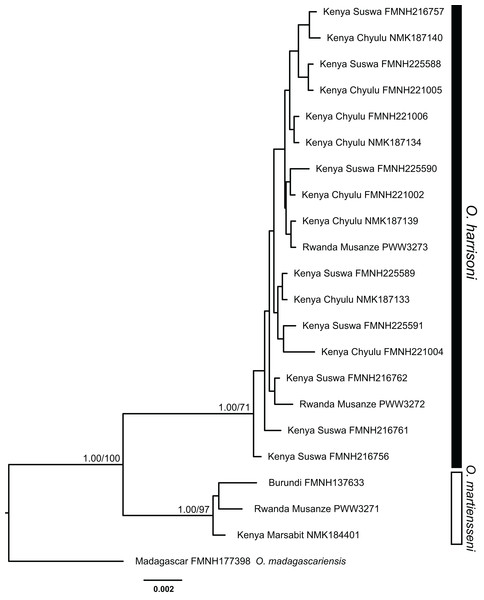 The echolocation peak frequency of big-eared free-tailed bats (Table 1) differed significantly among cave sites (F2,13 = 12.583; P = 0.001), with Otomops from the Chyulu Hills (where only O. harrisoni were genotyped) echolocating at higher frequencies than those at either Suswa (where only O. harrisoni has been recorded; P = 0.002) or Otomops sp. from Musanze, where both species are documented (P = 0.001); no differences were evident between the latter two sites (P = 0.906). Both maximum (F2,13 = 8.327; P = 0.005) and minimum frequencies (F2,13 = 5.037; P = 0.024) differed significantly between sites. Maximum frequencies did not differ between samples from Mt Suswa and Chyulu Hills (P > 0.05), but Chyulu bats vocalized higher than those from Musanze (P < 0.01). Similarly, minimum frequencies did not differ between Mt Suswa and Chyulu Hills (P > 0.05), but again, Chyulu bats differed significantly from those at Musanze (P = 0.02). Call duration of echolocating bats from all sites did not significantly differ (P > 0.05).
| Echolocation call parameters | Otomops harrisoni Chyulu Hills, Kenya (n = 4) | Otomops harrisoni Mt Suswa, Kenya (n = 6) | Otomops sp. Musanze, Rwanda (n = 6) |
| --- | --- | --- | --- |
| Peak frequency (kHz) | 17.18 ± 0.42 (16.40–17.95) | 11.86 ± 0.72 (9.52–13.80) | 11.48 ± 0.74 (9.44–13.49) |
| Maximum frequency (kHz) | 21.67 ± 0.10 (21.48–21.90) | 17.81 ± 1.70 (10.72–21.62) | 13.21 ± 0.89 (10.33–15.89) |
| Minimum frequency (kHz) | 12.53 ± 0.29 (11.80–13.13) | 10.94 ± 0.47 (9.63–12.80) | 10.34 ± 0.48 (9.15–11.31) |
| Call duration (ms) | 10.72 ± 1.10 (7.57–12.67) | 9.74 ± 1.21 (7.04–15.16) | 8.41 ± 0.99 (5.03–11.34) |
On 7 August 2011, we recovered at least five species of ectoparasite from bats inhabiting Tunnel 14C of the Mt Suswa roost, where only O. harrisoni has been documented (Supplemental Information 6). These include representatives of Diptera (Streblidae: Brachytarsina alluaudi (Falcoz), Hemiptera (Polyctenidae: Hypoctenes clarus Jordan), Siphonaptera (Ischnopsyllidae: Lagaropsylla sp.) and unidentified species of Acari belonging to the families Argasidae and Macronyssidae.
Discussion
Additional sampling where the ranges of O. harrisoni and O. martiensseni approach one another supports the primary taxonomic conclusions of Ralph et al. (2015). Despite modest genetic differentiation in highly variable mitochondrial loci, the two taxa maintain genetic integrity and appear to function as species. Insofar as known, mitochondrial divergence patterns are repeated in unlinked nuclear loci, confirming species rank for the two continental African taxa.
The 2.5% average interspecific genetic distance (uncorrected cyt-b p-distance) we found between newly sequenced O. harrisoni (n = 20) and O. martiensseni (n = 3) individuals are comparable to earlier reports. With more extensive sampling of both O. harrisoni (n = 21) and O. martiensseni (n = 33), Ralph et al. (2015) calculated an average p-distance of 2.1%. This interspecific genetic differentiation is far lower than has been documented for other genera of Molossidae. For African free-tailed bats, Lamb et al. (2011) documented mean cyt-b genetic distances of 10.6% among four species of Mops, and a mean of 7.4% among seven species of Chaerephon. In the Neotropics, Moras et al. (2016) found that cyt-b divergence averaged 9.7% among eight species of the genus Cynomops, and López-Baucells et al. (2018) documented 12.1% mean sequence divergence among six species of Eumops in the mitochondrial COI locus. Differentiation between continental African Otomops species falls below the 5% threshold commonly found for species-level differences (Bradley & Baker, 2001), but this is also the case for many other bat genera (Velazco & Patterson, 2008, 2013) and even for small, terrestrial species such as shrews (Demos et al., 2016, 2017). Reciprocal monophyly of the two taxa despite more extensive sampling as well as parallel divergence in mitochondrial and nuclear loci support the species-level distinction of O. harrisoni and O. martiensseni drawn by Ralph et al. (2015).
The Mount Suswa and Chyulu populations of O. harrisoni have long been known and studied under the name O. martiensseni (Aggundey & Schlitter, 1984; Kayanja & Mutere, 1975; Kinoti, 1973). However, our Musanze records of O. harrisoni and the Marsabit record of O. martiensseni represent new country records for these species and establish new geographic range extensions for both species (Fig. 2). Relative to the distributions of these species depicted in Ralph et al. (2015), the Marsabit record extends the range of O. martiensseni 800 km north of confirmed records in Tanzania, nearly to Kenya's Ethiopian frontier. On the other hand, the Musanze records of O. harrisoni lie 750 and 900 km to the west-southwest of the Suswa and Chyulu populations, spanning most of northwestern Tanzania. Additions to the bat faunas of both countries are hardly surprising, as East Africa supports several of Africa's richest bat faunas (Herkt et al., 2016; Patterson & Webala, 2012).
The fact that the ranges of both species include most of Kenya calls into question the identity of various historical records of Otomops, particularly those lying far from genetically confirmed records, including Kwale, Lake Baringo, Nairobi, Naivasha, and Wei-Wei River, Kenya (Aggundey & Schlitter, 1984). To aid future workers, we have distinguished between Otomops identifications based on molecular analysis, morphometric analysis, and other means in mapping their distributions (Fig. 2). Because genetic analysis of historic specimens can be both costly and destructive, finding qualitative morphological characters that will allow robust diagnosis should be a priority. Our samples of the two species appear to differ in size as described by Ralph et al. (2015), with O. harrisoni averaging larger in both external and cranial morphometrics (Supplemental Information 7).
Besides swelling national species richness tallies, these records also establish a large area of potential geographic range overlap between O. harrisoni and O. martiensseni, including most of Kenya and Uganda and parts of Rwanda and Tanzania. Although our genetic sampling is limited, sympatry of the two species is unaccompanied by evidence of introgression or hybridization (see also Ralph et al., 2015). We documented both species roosting in the same cave (Musanze) on 4 October 2015. Lack of hybridization despite geographic overlap constitutes "the test of sympatry" for the application of the biological species concept (Mayr, 1963). However, the rapid flight and possibility of long-distance movements of these bats may carry them far beyond the limits of their breeding ranges (Fenton et al., 2002; Kingdon, 1974; Kock et al., 2005). Evidence for reproductive isolation between these species of Otomops would be stronger with overlaps during the mating season. The interactions of these bats in the mixed-species roost at Musanze require additional investigation.
The implications of our findings for conservation of these bats are also uncertain. O. harrisoni is currently considered vulnerable and O. martiensseni is considered near threatened by the IUCN (http://www.iucnredlist.org/). Range extensions of both species would suggest possible amelioration of their respective statuses. However, the potential of these bats for long-distance movements and the absence of geographic structure in their genetics (Fig. 3) suggest that our new records came from the same parent populations as previously recorded ones. Do the various records marked "x" in Fig. 2 document different colonies of Otomops or do they simply reflect individual movements from the same set of populations? Better baseline population estimates and annual-cycle studies at known roosts are needed to distinguish recurring seasonal variation in population size from systemic declines that warrant conservation actions (Kock et al., 2005). Colonies O. harrisoni in the Chyulu Hills lava tubes contained tens to hundreds of thousands in December 2012 and October 2016, whereas those at Mt. Suswa contained a few thousands in August 2011 and January 2014. At Musanze cave in October 2015, there were a few dozen individuals of Otomops sp. Moreover, microsatellite variation or SNPs would increase the demographic resolution offered by gene sequences (Andriollo, Naciri & Ruedi, 2015; Speer et al., 2017).
Echolocation call analysis of hand-released individuals of Otomops showed that peak frequency of bats from Chyulu Hills, Kenya differed significantly from those at Mt Suswa, Kenya and at Musanze, Rwanda (Table 1). Vouchers taken from both the Chyulu and Suswa roosts included only O. harrisoni, but the voucher samples from Musanze represented both species. Maximum and minimum frequencies also differed between sites. The call parameters from Suswa and Musanze are similar to those measured from a single hand-released bat captured at Bungule, in Kenya's Taita Hills (Taylor et al., 2005). Curiously, Bungule lies 190 km SSE of the Chyulu locality where the calls of Otomops significantly differed (Fig. 2). Call parameters for all three populations fit broadly with those recorded from O. martiensseni in previous studies (Adams, Bonaccorso & Winkelmann, 2015; Fenton et al., 2002) and fail to document clear species-level differences at colonies containing O. harrisoni. Because vocalizing bats were only identified by association, it is unknown whether differences documented here reflect specific or regional differentiation. Non-invasive genetic samples (e.g., buccal swabs or wing punches) need to be taken from molossid bats used in vocalization studies in order to confirm their specific identity (Gager et al., 2016).
The ectoparasitic arthropods of O. harrisoni are poorly known, in part owing to its synonymic history. Beaucournu & Kock (1996) reported the flea Araeopsylla scitula (Rothschild) (Ischnopsyllidae) from the Mt. Suswa and Ithundu populations, noting dramatic temporal variation in flea numbers. The five species of ectoparasites we recovered from bats at the Mt. Suswa roost all represent novel records for Otomops. None of these species has been previously reported from O. martiensseni (cf. Long, 1995; Yalden & Happold, 2013).
Otomops harrisoni and O. martiensseni represent faunal elements typical of northeastern and more southern African biotas, respectively. Their geographic replacement across Kenya, northern Tanzania, and Rwanda reinforces the region's characterization as a transition or suture zone between biotas of the Horn of Africa and those of the savannas of Eastern and Southern Africa (Happold & Lock, 2013; Linder et al., 2012). Other species pairs showing geographic replacement in this region include Somali and Common ostrich (Struthio molybdophanes and S. camelus), Reticulated and Maasai giraffe (Giraffa reticulata and G. tippelskirchi), Beisa and Fringe-eared oryx (Oryx beisa and O. callotis), and Guenther's and Kirk's dikdiks (Madoqua guentheri and M. kirki). Whereas these terrestrial species show rather narrow replacement zones, these highly mobile bats exhibit a far more extensive zone of overlap, comprising nearly the entire latitudinal breadth of Kenya. Overlap of these species may be facilitated by their strong flight and very spotty known distributions.
Conclusion
Despite modest genetic divergence, the two African species of Otomops, O. martiensseni Matschie, 1897, and O. harrisoni Ralph et al., 2015, appear to be valid biological species. Their ranges are shown to overlap over most of Kenya, with the southern African form ranging nearly to Ethiopia and the northeastern African and Arabian species ranging southwest into Rwanda. Both species were documented as roosting in the same cave in northern Rwanda, raising additional questions about their ecological and reproductive compatibility.