The effect of climate change on the distribution of a tropical zoanthid (Palythoa caribaeorum) and its ecological implications
1
Oceanographic Institute, University of Sao Paulo

,

São Paulo

,

SP

,

Brazil
2
University of Otago

,

Dunedin

,

New Zealand
3
Universidade Federal da Bahia

,

Salvador

,

BA

,

Brazil
Published

Accepted

Received
Academic Editor
Subject Areas

Keywords

Distribution forecast

,

Range shift

,

Maxent

,

IPCC

,

Global warming

,

Reef ecology

,

Niche modeling
Copyright

©

2018

Durante et al.

Licence

This is an open access article distributed under the terms of the Creative Commons Attribution License, which permits unrestricted use, distribution, reproduction and adaptation in any medium and for any purpose provided that it is properly attributed. For attribution, the original author(s), title, publication source (PeerJ) and either DOI or URL of the article must be cited.
Cite this article

2018

. The effect of climate change on the distribution of a tropical zoanthid (Palythoa caribaeorum) and its ecological implications.

PeerJ

6

:

e4777

https://doi.org/10.7717/peerj.4777
Abstract
Palythoa caribaeorum is a zoanthid often dominant in shallow rocky environments along the west coast of the Atlantic Ocean, from the tropics to the subtropics. This species has high environmental tolerance and is a good space competitor in reef environments. Considering current and future scenarios in the global climate regime, this study aimed to model and analyze the distribution of P. caribaeorum, generating maps of potential distribution for the present and the year 2100. The distribution was modeled using maximum entropy (Maxent) based on 327 occurrence sites retrieved from the literature. Calcite concentration, maximum chlorophyll-a concentration, salinity, pH, and temperature range yielded a model with the smallest Akaike information criterion (2649.8), and were used in the present and future distribution model. Data from the HadGEM2-ES climate model were used to generate the projections for the year 2100. The present distribution of P. caribaeorum shows that parts of the Brazilian coast, Caribbean Sea, and Florida are suitable regions for the species, as they are characterized by high salinity and pH and small temperature variation. An expansion of the species' distribution was forecast northward under mild climate scenarios, while a decrease of suitable areas was forecast in the south. In the climate scenario with the most intense changes, P. caribaeorum would lose one-half of its suitable habitats, including the northernmost and southernmost areas of its distribution. The Caribbean Sea and northeastern Brazil, as well as other places under the influence of coastal upwellings, may serve as potential havens for this species.
Introduction
Palythoa caribaeorum (Duchassaing & Michelotti, 1860) is a sessile colonial anthozoan common along the west coast of the Atlantic Ocean (Kemp et al., 2006). This species can be found from Florida in the US (Kemp et al., 2006) to Arvoredo Island in Brazil (Bouzon, Brandini & Rocha, 2012), as well as around many oceanic islands in the Atlantic, such as Bermuda (Lesser et al., 1990) and the São Pedro e São Paulo archipelago (Edwards & Lubbock, 1983). Its distribution is not limited to the western side of the Atlantic Ocean, however, with records in the Cape Verde islands (Reimer, Hirose & Wirtz, 2010). This broad geographic distribution is possible because P. caribaeorum has a great tolerance to a wide range of environmental conditions (Sebens, 1982). Although studies on P. caribaeorum larvae are lacking, it is expected that its biology would be similar to its sister species, Palythoa turbeculosa (Esper 1791), which has symbiotic larvae with planktonic habits and a larval stage up to 170 days long (Polak et al., 2011; Ryland, 1997).
It is found on hard bottom environments, from the intertidal zone to depths up to 12 m (Sebens, 1982), where it can be dominant (Monteiro et al., 2008). Colonies have a mat format usually occupying large areas along the substratum (Sebens, 1982; Acosta, 2001; Silva et al., 2015). The animal's color varies from yellow and brown to bronze, easily identifiable in the field (Fig. 1A).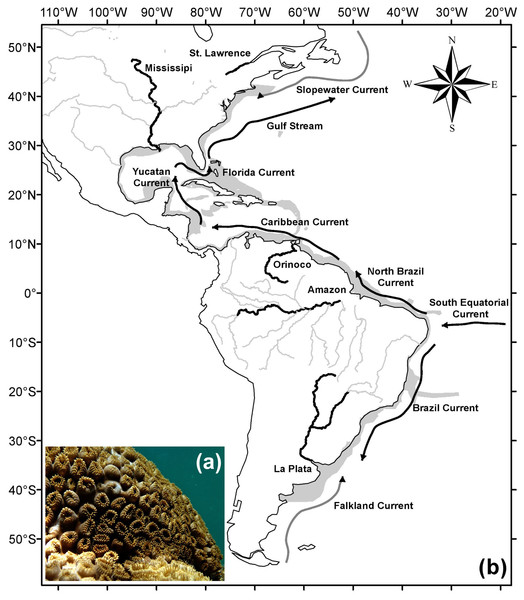 P. caribaeorum is a mixotrophic organism, hosting symbiotic dinoflagellates (Symbiodinium) inside its tissues (Sebens, 1977; Suchanek & Green, 1981) and feeding on planktonic organisms, which contributes to the energy flux from plankton to benthic environments (Sorokin, 1991; Santana et al., 2015). Few studies have highlighted the importance of P. caribaeorum in association with other invertebrates (Pérez, Vila-Nova & Santos, 2005), reef dynamics (Silva et al., 2015), or the enrichment of the bottom fish community (Mendonça-Neto et al., 2008). However, a study conducted in the Todos os Santos Bay in Brazil (Cruz et al., 2015b) showed that the increased abundance of Palythoa sp. decreased habitat heterogeneity, and consequently the richness of fish and benthic organisms, changing the local trophic structure in that region.
P. caribaeorum is capable of overgrowing and thus adversely affecting the growth and recruitment of several organisms (Suchanek & Green, 1981; Castro et al., 2012) such as hard corals, hydrocorals, and other zoanthids, showing great efficiency competing for space. P. caribaeorum also has a fast growth rate estimated to vary between 0.04-0.15 mm per day (Bastidas & Bone, 1996; Silva et al., 2015). In general, zoanthids can dominate in areas where the environmental factors make it difficult for the settlement of scleractinian corals (Fautin, 1988; Cruz et al., 2015a), often becoming important as the main benthic component (Mendonça-Neto et al., 2008) and nursery habitat for other invertebrates (Pérez, Vila-Nova & Santos, 2005). Suchanek & Green (1981) and Sebens (1982) claimed that predation does not seem to be an ecological element controlling the distribution and abundance of P. caribaeorum, probably due to defense strategies related to nematocysts and palytoxin that are found in the animal's tissue (Hines & Pawlik, 2011). However, Stampar, Silva & Luiz Jr (2007) reported a case of a Hawksbill turtle, Eretmochelys imbricata, preying colonies of P. caribaeorum in southeastern Brazil.
Regarding its ecological role, investigating the current and future distribution of P. caribaeorum will yield a prognosis of areas likely to experience changes in their benthic communities because of the presence or absence of P. caribaeorum. Assessing how species and biological systems are affected by climate change as well as the generation of forecast models are increasingly needed by decision makers and environmental managers (Gutt et al., 2012).
Species distribution models (SDM) are largely used in ecology, biogeography, and conservation biology to help solve practical problems in these fields (Guisan & Thuiller, 2005; Elith et al., 2011; Acosta et al., 2016). One of the main assumptions of SDM is that the environment is in equilibrium with its species, whose distribution is determined by environmental variability (Araújo & Pearson, 2005), excluding biological interactions, dispersion barriers, and fast or small-scale environmental disturbances (De Marco, Diniz-Filho & Bini, 2008). Temporal and climatic variations also interfere in the modeling, and environmental data must be gathered from the same period in which the species was recorded, making it difficult to acquire large amounts of data for mobile organisms. In this scenario, P. caribaeorum is a good candidate for the use of SDM.
The accelerating rates of environmental change pose a challenge to most organisms living in shallow waters throughout the world's oceans. At a global scale, between 1971 and 2010, the warming rate of the oceans' surface waters reached 0.13°C per decade (IPCC, 2014). Since 1950, coastal regions with high evaporation rates are becoming saltier; and for the same period, the pH of surface waters has decreased by 0.1 (IPCC, 2014). The forecast for the year 2050 shows a redistribution of marine organisms as a function of the increase in temperature. This redistribution is expected to be toward mid-latitude zones, increasing species richness in these areas while decreasing richness in the tropics due to extinction, migration, and reduction in genetic diversity (Fields et al., 1993). However, it is still unknown for sure how the effects of climate change, at the population level, will affect the environment at large ecological scales (Harley et al., 2006; Thomas et al., 2017).
This study aimed to investigate and model the distribution of P. caribaeorum along the western coast of the Atlantic Ocean, generating potential distribution maps for the present and the year 2100 based on forecast climate models. The maps were used to characterize the species' habitat and identify areas where suitability was retained, lost, or gained for P. caribaeorum over time and under different climate scenarios.
Results
After filtering, 135 occurrence points of P. caribaeorum were kept for the analyses (Fig. 2). The model with a lower AIC (2649.8) presented an Rm of 3.5 and showed good performance defining occurrence and absence sites for P. caribaeorum (AUC = 0.860 ± 0.023) (Swets, 1988). The difference between the test AUC and the train AUC yielded a value of 0.015, showing that the model was not over-adjusted and is transferable to novel climate scenarios (Jueterbock, 2016; Warren & Seifert, 2011).
The environmental variables that contributed the most to the model were salinity (47.9%), concentration of calcite (21%), maximum concentration of chlorophyll-a (13.3%), pH (9.2%), and temperature range (8.5%), and were therefore kept in the model (Table 1). The habitat of P. caribaeorum is characterized by salinity values higher than 34, a maximum chlorophyll-a concentration from 0 to 28 mg/m3, a pH higher than 7.85, and temperature variation up to 10°C, although these intervals become much narrower when variable correlations are considered. For calcite, the model pointed to a modulating influence, as no minimum or maximum values were indicated.
The output of the HadGEM2-ES climate model for salinity, pH, and temperature (used to calculate temperature range) was used to project the SDM model to novel scenarios for the year 2100, while calcite and chlorophyll-a were kept constant. A max SSS equal to 25.97 was used as a threshold to infer suitable areas, thus identifying the potential distribution of the species.
Five hundred forty eight square kilometers were characterized as currently suitable for P. caribaeorum (Fig. 3). Under the RCP 2.6 scenario (Fig. 4), the southern range of P. caribaeorum distribution would lose suitability, as would the Caribbean, Bermudan, and Floridian regions; however, the total suitable area is close to the one observed for the present: 492,000 km2. An increase in suitable areas in the Guianan, Amazonian, Bahamian, and Caribbean regions was also observed, but the biggest change occurred in the northern part of its distribution, in the northern Gulf of Mexico and along the Carolinian and Virginian regions. In these areas, the potential distribution of the species reached almost as far north as Chesapeake Bay. The southernmost area capable of retaining suitability for the species was near Cape Frio, in southeastern Brazil.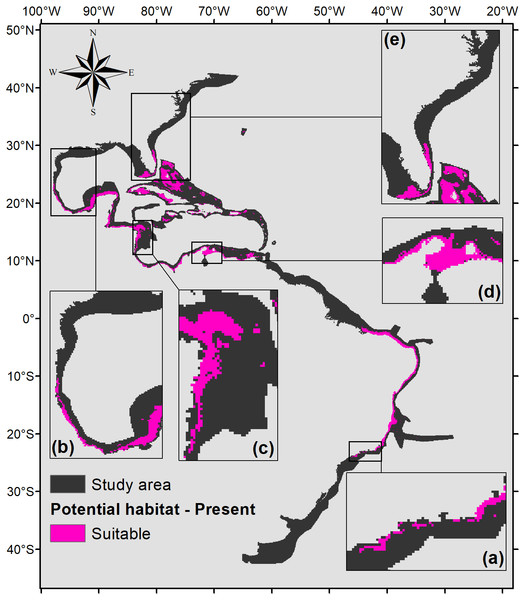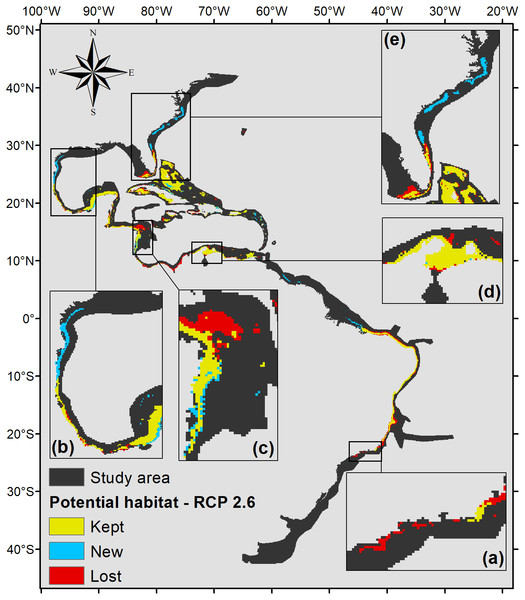 The projection under RCP 4.5 (Fig. 5) also shows that part of the Brazilian coast would lose habitat suitability, only remaining suitable around the Abrolhos Bank and in northeastern Brazil. In the north, the species' potential distribution is similar to the 2.6 scenario, only presenting smaller suitable areas in those regions, 470,000 km2 in total.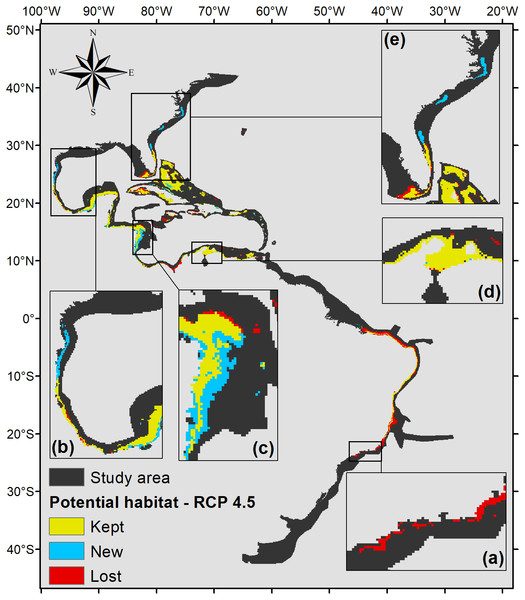 Under the scenario with the higher anthropogenic impact, RCP 8.5 (Fig. 6), almost the entire potential distribution for P. caribaeorum along the Brazilian coast would be lost, including the northeast region. Under RCP 8.5, the anthozoan would also lose suitable habitats in regions around Florida, the northern Gulf of Mexico, and the eastern and western Caribbean.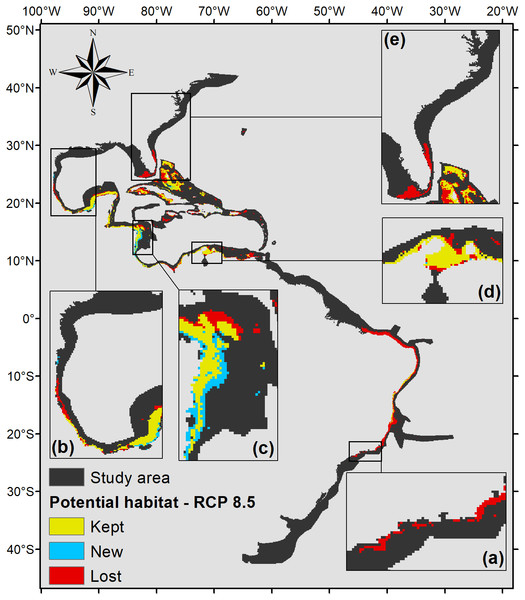 Overall, for this climate scenario, only one-half of the suitable areas seen in the present, around 275,000 km2, were characterized as a potential habitat for the species, comprising the southern, western, and southwestern Caribbean, the southern Gulf of Mexico, and the Bahamian, Greater Antilles, and eastern Brazil regions. Nevertheless, under the RCP 8.5 scenario, there would be an increase in suitable areas in the southwestern Caribbean, along Nicaragua's coast, similar to the RCP 4.5 forecast (Fig. 5).
To demonstrate the most important regions for the species, a map of the intersection of all suitable areas under any climate scenarios for the year 2100 was made (Fig. 7). Figure 7 shows that the northern part of the map (from 0°northward) would have much more significance for the potential distribution of P. caribaeorum than the southern part. The suitable areas comprise six ecoregions in the north (southern, southwestern, and western Caribbean, southern Gulf of Mexico, and Bahamian and Greater Antilles regions) against only two in the south (northeastern and eastern Brazil).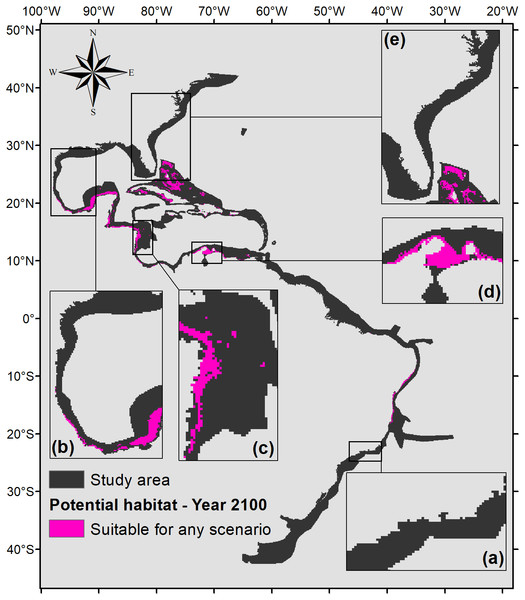 Conclusions
The present habitat of P. caribaeorum can be characterized by high salinity values, marine pH, and a small to moderate range of temperature in coastal and shallow environments. The species' current distribution in the western Atlantic Ocean is restricted to warm provinces, identifying it as a coastal and warm-water species, together with shallow water corals. According to this study, this organism's potential distribution is likely to change by the year 2100. It is possible that, under low to mild anthropogenic impacts (RCP 2.6 and 4.5), the species' distribution will be extended northward and will face a decrease of suitable habitat in the southernmost range of its distribution under any climate scenario. Under the scenario with the highest anthropogenic impacts (RCP 8.5), novel suitable areas poleward were not predicted, and only one-half of its potential habitat area would be retained when compared to the present. Under any climate scenario, the Caribbean Sea remained suitable for the species, characterizing this region as a possible refuge. Upwelling regions, such as Cape Frio and northern Colombia, could provide a refuge for this species as well, diminishing the local impacts of climate changes. Although community changes were discussed according to the available literature, biological and oceanographic processes not considered in this study may play an important role in the outcome of these changes.
Supplemental Information
Datasets, codes and references
Files contain all datasets in .csv format, along with the codes used for variable selection in R, and references list with original data.