Global opportunities for mariculture development to promote human nutrition
Published

Accepted

Received
Academic Editor
Subject Areas

Aquaculture, Fisheries and Fish Science, Global Health, Nutrition, Coupled Natural and Human Systems, Natural Resource Management

Keywords

Mariculture

,

Nutrition

,

Seafood

,

Global analysis

,

Aquaculture

,

Public policy
Copyright

©

2018

Liu et al.

Licence

This is an open access article distributed under the terms of the Creative Commons Attribution License, which permits unrestricted use, distribution, reproduction and adaptation in any medium and for any purpose provided that it is properly attributed. For attribution, the original author(s), title, publication source (PeerJ) and either DOI or URL of the article must be cited.
Cite this article

2018

.

Global opportunities for mariculture development to promote human nutrition

.

PeerJ

6

:

e4733

https://doi.org/10.7717/peerj.4733
Abstract
An estimated two billion people worldwide currently suffer from micronutrient malnutrition, and almost one billion are calorie deficient. Providing adequate nutrition is a growing global challenge. Seafood is one of the most important sources of both protein and micronutrients for many, yet production from wild capture fisheries has stagnated. In contrast, aquaculture is the world's fastest-growing food production sector and now supplies over half of all seafood consumed globally. Mariculture, or the farming of brackish and marine species, accounts for roughly one-third of all aquaculture production and has received increasing attention as a potential supplement for wild-caught marine fisheries. By analyzing global patterns in seafood reliance, malnutrition levels, and economic opportunity, this study identifies where mariculture has the greatest potential to improve human nutrition. We calculate a mariculture opportunity index for 117 coastal nations by drawing on a diverse set of seafood production, trade, consumption, and nutrition data. Seventeen primary variables are combined into country-level scores for reliance on seafood, opportunity for nutritional improvement, and opportunity for economic development of mariculture. The final mariculture opportunity score identifies countries with high seafood reliance combined with high nutritional and economic opportunity scores. We find that island nations in Southeast Asia and the Caribbean are consistently identified as countries with high mariculture opportunity. In other regions, nutritional and economic opportunity scores are not significantly correlated, and we discuss the implications of this finding for crafting appropriate development policy. Finally, we identify key challenges to ameliorating malnutrition through mariculture development, including insufficient policy infrastructure, government instability, and ensuring local consumption of farmed fish. Our analysis is an important step towards prioritizing nations where the economic and nutritional benefits of expanding mariculture may be jointly captured.
Introduction
With large uncertainty surrounding the future of wild caught fisheries, the potential role of farmed fish has gained increasing attention in global nutrition conversations (Beveridge et al., 2013; Béné et al., 2015; Golden et al., 2016; Little, Newton & Beveridge, 2016). An estimated one billion people are calorie deficient, and two billion suffer from micronutrient malnutrition (IFPRI, 2016). Zinc deficiency affects 17% of the global population (Golden et al., 2016) and is responsible for an estimated 800,000 annual child mortalities (FAO, 2016). Nearly one-third of the world's population is iron deficient (FAO, 2016) and one-fifth of maternal deaths are linked to anemia during pregnancy (Micronutrient Initiative, 2009). Vitamin A deficiency is the leading cause of preventable blindness and affects an estimated 250–500 million children, half of whom will die within a year of vision loss (Bailey, West & Black, 2015).
Seafood is a critical source of all of these nutrients. Fish currently provides 17% of the world's animal protein, and exceeds 50% in the diets of many least-developed countries (FAO, 2016). One of the most documented nutritional benefits of seafood is the linkage between complex fatty acids found in fish and their contribution to brain development, metabolic function, and the prevention of cardiovascular disease (Larsen, Eilertsen & Elvevoll, 2011). But seafood in general also provides essential micronutrients that promote healthy growth and development, particularly in children and pregnant women (Kawarazuka & Béné, 2011; Béné et al., 2015; FAO, 2016). Nevertheless, declines in global wild fish stocks paired with a predicted human population of nearly 10 billion by 2050 may leave even greater numbers at risk of nutrient deficiency (UNDP, 2015; Blasiak et al., 2017). Golden et al. (2016) estimate that an additional 11% of the population is vulnerable to zinc, iron, and vitamin A deficiencies as fish stocks decline in coming decades, and nearly 20% for all micronutrients exclusive to animal food sources, such as fatty acids and vitamin B12.
Due in part to the nutritional importance of fish and significant technological advances to produce seafood (Kumar & Engle, 2016), its consumption has more than doubled from 9.9 kg per capita in the 1960s to a current average of 20.2 kg (FAO, 2016). Global fish consumption is predicted to increase more than 20% by 2025, as both human population and economic development rise in coming decades (FAO, 2016). Driven by this increasing demand, aquaculture has been the fastest growing food production sector for four decades and now exceeds wild fisheries production (Tveteras et al., 2012; Troell et al., 2014). About one-third of this total production comes from the farming of marine species, also known as mariculture (Ottinger, Clauss & Kuenzer, 2016). While issues around freshwater scarcity (Verdegem & Bosma, 2009) and pollution (Cao et al., 2007; Edwards, 2015) may slow the growth of freshwater aquaculture in coming years, mariculture has been identified as an area of high growth opportunity (Holmer, 2010; Kapetsky, Aguilar-Manjarrez & Jenness, 2013; Gentry et al., 2017).
Increased mariculture production could help ameliorate global malnutrition, but its current development typically excludes lower-income countries or is marketed towards trade with wealthier countries and consumers (Watson et al., 2015; Asche et al., 2015a; Golden et al., 2016; Golden et al., 2017). Global mariculture production currently focuses predominantly on high-value species like salmon, shrimp and tuna, which largely go to global markets (Bostock et al., 2010). It remains unknown whether mariculture can meaningfully contribute to global nutrition, in part because no previous analysis has identified countries where economic and nutritional development opportunities are expected to overlap. Before developing any strategies to link these objectives, however, it is critical to first identify key overlaps between nutritional needs and economic opportunity for further mariculture development.
Here we provide global analyses to identify countries where joint economic and nutritional mariculture development may be most synergistic. Our motivating question is, where do nutritional needs—needs that can be effectively alleviated by seafood consumption—overlap with economic development opportunities for mariculture? By using global datasets and developing a comparative scoring system, we identify high-opportunity countries via an analysis of country-level malnutrition, seafood reliance, and economic opportunity. We dissect emergent patterns in the global analysis and discuss their potential drivers. Finally, we identify common development obstacles that may be applicable to future global mariculture ventures.
Results
Final mariculture opportunity scores are mapped in Fig. 2. Countries with high mariculture opportunity scores (orange and red) are places where mariculture has the highest potential to ameliorate nutritional deficiencies because of the apparent alignment between nutritional and economic opportunities and a demonstrated reliance on seafood. These multi-dimensional opportunities are apparent for some nations, especially island nations in the Caribbean (Fig. 2B) and Southeast Asia. Other nations, notably in parts of Europe and Africa, also had high mariculture opportunity scores.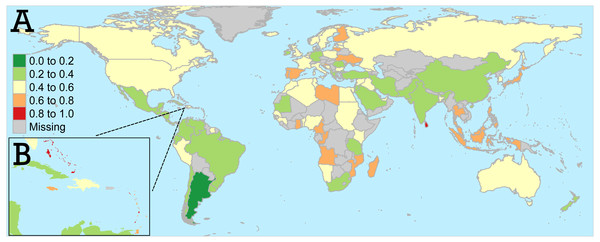 In addition to geographic patterns in final mariculture scores, several patterns emerged for each of the three separate opportunity scores (Fig. 3). First, countries' economic opportunity scores were generally clustered towards greater opportunity (mean score 0.59 +∕ − 0.2, Fig. 3). This pattern indicates that comparatively few nations have developed mariculture industries, while the bulk of nations have potential to further develop mariculture. Indeed, the few top producers received low economic opportunity scores. China, Indonesia, the Philippines, and Norway, which are four of the five top current producers of mariculture (FAO, 2016), all received scores less than 0.35. Overall, mariculture production level was significantly negatively correlated with economic opportunity (Pearson's r =  − 0.22, p < 0.05).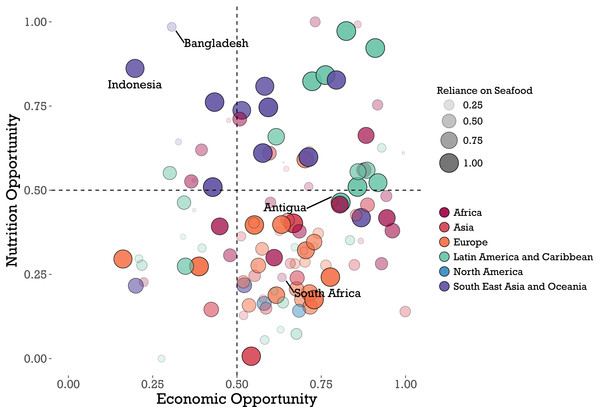 In contrast, relative to the economic scores, nutritional opportunity scores were generally lower, or right-skewed (mean nutritional opportunity score 0.42 + ∕ − 0.23, Fig. 3). Europe and Asia were the regions with the overall lowest nutritional opportunities, while the Southeast Asia/Oceania and Latin America/Caribbean regions show the highest nutritional opportunity.
This combination of higher economic opportunity and lower nutritional opportunity creates the cluster of nations in the lower right quadrant of Fig. 3. Fifty-three of 117 nations, or 45%, have an economic opportunity score greater than 0.5 and a nutritional opportunity score less than 0.5. Overall, economic and nutritional opportunity scores are positively correlated, but the correlation is not significant (Pearson's r = 0.15, p = 0.1).
Nutritional opportunity and seafood reliance show significant positive correlation overall (Pearson's r = 0.23, p = 0.01). Nine of the top 10 country scores (and 15 of the top 20) for seafood reliance come from island nations. Countries with a higher reliance on seafood generally have higher nutritional opportunity scores, although there were differences in the relationship between reliance and nutrition between geographic regions. Southeast Asian countries (purple dots in Fig. 3) have generally high nutritional opportunity and high seafood reliance, but scatter along a spectrum of economic opportunity. In contrast, Latin American and Caribbean countries (teal dots) display a high correlation between nutritional opportunity and seafood reliance: low nutritional opportunity corresponds with low reliance, and vice versa. European countries display a range of seafood reliance, but generally low nutritional opportunity.
Discussion
The objectives of our analysis were to identify opportunities for nutritional improvement through mariculture and to use multidimensional opportunity scores to inform future development efforts. Our results identify countries with poor nutrition and high reliance on seafood. Of those countries, our overall mariculture opportunity score prioritizes those with simultaneous large nutritional and economic opportunities for mariculture development. Other analyses have projected large increases in production in many of the nations—especially in Latin America, the Caribbean, and Southeast Asia—which we identified as having high nutritional opportunity (Kobayashi et al., 2015). Mariculture has the potential to benefit malnourished populations in these countries both directly through increasing seafood availability and indirectly through economic gains (Béné et al., 2016), and our analysis clearly identifies places where these opportunities exist. But despite this theoretical potential, limited evidence exists suggesting mariculture will address local nutritional needs in reality (Beveridge et al., 2013; Béné et al., 2016; Golden et al., 2016; Golden et al., 2017; Little, Newton & Beveridge, 2016). What barriers are preventing the potential nutritional benefits of mariculture from being realized, and how can we use this global analysis to guide nutritionally focused development strategies?
The link between mariculture, or aquaculture in general, and the amelioration of malnutrition has not proven inherent (Golden et al., 2017). Numerous countries have already developed fish farming industries but still struggle with malnutrition. Our analysis corroborates this disconnect by finding many nations with a low economic opportunity but high seafood reliance and nutritional opportunity (upper left quadrant in Fig. 3). In these scenarios, aquaculture production is not being translated into nutritional gains for at-risk populations. This widespread disconnect between aquaculture production and local nutrition is largely a reflection of the industry's historical development. Private investment opportunities—as opposed to nutritional necessity—have been the primary drivers of aquaculture growth, especially in recent decades (Little, Newton & Beveridge, 2016). As industries have developed, improved productivity of larger farms and increased international trade have incentivized consolidation and export-oriented operations in many producing countries (Asche, Roheim & Smith, 2015b; Little, Newton & Beveridge, 2016).
This trend, however, does not necessarily mean that growth in mariculture production is or will be completely at the expense of the malnourished poor. Toufique & Belton (2014) found a convincing positive link between large-scale growth of pond aquaculture in Bangladesh and fish consumption by the extreme poor. Although the debate surrounding the strength of the link between mariculture development and nutrition improvement remains active, it is clear that the two are not necessarily mutually exclusive. Our analysis provides a guide to the countries where this link might be more effectively forged.
In this context, opportunity costs may pose a major barrier to nutritionally-focused mariculture development. Small island nations were overwhelmingly identified as high-opportunity countries in our analysis. Many of these nations, especially in the Caribbean, are on a development path focused on the promotion of tourism and importation of wealth from abroad (Ashe, 2005; Scheyvens & Momsen, 2008). Because of the tourism industry, coastal property is at a premium, turning coastal or near-shore mariculture activities into a non-competitive investment alternative. A shortage in affordable coastal real estate might incentivize development of offshore mariculture, though these systems will require significant amounts of external investment and technological capacity. To stay profitable, high cost systems will likely focus on high market value species intended for export and/or consumption by higher income individuals. Several mariculture initiatives in the Caribbean have already been designed in this manner. In Antigua, for example, a private mariculture initiative led by an American and European board of directors plans to develop "high-tech" offshore pens to raise Kampachi (Seriola rivoliana), a high value, sashimi grade fish for export (http://www.asacip.com/). While these projects typically promise to provide local employment, the expected outcome for local nutrition remains unclear (Béné et al., 2016). Hence, while our analysis may identify island nations as an important focus for mariculture development and nutrition, capturing this overlapping opportunity will be a policy challenge unique to each country or project.
In cases where mariculture products are made locally accessible, effectively addressing malnutrition issues also requires significant education and marketing programs at local to regional scales. Our opportunity criteria prioritized countries with high existing seafood reliance. Existing culture around eating seafood in these countries may facilitate a transition to consuming mariculture products, though local attitudes towards farmed fish may prove a significant barrier. Case studies in Bangladesh reveal that farmed fish are typically harvested at a larger size and consumed filleted, which may provide less nutritional value than the small indigenous fish that are traditionally consumed whole (Kawarazuka & Béné, 2011). Nutrition programs can play a critical role in educating the public on product selection and preparation in order to maximize nutritional effectiveness.
While our chosen scoring system prioritizes countries with high seafood reliance, there are certainly opportunities to link mariculture production with local nutritional benefit when reliance is low, and dietary contribution of seafood may increase with development (see Appendix). These efforts, however, will require even greater investment in social planning and policymaking to ensure these products are reaching nutritionally vulnerable populations. Alternatively, the direct involvement of poor sectors in the mariculture industry could increase disposable income and, consequently, access to nutritious food. This was demonstrated for aquaculture in Malawi (Aiga et al., 2009), though these types of indirect benefits require further investigation (Béné et al., 2016; Golden et al., 2017).
A further challenge in mariculture development is to mitigate environmental harm to the extent possible. A recent study establishes that there are vast areas suitable for development of mariculture in almost every coastal nation (Gentry et al., 2017). Nonetheless, while suitable space is likely not limited, intensive mariculture development comes with a host of potential environmental problems, including pollution, habitat destruction, and disease risk to wild fish populations (Klinger & Naylor, 2012). Environmental harm from the development of mariculture risks exacerbating some of the same human health factors it would seek to alleviate (Cole et al., 2009). Best practices for mariculture development are rapidly being developed and refined, and should be incorporated as an additional consideration in any nutrition-focused mariculture development (Klinger & Naylor, 2012).
Choosing appropriate mariculture species and practices will have significant implications not only for environmental impacts but also for nutritional quality and accessibility. Seafood products vary greatly in their specific nutrient content and therefore their potential contributions to human nutritional needs (Glencross, 2009; Hixson, 2014). A case study in Indonesia demonstrates the potential impact of farming a particularly vitamin A-rich species on local vitamin A deficiencies (Fiedler et al., 2016). Husbandry practices also have major impacts on nutritional quality, as well as environmental impacts. Species-specific feed compositions that provide digestible and appropriately-balanced nutrient compositions can improve fish growth and nutritional value while also minimizing waste due to nutrient indigestibility or oversaturation (National Research Council, 2011; Hixson, 2014). Because fish feed is the primary contributor to aquaculture's negative environmental impacts, improved practices that minimize overfeeding are critical in mitigating these deleterious effects (Boyd et al., 2007). Choosing local species can reduce the risk of invasive escapes as well as the spread of disease (Diana et al., 2013). Husbandry improvements such as reduced stock densities and appropriate water circulation can also reduce disease outbreaks and lessen the need for antibiotics, improving product quality for human consumers and alleviating environmental issues with antimicrobial resistance (Heuer et al., 2008; Diana et al., 2013). As introduced earlier, the species produced in a given mariculture initiative can also determine seafood accessibility, with the nutritional and economic benefits of high-value species often failing to reach in-need populations (Golden et al., 2017).
The ability of a country to develop nutritionally-sensitive mariculture production will be extremely dependent on national policy and governance. Thilsted et al. (2016) advocate for 'nutrition-sensitive' fisheries and aquaculture policy that prioritizes context-specific nutritional needs and preferences. Policy incentivizing production of locally consumed, affordable, and nutritious products will be needed to prevent the dominant trajectory of export-oriented mariculture. Education and accessibility programs will also need policy support. Unfortunately, the overall mariculture opportunity score in our analysis is significantly correlated with the World Governance Indicator for political stability from the World Bank (http://info.worldbank.org/governance/wgi). This relationship means that countries needing nutritionally sensitive mariculture the most are also those with potentially the least capacity for implementation. This issue, however, is also an opportunity. The substantial overlap between economic and nutritional scores in our analysis suggests that in many countries, well-designed mariculture development programs and policies should be able to tackle both poverty alleviation and nutrition improvement outcomes.
There was not a significant correlation between nutritional and economic opportunity scores in our analysis, meaning that countries with high nutritional opportunity may not necessarily be places that can (or should) address these nutritional needs through further mariculture development. Instead, nutritional improvement in countries with highly developed mariculture industries may face more of a distributional rather than a production challenge (Asche et al., 2015a; Watson et al., 2016). Indonesia, for example, has a high nutritional need (nutritional opportunity score 0.86), while being the world's second-largest aquaculture producer. Strategies to better link mariculture and local nutrition in countries like Indonesia should consider existing mariculture industries and take advantage of them to the extent possible. Potential approaches include the transition of existing infrastructure or sharing processing facilities. Policy and market-based incentives would be critical in incentivizing a partial shift from export-oriented products to more accessible, low value species that could be sold and consumed domestically. Our analysis identifies the countries where this shift may be beneficial.
Finally, it is important to note that our analysis does not capture all of the nuances associated with the prospects and feasibility of mariculture development across the world. Institutional settings and market innovations may play a primary role when it comes to the actual development of technology and aquaculture (Asche & Smith, 2018). Further analysis and understanding of local and national-level institutions will be critical for effective mariculture development. Additionally, our global analysis, by necessity, is based upon data aggregated and averaged at the country level and may miss within-country as well as over-time dynamics. For example, just because a nation scores low on our nutritional opportunity scale does not necessarily mean there are not vulnerable segments of the population. South Africa, for example, receives a nutritional opportunity score of just 0.24. But it is also a nation of extreme inequality: The bottom 20% of the population receives less than 5% of national income, while the top 20% receives more than 60% (Statistics South Africa, 2014). In rural areas, this inequality manifests in a 24.5% rate of youth stunting, much higher than the nation as a whole. Thus, in a nation like South Africa, there may be an opportunity for mariculture to contribute to a nutritional need, even if the nation has a (relatively) low nutritional opportunity score.
Conclusion
By identifying important regional patterns in mariculture opportunity across three key combined measures of nutritional opportunity, economic opportunity, and seafood reliance, our analysis frames and focuses the necessary discussion on mariculture development and nutrition. An important finding is that nutritional and economic opportunities overlap in many nations, but come with significant challenges. As mariculture industries develop around the world, management choices will need to be made that balance high-value versus widely affordable species and promote nutrition-focused production expansion through appropriate public policy. Our analysis highlights the places where these policies could be impactful in promoting dual economic and nutritional goals, but further studies are needed on how to effectively capture the opportunities we have identified. What is the appropriate balance for a mariculture development program between production for local consumption versus high-value intensive production for export? How should mariculture species be prioritized for production, given country-specific conditions and nutritional needs? What are the environmental and ecological tradeoffs inherent in mariculture development, and how might development be guided to avoid extensive environmental degradation, further imperiling at-risk coastal populations? These questions are outside of the scope of this study, but remain essential topics for future research, as they will likely become key guiding principles to further mariculture development worldwide.
Mariculture production continues to expand and develop globally, and is a promising avenue to meet growing global nutritional challenges. Looking forward, if a development goal is to jointly develop mariculture and improve nutrition, countries with a higher reliance on seafood should be prioritized. In our analysis, countries with a high overall mariculture opportunity score not only have the economic development opportunity and a demonstrated nutritional need, but also the dietary preferences to link the two opportunities. Countries with high relative scores across the three components present potential win-win scenarios—where investing in nutrition and mariculture could have synergistic positive effects. Yet significant policy and institutional barriers remain in bridging the current gap between mariculture development and nutritional improvement. Addressing these barriers to achieve the development goal of improved global nutrition requires careful consideration, else we risk wasting a potentially powerful synergy between mariculture and nutrition opportunity.
Supplemental Information
Appendix of robustness and sensitivity analyses
Raw data and associated calculated metrics used in all analyses and figures