DNA metabarcoding of littoral hard-bottom communities: high diversity and database gaps revealed by two molecular markers
1
Department of Marine Ecology, Centre for Advanced Studies of Blanes (CEAB, CSIC)

,

Blanes

,

Spain
2
Norwegian College of Fishery Science, UiT the Arctic University of Norway

,

Tromsø

,

Norway
3
Department of Evolutionary Biology, Ecology and Environmental Sciences, and Biodiversity Research Institute (IRBio), University of Barcelona

,

Barcelona

,

Spain
Published

Accepted

Received
Academic Editor
Subject Areas

Keywords

Biodiversity assessment

, Cytochrome c oxidase I,

Eukaryotic communities

,

Marine benthic ecosystems

,

Metabarcoding pipelines

,

Ribosomal RNA 18S
Copyright

©

2018

Wangensteen et al.

Licence

This is an open access article distributed under the terms of the Creative Commons Attribution License, which permits unrestricted use, distribution, reproduction and adaptation in any medium and for any purpose provided that it is properly attributed. For attribution, the original author(s), title, publication source (PeerJ) and either DOI or URL of the article must be cited.
Cite this article

2018

.

DNA metabarcoding of littoral hard-bottom communities: high diversity and database gaps revealed by two molecular markers

.

PeerJ

6

:

e4705

https://doi.org/10.7717/peerj.4705
Abstract
Biodiversity assessment of marine hard-bottom communities is hindered by the high diversity and size-ranges of the organisms present. We developed a DNA metabarcoding protocol for biodiversity characterization of structurally complex natural marine hard-bottom communities. We used two molecular markers: the "Leray fragment" of mitochondrial cytochrome c oxidase (COI), for which a novel primer set was developed, and the V7 region of the nuclear small subunit ribosomal RNA (18S). Eight different shallow marine littoral communities from two National Parks in Spain (one in the Atlantic Ocean and another in the Mediterranean Sea) were studied. Samples were sieved into three size fractions from where DNA was extracted separately. Bayesian clustering was used for delimiting molecular operational taxonomic units (MOTUs) and custom reference databases were constructed for taxonomic assignment. Despite applying stringent filters, we found high values for MOTU richness (2,510 and 9,679 MOTUs with 18S and COI, respectively), suggesting that these communities host a large amount of yet undescribed eukaryotic biodiversity. Significant gaps are still found in sequence reference databases, which currently prevent the complete taxonomic assignment of the detected sequences. In our dataset, 85% of 18S MOTUs and 64% of COI MOTUs could be identified to phylum or lower taxonomic level. Nevertheless, those unassigned were mostly rare MOTUs with low numbers of reads, and assigned MOTUs comprised over 90% of the total sequence reads. The identification rate might be significantly improved in the future, as reference databases are further completed. Our results show that marine metabarcoding, currently applied mostly to plankton or sediments, can be adapted to structurally complex hard bottom samples. Thus, eukaryotic metabarcoding emerges as a robust, fast, objective and affordable method to comprehensively characterize the diversity of marine benthic communities dominated by macroscopic seaweeds and colonial or modular sessile metazoans. The 18S marker lacks species-level resolution and thus cannot be recommended to assess the detailed taxonomic composition of these communities. Our new universal primers for COI can potentially be used for biodiversity assessment with high taxonomic resolution in a wide array of marine, terrestrial or freshwater eukaryotic communities.
Introduction
Reliable methods for accurately and objectively assessing the biodiversity of marine environments are needed for a good understanding of these key ecosystems (Costello et al., 2010) and to establish biodiversity baselines and monitor long-term biodiversity changes (Knowlton & Jackson, 2008). Among marine ecosystems, shallow benthic hard-bottom communities are frequently considered to support the highest values of diversity, being arguably the most diverse ecosystems in the biosphere (Reaka-Kudla, 1997; Agardy et al., 2005). Their proximity to humans places them among the best studied and most heavily impacted of all marine biomes. They are also the most influential for human ecology and economy. However, marine ecologists still lack robust, validated and standardized tools for comprehensively surveying these communities.
An exhaustive analysis of these biomes by traditional morphological methods is problematic due to their high complexity, the presence of colonial or modular species, and the abundance of tiny epibiotic forms (Mikkelsen & Cracraft, 2001; Wangensteen & Turon, 2017). In most instances, morphological surveys are limited to macro-organisms, and are often focused on a few taxonomic groups, strongly conditioned by the availability of taxonomic expertise. The taxonomic impediment (Wheeler, Raven & Wilson, 2004) and the occurrence of cryptic species complexes (Knowlton, 1993) further hinder the practicability of morphology-based methods.
In the last few years, the development of metabarcoding techniques, whereby a barcoding marker of the species present in a given sample can be detected by high-throughput sequencing and identified using molecular databases (Hajibabaei et al., 2011; Taberlet et al., 2012), has revolutionized biodiversity assessment. Metabarcoding approaches have been successfully used to characterize marine communities in relatively homogeneous substrates such as seawater (e.g.,  De Vargas et al., 2015; Chain et al., 2016) or marine sediments (e.g., Chariton et al., 2010; Fonseca et al., 2014; Pawlowski et al., 2014; Guardiola et al., 2015; Lejzerowicz et al., 2015) containing mostly small-sized organisms. Leray & Knowlton (2015) introduced methods for analysing the community DNA extracted from organisms collected in autonomous reef monitoring structures (ARMS) using COI metabarcoding. These artificial-substrate communities have also been analysed using other markers such as the 18S gene (Pearman et al., 2016). However, metabarcoding methods have not been used to characterize complex communities dwelling on marine natural hard-bottom substrates. These environments pose new challenges related to sample treatment (given the orders-of-magnitude variation in organisms' sizes) and to the need of amplifying the wide array of taxonomic groups inhabiting these communities.
In the present work, we introduce a metabarcoding protocol for characterizing complex communities inhabiting natural marine hard substrates. The suitability and robustness of our methods are assessed by comparing the results from two independent universal eukaryotic molecular markers: a fragment of the nuclear gene for the small subunit of the ribosomal RNA (18S) and a fragment of the cytochrome c oxidase subunit I mitochondrial gene (COI). A multigene metabarcoding approach has been advocated to overcome limitations inherent to single marker studies (Drummond et al., 2015; Clarke et al., 2017; Kelly et al., 2017). The COI and 18S genes generally provide coherent results in terms of taxonomic results and β-diversity (Drummond et al., 2015; Kelly et al., 2017; Clarke et al., 2017), although the former results in higher number of MOTUs identified to the species level (Cowart et al., 2015) and enhanced taxonomic resolution (Tang et al., 2012). On the other hand, more MOTUs remain unassigned with COI (Cowart et al., 2015), and most primer sets used for COI amplification are not universal for eukaryotes and may fail to amplify some taxa (Deagle et al., 2014). We have modified an existing primer set by increasing degeneracy to improve universality in the amplification of the "Leray fragment" (Leray et al., 2013) of COI in most eukaryotic groups.
Size fractionation of bulk samples has been proposed as a convenient step in metabarcoding when organisms in a sample have unequal biomass (Elbrecht, Peinert & Leese, 2017). This procedure has been used in the marine environment for metabarcoding macrobenthos in sediment samples (e.g., Aylagas et al., 2016), mobile and sessile organisms on settlement plates (e.g., Leray & Knowlton, 2015; Ransome et al., 2017), or zooplankton (e.g., Liu et al., 2017), but it has never been applied to samples from natural hard-bottom communities, with a high inherent complexity and organisms spanning several orders of magnitude in size. We sieved each sample into three size fractions, corresponding to the distinction between mega-, macro- and meiobenthos (Rex & Ettter, 2010), which has important implications in terms of structure and function of benthic communities (e.g., Warwick & Joint, 1987; Galéron et al., 2000; Rex et al., 2006).
This case study focused on eight shallow benthic communities sampled within Marine Protected Areas (MPAs) at two distinct Spanish National Parks. They constitute a convenient setting for this study, as management of MPAs requires efficient biomonitoring over time. Our main objective was to develop and apply a method for characterizing complex marine hard-substrate communities using community DNA metabarcoding. To this end, we (1) developed adapted field sampling protocols, (2) tested the effects of size-fractionation in the detection of marine taxa spanning a wide range of sizes, (3) improved existing resources by testing a modified primer set for COI and generating new reference databases, (4) compared the relative performance of 18S and COI markers in terms of taxonomic accuracy and biodiversity patterns. In addition, our research sought to generate baseline information for biodiversity assessment and biomonitoring of these benthic communities.
Results
Sequencing depth and α-diversity patterns
We metabarcoded a total of 80 samples per marker (36 subsamples from four benthic communities in Cíes, 36 from four communites in Cabrera, four additional samples used for studying reproducibility, two blanks and two negative controls). One sample from the 18S dataset and four samples from the COI dataset were removed from the analyses due to low number of reads (<10,000). Controls had a negligible number of reads (average 65 reads, maximum 204 reads). After all filtering procedures, our final dataset for 18S comprised a total of 7,640,737 reads, with an average of 107,616 reads per sample (range: 62,583–189,036). For COI, our final dataset included 9,128,836 reads, with an average of 134,248 reads per sample (range: 19,819–417,729).
The number of total MOTUs detected from all samples by Bayesian clustering was 2,510 for 18S, from which 2,141 (85,3%) could be assigned to the level of phylum or lower. These assigned MOTUs accounted for 97.2% of the total 18S reads. The number of MOTUs yielded by COI from the same samples was higher: 9,679, from which 6,145 (63,5%) could be taxonomically assigned to the level of phylum or lower. The assigned MOTUs accounted for 92.1% of total COI reads. Our final datasets, including representative sequences, taxonomic assignment, and abundance of all MOTUs, are presented in Tables S3 and S4.
The different fractions of the sampled communities showed the same patterns of MOTU richness and diversity for 18S and COI after rarefaction (Figs. 1 and 2). Using either marker, a trend can be observed whereby richness and diversity increased from the coarser to the finer fraction in most communities. Only in the Mediterranean detritic community with COI and the Cystoseira nodicaulis community with 18S was the fraction C less diverse than B. Another exception was the high mean value of diversity of the fraction A of the Saccorhiza community with COI, with a particularly large dispersion among replicates. Fraction A of the C. nodicaulis community had the lowest values of (rarefied) MOTU richness per sample for both genes (266.07 ± 15.6 for 18S and 583.17 ± 48.5 for COI, mean ± SE), while fraction C of the atlantic detritic community had the highest values (689.41 ±7.7 MOTUs/sample for 18S and 1418.85 ± 45.1 for COI). The same communities had the lowest and highest, respectively, values of the Shannon diversity index (ranging from 2.69 ± 0.24 to 4.58  ± 0.14 for 18S and from 3.72 ± 0.04 to 5.68 ± 0.09 for COI).
The PERMANOVA analyses (Table 2) showed that for both α-diversity metrics and markers, the effect of site (Atlantic or Mediterranean) was not significant, while fraction had highly significant effects. The community factor was significant except for the COI comparison of richness. The replicate (sample) factor was not significant except for the 18S values of Shannon diversity. Pairwise tests for the overall effect of fraction showed a common trend of higher diversity in fraction C, but not all pairwise comparisons were significant in all cases (Table 2). Likewise, there were significant differences in pairwise tests between communities that varied according to the gene and the metric considered (Figs. 1 and 2), but overall the results for 18S reflected a higher richness and diversity in the sciaphilous and detritic communities, while for COI the only significant difference was between the Lophocladia community and the rest of Mediterranean communities.
Venn diagrams representing the MOTUs detected in the three fractions are presented separately for the two National Parks in Fig. 3. There is a higher overlap when using 18S (69.4% and 64.4% of MOTUs were detected in the three fractions in Cabrera and Cíes Islands, respectively), while this overlap was substantially reduced with COI (58.5% and 43.7% of MOTUs, respectively). In addition, fraction C of COI had between 9.2% (Cies) and 13.7% (Cabrera) of exclusive MOTUs, while these percentages were just 7.7% and 7.4%, respectively, in fraction C of 18S. Between ca. 20% and ca. 28% of MOTUs, depending on the gene and National Park considered, were found exclusively in the two smaller fractions (B and C).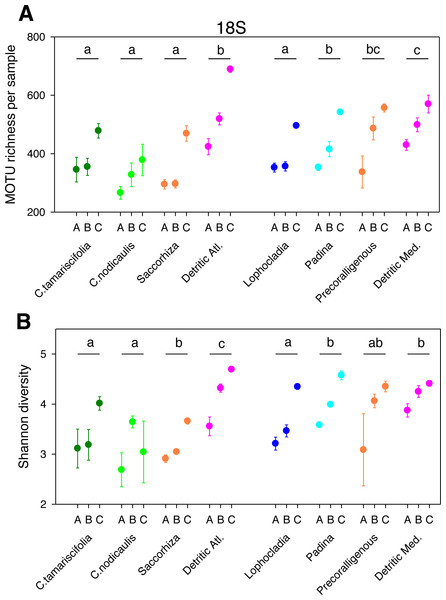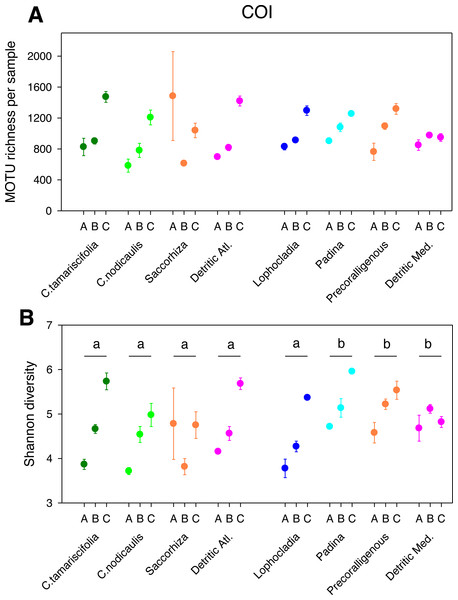 | | df | SS | MS | Pseudo-F | p-value | post-hoc test |
| --- | --- | --- | --- | --- | --- | --- |
| 18S MOTU richness | | | | | | |
| Site | 1 | 3.57E+04 | 3.57E+04 | 0.72305 | 0.432 | |
| Fraction | 2 | 3.54E+05 | 1.77E+05 | 43.712 | 0.001 | A   <  B  <  C |
| Site*fraction | 2 | 3,411.1 | 1,705.6 | 0.42163 | 0.634 | |
| Community (site) | 6 | 2.97E+05 | 49,539 | 15.711 | 0.001 | |
| Sample (community) | 16 | 50,559 | 3,160 | 1.6166 | 0.121 | |
| Residual | 31 | 60,594 | 1,954.6 | | | |
| 18S Shannon diversity | | | | | | |
| Site | 1 | 3.421 | 3.421 | 2.7364 | 0.134 | |
| Fraction | 2 | 8.9238 | 4.4619 | 17.815 | 0.002 | A <  B = C |
| Site*fraction | 2 | 0.13855 | 6.93E−02 | 0.27659 | 0.765 | |
| Community (site) | 6 | 3.0166 | 0.25138 | 2.154 | 0.045 | |
| Sample (community) | 16 | 5.078 | 0.31738 | 2.7195 | 0.007 | |
| Residual | 31 | 3.6178 | 0.1167 | | | |
| COI MOTU richness | | | | | | |
| Site | 1 | 18,869 | 18,869 | 0.41923 | 0.523 | |
| Fraction | 2 | 1.70E+06 | 8.51E+05 | 5.78E+00 | 0.026 | A = B < C |
| Site*fraction | 2 | 3.39E+05 | 1.70E+05 | 1.153 | 0.336 | |
| Community (site) | 6 | 2.65E+05 | 4.42E+04 | 1.0125 | 0.495 | |
| Sample (community) | 16 | 6.84E+05 | 4.28E+04 | 0.66873 | 0.864 | |
| Residual | 28 | 1.79E+06 | 6.39E+04 | | | |
| COI Shannon diversity | | | | | | |
| Site | 1 | 1.6876 | 1.6876 | 2.7634 | 0.117 | |
| Fraction | 2 | 11.172 | 5.5859 | 11.034 | 0.004 | A = B <  C |
| Site*fraction | 2 | 0.35745 | 0.17872 | 0.35305 | 0.702 | |
| Community (site) | 6 | 3.7634 | 0.62724 | 5.1615 | 0.004 | |
| Sample (community) | 16 | 1.881 | 0.11756 | 0.56391 | 0.892 | |
| Residual | 28 | 5.8373 | 0.20847 | | | |
Taxonomic assignment and database gaps
The number of sequences from different taxonomic groups included in the reference databases used for our analyses is summarized in Table S1. Although the total number of different reference sequences for COI is one order of magnitude higher than for 18S, some important taxonomic groups are remarkably absent from the COI reference database, such as Choanozoa, Foraminifera or several fungal phyla. Among groups with macro-organisms, the low representation of Viridiplantae in the COI database is noteworthy, while Chordata are poorly represented in the 18S database (1.3% of the total sequences vs 21.2% in COI).
The number of taxa identified at phylum or lower categories for both markers is shown in Fig. 4. A clear trend emerges: the lower the category, the less coincidence between the taxa found with both markers. Thus, at the phylum level, 90.0% of the phyla detected with COI were also recovered with 18S. The corresponding figures were 80.0% for class, 66.4% for order, 41.7% for family, 23.4% for genus, and 6.4% for species-level taxa. Moreover, 18S detected a higher number of taxa in the higher categories, but lower for genus and, particularly, species level (629 species were identified with COI vs only 376 with 18S).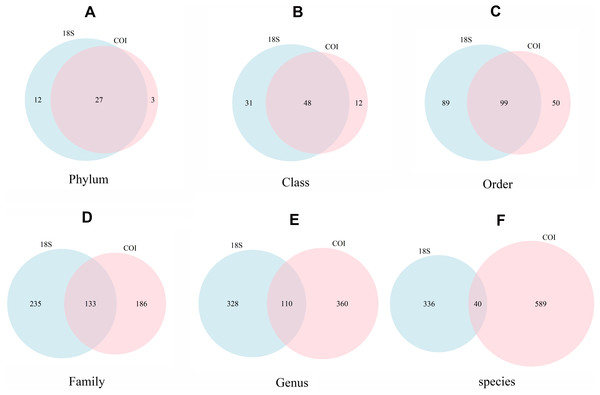 The numbers of MOTUs detected in the samples by phylum (Fig. 5) showed that both markers, COI and 18S, were able to detect those groups composed of medium- or big-sized organisms, such as major metazoan phyla or macroscopic seaweeds. The detection of groups comprising microscopic organisms was usually more reliable using 18S than COI. For example, 17 metazoan phyla could be detected in our samples using COI, while the 18S assignment detected these same 17 phyla plus the microscopic Kinorhyncha, Gastrotricha and Tardigrada. Due to remarkable gaps in the reference database (as seen in Table S1), our assignment procedure for COI was unable to identify any sequence from microscopic groups such as Apicomplexa, Apusozoa, Choanozoa, Heliozoa, Protalveolata or Rhizaria (including Foraminifera, Cercozoa and Radiozoa), which could be detected by 18S. However, COI was able to detect and distinguish a higher number of MOTUs than 18S for most macroscopic phyla. The pattern of abundances of MOTU identified at the different taxonomical levels shows that, in general, high-abundance MOTUs could be identified to the species level using COI, whereas they were often identified to higher taxonomic ranks using 18S (Fig. S3). Unassigned MOTUs are those with the least abundances, using either marker (Fig. S3).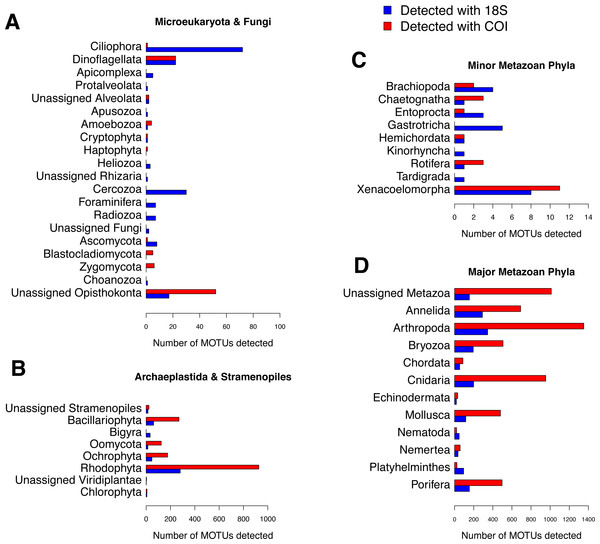 Patterns of MOTU abundance and β-diversity
The relative read abundances of major eukaryotic groups are presented in Fig. 6 for COI and 18S (the same information split by replicate samples is presented in Fig. S4). The rates of unassigned sequences were, in all cases, higher for COI than for 18S. The unassigned reads were in general most abundant in the smallest fraction (fraction C) of each community. Sequences identified as small Metazoa such as Annelida or Arthropoda were also clearly more abundant in the smallest fractions, whereas big macroscopic seaweeds such as Rhodophyta or Phaeophyceae tended to be dominant in the biggest fractions (A and B). Colonial and modular Metazoa such as Porifera, Cnidaria or Bryozoa were distributed across all fraction sizes. Although some differences may be observed between both markers (e.g.,: higher abundance of reads of Mollusca and Porifera from 18S and more reads of Arthropoda and Rhodophyta from COI), the overall patterns of read abundances were similar for 18S and COI. The three ecological replicates per community were also similar in composition (Fig. S4).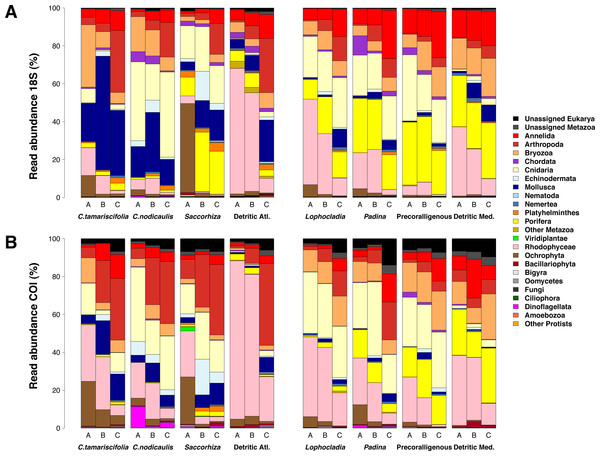 Figure 7 shows the number of MOTUs assigned to the different phyla for COI and 18S. Compared to the read abundances of Fig. 6, a higher percentage of unassigned MOTUs and a higher dominance of phyla comprising small organisms is apparent. The percentages of MOTUs assigned to microeukaryotes were notably higher for 18S than for COI: the sum of MOTUs assigned to ciliates, dinoflagellates, Bigyra and other protists accounted for 11.22% of assigned 18S MOTUs averaged over samples, while this sum was just 3.71% of the assigned COI MOTUs. The same happens with small-sized metazoans, for which the relative number of MOTUs assigned was higher for 18S (e.g., annelids 52% higher, nematodes 10 times higher, flatworms 12 times higher). In contrast, COI detected higher relative number of MOTUs per sample than 18S for large organisms such as rhodophytes (30.5% higher), ochrophytes (17.1% higher), cnidarians (63.7% higher), arthropods (23.8% higher), or mollusks (71.0% higher). Again, the three replicates per community showed a similar composition in terms of MOTU richness per phylum (Fig. S5).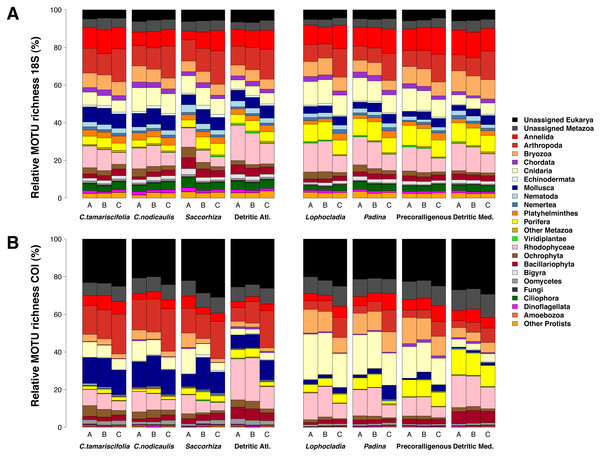 Differences between fractions were more evident in terms of read abundance than presence/absence of MOTUs (compare Figs. 6 and 7). The differences were also evident in the percentages of read abundances belonging to different ecological size-categories in the fractions (Fig. 8). Macroalgae were more abundant in fractions A and B, whereas meiofaunal reads were more abundant in fractions C in general. Reads of modular metazoans were more evenly distributed among the three fractions. Interestingly, most reads of microorganisms detected in fractions A and B of these littoral communities, belonged to Symbiodinium sp. or Amphidinium sp., dinoflagellates that are symbionts of macrofaunal anthozoans.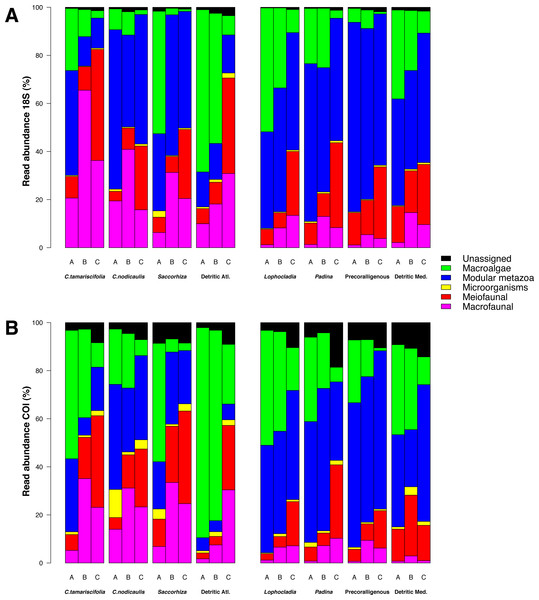 As for the samples used in the replicability analyses, pie charts representing the read abundances of major groups detected at the different levels of replication for both markers are shown in Fig. S6, which highlights the differences in the relative abundances of MOTUs among ecological replicates compared to extraction replicates and PCR replicates, with both markers. Bray–Curtis distances for 18S between three different extractions of the same samples were 0.241 ± 0.008 (mean ± SE), while between three PCR replicates of the same extraction were 0.184 ± 0.005. The values for COI were 0.190 ± 0.002 for extraction replicates and 0.258 ± 0.039 for PCR replicates. These distances were in all cases smaller than the ones found between the three samples (ecological replicates) collected in the same community (0.438  ± 0.028 for 18S, 0.396 ± 0.020 for COI). Thus, differentiation between technical replicates was on average half the one found between ecological replicates, indicating a good reproducibility of the method.
Non-metric multidimensional scaling (nmMDS) plots showing the ordination of the studied communities are shown in Fig. 9 for COI and 18S. Similar ordination patterns were recovered from both markers, and the two Bray–Curtis matrices (18S and COI) were highly correlated (Mantel test, r = 0.911, p < 0.001). Samples from the three fractions of each community grouped together, with overlap of the inertia ellipses in many cases. Samples from both photophilous atlantic communities clustered together, and the same applies to both photophilous mediterranean communities. On the other hand, mediterranean and atlantic samples appeared clearly separated along the first axis, and a gradient from shallower (well-lit photophilic communities) to deeper, sciaphilous and detritic communities was apparent along the second dimension.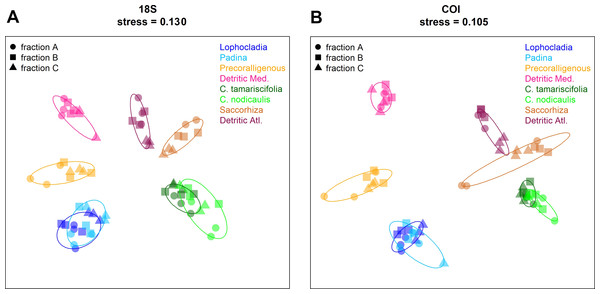 Discussion
The application of metabarcoding techniques to characterize marine hard bottom communities has been hindered by a lack of standardized methods for sample collection and treatment, the need of improved universal primers capable of amplifying the wide array of taxonomic groups present in these communities, and of bioinformatics procedures able to cope with the high degree of genetic diversity obtained. We think that the procedures presented here, which include extraction of DNA from separate size fractions, a novel set of highly degenerate primers for COI, and improved bioinformatics pipelines for data treatment, including new reference databases for eukaryotes, will help face the challenges related to metabarcoding of structurally complex hard-bottom communities. In this work, we tested this approach on the eukaryotic diversity present in eight ecologically diverse littoral hard-bottom and detritic communities. A similar procedure has already proven useful for detecting effects of three invasive algae on the small-sized organisms of littoral communities in a different set of samples (Wangensteen et al., 2018). We believe that our method can be applied, with the necessary adjustments, for biodiversity assessment in a wide array of marine, terrestrial or freshwater eukaryotic communities.
Conclusions
In this work we showed how complex communities on marine hard-bottoms featuring organisms of a wide range of sizes can be tractable with an adapted community-DNA metabarcoding approach. Size fractionation is highly advisable to adequately capture information for a range of body sizes spanning several orders of magnitude. We assayed a novel primer set for the amplification of the "Leray fragment" of COI, introducing more degenerate positions for increased universality, as shown in in silico tests. Results show that COI recovers four times more diversity (in MOTU richness) than sequences of the ribosomal 18S molecule (v7 region). Reference databases were generated from publicly available sequences, showing that significant gaps still prevent complete taxonomic assignment of the sequences. Notwithstanding, assigned (at the phylum or lower level) MOTUs represented >90% of reads for both markers. Our results show that marine metabarcoding, currently applied mostly to plankton or sediments, can be adapted to characterize the bewildering diversity of marine benthic communities dominated by macroscopic seaweeds and colonial or modular sessile metazoans. This expands the range of applications of this technique to ecosystems of enormous ecological and economic importance. At the same time, we have generated the first metabarcoding inventories for natural hard substrate communities, using Marine Protected Areas as our sampling settings, thus providing baseline information for future conservation-oriented research.