Phosphoproteomic insights into processes influenced by the kinase-like protein DIA1/C3orf58
Published

Accepted

Received
Academic Editor
Subject Areas

Keywords

Phosphoproteomics

,

Novel kinases

,

Signalling

,

Secretory pathway

,

Mass spectrometry
Copyright

©

2018

Hareza et al.

Licence

This is an open access article distributed under the terms of the Creative Commons Attribution License, which permits unrestricted use, distribution, reproduction and adaptation in any medium and for any purpose provided that it is properly attributed. For attribution, the original author(s), title, publication source (PeerJ) and either DOI or URL of the article must be cited.
Cite this article

2018

.

Phosphoproteomic insights into processes influenced by the kinase-like protein DIA1/C3orf58

.

PeerJ

6

:

e4599

https://doi.org/10.7717/peerj.4599
Abstract
Many kinases are still 'orphans,' which means knowledge about their substrates, and often also about the processes they regulate, is lacking. Here, DIA1/C3orf58, a member of a novel predicted kinase-like family, is shown to be present in the endoplasmic reticulum and to influence trafficking via the secretory pathway. Subsequently, DIA1 is subjected to phosphoproteomics analysis to cast light on its signalling pathways. A liquid chromatography–tandem mass spectrometry proteomic approach with phosphopeptide enrichment is applied to membrane fractions of DIA1-overexpressing and control HEK293T cells, and phosphosites dependent on the presence of DIA1 are elucidated. Most of these phosphosites belonged to CK2- and proline-directed kinase types. In parallel, the proteomics of proteins immunoprecipitated with DIA1 reported its probable interactors. This pilot study provides the basis for deeper studies of DIA1 signalling.
Introduction
Protein kinase-like (PKL) proteins are a very large group of signalling and biosynthetic enzymes, that regulate most cellular processes, for example cell cycle, response to stimuli, and proliferation, by phosphorylating various substrates (Cohen, 2002) and are common in all branches of the tree of life (Kannan et al., 2007; Oruganty et al., 2016). The human genome encodes more than 500 protein kinases (Manning et al., 2002), and these proteins are among the most popular drug targets (Eglen & Reisine, 2011). According to the Pfam database, the PKL 'clan,' defined by sequence and structure similarities reflecting common evolutionary origin, includes 35 protein families (Finn et al., 2016). Nevertheless, this number is still growing, as more families are found to possess PKL three-dimensional fold, for example FAM20C (Tagliabracci et al., 2012) and COTH (Nguyen et al., 2016), or are predicted to be PKL-like (Dudkiewicz et al., 2012). The PKL proteins are characterised by a well-conserved structural scaffold, which carries a strongly conserved active site (Cheek et al., 2005; Taylor & Radzio-Andzelm, 1994), although within the PKL clan, sequence similarities between some families are rather low. Notwithstanding the high level of interest in kinases, research effort has been strongly biased (Edwards et al., 2011; Manning, 2009) with approximately 10% of known human kinases yielding at least 90% of kinase-related publications (Edwards et al., 2011). An important fraction (approximately 10%) of the PKL superfamily are proteins termed pseudokinases. These are homologues of kinases that have lost catalytic function but often have retained important roles in signalling, for example as allosteric activators of active kinases (Jacobsen & Murphy, 2017).
Although protein kinases were originally believed to act intracellularly, secretory kinases form an emerging novel addition to the PKL world (Sreelatha, Kinch & Tagliabracci, 2015; Tagliabracci et al., 2012, 2015). In humans, the kinase-like proteins related to the secretory pathway are likely far from being fully catalogued. The now established atypical protein kinases, FAM20s, localised in the Golgi apparatus, are secreted and phosphorylate secretory pathway proteins (Ishikawa et al., 2008; Koike et al., 2009; Tagliabracci et al., 2012). Nevertheless, FAM20C is not the only secretory kinase in bone, an organ where secretion is very important (Yang et al., 2016) which suggested that generally more secretory kinases may be at play in humans. Another secretory protein kinase, the PKDCC, was characterised earlier (Bordoli et al., 2014). Accordingly, using bioinformatic approaches, we previously predicted that a group of five uncharacterised human secreted proteins and their Metazoan homologues, the FAM69/DIA1 family (Aziz, Harrop & Bishop, 2011; Tennant-Eyles et al., 2011), are distant homologues of protein kinases (Dudkiewicz, Lenart & Pawlowski, 2013). With the exception of the pseudokinase DIA1R these proteins have well-conserved active site motifs and likely do have kinase activity (Dudkiewicz, Lenart & Pawlowski, 2013).
According to the WiKinome classification (WiKinome, 2017), FAM69/DIA1 proteins belong to Kinase Family RESK (REmote Secreted Kinases) that also contains the PKDCC secretory kinase (Bordoli et al., 2014; Maddala, Skiba & Rao, 2016). The FAM69/DIA1 family is ubiquitous in Metazoa and is already present in sponges. The family has three main branches (FAM69, DIA1 and PKDCC) that were probably present in the common ancestor of Bilateria and Cnidaria (see Fig. 1).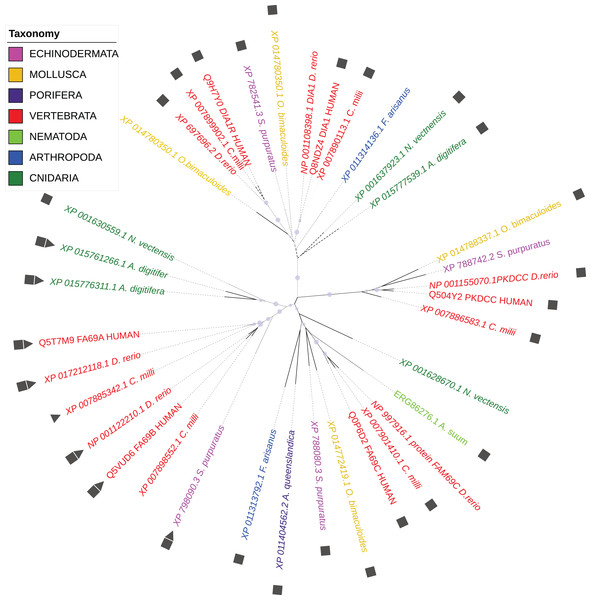 Here, we focus on DIA1, which is one of few uncharacterised predicted secretory kinases, and has been linked to autism (Morrow et al., 2008). The DIA1 protein (a.k.a. C3orf58, HASF, GoPro49, PIP49) has been previously shown to reside in the Golgi (Takatalo et al., 2008). DIA1 expression has been observed in cartilaginous mesenchymal tissues, regulated developmentally, with the highest expression seen in proliferating chondrocytes (Takatalo et al., 2008). Further, colocalisation with beta-coatomer protein has been observed, and is suggestive of a function in secretory processes (Takatalo et al., 2009). Then, characteristic expression of DIA1 has been observed in dental follicles, which may also suggest a role in secretion and trafficking (Takatalo et al., 2009). However, analysis of data deposited in the Allen Brain Atlas (Hawrylycz et al., 2012) indicates that DIA1 is also expressed in the brain tissue, including the hippocampus, olfactory bulb and cortex. Mass-spectrometry proteomic databases show relatively widespread expression of C3orf58 in the pancreas, adrenal gland, ovary and testis, lung, retina, placenta and platelets (Kim et al., 2014; Wilhelm et al., 2014).
The DIA1 protein has to date been studied experimentally without reference to the predicted kinase function. Evidence has been published for the role of DIA1 as a secreted paracrine factor in PKCε-mediated cytoprotection (Beigi et al., 2013; Huang et al., 2014; Miura, 2014), acting via interaction with the insulin-like growth factor 1 receptor (IGF1R) (Bareja et al., 2017). As discussed further below, these extracellular functions are quite intriguing, and may represent striking functional duality or growth-factor-like function for a kinase-like molecule.
Many uncharacterised proteins are ignored by biologists due to a lack of known or predicted molecular function (Pawlowski, 2008). Here, employing phosphoproteomics, a promising approach to elucidate effects of uncharacterised kinases (Amano et al., 2015), we present the first attempt to shed light on the molecular functions of one of the members of the novel FAM69 protein family in the context of the predicted kinase function. The main aims are to establish the secretory pathway localisation of DIA1 and to investigate the effects of its presence on membrane fraction phosphoproteome.
First, we verified the presence of DIA1 in the endoplasmic reticulum (ER) and Golgi, and using the RUSH system we provided evidence for a DIA1 role in secretory trafficking. Next, the phosphoproteome of membrane fractions of DIA1-overexpressing cells was compared with control cells with physiological levels of DIA1. We further investigated the interactome of DIA1. Finally, we related the phosphoproteomics results to protein functional relationship networks.
Materials and Methods
Antibodies
The following antibodies were used: rabbit anti-calnexin (2679; Cell Signaling Technology, Danvers, MA, USA), mouse anti-GM130 (610822; BD Biosciences, San Jose, CA, USA), mouse anti-E-cadherin (HECD-1 clone, 13-1700; ThermoFisher Scientific, Waltham, MA, USA), mouse anti-tubulin (T9026; Sigma-Aldrich, St. Louis, MO, USA), rabbit anti-histone 3 (H0164; Sigma-Aldrich, St. Louis, MO, USA), rabbit anti-DIA1/C3orf58 (ab103202; Abcam, Cambridge, UK), rat anti-HA (11867423001; Applied Science, Penzberg, Germany), anti-mouse, anti-rabbit, anti-rat antibodies conjugated with Alexa Fluor (Invitrogen, Carlsbad, CA, USA) or horseradish peroxidase (Jackson ImmunoResearch, West Grove, PA, USA).
Plasmids
Plasmid encoding human DIA1 cDNA was purchased from Source BioScience LifeSciences (IRAT Clone c3orf58; Nottingham, UK). pcDNA3-2HA plasmid was constructed based on pcDNA3 (ThermoFisher Scientific, Waltham, MA, USA) by inserting two repetitions of the HA sequence downstream of the multicloning site (a kind gift from Dr. Iwona Cymerman). pcDNA3Dia1HA was generated by subcloning PCR amplified human c3orf58 cDNA using IRAT Clone c3orf58 as a template to BamHI/EcoRI sites of pcDNA3-2HA. Str-li_VSVGwt-SBP-EGFP plasmid (a kind gift from Dr. Franck Perez, Boncompain et al., 2012; Addgene plasmid # 65300).
In vitro cell line culture and transfection
HEK293T cells (ATCC, Manassas, VA, USA) and HeLa cells (Sigma-Aldrich, St. Louis, MO, USA) were grown under standard culture conditions (Swiech et al., 2011; Perycz et al., 2011). The cells were transfected using polyethylenimine (23966; Polysciences, Inc., Warrington, PA, USA) 24–48 h before any further analysis.
Cell fractionation
Qproteome Cell Compartment kit (Qiagen, Redwood City, CA, USA) was used for subcellular fractionation. The collected fractions were analysed by standard Western blot protocol or by mass spectrometry.
Live-cell imaging and image analysis
Twenty-four hours after transfection, HeLa cells growing on glass coverslips were transferred into a low profile open bath chamber (RC-41LP; Warner Instruments, Hamden, CT, USA) filled with culture media. At time 0, D-biotin (40 μM final concentration; Sigma-Aldrich, St. Louis, MO, USA) was added to cells. The time-lapse acquisition was performed at 37 °C and 5% CO2 atmosphere using spinning-disk microscope (Andor Revolutions XD, Belfast, UK) equipped with 63× oil objective and a thermostat-controlled chamber. Cell images were acquired as Z-stacks once per minute for 1 h at 1,004 × 1,002 pixel resolution and next converted using a maximum intensity projection function. For all the scans, microscope settings were kept the same. Image analysis was conducted with ImageJ software (National Institutes of Health, Bethesda, MD, USA). Time-lapse images were aligned with the StackReg plug-in for ImageJ (Thevenaz, Ruttimann & Unser, 1998). Next, three different regions of interest of the same size comprising the Golgi complex (the position of the Golgi complex was obtained using later time points) were selected and the total fluorescence intensity was measured for each time point using the Time Series Analyzer V3 plug-in for ImageJ and normalised to the maximum value (1). To assess statistical significance, the Mann–Whitney test was used.
Immunofluorescence and imaging of immunofluorescently stained cells
For immunofluorescence staining, HeLa cells were fixed and immunofluorescently stained as described (Swiech et al., 2011). Images of stained cells were obtained using a Zeiss NLO 710 confocal microscope with a 40× oil objective (1,024 × 1,024 pixel resolution) as Z-stacks of the images (averaged twice per line) and next converted to single images with a maximum intensity projection function.
Immunoprecipitation
Twenty microliters of Pierce anti-HA Magnetic Beads (ThermoFisher Scientific, Waltham, MA, USA) were rinsed with lysis buffer (150 mM KCl, 20 mM HEPES–NaOH (pH 7.5), 0.3% CHAPS, protease and phosphatase inhibitors). Beads were incubated with cell lysate (800 μl, obtained from four million cells) from DIA1-HA expressing cells and from control cells for 45 min at 4 °C, and next were washed three times using 300 mM NaCl, 0.1% CHAPS, 20 mM HEPES–NaOH, pH 7.5 and finally resuspended in 25 mM HEPES (pH 7.5), 1 mM MnCl2, 10 mM MgCl2, 1 mM CaCl2, and 50 mM KCl. The experiment was repeated twice in pH 5 and twice in pH 7, thus four DIA1 and four control samples were available for liquid chromatography–tandem mass spectrometry (LC-MS/MS) experiments.
Proteomic sample preparation
For protein extraction, the methanol/chloroform method was used (Wessel & Flugge, 1984). Pellets were diluted in 6 μl 15% sodium deoxycholate and then 100 mM NH4HCO3 was added to obtain a final volume of 86 μl. TCEP (0.5 M) was added to a sample for a final concentration of 5 mM and incubated at 60 °C for 1 h. To block reduced cysteine residues, 200 mM MMTS at a final concentration of 10 mM was added and the sample was subjected to incubation at room temperature for 10 min. For digestion, trypsin (Promega, Madison, WI, USA) was added at a 1:20 v/v ratio and the sample was incubated at 37 °C overnight. Finally, trifluoroacetic acid was used to inactivate trypsin and remove sodium deoxycholate. Resulting peptides were analysed by LC-MS/MS for peptide identification or phosphopeptide enrichment.
Phosphopeptide enrichment with Ti-IMAC
For phosphopeptide enrichment, MagReSyn Ti-IMAC was used according to the Ti-IMAC manufacturer's protocol.
LC-MS/MS settings
Liquid chromatography–tandem mass spectrometry proteomic analyses of samples were performed with an LTQ-Orbitrap Elite mass spectrometer (ThermoFisher Scientific, Waltham, MA, USA) coupled with a nanoACQUITY (Waters Corporation, Milford, MA, USA) UPLC system. Measurements were conducted in positive polarity mode, with capillary voltage set to 2.5 kV. A sample was initially applied to the nanoACQUITY UPLC Trapping Column (Waters) while water containing 0.1% formic acid was used as a mobile phase. Then, the peptide mixture was transferred to a nanoACQUITY UPLC BEH C18 Column (75 μm inner diameter; 250 mm long; Waters), applying an acetonitrile gradient (5–35% acetonitrile over 160 min) in the presence of 0.1% formic acid with a flow rate of 250 nl/min. Peptides were eluted directly to the ion source of the mass spectrometer. Before each LC run, a blank run was performed to ensure no material was carried-over from a previous analysis.
Higher-energy Collisional Dissociation (HCD) fragmentation was applied. Up to 10 MS/MS events were allowed per MS scan. See the Supplemental Information for additional MS analysis parameters.
Qualitative MS data processing and database search
The raw data files acquired by MS and MS/MS were processed using MaxQuant software (version 1.5.8.3). The ion lists were searched against the SwissProt human database (20,274 sequences) using the Andromeda search engine (Cox et al., 2011). The search parameters were set as follows: enzyme—trypsin; fixed modifications—cysteine modification by MMTS; variable modifications—oxidation of methionine, phosphorylation of serine, threonine and tyrosine. Peptide mass tolerance was set to 40 ppm for recalibration and 5 ppm for the main search. The 'match between runs' option was used to transfer identifications to other LC-MS runs based on their masses and retention time with a maximum deviation of 0.7 min. Both proteins and peptides were identified with a false discovery rate (FDR) of 1%. The MaxQuant label-free algorithm was used for protein quantification in non-phospho-enriched samples.
Proteomics data
The mass spectrometry proteomics data have been deposited with the ProteomeXchange Consortium via the PRIDE (Vizcaino et al., 2016) partner repository with the dataset identifier PXD006831.
Bioinformatics
Statistical analysis of differences in proteome and phosphorylation state between six WT and six DIA1-transfected samples was performed in Perseus software (version 1.5.8.5) (Tyanova et al. 2016). MaxLFQ intensities of protein groups in non-phospho-enriched experiments and phosphosite intensities in enriched samples were further processed excluding peptide matches from decoy and contaminant databases. Additionally, for phospho-enriched samples, intensities of phosphorylation sites were subjected to statistical analysis if the localisation probability exceed 75%. For non-enriched membrane samples, proteins identified only by modification site were deleted from analysis. All values for each replicate were log2 transformed and normalised by median subtraction. Quantitative analysis was performed using the t-test with permutation-based FDR correction only for PTM sites or proteins identified in at least four out of six replicates in each group. Those differences with a FDR q-value less than 0.05 were considered statistically significant. Also, hits were selected as qualitative changes, if they were quantified in at least four samples of the six samples in one group and not detected in the other sample set.
For analysis of DIA1 interactors, four replicates from control and DIA1 groups were compared using the t-test in a similar manner as for non-phospho-enriched samples. In the interactome analysis, protein groups were subjected to quantitative analysis with the t-test if they were quantified in at least three samples in each group. Also, proteins were considered to significantly differ in abundance qualitatively, if they were quantified in at least three samples out of four in one group and not detected in the other sample set.
Functional analysis of lists of proteins was performed using the DAVID and Panther servers (Huang, Sherman & Lempicki, 2009; Mi et al., 2013). Overrepresentation of specific functional annotations within the lists was determined by Fisher's exact test as described previously (Welinder et al., 2017). Gene Ontology annotations, SwissProt keywords, and KEGG pathways were used as annotation terms for the enrichment analysis. For lists of proteins with significantly changed expression, the background protein sets consisted of all proteins detected. For visualisations, the Spotfire program was used (Tibco Software, Inc., Palo Alto, CA, USA).
Further functional analysis of the regulated phosphoproteins was conducted using Ingenuity Pathway Analysis (IPA) (Qiagen, Redwood City, CA, USA), in particular by generating networks of protein–protein relationships. As background, the set of all proteins detected in the experiment was used.
The KinomeXplorer toolset (Horn et al., 2014; Linding et al., 2008; Miller et al., 2008) was applied to predict likely kinases causing the observed phosphorylation changes. Two programs were used, NetPhorest, the atlas of consensus phosphorylation site sequence motifs, and NetworKin, which adds protein interaction information to improve NetPhorest predictions.
The PhosphoSitePlus database (Hornbeck et al., 2012, 2015) was used to relate the observed phosphosites to literature findings.
The GibbsCluster-2.0 Server was applied for clustering of phosphosite sequences. The regions surrounding the phosphorylated residue were considered (plus–minus three residues), and several desired numbers of clusters were tested (Andreatta, Alvarez & Nielsen, 2017).
For the phylogenetic tree, homologues of human FAM69A-C, DIA1, DIA1R and PKDCC proteins were identified for seven different taxonomy groups using classic blastp searches and multiple sequence alignment was built using the Promals3D server (Pei, Kim & Grishin, 2008). A maximum likelihood phylogenetic tree was constructed for whole aligned sequences, with the aLRT statistical test for branch support using the phyML method implemented in the phylogeny.fr server (Dereeper et al., 2008). EF-hand motifs in analysed sequences were identified using the ScanProsite tool (Gattiker, Gasteiger & Bairoch, 2002) while signal peptides were predicted using the SignalP program 3.0 (Bendtsen et al., 2004).
Conclusion
Only one in five known phosphosites are mapped to a kinase. Moreover, the potential regulatory functions of most phosphosites have not been revealed (Munk, Refsgaard & Olsen, 2016; Munk et al., 2016).
Here, we have shown in an in vitro model that the expression of the predicted kinase DIA1 is related to changes in many phosphosites in different cellular compartments. Although direct and indirect effects of DIA1 could not be separated in this study, it is likely that DIA1 positively regulates CK2 signalling and also signalling by a proline-directed kinase. It cannot be excluded that a different kinase with CK2-like consensus is involved, or that DIA1 itself has a CK2-like substrate motif. Nevertheless, the kinase activity of DIA1 still remains to be proven or disproven. The detailed elucidation of enzymatic or other activities of DIA1 and its signalling network will require further studies in different cellular systems.