The little shrimp that could: phylogeography of the circumtropical Stenopus hispidus (Crustacea: Decapoda), reveals divergent Atlantic and Pacific lineages
Published

Accepted

Received
Academic Editor
Subject Areas

Keywords

Coral reefs

, Cytochrome c oxidase subunit I,

Population structure

,

Cosmopolitan distribution

,

Marine biogeography
Copyright

©

2018

Dudoit et al.

Licence

This is an open access article distributed under the terms of the Creative Commons Attribution License, which permits unrestricted use, distribution, reproduction and adaptation in any medium and for any purpose provided that it is properly attributed. For attribution, the original author(s), title, publication source (PeerJ) and either DOI or URL of the article must be cited.
Cite this article

2018

. The little shrimp that could: phylogeography of the circumtropical Stenopus hispidus (Crustacea: Decapoda), reveals divergent Atlantic and Pacific lineages.

PeerJ

6

:

e4409

https://doi.org/10.7717/peerj.4409
Abstract
The banded coral shrimp, Stenopus hispidus (Crustacea: Decapoda: Stenopodidea) is a popular marine ornamental species with a circumtropical distribution. The planktonic larval stage lasts ∼120–253 days, indicating considerable dispersal potential, but few studies have investigated genetic connectivity on a global scale in marine invertebrates. To resolve patterns of divergence and phylogeography of S. hispidus, we surveyed 525 bp of mitochondrial cytochrome c oxidase subunit I (COI) from 198 individuals sampled at 10 locations across ∼27,000 km of the species range. Phylogenetic analyses reveal that S. hispidus has a Western Atlantic lineage and a widely distributed Indo-Pacific lineage, separated by sequence divergence of 2.1%. Genetic diversity is much higher in the Western Atlantic (h = 0.929; π = 0.004) relative to the Indo-Pacific (h = 0.105; π < 0.001), and coalescent analyses indicate that the Indo-Pacific population expanded more recently (95% HPD (highest posterior density) = 60,000–400,000 yr) than the Western Atlantic population (95% HPD = 300,000–760,000 yr). Divergence of the Western Atlantic and Pacific lineages is estimated at 710,000–1.8 million years ago, which does not readily align with commonly implicated colonization events between the ocean basins. The estimated age of populations contradicts the prevailing dispersal route for tropical marine biodiversity (Indo-Pacific to Atlantic) with the oldest and most diverse population in the Atlantic, and a recent population expansion with a single common haplotype shared throughout the vast Indian and Pacific oceans. In contrast to the circumtropical fishes, this diminutive reef shrimp challenges our understanding of conventional dispersal capabilities of marine species.
Introduction
Despite the seemingly broad continuity of the world's oceans, relatively few marine species achieve and maintain circumtropical distributions. To do so requires high dispersal potential to sustain gene flow across large geographic expanses, and a tolerance for a broad range of habitats and environmental conditions. In a recent survey of fishes, Gaither et al. (2015a) found that fewer than 1% have circumtropical distributions. Seventy percent of these cosmopolitan fishes are species that thrive in the relatively continuous, and comparatively environmentally stable habitat of the bathypelagic zone (>200 m depth). Many other circumtropical fishes are large pelagic species, such as billfishes, sharks, and tunas, with adult ranges spanning whole ocean basins and broad depth distributions (Castro et al., 2007; Collette et al., 2011). No parallel synthesis has been conducted for invertebrates, and the few examples of circumtropical invertebrates we found in the literature were either pelagic or mesopelagic species (e.g., Norris, 2000; Van der Spoel & Heyman, 1983), associated with open ocean currents (e.g., Trickey, Thiel & Waters, 2016; Willan, 1979), or fouling organisms of cryptogenic origin (e.g., Foster & Willan, 1979; Jones, 1992).
For benthic-associated taxa, there are additional challenges to maintaining a global distribution; only 7% (18 species) of the circumtropical fishes occupy shallow benthic habitats (Gaither et al., 2015a). Although impenetrable barriers to dispersal are relatively rare in the sea, there are eight major biogeographic barriers that limit most species' distributions in some portion of their range (Briggs, 1974; Briggs & Bowen, 2012; Toonen et al., 2016). All of the tropical barriers interrupt benthic habitat continuity, whether through sharp oceanographic or ecological gradients (Amazon River, Benguela Current, and Red Sea Barriers), vast expanses of open ocean lacking shallow water habitat (East Pacific and Mid-Atlantic Barriers), or temporal changes in terrestrial habitat emergence due to fluctuations in ocean depth (Isthmus of Panama, Red Sea, and Sunda Shelf Barriers; see Fig. 1 in Toonen et al., 2016). These barriers often form the range edges for sister species that diverged in allopatry (e.g., Barber et al., 2000; Bernardi, Findley & Rocha-Olivares, 2003; Bowen et al., 2016; Briggs, 1973; Cowman & Bellwood, 2013a; DiBattista et al., 2013; Floeter et al., 2008; Gaither et al., 2010; Hodge & Bellwood, 2016; Marko, 2002; Mayr, 1954; Rocha, 2003). In addition to these historical biogeographic barriers, present day environmental gradients, habitat availability, and intrinsic biological traits have all contributed to the distribution of marine fauna. These biogeographic provinces, defined as areas where >10% of the species are endemic (Briggs, 1974), have been formulated, revised, and studied for more than a century (reviewed by Briggs & Bowen, 2012; Toonen et al., 2016). Each provincial region hosts recent evolutionary innovation and/or relictual ranges of ancient lineages (Cowman & Bellwood, 2013b). These provincial frameworks have been refined over time, due to the continuing accrual of species distribution data, and more recently, molecular techniques that have redefined some species complexes (e.g., Bowen, Karl & Pfeiler, 2007; Durand et al., 2012; Forsman et al., 2015), including pelagic and bathypelagic taxa (Andrews et al., 2014; Goetze, 2003; Hirai, Tsuda & Goetze, 2015; Miya & Nishida, 1997). Additional biogeographic frameworks based on species presence/absence data (Kulbicki et al., 2013), coral biogeography (Veron et al., 2015), and nested marine ecoregions (Spalding et al., 2007) have enabled the testing of hypotheses regarding the origin and diversification of marine species (e.g., Cowman et al., 2017).
The accumulation of molecular data from a diversity of taxa has advanced the longstanding goal of understanding whether and where concordance exists between population separations within species, interspecific species divergences, and biogeographic barriers in the sea (Bowen et al., 2016; Karl & Avise, 1992; Lessios et al., 1999; Palumbi, 1996). Comparative molecular approaches using multiple taxa have demonstrated concordance, for example, across the Red Sea Barrier (DiBattista et al., 2013), the Indo-Pacific Barrier (Gaither & Rocha, 2013), the East Pacific Barrier (Lessios & Robertson, 2006), and the Benguela Barrier (Teske et al., 2011), in addition to elucidating shared population boundaries within single biogeographic provinces (e.g., Barber et al., 2011; DiBattista et al., 2017; Pope et al., 2015; Toonen et al., 2011). The comparative approach has also enabled the deciphering of probable mechanisms of differentiation across individual biogeographic barriers and within provincial regions (e.g., Hickerson, Meyer & Moritz, 2006; Keith et al., 2015; Luiz et al., 2012; Selkoe et al., 2014). However, while many marine species range edges are clustered around biogeographic barriers, and some span at least one or more barriers, relatively few species cross multiple boundaries without divergence, and molecular surveys of these broadly distributed benthic coral reef taxa have been relatively rare (Keyse et al., 2014). Coral reef species that span more than two biogeographic barriers often reveal population genetic separations at these barriers (Bowen et al., 2016; Iacchei et al., 2016). Although still few in number, these results generally support concordance between intraspecific and interspecific divergences, and affirm that population separations can be a starting point for speciation (Bowen et al., 2013; Bowen et al., 2016). Targeting additional species with maximal range sizes, and in particular those that span multiple ocean basins, may illuminate the factors that define species distributions and the strength and pervasiveness of biogeographic barriers. One approach is to investigate species that somehow extend across multiple biogeographic provinces compared to closely related species that do not.
Here we investigate the phylogeography of the banded coral shrimp Stenopus hispidus (Olivier, 1811) to examine the influence of biogeographic boundaries on this circumtropical species. Within the genus Stenopus (family Stenopodidae), there are 11 species, 10 of which are range-limited by biogeographic barriers. However, the family Stenopodidae is an understudied group without a detailed phylogenetic analysis of the current taxonomy. A recent phylogeny indicates that the family is non-monophyletic, and that Stenopus is a polyphyletic genus, with at least two species, S. earlei and S. goyi, likely to be reclassified into Juxtastenopus (Chen et al., 2016). Regardless of generic rearrangements, among currently recognized species of Stenopodidae, only the banded coral shrimp S. hispidus inhabits tropical coral reefs throughout the Pacific, Indian, and Atlantic Oceans (Fig. 1). This distribution crosses three of the most substantial biogeographic barriers on the planet: the Sunda Shelf Barrier (Briggs, 1974), the break between the Red Sea and the Indian Ocean (DiBattista et al., 2013; DiBattista et al., 2016; Klausewitz, 1989), and the cold-upwelling Benguela Current along the South-West coast of Africa (Garzoli & Gordon, 1996; Hutchings et al., 2009). A broad depth range (1–210 m; Limbaugh, Pederson & Chace, 1961), generalist habitat, and long pelagic larval duration (PLD) (∼253 days; De Castro & Jory, 1983; Goy, 1990) have all been hypothesized as potential life history characteristics enabling the extensive distribution of S. hispidus. To date, however, no studies have examined the phylogeography of this species to test whether S. hispidus maintains a single global population, or if major biogeographic barriers limit gene flow. Here, we present the first phylogeographic study of this species, to investigate whether biogeographic barriers that limit the distribution of congeneric species also act as barriers to gene flow in S. hispidus.

Results
Phylogenetic analysis
We resolved a 525 bp fragment of COI for 198 individuals at 10 locations across the circumtropical species range. Phylogenetic analyses revealed two lineages that corresponded to a Western Atlantic lineage observed at Curaçao, Belize, and Panama and an Indo-Pacific lineage consisting of all sample sites in the Pacific Ocean, Red Sea and Indian Ocean (Bayesian posterior probability = 1.0; ML bootstrap = 93; NJ = 95) (Fig. 2). The average proportion of nucleotide substitutions per site between lineages was d = 2.1% (Fig. 3). Coalescent analysis indicated the TMRCA for the S. hispidus lineage to be 1.2 Mya (95% HPD = 710,000–1.8 Mya). The TMRCA for the Western Atlantic lineage was ∼500,000 years (95% HPD = 300,000–760,000 yrs), while the Indo-Pacific lineage was ∼200,000 years (95% HPD = 60,000–400,000 yrs).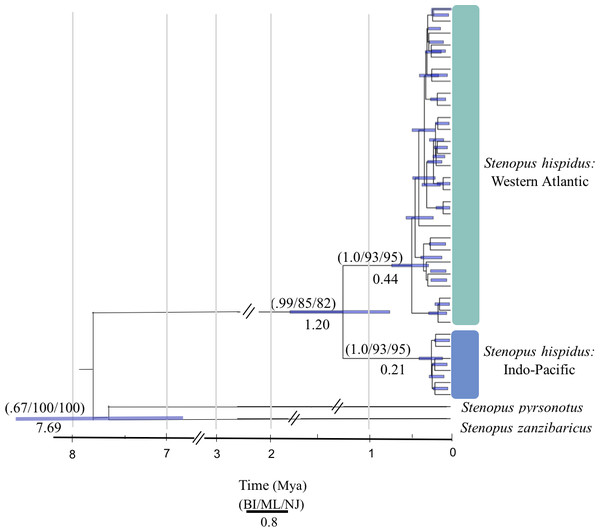 Phylogeographic analyses
Molecular indices are summarized in Table 1. We observed a total of 33 distinct haplotypes, with only six haplotypes found in the Indo-Pacific, despite more extensive sampling, and 27 haplotypes in the Western Atlantic (Table 1, Fig. 3). The Western Atlantic and Indo-Pacific shared no haplotypes, with the two closest haplotypes between these ocean basins separated by nine mutations, compared to five mutations across the entire Indo-Pacific (Fig. 3). Mean haplotype diversity (h) was 0.547 with a range from 0.055 to 0.962 (Table 1). Mean nucleotide diversity (π) was 0.005 with a range from <0.001 to 0.006 (Table 1). Genetic diversity was highest in the Western Atlantic (h = 0.929 and π = 0.005, with much lower diversity detected in the Indo-Pacific (h = 0.165 and π < 0.001) (Table 1). If we subdivide the Indo-Pacific by region, the Pacific Ocean had the lowest diversity (h = 0.048; π < 0.001; N = 124) and the Red Sea and Indian Ocean had the highest diversity (h = 0.385; π < 0.001; N = 24) (Table 1).
| Sample location | n | Nh | ps | h | π | Heff |
| --- | --- | --- | --- | --- | --- | --- |
| Pacific ocean | | | | | | |
| Hawai'i | 72 | 3 | 2 | 0.055 | <0.001 | 1.058 |
| Palmyra Atoll | 36 | 2 | 1 | 0.056 | <0.001 | 1.059 |
| French Polynesia | 13 | 1 | – | – | – | |
| Philippines | 3 | 1 | – | – | – | |
| Indian ocean | | | | | | |
| Maldives | 1 | 1 | – | – | – | |
| Tanzania | 1 | 1 | – | – | – | |
| Red sea | | | | | | |
| Gulf of Aqaba | 22 | 3 | 2 | 0.385 | <0.001 | 1.626 |
| Western Atlantic | | | | | | |
| Curaçao | 21 | 15 | 17 | 0.962 | 0.005 | 26.316 |
| Belize | 6 | 5 | 7 | 0.933 | 0.006 | 14.925 |
| Panama | 23 | 14 | 14 | 0.881 | 0.005 | 8.403 |
| Western Atlantic | 50 | 27 | 38 | 0.929 | 0.005 | 13.889 |
| Indo-Pacific | 148 | 6 | 5 | 0.165 | <0.001 | 1.198 |
| All samples | 198 | 33 | 43 | 0.547 | 0.005 | 2.205 |
Global population structure was ΦST = 0.868 (P < 0.001). A regional analysis of molecular variance (AMOVA) indicates significant genetic differentiation among the Red Sea/Indian, Pacific, and Western Atlantic Ocean Basins (ΦCT = 0.905; P = 0.008; Table 2). There were significant pairwise ΦST values between sampling locations in the Western Atlantic and the Indo-Pacific Oceans (ΦST = 0.859–0.976; P < 0.001 for all comparisons; Table 3). After correcting for false discovery rate, all pairwise comparisons remained significant (Table 3). Isolation by distance (IBD) was significant among ocean basins for the log–log transformed (R2 = 0.089, P = 0.03) data; however, we did not have enough sampling locations to test within ocean basins.
Among groups
Among regions
ΦCT
P
% of variation
d.f.
SS
Var
RS/IO vs. PO
0.235
0.029
23.46
1
0.599
0.015
RS/IO and PO vs. WAO
0.930
0.008
93.05
1
368.088
4.916
RS/IO vs. PO vs. WAO
0.905
0.008
90.51
2
368.687
3.505
Sample location
Indo-Pacific
Western Atlantic
Hawai'i
Palmyra Atoll
French Polynesia
Red Sea
Curaçao
Belize
Panama
Indo-Pacific
Hawai'i
–
0.561
0.999
0.001
<0.001
<0.001
<0.001
Palmyra Atoll
0.000
–
0.999
0.009
<0.001
<0.001
<0.001
French Polynesia
−0.039
−0.035
–
0.272
<0.001
<0.001
<0.001
Red Sea
0.189
0.135
0.070
–
<0.001
<0.001
<0.001
Western Atlantic
Curaçao
0.942
0.910
0.859
0.871
–
0.206
0.300
Belize
0.976
0.959
0.917
0.917
0.030
–
0.059
Panama
0.942
0.911
0.863
0.874
0.006
0.083
–
Discussion
Our phylogeographic survey of the circumtropical banded coral shrimp, Stenopus hispidus reveals two divergent and reciprocally monophyletic mitochondrial lineages: a diverse lineage in the Western Atlantic and a depauperate Indo-Pacific lineage, predominated by a single common haplotype observed at every sample site throughout the Indo-Pacific and Red Sea. As expected for reciprocally monophyletic lineages, genetic structure was high between the Western Atlantic and any site in the Indo-Pacific, with ΦST values ranging from 0.859 to 0.976 (Table 3). The high genetic structure and reciprocal monophyly together indicate a prolonged period with no gene flow between these ocean basins, and this inference is further supported by our TMRCA dates (Fig. 2). Below we discuss evidence for the distinction of the Atlantic and Pacific lineages, and potential historical scenarios that could have led to their divergence.
Conclusions
Here, we provide the first range-wide phylogeographic study of the banded coral shrimp S. hispidus, extending across more than 27,000 km of the globe. Despite having a circumtropical distribution and a ∼253 day PLD, one of the longest mean larval durations in the marine realm, our data shows that gene flow is not sufficient to homogenize populations across the known species range. The recovery of two distinct lineages in the Western Atlantic and Indo-Pacific calls into question whether populations in these ocean basins are in fact a single taxonomic unit. Coalescence estimates indicate the closure of the Isthmus of Panama predated the divergence between extant lineages in the Western Atlantic and Indo-Pacific by more than a million years, eliminating closure of the Isthmus as a likely isolating mechanism. Although no explanation for the observed pattern is entirely satisfactory, the weight of available evidence points to the Indo-Pacific lineage arising by a rare dispersal event from the Atlantic around South Africa via the Benguela Current, thereby colonizing the Indian and Pacific Oceans, followed by dispersal across the Indo-Pacific in the last 200,000 years. Surprisingly, this benthic coral reef associated shrimp shows a single haplotype dominating the largest continuous tropical oceanic expanse on the planet—a result not seen in any other globally distributed marine species, including such highly mobile species as whale sharks and tunas (Theisen et al., 2008). This surprising finding challenges our understanding of the genetic architecture for species with high pelagic dispersal potential and circumtropical distributions. Further taxonomic and geographic sampling, particularly across the Red Sea, Indian and Eastern Atlantic Oceans, and inclusion of many additional loci to these comparisons may shed new light on this unexpected finding. From the present study, we know this is the little shrimp that could defy expectations, by apparently colonizing against the Benguela Current, and dispersing across an Indo-Pacific range that spans more than half the planet.
Supplemental Information
A Bayesian time-calibrated phylogeny of Stenopus hispidus
A Bayesian time-calibrated phylogeny based on the cytochrome c oxidase subunit I (COI) of Stenopus hispidus with sister species (S. pyrsonotus, S. zanzibaricus, S. scutellatus) and sister genera (Synalpheus sp. and Alpheus bellulus) as outgroups (Shi et al., 2012) (525 bp) was generated using BEAST. The Western Atlantic lineage of S. hispidus is shown in green (N = 50; Curaçao, Belize, and Panama). The Indo-Pacific lineage of S. hispidus is shown in blue (N = 148; Hawai'i, Palmyra Atoll, French Polynesia, Philippines, Maldives, Tanzania, and the Red Sea). Values above nodes are median node ages with 95% HPD intervals represented by blue node bars.
A Bayesian Skyline Plot
(A) The Western Atlantic shows a relatively stable population whereas the (B) Overall Dataset with the Pacific population included shows evidence of a recent population expansion.
Unique sequences of Stenopus hispidus
FASTA file of unique sequences for Stenopus hispidus.