Evolutionary persistence in Gunnera and the contribution of southern plant groups to the tropical Andes biodiversity hotspot
Published

Accepted

Received
Academic Editor
Subject Areas

Keywords

Diversification

,

Climate change

,

Biogeography

,

Neotropics

,

Gondwana

,

Species longevity
Copyright

©

2018

Bacon et al.

Licence

This is an open access article distributed under the terms of the Creative Commons Attribution License, which permits unrestricted use, distribution, reproduction and adaptation in any medium and for any purpose provided that it is properly attributed. For attribution, the original author(s), title, publication source (PeerJ) and either DOI or URL of the article must be cited.
Cite this article

2018

. Evolutionary persistence in Gunnera and the contribution of southern plant groups to the tropical Andes biodiversity hotspot.

PeerJ

6

:

e4388

https://doi.org/10.7717/peerj.4388
Abstract
Several studies have demonstrated the contribution of northern immigrants to the flora of the tropical Andes—the world's richest and most diverse biodiversity hotspot. However, much less is known about the biogeographic history and diversification of Andean groups with southern origins, although it has been suggested that northern and southern groups have contributed roughly equally to the high Andean (i.e., páramo) flora. Here we infer the evolutionary history of the southern hemisphere plant genus Gunnera, a lineage with a rich fossil history and an important ecological role as an early colonising species characteristic of wet, montane environments. Our results show striking contrasts in species diversification, where some species may have persisted for some 90 million years, and whereas others date to less than 2 Ma since origination. The outstanding longevity of the group is likely linked to a high degree of niche conservatism across its highly disjunct range, whereby Gunnera tracks damp and boggy soils in cool habitats. Colonisation of the northern Andes is related to Quaternary climate change, with subsequent rapid diversification appearing to be driven by their ability to take advantage of environmental opportunities. This study demonstrates the composite origin of a mega-diverse biota.
Introduction
Among the 34 biodiversity hotspots currently recognized, the tropical Andes is the richest and most diverse, comprising some 30,000 plant species (Myers et al., 2000). This equates to nearly a tenth of the world's flora contained in less than one per cent of its land area. The tropical Andean hotspot, which stretches from western Venezuela to northern Chile and Argentina, constitutes an ideal arena for investigating the role of historical migrations in generating the exceptional plant species diversity found in the American tropics (the Neotropics).
Most evolutionary models proposed to explain Neotropical diversity (Antonelli & Sanmartín, 2011b; Rull, 2011) postulate a major role for in situ diversification, e.g., in Amazonia (e.g., Haffer, 1969; Smith et al., 2014, but see Dexter et al., 2017) and the Andes (Gentry, 1982; Luebert & Weigend, 2014). The relative contribution of immigrant lineages to modern Neotropical diversity is less understood, but has certainly played an important role (Villagrán & Hinojosa, 1997). For example, northern immigrants contributed more to the species diversity of the high elevation Andean páramo than southern immigrants (e.g., Sklenář, Dušková & Balslev, 2011). The contribution of immigrant taxa to modern Neotropical diversity may be primarily explained by either continuous range expansions from neighboring regions or long-distance dispersal, both from what today are temperate lineages into tropical latitudes (often facilitated by climatic change and mountain building), and from other trans-oceanic tropical regions (Antonelli et al., 2015). Modern distributions reflect ancestral ecological requirements (niche conservatism; Wiens et al., 2010), but they also are affected by biome shifts, such as adaptation of cool temperate immigrants into cold tropical areas (Donoghue & Edwards, 2014). More rarely, migration events can also be directly associated with physiological adaptations intro new environments (Crisp et al., 2009; Simon et al., 2009).
One of the characteristic elements of the Andes is the plant genus Gunnera (Gunneraceae; Fig. S1). Although eleven Gunnera species are reported in the páramo (Luteyn, 1999), most of these are found in montane forests and only one is a strict páramo species, G. magellanica—which is also found in the southern temperate Andes in wet habitats both below and above treeline (Sklenář, Dušková & Balslev, 2011). Gunnera has been present in montane forests since at least the Middle Pliocene in Colombia (Hooghiemstra, Wijninga & Cleef, 2006). In comparison to páramo species from southern regions, fewer montane forest species, such as Gunnera, have successfully colonised the northern Andes (Wanntorp & Wanntorp, 2003).
Gunnera includes 58 species primarily of the Southern Hemisphere (Africa, New Zealand, South America, and Tasmania), but also reaches Hawaii, Mexico, and Southeast Asia (Fig. 1; Table S1; Bader, 1961; Mora-Osejo, Pabón-Mora & González, 2011). Despite this wide geographical distribution encompassing all southern continents apart from Antarctica, the majority of extant species of Gunnera (up to 40 species in subgenus Panke) are distributed in Central and South America (Mora-Osejo, Pabón-Mora & González, 2011), most of them within the northern Andean biodiversity hotspot. However, Gunnera had an even wider geographic distribution during the Cretaceous, as demonstrated by numerous fossil pollen records from the Antarctic Peninsula, Australia, the Kerguelen Plateau, as well as in both North and South America (Jarzen, 1980). The oldest of these dates to the Turonian (ca. 90 Ma) of Peru (Brenner, 1968) and ten million years later Gunnera became widespread across all landmasses that previously formed Gondwana (Jarzen, 1980). Initial evidence suggested that biogeographic patterns in Gunnera are in agreement with the sequence of Gondwanan break-up, prompting Wanntorp & Wanntorp (2003) to suggest a Gondwanan origin for the genus and vicariance by continental drift as a plausible hypothesis to explain the present-day distribution of most species in the genus. However, these conclusions involved neither formal ancestral area reconstruction nor molecular dating. The study also did not explicitly investigate the biogeographical history of the Andean species comprising subgenus Panke.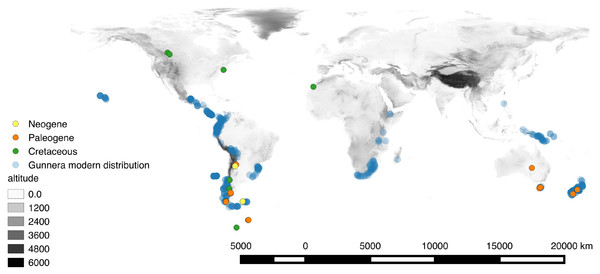 The current widespread distribution of Gunnera, its rich fossil record and the many still unanswered questions regarding its biogeographic history all make Gunnera an ideal target for investigating the role of southern immigrants in the assembly of the flora of the Andean biodiversity hotspot. Here we infer the biogeographic, climatic, and evolutionary history of Gunnera to explicitly address the following questions: Where did Gunnera most likely originate? How and when did it attain its current distribution? When did it colonise the northern Andes where it is most diverse? Are areas of high diversity in the genus associated with higher rates of net diversification, or is diversity instead due to gradual accumulation of species? To what extent have species of Gunnera tracked the ancestral climatic niche? We also compare Gunnera with other Andean groups. Our study sheds further light on the geographical and temporal origins and composition of the highly diverse Andean flora.
Results
Multispecies coalescent tree
The multispecies coalescent tree reconstructed here is consistent with the topology of the maximum parsimony tree based on molecular and morphological data of Wanntorp & Wanntorp (2003). All major clades were resolved with moderate to high support (>0.80 posterior probabilities; Fig. 2), but some recent species-level relationships received poor branch support.
Wide time intervals (95% highest posterior density, HPD, values) were inferred for early nodes on the phylogeny (Nodes I and III, Fig. 2) but more recent nodes had little variation around the mean inferred age (e.g., Nodes VI and VII, Fig. 2). Overall the crown node of Gunnera was inferred at a mean age of 90 Ma (95% HPD 165–40 Ma). Following the origin and diversification of the genus in the Late Cretaceous, the two major clades of Gunnera originated between 31 (46–17 Ma, Node III, Fig. 2) and 10 Ma (15–5 Ma, Node II, Fig. 2). Contrasting results were resolved with regard to the time of origin of species, where Gunnera herteri had a mean age of 90 Ma and many others, particularly the Andean species, are younger than 2 Ma (Fig. 2)
Biogeographic and diversification history
The BioGeoBEARS analysis resulted in broadly distributed ancestral nodes at the backbone of the tree, reflected in the uncertainty in ancestral range (distributions with <5% probability of occurrence combined are the white portions in pie charts; Fig. 2). Despite this, internal nodes ca. 12 Ma and younger were inferred with less ambiguity in ancestral area. These results reveal an ancient lineage that began extending its distribution significantly as of the Oligocene (ca. 30 Ma; node III; Fig. 2). BioGeoBEARS results show ambiguity in the biogeographic origin of the genus (node I; Fig. 2), but early lineages were distributed in the Southern Hemisphere (areas C, G, I).
Results from the BAMM diversification rate through time analysis shows that diversification in Gunnera generally increased over the last ca. 20 Ma (Fig. 3). However, this increase is almost exclusively due to the Pliocene diversification of the Panke clade, when the genus colonized the Andes. This is shown by a significant increase in net diversification rate in the Panke clade, either at its crown (Node VI, probability of 25%) or at its stem (Node V, probability of 22%). The highest rates of diversification were found during the Pleistocene in the Panke clade for the lineage distributed in the northern Andes.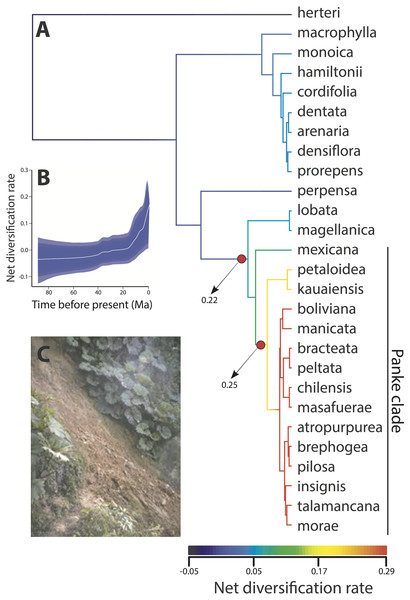 Climatic niches and history
Extant species of Gunnera are inferred to occupy cool (microthermal) and moderate (mesothermal) climatic conditions according to the classification of Nix (1991), with a Wmean for mean annual temperature (MAT) ranging from 6.4°–20.3 °C and a Wmean mean annual precipitation (MAP) ranging from 813–3,588 mm (Fig. S2; Table S2). Microthermal species are distributed mainly in temperate latitudes of the Southern Hemisphere, with the exception of G. talamancana, which is found at high altitudes (1,900–3,400 m) in Central America (Mora-Osejo, Pabón-Mora & González, 2011). Mesothermal species are distributed in tropical latitudes in South and Central America, Hawaii, New Guinea, and Africa, with the exception of G. arenaria that occurs in temperate areas in New Zealand.
According to the estimation of ancestral climatic variables, the most recent common ancestor (MRCA) of Gunnera lived under a mesothermal climate sensu Nix (1991), with a MAT of 15.3 °C and MAP of 1,577 mm. Phylogenetic signal using Pagel λ was detected for MAT (λ = 0.93) and mean temperature of coldest quarter (BIO11; λ = 0.92) and precipitation of wettest quarter (BIO16; λ = 1) and precipitation of warmest quarter (BIO18; λ = 0.93; Table S3). w AIC analyses showed that the evolution of the climatic niche is best described by the OU model, suggesting that selection pulls the climatic values toward an optimum. Minimum temperature of coldest month (Bio 6) and mean annual precipitation (Bio 12) showed no difference from a white noise model of evolution, indicating that these variables are independent of phylogenetic relationships in Gunnera species (Table S3).
Discussion
Based on the divergence times and relationships of the Gunnera multispecies coalescent tree, we examined the contribution of a southern hemisphere taxon to the mega-diverse tropical Andean flora of South America. Our results show the tempo of range expansion and lineage diversification.
Conclusions
For many decades Gunnera has attracted the attention of botanists and biogeographers concerned with southern hemisphere disjunctions and the break-up of Gondwana. Here we have shown that it also constitutes a model taxon to study biogeography in general, as well as the colonisation and diversification of southern elements in the tropical Andes in particular. The extraordinary species longevity inferred here for species in Southeast Asia, Africa and eastern Brazil—ca. 90 Ma according to our results—is most likely due to climatic, and potentially morphological, conservatism despite the massive geotectonic and climatic changes that took place during its history. In contrast, the recent and rapid diversification of Andean lineages could be explained by the massive increase in the area of suitable habitats and opportunities for allopatric speciation, as a consequence of the Andean uplift and late Neogene climatic changes. Understanding the evolution of Andean mega-diversity thus requires identifying and tracing the diversification of southern, northern and locally derived taxa.