Differential gene expression during early development in recently evolved and sympatric Arctic charr morphs
Published

Accepted

Received
Academic Editor
Subject Areas

Keywords

Divergence

,

Salmonid

,

Transcriptome

,

Evolution

,

Lake Thingvallavatn

, Salvelinus alpinus,

3′-bias

,

RNA sequencing
Copyright

©

2018

Guðbrandsson et al.

Licence

This is an open access article distributed under the terms of the Creative Commons Attribution License, which permits unrestricted use, distribution, reproduction and adaptation in any medium and for any purpose provided that it is properly attributed. For attribution, the original author(s), title, publication source (PeerJ) and either DOI or URL of the article must be cited.
Cite this article

2018

.

Differential gene expression during early development in recently evolved and sympatric Arctic charr morphs

.

PeerJ

6

:

e4345

https://doi.org/10.7717/peerj.4345
Abstract
Phenotypic differences between closely related taxa or populations can arise through genetic variation or be environmentally induced, leading to altered transcription of genes during development. Comparative developmental studies of closely related species or variable populations within species can help to elucidate the molecular mechanisms related to evolutionary divergence and speciation. Studies of Arctic charr (Salvelinus alpinus) and related salmonids have revealed considerable phenotypic variation among populations and in Arctic charr many cases of extensive variation within lakes (resource polymorphism) have been recorded. One example is the four Arctic charr morphs in the ∼10,000 year old Lake Thingvallavatn, which differ in numerous morphological and life history traits. We set out to investigate the molecular and developmental roots of this polymorphism by studying gene expression in embryos of three of the morphs reared in a common garden set-up. We performed RNA-sequencing, de-novo transcriptome assembly and compared gene expression among morphs during an important timeframe in early development, i.e., preceding the formation of key trophic structures. Expectedly, developmental time was the predominant explanatory variable. As the data were affected by some form of RNA-degradation even though all samples passed quality control testing, an estimate of 3′-bias was the second most common explanatory variable. Importantly, morph, both as an independent variable and as interaction with developmental time, affected the expression of numerous transcripts. Transcripts with morph effect, separated the three morphs at the expression level, with the two benthic morphs being more similar. However, Gene Ontology analyses did not reveal clear functional enrichment of transcripts between groups. Verification via qPCR confirmed differential expression of several genes between the morphs, including regulatory genes such as AT-Rich Interaction Domain 4A (arid4a) and translin (tsn). The data are consistent with a scenario where genetic divergence has contributed to differential expression of multiple genes and systems during early development of these sympatric Arctic charr morphs.
Introduction
Phenotypic diversity provides the raw material for evolution and is influenced by variation in gene expression during development and the lifespan of individuals. Variation in gene expression is both influenced by genetics (Jin et al., 2001; Oleksiak, Churchill & Crawford, 2002) and environmental factors (Giger et al., 2006; Danzmann et al., 2016). Gene expression can change because of neutral evolution, as well as positive and purifying selection (Romero, Ruvinsky & Gilad, 2012). In the context of development the combined effects of purifying or stabilizing selection on existing traits and genetic drift, may lead to developmental system drift (True & Haag, 2001), that is alterations in gene expression and the functions of developmental circuits. Analyses of gene expression in developing organisms can reveal variation in the developmental circuits and the phenotypes they influence (Garfield et al., 2013) and alterations in the parameters of these networks (Ludwig et al., 2005). Evolutionary developmental biology seeks answers to questions like which developmental and cellular systems influence variation in adaptive traits and are some developmental processes, time points or tissues more prone/amenable to natural selection than others (Kopp, Duncan & Carroll, 2000; Carroll, 2008; Stern & Orgogozo, 2008)?
To address questions about the interplay of natural selection, developmental biology and drift in evolutionary divergence, we can study the developmental and molecular basis of natural diversity in recently diverged species or diverging populations within species. For example, studies of the Galapagos finches (Geospiza spp.) revealed that expression of bone morphogenetic protein 4 and calmodulin during beak development has strong effects on beak depth and width (Abzhanov et al., 2004; Abzhanov et al., 2006), which are important characteristics for fitness (Grant, 1999; Grant & Grant, 2008). At the population level it was found that differential expression of the Agouti gene in hair follicles in deer mice (Peromyscus spp.) correlated with differences in coat color which varies among populations (Linnen et al., 2009). Here we set out to study gene expression during early development, in recently diverged populations with profound phenotypic separation, with the broad aim to understand molecular mechanisms related to phenotypic variation and adaptation.
Polymorphic and sympatric Arctic charr Salvelinus alpinus as a model to study evolution
After the last glaciation (∼12,000 years ago) salmonid species and threespined sticklebacks (Gasterosteus aculeatus) were prominent among fish species that colonized newly formed lakes and rivers of the northern hemisphere (Wootton, 1984; Noakes, 2008; Klemetsen, 2010).
Several fish species of northern freshwaters have diverged locally to form polymorphic systems, usually related to utilization of different resources (resource polymorphism, Skúlason & Smith, 1995; Smith & Skúlason, 1996; see additional refs. in Snorrason & Skúlason, 2004). This is seen in many salmonids (Robinson & Parsons, 2002; Muir et al., 2016) and in Arctic charr many cases of phenotypically distinct sympatric morphs have been reported in post glacial lakes, for instance in Norway, Scotland and Iceland (Telnes & Sægrov, 2004; Adams et al., 2007; Klemetsen, 2010). In Iceland, Arctic charr is found as anadromous or non-anadromous resident populations in rivers and lakes. Many of the resident populations have become landlocked. The anadromous charr usually grow large and have pointed snouts with a terminal mouth resembling limnetic morphology. Many landlocked populations differ in feeding morphology, some feed on zooplankton or fish (limnetic morphs) while others utilize benthic prey (benthic morphs, Skúlason et al., 1992), as is common in northern polymorphic freshwater fish species (Bernatchez et al., 2010). Although somewhat variable in morphology, benthic charr are distinct from limnetic charr, with typically darker body, blunt snout and sub-terminal mouth. In Iceland they are most commonly found as dwarf morphs (adult length less than 15 cm) in isolated spring habitats in the neo-volcanic zone (Kristjánsson et al., 2012). Population genetics suggest that these benthic dwarfs have evolved repeatedly in groundwater springs across the island (Kapralova et al., 2011). Larger benthic forms do exist, with similar phenotypic characters as the dwarfs but larger adult size (Skúlason et al., 1992; Kristjánsson et al., 2011).
Sympatric Arctic charr morphs, found in several lakes, most often separate into benthic or limnetic morphotypes varying in many traits (morphology, behavior, color, life history characteristics, habitat use) (Snorrason & Skúlason, 2004). A well studied example of polymorphic Arctic charr are the four charr morphs of Lake Thingvallavatn (Fig. 1A). They differ distinctly in various traits, e.g., adult size, age at maturity, head and body morphology, coloration, behavior and habitat use (Sandlund et al., 1992). In the lake there are two limnetic morphs, the smaller planktivorous morph (PL, 15–25 cm adult length) that feeds on zooplankton, and the larger piscivorous morph (PI, 25–60 cm adult length) that mainly feeds on threespined stickleback (Snorrason et al., 1989; Malmquist et al., 1992). The lake harbors two benthic morphs, small benthic charr (SB, 12–20 cm adult length) and large benthic charr (LB, 25–60 cm adult length) both feeding on bottom-dwelling invertebrates in the lava substrate habitat along the shores (Sandlund et al., 1992). Rearing experiments showed that morphological and behavioral differences among the morphs arise early in development (Skúlason et al., 1993; Skúlason et al., 1996), and subsequent studies of developing embryos and juveniles showed significant differences in cartilage and bone formation (Eiriksson, Skulason & Snorrason, 1999; Eiriksson, 1999). Recently Ahi et al. (2014) used geometric morphometrics to capture variation in craniofacial structures among progeny of three of the morphs (PL-, LB- and SB-charr) soon after hatching (280 − 285τs, see Materials and Methods for explanation of relative age measured in τs). For the ventral shape of the lower jaw and hyoid arch, distinct differences between the morphs were found at 305τs, (Ahi et al., 2014). Experiments corroborate the contribution of genetic differences, but also demonstrated significant plastic potential of these morphs. The phenotypic plasticity of Arctic charr, and related salmonids is well documented (Nordeng, 1983; Hindar & Jonsson, 1993; Skúlason, Snorrasson & Jónsson, 1999). Studies on developing charr have revealed plastic responses to environmental factors like temperature, water velocity and food type (Adams & Huntingford, 2004; Grünbaum et al., 2007; Jonsson & Jonsson, 2014). Studies of limnetic and benthic charr morphs in Iceland show food type can affect growth and the shape of the feeding apparatus in early feeding juveniles (Parsons, Skúlason & Ferguson, 2010; Parsons et al., 2011; Küttner et al., 2013). Furthermore, egg volume, which varies considerably within and among females, is positively correlated to yolk depletion rate and fork length at hatching and at first feeding in aquaculture charr (Leblanc, Kristjánsson & Skúlason, 2016). Here we study gene expression during the early development of sympatric morphs, reared in a common garden that reduces the influence of environmental variations. Note however, the experimental design can not distinguish between genetic and parental effects on embryonic gene expression.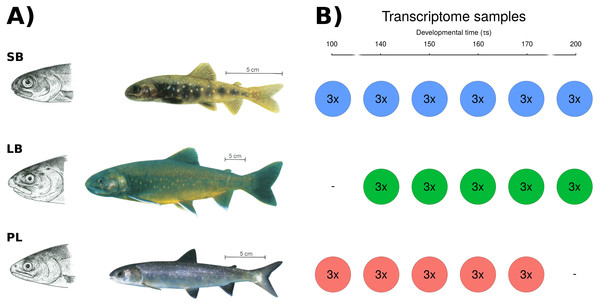 Genetic variation in polymorphic and sympatric Arctic charr
The earliest population genetic studies found little genetic separation of the sympatric morphs in Lake Thingvallavatn (Magnusson & Ferguson, 1987; Danzmann et al., 1991; Volpe & Ferguson, 1996). The first microsatellite study detected subtle differences (Gíslason, 1998) and the second study with 10 markers estimated overall FST's = 0.039, between the LB-, SB- and PL-charr (Kapralova et al., 2011). More recently, we detected FST's larger than 0.25 between morphs for variants in two immunological genes (Kapralova et al., 2013) and a few other loci (Guðbrandsson et al., 2016), suggesting substantial genetic separation at specific loci among those sympatric charr morphs. There is a need to study underlying developmental mechanisms, e.g., how differential expression or function of genes promotes differences in charr development and phenotypes. To date, few studies have addressed these issues. The candidate gene approach illustrates how embryonic morphogenetic mechanisms may influence phenotypic diversity and speciation (Abzhanov et al., 2004; Abouheif et al., 2014). A qPCR study on muscle tissues in charr, showed that expression of three genes in the mTOR-pathway distinguishes five small benthic morphs from two limnetic morphs in Iceland (Macqueen et al., 2011). On the other hand the myogenic paired box protein 7 (Pax7) gene was not differentially expressed during development in Lake Thingvallavatn morphs (Sibthorpe et al., 2006).
Genome wide methods are the new norm, for example population genomics (Pease et al., 2016) or transcriptome screens (Perry et al., 2012) to investigate patterns of divergence or loci of adaptation. In this context it is worth stressing that salmonids, due to the fourth whole genome duplication of the linage (Ss4R) 88–103 million years ago (Moghadam, Ferguson & Danzmann, 2011; Macqueen & Johnston, 2014; Berthelot et al., 2014; Lien et al., 2016), have quite complex genomes. The extra paralogs and chromosomal changes (Macqueen & Johnston, 2014; Nugent et al., 2017) complicate genome and transcriptome assemblies and analyses (Norman, Ferguson & Danzmann, 2014; Lien et al., 2016). To date the genome of two salmonids, Atlantic salmon (Salmo salar, hereafter salmon) (Lien et al., 2016) and rainbow trout (Oncorhynchus mykiss) (Berthelot et al., 2014), have been sequenced and annotated, but comparable resources are not available for Arctic charr.
We are interested in elucidating the developmental and molecular basis of trophic diversity in Arctic charr. Previously we deployed high throughput sequencing on embryos of SB-charr from Lake Thingvallavatn and an Icelandic aquaculture-charr breeding strain, to identify expression differences in microRNA and protein coding genes (Kapralova et al., 2014; Guðbrandsson et al., 2016). The miRNA sequencing revealed differential expression in 72 microRNAs, including some related to development of the brain and sensory epithelia, skeletogenesis and myogenesis (Kapralova et al., 2014). Similarly, the mRNA transcriptome (Guðbrandsson et al., 2016) indicated differences in the function of several pathways and genes, including metabolic, structural and regulatory genes. In that study we hypothesized that the observed expression divergence in mitochondrial functions (Guðbrandsson et al., 2016) reflected either strong artificial selection for growth rate in aquaculture-charr or altered life history of SB-charr in Lake Thingvallavatn by selection for early maturation with the trade-off in energy allocation highly favouring the production of gonads rather than body growth (Jonsson et al., 1988). Based on the transcriptome data from Guðbrandsson et al. (2016) and known craniofacial expression in other species we chose candidate genes to analyze gene expression with qPCR in limnetic and benthic morphs. Briefly, the data showed that a number of genes with conserved co-expression, most of which are involved in extracellular matrix organization and skeletogenesis (and ETS proto-oncogene 2, transcription factor, Ets2), differed in expression between benthic and limnetic morphs (Ahi et al., 2013; Ahi et al., 2014). Furthermore, employing the candidate gene approach on preliminary analysis of the data presented here, linked the Aryl-hydrocarbon receptor pathway to benthic-limnetic divergence in charr (Ahi et al., 2015).
Here we study the early developmental transcriptome of three of the four sympatric morphs from Lake Thingvallavatn (LB-, SB- and PL-charr) with the aim of identifying genes and molecular systems that have featured in the divergence of the Thingvallavatn morphs. The expression divergence can also shed light on the evolutionary relationship of the three morphs under study. Our previous developmental RNA-sequencing study of Arctic charr (Guðbrandsson et al., 2016) provided a useful start off for analysing gene expression and developmental pathways associated with the benthic vs. limnetic differences (Ahi et al., 2014; Ahi et al., 2015). The study described here differs from Guðbrandsson et al. (2016) in several aspects: (i) it focuses on an earlier window of development in higher temporal resolution (six time points at 100–200 τs vs four from 141–433 τs). This window of development precedes and covers the formation of key craniofacial structures, e.g., those required for feeding apparatus functions (gill arches and elements of the jaws) leading up to 200 τs when most of the viscerocranium is in place (Fig S1) (Kapralova et al., 2015). The developmental pathways related to these structures lay the ground well before they become visible. (ii) The present study compares expression in three Thingvallavatn morphs whereas in the previous study the comparison was between Thingvallavatn SB-charr and an aquaculture stock of mixed origin, which has a typical limnetic-like head morphology but has been subjected to strong artificial selection for growth. (iii) Because of the high coverage and length of the reads in the current study (101 bp, paired-end) we were able to perform de-novo transcriptome assembly, which was not possible with the short (36 bp) reads of the previous study. We were therefore able to map reads onto a charr transcriptome instead of making use of S. salar EST's.
Based on the documented differences in jaw morphology soon after hatching (Ahi et al., 2014), we anticipated substantial expression differences in systems related to growth and development of craniofacial structures. However as RNA was isolated from whole embryos, we also expect differences in genes related to physiological systems and development of other body parts. As expected, the data reveal substantial changes in gene expression during early development and importantly also morph specific expression differences in a large number of transcripts. In sum, multiple genes in many pathways were found to be differentially expressed in early development of these recently evolved sympatric charr morphs. The data set the stage for detection of genetic and environmental underpinnings of the observed phenotypic and developmental differences between the morphs.
Results and discussion
Transcriptome sequencing, assembly and annotation
The number of sequenced paired-end reads varied among the 48 samples, from 4.5 to 86.9 million. No bias in read number among lanes, indexes, morphs or developmental timepoints was detected, except that timepoint 160 τs in LB-charr had low coverage for all three replicates (Table S1). Trinity (Grabherr et al., 2011) de-novo assembly yielded 581,474 transcripts which grouped into 449,681 "genes". After filtering on coverage (minimum of 200 reads aligned) the numbers of transcripts and "genes" decreased to 129,388 and 78,667 respectively. All estimators of length increased with this filtering step, e.g., the N10–N50 statistics (Table 1).
| | Raw | Raw long isoa | Filtered | Filtered long isoa |
| --- | --- | --- | --- | --- |
| Total Trinity 'genes' | 449,681 | | 78,667 | |
| Total Trinity transcripts | 581,474 | | 129,388 | |
| GC-content (%) | 45.93 | | 47.41 | |
| N10 | 4,818 | 3,830 | 5,858 | 5,457 |
| N20 | 3,527 | 2,417 | 4,598 | 4,132 |
| N30 | 2,685 | 1,551 | 3,822 | 3,317 |
| N40 | 2,015 | 1,031 | 3,218 | 2,707 |
| N50 | 1,441 | 718 | 2,709 | 2,197 |
| Median contig length | 364 | 328 | 1,270 | 851 |
| Average contig length | 757.94 | 559.54 | 1,737.01 | 1,338.73 |
| Total assembled bases | 440,720,391 | 251,613,073 | 224,748,860 | 105,235,409 |
a
Longest isoform for each Trinity gene.
Blastn revealed that the majority of the transcripts had homology with sequences in Atlantic salmon (72% for the NCBI database and 83% for SalmoBase) and rainbow trout (53%). Similar analyses at the protein level (blastx or blastp) found a lower proportion with homology, 43% to 55% depending on the database in the two salmonids and other organisms (Table 2). Even though Arctic charr is considered more closely related to rainbow trout than salmon (Koop et al., 2008; Crête-Lafrenière, Weir & Bernatchez, 2012; Alexandrou et al., 2013) a larger number of transcripts had significant blast hits to salmon. Most likely this reflects the more conservative approach used for annotation of the rainbow trout genome, e.g., requiring genes to have orthology in other vertebrates (Berthelot et al., 2014).
| Database | Program | Transcripts | Genes | Transcripts (%) | Genes (%) |
| --- | --- | --- | --- | --- | --- |
| Ssal NCBI | blastn | 93,239 | 49,281 | 72.06 | 62.65 |
| Ssal SalmoBase | blastn | 107,068 | 61,185 | 82.75 | 77.78 |
| Omyk | blastn | 68,476 | 33,505 | 52.92 | 42.59 |
| Ssal NCBI | blastx | 62,548 | 26,843 | 48.34 | 34.12 |
| Ssal SalmoBase | blastx | 63,310 | 27,652 | 48.93 | 35.15 |
| Omyk | blastx | 55,862 | 24,533 | 43.17 | 31.19 |
| SwissProt | blastx | 59,763 | 24,130 | 46.19 | 30.67 |
| TrEMBL | blastx | 71,156 | 30,927 | 54.99 | 39.31 |
| SwissProt | blastp | 57,702 | 22,737 | 44.60 | 28.90 |
| TrEMBL | blastp | 64,442 | 26,198 | 49.81 | 33.30 |
| Total transcripts | | 129,388 | 78,667 | 100 | 100 |
We searched reference databases with Arctic charr transcripts, using blastx and blastn, to estimate the number and length of the assembled genes and proteins (Table 3). Hits to 19,122–35,685 proteins were found (depending on database) but with more stringent filters on length (requiring more than 90% coverage) these numbers ranged from 9,367 to 18,593 (Table 3). Using BLAST to align against salmon transcripts (SalmoBase) recovered up to 48,916 hits in the databases (Table 3). Again, more transcripts show homology to salmon than to rainbow trout, which again likely reflects differences in the annotation strategies. We retrieved more hits for transcripts and proteins from the SalmoBase annotation than the Salmon NCBI annotation. The transcripts in the SalmoBase annotation are longer on average compared to the NCBI annotation, therefore our Arctic charr transcripts cover less of each SalmoBase transcripts although more hits are retrieved (Table 3). More than half of the genes covered 90–100% of the predicted protein length, with minimal difference depending on database, while less than half covered more than 90% of the predicted transcript length. This probably reflects the higher divergence between S. alpinus and its relatives in the untranslated regions of the transcripts.
Proteins
Percent covered
TrEMBL
SwissProt
Ssal NCBI
Ssal SalmoBase
Omyk
90–100
15,788
9,367
18,376
18,593
12,829
80–90
18,287
11,610
20,178
20,899
15,070
70–80
20,150
13,163
21,814
23,072
16,476
60–70
21,978
14,404
23,596
25,255
17,713
50–60
23,822
15,484
25,332
27,466
18,885
40–50
25,484
16,478
27,018
29,628
19,850
30–40
26,977
17,380
28,656
31,866
20,718
20–30
28,299
18,219
30,180
33,680
21,353
10–20
29,204
18,907
31,517
35,119
21,775
0–10
29,477
19,122
32,082
35,685
21,888
Total peptides
97,555
195,069
46,585
mRNA Transcripts
Percent covered
Ssal NCBI
Ssal SalmoBase
Omyk
90–100
12,418
4,189
10,335
80–90
15,671
6,805
13,644
70–80
18,812
9,516
16,182
60–70
22,051
12,820
18,461
50–60
25,748
16,854
20,656
40–50
29,387
21,594
22,113
30–40
33,044
27,691
23,426
20–30
36,822
35,080
24,621
10–20
40,202
43,626
25,671
0–10
41,284
48,916
25,915
Total transcripts
109,584
195,072
46,585
To the best of our knowledge, only two other mRNA-sequencing studies have been conducted on Arctic charr (Norman, Ferguson & Danzmann, 2014; Guðbrandsson et al., 2016). Our previous study of SB-charr and Icelandic aquaculture charr did not involve transcriptome assembly (Guðbrandsson et al., 2016). However Norman, Ferguson & Danzmann (2014) assembled a transcriptome, in their investigation of salinity tolerance in the gills of Canadian aquaculture charr. Their assembly yielded 108,645 assembled contigs, with N50 = 2, 588 and around 80% of contigs annotated (using both S. salar and O. mykiss databases). Our assembly yields fewer "genes" (78,667) after the quality filtering steps, but for downstream analyses we retain more than one transcript per gene. The N50 values of both datasets are similar, but Norman, Ferguson & Danzmann (2014) achieve slightly higher annotation percentage. Our current study provides new data on the transcriptome of Arctic charr from embryos in early development. Integration of these data with genomic sequence data, will be valuable to assemble the complete charr transcriptome and fuel studies of gene gains and losses among salmonid species and populations (Robertson et al., 2017).
RNA degradation and 3′-bias in the transcriptome
Preliminary expression analysis with reads mapped to salmon EST's that showed clear indication of 3′-bias at one timepoint (160 τs) led us to remove these samples from the dataset, and take a closer look at position bias. Uneven distribution of reads over transcripts can profoundly influence estimates of expression and subsequent analyses (Wu, Wang & Zhang, 2011). To explore and estimate this bias, we constructed an estimator of 3′ coverage bias and incorporated it into the linear models (see Materials and Methods). The 3′-bias per sample was estimated from 381 nearly full length transcripts in the 2,000–6,000 bp range that had high sequencing coverage in all samples. The patterns of read coverage over the transcripts varied greatly between samples (Fig. 2A). Many samples showed considerable 3′-bias, but more disappointingly the bias was confounded with a variable of chief interest (Morph). The 3′ coverage correlates with the RIN-values of the RNA isolates (Pearson r =  − 0.83, p = 6.75e − 13) but samples with higher 3′ coverage than expected are apparent (e.g., PL160B and SB200A, Fig. 2B). This clearly demonstrates the importance of maintaining high and consistent RNA quality for RNA sequencing if poly-A pulldown is used and the importance of checking for 3′ bias in RNA-seq datasets.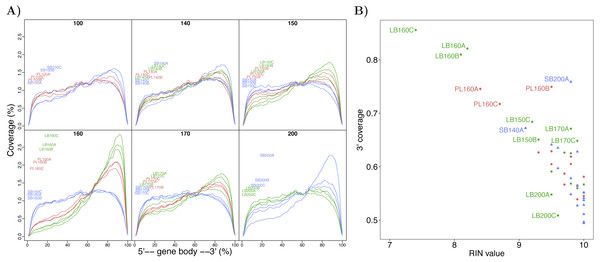 Analyses of differential expression (see below) revealed that the estimated 3′-bias was the second most important factor after developmental time with 32,395 significant transcripts (α = 0.01, Table 4). Crucially, the results differed considerably if the 3′-bias term was not included; then more transcripts had significant Morph by Time interaction effect (M × T) and fewer significant developmental time effect (Time) (Table 4, Fig S3C and Fig S3D). Many transcripts with significant M × T interaction effect in a model without a 3′-bias term had significant Time effect after normalizing for 3′-bias (Fig S3A). Thus we concluded that involving 3′-bias in the linear models decreased the number of transcripts with potentially false positive M × T interaction effect.
With 3′-bias correction
fdr
3′-bias
M × T
Morph
Time
<0.05
46,274
14,293
3,381
60,491
<0.01
32,395
8,407
2,002
42,879
<0.001
20,834
3,977
1,075
28,039
Without 3′-bias correction
fdr
M × T
Morph
Time
<0.05
32,259
2,806
44,710
<0.01
15,789
1,711
27,442
<0.001
4,874
946
16,083
Degradation of RNA is an issue for RNA-sequencing. Particularly poly-A pull-down of degraded mRNA will lead to higher fraction of reads from 3′ end of transcripts (Sigurgeirsson, Emanuelsson & Lundeberg, 2014). Methods for estimating variation in coverage along transcripts, rely on full length sequences (Wu, Wang & Zhang, 2011). Correction for 3′ bias by restricting analyses to 200 bp at the 3′end of transcripts (Sigurgeirsson, Emanuelsson & Lundeberg, 2014) also requires full length sequences or reliable identification of 3′-ends. Neither of those methods were applicable to the current data, as minority of transcripts are of full length, e.g., only 15,671 salmon transcripts in the NCBI database out of 41,284 with homology to Arctic charr are spanned to more than 80% by our contigs (Table 3). Abernathy & Overturf (2016) tested different methods for ribosomal-RNA removal on rainbow trout and concluded that Ribo-Zero (Illumina), which is based on hybridization, gave the best results and should therefore be the method of choice for future studies on incomplete transcriptomes. The use of the estimate of 3′-bias as a covariate reduced the number transcripts with, potentially false, Morph by Time effect. We do not claim that this approach accounts fully for transcript to transcript variation in 3′-bias, so we interpret the following differential expression results cautiously.
Differential transcript expression between sympatric Arctic charr morphs
While developmental time was the most commonly significant factor (42,879 transcripts, Table 4), we were most interested in expression divergence between the three charr morphs. Importantly the 3′-bias correction (above) had limited effect on the number of transcripts with significant overall Morph effect (Fig S3B). We conclude that more than one thousand genes are differentially expressed between developing embryos of the three sympatric morphs. Of the 2,002 transcripts with morph differences (at fdr < 0.01), 1,370 were only significant for Morph and no other terms. Further 632 had other terms also significant (some even all), but only 131 transcripts were significant for both Morph and Morph by Time (M × T) interaction (Fig. 3). A considerably larger number of transcripts (8,407) had a significant M × T term, with the majority (4,684) also having significant Time and 3′-bias effects. As the 3′-coverage estimator is unlikely to control entirely for the 3′-bias, we suspect the number of transcripts with interaction of Morph by Time may be overestimated. To analyze the differences and changes in the transcripts with Morph and Morph by Time interaction we conducted clustering, yielding 16 co-expression clusters with 176 to 1,320 transcripts each (Fig. 4). Five clusters (A–E) had mostly transcripts with time-invariant Morph effects, but the remaining 11 clusters (F–P) had mainly transcripts with combinations of M × T and Time effects (Table 5). The data suggest separation between all three morphs at the expression level, for instance in cluster B (334 transcripts). Two of the five Morph effect clusters (C and D) show persistent expression difference between the two benthic (SB and LB) and PL-charr. These contain 797 transcript, while cluster A (with lower expression in SB-charr compared to the other two) has 353 transcripts and 499 were in cluster E (lower expression in LB-charr). To visualize this we performed PCA on the transcripts from these five clusters. This showed all three morphs separate at the transcriptional level (Fig. 5). Some separation of samples based on morph is expected as the genes used for the PCA were selected due to having a significant morph effect, however, importantly in this PCA all three morphs separated completely from each other. Furthermore, the PL-charr separate from the benthic morphs in PC1 (explaining 26.8% of the variance) and the two benthic morphs separate in PC2 (17.9% of the variance).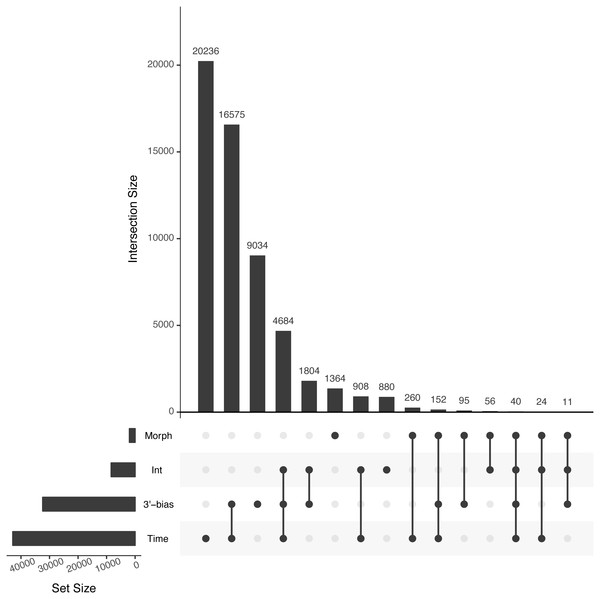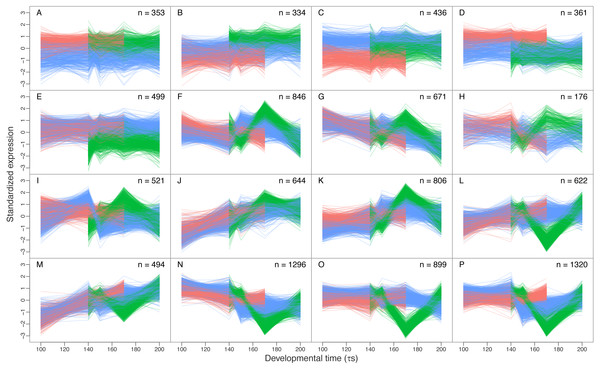 As transcriptional divergence and genetic divergence tend to be associated (Whitehead & Crawford, 2006), this suggests closer relation of the two benthic morphs, with PL-charr as a more distant relative, consistent with one population genetic study (Volpe & Ferguson, 1996) but incongruent with others (Gíslason, 1998; Kapralova et al., 2011). Preliminary analyses of genetic variation in this transcriptome separates the morphs, and supports closer relation of the benthic morphs (J Guðbrandsson et al., 2018, unpublished data).
We next gauged the functions of the differentially expressed transcripts by Gene Ontology (GO) enrichment analyses, run separately on the 16 co-expression clusters. Note, the GO results should be interpreted cautiously, as mere indications of functional divergence between groups. The analyses were restricted to biological processes and lower level categories. The number of significantly enriched GO categories varied between clusters. Five clusters (A, B, C, E and H) did not have any significant GO enrichment (Table S3), in part reflecting low statistical power as those clusters had the fewest transcripts (176 to 499). The clusters with the largest number of significant GO categories (N, O and P) contained the largest number of transcripts. As was noted above, the five co-expression clusters of transcripts with temporally stable expression that varied between morphs (A–E) had no GO enrichment with the exception of cluster D (transcripts with higher expression in PL-charr, than either LB and SB) which had two GO categories (GO:0097360 and GO:0061450, involved in cell migration and proliferation). Combining all the transcripts in these five clusters in GO-enrichment did not yield any significant GO-categories. The same was true for GO analyses of all transcripts with only Morph effect.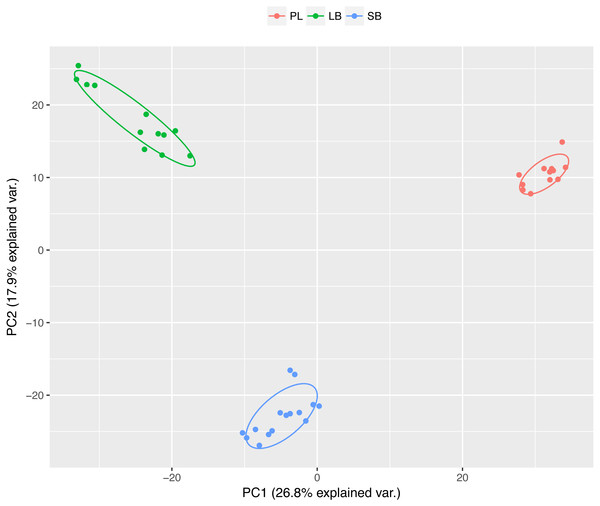 Clusters
Effect
A–E
F–P
Morph
1,768
234
Time
307
5,761
M × T
296
8,111
Just under 700 GO categories were enriched for clusters of genes with significant Morph by Time interactions (Table S3). While dozens up to a hundred GO categories associated with each co-expression cluster, no general pattern emerged. Many different biological processes were enriched in the co-expression clusters, for instance cluster F was enriched for regulation of growth (e.g., GO:0040008) and antigen processing and presentation (e.g., GO:0048002) and cluster L cartilage condensation (e.g., GO:0001502) and limb bud formation (e.g., GO:0060174). A number of categories showed up in three or more clusters, for example; GO:1903047, mitotic cell cycle process (clusters F, G, N, O and P), GO:0022613, ribonucleoprotein complex biogenesis (clusters F, G and N) and GO:0007507, heart development (clusters M, O and P). The diversity of GO categories to us suggests that multiple systems are differentially expressed during early development in these three charr morphs.
Our published data (Guðbrandsson et al., 2016) had revealed higher expression of genes related to mitochondrial and energy metabolism in aquaculture compared to SB-charr. We hypothesized that this might reflect higher metabolism in the aquaculture charr (due to artificial selection for increased growth) or reduced metabolism in the small benthic charr (adapting to the spring habitat). The current data support the former explanation, because only one GO category functionally related to those processes is significant in our analysis (GO:0022900, electron transport chain) in a cluster were SB does not stand out (cluster K).
In summary, the data revealed considerable expression separation of these three sympatric morphs, during early development. The expression divergence was seen in multiple genes and diverse biological systems. This suggests that the morphs differ in many aspects of development and physiology and that these differences manifest in embryos well prior (100–200 τs) to hatching (about 270–280 τs).
Verification of differential expression with qPCR
In order to verify morph specific differences in expression indicated in the data we queried a subset of genes from several of the co-expression clusters with qPCR in whole embryos. We studied the same three morphs (PL-, LB- and SB-charr) and tested seven candidate genes at two developmental timepoints (150 and 170 τs) with different expression in the benthic morphs (LB- and SB-charr) and limnetic morph (PL-charr) in the transciptome. Note, the primers amplified mRNA of paralogous genes, which will be less sensitive if the two paralogs differ in expression (as was seen for natterin-like genes (Guðbrandsson et al., 2016)). Expression of six genes MAM Domain Containing 2 (mamdc2), delta(4)-desaturase, sphingolipid 2 (des2), translin (tsn), glucose 6-phosphate isomerase (gpi), protein regulator of cytokinesis 1 (prc1) and AT-Rich Interaction Domain 4A (arid4a), differed significantly among morphs (p < 0.05). The seventh gene eukaryotic translation initiation factor 4E binding protein 1 (eif4ebp1) showed a suggestive limnetic and benthic separation in the qPCR (only formally significant at 170 τs) (Fig. 6). Notably, arid4a showed the same Morph by Time interaction in both the transcriptome and qPCR. In sum, the general agreement between the transcriptome results and the qPCR verification tests on whole embryos, suggests the majority of the ∼2,000 morph effect transcripts represent true differences in expression.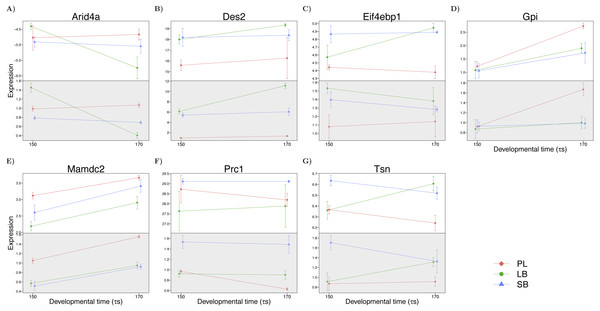 Of those genes, three (arid4a, tsn and eif4ebp1) have known regulatory functions. Arid4a encodes a Retinoblastoma binding protein, that has been demonstrated to repress transcription and induce growth arrest in human cell culture (Lai et al., 1999). Tsn encodes a protein which positively influences the activity of the RISC complex (Liu et al., 2009). Eif4ebp1 encodes a repressor of translation initiation, and is a target of mTOR (Wang et al., 2005; Dowling et al., 2010). The other genes have diverse functions, prc1 is a cell cycle related gene (Li, Shridhar & Liu, 2003), gpi a glycolytic enzyme differentially expressed in zebrafish development (Lin et al., 2009), des2 is involved in sphingolypid synthesis (Omae et al., 2004) whereas the function of mamdc2 is poorly characterized.
In the light of prior data we focus the discussion on the benthic-limnetic patterns of eif4ebp1 expression. The gene had higher expression in the benthic charr (formally significant in the transcriptome but only the later timepoint with qPCR). Macqueen et al. (2011) found similarly higher expression of this gene and two other mTOR pathway related genes in muscles of five small benthic vs two limnetic morphs from south Iceland. Preliminary analyses of this transcriptome (J Gudbrandson et al., 2018, unpublished data) indicate differences in allele frequency of variants in eif4ebp1 between SB- and PL-charr. These observations do not prove the involvement of eif4ebp1 in morph differentiation, but call for further study of mTOR pathway genes in different Thingvallavatn morphs and benthic vs. limnetic charr. It must be emphasized that the data presented here are correlative, and do not prove causal influence of these genes on charr development or divergence.
Previously (Ahi et al., 2014; Ahi et al., 2015) we screened for candidate genes involved in craniofacial development, utilizing our published data (Guðbrandsson et al., 2016) and this dataset. We focused on genes with differential expression between limnetic and benthic morphs involved in bone and cartilage development or with craniofacial expression in Zebrafish, and also mined online databases for conserved patterns of co-expression among candidates (Ahi et al., 2014; Ahi et al., 2015). Several genes showed clearly overlapping expression in perichondrial regions of the pharyngeal arches during their formation. Interestingly, binding sites for the transcription factor ets2, which shows the same expression pattern, are conserved upstream of the co-expressed genes in species as distantly related as Oryzias latipes and Drosophila melanogaster (Ahi et al., 2014). A second study revealed more genes with clear benthic-limnetic separation in expression, and pointed to transcription factors in the glucocorticoid and Aryl hydrocarbon pathways as potential modulators of benthic-limnetic diversity (Ahi et al., 2015).
These results and the current data suggest that multiple developmental systems have diverged in these three sympatric morphs, likely reflecting substantial genetic differentiation at multiple loci. Therefore an obvious next step is to ascertain genome-wide data on the genetic separation of the morphs, for instance by mining this transcriptome for sequence polymorphisms (already in progress, J Guðbrandsson et al., 2018, unpublished data). Alternative approaches could be whole genome scans of divergence e.g., (Jones et al., 2012; Halldórsdóttir & Árnason, 2015) or quantitative trait loci (QTL)/association studies e.g., (Zimmerman, Palsson & Gibson, 2000; Palsson et al., 2005) of specific ecological traits to identify putative causative factors and variants that differentiate these sympatric morphs. Furthermore as dwarf charr are found in multiple locations, it would be interesting to study their transcriptomes, perhaps at finer developmental resolution to test the reproducibility of developmental changes in evolution. Also, while the sympatric morphs of Lake Thingvallavatn are clearly demarcated phenotypically, subtler signs of polymorphism are found in several lakes (Woods et al., 2012). Molecular and genetic analyses of several morph pairs varying in degree of divergence would be exciting.
Conclusions
The differences in trophic morphology, habitat use and life history traits among the sympatric charr morphs in Lake Thingvallavatn have intrigued students of fish biology and evolution for more than a century (Sæmundsson, 1904; Frioriksson, 1939; Snorrason et al., 1989; Skúlason et al., 1996; Ahi et al., 2015). Genes, environment and parental effects are known to contribute to the morph differences (Snorrason et al., 1994; Skúlason, Snorrasson & Jónsson, 1999; Leblanc, Kristjánsson & Skúlason, 2016). The LB-, SB- and PL-charr differ significantly at the genetic level, but the estimates of relatedness and phylogenetic relationships of the three morphs vary by studies (Volpe & Ferguson, 1996; Gíslason, 1998; Kapralova et al., 2011). With the current experimental design parental effects can not be excluded. We still postulate that large fraction of the expression differences between morphs stem from genetic differences. The observed pattern at the expression level, that all morphs are separated and the benthic morphs are more similar (this data), suggests that it is important to follow this work with investigation of the polymorphism trends in the transcriptome (Johannes Guðbrandsson et al., in preparation). A population genomic screen may be needed to evaluate these relationships and the origin of the Lake Thingvallavatn morphs. We find that expression of multiple genes differs between the three charr morphs during early development and prior to hatching. This observation and previous studies on co-expressed genes (Ahi et al., 2014; Ahi et al., 2015) indicate that during development, upstream regulatory mechanisms may be acting differently in these morphs. Thus differential expression of regulators such as tsn, ahr2 (Ahi et al., 2015) or eif4ebp1 (Macqueen et al., 2011), lead us to speculate that they may influence expression at multiple loci and cause differences in ecologically important traits, e.g., concerning the structure and function of the feeding apparatus and muscle growth (Sandlund et al., 1992; Macqueen et al., 2011).
Although the genes identified here and in our previous studies (Ahi et al., 2014; Ahi et al., 2015) may constitute key links in developmental cascades that through differential expression (timing and pattern) induce morph differences, the underlying genetic differences have not been identified. They may reside in the cis-elements of some of these genes, but more likely in up-stream members of pathways that regulate development. Identifying the causative molecular changes associated with evolutionary divergence is not straightforward (Santure et al., 2015), in part because of the pleiotropic nature of metabolic, homeostatic and developmental systems (Paaby & Rockman, 2013). One intriguing question is whether the heritable expression differences between morphs is due to variation in one gene, few genes or many QTLs? Our combined data (Ahi et al., 2014; Ahi et al., 2015; Guðbrandsson et al., 2016) including the present data, argues against a monogenic model, i.e., where a single gene is responsible for the observed morph differences. The data is, in our opinion, more consistent with divergence in multiple systems and thus in many genomic regions among morphs (polygenic model). To disentangle the molecular systems responsible for morph divergence the anatomical focus must be sharpened by studying gene expression in specific tissues (head or jaw) or cell types at particular developmental time-points. Another option is a genomic scan of divergence that may implicate specific loci or systems. The intersection of genes or systems that show both genetic and expression difference between morphs is naturally interesting. Although several studies have found one or few genes that contribute heavily to key traits among closely related morphs/species (Shapiro et al., 2004; Johnston et al., 2013; Kunte et al., 2014) in many cases divergence in numerous genes influencing multiple cellular, developmental and physiological systems is a more likely scenario (Flint & Mackay, 2009; Coolon et al., 2014; Laporte et al., 2015), as seems to be the case for the Arctic charr morphs in Lake Thingvallavatn.