Detection of stable community structures within gut microbiota co-occurrence networks from different human populations
Published

Accepted

Received
Academic Editor
Subject Areas

Keywords

Microbiome

,

Gut

,

Human

,

Population

,

Networks

,

Co-occurrence

,

Communities
Copyright

©

2018

Jackson et al.

Licence

This is an open access article distributed under the terms of the Creative Commons Attribution License, which permits unrestricted use, distribution, reproduction and adaptation in any medium and for any purpose provided that it is properly attributed. For attribution, the original author(s), title, publication source (PeerJ) and either DOI or URL of the article must be cited.
Cite this article

2018

.

Detection of stable community structures within gut microbiota co-occurrence networks from different human populations

.

PeerJ

6

:

e4303

https://doi.org/10.7717/peerj.4303
Abstract
Microbes in the gut microbiome form sub-communities based on shared niche specialisations and specific interactions between individual taxa. The inter-microbial relationships that define these communities can be inferred from the co-occurrence of taxa across multiple samples. Here, we present an approach to identify comparable communities within different gut microbiota co-occurrence networks, and demonstrate its use by comparing the gut microbiota community structures of three geographically diverse populations. We combine gut microbiota profiles from 2,764 British, 1,023 Dutch, and 639 Israeli individuals, derive co-occurrence networks between their operational taxonomic units, and detect comparable communities within them. Comparing populations we find that community structure is significantly more similar between datasets than expected by chance. Mapping communities across the datasets, we also show that communities can have similar associations to host phenotypes in different populations. This study shows that the community structure within the gut microbiota is stable across populations, and describes a novel approach that facilitates comparative community-centric microbiome analyses.
Introduction
The gut microbiome is a complex bacterial community, with its structure determined by many factors including the interactions between its members. Bacteria can interact in numerous ways—in either an actively targeted or passive manner, which can result in beneficial, neutral, or detrimental effects for the parties involved (Faust & Raes, 2012). Given the increasing evidence of the importance of the gut microbiome in human health, it is necessary to understand the inter-microbial effects underlying its composition.
Gut microbiota are frequently profiled using marker gene sequencing. Sequencing reads from amplicons of the selected marker are typically collapsed to operational taxonomic units (OTUs), analytical units used to approximate taxonomic abundances (Schloss et al., 2009; Navas-Molina et al., 2013). One approach to infer interactions between bacteria in the gut microbiota is to quantify the co-occurrence of OTUs across multiple samples (Faust & Raes, 2012). High correlation between OTUs can reflect the interactions between their source bacteria and similarities/differences in their responses to environmental conditions (Lozupone et al., 2012; Faust & Raes, 2012). However, OTU counts are relative to the sequencing depth of a sample, which introduces inherent correlations to the data (Friedman & Alm, 2012). As a result, several specialised approaches have been developed to estimate correlations from microbiota data (Faust et al., 2012; Friedman & Alm, 2012; Deng et al., 2012; Gevers et al., 2014; Fang et al., 2015; Kurtz et al., 2015). Whilst these have seen use within the research community (Gevers et al., 2014; Goodrich et al., 2014; Tong et al., 2013; McHardy et al., 2013), correlation metrics for microbiome studies have only recently been compared systematically by Weiss et al. (2016) who found that using an ensemble of metrics can improve the precision of co-occurrence detection.
Given co-occurrence between OTUs it is possible to generate networks of their inferred interactions. Within this we would not expect all bacteria to interact but rather that subsets of taxa are more likely to interact within one another forming identifiable and distinct interacting groups. We will hence refer to these sub-groups of co-occurring microbes as communities. The formation of such communities can be driven by factors such as cross-species metabolism and geospatial environmental variation (Faust & Raes, 2012; Levy & Borenstein, 2014; Lozupone et al., 2012). Previous studies have identified communities within microbial co-occurrence networks, often using the WGCNA (weighted gene co-expression network analysis) method developed to identify modules in gene co-expression networks (Lozupone et al., 2012; Tong et al., 2013; Jackson et al., 2016b; Duran-Pinedo et al., 2011; Langfelder & Horvath, 2008). However, whilst they may be more biologically accurate, such approaches allow OTUs to have weighted contributions to multiple communities, which complicates comparison and mapping of equivalent communities between networks. Using a community detection algorithm that assigns OTUs to single communities simplifies such analyses enabling comparison across datasets. This was demonstrated by the use of a modularity maximisation approach to detect and compare community structures between gut microbiome networks of irritable bowel syndrome patients and healthy controls (Baldassano & Bassett, 2016).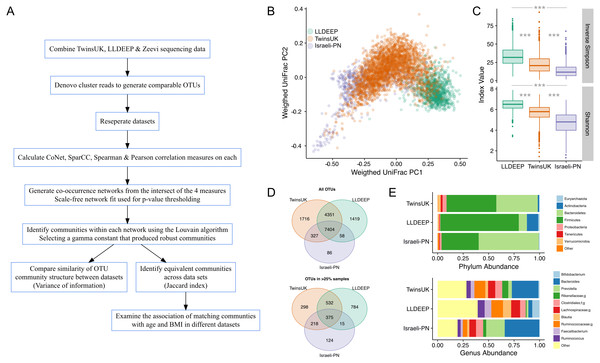 Here, we use the ensemble approach outlined in the recent methods comparison by Weiss et al. (2016) to quantify co-occurrence between gut microbiota, and apply a modularity maximisation approach to detect communities in the resultant networks. In this approach there are necessarily steps in which thresholds for edge inclusion and parameters for community detection must be selected. We describe biologically motivated and data driven approaches to inform these decisions. This method produces communities that can be compared and mapped across datasets. We apply this method to data from human cohorts from the UK, Netherlands, and Israel to establish whether gut microbiota form similar communities in different human populations. We find that OTUs form similar community structures across all three, and that these communities have similar associations with the health-related host factors of age and body mass index (BMI) in their respective populations. This study also provides a framework for future studies aiming to identify and, most importantly, replicate community level effects in microbiota studies.
Materials and Methods
Data aggregation
Given our objective to compare network community structures across datasets (Fig. 1A), we required OTUs that would be comparable between them. To this end, we carried out clustering of sequences across combined data from multiple sources. To maximise sequencing similarity, we selected two datasets with experimental approaches best matching those of the gut microbiota profiles obtained for TwinsUK, which used 16S rRNA gene sequencing of faecal samples. The LLDEEP and Israeli-PN datasets were selected as they carried out gut microbiota profiling by amplifying the V4 region of the 16S rRNA gene using the same PCR primers, and used paired-end sequencing on the Illumina MiSeq platform with read lengths sufficient to capture the whole V4 region. Notable differences between studies include faecal sampling and DNA extraction techniques. Both TwinsUK and LLDEEP utilised aliquots from faecal samples stored at −80 °C, whilst the Israeli-PN study utilised a mixture of faecal swabs stored at −80 °C and OMNIgene-GUT stool collection kits stored at −20 °C. All three studies used both chemical and mechanical lysis in DNA extraction but employed different protocols: TwinsUK utilised the MoBio PowerSoil HTP extraction kit, the LLDEEP cohort utilised the Qiagen AllPrep kit, and the Israeli-PN DNA was extracted using the MoBio PowerMag Soil DNA extraction kit.
Extraction of DNA from faecal samples, amplification and sequencing of the V4 region of the 16S rRNA gene, and demultiplexing of sequencing reads has previously been described for the TwinsUK cohort (Goodrich et al., 2014). The paired-end demultiplexed reads were joined using join_paired_ends within QIIME with an overlap of at least 200nt to form single reads covering the full V4 region (Navas-Molina et al., 2013). DNA extraction and 16S rRNA gene sequencing within the LLDEEP samples has been described in detail previously (Fu et al., 2015). Data from the LLDEEP cohort was provided in a similar format having used custom scripts to merge the paired end data to full length reads covering the V4 region and split data by individual (Gevers et al., 2014; Fu et al., 2015). Ethics approval for the TwinsUK study was given by the NRES Committee London—Westminster (REC Reference No. : EC04/015), and the Lifelines-DEEP study was approved by the institutional ethics review boards of the University Medical Center Groningen (ref. M12.113965).
Raw data accompanying the Israeli-PN publication was downloaded from the European Nucleotide Archive (ENA) (Accession: PRJEB11532) (Zeevi et al., 2015). This was processed similarly to the TwinsUK data and demultiplexed using published barcode mappings. Samples not listed in the accompanying metadata or with ambiguous read identifiers were removed.
OTU clustering, table filtering, and diversity analyses
The cleaned, joined, and demultiplexed data was concatenated to produce one sequencing file covering all three studies. After quality control, 4,426 samples (2,764 TwinsUK, 1,023 LLDEEP, 639 Israeli-PN) were included in the analysis. The complete sequencing from all three sets contained 381,767,528 reads. These were dereplicated, removing reads occurring only once, resulting in 5,728,288 unique reads. We chose to use a de novo approach to cluster these to OTUs, as de novo OTU clustering is not influenced by the reference database used, can capture novel diversity, and can produce more accurate clustering of OTUs than reference-based approaches (Westcott & Schloss, 2015; Jackson et al., 2016a). De novo clustering was carried out using the cluster_fast command in the VSEARCH package with a 97% similarity threshold (Rognes et al., 2016). The resultant 94,070 representative sequences were filtered to remove chimeric reads using the uchime_denovo command (within VSEARCH), producing a final set of 17,123 representative sequences. These were used to generate OTU counts across all samples using the VSEARCH usearch_global command (Rognes et al., 2016). Post-processing, average read counts were 82,695 ± 745 for TwinsUK, 49,962 ± 964 for LLDEEP, and 130,378 ± 5,534 for Israeli-PN (mean ± SEM).
A phylogenetic tree was generated from the representative sequences using the default parameters of the make_phylogeny command in QIIME (Navas-Molina et al., 2013). Taxonomy of OTUs was assigned by matching representative sequences against the Greengenes v13_8 database using the default parameters of the assign_taxonomy command in QIIME (Navas-Molina et al., 2013). OTUs occurring in only one sample, and samples with less than 10,000 OTU counts were removed. Weighted and unweighted UniFrac beta diversity measures and subsequent principle co-ordinates analysis of them was carried out using the beta_diversity_through_plots script in QIIME (Navas-Molina et al., 2013). The combined OTU table was then split by dataset. For the purposes of alpha diversity calculations, the raw counts tables were rarefied to a depth of 10,000 reads. For each sample, Shannon and inverse Simpson diversity indices were calculated as the mean across ten rarefactions. Significant differences in alpha diversity between datasets were assessed using Mann–Whitney U-tests.
Calculating co-occurrence measures
Co-occurrence calculation was carried out on each dataset independently. Sub-tables were generated from raw (unrarefied) OTU tables that only contained OTUs found in at least 25% of the samples (Jackson et al., 2016b). All co-occurrence measures were calculated within these subsets as they are less sparse and hence more amenable to correlation measures (Weiss et al., 2016). The mean diversity was assessed on rarefied versions of the subset tables using the inverse Simpson index as for the full tables. OTU sparsity was assessed from the unrarefied table using the biom summarize_table command. Following the recommendations of Weiss et al. (2016), we then used these estimates of the mean inverse Simpson index (TwinsUK = 20.2, LLDEEP = 29.0, and Israeli-PN = 13.1) and OTU table sparsity (0.49 in all three) to select an ensemble approach to co-occurrence detection that combines four different correlation measures: CoNet, SparCC, Pearson's, and Spearman's.
CoNet
CoNet is itself an ensemble approach. The package allows a range of co-occurrence measures to be combined with several options for how to combine the weighting of edges and their p-values. CoNet addresses compositionality within the data using the ReBoot procedure, which involves permutation followed by renormalisation of data. Calculating co-occurrence within these renormalized data allows assessment of the levels of correlation expected simply as a result of the compositionality within the data (Faust & Raes, 2012). For this study we used four measures of co-occurrence within CoNet: Spearman's and Pearson's correlations and Kullback–Leibler and Bray–Curtis distance measures (Faust & Raes, 2012). Initial correlation thresholds were selected for each of these measures that produced 2,000 positive and 2,000 negative edges concordant across the four metrics (Weiss et al., 2016); 1,000 permutations were then used for renormalisation to account for compositionality, and bootstrapping to identify edge p-values for each metric. The Simes method was selected to merge p-values across edges by keeping the minimum. Final p-values were adjusted for multiple testing using the Benjamini–Hochberg FDR approach.
SparCC
SparCC was developed to calculate correlations between OTU abundances in microbiome data whilst accounting for their inherent sparsity and compositionality (Friedman & Alm, 2012). It uses the centered log-ratio transformation to address data compositionality. SparCC was used with default parameters to calculate correlations from the raw count OTU tables (Friedman & Alm, 2012). The MakeBoostraps command was used to generate 100 bootstrapped tables, which were in turn used to calculate SparCC correlations. The bootstrapped correlations were then used with the PseudoPvals command to generate two-tailed p-values for the SparCC correlations from the true table.
Pearson's and Spearman's correlation coefficients
Pearson's and Spearman's correlation metrics do not take data compositionality into account, but were included to follow the approach outline by Weiss and Van Treuren et al. Both measures were calculated using the relative abundance tables. The rcorr function from the Hmisc R package was used to calculate correlations and generate two-tailed p-values pairwise between all OTUs for both Pearson's and Spearman's measures (Harrell Jr & Dupont, 2008). P-values were adjusted for multiple testing using the Bonferroni method in R, again following the approach of Weiss et al. (2016).
The outputs of all four co-occurrence approaches were converted into simplified unweighted edge tables detailing the direction of association (1 or −1) and bootstrapped/adjusted p-values.
P-value thresholding to generate co-occurrence networks
Intersected networks were generated by combining the edge tables from the CoNet, SparCC, Pearson's, and Spearman's methods. This was done independently for each dataset. Edges were retained in the final network if the direction of co-occurrence matched, and the edge p-values were below a given threshold in all four methods. This was carried out at multiple different p-value thresholds (0.05, then ranging in powers of ten from 0.01 to 10−8), to generate multiple intersect networks for each dataset with a gradient of stringency for edge inclusion. We then aimed to determine which was the most appropriate threshold to use to generate the final networks. Rather than make an entirely arbitrary selection, we chose to use fit to a scale-free network as a biologically motivated method to identify the optimum p-value threshold to use.
A scale-free network has a node degree distribution that follows a power law, i.e., there are few highly connected nodes and many more less connected nodes. This distribution has been observed in several biological networks, including microbiota co-occurrence networks (Jeong et al., 2000; Albert, 2005; Zhang & Horvath, 2005; Faust et al., 2012; Tong et al., 2013). It is also frequently used as a threshold for edge inclusion in the widely used WGCNA package (Langfelder & Horvath, 2008). Fit to a scale free network was calculated by first extracting the degree distribution of a network using igraph (Csardi & Nepusz, 2006). The fit of this distribution was then assessed using the scaleFreeFitIndex function from the WGCNA package in R (Langfelder & Horvath, 2008). This provides the R2 of the fit to a scale-free model, which the creators of WGCNA suggest should be >0.8, and the slope of the fit, which they suggest should be close to −2 to indicate a good fit. The optimum p-value threshold was selected based on these criteria across all three datasets (see Results) and the resultant intersect network at this threshold was used in all further analyses. Visualisation and generation of descriptive statistics from the final networks was carried out using Gephi (Bastian, Heymann & Jacomy, 2009).
Detecting communities within co-occurrence networks
Between OTU adjacency matrices were generated that represented the final intersect networks for each dataset. Negative correlations were removed (considered zeroes in the adjacency matrix) to generate unsigned networks as they represented a considerably small proportion of edges (<1% in all datasets). Community detection was carried out on each dataset's network independently using the genLouvain 2.0 package within MATLAB (Mucha et al., 2010), which implements the Louvain approach to modularity maximisation (Blondel et al., 2008). This defines community partitions by assigning nodes to unique communities, then iteratively combining neighbouring nodes into communities if it results in an increase in modularity across the whole network. Modularity is a measure of the number of edges within communities relative to between communities and a higher value represents better community definition (Newman & Girvan, 2004).
The genLouvain algorithm includes a γ parameter, which controls the size and number of detected communities (Mucha et al., 2010). A smaller gamma value promotes the detection of a small number of larger communities, while larger gamma values promote the detection of a high number of smaller communities. To find an optimal value for the γ parameter, we carried out community detection using a range of γ values for each dataset (0.1–1, increments of 0.01), and assessed the stability and statistical significance of the resultant communities.
Stability
To assess the stability of community definitions at each γ, we carried out community detection 25 times on the real network followed by pairwise comparisons of the similarity of community clustering between the runs. To assess similarity between two community groupings we used the normalised variation of information (variation of information divided by ln(number of nodes in the network)) as a measure of similarity between assignments (Ronhovde & Nussinov, 2009). A high value for variation of information means OTUs are grouped more differently in the two partitions compared, whereas a value of zero means the two partitions are identical. In figures and text, we report 1-normalised variation of information so a higher value represents more similar community structure.
Statistical significance
To assess the statistical significance of the community definitions, we also carried out community detection at each γ on 100 randomised networks with nodes following the same degree distribution as the real network (generated using the randomGraphFromDegreeSequence command in the Octave networks toolbox package). We then compared the mean modularity of the 25 runs on the real network to the 100 randomised networks. A process that has previously been proposed to assess the significance of community structures across different resolutions (Lambiotte, 2010; Traag, Krings & Van Dooren, 2013).
From observation of both the variation of information (stability) and modularity (statistical significance) results we then selected a suitable value for γ that produced both stable and significant community groupings (see Results). Once a suitable value for γ was identified, community detection was repeated 100 times at this value, and the community definitions from the run producing the highest modularity were retained as the final community definitions.
Community properties and host associations in TwinsUK
The relative abundance of each community in a sample was found by summing the read counts of its constituent OTUs and dividing by the total number of reads observed in the sample. Association between the mean abundance of an OTU in a dataset and the number of OTUs in its parent community was assessed using Spearman's correlation. Taxonomy within communities was investigated by counting the number of OTUs assigned to different taxa at each taxonomic level. The mean identity between the representative sequences of the OTUs in each community was assessed for each dataset. All pairwise comparisons between the OTUs within a community were carried out using global alignments performed using BLAST within the pairwise2 command of Biopython, with a score of 1 for a match, −1 for a mismatch, −2 for opening a gap, and −1 for extending a gap (the defaults used by the Mothur align.seqs command) (Cock et al., 2009; Schloss et al., 2009).
The heritability of TwinsUK communities was estimated using the mets package in R. Log transformed relative abundances were used for each community. For each community ACE, CE, E, and AE models were fit using data from complete twin pairs. Co-variates included age, BMI, sample collection method, sex, and sequencing depth. For each community, the best fitting model was determined as that with the lowest Akaike information criterion.
Association analyses between community abundances and BMI and age was carried out using log transformed relative abundances of the communities (log10 (relative abundance +10−6)). These phenotypes were selected as they were also available in both the LLDEEP and Israeli-PN datasets. To investigate associations, linear models were fitted for each community using the lm function in R. Community abundance was the dependent variable with BMI, age, gender, and sequencing depth as independent variables, as these were the maximal set available across all datasets. The coefficient and significance of associations were extracted for BMI and age. P-values were then adjusted for multiple testing using the FDR method in R.
Comparison of community structure between populations
Overall community structure comparisons
We carried out pairwise comparisons between datasets to assess the similarity of overall community structures between the networks. In each comparison, the two networks were subset to just the OTUs shared by both, and the normalised variation of information between their community structures calculated. To find the variation that would be expected by chance, we generated randomised community sets for each network by shuffling OTU labels. Each randomised comparison therefore shared the same number OTUs between the two real networks with the same community sizes, but without the biological basis for the linkage of OTUs. We then carried out pairwise comparisons of the variation of information between the randomised communities. Shuffling and comparisons were repeated 1,000 times. The highest score observed (1 −normalised variation of information) in any pairwise comparison, in any permutation was 0.41 (mean = 0.34, SD = 0.014).
To determine the robustness of the community detection approach to differences in the selected parameters, overall community structure was also compared between networks created using both higher and lower p-value thresholds and γ values. In each case, networks and community definitions were generated as previously. Normalised variation of information was then used to compare the networks' community structures as described above. Comparisons between the three datasets were carried out within each p-value and γ pairing. A wider comparison was also carried out between all possible dataset, p-value, and γ value combinations. In the case of the complete pairwise comparison, permutations to assess null variation of information were only generated 100 times (in place of 1,000) due to the high total number of comparisons involved.
Mapping of individual communities between datasets
To map communities between networks we carried out pairwise comparisons between all the communities in all three networks. We used the Jaccard index to quantify the number of OTUs shared between the two communities relative to the number not shared in each comparison. Matches were considered positive with scores >0.25 (range 0–1, no shared OTUs—complete overlap). This was selected as above this threshold there were no instances of multiple mapping of communities between datasets.
Community-types were defined where matches could be found linking the communities in all three datasets. These were labelled with colour names using the standardColors function from the WGCNA package in R. The log transformed abundances for the 14 community-types that could be mapped across all three datasets were generated for the LLDEEP and Israeli-PN datasets as for TwinsUK. These were analysed for associations with age and BMI using linear regressions as for TwinsUK.
Discussion
Here, we have presented a rationalised and data-driven approach to generate co-occurrence networks from 16S rRNA gene sequencing data, and to identify comparable community structures within them. Applying this to gut microbiota profiles from three different populations we have found that both co-occurrence networks and community structures are stable across all three. Furthermore, we have shown that genetics, age, and BMI are associated with the relative abundances of the identified communities, with age and BMI having similar associations with communities in all three populations.
Conclusion
We have described a method to generate robust and comparable community definitions from microbiota co-occurrence networks. We have also described data-driven parameterisation steps and methods to map communities and compare their associations across datasets. This enabled us to demonstrate that the gut microbiome contains stable communities of bacteria that are similarly associated with host factors across geographically diverse populations. Future use of this approach will facilitate community-centric microbiota studies, in particular by aiding replication of findings across datasets.