On the exponent in the Von Bertalanffy growth model
Department of Integrative Biology and Biodiversity, Institute of Mathematics, Universität für Bodenkultur Wien

,

Vienna

,

Austria
Published

Accepted

Received
Academic Editor
Subject Areas

Agricultural Science, Aquaculture, Fisheries and Fish Science, Computational Biology, Mathematical Biology

Keywords

Multi-model inference

,

Von Bertalanffy growth function (VBGF)

,

Metabolic scaling exponent

,

Akaike's information criteria (AIC)

,

Weak universality
Copyright

©

2018

Renner-Martin et al.

Licence

This is an open access article distributed under the terms of the Creative Commons Attribution License, which permits unrestricted use, distribution, reproduction and adaptation in any medium and for any purpose provided that it is properly attributed. For attribution, the original author(s), title, publication source (PeerJ) and either DOI or URL of the article must be cited.
Cite this article

2018

.

On the exponent in the Von Bertalanffy growth model

.

PeerJ

6

:

e4205

https://doi.org/10.7717/peerj.4205
Abstract
Von Bertalanffy proposed the differential equation m′(t) = p × m(t)a − q × m(t) for the description of the mass growth of animals as a function m(t) of time t. He suggested that the solution using the metabolic scaling exponent a = 2/3 (Von Bertalanffy growth function VBGF) would be universal for vertebrates. Several authors questioned universality, as for certain species other models would provide a better fit. This paper reconsiders this question. Based on 60 data sets from literature (37 about fish and 23 about non-fish species) it optimizes the model parameters, in particular the exponent 0 ≤ a < 1, so that the model curve achieves the best fit to the data. The main observation of the paper is the large variability in the exponent, which can vary over a very large range without affecting the fit to the data significantly, when the other parameters are also optimized. The paper explains this by differences in the data quality: variability is low for data from highly controlled experiments and high for natural data. Other deficiencies were biologically meaningless optimal parameter values or optimal parameter values attained on the boundary of the parameter region (indicating the possible need for a different model). Only 11 of the 60 data sets were free of such deficiencies and for them no universal exponent could be discerned.
Introduction
Growth model
Size at age is a key metric of productivity for any animal population (MacNeil et al., 2017) and a wide range of growth models to describe the size and also the mass of animals as a function of time has been developed. Amongst applications is stock assessments in fisheries management (Juan-Jordá et al., 2015) and applications in ecology, e.g., understanding outbreak dynamics (Pratchett, 2005). Of particular interest are models based on biological principles. This paper considers a class of such models that was developed by Von Bertalanffy (1957), who formulated a differential equation of ontogenetic growth: (1)
Equation (1) aims at explaining the allocation of metabolic energy between growth and sustenance of an organism, using a metabolic scaling exponent 0 ≤ a < 1: if m = m(t) is body mass (weight) at age t, then the body utilizes resources at a metabolic rate (p⋅ma) for growth, except for catabolism (energy use for the operation and maintenance of existing tissue) proportional to body weight (q⋅m). The parameters p and q are positive constants obtained by fitting the model curve (1) to growth data.
Is there a universal exponent?
Does the modeling of the growth of different species require different metabolic scaling exponents? The null hypothesis would state that on the contrary a certain universal exponent would suffice. Several concrete values for such an exponent have been proposed in literature, resulting in a scientific controversy about the 'true' exponent (Isaac & Carbone, 2010).
Von Bertalanffy (1934), Von Bertalanffy (1949) and Von Bertalanffy (1957) suggested that a = 2∕3 would describe the mass growth of vertebrates; this defines the classical Von Bertalanffy growth function (VBGF). Von Bertalanffy explained this value of the exponent by a biological reasoning: Anabolism (synthesis for growth) would be proportional to the 2/3th power of body weight, as the oxygen consumption would be proportional to surface (2/3th power of volume). This value was supported e.g., by Banavar et al. (2002) and White & Seymour (2003).
West, Brown & Enquist (2001) proposed an alternative value of the exponent, as anabolism would relate to the number of capillaries, which in turn would be proportional to the power of the number of cells (proportional to body mass). Actually, a metabolic exponent had been suggested much earlier by Kleiber (1947). This value was also supported by Darveau et al. (2002) and it is widely used in animal science.
Von Bertalanffy identified also species, where mass growth would be better described by an exponent a = 0. Moreover, an exponent aL = 0 is widely used to describe the length growth of fish and many authors reported an excellent fit also for e.g., shellfish (Koch et al., 2015). For instance, the FishBase database (Froese & Pauly, 2017) presumes this model and lists growth parameters for 2,320 species. In addition, a search in Google Scholar identified approximately 25,000 papers related to the use of this model for fish. The use of this model in literature was also specifically surveyed for elasmobranch species, showing that it was studied twice as often as any other model (Smart et al., 2016).
More recent literature observed that no single exponent may be exactly correct. As Killen, Atkinson & Glazier (2010) and White (2010) observed, for different species there were different optimal exponents aopt. Also for the same species data sets differing in environmental factors (e.g., food composition, temperature) supported different exponents; c.f. Kimura (2008), Porch (2002), Quince et al. (2008), Stewart et al. (2013), or Yamamoto & Kao (2012).
There were also suggestions that the very problem of determining an optimal exponent may be ill-posed. For, as Shi et al. (2014) observed, for some data sets a near-optimal fit could be achieved by a wide range of exponents. As a consequence, data fitting using nonlinear regression by means of the method of least squares may be impeded by numerical instability.
Problem of the paper
The present paper develops an approach to identify best fitting exponents for model (1) despite numerical instability and applies this to explore the variability of the exponent. To this end, the growth model (1) was applied to 60 data sets and best fit exponents together with suitable best fit parameters were determined.
In order to compare the goodness of fit across different data sets, the paper applies Akaike's information criterion: given the optimal exponent aopt, computed for a certain data set, and a hypothesized exponent a (e.g., a universal value for the exponent) the Akaike weight prob (a) is the probability that the model (1) using the hypothesized exponent a is true, when compared with the optimal exponent aopt. Thereby, given a data set, the exponent a is refuted for this data set, if in comparison to aopt its Akaike weight is below 2.5%. Variability of the exponent is measured by the length of the interval of not-refuted exponents.
Results
Table 3 summarizes the fit of model (1) to 60 data sets. There occurred three issues.
First, there was a high variability in the exponent a, which for 18 data sets could take any value (between 0 and 0.99) without affecting the fit to the data significantly (when the other model parameters were optimized); FNR = 1 for these data sets. Consequently, it could not be assured that a biologically correct exponent could be identified from data fitting.
Second, there were problems with unrealistic parameter values, specifically for the estimated mature body mass mmax. For 13 data sets, it exceeded the maximally observed weight by 50% (mmax/mobs ≥ 1.5), whence boundedness was not evident from the data, and for 7 data sets with sigmoid model curves (aopt > 0) the weight at the inflection point exceeded the maximally observed weight (minfl ≥ mobs), whence the sigmoid shape of the model curve was not discernible from the data. For one data set (#50, domestic pig), the excessive mmax could be explained in part from data collection, as it ended long before sexual maturity had been reached.
Third, there was a concentration of the optimal parameters on the boundary of the parameter space. (If maximum likelihood parameters assume values on the boundary of the parameter space, then the normal distribution of the optimal parameters is no longer assured). For 15 data sets mmax = mobs assumed the lower bound for optimization. Moreover, for 24 data sets, the exponent was optimal for the largest value a = 0.99; for 5 data sets, the exponent was optimal for the lowest value a = 0 (not sigmoid). The tendency towards higher exponents persisted, if the variability was taken into account (Fig. 7): for 55 data sets the interval of non-refutation reached the upper bound 'High' = 0.99. Further, for any a ≤ 0.01, at least 50% of data sets would reject this low exponent, while for any a ≥ 0.89, at least 80% of data sets would not reject this high exponent. (For each statement 95% confidence was confirmed, assuming data sets selected at random by the same strategy, as for this paper.)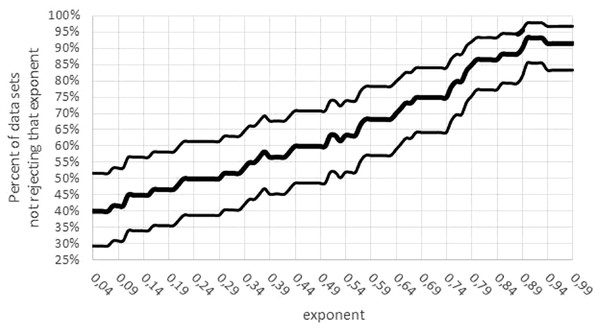 Summarizing, model (1) may be suitable to describe the growth of certain species, but for 49 (82%) of the 60 data sets (95% confidence: at least 72% of data sets) there were issues for optimization with unrealistic model parameters, with parameters on the boundary of the parameter space, or with elusive parameters that due to a high variability could not be determined accurately from the data. This indicated that for a substantial fraction of species a more general or a completely different class of models might be needed to describe growth more realistically.
In particular, the data did not support the claims from literature about the existence of a universal exponent for model (1) that would suffice to describe the growth of a large taxonomic group of animals. On the contrary, also for the 11 data sets not showing the above issues (#1, 2, 4, 10, 22, 25, 33, 44, 47, 52, 56), the optimal exponent aopt varied widely and its mean value did not differ significantly between these 11 data sets and the 49 problematic ones (Mann–Whitney test, p-value 20.3%). Further, the data did not support the hypothesis that for each species there would be optimal exponents to describe its growth by model (1). For, the best fitting exponents could differ widely for female and male animals of the same species, as demonstrated for data sets #18–19 (female and male Lake Trout) with optimal exponents 0.69 and 0.28, respectively. Further, where e.g., fish of the same species came from different locations (different water temperatures for the Lake Trout data #18–19 and #27–28), a different pattern of growth was expected for biological reasons.
Discussion: Explaining Variability
The observed issues, in particular the high variability of the exponent, may indicate that data fitting optimized too many parameters. However, this paper proposes an alternative explanation, namely differences in data quality. For, data for non-fish in general came from highly controlled experiments, while data for fish in general were natural data.
This claim is supported by the highly significant dependency of variability on whether the data were for fish or not: 17 of the 18 species with FNR = 1 were fish. Further, with 99.99% significance (Mann–Whitney test: p-value below 0.01%) the average FNR for fish (0.8) was stochastically larger than the average FNR for non-fish (0.38), even though there were also fish with small FNR (e.g., FNR = 0.1 for Artic Cod #3).
Ignoring this variability could generate artefacts. For instance, with 95% significance (Mann–Whitney test, p-value 4.7%) the mean value of the optimal exponents for fish (0.61) was stochastically lower than the mean value for non-fish (0.79). However, the reason for this could be variability, as with 99.99% significance the optimal exponents were negatively correlated with FNR (t-test: p-value below 0.01%); i.e., lower optimal exponents for fish were related to a higher FNR (because 'Low' became smaller). By contrast, there were no 95% significant differences between fish and non-fish for the fractions m∕mobs and minfl∕mobs.
The following discussion aims at discerning characteristic features of natural data, which did/did not affect variability.
An obvious difference between fish and non-fish data was the transformation of length to weight, which was needed for most fish. This paper used a power-law transformation m (t) = l(t)p with p = 3 for fish. As Fig. 8 illustrates, this convention could have affected refutations, but it could not explain a systematic bias towards easier or more difficult refutations. (In the figure, higher/lower values of p make refutations easier/more difficult. However, for some data, the 'true' p was below 3 and for others it was above 3).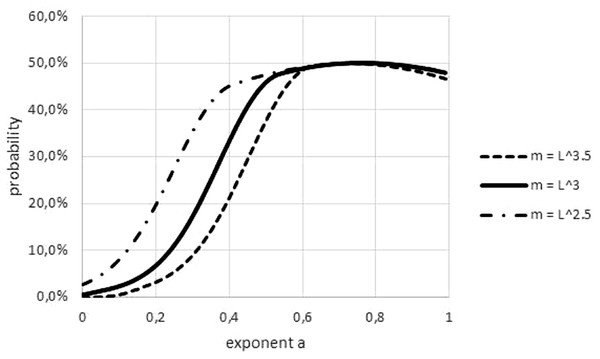 Another difference between data sets was insufficient stratification for fish: for non-fish species the data for females and males of the same species were collected separately, this was not the case for all fish. In case that these groups had a different growth pattern (different optimal exponents), as for Fig. 9, the combination of data could result higher FNR. (Intuitively, combined data have higher residuals, making refutations more difficult). Similar effects could have been generated from the combination of data from different locations or from data about migrant animals, collected at the same location but not taking into account the different origin of the animals.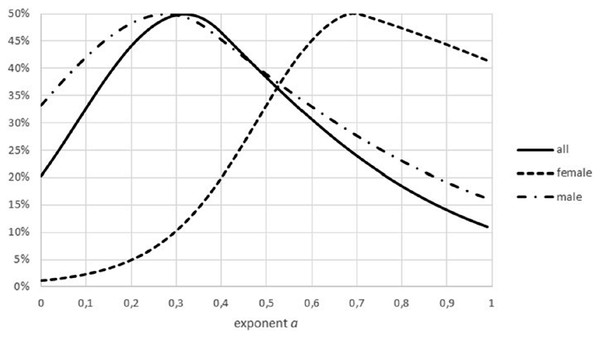 However, in the authors' view, the main difference seems to have been whether data were comprised of repeated measurements of the same animals (controlled data) or of single measurements of randomly chosen animals (natural data). For, the three discarded natural data sets for non-fish species showed a high variability in the exponent, as did the fish data, and the three fish data sets from controlled experiments showed a rather lower variability. (More data sets would be needed to support this view by statistical reasoning.)
The authors developed the following strategy to identify data sets, where model (1) could be expected to provide an adequate fit: data were removed, if FNR = 1 (maximal variability), mmax∕mobs ≥ 1.5, minfl∕mobs ≥ 1 (unrealistic parameter values), aopt = 0, aopt = 0.99, or mmax∕mobs = 1 (parameters on the boundary). There remained 11 data sets. For them here was no significant contingency between fish and non-fish data. (Fisher exact test resulted in the p-value 100%, testing the contingency table comprised of seven selected and 30 non selected fish and of four selected and 19 non selected non-fish.) Thus, this strategy appeared to be successful in eliminating the differences between natural and controlled data, as far as data fitting was concerned. However, also for this smaller sample of data sets with apparently unproblematic data fitting there did not emerge a candidate for a universal exponent; the exponent (aopt) took values between 0.14 and 0.94.
Conclusion
The paper argued that the question, whether there exists a universal metabolic scaling exponent for the generalized Von Bertalanffy model (1) may be ill-posed, as the biological meaning of the model exponent, and the variation in this exponent, might not be clear. To this end it computed optimal exponents from a sample of 60 data sets about the growth of animals.
A closer look at data-fitting revealed serious deficiencies. There was uncertainty about the optimal exponent (variability), there were unrealistic parameter values (excessive estimates for the mature body weight) and parameters tended to assume values on the boundary of the parameter space (indication for the need of a completely different model). With respect to variability, for a large range of exponents the best fitting model curves (optimizing the other parameters) did not differ significantly in their fit to the data. (Intuitively, plots did not show noticeable deviations of the model curves with these exponents from each other). Thereby, the variability of the exponent could be related to the type of data, with natural data causing higher variability than controlled data. Thereby for fish in general only natural data were available. Ignoring these deficiencies could result in biologically unfounded statements, such as observing stochastically lower exponents for fish than for non-fish species.
However, also for data sets selected for not showing the above mentioned deficiencies, the optimal exponents computed from the data differed widely from the values proposed in literature on the basis of biological reasoning (e.g., a = 2∕3 or a = 3∕4). In view of this discrepancy data fitting did not support any of the biological explanations of the exponents.
Interpreting variability positively, if the model is merely intended to summarize information from (mass) growth data by means of a few parameters, then for data sets with large variability of the exponent almost any exponent may be adequate (if it is close to 1: Fig. 7). Thus, in hindsight, also the use of VBGF to summarize fish data (e.g., FishBase) appears to be justified, unless the biological meaning of the model parameters is overstressed.
Supplemental Information
Time-weight data (60 data sets)
Sample file with macros for optimization