Integrated downstream regulation by the quorum-sensing controlled transcription factors LrhA and RcsA impacts phenotypic outputs associated with virulence in the phytopathogen Pantoea stewartii subsp. stewartii
Department of Biological Sciences, Virginia Polytechnic Institute and State University (Virginia Tech)

,

Blacksburg

,

VA

,

United States of America
Published

Accepted

Received
Academic Editor
Subject Areas

Keywords

LrhA

, Pantoea stewartii subsp. stewartii,

Phytopathogen

,

Quorum sensing

,

RcsA

,

Transcription factor
Copyright

©

2017

Duong and Stevens

Licence

This is an open access article distributed under the terms of the Creative Commons Attribution License, which permits unrestricted use, distribution, reproduction and adaptation in any medium and for any purpose provided that it is properly attributed. For attribution, the original author(s), title, publication source (PeerJ) and either DOI or URL of the article must be cited.
Cite this article

2017

. Integrated downstream regulation by the quorum-sensing controlled transcription factors LrhA and RcsA impacts phenotypic outputs associated with virulence in the phytopathogen Pantoea stewartii subsp. stewartii.

PeerJ

5

:

e4145

https://doi.org/10.7717/peerj.4145
Abstract
Pantoea stewartii subsp. stewartii is a Gram-negative proteobacterium that causes leaf blight and Stewart's wilt disease in corn. Quorum sensing (QS) controls bacterial exopolysaccharide production that blocks water transport in the plant xylem at high bacterial densities during the later stage of the infection, resulting in wilt. At low cell density the key master QS regulator in P. stewartii, EsaR, directly represses rcsA, encoding an activator of capsule biosynthesis genes, but activates lrhA, encoding a transcription factor that regulates surface motility. Both RcsA and LrhA have been shown to play a role in plant virulence. In this study, additional information about the downstream targets of LrhA and its interaction with RcsA was determined. A transcriptional fusion assay revealed autorepression of LrhA in P. stewartii and electrophoretic mobility shift assays (EMSA) using purified LrhA confirmed that LrhA binds to its own promoter. In addition, LrhA binds to the promoter for the RcsA gene, as well as those for putative fimbrial subunits and biosurfactant production enzymes in P. stewartii, but not to the flhDC promoter, which is the main direct target of LrhA in Escherichia coli. This work led to a reexamination of the physiological function of RcsA in P. stewartii and the discovery that it also plays a role in surface motility. These findings are broadening our understanding of the coordinated regulatory cascades utilized in the phytopathogen P. stewartii.
Introduction
Pantoea stewartii subsp. stewartii, a Gram-negative rod-shaped, gamma-proteobacterium, is the causal agent of leaf blight and Stewart's wilt in susceptible varieties of Zea mays. It is primarily transmitted to the plant by the corn flea beetle, Chaetocnema pulicaria (Esker & Nutter, 2002). After being deposited through excrement into wounds generated during insect feeding, the pathogen gains access to the leaf apoplast and causes water-soaked lesions through the Hrp-type III secretion system (Ham et al., 2006; Roper, 2011). In a second phase of the disease, the bacteria then also migrate to the xylem, where they grow to high cell density and form a biofilm that blocks water flow within the plant. This results in wilt disease and even death, if the plants were infected at the seedling phase (Braun, 1982). Quorum sensing (QS), a mechanism of bacterial cell density-dependent communication, controls the virulence, capsule production and surface motility of this pathogen (Roper, 2011; Von Bodman, Bauer & Coplin, 2003).
During QS, P. stewartii produces N-acyl homoserine lactone (AHL) signals due to the activity of EsaI, a LuxI-type protein (Beck von Bodman & Farrand, 1995). The AHL signal then interacts with the master QS regulatory protein EsaR, a LuxR homologue, when the cell density reaches a critical threshold. EsaR is a dual-level transcriptional regulator that binds to DNA at its recognition sites to either activate or repress its downstream targets at low cell density (Beck von Bodman & Farrand, 1995; Von Bodman et al., 2003; Von Bodman, Majerczak & Coplin, 1998). When EsaR and AHL interact at high cell density, the EsaR-AHL complex is unable to bind to the DNA resulting in transcriptional deactivation or derepression of its target genes (Schu et al., 2009; Shong et al., 2013). Multiple approaches have been used to identify several direct targets of EsaR, including classic genetic (Minogue et al., 2005), proteome-level (Ramachandran & Stevens, 2013) and transcriptome-level (Ramachandran et al., 2014) analysis. Two of these direct targets, rcsA and lrhA, are involved in plant virulence and control capsule production and surface motility, respectively (Kernell Burke et al., 2015).
EsaR directly represses the P. stewartii rcsA gene at low cell density, insuring precise control over the timing of capsule synthesis (Carlier & Von Bodman, 2006; Minogue et al., 2005; Von Bodman, Majerczak & Coplin, 1998). At high cell density, gene activation by RcsA leads to production of stewartan, a polymer of galactose, glucose and glucuronic acid in a 3:3:1 ratio, which is the main component of the exopolysaccharide (EPS) (Nimtz et al., 1996). Stewartan is a primary virulence factor of P. stewartii (Carlier, Burbank & Von Bodman, 2009; Minogue et al., 2005; Roper, 2011). Previous work has shown that the lrhA gene is directly activated by EsaR at low cell density and a P. stewartii LrhA deletion mutant exhibits decreased surface motility and intermediate virulence levels in comparison to the wild type (Kernell Burke et al., 2015). However, little is known about the precise role of LrhA and its targets with regard to surface motility and virulence in P. stewartii.
In Escherichia coli, the function of LrhA is better understood. It is the key regulator controlling the expression of flagella, motility and chemotaxis by regulating the synthesis of FlhD2C2, the master regulator of flagella and chemotaxis gene expression (Lehnen et al., 2002). In E. coli, LrhA directly activates its own expression and represses the expression of flhD/flhC, thereby suppressing motility and chemotaxis (Lehnen et al., 2002). LrhA also controls fimA expression (Blumer et al., 2005) and regulates RpoS translation (Gibson & Silhavy, 1999; Peterson et al., 2006), but its binding site is not well defined (Lehnen et al., 2002).
In contrast to E. coli, P. stewartii is only capable of swarming rather than swimming motility. The bacterium's swarming motility is controlled by QS and contributes to its pathogenicity (Herrera et al., 2008). The surface motility is flagellar-dependent since deletion of fliCI renders the bacterium aflagellar and incapable of swarming (Herrera et al., 2008). There is no evidence demonstrating that EsaR plays a direct role in regulating flagella synthesis. However, EsaR does directly regulate lrhA in P. stewartii and thereby indirectly regulates surface motility and plant virulence (Kernell Burke et al., 2015) through unknown mechanisms. A transcriptome-level analysis of the LrhA regulon in P. stewartii showed that LrhA activates three genes and represses 23 genes four-fold or more (Kernell Burke et al., 2015). In the present study, CKS_0458 and CKS_5211, genes putatively encoding a fimbrial subunit and biosurfactant production enzyme, respectively, have now been confirmed to be direct targets of LrhA. In addition, LrhA has also been demonstrated to repress its own gene and that of RcsA. Follow-up studies led to the finding that RcsA also plays a role in surface motility. This work has helped further reveal how the QS regulatory cascade in P. stewartii coordinately controls genes important for interactions with the plant host.
Discussion
The role of the LrhA regulon in P. stewartii was further investigated in this study to understand how it is involved in the surface motility and virulence of the pathogen. Previous studies showed that surface motility in P. stewartii contributes to disease pathogenesis and this process involves both QS-controlled biofilm formation and flagella (Herrera et al., 2008). However, to date, there is no clear evidence to directly connect the synthesis of flagella to QS control in P. stewartii. Unlike E. coli, the QS-controlled transcription factor LrhA in P. stewartii does not regulate FlhD2C2, the master activator of flagellar synthesis. This was suggested by earlier RNA-Seq data (Kernell Burke et al., 2015), but directly tested here through EMSA that confirmed the inability of LrhA to bind to the flhD/flhC promoter. Additionally, LrhA activates its own expression in E. coli whereas autorepression was observed in P. stewartii. Even though P. stewartii LrhA has 77% amino acid identity to E. coli LrhA, the two have clearly evolved distinctive physiological roles in their host organisms.
In an attempt to define the function of the genes controlled by LrhA in P. stewartii, a reverse genetics approach was used to examine the role of select LrhA-regulated genes in surface motility and virulence of the phytopathogen. Multiple deletion and complementation strains of genes annotated as being involved in surfactant production (CKS_5208 and CKS_5211, initially annotated as a rhamnosyltransferase I subunit B and putative alpha/beta superfamily hydrolase/acyltransferase, respectively) and fimbriae assembly (CKS_0458 and CKS_0459, annotated as putative fimbrial subunits) were constructed and tested. Interestingly, none of these genes appear to play a fundamental role in surface motility and virulence individually. A LrhA deletion mutant impacting expression of multiple genes in the regulon produced noticeably decreased surface motility, but only intermediate virulence levels in comparison to the wild-type strain (Kernell Burke et al., 2015).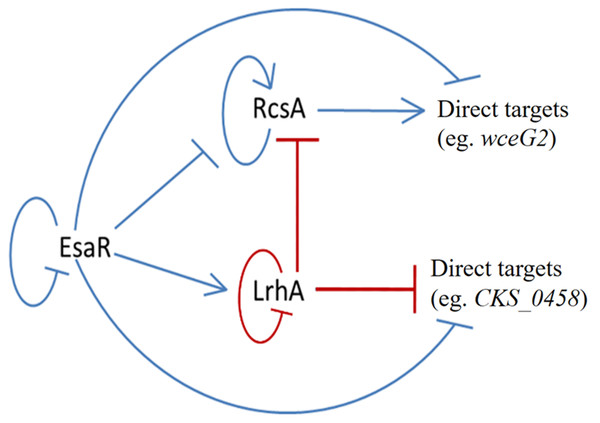 With regard to biosurfactant and fimbriae genes potentially associated with surface motility and adhesion, respectively, P. stewartii appears to utilize multiple levels of repression to ensure that the level of those genes' expression is minimal. This low level of expression was again confirmed by an in planta RNA-Seq analysis (Packard et al., 2017). In the LrhA deletion strain expression of these genes was elevated. Thus, deletion mutants might actually mimic wild-type levels of the expression of these genes, producing a wild-type phenotype. Alternatively, these genes are not functional in the wild-type strain (indeed the new genome sequence (Duong, Stevens & Jensen, 2017) suggests that CKS_5211 is a pseudogene) or they may serve another function for the bacterium that was not examined in this study. Biofilm/adhesion assays were inconclusive (data not shown). Interestingly, some Pantoea species have been demonstrated to produce biosurfactants when grown on hydrocarbons (Vasileva-Tonkova & Gesheva, 2007). How this might impact bacterial surface motility or survival in planta is unclear.
It has been demonstrated that both RcsA and LrhA play an essential role to the surface motility of the wild-type strain of P. stewartii. The observed intermediate impact of a LrhA deletion on virulence may be due primarily to its direct control of RcsA and thereby its indirect control on the levels of stewartan extracellular polysaccharide produced during growth within the plant. However, it could be that some of the other genes regulated by LrhA that were not examined in this work were actually contributing to the observed phenotypes in the LrhA deletion strain. RNA-Seq analysis of the transcriptome controlled by LrhA revealed 23 additional genes, in addition to the ones examined in this study, that were differentially expressed four-fold or more in comparison to the wild-type strain (Kernell Burke et al., 2015). Overall, the majority of the genes in the LrhA regulon code for hypothetical proteins and phage-related proteins, 57.7% (15/26) and 15.4% (4/26) respectively. The possible role of these genes with regard to surface motility and virulence remains to be established, but LrhA clearly regulates these processes.
The newly discovered connection between RcsA and surface motility suggests coordination of the RcsA and LrhA regulons with regard to bacterial virulence in the corn host beyond promotion of capsule production. Capsule production is thought to be a factor impacting the ability of surface motility to occur in this phytopathogen, which may explain the need for integrated downstream regulation. The fact that the strain with the 66-kb deletion region could not be complemented by rcsA suggests that there are additional genes in this region that are essential to surface motility and virulence. Further work will be needed to identify these genes and to overall correlate to the ability of the phytopathogen to move inside the plant via surface motility in relation to virulence.
Conclusions
The findings of this study have further defined the tightly coordinated gene regulation that occurs in the QS regulon of the corn pathogen P. stewartii. The EsaR-activated transcription factor LrhA was found to directly auto-repress expression of its own gene as demonstrated through GFP-transcription fusions and EMSA experiments. In addition, the direct binding of LrhA to downstream targets, such as the promoters of genes coding for RcsA, and for putative biosurfactant synthesis (CKS_5211) and fimbrial production (CKS_0458), was also shown. This established a hierarchy of gene regulation in the QS network from the master regulator, EsaR, to the downstream transcription factors, RcsA and LrhA, which in turn control the expression of their own targets. Intriguingly, EsaR also directly controls some of these same targets (Ramachandran et al., 2014; Ramachandran & Stevens, 2013) integrating with coherent type two (RcsA) and type three (LrhA) feed forward loops (Mangan & Alon, 2003) to regulate genes in the QS regulon in a manner that ensures precisely synchronized gene expression (Fig. 6).