Genome-wide survey of single-nucleotide polymorphisms reveals fine-scale population structure and signs of selection in the threatened Caribbean elkhorn coral, Acropora palmata
Department of Biology, Pennsylvania State University

,

University Park

,

PA

,

United States of America
Published

Accepted

Received
Academic Editor
Subject Areas

Keywords

Functional diversity

,

RAD-Tag SNP

,

Climate change

,

Restoration

,

Caribbean

,

Bottleneck

,

Microsatellite

,

Gene flow

,

Conservation

,

Coral
Copyright

©

2017

Devlin-Durante and Baums

Licence

This is an open access article distributed under the terms of the Creative Commons Attribution License, which permits unrestricted use, distribution, reproduction and adaptation in any medium and for any purpose provided that it is properly attributed. For attribution, the original author(s), title, publication source (PeerJ) and either DOI or URL of the article must be cited.
Cite this article

2017

. Genome-wide survey of single-nucleotide polymorphisms reveals fine-scale population structure and signs of selection in the threatened Caribbean elkhorn coral, Acropora palmata.

PeerJ

5

:

e4077

https://doi.org/10.7717/peerj.4077
Abstract
The advent of next-generation sequencing tools has made it possible to conduct fine-scale surveys of population differentiation and genome-wide scans for signatures of selection in non-model organisms. Such surveys are of particular importance in sharply declining coral species, since knowledge of population boundaries and signs of local adaptation can inform restoration and conservation efforts. Here, we use genome-wide surveys of single-nucleotide polymorphisms in the threatened Caribbean elkhorn coral, Acropora palmata, to reveal fine-scale population structure and infer the major barrier to gene flow that separates the eastern and western Caribbean populations between the Bahamas and Puerto Rico. The exact location of this break had been subject to discussion because two previous studies based on microsatellite data had come to differing conclusions. We investigate this contradiction by analyzing an extended set of 11 microsatellite markers including the five previously employed and discovered that one of the original microsatellite loci is apparently under selection. Exclusion of this locus reconciles the results from the SNP and the microsatellite datasets. Scans for outlier loci in the SNP data detected 13 candidate loci under positive selection, however there was no correlation between available environmental parameters and genetic distance. Together, these results suggest that reef restoration efforts should use local sources and utilize existing functional variation among geographic regions in ex situ crossing experiments to improve stress resistance of this species.
Introduction
There is an ongoing debate about the importance of local recruitment and barriers to gene flow in marine species. Many marine species reproduce via planktonic larvae and strong ocean currents have the potential to carry propagules over long distances. However, a high degree of self-recruitment has been found in a range of species with planktonic larval duration being a poor predictor of genetic structure (Selkoe & Toonen, 2011). The development of cheap genome-scale genotyping is poised to open a new chapter in this discussion (Peterson et al., 2012; Toonen et al., 2013; Wang et al., 2012). American eels for example show panmixia in their central breeding ground in the North Atlantic but single nucleotide polymorphism (SNP) genotyping of adults along the Eastern seaboard revealed local differentiation (Gagnaire et al., 2012). Thus, a well-mixed pool of larvae sorted into environmental niches and so resulted in a structured adult population.
SNPs are ubiquitous throughout the genome, located in coding and non-coding regions, and each locus has a maximum of four alleles (the four bases). This is in contrast to microsatellite loci that consist of tandem repeats, in which allelic variation is determined by the number of tandem repeats and thus can be large. The limited number of alleles at each SNP locus requires a larger number of loci to be assayed to achieve the same power of detecting population genetic structure as a panel of microsatellite loci (Morin, Martien & Taylor, 2009; Ryman et al., 2006). The advent of reduced representation sequencing methods have made it possible to develop and assay a large number of SNP loci at a reasonable cost (Altshuler et al., 2000; Hoffberg et al., 2016). Recently, Genotyping by Sequencing (GBS) data including 4,764 SNPs in A cervicornis identified population structure within the Florida Reef tract (Willing, Dreyer & Van Oosterhout, 2012) where microsatellite markers did not (Baums et al., 2010). Other flavors of reduced representation sequencing methods (Drury et al., 2016; Toonen et al., 2013; Wang et al., 2012) have yielded information on population structure, and genetic diversity in reef building corals (Drury et al., 2016; Howells et al., 2016).
Genome-scale genotyping can provide insights into genetic diversity within functional regions of the genome that may be under selection (those genomic regions that code for proteins or regulate transcription of genes). These regions are not commonly surveyed even though they are of interest to conservation managers who want to understand how much capacity there is in a species to adapt to changing conditions (Becks et al., 2010). Statistical methods have been developed that allow scanning of SNP loci for signatures of selection. Despite the risk of generating false positive results (Vilas, PÉRez-Figueroa & Caballero, 2012), these methods yield candidate loci that should be substantiated by further testing (Renaut et al., 2011; Sork et al., 2016). The same methods can be used to scan microsatellite loci for signatures of selection (Nielsen, Hansen & Meldrup, 2006; Vasemägi, Nilsson & Primmer, 2005), however, power is often limited by the small number of assayed loci.
Acropora palmata is one of a few Caribbean coral species whose population genetic structure has been thoroughly investigated on local and range-wide scales (Baums, Devlin-Durante & LaJeunesse, 2014b; Baums, Miller & Hellberg, 2005b; Baums, Miller & Hellberg, 2006a). A range-wide survey of A. palmata population genetic structure using five coral specific polymorphic microsatellite markers showed that A. palmata stands are structured into two long-separated populations (Baums, Hughes & Hellberg, 2005a). While most reefs are self-recruiting, A. palmata stands are not inbred and harbor high genetic diversity at these microsatellite loci (Baums, Miller & Hellberg, 2005b). Bio-physical modeling identified a transient feature in the Mona Passage important in restricting present-day gene flow between the eastern and western population (Baums, Paris & Cherubin, 2006b). However, it is unclear whether the eastern and western populations differentiated initially due to selection. Subsequent denser sampling of A. palmata along the Antilles Island Arc raised the possibility of a hybrid zone across Puerto Rico rather than a clear-cut break between the eastern and western Caribbean at the Mona Passage (Fig. 1, Mège et al., 2014).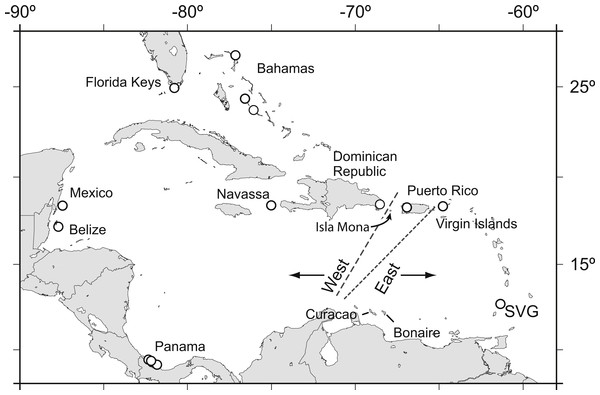 We sought to refine the location of the east–west population divide and test for the presence of finer scale population differentiation in A. palmata by developing a large number of SNP markers. We assayed genome-wide SNPs in archived samples from two geographic regions in the western A. palmata population (Bahamas and Florida) and two geographic regions in the eastern population (Puerto Rico and the US Virgin Islands (USVI)). We then compared the results to population structure derived from eleven microsatellite loci. We further aimed to produce a more comprehensive estimate of genetic diversity across the genome using SNPs and screened loci for signatures of selection.
Results
Summary statistics
Illumina sequencing of the RAD libraries generated 49.3 million reads per pool of eight samples, averaging 6.2 million 150 bp reads per sample prior to quality filtering. After quality filtering, 4.99 million reads per sample (81%) were retained on average (Table 2). Pools had similar numbers of reads after processing (mean = 39.9 million per pool, SD = 4.95 million, one-way ANOVA, F = 2.638, p > 0.1). The average % GC content for Read 1 and 2 was 41.7 and 39.6, respectively. The percentage of polymorphic sites per genomic region varied little among geographic regions, from 0.150 to 0.173% (Table 3). The average observed heterozygosity in variant sites was 22%. Overall FIS values, when considering all sites with a minor allele frequency cutoff a ≥0.05, were close to 0 and hence provided no evidence of inbreeding (Table 3). However, when only considering variant positions within the region of Florida, FIS values were negative (Fis =  − 0.0086), indicating an excess of heterozygosity. Using the two paired-end read sets as replicates, a one-way ANOVA was performed for each variable (Table 4). Summary statistics for all geographic regions were found to be similar. Alignment of A. palmata SNPs to the published A. digitifera genome indicated that on average, 2.5% percent of the A. digitifera genome had sequence coverage at a stack depth of 5 (Fig. S7). All four geographic regions produced similar sequence coverage.
Bahamas
Florida
Puerto Rico
USVI
All positions: variant and fixed
Total Sites
200425
200425
200425
200425
Variant Sites
390
390
390
390
Private Alleles
2
1
0
2
% PL
0.1732
0.1497
0.1694
0.1668
FIS
0.00005
0
0
0.00005
Nucleotide diversity (π)
0.0004
0.0004
0.0004
0.0004
Variant positions only
Obs Hom
0.7728
0.7874
0.7791
0.7815
Std Err
0.0164
0.0164
0.0154
0.0154
Obs Het
0.2273
0.2126
0.2210
0.2186
Std Err
0.0164
0.0164
0.0154
0.0154
Exp Hom
0.7832
0.8050
0.7919
0.7916
Exp Het
0.2169
0.1951
0.2081
0.2085
FIS
0.02235
−0.0086
0.0035
0.02065
Nucleotide diversity (π)
0.2254
0.2034
0.2174
0.21705
% PL

percent polymorphic loci

Obs Hom

observed homozygosity

Obs Het

observed heterozygosity

StdErr

standard error

Exp

expected
Bold values are significantly different from 0 (P < 0.05).
Bahamas
Florida
Puerto Rico
USVI
(A)
Bahamas
Florida
0.018
Puerto Rico
0.013
0.022
USVI
0.018
0.022
0.009
Belize
Florida
Bahamas
Puerto Rico
USVI
Curacao
(B)
Belize
Florida
0.0040
Bahamas
0.0115
0.0097
Puerto Rico
0.0206
0.0153
0.0063
USVI
0.0206
0.0174
0.0098
0.0037
Curacao
0.0240
0.0138
0.0181
0.0173
0.0208
Population genetics
A total of 390 SNPS were identified after filtering and including a minor allele frequency cutoff ≥0.05 (Table 3). This included 219 for Read 1 and 176 for Read 2 from the paired-end sequencing (5 SNPs were identical between reads and were only considered once). Analysis of Molecular Variance (AMOVA) revealed patterns of significant genetic differentiation among geographic regions (Table 4). This was also evident when the 307 SNPs (analysis included only one SNP per 150 bp locus) were subjected to a multi-locus clustering analysis in STRUCTURE. Samples from Florida clustered first, followed by the Bahamas at K = 3. Puerto Rico and the USVI were not distinguishable until K = 4, (Fig. 2). Clumpak Best K (Kopelman et al., 2015) indicated that K = 3 was the most likely K-value, after both the Evanno method and LN(PR(X|K) values, regardless of whether the geographic region was used as a prior.
To compare to the SNP analysis, microsatellite data from samples collected in six regions were analyzed in STRUCTURE using the geographic region as a prior (Table S5). At K = 2, a western (including Belize, Florida, Bahamas and Puerto Rico) and an eastern cluster (including the USVI and Curacao) was evident (Fig. 3A). At K = 3, an isolation-by-distance like pattern was apparent in the western cluster (Fig. 3B). K = 4 was the most likely K-value, after both the Evanno method and LN(PR(X|K) values, based on 11 microsatellite markers (Kopelman et al., 2015). Florida and Belize grouped as one cluster, and Puerto Rico and the Bahamas as the second, with the USVI as the third and Curacao as an admixed fourth cluster (Fig. 3C).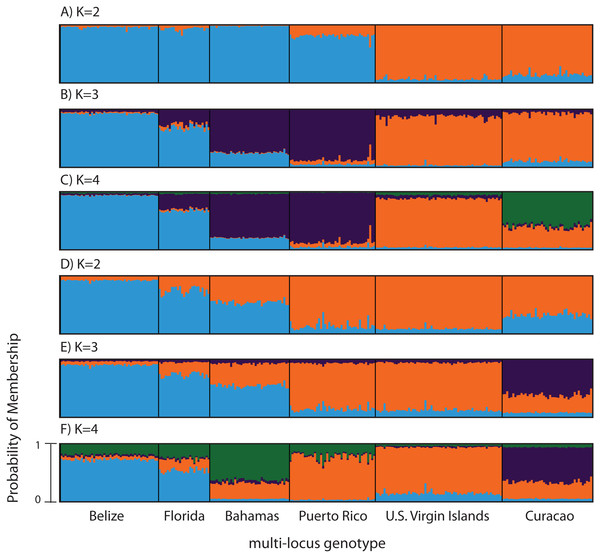 According to the outlier analysis in LOSITAN, microsatellite locus 166 was identified as a potential outlier and thus possibly under selection. It was therefore excluded from the analysis in STRUCTURE. This resulted in more comparable results to the SNP analysis with the most likely K-value being 3, after both the Evanno method and LN(PR(X|K) values (Kopelman et al., 2015). Again, the first separation was between a western and an eastern cluster, however this time Puerto Rico assigned to the eastern cluster with an isolation-by-distance like pattern appearing between the west and east (Fig. 3D). At the most likely K of 3, Curacao now formed a separate cluster. At K = 4, the Bahamas started to separate from the remainder of the western region similar to what was observed in the SNP clustering analysis (Fig. 3E).
Environmental drivers of population structure
A Mantel test showed a significant positive relationship in the SNP dataset between pairwise FST values and geographic distance (R2 = 0.65, p = 0.05) consistent with the microsatellite results (10 loci) from the Florida, Bahamas, Puerto Rico, and Curacao samples only (Figs. 4C and 4D). Correlations between environmental factors including average temperature, salinity, dissolved oxygen, and pairwise FST values or geographic distance were not significant (Figs. 4A and 4B).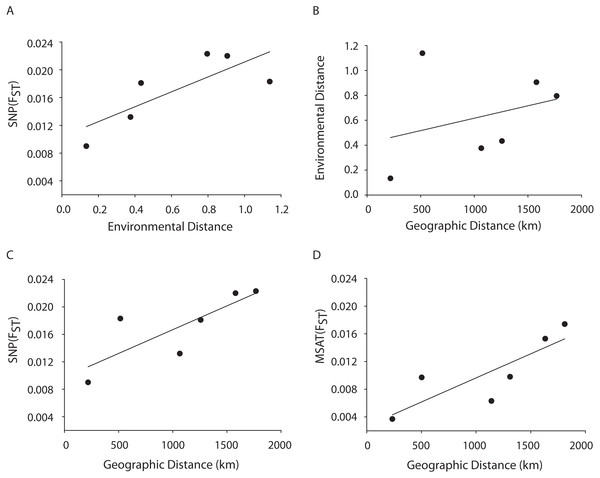 Loci under selection
BayeScan and LOSITAN identified 2 and 12 SNPs (Table S4) that showed signs of positive selection when including all four geographic regions, one of which was identified by both programs (a total of 13 unique loci identified between both programs). Outliers accounted for 3.3% of the total SNPs, consistent with other studies in which FST outlier loci have represented a substantial fraction of the total loci investigated (2–10%) (Nosil, Funk & Ortiz-Barrientos, 2009). Annotation of the candidate loci proved difficult as only 23% produced significant hits when queried against the NCBI nr database, Uniprot, and Trembl; with two of the hits being annotated as unconventional myosin-IXb isoform X7 and tyrosine-protein kinase transmembrane receptor ROR1-like. Screening of the microsatellite loci identified locus 166 as an outlier under positive selection, yet no annotation information of this locus is currently available.