New information on the anatomy of the Chinese Early Cretaceous Bohaiornithidae (Aves: Enantiornithes) from a subadult specimen of Zhouornis hani
1
Beijing Natural History Museum

,

Beijing

,

PR China
2
Institute of Vertebrate Paleontology and Paleoanthroplogy

,

Beijing

,

PR China
3
Dinosaur Institute, Natural History Museum of Los Angeles County

,

Los Angeles, CA

,

USA
Published

Accepted

Received
Academic Editor
Subject Areas

Keywords

Bohaiornithidae

,

Enantiornithes

,

Mesozoic birds

,

Pedal morphology

,

Skull

,

Jehol
Copyright

©

2014

Zhang et al.

Licence

This is an open access article distributed under the terms of the Creative Commons Attribution License, which permits unrestricted use, distribution, reproduction and adaptation in any medium and for any purpose provided that it is properly attributed. For attribution, the original author(s), title, publication source (PeerJ) and either DOI or URL of the article must be cited.
Cite this article

2014

. New information on the anatomy of the Chinese Early Cretaceous Bohaiornithidae (Aves: Enantiornithes) from a subadult specimen of Zhouornis hani.

PeerJ

2

:

e407

https://doi.org/10.7717/peerj.407
Abstract
Enantiornithines are the most diverse avian clade in the Cretaceous. However, morphological specializations indicative of specific ecological roles are not well known for this clade. Here we report on an exquisitely well-preserved specimen from the Lower Cretaceous Jehol Group of northeastern China, which pedal morphology is suggestive of a unique ecological specialization within Enantiornithes. The morphology of the new specimen is largely indistinguishable from that of the holotype of the bohaiornithid enantiornithine Zhouornis hani, albeit the latter is somewhat larger. The new specimen provides important and previously unknown details of the skull of Zhouornis hani, which add to the limited knowledge about the cranial anatomy and evolution of enantiornithines. The information offered by the new specimen also augments our understanding of the postcranial morphology of bohaiornithid enantiornithines, a clade that has been only recently recognized. With the description of this specimen, Zhouornis hani becomes one of the most anatomically complete known enantiornithine species, which will facilitate future morphological studies.
Introduction
During the last two decades, over 40 species of birds have been named from the Lower Cretaceous Jehol Group Lagerstatten of northeastern China, and discoveries continue at an unprecedented rate (Zhou & Zhang, 2006; Chiappe, 2007; O'Connor, Chiappe & Bell, 2011). The most diverse recognized clade is Enantiornithes, inferred to be the dominant clade of Cretaceous birds (Chiappe, 2007; O'Connor et al., 2009). The Jehol Group, however, is not only important because it has produced such a wealth of fossil evidence, but because these fossils reveal critical information regarding aspects of the integument, diet, ecology, reproduction, and ontogeny (Zhang & Zhou, 2000; Zhou & Zhang, 2006; O'Connor et al., 2009; Zheng et al., 2011; Zheng et al., 2012; Zheng et al., 2013a; Zheng et al., 2013b).
Here we describe an exquisite new specimen (BMNHC Ph 756), which is morphologically indistinguishable from that of the Jehol enantiornithine Zhouornis hani (Zhang et al., 2013). This taxon has recently been assigned to Bohaiornithidae; with six included genera (Bohaiornis, Longusunguis, Parabohaiornis, Shenqiornis, Sulcavis, and Zhouornis) (Hu et al., 2011; Li et al., 2014; O'Connor et al., 2013; Wang et al., 2010); it represents the most speciose recognized clade of enantiornithines to receive phylogenetic support (Wang et al., 2014). By preserving previously unknown morphological details, in particular of the skull, BMNHC Ph 756 provides valuable information for understanding the cranial anatomy and evolution of bohaiornithids, and enantiornithines and basal birds in general. Referred specimen BMNHC Ph 756 is preserved in ventral view, perfectly complimenting the holotype of Zhouornis hani which is preserved in dorsal view (Zhang et al., 2013), thus with this description this taxon becomes one of the most anatomically well-known Early Cretaceous birds.
Materials and Methods
Taphonomy and preservation
BMNHC Ph 756 consists of a nearly complete sub-adult individual preserved fully articulated in ventral view in a single slab (Figs. 1 and 2) collected from Jehol deposits near Xiaoyugou (Chaoyang, Liaoning Province, China). Based on exposures around the Xiaoyugou locality, BMNHC Ph 756 is considered to come from the Jiufotang Formation. BMNHC Ph 756 preserves faint remnants of plumage and it is approximately 80% the size of the holotype of Zhouornis hani, CNUVB-0903 (Zhang et al., 2013) (Fig. 3). BMNHC Ph 756 was mechanically prepared at the Natural History Museum of Los Angeles County (Table 1) and an epoxy resin cast is housed at this museum (LACM 7892/155842). Preparation revealed no evidence of tampering and asserted the legitimacy of the fossil.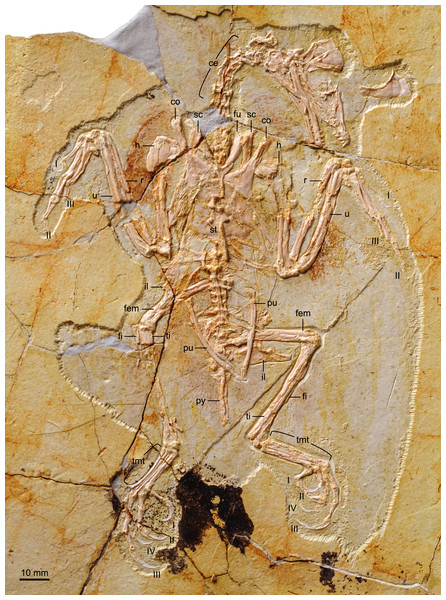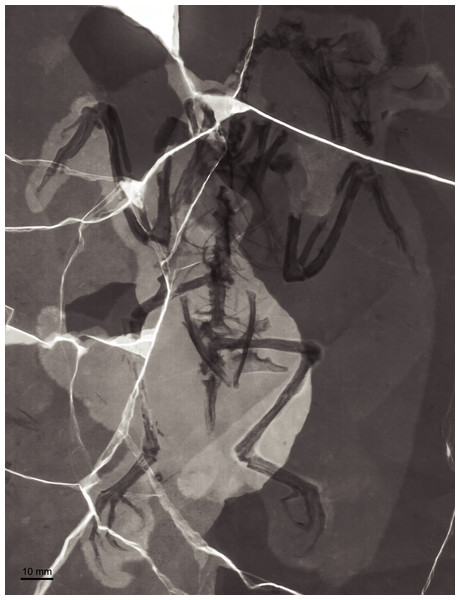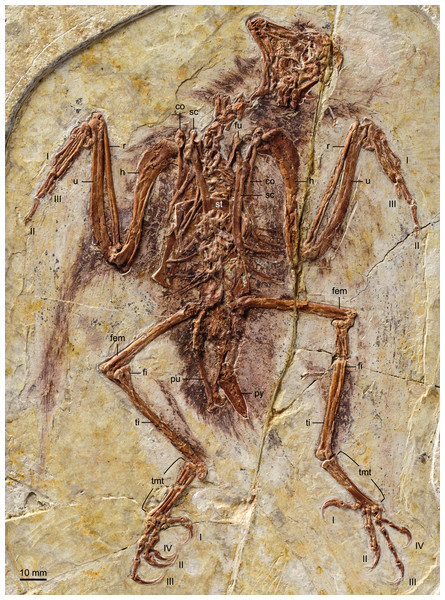 | | BNHM Ph756 | CNUVB-0903 |
| --- | --- | --- |
| Pygostyle | 22.4 | 17.3 |
| Scapula | 32.4(l) 36.0(r) | 40.4 (l) 40.7 (r) |
| Coracoid | 20.9(l) 23.1(r) | 28.3 (l) 28.4 (r) |
| Humerus | 38.3(l) 40.5(r) | 50.6 (l) 50.6 (r) |
| Ulna | 36.9(l) 41.5(r) | 54.0 (l) 53.5 (r) |
| Carpometacarpus | 19.3(l) 19.5(r) | 24.4 (l) 23.6 (r) |
| Femur | 31.4(l) 26.4(r) | 43.5 (l) 44.5 (r) |
| Tibiotarsus | 39.3(l) 41.7(r) | 51.2 (l) 52.1 (r) |
| Tarsometatarsus | 22.5(l) 20.0(r) | 25.8 (l) 26.1 (r) |
Results
Anatomical description
The anatomical nomenclature used here primarily follows that of the Nomina Anatomica Avium (Baumel & Witmer, 1993).
Discussion
BMNHC Ph 756 preserves numerous enantiornithine synapomorphies, including a dorsally forked pygostyle with a pair of ventrolateral processes, Y-shaped furcula, caudally restricted sternal keel, distally expanded lateral trabecular of the sternum, interosseal groove on radius, minor metacarpal projecting distally farther than the major metacarpal, and a reduced metatarsal IV. Smaller size notwithstanding, it is not possible to differentiate the specimen from the holotype of Zhouornis hani. BMNHC Ph 756 reveals details of the skull and postcranium that have remained unclear for Zhouornis hani, and for previously known enantiornithine specimens (O'Connor & Chiappe, 2011), such as the articulation between the jugal, the lachrymal, and maxilla, the number of premaxillary teeth and details of the dental morphology, the pneumatic condition of the quadrate, the number of synsacral vertebrae, and aspects of the sternum and the pelvis.
The lack of fusion in several of the compound bones (e.g., carpometacarpus, tibiotarsus, tarsometatarsus, pygostyle) supports the interpretation of BMNHC Ph 756 as a subadult, in which skeletal maturation was not completed at the time of death. Whereas the bone microstructure of the holotype was studied by Zhang et al. (2013), BMNHC Ph 756 was unavailable for histological sectioning. Therefore, presently we cannot contrast our ontogenetic interpretation of BMNHC Ph 756 with histological evidence. Given the absence of other information about the life history of Zhouornis hani, we tentatively interpret the smaller size and skeletal immaturity of BMNHC Ph 756 as indicative of a younger age relative to the holotype.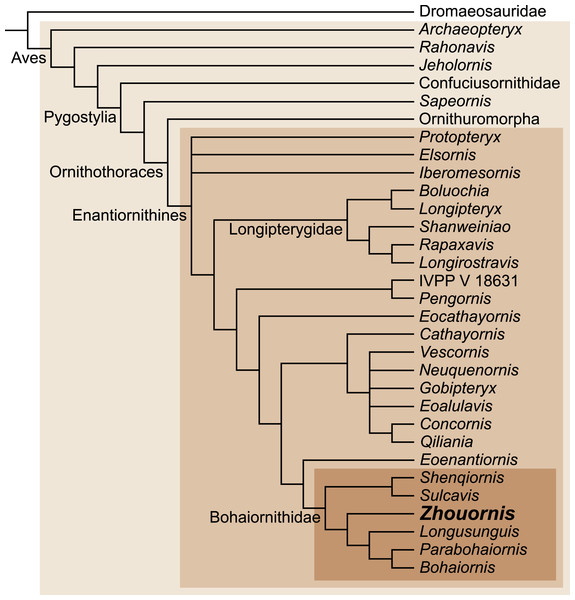 Zhouornis has been recently assigned to the diverse enantiornithine clade, the Bohaiornithidae, with the support of a large cladistic analysis (Wang et al., 2014) (Fig. 9). Bohaiornithids are united by common morphologies of the rostrum (e.g., robust), teeth (e.g., thick basally, occlusally tapered and recurved), scapula (e.g., corpus slightly curved), sternum (e.g., lateral trabeculae laterally splayed with triangular distal expansions), and the foot (e.g., enlarged pedal digit II and long digit III claw). The unusual pedal morphology of BMNHC Ph 756 and other bohaiornithids hints at a unique ecological role played by this enantiornithine clade (Wang et al., 2014). Comparative measurements of the third toe have been shown to be indicative of ecology in living birds (Hopson, 2001; Zhou & Farlow, 2001). Adding the bohaiornithids to this data indicates that these birds were ecological generalists, intermediate between cursorial and arboreal birds (Wang et al., 2014). However, the hypertrophied third pedal claw, the robust digit II, and well-developed hallux may point to ecological specializations not found among other enantiornithines. BMNHC Ph 756 improves our understanding of the anatomy of Zhouornis hani, making this bohaiornithid the best known species of this newly recognized clade of enantiornithine birds.
Institutional Abbreviations

BMNHC

Beijing Natural History Museum, China

CNU

Capital Normal University, Beijing, China

IVPP

Institute of Vertebrate Paleontology and Paleoanthropology, Chinese Academy of Sciences, Beijing, China

LACM

Natural History Museum of Los Angeles County, USA