Introgression between ecologically distinct species following increased salinity in the Colorado Delta- Worldwide implications for impacted estuary diversity
Department of Ecology and Evolutionary Biology, University of California

,

Los Angeles

,

CA

,

United States of America
Published

Accepted

Received
Academic Editor
Subject Areas

Biogeography, Conservation Biology, Evolutionary Studies, Aquatic and Marine Chemistry, Ecohydrology

Keywords

Introgression

,

Hybridization

,

Colorado River Delta

,

Gulf of California

,

Colpichthys

,

Endemic species

,

Ecological species

,

Extinction through hybridization
Copyright

©

2017

Lau and Jacobs

Licence

This is an open access article distributed under the terms of the Creative Commons Attribution License, which permits unrestricted use, distribution, reproduction and adaptation in any medium and for any purpose provided that it is properly attributed. For attribution, the original author(s), title, publication source (PeerJ) and either DOI or URL of the article must be cited.
Cite this article

2017

.

Introgression between ecologically distinct species following increased salinity in the Colorado Delta- Worldwide implications for impacted estuary diversity

.

PeerJ

5

:

e4056

https://doi.org/10.7717/peerj.4056
Abstract
We investigate hybridization and introgression between ecologically distinct sister species of silverside fish in the Gulf of California through combined analysis of morphological, sequence, and genotypic data. Water diversions in the past century turned the Colorado River Delta from a normal estuary to a hypersaline inverse estuary, raising concerns for the local fauna, much of which is endangered. Salinity differences are known to generate ecological species pairs and we anticipated that loss of the fresher-water historic salinity regime could alter the adaptive factors maintaining distinction between the broadly distributed Gulf-endemic Colpichthys regis and the narrowly restricted Delta-endemic Colpichthys hubbsi, the species that experienced dramatic environmental change. In this altered environmental context, these long-isolated species (as revealed by Cytochrome b sequences) show genotypic (RAG1, microsatellites) evidence of active hybridization where the species ranges abut, as well as directional introgression from C. regis into the range center of C. hubbsi. Bayesian group assignment (STRUCTURE) on six microsatellite loci and multivariate analyses (DAPC) on both microsatellites and phenotypic data further support substantial recent admixture between the sister species. Although we find no evidence for recent population decline in C. hubbsi based on mitochondrial sequence, introgression may be placing an ancient ecological species at risk of extinction. Such introgressive extinction risk should also pertain to other ecological species historically sustained by the now changing Delta environment. More broadly, salinity gradient associated ecological speciation is evident in silverside species pairs in many estuarine systems around the world. Ecological species pairs among other taxa in such systems are likely poorly understood or cryptic. As water extraction accelerates in river systems worldwide, salinity gradients will necessarily be altered, impacting many more estuary and delta systems. Such alteration of habitats will place biodiversity at risk not only from direct effects of habitat destruction, but also from the potential for the breakdown of ecological species. Thus, evolutionary response to the anthropogenic alteration of salinity gradients in estuaries merits investigation as the number of impacted systems increases around the globe, permitting parallel study of multiple systems, while also permitting a conservation management response to help preserve this little championed component of biodiversity.
Introduction
Damming and water extraction in river systems are accelerating around the globe (Nilsson et al., 2005; Liermann et al., 2012), impacting estuarine and deltaic settings downstream (Bonetto, Wais & Castello, 1989; Lu & Siew, 2006; Yang et al., 2005). Physical changes include loss of freshwater, elimination of peak flood flows, loss of sediment supply, and alteration of the nature and position of salinity gradients (Nilsson & Berggren, 2000; Carriquiry & Sánchez, 1999). Such changes necessarily influence the adaptive context under which local species evolve, potentially reducing the selective pressures maintaining species differences and placing ecological species at risk of elimination through introgression. In order to better understand the risks such changes pose, we examine recent introgression in a Pliocene-age species pair of silverside fishes of the genus Colpichthys in the northern Gulf of California (Gulf hereafter) where the Colorado River enters the Ocean. Following 20th century dam constructions, virtually no river flow reaches the Colorado River Delta (Glenn et al., 1996). As a consequence of this dramatically modified state, this system may serve as a harbinger of evolutionary impacts in the estuaries of the world's major river systems.
Colpichthys, a little studied genus of the silverside family Atherinopsidae, inhabits near-shore settings of the northern part of the Gulf and consists of two endemic species, Colpichthys regis (Jenkins & Evermann, 1889) and Colpichthys hubbsi (Crabtree, 1989). These are listed on the IUCN Red List as Near Threatened and Endangered, respectively (Findley, Collette & Espinosa, 2010a; Findley, Collette & Espinosa, 2010b). The Colorado River enters the Gulf at its northernmost extremity where it forms an extensive delta and estuary system. The Colorado Delta (Delta hereafter) habitat of C. hubbsi was historically distinct from the other marine estuaries of the semiarid Gulf where we recovered C. regis samples (Crabtree, 1989; Hastings & Findley, 2007). Tidal channels in the Delta experience a much greater tidal amplitude of up to 10 m, and silt as opposed to clay content is much higher in the Delta relative to other estuaries. In the 19th century, the Delta received continuous freshwater flow and extensive flood water during the spring and summer melting of mountain snows in the headwaters. These flows were eliminated through 20th century damming leading to a shift from a typical brackish to a hypersaline inverse estuary (Lavín & Sánchez, 1999). The difference in salinity, sediment supply and food chain necessarily impose significantly different adaptive regimes on taxa in the Delta relative to other Gulf estuaries (Swift et al., 2011); as a result of the shifting environment, these differences may disappear.
Through the study of introgressive process in Colpichthys we hope to inform issues of evolution and endangerment of the northern Gulf fauna associated with the potential for introgression in ecological species in the face of habitat change. Direct and climate driven anthropogenic impacts increasingly threaten estuarine faunas globally across a broader suite of river systems. In the remainder of this introduction we consider: similar contexts that have produced ecological species, the potential extirpation of species via introgression, the relevant detail regarding the study taxon Colpichthys as well as the suite of data and methods employed in phylogeny reconstruction, and assessment of historic demography and introgression.
Marine taxa that invade fresh water experience strong selection (Lee, 2016). In these cases, advantages in food availability or predator avoidance can overcome the selective costs and rapid evolution of tolerance to fresh water often ensues. Ecological divergence between fresh and marine water commonly occurs in the lower reaches of rivers, and is especially well established in silversides. Ecological diversification and speciation by salinity differences occur in geographically isolated and taxonomically separate silverside genera from Brazil, Australia, the Mediterranean, and the Eastern US (Bamber & Henderson, 1988; Beheregaray & Sunnucks, 2001; Fluker, Pezold & Minton, 2011; Johnson, Watts & Black, 1994; Klossa-Kilia et al., 2007; Francisco et al., 2006; Olsen, Anderson & McDonald, 2016; Trabelsi et al., 2002). The strong selection pressures between fresh and salt water, the frequent ecological diversification in silversides, and the historic difference in habitats between the Delta and the Gulf as noted above all support an ecological species interpretation of the C. regis/C. hubbsi split. As the loss of fresh water input to the Delta disrupts the local salinity gradient, breakdown of the ecological factors supporting distinction of these species seems likely.
Introgressive hybridization involves the transfer of alleles from one species to the gene pool of another species through repeated backcrossing of hybrids (Heiser, 1973; Harrison & Larson, 2014). This process can result from the dissolution of selective regimes that maintain ecological species and has a number of evolutionary consequences. Introgression could allow for the spread of adaptive or deleterious alleles from one species to the other across a hybrid zone. Alternatively, it may promote the homogenization of the two species, and in extreme cases, could lead to the extinction of one or both parental types through effects such as demographic or genetic swamping (Todesco et al., 2016). The hydrologic changes in the Delta make C. hubbsi a likely candidate for introgressive hybridization with C. regis. C. regis has a range rendered discontinuous by the Colorado River Delta at the northern end of the Gulf where C. hubbsi is locally endemic. C. regis and C. hubbsi co-occur only at the southwestern border of the Delta where it meets the Baja coast (Fig. 1A). In this study, we test whether hybridization occurs in this region of overlap and whether introgression is occurring between the species.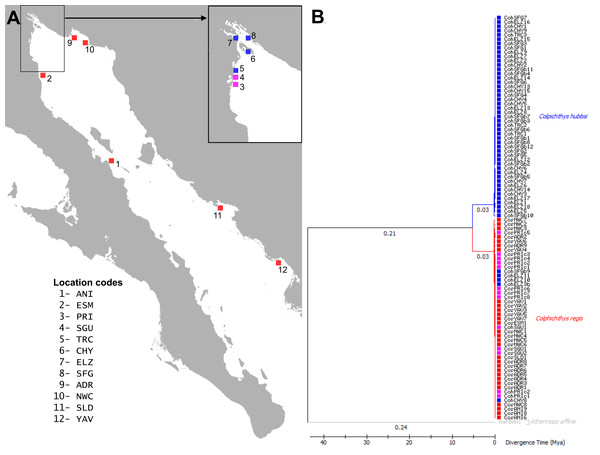 In the following, we compare the external and internal morphology of specimens recovered from C. regis and C. hubbsi populations to characterize the variation across both species to help establish baseline for discovering potential hybrids. We also investigate molecular evidence from mitochondrial and nuclear sequences as well as microsatellite genotypes to detect genetic introgression across the species barrier. In addition to investigating the hybridization, with the available genetic data we performed a number of population genetics analyses to infer genetic diversity and demographic histories of the two species.
Conclusion
We document the Pliocene separation and recent introgression between a sister species pair in the northern Gulf of California. Our evidence supports hybridization and introgression into the IUCN endangered Delta endemic Colpichthys hubbsi from the more widespread Gulf species C. regis following 20th century environmental alteration through water removal and salinity change in the Delta system. The work combines multiple lines of phenotypic and genetic evidence to demonstrate this directional introgressive hybridization. We find no evidence for population decline in C. hubbsi, yet continued introgression may jeopardize the genetic integrity of this taxon. Genetic diversity of C. regis is revealed to be lower than expected for a healthy, widely distributed species so it likely merits its IUCN threatened designation. Our work highlights the need for closer monitoring and further demographic investigations of Colpichthys populations not just within the Delta but also throughout the Northern Gulf. More generally, our work implies that other Colorado Delta-specific endemics such as the goby Gillichthys detrusus and the fiddler crab Uca monilifera may also be ecological species at risk of loss through introgression from their proximally distributed congeners. More broadly, a general suite of ecological species around the world that evolved in response to salinity gradients in major river systems are likely at increasing risk of introgressive extinction as water extraction and climate change impacts accelerate in river systems globally.