Cranial osteology of the pampathere Holmesina floridanus (Xenarthra: Cingulata; Blancan NALMA), including a description of an isolated petrosal bone
1
Department of Biology, Geology and Environmental Science, University of Tennessee—Chattanooga

,

Chattanooga, TN

,

USA
2
Department of Geosciences and Don Sundquist Center of Excellence in Paleontology, East Tennessee State University

,

Johnson City, TN

,

USA
Published

Accepted

Received
Academic Editor
Subject Areas

Keywords

Cingulata

,

Auditory region

, Holmesina,

Cranial osteology

,

Xenarthra

,

Pampathere
Copyright

©

2017

Gaudin and Lyon

Licence

This is an open access article distributed under the terms of the Creative Commons Attribution License, which permits unrestricted use, distribution, reproduction and adaptation in any medium and for any purpose provided that it is properly attributed. For attribution, the original author(s), title, publication source (PeerJ) and either DOI or URL of the article must be cited.
Cite this article

2017

. Cranial osteology of the pampathere Holmesina floridanus (Xenarthra: Cingulata; Blancan NALMA), including a description of an isolated petrosal bone.

PeerJ

5

:

e4022

https://doi.org/10.7717/peerj.4022
Abstract
The present study entails descriptions of several well-preserved skulls from the pampathere species Holmesina floridanus, recovered from Pliocene localities in central Florida and housed in the collections of the Florida Museum of Natural History. Bone by bone descriptions have allowed detailed reconstructions of cranial morphology. Cranial foramina are described and illustrated in detail, and their contents inferred. The first ever description of an isolated pampathere petrosal is also included. Cranial osteology of Holmesina floridanus is compared to that of Pleistocene species of Holmesina from both North and South America (Holmesina septentrionalis, Holmesina occidentalis), as well as to the other well-known pampathere genera, to closely related taxa among glyptodonts (Propalaehoplophorus), and to extinct and extant armadillos (Proeutatus, Euphractus). This study identifies a suite of apomorphic cranial features that serve to diagnose a putative, progressive series of more inclusive monophyletic groups, including the species Holmesina floridanus, the genus Holmesina, pampatheres, pampatheres plus glyptodonts, and a clade formed by pampatheres, glyptodonts, and Proeutatus. The study highlights the need for further anatomical investigations of pampathere cranial anatomy, especially those using modern scanning technology, and for analyses of pampathere phylogenetic relationships.
Introduction
Living armadillos, the only mammals to bear a carapace of dermal bony armor, are the most diverse of the extant groups of Xenarthra, numbering at least 21 of the 31 currently recognized xenarthran species (Aguiar & Da Fonseca, 2008—although armadillo taxonomy is currently in flux; e.g., see Abba et al., 2015; Feijó & Cordeiro-Estrela, 2016; Billet et al., 2017; Hautier et al., 2017). However, the diversity of extinct armored xenarthrans, i.e., the Cingulata, far surpasses its extant representatives, not only in taxonomic diversity, but in terms of body size, locomotory diversity, and dietary diversity, even including a "horned" taxon Peltephilus (Fernicola, Vizcaíno & Fariña, 2008; Gaudin & Croft, 2015; Croft, 2016). Regarding diet, it is particularly noteworthy that there are omnivorous extant armadillos, but no herbivores (McDonough & Loughry, 2008; Gaudin & Croft, 2015), whereas the fossil cingulates include two herbivorous clades, pampatheres and glyptodonts. Both are comprised of large bodied taxa with complex dentitions (lobate teeth composed of multiple dental tissues of differing hardness; Kalthoff, 2011). The former numbers only a few genera, whereas the latter encompasses at least 65 genera (McKenna & Bell, 1997). Both are understudied, particularly given their conspicuous nature, often bizarre anatomies, and their abundance and ecological importance in late Cenozoic faunas of South and North America.
Pampatheres are a particularly poorly studied group. The oldest undoubted pampathere does not appear until the middle Miocene (Gaudin & Croft, 2015; with the possible exception of a very poorly preserved taxon from the late Eocene of Patagonia, Machlydotherium, De Iuliis & Edmund 2002). The group's basic taxonomy has long been unsettled. McKenna & Bell (1997) recognize only four valid pampathere genera, though several new taxa have since been added (Edmund & Theodor, 1997; Góis et al., 2015). One of their genera, Pampatherium, includes as a junior synonym at least one genus that is widely recognized as a separate, valid taxon, Holmesina; however, which of the species described in the literature belong in Holmesina and which in Pampatherium has been uncertain (Edmund, 1987; De Iuliis, Bargo & Vizcaíno, 2000). In addition, McKenna & Bell (1997) recognize the taxon name Plaina as a junior synonym of the genus Kraglievichia, whereas subsequently, De Iuliis & Edmund (2002) synonymize Plaina with McKenna and Bell's genus Vassallia. Part of the taxonomic difficulties lie with the paucity of fossil material. The majority of preserved pampathere remains consist of isolated osteoderms. De Iuliis & Edmund (2002, p. 50) note that "taxa based on small samples of osteoderms [are] unreliable," and yet osteoderms have been used extensively in the alpha taxonomy of pampatheres and other cingulates (Castellanos, 1946; Edmund, 1985a; Scillato-Yané et al., 2005; Góis et al., 2013).
The nature of the pampathere record has also hindered an understanding of their basic skeletal anatomy. Most of the described postcranial skeletal remains are based on very incomplete material, have received only cursory descriptions, and are poorly illustrated, if at all, by unlabeled photographs showing only one or two views (Castellanos, 1937; James, 1957; Robertson, 1976; Cartelle & Bohórquez, 1985; Edmund, 1985b; Edmund & Theodor, 1997; Góis et al., 2015). Despite the fact that several complete skeletal reconstructions have been published (James, 1957; Edmund, 1985b), the postcranial osteology of pampatheres remains scarcely known.
For the skull, mandible, and dentition, the situation is somewhat better. A fair number of complete, or nearly complete skulls and mandibles are known from a variety of taxa, including Kraglievichia (Castellanos, 1937), Vassallia (De Iuliis & Edmund, 2002), Pampatherium (Bordas, 1939; De Iuliis, Bargo & Vizcaíno, 2000), and various species of Holmesina (Simpson, 1930; James, 1957; Cartelle & Bohórquez, 1985; Edmund, 1985b; Vizcaíno, De Iuliis & Bargo, 1998; Góis et al., 2012), though several other genera remain incompletely known (e.g., Scirrotherium, Edmund and Theodor 1997; Tonnicinctus, Góis et al., 2015). More detailed examinations of cranial anatomy have been published, including several studies of the ear region (in Pampatherium, Bordas 1939; Guth 1961; and in Vassallia, Patterson, Segall & Turnbull, 1989) and a recently published study on brain anatomy based on a digital endocast (Tambusso & Fariña, 2015). However, many of these cranial descriptions are fairly cursory, and virtually all are illustrated with unlabeled photographs that leave out many details. Even the ear region studies fail to address or adequately illustrate the detailed anatomy of the petrosal bone, as is common among more modern treatments of mammalian auditory region osteology. To date, there remains no study of the cranial osteology of pampatheres that clearly illustrates suture patterns and provides a bone by bone description of the anatomy, including the cranial foramina and their likely contents.
Fossil pampatheres have been known from the state of Florida, in the extreme southeast of North America, for more than a century (Simpson, 1930). Two species in the genus Holmesina are currently recognized: a late Pliocene-early Pleistocene (Blancan NALMA) form, Holmesina floridanus; and, a middle to late Pleistocene taxon (Irvingtonian and Rancholabrean NALMA), Holmesina septentrionalis (Hulbert & Webb, 2001). Both are known from extensive material, but the older material is particularly complete, abundant, and well-preserved (see, e.g., the skull illustrated in Hulbert & Webb (2001, fig. 10.7), currently on exhibit at the Florida Museum of Natural History), though it remains mostly undescribed. Multiple individuals, including both adults and subadults, are derived largely from two sites: Haile 7G in Alachua County, Florida; and Inglis 1C in Citrus County, Florida. The goal of the present study is to describe the cranial osteology of Holmesina floridanus, based on this material. Because of the preservation quality, these fossils will allow us to conduct a thorough, bone by bone analysis of the skull, and to provide a fairly comprehensive view of the cranial foramina and their reconstructed contents. There is even an isolated petrosal among this material, which will allow us to describe the bony anatomy of the auditory region in unprecedented detail. These descriptions are accompanied by a carefully executed series of drawings, including both drawings of the best preserved fossils themselves, as well as reconstructions of the anatomy as we believe it would have appeared in life. The present study will provide the most detailed glimpse yet into the cranial anatomy of pampatheres, and should serve as an important basis for future studies of the paleontology, systematics, and evolution of this enigmatic group of cingulate xenarthrans.
Materials and Methods
Our goal was to base our description on the best preserved specimens of Holmesina floridanus available. Unfortunately for our purposes, the best preserved skull, UF 121742 (one of the best preserved fossil skulls we have ever seen!), is currently on exhibit at the Florida Museum of Natural History. Although the museum staff was kind enough to allow our examination of this specimen for an afternoon, it was not possible for us to borrow the skull for more careful study. Therefore, the descriptions below are based largely on three other specimens, UF 191448, UF 224450, and UF 248500, which were also in excellent condition and were available for loan (Fig. 1). UF 191448 is an almost perfectly complete adult skull, with only minor damage in the orbital wall and nasopharyngeal roof; but, as an adult, most of the sutures are closed, and the specimen retains only 4 of 18 teeth (left M3–5, and right M8). UF 224450 is an isolated but nearly perfectly preserved left mandible, however it retains only three of nine teeth (M2 and M6–7). UF 248500 is a subadult specimen with some significant damage to the middle portions of the skull, including parts of the skull roof, orbital wall, nasopharynx and left basicranium; but, it retains many if not most of its sutures, all its dentition is intact, and those portions of the skull that are present are very well preserved. In addition, it has a complete, isolated left petrosal that we were able to examine in three dimensions.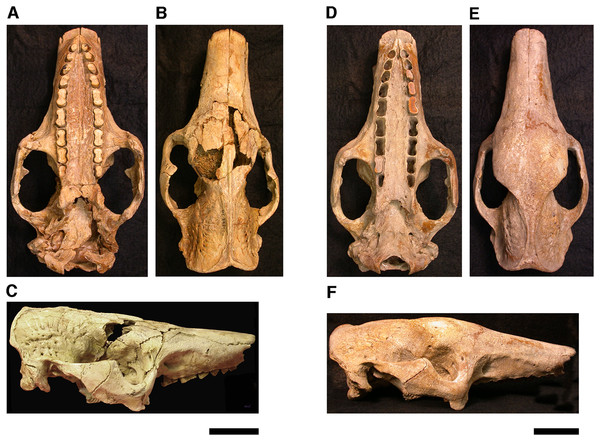 In order to examine interspecific variation, including ontogenetic variation, the three specimens that form the primary basis for this description were compared to the other skulls and mandibles of Holmesina floridanus in the collections of the Florida Museum of Natural History. Most of these, with the exception of the aforementioned display specimen, are not fully prepared, several are incompletely preserved, and at least one represents a subadult likely even younger than UF 248500; age was estimated based on the level of sutural fusion present in the skull, and the surface texture of the skull bones. These specimens include the following: UF 121742 [exhibit skull]; UF 223813 [skull only]; 248000 [partial mandible]; 275496 [juvenile skull]; 275497 [skull and mandible]; 275498 [skull and mandible]; 278000 [partial skull and mandible]; 285000 [skull and mandible]; 293000 [skull and mandible]. None of the Holmesina floridanus material examined preserved any trace of the ectotympanic bone or the auditory ossicles, or showed any trace of an entotympanic (an element commonly present in other xenarthrans and likely a synapomorphy of Xenarthra; Patterson et al., 1992; Gaudin, 2004; Gaudin & McDonald, 2008), though, as noted above, some specimens are not yet fully prepared.
In order to assess generic level variation within Holmesina, the Holmesina floridanus material described above was compared to two specimens of the North American Pleistocene species Holmesina septentrionalis (UF 889 [partial skull only] and UF 234224 [cast skull only]) and one specimen of the South American Pleistocene species Holmesina occidentalis (ROM 3881 [skull], ROM 4955 [mandible]), as well as any literature available on these taxa. Likewise, in order to gain a comparative perspective on pampathere cranial anatomy, our material was compared to one specimen of Vassallia maxima (FMNH P14424), as well as the available literature on this and other pampathere skulls. Finally, in order to place this anatomy in a broader context among cingulates, Holmesina floridanus was compared to specimens of the basal glyptodont Propalaehoplophorus (YPM VPPU 15007, 15291; FMNH 13205; glyptodonts are the putative sister taxon to pampatheres; Gaudin & Wible, 2006; Porpino, Fernicola & Bergqvist, 2009; Billet et al., 2011), the extinct eutatine armadillo Proeutatus (FMNH P13197, P13199; Proeutatus is the putative sister taxon to pampatheres and glyptodonts; Gaudin & Wible, 2006; Billet et al., 2011), and an extant euphractine, the six-banded armadillo Euphractus sexcinctus [CM 6339; UTCM 1481, 1486, 1491, 1500; one of the living armadillos that is most closely related to pampatheres in the most comprehensive morphology-based cingulate phylogenies, those of Gaudin & Wible (2006) and Billet et al. (2011), but see Porpino, Fernicola & Bergqvist (2009) for contrasting view]. In certain specific instances, other comparative taxa have been utilized (e.g., the pampathere Scirrotherium, the extinct armadillos Peltephilus and Kuntinaru, and sloths). In instances in which a specific specimen number has been noted as part of a comparison, the information derives from personal observations made by the authors of the present study. If a literature citation is provided in addition to or in place of a specimen number, the observation derives in part or in whole from the observations of other authors.
Descriptions of the dorsal surface of the petrosal are only available for a small number of cingulate taxa. Therefore, we will be comparing the anatomy of the dorsal surface of our isolated petrosal in Holmesina floridanus to the detailed description of Dasypus novemcinctus by Wible (2010), to a bisected skull of E. sexcinctus (UTCM 1486), and to a specimen of Vassallia maxima, FMNH P14424, in which the braincase has been bisected (though its endocranial anatomy was never described; the cut is visible in De Iuliis & Edmund (2002, fig. 2)). Because these are the only three cingulates for which we have information on the lateral surfaces of isolated petrosals, we shall restrict our comparisons of this surface to these three taxa, Holmesina floridanus, Dasypus novemcinctus (Wible, 2010), and an Eocene dasypodine lacking a specific taxonomic assignment (Babot, García-López & Gaudin, 2012).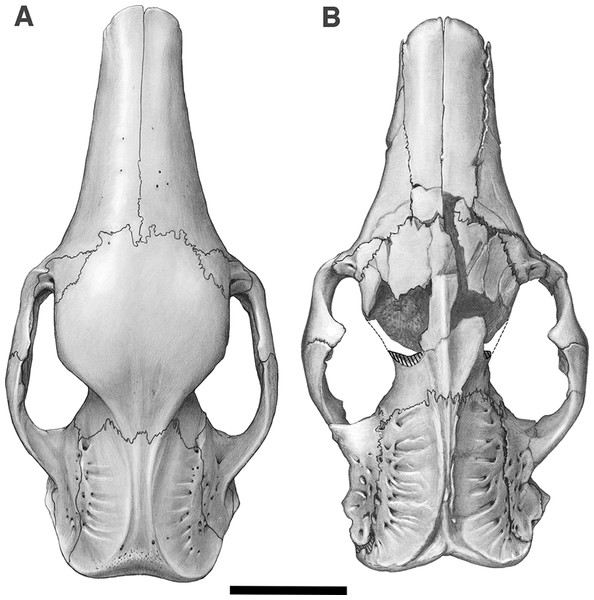 The mandible is preserved in a number of UF Holmesina floridanus specimens, including UF 223813, 248500, 275497, 275498, 285000 and 293000. In all but the first two it remains incompletely prepared and attached to the skull, so that the occlusal surfaces of the teeth are not completely visible and the medial mandibular surfaces are also largely obscured. The mandible is prepared free in UF 223813 and 248500, but both are damaged to some extent. The left mandible of UF 224450 has also been prepared free. In this specimen the bone is almost perfectly preserved, although it only retains three of nine lower teeth (the second, sixth, and seventh), along with what appears to be a pathological remnant of the fourth. Nevertheless, as the most complete available specimen, it will serve as the primary basis for our description of the mandible.
The pampathere mandible has been described many times in the literature (Simpson, 1930; Castellanos, 1937; James, 1957; Edmund, 1985b; Edmund & Theodor, 1997; Vizcaíno, De Iuliis & Bargo, 1998; De Iuliis, Bargo & Vizcaíno, 2000; De Iuliis & Edmund, 2002), and, as many of these authors have noted, is broadly similar in its morphology among the various taxa. Since much has already been written about the comparative morphological differences among pampathere mandibles at the generic level, we will focus our comparisons on the species level variation within Holmesina.
Anatomical terminology, wherever possible, follows that of Wible & Gaudin (2004) and Wible (2010). Stereophotographs of UF 248500 were prepared with the assistance of Dr. Stelios Chatzimanolis (University of Tennessee at Chattanooga) in accordance with the procedure outlined in Gaudin (2011).
Results (descriptive Anatomy)
Discussion
The present study represents the most detailed and extensively illustrated description of a pampathere skull published to date. This is not to say that everything worthy of note is now known about the cranial osteology of Holmesina floridanus. As noted in the descriptive text above, we have yet to identify any ear ossicles, or any ecto- or entotympanic elements, in whole or in part (if the latter indeed exists in pampatheres, as it does in many other cingulates—see Patterson, Segall & Turnbull, 1989). CT-scanning of existing, but still unprepared specimens of Holmesina floridanus might allow for the digital recovery of these small, often delicate and loosely attached structures. Such structures are frequently lost through more traditional mechanical preparation techniques, even if they exist and remain with the skull, either embedded in matrix, or, in the case of the ossicles, trapped in the vestibule of the inner ear. CT scans might also yield information on endocranial osteology, e.g., on the delicate and hard-to-prepare nasal turbinate elements and paranasal sinuses, as has been done for the glyptodont Neosclerocalyptus (Fernicola et al., 2012) and the extant armadillo Dasypus (Billet et al., 2017). Scanning would also allow for the reconstruction of soft tissues, especially the brain and associated cranial nerves and endocranial vasculature, as has recently been done (in part) for the pampathere Pampatherium humboldti (Tambusso & Fariña, 2015). Producing and describing detailed CT scans of the skull in Holmesina floridanus were deemed beyond the scope of the present study, but are planned for the future. In addition, there is extensive postcranial and carapace material for this species that was not considered in this investigation, but will be the subject of planned future work.
It is particularly fortuitous that this description centers on Holmesina floridanus, a taxon represented by such abundant and well preserved material, including at least 10 complete or nearly complete skulls from two sites of similar age in central Florida. As noted by Wible & Gaudin (2004) and De Iuliis et al. (2014), and many others, all too often descriptions of fossil species are based on single (or even incomplete) specimens. Whereas this is often due to the limitations of the available material, it makes it difficult to account for intraspecific variation, to distinguish between species level distinctions and sexual dimorphism (McDonald, 2006), or to assess the reliability of systematic characters based on fossil taxa. The present study, like other recent detailed analyses of xenarthran skull morphology (Wible & Gaudin, 2004; Gaudin, 2011; McAfee & Naples, 2012; De Iuliis et al., 2014; Hautier et al., 2014; Gaudin et al., 2015), has revealed substantial variation in a variety of cranial features in Holmesina floridanus. These features include the number, size and/or position of a variety of cranial foramina (anterior palatal foramen, maxillary foramen, minor palatine foramina, foramen for frontal diploc vein, ethmoid foramen, transverse canal foramen, foramina for rami temporalis, suprameatal foramen, hypoglossal foramen); the presence, size and shape of various processes (anteroventral process on premaxilla, lacrimal tubercle, ventral zygomatic process, postorbital process of jugal, orbito-auricularis crest, medial pterygoid process, circular boss on lateral wall of promontorium, medial shelf of petrosal, coronoid process of mandible) or depressions (digastric fossa, tensor tympani fossa, fossa incudis); and the shape of other cranial (proportions of nasal bone, shape of anterior margin of premaxilla, shape of naso-frontal and jugal/squamosal sutures, shape of external nares and occipital exposure of mastoid) or dental features (e.g., outline of M4 and M5, shape of wear facets on M1).
Whereas the present study reveals a significant amount of intraspecific cranial variation in Holmesina floridanus, it has also produced a long list of features that affirm previously hypothesized systematic relationships between this and other purportedly related taxa. Among these are features that are diagnostic of the taxon itself. The only diagnostic feature provided in the original diagnosis of the species by Robertson (1976) was the shape and orientation of the fourth upper molariform, and, as noted above, the shape of this tooth is variable among specimens of Holmesina floridanus. Edmund (1987) distinguished this taxon based almost exclusively on size. Hulbert & Morgan (1993) conducted a more extensive analysis, looking at the taxonomic implications of size variation but also a series of qualitative postcranial and dental features for Holmesina specimens from Florida only, but they did not list any cranial characteristics that served to distinguish Holmesina floridanus from the younger Holmesina septentrionalis. The present study recognizes at least 11 distinct, meristic cranial features that may be diagnostic for Holmesina floridanus (Table 5), further affirming its status as a disctinct pampathere species, currently known only from the late Blancan NALMA of central Florida.
Holmesina floridanus: (1) ovate shape of Mf3; (2) absence of vomer/premaxilla contact within nasal cavity; (3) lacrimal foramen situated on the antorbital ridge; (4) medial pterygoid exposure that fails to reach nasopharyngeal roof; (5) inflated pterygoid; (6) presence of a bony bridge connecting the tympanohyal and crista interfenestralis; (7) presence of a raised circular boss on the lateral surface of the promontorium; (8) elongate, narrow basioccipital; presence of well-developed rectus capitis fossae and pharyngeal tubercle on basioccipital; (9) distinct grooves emerging anteriorly from mental foramina; and (10) mandibular spout with anteroposterior ln > mf1; (11) rectangular shape of mf4.

Genus Holmesina: (1) nasals become narrower posteriorly; (2) maxillary/premaxillary suture M-shaped in ventral view; (3) maxillary/palatine suture U-shaped in ventral view; (4) presence of prominent lateral maxillary ridge and deep antorbital fossa; (5) reniform Mf4 and bilobate mf5; (6) lack of orbital exposure of palatine; (7) ethmoid foramen entirely within frontal, lacking orbitosphenoid participation in rim; (8) no orbitosphenoid participation in rim of sphenopalatine foramen; (9) fenestra cochleae very low and wide, ratio of wd/dp > 3; (10) triangular stylohyal fossa with distally expanded tympanohyal; (11) strong medial flange of petrosal marked by pits and ridges; (12) low stapedial ratio (<1.4); and (13) ventrally displaced internal acoustic meatus.

Pampatheres: (1) nasal ln > 45% of GSL; (2) presence of median anteroventral processes on premaxilla; (3) incisive foramina open ventrally into single, deeply recessed, midline fossa; (4) infraorbital canal elongate, extending from level of Mf6 to Mf8; (5) reniform anterior molariforms and bilobate posterior molariforms; (6) posterior molariforms with linear, unbranched core of osteodentine; (7) partially closed (anteriorly) upper toothrows; (8) teeth wear in stairstep fashion in lateral view; (9) triangular facial process of lacrimal; (10) triangular glenoid fossa (apex lateral); (11) no horizontal portion of jugal/squamosal suture; (12) ridged, anteroposteriorly expanded ventral zygomatic process formed by maxilla and anterior jugal [mostly the latter]; (13) zygomatic process of squamosal increases in dp anteriorly; (14) reduced midline crest on endocranial exposure of orbitosphenoid; (15) ventral flange of basisphenoid forms portion of the lateral wall of the nasopharynx; (16) elongate groove on petrosal for greater petrosal nerve; (17) broad crista interfenestralis of petrosal; (18) enormously enlarged paroccipital process of petrosal; (19) caudal tympanic process of petrosal forms posterior wall to stapedial fossa; (20) large epitympanic wing of petrosal (as in Euphractus), forms shelf above rostral process of promontorium; (21) groove for auricular branch of vagus nerve between caudal tympanic process and triangular shelf [=roof of postpromontorial sinus]; (22) sharp, narrow transverse crest within internal acoustic meatus; (23) low rounded ridges subdivide subarcuate fossa; (24) prefacial commissure enlarged, bulbous; (25) crista petrosa rounded, divided by groove into medial and lateral parts; (26) paracondylar process of exoccipital hooked medially; (27) ventral surface of exoccipital convex transversely; (28) mandibular condyle less elevated above toothrow than glyptodonts, Proeutatus, Euphractus; and (29) coronoid process covers mf9 and part of mf8 in lateral view.

Pampatheres plus glyptodonts: (1) presence of semicircular notch in anterolateral edge of premaxilla; (2) dp of external nares ≥ wd; (3) teeth with essentially linear core of osteodentine; (4) anterior molariforms slanted lingually in posterior view, posterior molariforms slanted labially; (5) narrow, U-shaped postpalatal margin (also in Gaudin & Wible (2006)); (6) pterygoid processes form thickened, rugose bosses (also in Gaudin & Wible (2006)); (7) pterygoid participation in hard palate; (8) lacrimal foramen positioned on facial process of lacrimal; (9) lacrimal foramen situated within distinct fossa; (10) presence of an enlarge ventral zygomatic process near anterior terminus of zygomatic arch; (11) sphenopalatine foramen in common fossa with sphenorbital fissure (also in Gaudin & Wible (2006)); (12) raised ridge along squamosal/parietal suture; (13) posterior zygomatic root directed laterally (also in Gaudin & Wible (2006)); (14) postglenoid foramen visible in ventral view (also in Gaudin & Wible (2006)); (15) broad triangular shelf [=roof of postpromontorial sinus]; (16 and 17) enlarged paroccipital process of petrosal and paracondylar process of exoccipital; (18) well-developed external occipital crest; (19) anterior portion of occipital condyle extends lateral to dorsal portion in ventral view; (20) nine lower molariforms present; (21) ratio between maximum depth of mandibular horizontal ramus vs. MML > 0.2 (also in Gaudin & Wible (2006)); and (22) maximum wd of mandibular condyle ≥ 3x its ln (also in Gaudin & Wible (2006)).

Pampatheres plus glyptodonts plus Proeutatus: (1) nasal ln > 35% of GSL (also in Gaudin & Wible (2006)); (2) presence of osteodentine core in molariforms (also in Gaudin & Wible (2006)); (3) beveled wear on anterior molariforms, posterior molariforms worn flat (also in Gaudin & Wible (2006)); (4) lateral portion of frontal/parietal suture even with anterior edge of the glenoid; (5) optic foramen hidden in lateral view (also in Gaudin & Wible (2006)); (6) dorsal edge of zygomatic process of squamosal connected to nuchal crest posteriorly; (7) middle of infratemporal crest marked by large boss, the ossified ala hypochiasmata; (8) open groove for vidian nerve in roof of nasopharynx; (9) large entoglenoid process of squamosal; (10) groove for greater petrosal nerve uncovered by anteroventral process of tegmen tympani [=processus crista facialis]; (11) anteroventral process of tegmen tympani reduced in size, only contacts squamosal; (12) tensor tympanic muscle originates on anteroventral promontorium; (13) caudal tympanic process of petrosal lacks contact for ectotympanic; (13) rostral process of petrosal enlarged, promontorium elongated anteromedially; (14) presence of epitympanic recess [as opposed to a sinus]; and (15) triangular shelf of petrosal with raised posterolateral corner.
GSL, greatest skull length; dp, dorsoventral depth; ln, anteroposterior length; M1…9, upper molariform teeth; MML, maximum mandibular length; wd, transverse width.
The description has also revealed a large number of characteristics that appear to distinguish the genus Holmesina from other pampatheres. As noted in the Introduction section of the present study, Holmesina is not recognized as a separate genus by McKenna & Bell (1997), and other authors have suggested the genus may be invalid (James, 1957; Robertson, 1976). Our description identifies more than a dozen potential diagnostic cranial features (Table 5), strongly affirming the monophyly of this genus, which includes species from both North and South America.
Perhaps the largest suite of features with systematic value are identified as potential synapomorphies of pampatheres as a group (Table 5). The pampatheres have long been recognized as a distinctive group of cingulates, with their flat-topped, bilobate posterior molariforms that are highly dissimilar to the teeth of other cingulates. However, there is less agreement on how this morphological uniqueness should be treated taxonomically, with debate centered on whether pampatheres should be placed in a subfamily Pampatheriinae, a subgroup of the extinct and extant armadillo family Dasypodidae, as was typically the case in traditional classifications (Hoffstetter, 1958; Patterson, Segall & Turnbull, 1989), or considered a family in their own right, the Pampatheriidae, as they are listed in McKenna & Bell (1997) and in most recent papers (De Iuliis & Edmund, 2002; Tambusso & Fariña, 2015; Góis et al., 2015). It should be noted here that if pampatheres are placed in their own family, and if we accept their close relationship to glyptodonts (discussed below), both morphological (Gaudin & Wible, 2006; Billet et al., 2011) and molecular phylogenies (Delsuc et al., 2016; Mitchell et al., 2016) would imply that this clade evolved from within armadillos. This in turn would make the family Dasypodidae, a taxon still widely employed in the mammalogical literature (Wilson & Reeder, 2005; Vaughan, Ryan & Czaplewski, 2015), a paraphyletic group, necessitating the recognition of multiple armadillo families within "Dasypodidae." Gibb et al. (2016) propose dividing the Cingulata into two families, Dasypodidae and Chlamyphoridae, the latter including the glyptodonts as a subfamily. This arrangement reflects the basal split in Cingulata between these two clades, but it results in one of the long-recognized subfamilies of armadillos (and indeed the smallest subfamily in terms of generic level diversity), the Dasypodinae, being accorded family level status by Gibb et al. (2016). The other three extant armadillo subfamilies (Euphractinae, Chlamyphorinae, and Tolypeutinae) are lumped together, along with the extinct glyptodonts (Glyptodontinae), and presumably their close relatives the pampatheres (now Pampatheriinae), into a single, very large, taxonomically, morphologically and ecologically diverse family. In our view, this is a minimalist approach to reordering family level diversity among cingulates that does not adequately reflect the age, morphological disparity, and taxonomic diversity encompassed by cingulates in general, and the Chlamyphoridae in particular. Moreover, it appears inconsistent with the manner in which taxonomic diversity is distributed in the sister taxon to Cingulata, the Pilosa. It is particularly noteworthy that the Vermilingua, the youngest and least diverse of the three main xenarthran clades (including only four living species; McDonald, Vizcaíno & Bargo, 2008; Gaudin & Croft, 2015), is currently divided into two families. The sloths, which are also a younger radiation than the cingulates (at least as far as they are documented in the fossil record; Gaudin & Croft, 2015) are currently arranged in five families (Gaudin, 2004). We would therefore advocate recognition of all 4 extant subfamilies of armadillos, as well as the pampatheres and very diverse glyptodonts, respectively, as family level taxa, so that Cingulata would encompass at least seven families—Dasypodidae (following Gibb et al., 2016), Chlamyphoridae (following Gibb et al., 2016, but restricted to the members of the subfamily Chlamyphorinae, i.e., the living fairy armadillos), Euphractidae (for living euphractines plus their extinct kin), Tolypeutidae, Glyptodontidae, and Pampatheriidae. We would then group the latter six families into a larger clade Chlamyphoroidea, following the phylogeny of Gibb et al. (2016)—note this is also consistent with the morphological phylogenies of Billet et al. (2011) and Gaudin & Wible (2006). We believe this is a better way to arrange cingulate diversity; however, we recognize that it does not account for all the taxonomic difficulties posed by the group. For example, it would leave some extinct taxa (e.g., eutatine armadillos, and perhaps some extinct "euphractines" like Prozaedyus or Macroeuphractus, and the peculiar horned armadillo Peltephilus; see Gaudin & Wible, 2006; Billet et al., 2011) with an unresolved family level status.
The second largest list of putative synapomorphies recognized in this study support the alliance of pampatheres with the other clade of cingulate herbivores, the much more diverse and specialized glyptodonts (Table 5). An alliance of these two groups of large bodied herbivores was most prominently suggested by Bryan Patterson (Patterson & Pascual, 1972; Patterson, Segall & Turnbull, 1989), and was confirmed by the subsequent cladistic phylogenetic studies of Engelmann (1985), Gaudin & Wible (2006), Porpino, Fernicola & Bergqvist (2009), Porpino, Fernicola & Bergqvist (2010), and Billet et al. (2011). The present study adds to the already extensive list of derived resemblances among these forms (Table 5). The studies by Gaudin & Wible (2006) and Billet et al. (2011) also suggest that the Miocene armadillo Proeutatus (Santacrucian SALMA) is the sister taxon to pampatheres plus glyptodonts. This armadillo has been hypothesized to share the herbivorous diet characteristic of pampatheres and glyptodonts (Vizcaíno, Fernicola & Bargo, 2012 and references therein). Table 5 confirms that this relationship is supported by cranial features not directly related to mastication, e.g., features from the ear region.
Lastly, it should be noted that the present study identified a number of cranial features which are shared by some, but not all pampathere genera (e.g., Mf4 is bilobate in Pampatherium and Kraglievich but not Holmesina; mf5 is reniform in Pampatherium and Vassallia but not Holmesina) and some features that appear to be apomorphies of pampatheres other than Holmesina (e.g., postorbital process of zygomatic arch on squamosal rather than the jugal, and loss of connection between zygomatic arch and nuchal crest in Vassallia). Clearly, and unsurprisingly, cranial data has much to contribute to our understanding of pampathere systematics. To our knowledge, no published phylogenetic analysis of pampatheres exists, but we felt that such an analysis was beyond the scope of the present study, especially given the fact that much of the critical material is available only in South American museums. Nevertheless, such a study clearly needs to be produced in the near future if we are to better understand the evolution of this distinctive group of large cingulate herbivores, and their place in the history of Cingulata as a whole. Moreover, given their geographic distribution on both sides of the Isthmus of Panama (Scillato-Yané et al., 2005), a better understanding of pampathere internal relationships might also yield insights into their role in the so-called Great American Biotic Interchange (GABI), the extensive exchange of taxa between North and South America that plays such a central role in the evolution of the mammalian fauna of these two continents.
Conclusion
The present study represents the first detailed, extensively illustrated, bone-by-bone description of pampathere cranial osteology, including reconstructions of sutural patterns and the position and content of the major cranial foramina. Due to the abundance of fossil material available for this late Pliocene—early Pleistocene species from Florida, we have been able to document extensive intraspecific variation in a variety of cranial features. We have also identified a series of new cranial characteristics which appear to be diagnostic for Holmesina floridanus. Though the systematics of pampatheres is controversial, our study affirms the monophyly of the genus Holmesina, and provides additional characters that support the monophyly of pampatheres as a whole. We advocate the recognition of pampatheres as a distinct family Pampatheriidae within the large clade Cingulata. We also advocate for the recognition of their sister taxon, the glyptodonts, as a family level grouping Glyptodontidae, and for similar family level recognition for the extant cingulate clades historically assigned subfamily status, i.e., the Dasypodidae, Chlamyphoridae, Euphractidae, and Tolypeutidae. Lastly, this analysis highlights the need for further studies of pampatheres in general and Holmesina floridanus in particular, including phylogenetic analyses of pampathere interrelationships, studies of Holmesina floridanus postcrania and carapaces, and further studies of Holmesina floridanus cranial anatomy using CT-scans.